"I lived in the same town from the day I was born until I graduated. He moved dozens of times before graduating high school.
I was a determined little girl who approached life in an aggressive manner. He was a sensitive little boy who approached life in a cautious manner.
I shopped at Abercrombie, Nike, and Nordstrom. He shopped at Sears and had hand me downs from his brothers.
My family was well known throughout my school and community. He laid low and quietly went about his life.
I went on vacations to different states and countries twice a year. He left his state a handful of times.
My mom gave me money for free range at the school cafeteria. He received lunch through the free lunch program.
We had professional family photos taken once or twice a year, every year. He had his senior pictures done.
I didn't have a job until I was 19. He started painting farm fences at age 10.
My Christmases were extravagant, filled with expensive presents and Honey Baked Hams. His Christmases were modest and included essential presents.
I live my life with a very 'go with the flow' attitude. He is calculated in his ways, analyzing every possible outcome.
I enjoy being social and going out with friends. He enjoys having friends over to drink beer and listen to loud music in the basement to avoid the crowds.
My circle of friends can extend pretty far. He only has a few close friends, keeping his circle tight.
I take life pretty seriously and have an attitude when things don't go my way. He laughs his way through life, making sure to see the humor in all of the curveballs.
I handle stress with panic and fear. He has the patience of a saint and is a steady rock for us all to cling to in times of crisis.
He watched me carry and birth our children. I watched his heart fall out of his chest when he held them for the first time.
He watched me go through court proceedings across the country in the wake of trying to adopt my brother. I watched him welcome that little boy into our life without a second guess.
He watched me walk away from my degree to raise our kids full time. I watched him walk away from the only career he ever knew to pursue an opportunity bigger than life.
He watched me watch my dad die. I've watched him take that experience and love his own dad harder for it.
He's taught me to be more financially responsible. I've taught him that's it's okay to splurge here and there.
He's taught me that name brands aren't everything. I've taught him that *some* name brands are worth the money.
He's taught me to laugh and find the humor. I've taught him that showing emotions is okay at the right time.
He's taught me to keep parts of my life private. I've taught him to be more open with others.
He's taught me to work extremely hard for what I believe in. I've taught him that it's okay to take a day off.
He's taught me that family is literally everything. I've taught him that sometimes friends can become family.
He's taught me to put down the camera and enjoy the moment. I've taught him that being able to look back on snippets of the moment, is priceless.
He's taught me to settle down into our life. I've taught him that adventure can be done with kids, too.
He's taught me to love in ways that don't include materialistic things. I've taught him that a nice dinner can count as a materialistic gift.
We've all heard the old saying, that opposites attract. Through my own experience I have learned that opposites attract to give you a different perspective on life. We came from opposite backgrounds so we could bring different experiences to our relationship. We both were raised on separate sides of the spectrum so we could teach each other different approaches to raising our own kids. I don't want to raise my kids to be as spoiled as I was, and he doesn't want to raise his kids to be as poor as he was. With six kids, we are constantly shifting around our budget to accommodate their new activities and needs.
We have also taken positives from our own childhoods that we strongly believe should be carried on with our little family. I believe in family vacations and he believes in our kids getting jobs when they're old enough for their own spending money. I believe in yearly family pictures and he believes in shopping at consignment stores while our kids are too young to understand what clothing labels are. I believe in 'over-doing' the holiday cheer and he believes we can get a perfectly good ham from the local grocery store to celebrate those holidays.
These types of things haven't been hard for either of us to compromise on because we respect and understand the logic behind it. We will always be working through the perfect balance of 'spoiling' and teaching our kids to work for what they want. Because of our contradicting upbringings, it's been interesting to see how and why each other think like we do.
I hope our kids will gain diverse perspectives on their own options in life. I also find it interesting to think about what they will change about the way they raise their own families. Will they appreciate our approaches, or will they modify things here and there with their own kids? Time will tell. But for now, I'm really thankful to have married a man who went through the harder side of life so he could teach a girl from privilege what actually matters in life: love and family."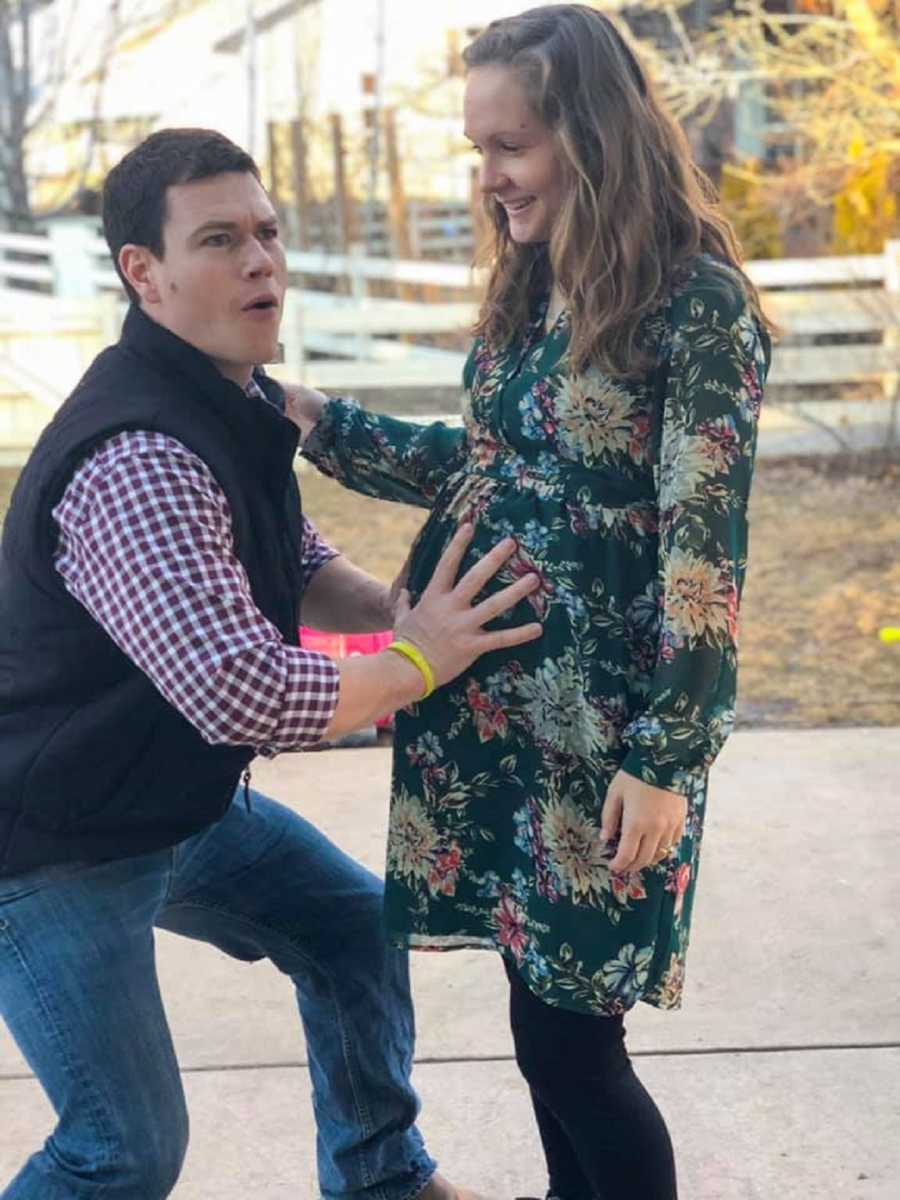 This story was submitted to Love What Matters by Molly Schultz of Tried and True Mama. Submit your own story here, and subscribe to our best stories in our free newsletter here.
Read more from Molly:
'My half-brother became an orphan at 2 years old, and was finally adopted after 458 days, by me – his sister.'
'I 'push the button' and throw the car into reverse. Something was wrong. Everything started locking up on me. I push the brake and that's locked, too! What. The Heck.'
'It's okay Molz, you got this!' My DAD was in the delivery room when I birthed my first child.
Please SHARE this story on Facebook to encourage others to cherish every moment and love what matters most.