"Hey mama, I know you snapped this quick picture of your precious baby right before rushing out the door to pick up your daughter from preschool, then to your oldest son's school, to then head to the pediatrician's office for your boys' checkups. You snapped this picture and posted it to your Snapchat story with the caption, 'Seriously how can someone be SO cute?! #obsessed,' as you walked out the door. I know you feel like you're running around like a chicken with it's head cut off most days. This week, being the busiest of all. You've had appointments to juggle every single day this week. You worry you don't spend enough time just snuggling your sweet baby. You are so thankful, though, that he is such a laid-back boy. He's always going with the flow, right along with you. He even sleeps! He sleeps so well. You feel like you're actually doing a great job at this whole busy mom of 3 thing, the lack of sleep deprivation probably helps. You ARE doing a great job.
But I need to tell you mama, take a deep breath. Brace yourself.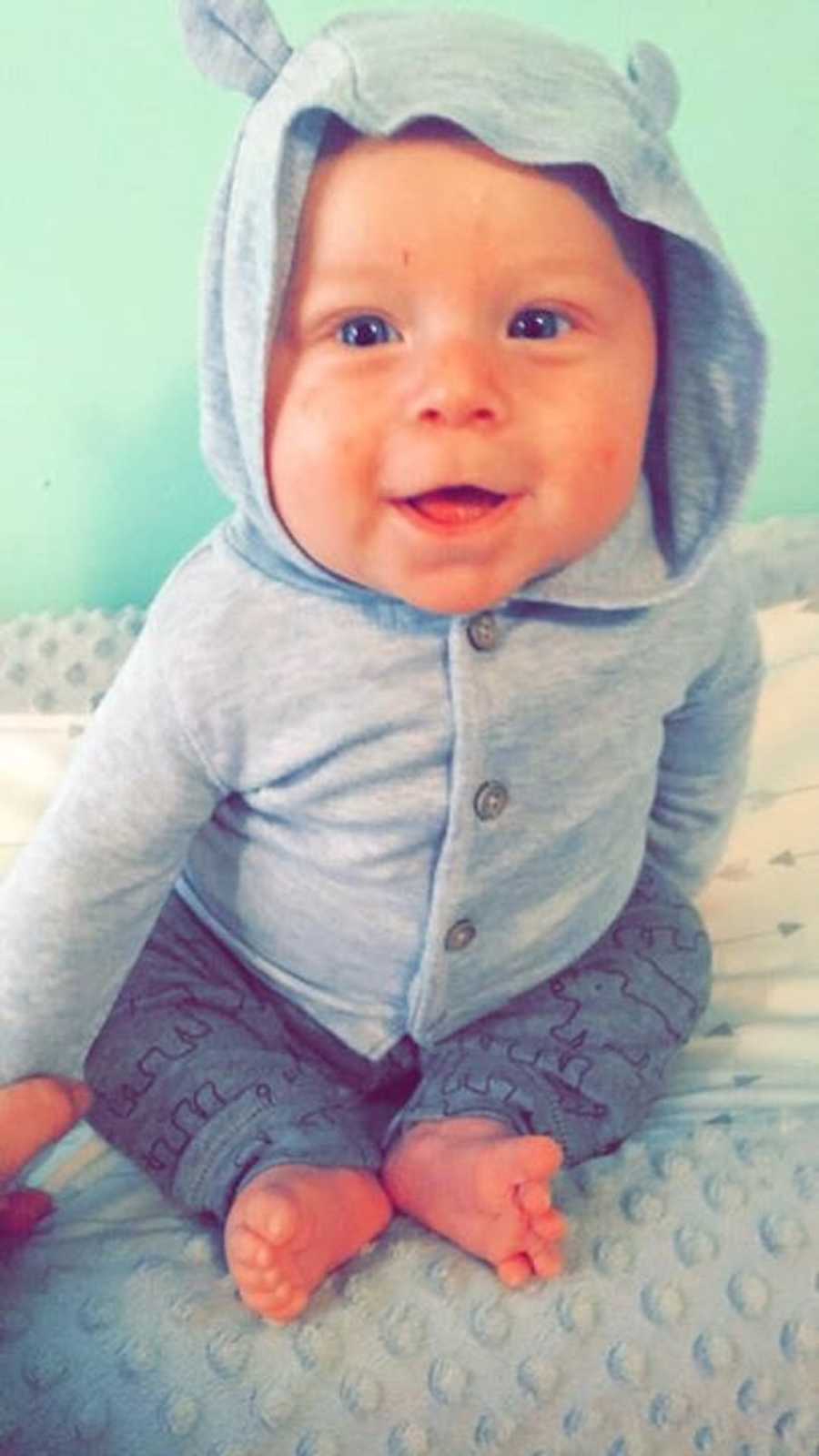 I know you've been worried about the size of your happy baby's belly… And I know you've been worried about what news this checkup will bring. You worry he may have a couple hernias that require minor surgery, or an intolerance that will require special formula. You know whatever it is, it's minor and all will be well. He's such a happy, calm baby. He's never been sick, so you know there has to be an easy solution to whatever is causing his belly to appear big… A simple solution that may bring a few small moments of fear and discomfort, but after that, all will be fine. You know no diagnosis can be worse than your daughter's stroke diagnosis 4 years ago. You know if you could get through that, you can get through anything. Just brace yourself. That confidence in your parenting abilities you have had the last few months, hold on to it. That love you hold in your heart for your 3 children, grasp it. Your world is about to be turned upside down. You don't even know it yet.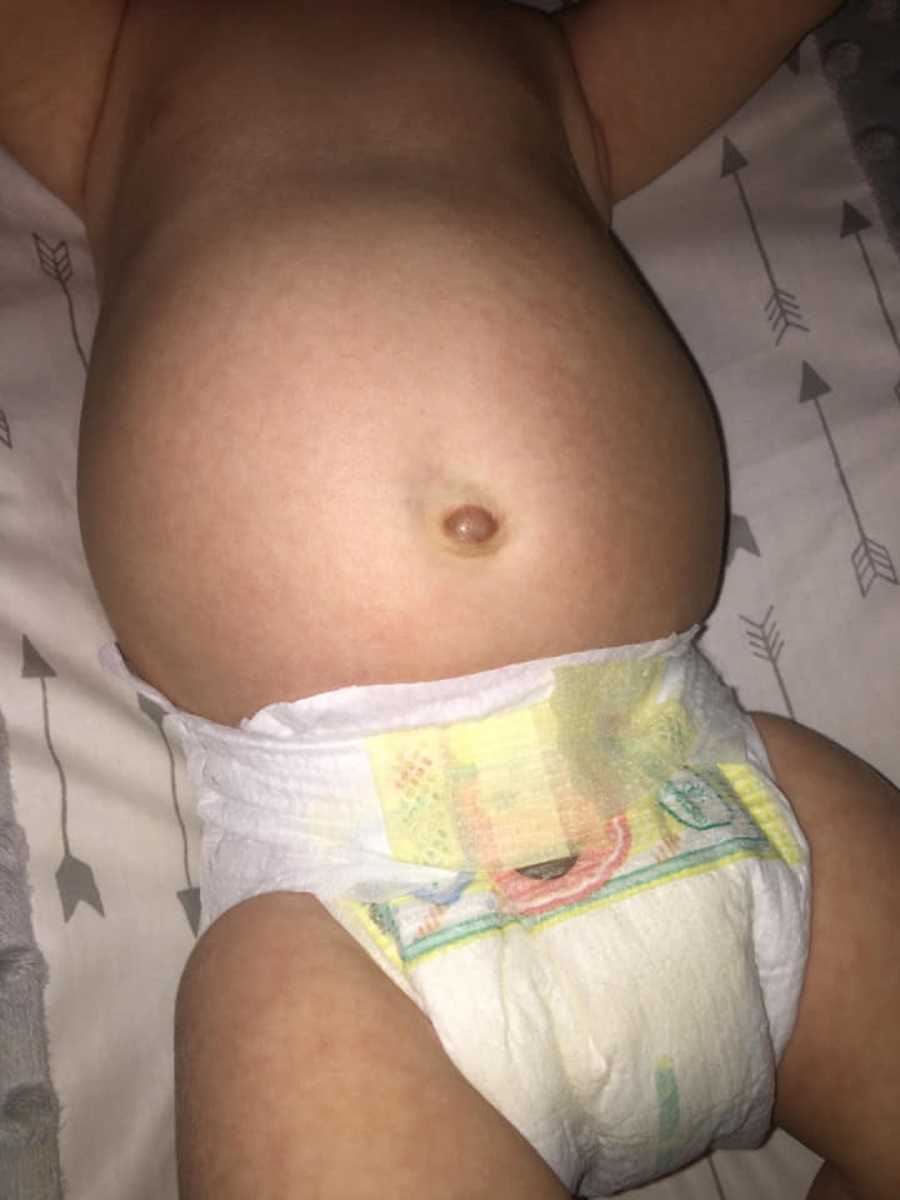 Right now, you are in bliss with the image of your adorable, perfect children and their healthy, happy futures. You know no matter what happens, you will all get through it. You know this, but you don't understand, can't even comprehend what is about to happen. Prepare yourself, mama. Prepare yourself for the worst-case scenario. Brace yourself to receive the news absolutely no parent would ever wish or deserve to receive. I want to make this less shocking for you than it will be. I know this news is going shatter your world in an instant, but I need you to stay strong. Your baby needs you to stay strong, your daughter and oldest son need you to stay strong. I know you will, mama.
I wish I could prepare you for the news you will receive just hours after snapping this blissful picture. You are about to receive the news that your baby, this adorable little son you're absolutely obsessed with, has cancer. Growing quickly inside his belly are cancerous tumors, spreading cancer cells throughout his tiny body. Yes, multiple tumors. Yes, cancer. Your 4-month-old baby you're taking adorable smiling pictures of right now, has cancer. You are about to cry more tears than you've ever imagined possible. You are about to have your heart gripped by fear, anger, and desperation. You will get through this, mama. You will get your baby, his siblings, and your family through this. You will soon learn there are many people surrounding your family with love and support, people you never realized care so much. They do, and you need them right now.
You will wonder how you can do all of this. You will wonder how you can parent your 7-year-old second grader and your 4-year-old stroke survivor, all in addition to your baby with cancer. You will question why this is happening. You will put on strong face in public and break down alone, away from letting anyone know how desperately terrified you are. You will watch your baby receive chemo, while being cared for by a team of medical staff. You will feel absolutely helpless and incompetent. But know, you are competent mama. You will learn how to care for your infant going through chemo. You will handle all of your daughter's therapies and appointments and juggle them with your baby's new appointments and hospital stays. You will keep your second grader on track in school, and you will even make it to his conferences, meetings, and programs. Sure, you will be late. A lot. You will over schedule days and realize at the last minute you have overlapping appointments. You will learn and discover that most everyone is understanding of your circumstances and that this world can still be compassionate. You will learn that you and your family are stronger than you could have ever imagined. You can and you WILL get through this. You will go on to share your story with anyone who will listen, hoping to inspire them to never forget what truly matters in this world – love and hope.
Brace yourself, mama."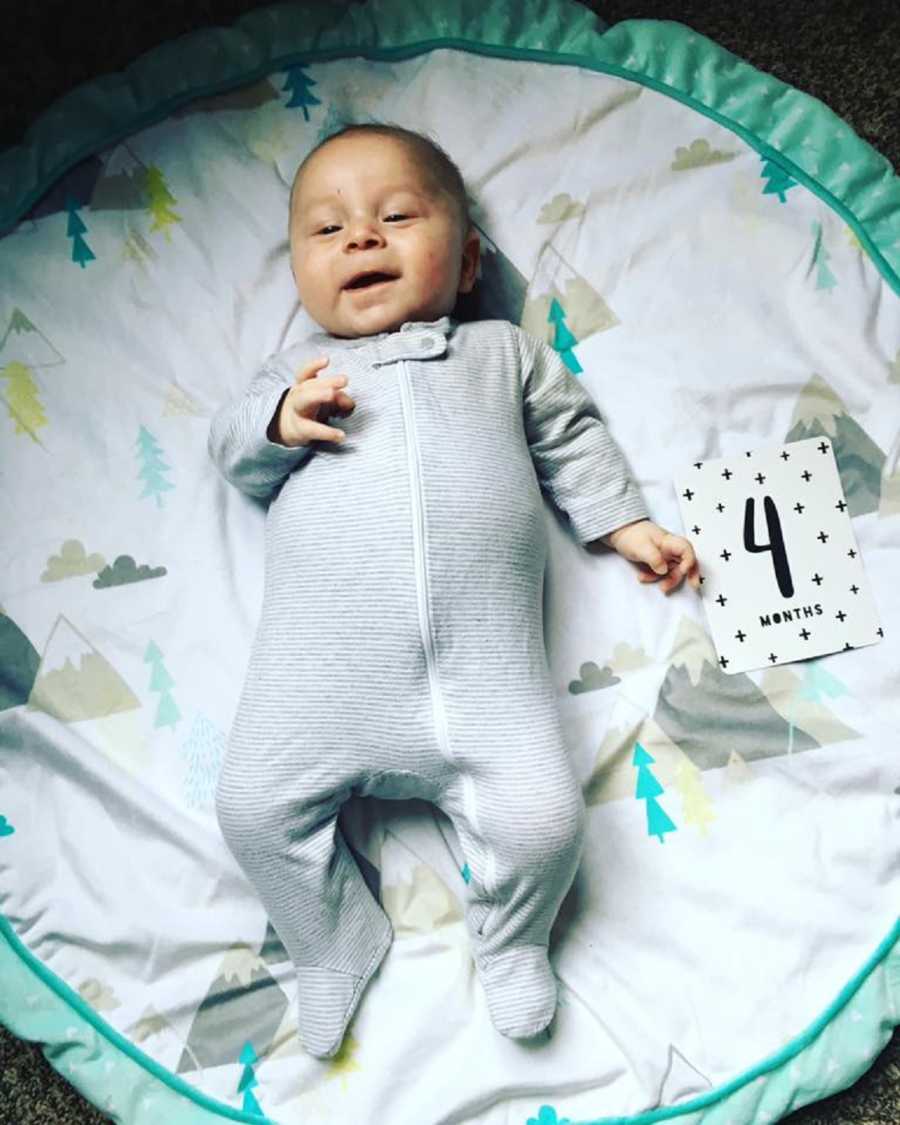 This is an exclusive story to Love What Matters. For permission to use, email Exclusive@LoveWhatMatters.com.
This story was submitted to Love What Matters by Rachel Camp of Council Bluffs, Iowa. You can follow Jameson's journey on Facebook. Submit your own story here, and subscribe to our best stories in our free newsletter here.
Read about Rachel's daughter's stroke diagnosis here:
'She only used her right hand. She kept her left arm close to her, tightly clenched into a little fist. Deep down I knew what her diagnosis would be.'
Please SHARE this story on Facebook to help spread awareness to other parents!