"There are times as a parent when your child will teach you the kinds of life lessons you are supposed to be teaching them. I think these moments will by far be my most treasured memories as a mom. And over the past year as we have navigated life during a pandemic, we've had quite a few of them! It is a big goal of mine for my children to understand they are living a very blessed life and how important it is to give to those who are not. We try our best to live a life of service to others by working with various organizations and through random acts of kindness, but we deliberately choose not to explain to our kids the severity of the situation that some people are in. I'd like to keep their innocence intact just a bit longer and not let them in on the fact this world is not an ideal place for everyone.
In March 2020, when the world pretty much stopped turning, I found myself working from home while my then four-year-old daughter, Blair, was home for distance learning PreK. I also have a toddler son, and I'm so thankful he was able to spend the days with my mom who lives minutes away. It was a lot and a big change for all of us, but we took it in stride. I am fortunate to have an office space at home, so I moved Blair's little pink table into my office, and we set up 'school.'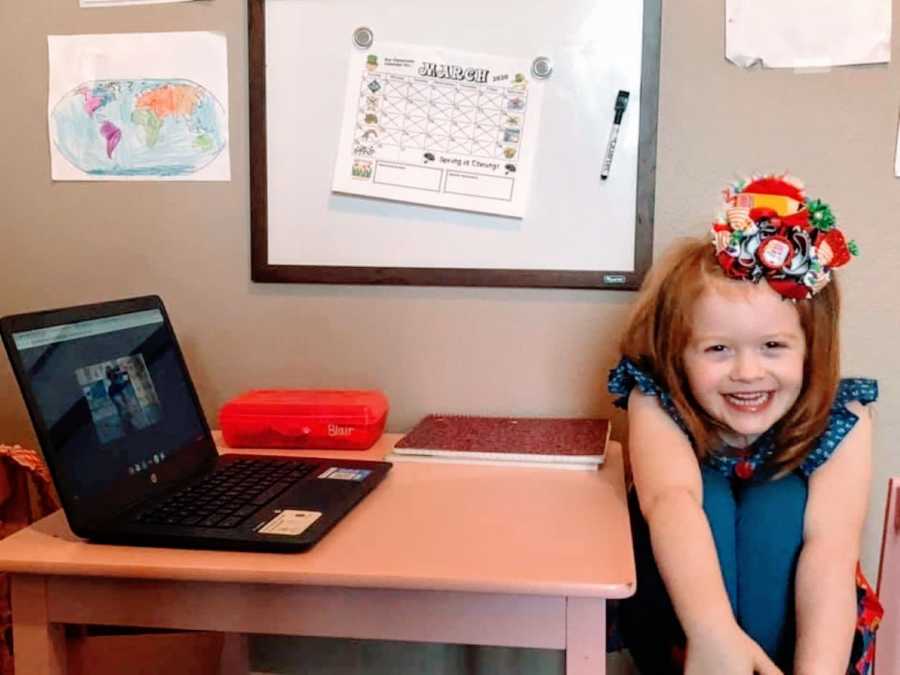 She would sit at her table to watch her virtual lessons, practice her numbers and letters, and do lots of fun PreK activities. Her teacher was phenomenal during this time, and even I was excited to see what projects awaited us when we picked up her packet each week. It was a breath of fresh air to be able to peek over my computer screens and watch my baby in her learning element. It was the most time I had spent with her since I was on maternity leave, and I am so thankful for those months we had together.
As every picture was colored or letter craft completed, I would 'ooh' and 'aww' over her artistic talents and whip out the scotch tape to put her masterpieces on the wall. When the school year ended, the walls were full of life, made possible by her artwork. She asked me why I hung up her work. One side of the truth is I am a hoarder of all things my kiddos make, but the other side is it truly made me happy to see her work on the walls, so that's what I told her. She got such a kick out of it! I still find myself smiling while staring at those walls, and I don't think I will ever take anything down.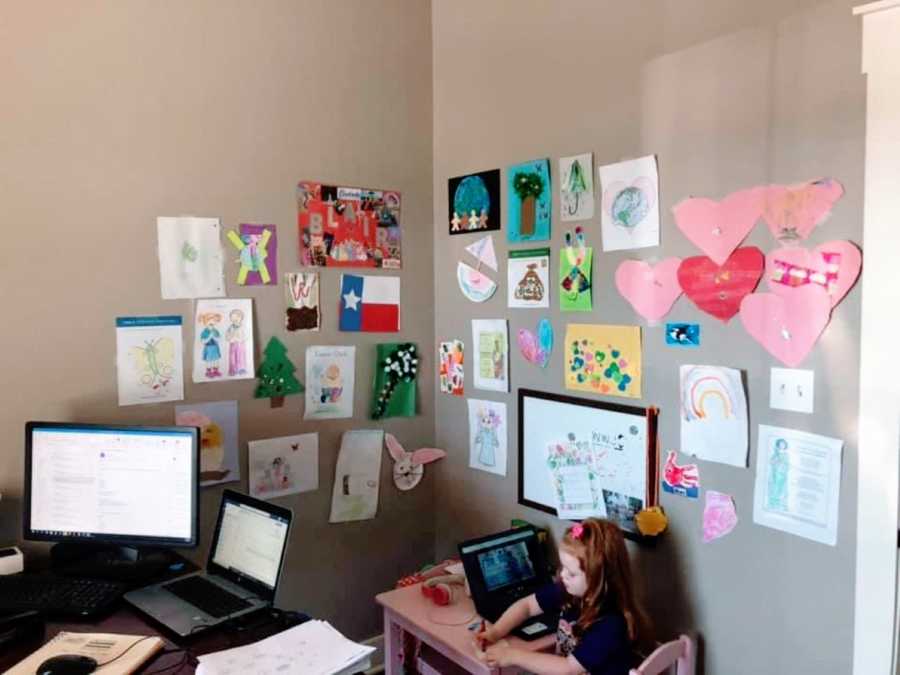 Even though we had these good times, there were of course uncertainties. We tried to shield Blair from what was going on in the outside world, but she's a smart girl and not much gets past her. One evening, I was cooking dinner and had the news on in the background while she was sitting at our kitchen island coloring. The news was running an interview with a woman whose mother was in the nursing home and had not been able to have a visitor for months. The daughter was talking about how her mother had become depressed and unrecognizable. Blair's little head popped up and she asked me, 'Momma, what does 'depressed' mean?' I told her it means someone is really sad. Of course, more questions followed, and I had to explain to my innocent little girl a lot of people were not able to see their families and it was a very sad situation. Without skipping a beat, she said, 'I will color them a picture. They can hang it on their wall, and it will make them happy just like it makes you happy to have my pictures on your wall.' My heart immediately tripled in size with pride that my sweet girl was genuinely concerned with the happiness and mental health of complete strangers. I knew this would be a perfect project for her and told her she had great idea. And just like that, Color the World Happy was born!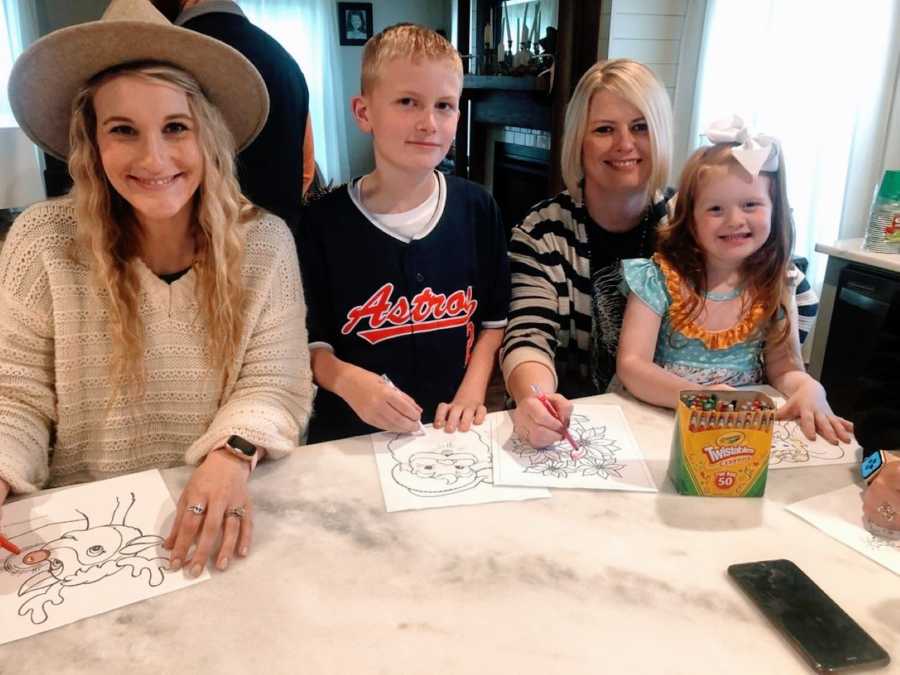 Over the course of a month, Blair colored every evening and had over 50 pictures! We contacted a local nursing facility, and they were excited to take the donation. She is now entering into her eighth month of donations and is nearing almost 800 pictures donated. Her goal is 2,021 donations this year, and I have no doubt she will meet it! Through her involvement in pageantry, she receives donations from all over the USA, and her school and some of my teacher friends have their students participate. Blair even asked Santa Claus for coloring supplies so she could color more pictures – that literally made me cry. Santa delivered her a case with lots of coloring sheets, Crayons, and stickers. This was a pivotal point where I knew she was truly dedicated to this project and understood the positive impact it was having on others.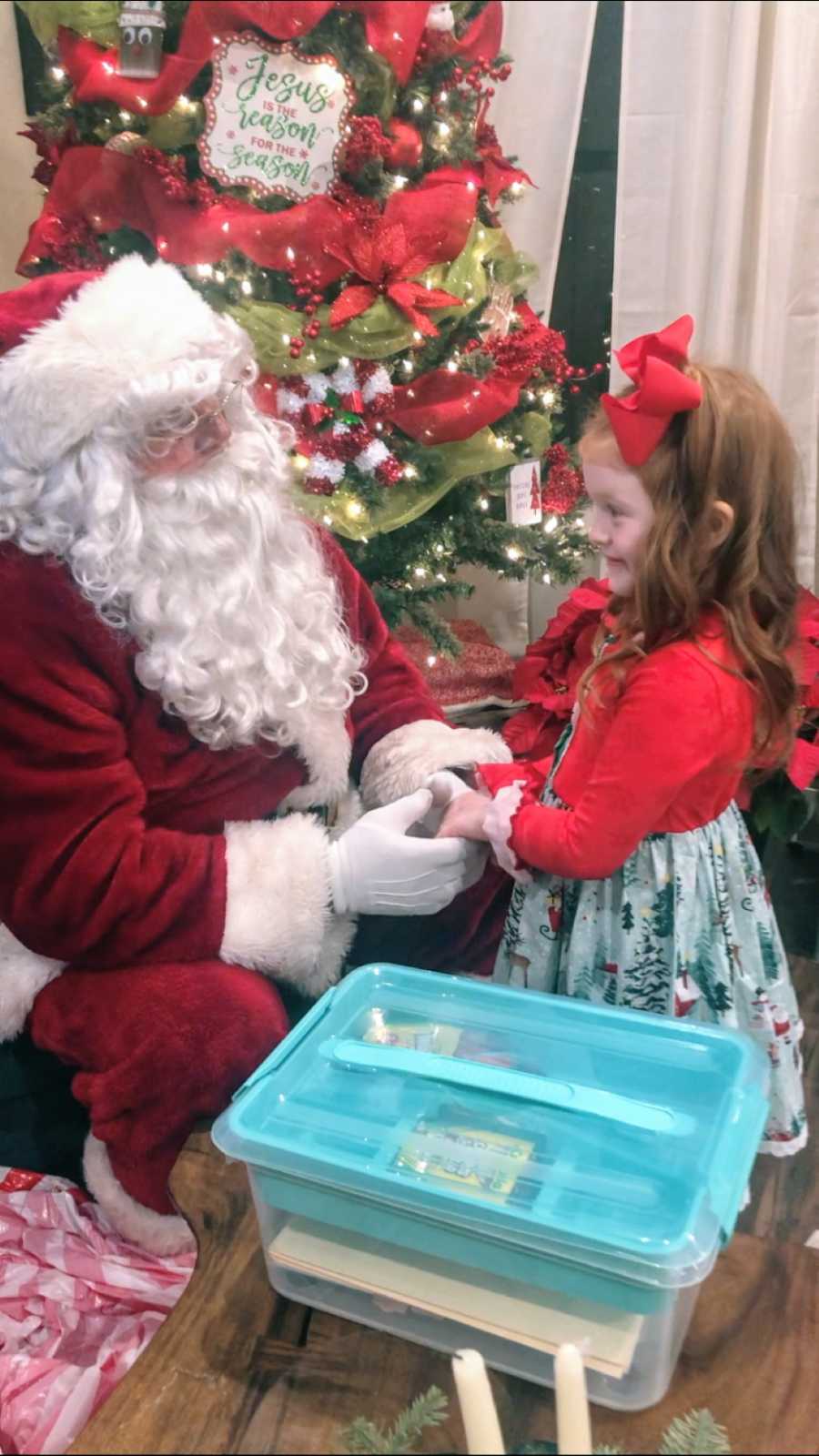 Now, everywhere we go, she brings her case and invites everyone to color with her. Our family knows to be ready to color at any holiday or function! Blair is over the top excited when we drop off donations and has asked many times when she will be able to talk with the residents and give them their pictures herself. I can't wait for the restrictions to be lifted so she has the chance to do so because I know the interaction will give her even more validation that she is doing something so great.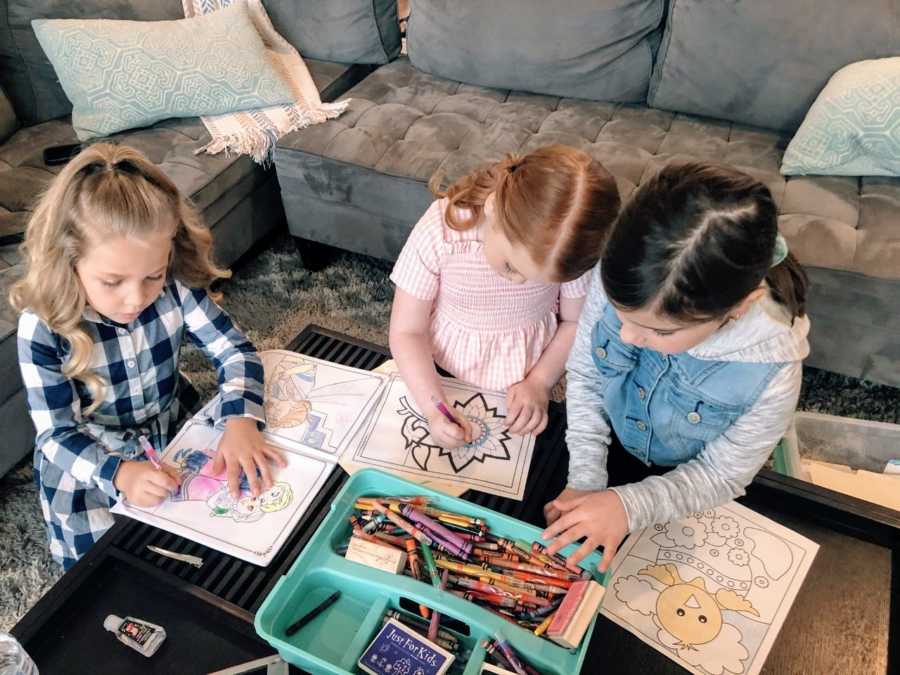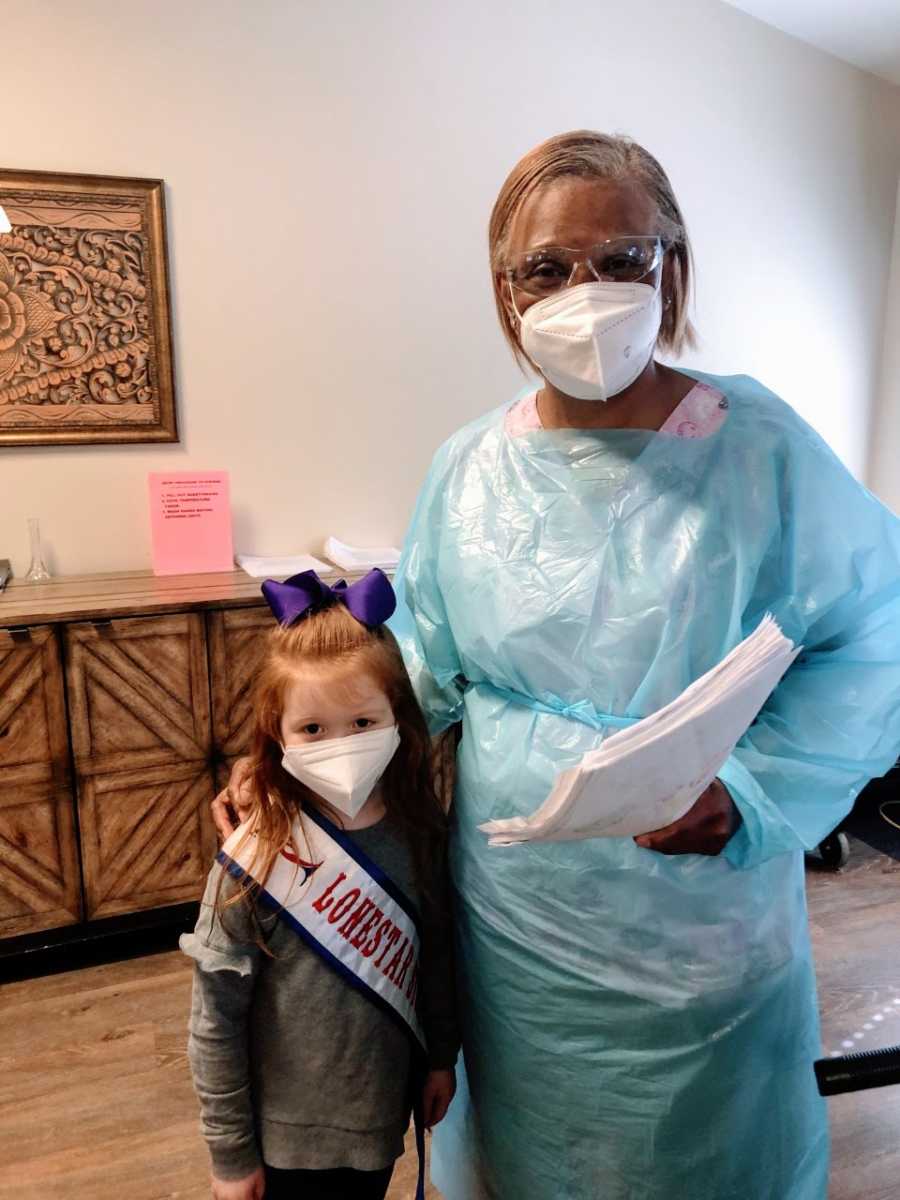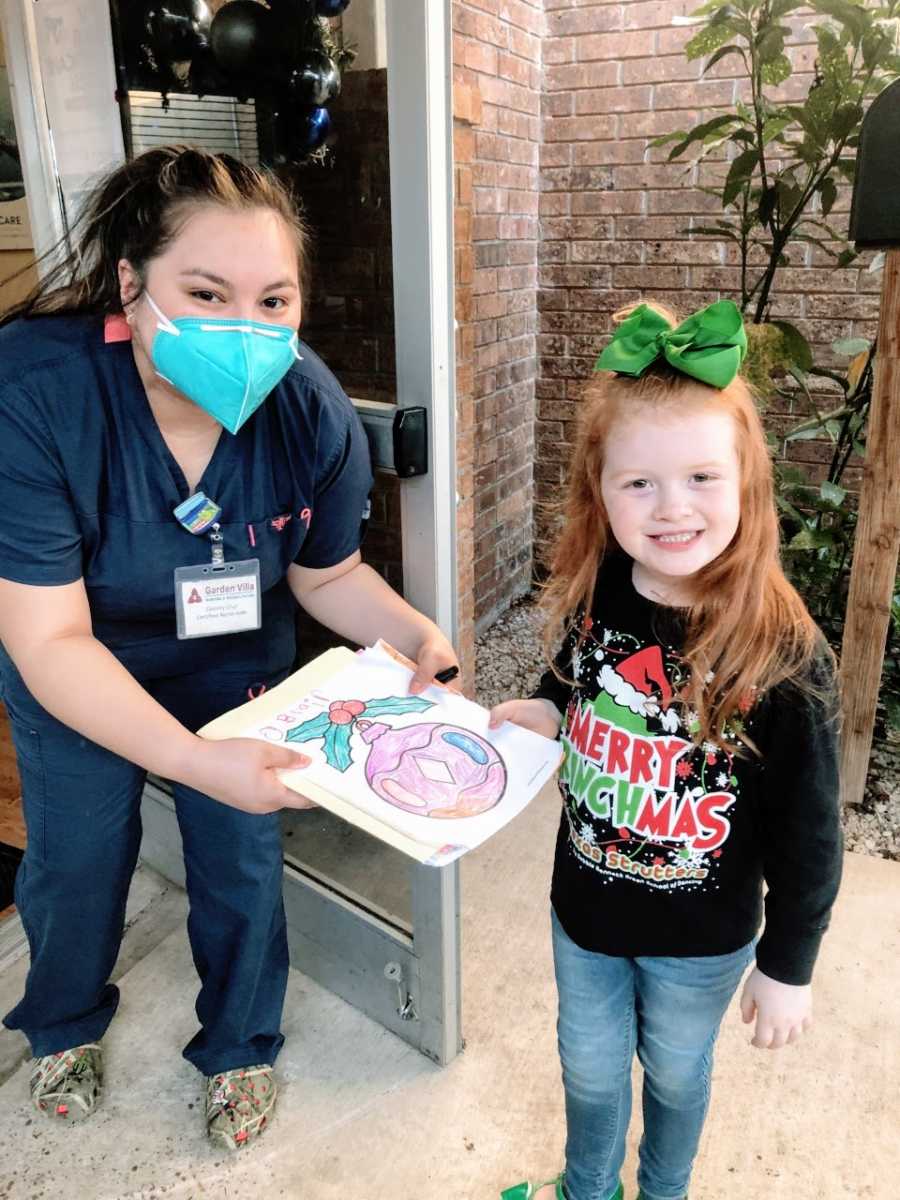 I have seen this organization help young kids establish a connection to community service. Coloring is an enjoyable activity, and it is easy to connect to how pictures can make someone happy. I am so proud of Blair! Color the World Happy was born in a pure and thoughtful place and is bringing love to those sometimes forgotten. I've always told Blair it doesn't matter how little you are, you can still do big things. Instead of just hearing it, she herself is now an example of how that is a true statement.
She has lots of big dreams – to sing on the Grand Ole Opry with Dolly Parton, be a baker, a dress designer, archeologist, and much more! Those are huge goals, but I have no doubt she can do those and anything else she sets her mind to. If she continues to serve others and let her sweet light shine and guide her, it's only a matter of time before any door she wants opened is unlocked for her. And when that time comes, this momma will be holding her hand and cheering her on. Everyday as I watch my daughter do something so simple as color a picture, it gives me hope there CAN be a future full of goodness for humanity."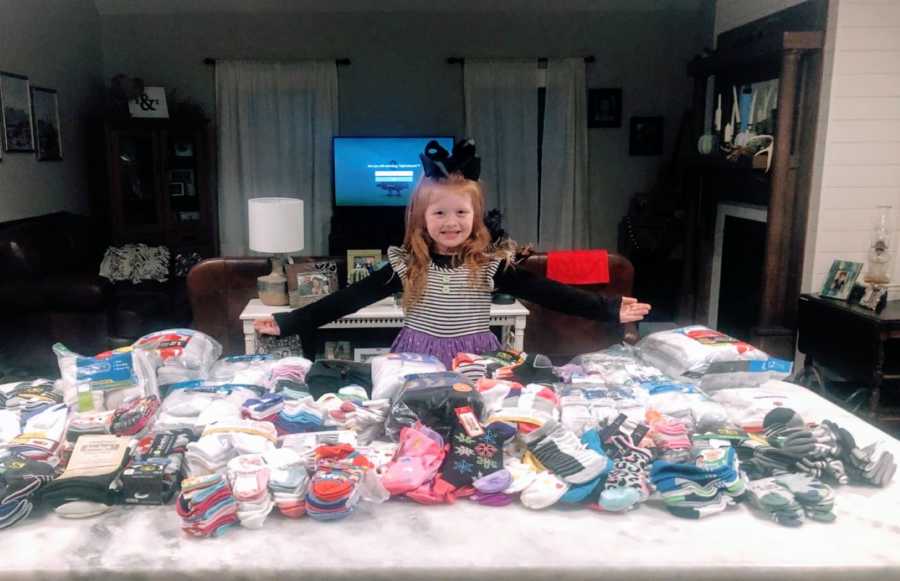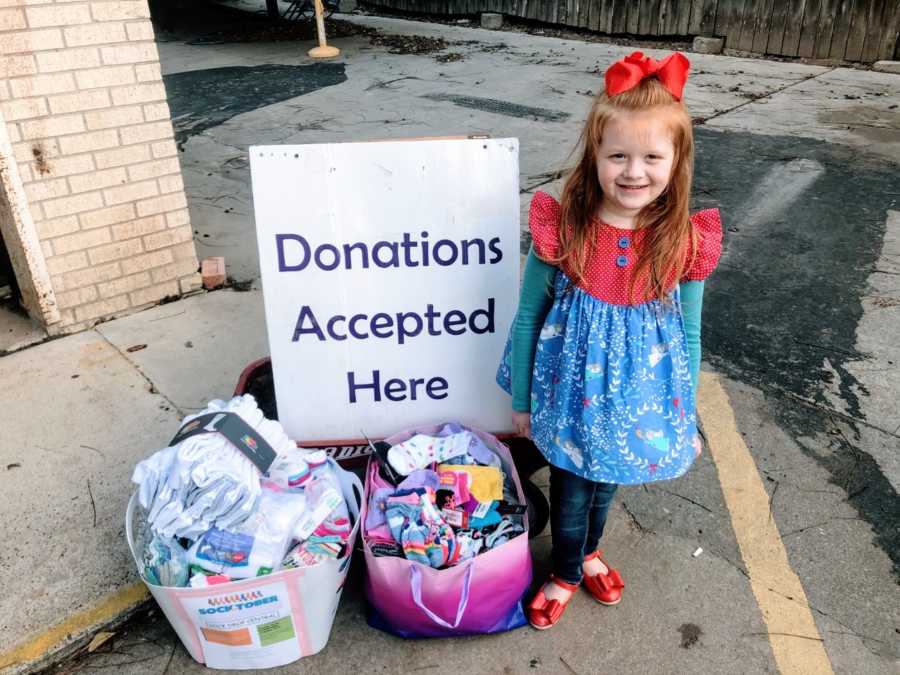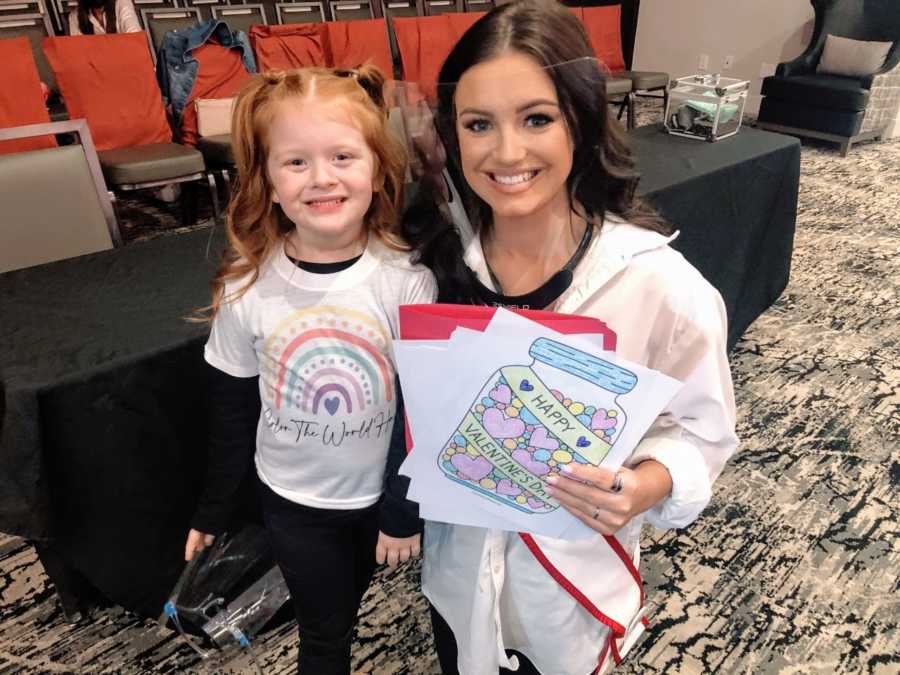 This story was submitted to Love What Matters by Danielle Kudelka. You can follow their journey on Instagram and Facebook here and here. Be sure to subscribe to our free email newsletter for our best stories.
Read more stories like this here:
'I went into this photo shoot hoping to capture Jack and his wife. Her health was rapidly declining. A true love story never ends, right?': Community rallies to send hundreds of letters to widowed farmer
'With three kids crying, I realized I left my purse at home in the McDonald's drive thru. 'I am so sorry, I have to cancel that order.': Woman in tears after employee's act of kindness
Help us show compassion is contagious. SHARE this story on Facebook with family and friends.