"'I feel unqualified for what you're calling me to. But Lord, with your strength, I've got no excuse, because broken people are exactly who you use.' – Sanctus Real, Confidence
When God planted the dream of surrogacy in my heart, the lyrics of this song perfectly expressed how I felt. I knew He led me to that point for a reason, and He'd equip me to fulfill this calling. You see, nine years ago my husband and I were told as newlyweds that we had a 2% chance of natural conception due to male factor infertility. We learned our best chance to become parents would be by pursuing IVF. It felt like a slap across the face. I'd always wanted to be a mother. Hearing those words, it felt like my dream was ripped away from me.
After multiple tests, procedures, appointments, countless tears, and overwhelming frustration, we decided we needed to escape reality for a bit. Being the travel lovers we are, we booked a trip to the Dominican Republic so that we could decompress and process everything we'd been told. The day before we were scheduled to depart for the Caribbean, I realized my period was late. I didn't want to get my hopes up because I had taken dozens of tests in the past, only to see one lonely pink line or a big fat NEGATIVE. I spoke to my mom on the drive home from work that night and I'll never forget her words: 'Honey, just take another test. Don't get your hopes up because you know it'll probably be negative, but you will be drinking on your trip, so take the test, just for peace of mind.'
I took a test that night and it was positive! At that exact moment, my entire world lit up!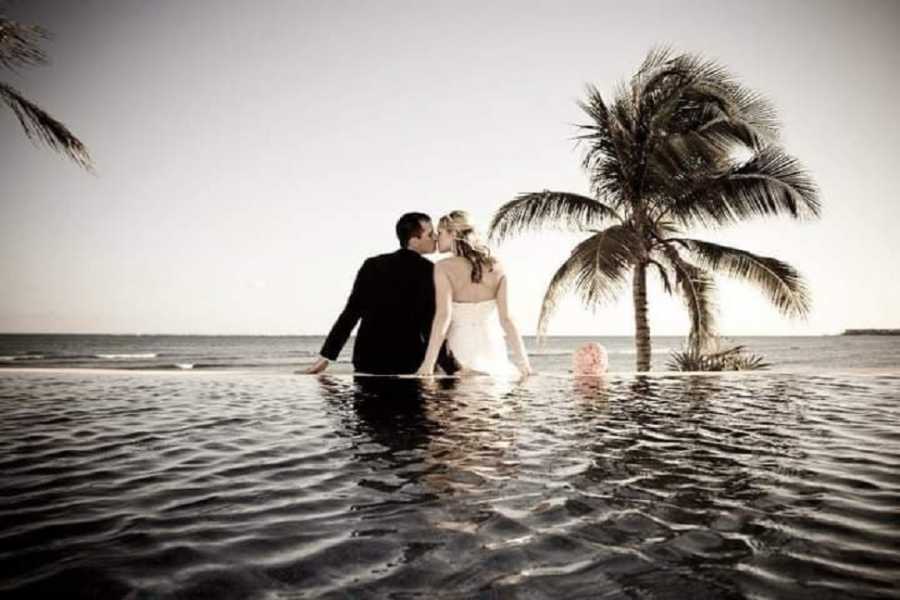 Flash forward to the present day and we now have our miracle son (age 8) and our miracle daughter (age 5). My gosh, we feel so incredibly blessed. Over the last couple of years, I'd watched as many friends, family, acquaintances, coworkers and complete strangers struggled with infertility. Each night, when I tuck my kids into bed and thank God that I get to be their mother, I can't help but think about how many people all over the world continue to pray for their miracle. The woman, who month after month, sobs at the sight of a negative pregnancy test. The couples who have endured years of appointments, tests, procedures, no answers, and painful uncertainty. My heart deeply ached for them and I wanted to do something to make a difference. After much research, prayer and discussion with my husband, I decided to become a gestational carrier (surrogate). That meant I would carry someone's baby for them since they were unable to do so on their own. My only desire was to help pay forward the miracle we received.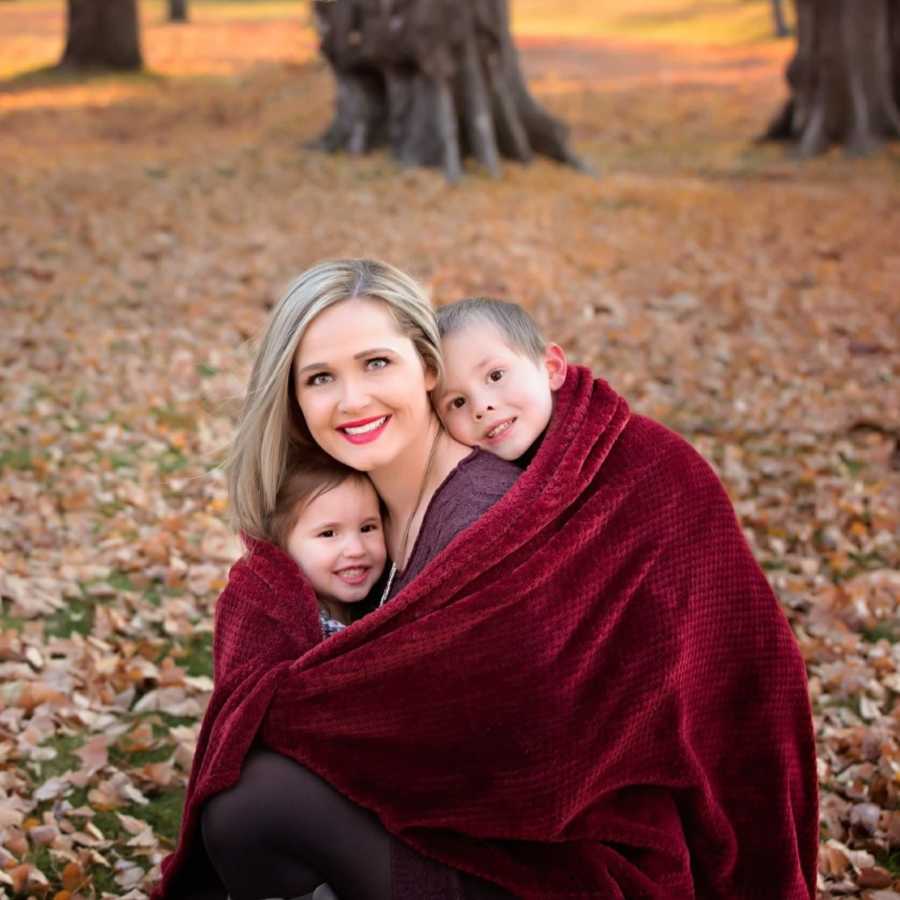 Since this was my first surrogacy journey, I knew I'd need the expertise and support of a phenomenal agency to guide me through the process. This alone took months of research. I interviewed several agencies before finally settling on a wonderful California-based agency, Conceptual Options. Many people aren't aware that there are very rigorous qualifications to meet: financial stability, a strong support system, uncomplicated prenatal history, psychological evaluation, etc. We began the process with some phone calls, video interviews, medical records review, and an OB appointment to ensure I was in good health.
I flew to California for the first time in November of 2018 for an in-person interview and psychological evaluation. Within 48 hours, I was cleared to move forward and begin the matching process with intended parents. About a month later, I was sent a profile for an international couple who'd been struggling with infertility for many years. I scheduled a video call with the parents and felt an immediate connection to them during our very first interaction! We all agreed to move forward, though there would be a delay in doing the embryo transfer because of a tropical vacation our family had planned at the end of December. (3-month waiting period when traveling to known Zika risk areas.)
There were plenty of steps we needed to complete prior to the embryo transfer procedure. First, I needed to return to California to have a thorough medical exam with the intended parent's chosen RE (reproductive endocrinologist). We scheduled that for mid-January of 2019. This included verifying that I was at a healthy BMI, a panel of thorough labs for myself and my husband, and a saline sonogram. A few weeks later, all the results were in. I was officially medically cleared to carry their baby!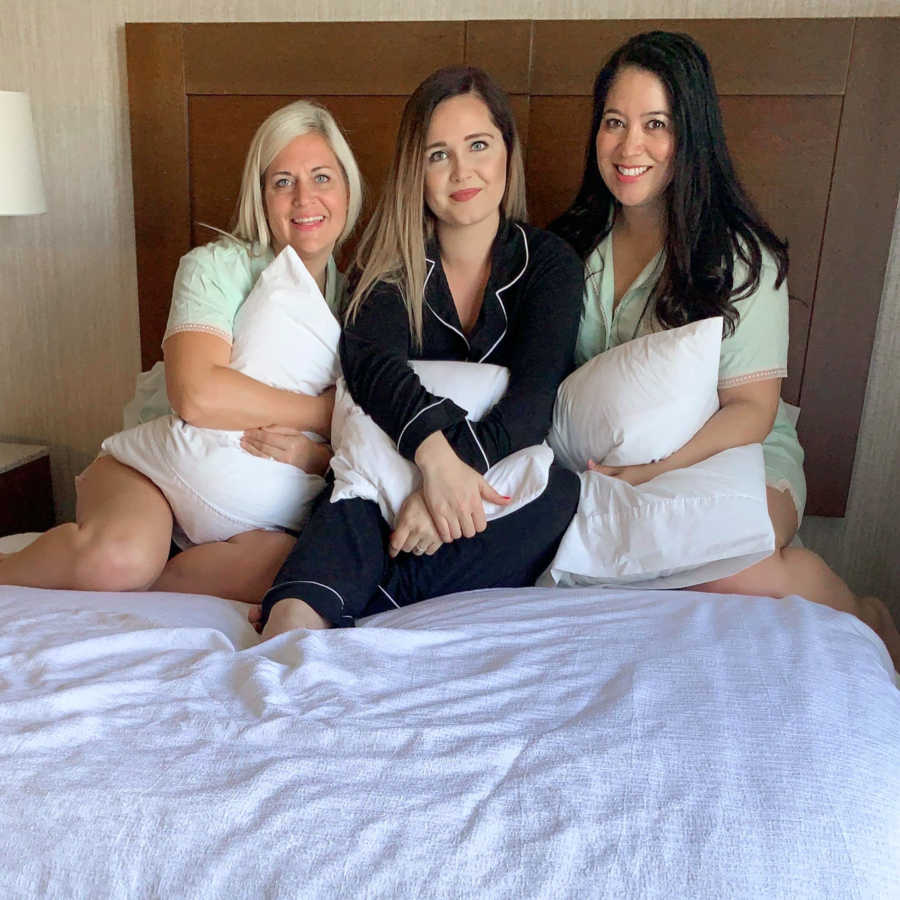 Next, we began working with our independent attorneys to draft our legal contract. This part of the process is of utmost importance during surrogacy and should never be skipped over. This is when surrogates and intended parents need to discuss and agree to critical topics such as termination, prenatal testing, lifestyle modification, insurance coverage, how medical bills are to be paid, and more. With my Christian values, it was imperative that I matched with like-minded IP's. It took us about a month to complete this process with our attorneys. By mid-March of 2019, we were ready to have our RE order my medication and schedule our transfer date.
My medications arrived at the end of March and, in conjunction with a local RE, I was carefully monitored for the next few weeks to ensure my body was properly responding to everything and I'd be ready for the embryo transfer as scheduled. Even though I'm a nurse, it was a new experience learning to inject myself in the rear three times a day. I set multiple alarms and reminders on my phone to make sure I never missed a scheduled dose of anything (doing so would've jeopardized our chance of success).
In April, I traveled to California for the third time and was blessed to have two of my dear friends join me for this trip since my husband was working in Hawaii at the time and couldn't be there with me. Our transfer day, April 15th, arrived and my spirits were at an all-time high, so filled with joy and anticipation for my intended parents. Unfortunately, it was far from being an easy procedure. In fact, my doctor said it was the most challenging he'd ever done and nearly gave up multiple times.
Apparently, the junction where my cervix meets my uterus is extremely curved, which made it difficult to insert the catheter through. He tried multiple speculums, catheters, and angles before one final hail-mary attempt, after putting a suture in my cervix to get a better hold of it. I laid there in so much pain, sobbing, and praying for a miracle. After all the injections, hormonal changes in my body, time and dedication, could our journey really end like this? My dear friend, Zoe, held my hand and kept me calm through all the tears that day. The procedure took nearly two hours (normally a 5-10 min procedure) but we FINALLY successfully transferred one beautiful little girl embryo. Afterward, I was given orders for 3 days of strict bed rest before returning home to wait for our 10-day post-transfer beta-HCG lab draw.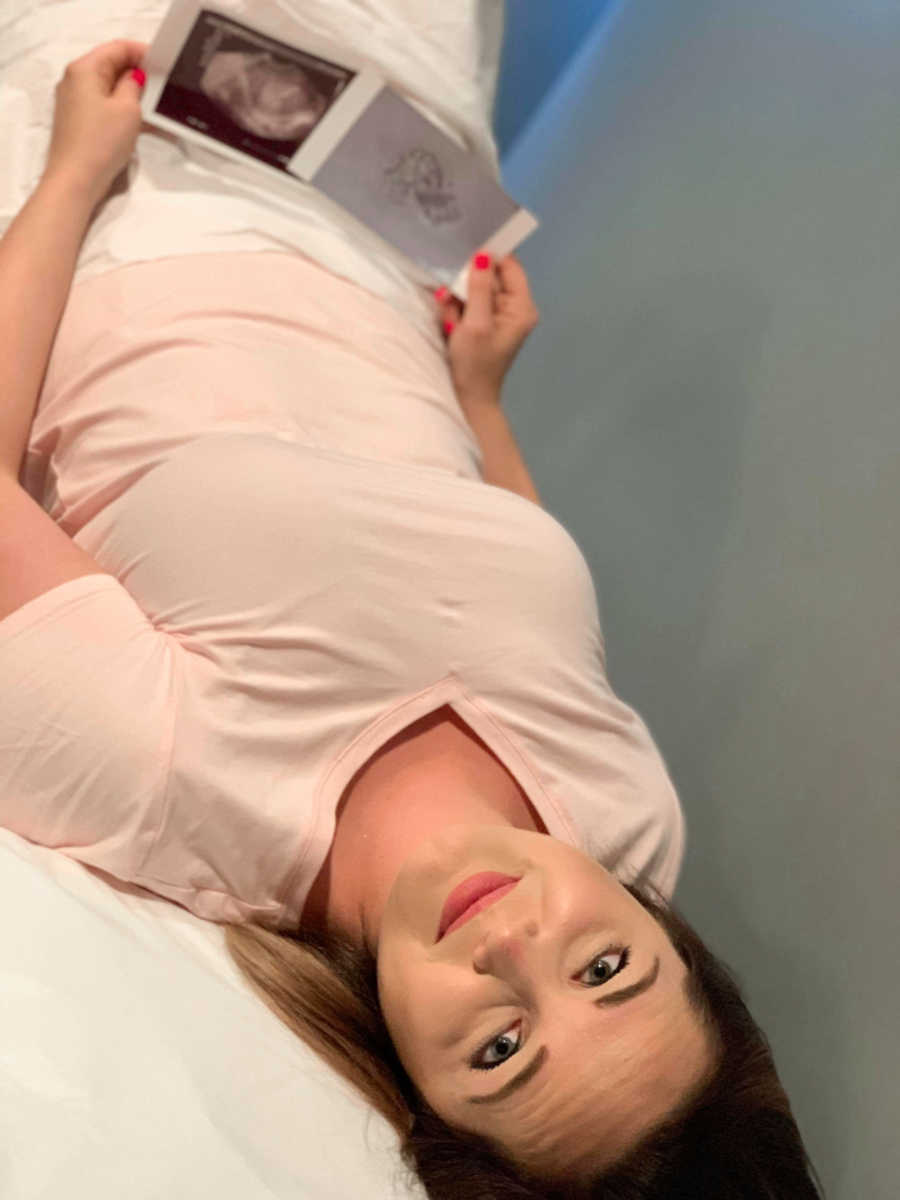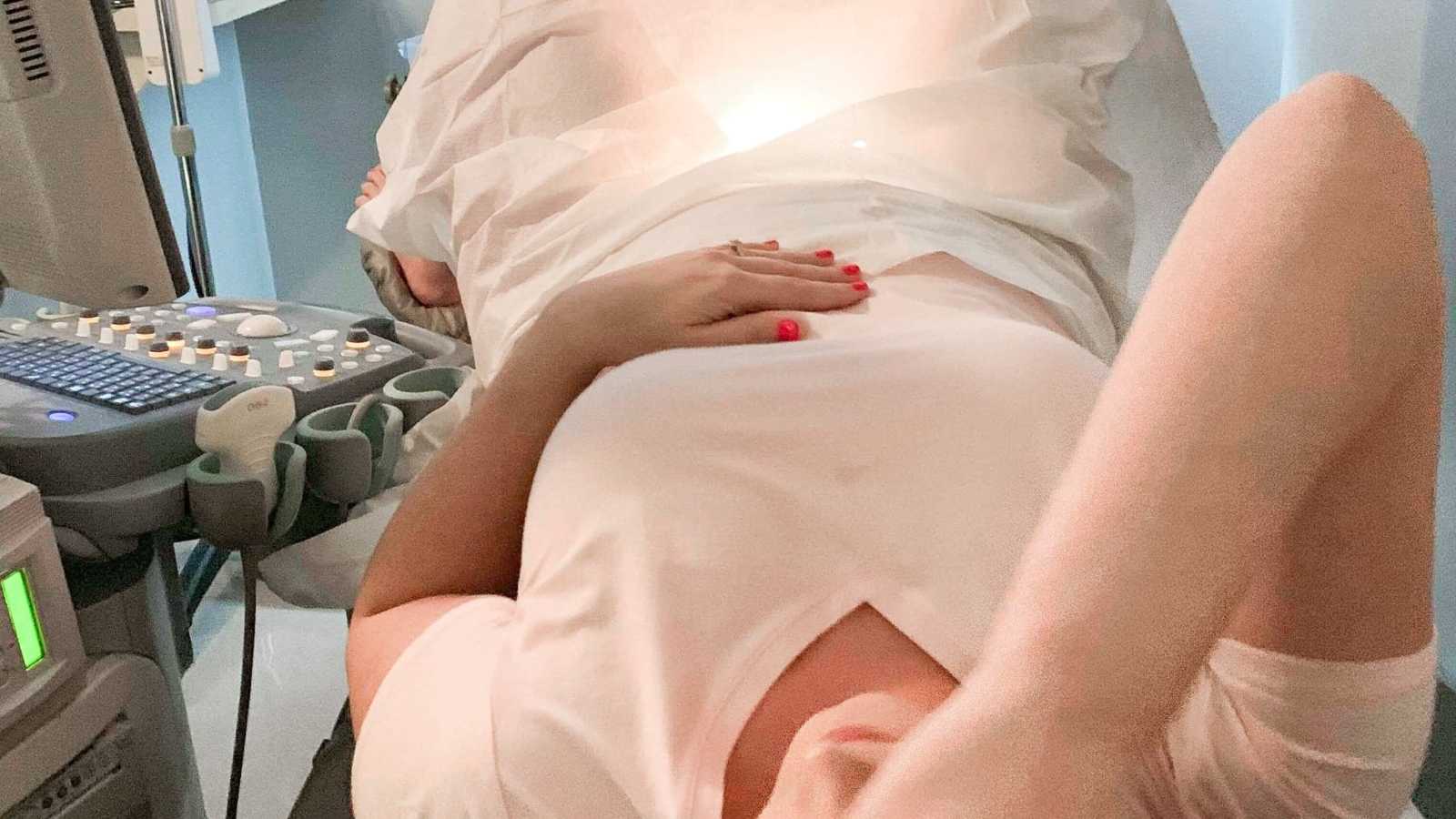 I returned home and continued my hormone injections and other medications. Our first lab draw came back at 124, which meant we were pregnant! I had two additional lab draws over the next week to make sure the numbers continued to rise as they should. On May 10th, we were able to hear her heartbeat for the first time. I'll never forget the immense happiness I felt when I texted the parents immediately afterward to share the news with them. Their joy was palpable, even from the other side of the world.
Before I knew it, I was experiencing many of the common first-trimester pregnancy symptoms: fatigue, nausea, on top of the side effects that came from the meds. My husband stepped way outside of his comfort zone and took over all my injections. My backside had become sore, bruised, and knotted up. The skin was becoming thicker, harder to puncture with each new poke. He was instrumental in helping me stay the course for the final 6 weeks of injections (12 weeks total). Not many husbands would support their wives in wanting to help bring a baby into the world for another family, but his support was infinite.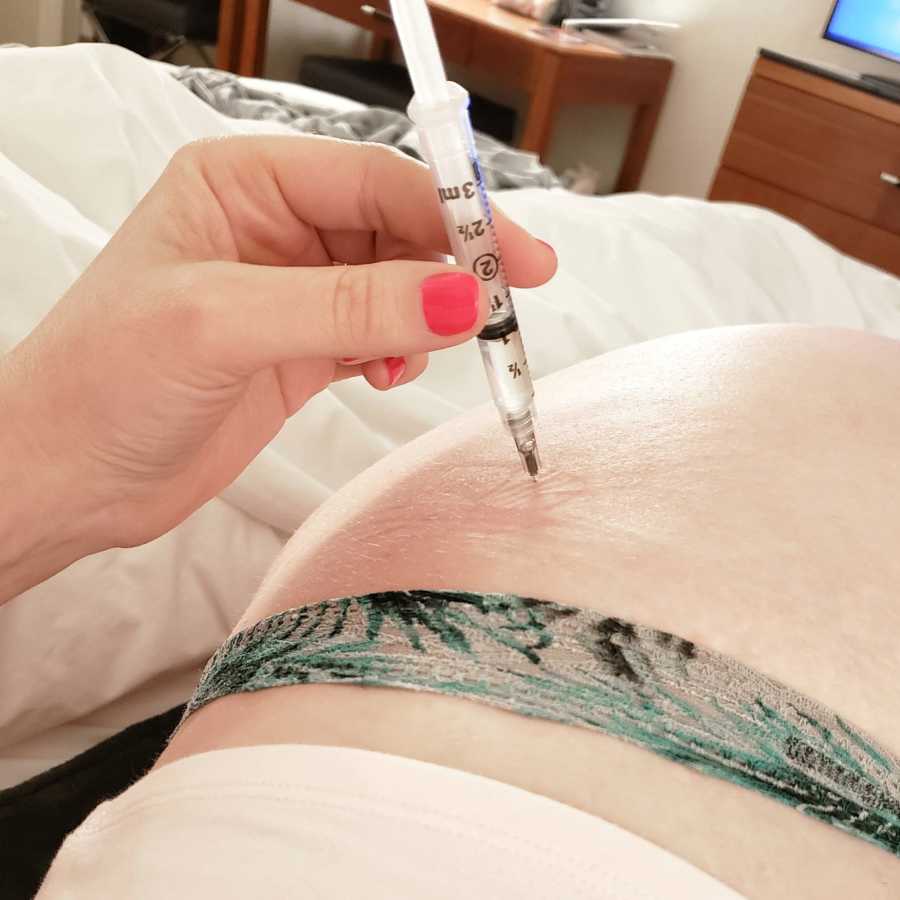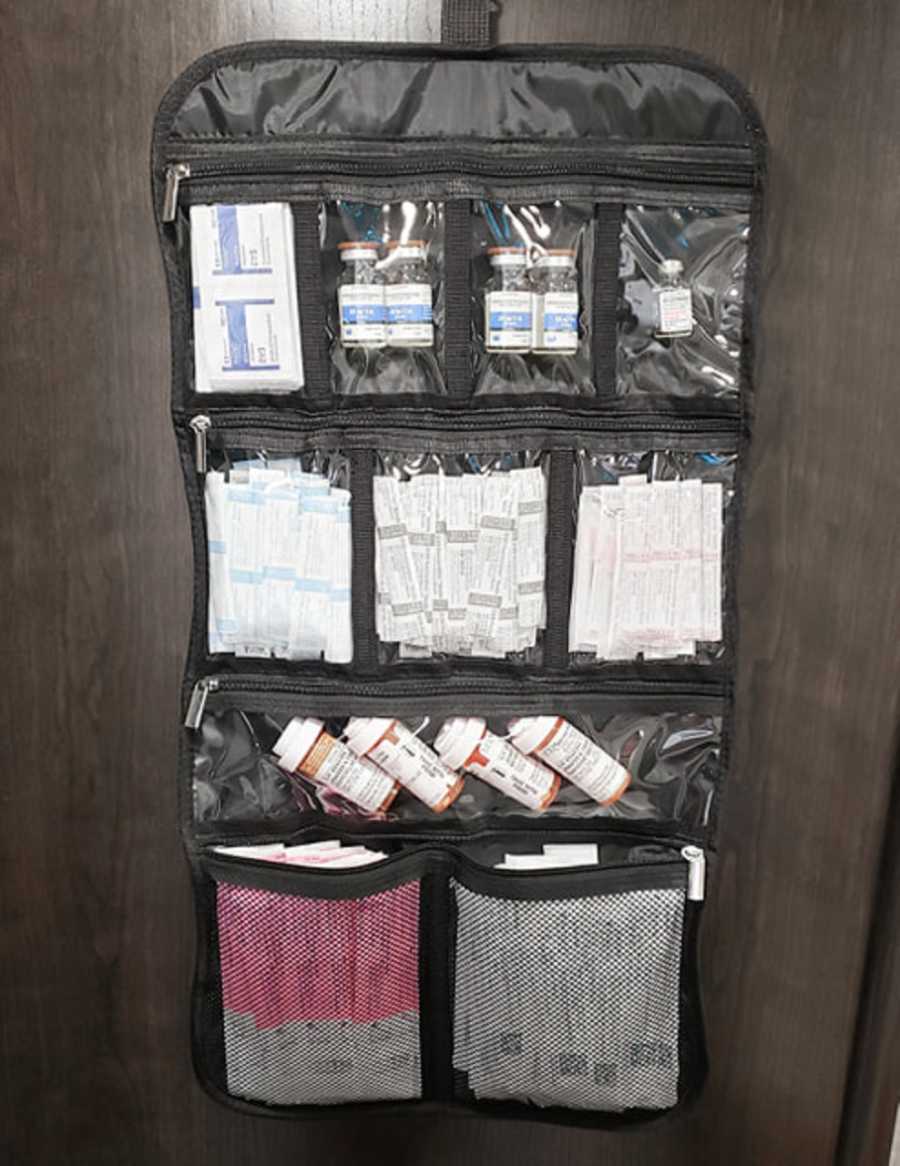 By 14 weeks, I had relief from constant nausea. Unfortunately, at around the same time, I weaned off all my injections and started to experience debilitating headaches. Thank God for my patient husband and understanding children, who showered me with grace during that time. By 18 weeks, I turned a corner and began to feel more like myself. The remainder of my pregnancy was (mostly) smooth sailing, apart from a small scare at the 20-week anatomy scan, where we were told the baby might've had a small pericardial effusion (extra fluid on her heart).
A few weeks later, I had a fetal echocardiogram and we were relieved to learn that everything was normal with her heart! IVF and surrogate pregnancies have increased risks, so as an extra precaution, my OB had me do weekly ultrasounds and NST's between 36 weeks and delivery. Anytime I had a pregnancy complaint (tired, swollen ankles, weight gain, nausea, heartburn), I promptly reminded myself how many women around the world wish they could experience pregnancy.
We opted for a scheduled (repeat) cesarean. We arrived at the hospital at 10 a.m. and baby's parents were already there, with huge, radiant smiles on their faces and the most gorgeous bouquet of orange roses and lilies in their hands (these are my favorite)! We got all checked in and before I knew it, we were walked back to the OR. The anesthesiologist was awesome, with a stellar bedside manner, but he had some difficulty getting my spinal in the correct place.
It took 6 attempts and almost an hour to finally get it in correctly. For anyone who's had a cesarean before, you know you don't feel any pain, but you do feel a lot of pressure. I was coherent and aware of everything this time, compared to the emergency c-section with my son, so it was interesting to notice the details I missed before. During surgery, there were some issues with tachycardia (my heart racing) and PVC's (irregular heartbeats). This was likely due to some underlying thyroid issues I developed during pregnancy. At 1:08 p.m., baby girl was delivered, and they gave me a quick glimpse of her. I asked them to take her to the nursery so she could be with her parents right away. Once they had me sewn up, I was wheeled to recovery. It was wonderful to have my husband by my side (compared to my last c-section, when I asked him to stay with our son until he stabilized).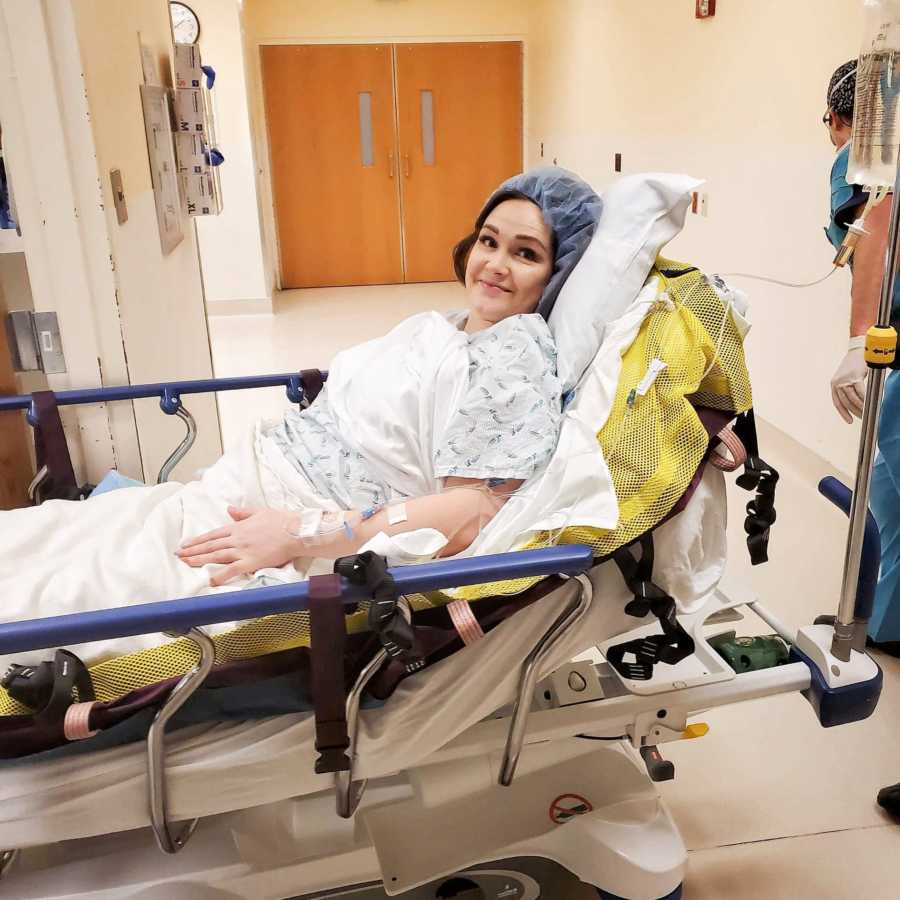 Unfortunately, I couldn't sleep in the hospital that night because I had a reaction to the spinal that caused severe, all-over body itching, but I was thankful to not be in any pain. The next morning, I changed into some comfy PJs and walked down to the nursery to visit the baby and her parents. I was able to hold her for the first time and cherished every moment. Next to welcoming my own children to the world, seeing her in their arms will go down as one of the most emotional moments of my life. I convinced my doctor to discharge me at exactly 24 hours post-op. That afternoon, my husband and children picked me up and met baby girl. We were all discharged at the same time and were all getting into our vehicles in front of the hospital simultaneously. Watching them load their daughter into the car for the first time really made everything come full circle for me. Wow, I helped bring her into the world. She is here, and this is real!
One of the common questions I received during this pregnancy was, 'Won't you have a hard time giving up the baby after she is born?' and several others said, 'What you're doing is great, but I could never carry a baby and then give it away.' I want people who are unfamiliar with surrogacy to understand that this wasn't my child to 'give away.' She never was. She is the biological child of a couple who prayed for a child for a decade. She needed a safe, healthy place to grow, which is where I came in. I couldn't wait for her birth so she could be swooped up into their arms and be loved for the rest of her life. I entered this arrangement as a responsible, stable, level-headed adult whose family is complete. I knew, months before I became pregnant, what I was about to do, who I'd be doing it for, and why. Because of this, there was never a maternal attachment to her, but rather a connection to her as a child I was looking after and needed to keep her safe until her parents could.
She was born on December 27th, but her due date was January 1st. Her parents invited us to visit on New Year's Day (before they had to leave town) and it was so special to spend her due date with them! Our kids loved their time with her and think it's the coolest thing that I helped grow a baby for her parents. They live in China and it's been a fantastic experience to make new, lifelong friends while learning more about their country and culture. They invited our family to come visit them later this year and we can't wait for that experience! Love and parenthood are universal. No amount of distance could change the bond we now share. I am forever grateful to them for their trust, friendship, kindness, and generosity.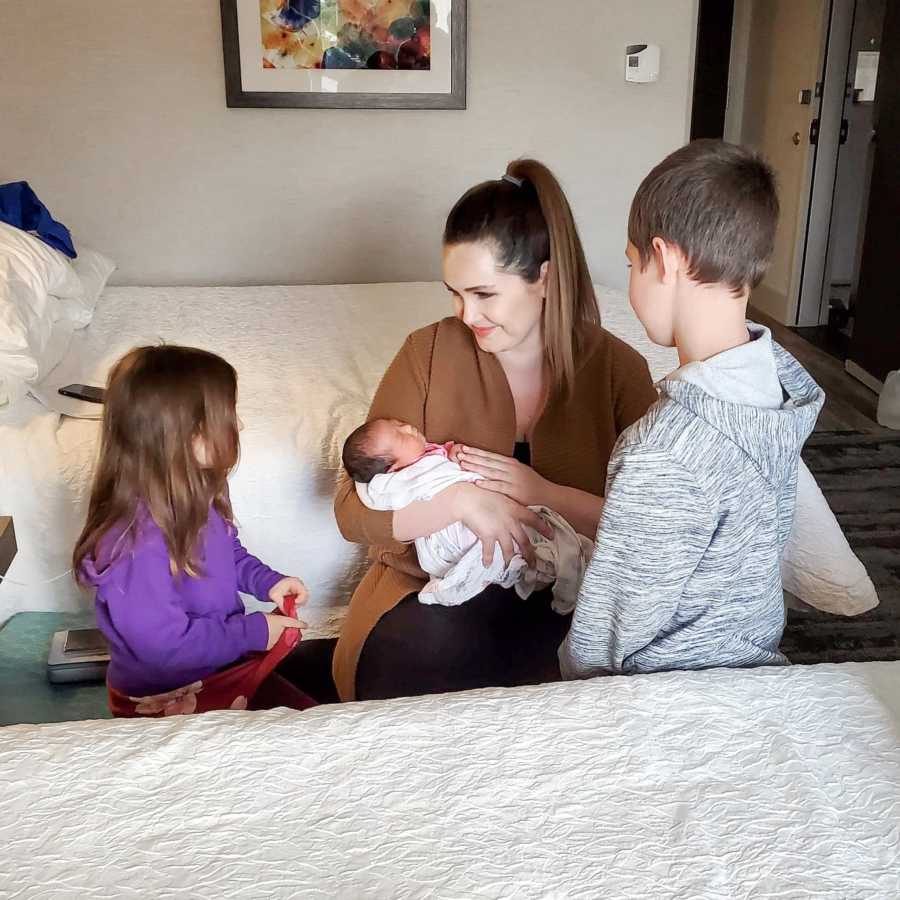 My experience as a surrogate was trying at times. In all, I did more than 150 injections. I had more than two dozen ultrasounds, over 15 OB appointments, countless lab draws, a fetal echocardiogram, and three non-stress tests. I've been through a lot and put my life on hold for over a year, but NONE of it compared to the time, effort, failed IVF attempts, disappointment, and heartache that her parents endured to have a child. I'm humbled and honored to have helped bring their daughter into the world for them.
I'm thankful to everyone who supported me, encouraged me, prayed for me, or walked alongside me in this journey. My fellow surrogate friends I met along the way helped so much. I'm blessed by my amazing husband who believed in me, loved me, and was my rock through this journey. Most of all, I'm thankful for our amazing children who have shown me what a gift motherhood is. Once upon a time, we believed we'd never get to be parents, but our children are proof that miracles happen. It was one of the greatest joys of my life to help pay forward the gift we received. Total strangers, from the other side of the world, are now dear friends and they're parents today because I was willing to help. What a lesson in love."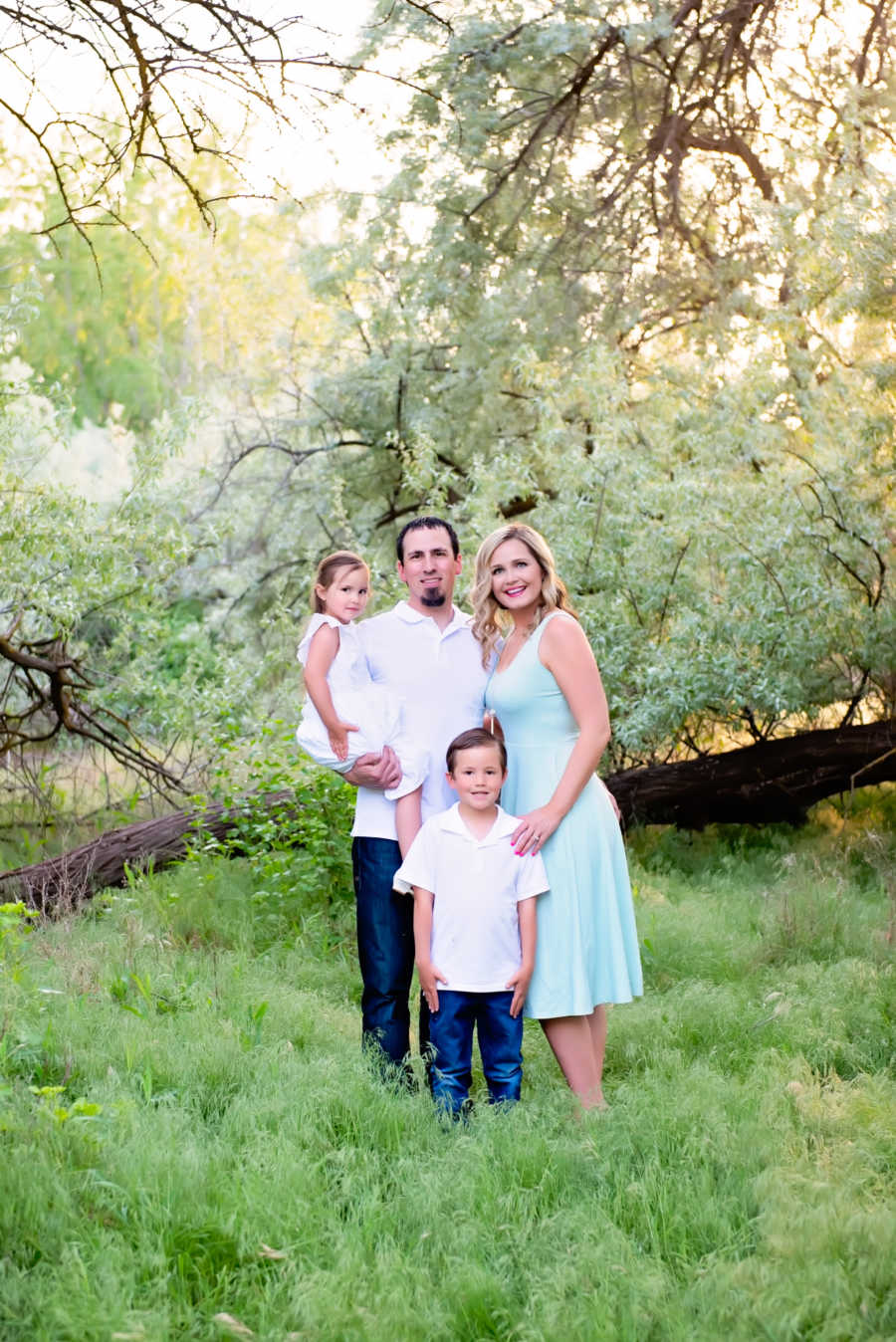 This story was submitted to Love What Matters by Jennifer Fisher. You can follow her surrogacy journey on Instagram. Submit your own story here and be sure to subscribe to our Youtube channel for our best videos.
Read more inspiring stories about surrogacy here:
'YES! Could this actually be true? One sister the surrogate, the other sister an egg donor!': Gay dads reveal 'blessed' surrogacy journey with sisters, the 'most fabulous aunties imaginable' to their son
'They called. My husband thought I was crazy. I hopped on a plane by myself. 1,500 miles from home, I sat on a stretcher, determined to help someone become a mom. I was REALLY doing this.'
Spread beauty and strength for others. SHARE this story on Facebook with family and friends.