"When I was 10, I went to live in an institution. The only thing I remember about that time is my words being misunderstood, and I talked a lot. Sometimes, I wished so hard I could stop talking, I would become unable to speak for days, once for an entire month. Everyone treated me like I was abnormal and broken. I was 17 when I left the institution and went to live with my grandma, who I called Nana. By this time, I was well over 400 pounds. Two things caused the weight gain: a love of food and medication. Eating is a sensory experience I can lose myself in. If given the opportunity, I would eat until physically unable to put anything else in my body. Doctors attempted to control my eating in the institution. Nothing worked to fill the need food fed.
I never felt like the institution helped me. I get so anxious when I think about this time in my life. What they did was make me really good at hiding who I am. I am so good at it. Masking. I even went to college and kind of made friends. No thanks to the institution, whose equivalent of an education was a GED. I was in fifth grade the last time I tried school, so there was a bit of a learning curve, but I was a master of pretending I belonged. No one knew the stress of socializing while not pacing, bouncing, or flapping caused me to have such bad meltdowns at home, I would bash my head into the floor.
I was disabled. It was a label I often resented. I was an over-sharer who wished I could just shut up. I often cried to my Nana about how my friends were tired of how much emotion I felt, and how much of it I shared. I wear my heart on my sleeve and cry when things touch me. Nana would try and comfort me, telling me I just needed to make it to 30. She would pat my arm and say, 'Life always gets better for people like you in their 30s.'
Nana wasn't wrong, my whole life changed after 30. Tired of not ever feeling whole, I decided to go back to college. I was going to study psychology this time, and figure out how to fix myself where the doctors couldn't. I discovered many amazing things about myself during this time. I learned how to skateboard because I read exercise could help people like me be more present. I chewed on pencils because I read it could interrupt the mirror neurons from reacting to other people's emotions. I was losing weight, having fewer meltdowns, and was a star student! I also learned to stop masking so much and embraced my twitching and eccentricity as part of the beautiful person I am.
At 33, I met Amanda and was instantly swept away by her. To my surprise, she was equally in love with me. I will never forget the moment I knew I was going to marry her. We had been dating a little less than 6 months and I had somehow avoided having a meltdown in front of her. This day was different. I was stressed about the presentation of my honor's thesis and my belt buckle was stuck. It was something so simple, but I just couldn't get it undone. I started to scream and hit myself in the head. I was trying so hard to flee, but I couldn't. She got up and walked over to me, bent over, and started helping me. We made eye contact (something rare for me due to the intensity of empathy), and I started to cry.
'I'm autistic,' I said to her, thinking this was the end of us. 'I know,' is all she said. I knew right then this was real. For the first time in my life, I was exactly who I wanted to be, and was getting healthier every day. Amanda got me into running, and I ran my first continuous mile chasing her. I knew I was going to die, and when I didn't, I was hooked. I came home and signed up for a half marathon 9 months away. Running was like a reset for my sensory system no other type of exercise could achieve. It eased my anxiety and left me able to be present during moments I would have typically retreated into my head.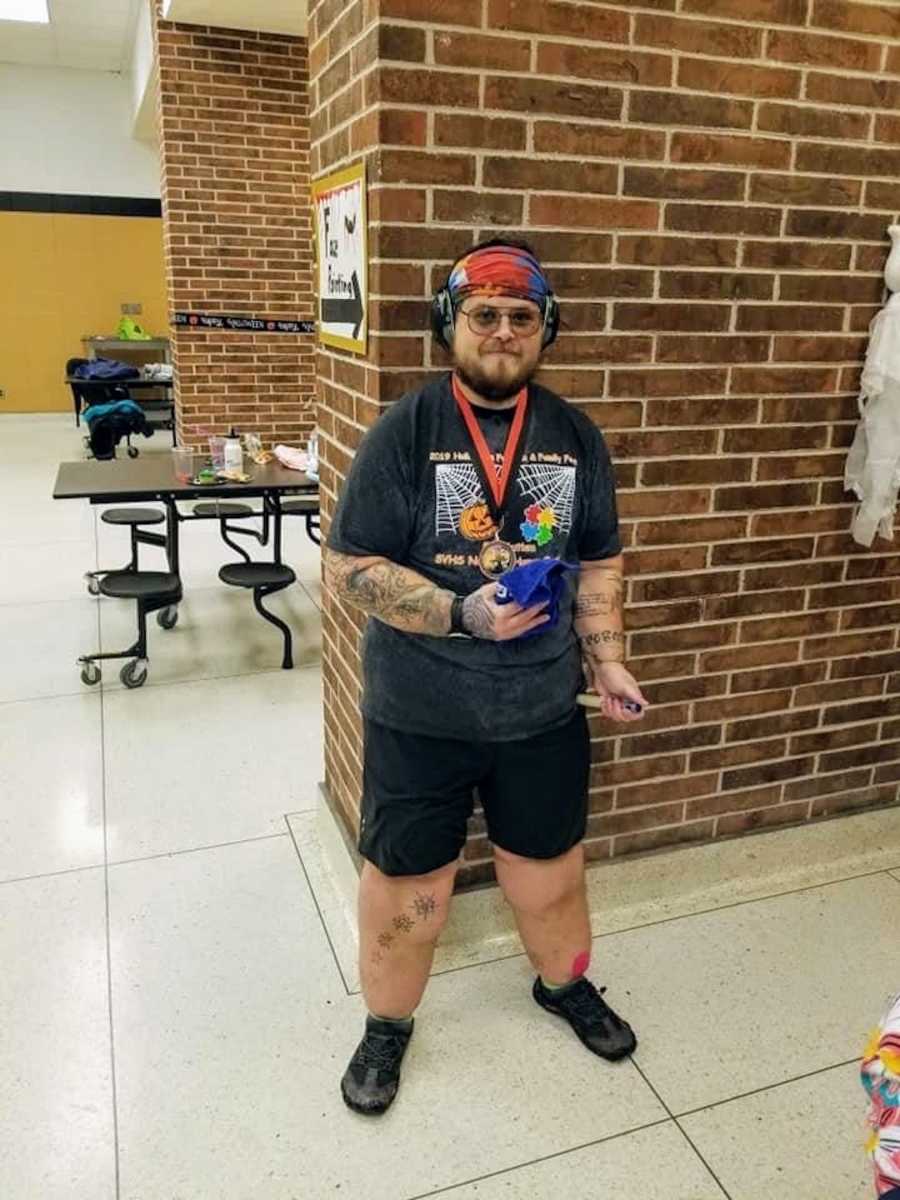 I asked Amanda to marry me on our favorite trail, in the middle of a run. It was beautiful and felt like I was in a movie. We started trying to have a family immediately. I could never have imagined being here. Back in the institution, they said I would not be capable of building lasting relationships. Yet here I was, starting a family. After long fertility issues and at least one miscarriage, we found out on Father's Day we were going to have a baby! If I had an image of a normal life in my head, this was finally it.
On November 8, 2015, our lives changed forever. I remember running through our local hospital, shoes half on, screaming, 'My wife is in labor and she is only 23 weeks.' 3 minutes later, Amanda was lying in a triage room, wailing, as a nurse ran down the hall to the NICU with our tiny baby. After an hour, we were given the news our baby was still alive and were presented a picture of our daughter, Baby Kala. Nearly 2 hours passed before we were finally escorted to meet her. She was so tiny, at 1 pound, 5 ounces, so fragile we couldn't even touch her.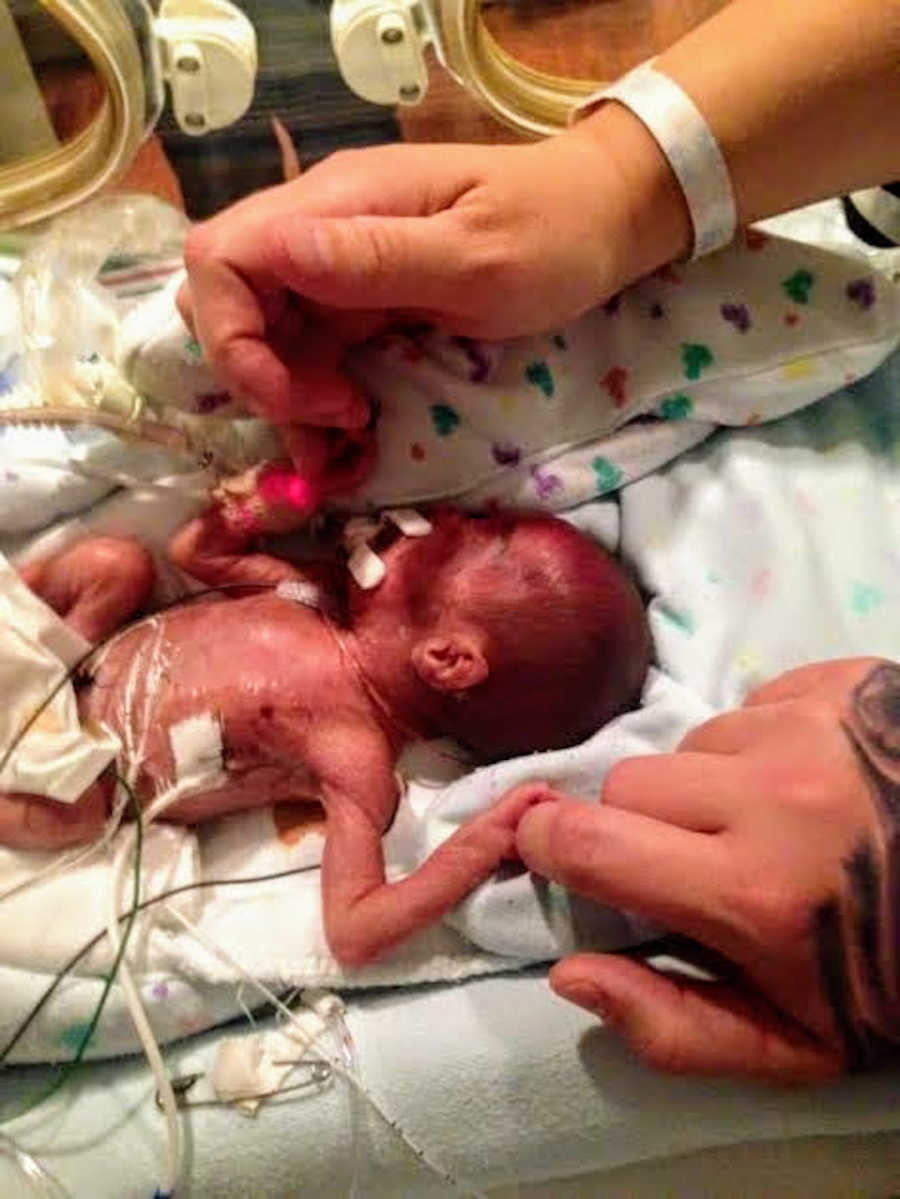 Every single day, I watched my wife watch our baby with a love I have never experienced. I saw her watching other mothers hold and touch their babies. I sat, helpless, as she silently cried watching NICU nurses sing gentle lullabies to babies as they cared for them. Still waiting for news we would someday hold our little girl. On day three, we learned Kala had a bilateral grade IV intraventricular hemorrhage (IVH). The doctor told us she only had a 2% chance of survival and a 98% chance she would be profoundly disabled… if she survived. A pneumothorax and an emergency chest tube quickly followed.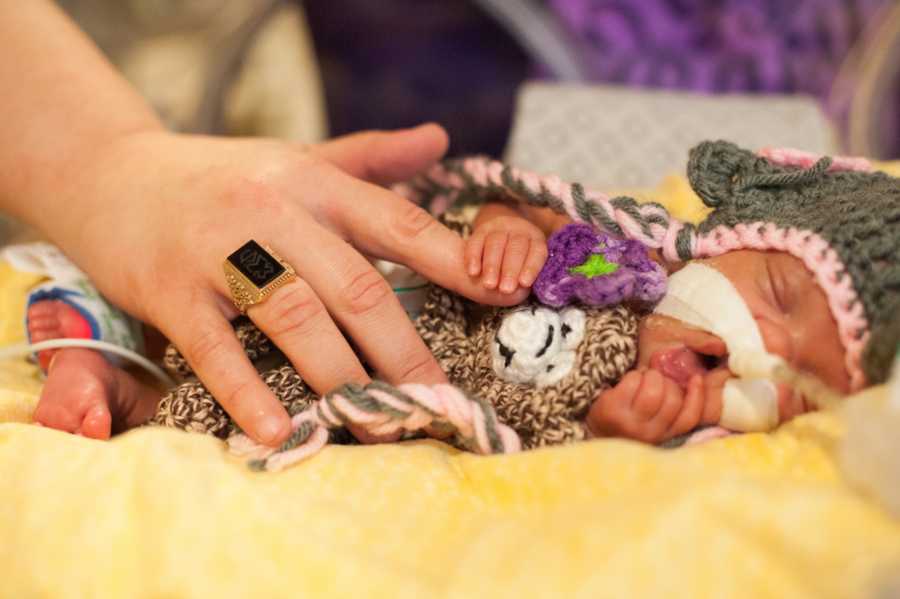 After 30 days, Amanda got to hold Kala for the first time. Kala's chances of survival had increased to 50% and our hearts were full of hope as Christmas quickly approached. December 26 brought us our next roller coaster twist as Kala developed a pneumatocele in her right lung. She had reached a point with her developing hydrocephalus that emergency transport to a larger hospital had become necessary, as she now needed her first of many surgeries to come.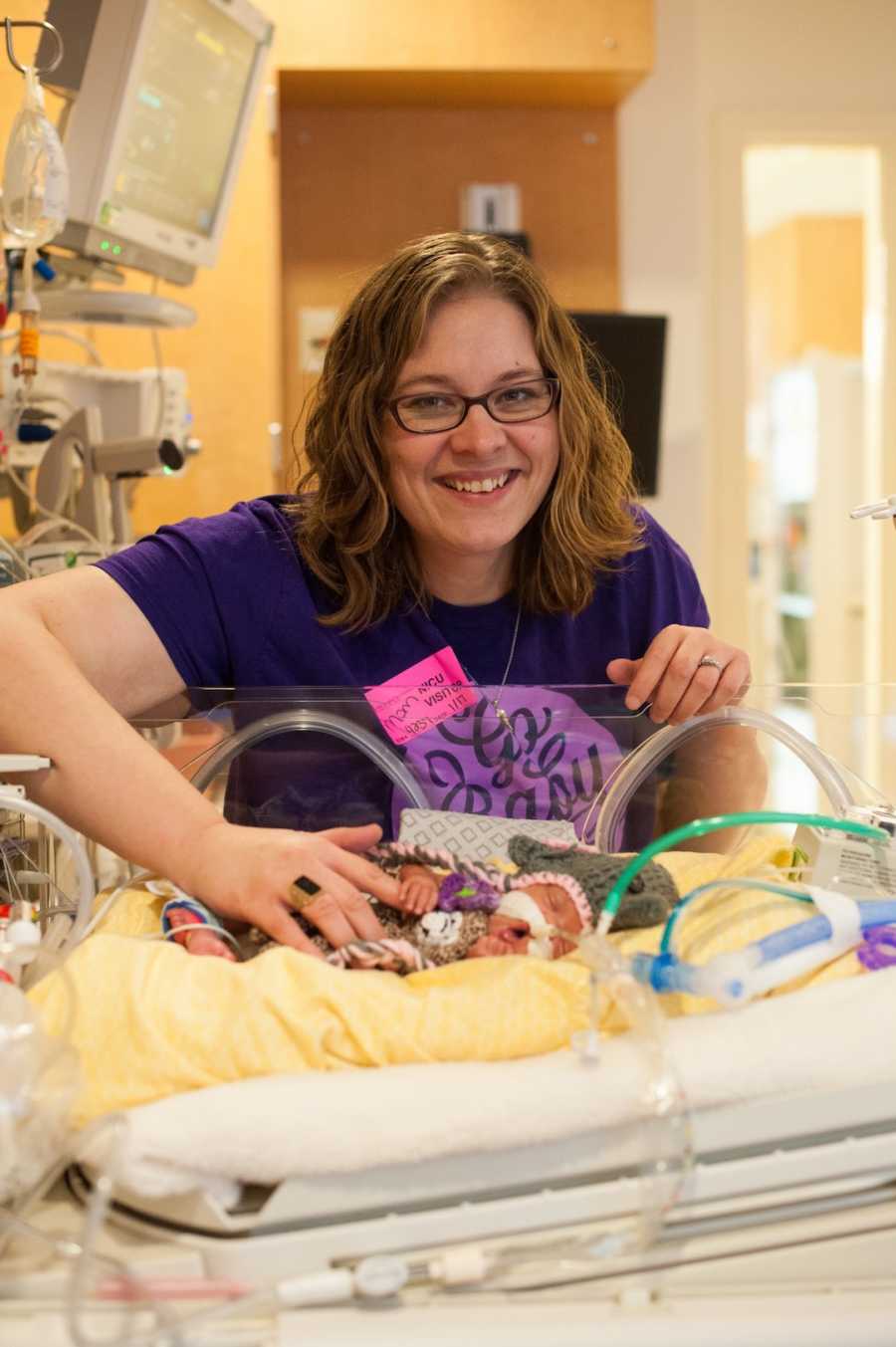 Nearly 3 months into her journey, Kala was finally extubated. We heard her cry for the first time and could hold her whenever we wanted. February was certainly filled with love. We even had a photoshoot with all the crocheted hats and bears I made to keep my hands busy. On March 1, Kala reached her due date, and Amanda and I started to feel a sense things were going to be okay. Finally, on March 21, 2016, after 155 days in the NICU, we all went home.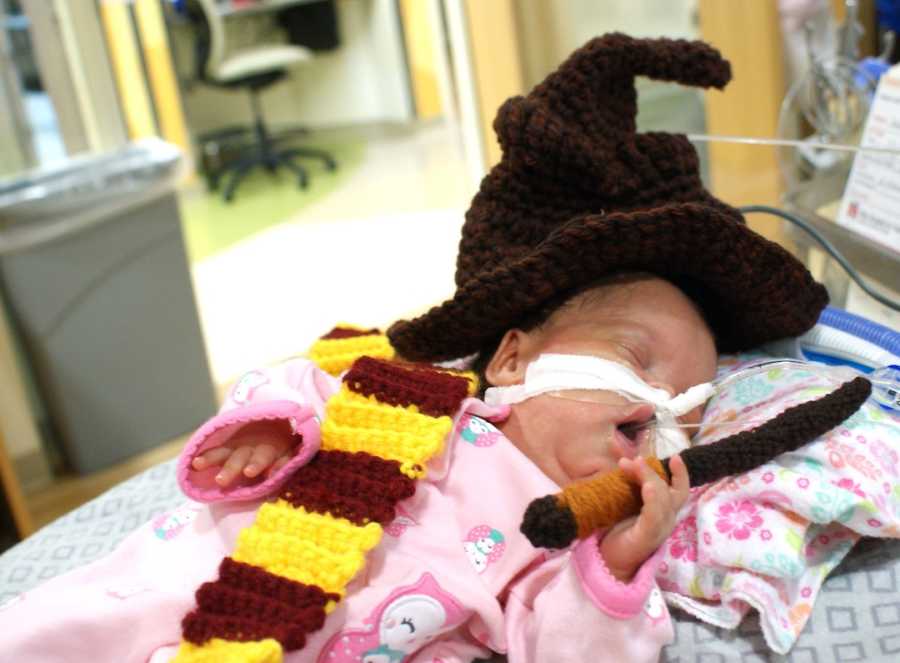 As we adjusted to home life with a tiny, medically-fragile baby, Amanda and I made some big decisions. I was going to put grad school applications on hold indefinitely, and stay home with Kala. It would be easier for us if we knew Kala had every advantage we could give her, advantages only a full-time, stay-at-home parent could provide. My whole life became this beautiful little girl who never slept. She craved constant movement and pulled away if you touched her skin too lightly. She was sensitive to touch, the same way I am. She would cry to be held, and cry because she was being held.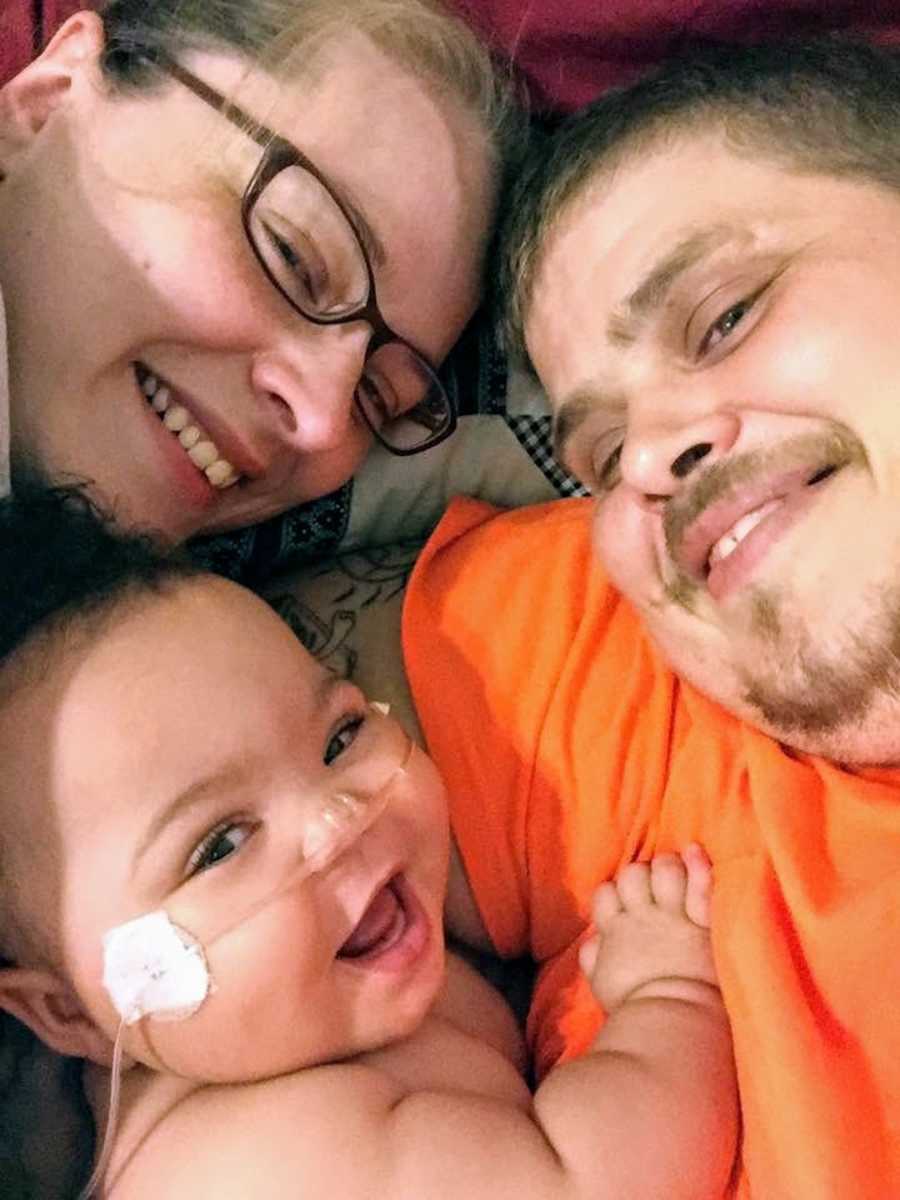 I would pace back and forth with her for hours to try and soothe her. Doctors thought she was blind because she never made eye contact. I knew she didn't look at us because she was autistic. When Kala was 12 months old, they tested her for autism. Due to her severe cognitive delays and cerebral palsy, the doctors felt they needed more time to assess her. I didn't need them to tell me what I knew. Kala, like me, is autistic. She attended eight therapies per week, including PT, OT, speech, music therapy, and recreation therapy. She would scream at the top of her lungs and throw up at every single appointment.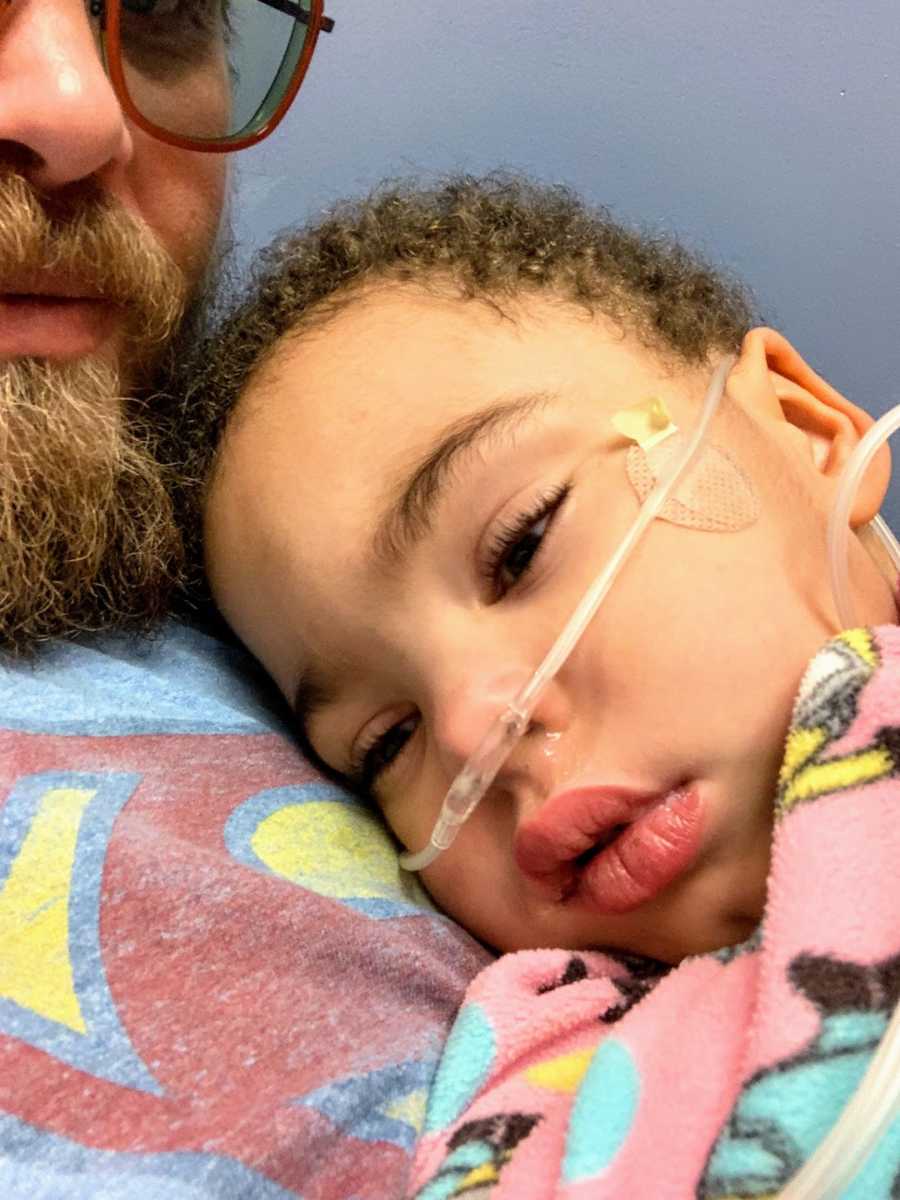 I had to wear ear defenders to function enough to give her the care she needed, while barely caring for my own ADLs. I was gaining weight again because I was coping with food. It didn't work and I was having more and more meltdowns. By the time Kala was 3, she was diagnosed with autism. I knew more than anything I needed to be able to show her autism could be a gift, if you learned to love yourself right. I needed to find a way to care for me amidst all of her needs.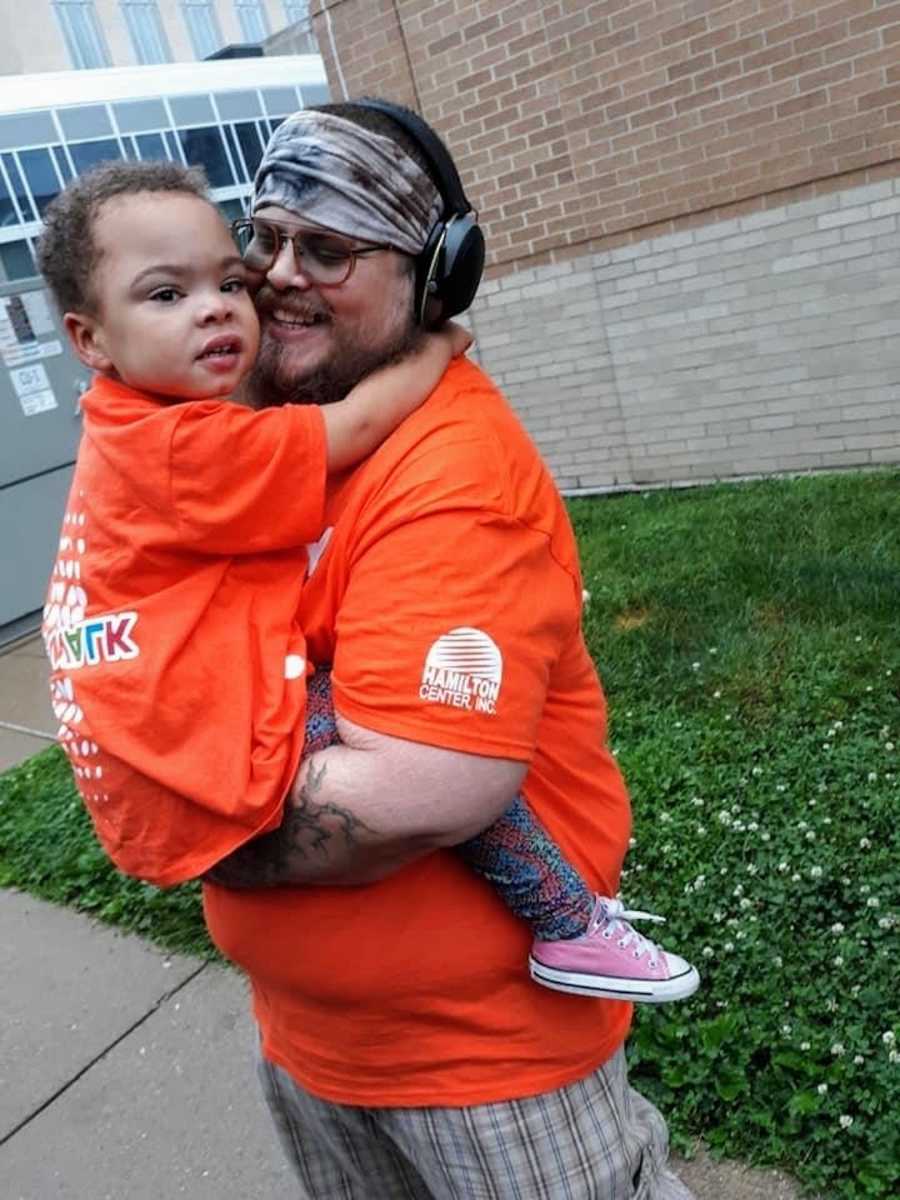 I needed to start running again. I knew running was the answer to how I was feeling. It had been 3 years since my last run, but I remembered what it felt like to come home renewed. I downloaded a coach to 5K app on my phone, gathered Kala's equipment, and transferred her into her wheelchair. Our adventure had begun. I knew the benefit this would have for me, what I wasn't expecting was the impact it would have on Kala's cognition. She started engaging in activities she screamed through for years. Her therapists started asking me to walk with her before her sessions. Running together was changing the world for both of us.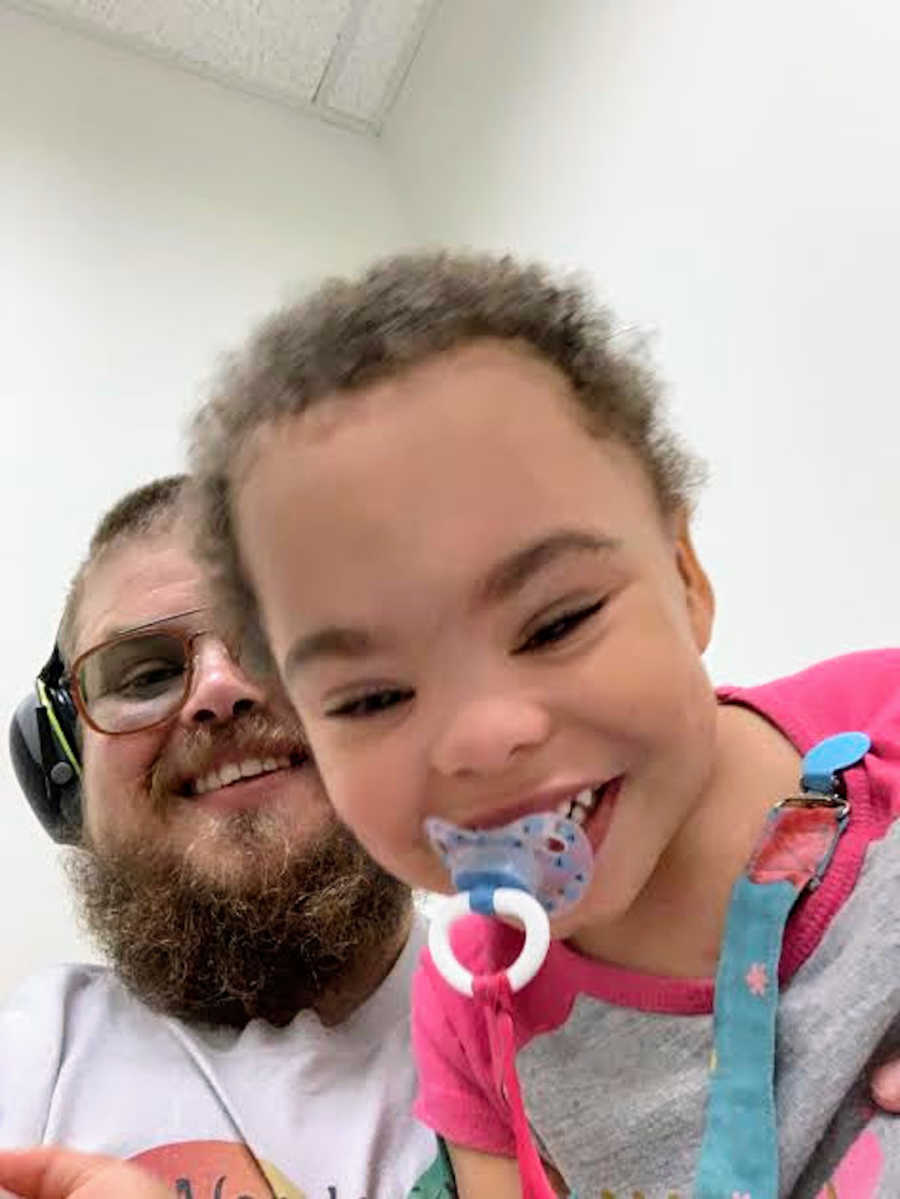 It was official, I was obsessed. I was drawn to the ultra world because they called it endurance racing. One thing I knew for sure about myself is I had the ability to endure. I would be attempting the Hennepin Hundred 50K (31 miles). Temple Grandin said getting autistic children involved with groups targeting their special interests (spin) would help them thrive. Group activities that include socializing have always been a struggle for me. Give-and-take conversational dynamics are difficult when your brain wants to stay on limited topics. I took this advice to heart.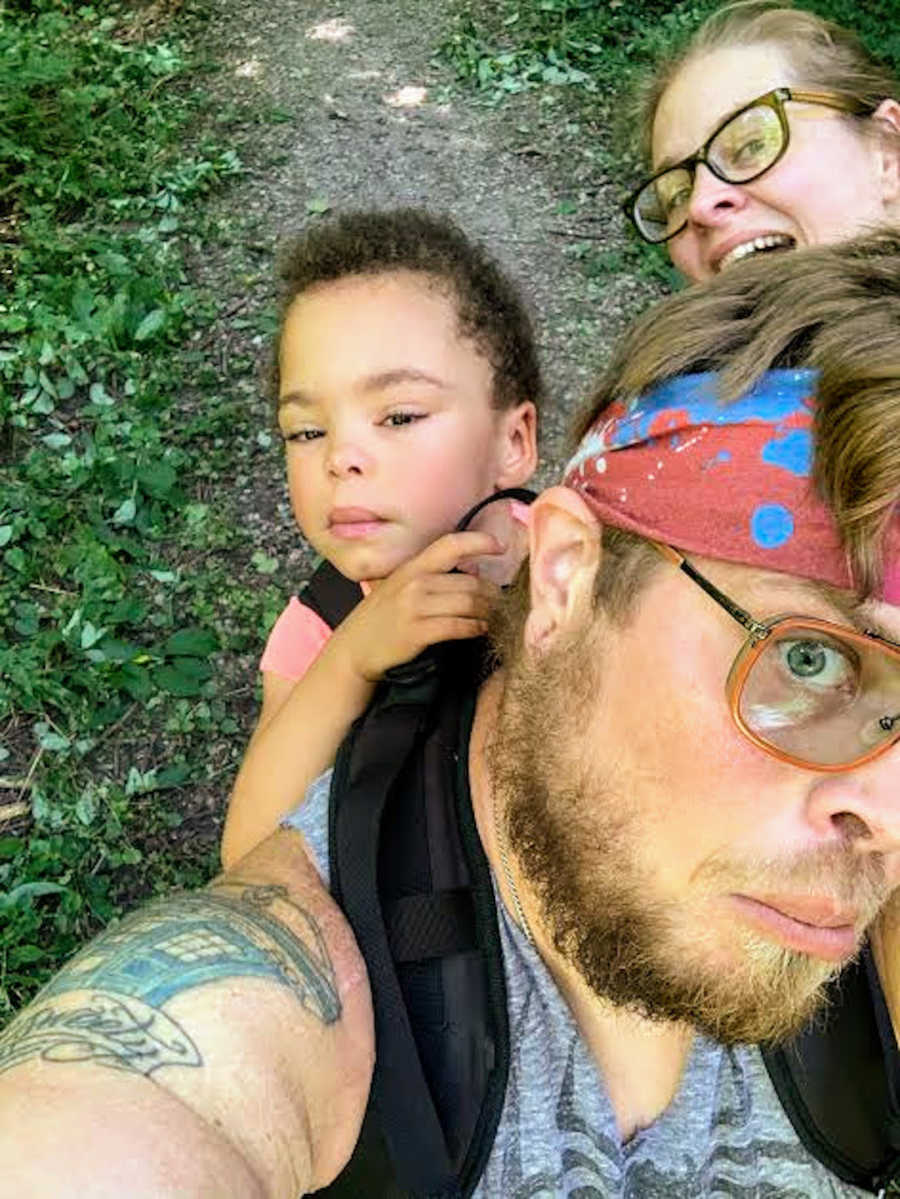 After completing two 5K races on my own, I signed up for a winter training group. As the days got closer, my anxiety rose. I kept reminding myself true change happens at the edge of your comfort zone. I wanted to show Kala that Daddy could do it. At the first group meeting, there were so many people I began to sweat. I was gripping my sonic screwdriver (a fidget I carry everywhere) and rocking just enough to stay present. I sat at an empty table in a room full of people. Even with ear defenders, the noise was heavy.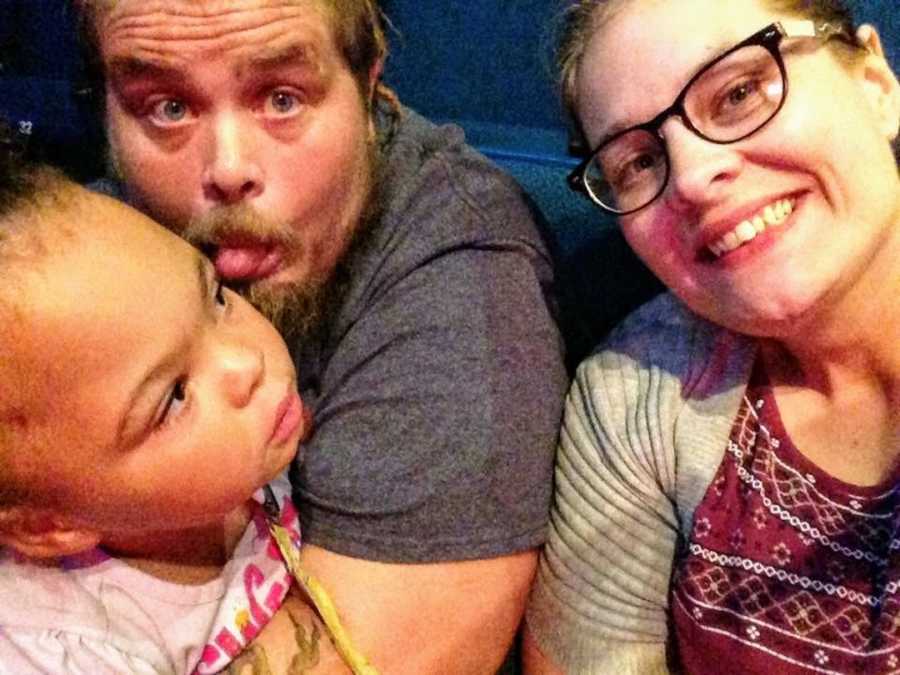 After the meeting, I waited in line for my training book. When it was time to say my name, my mouth was dry and my throat was tight. With barely a whisper, 'Ryan Steiner' came out. She didn't hear me over the noise but I saw my name on the paper and pointed. As she handed me my shirt and training book, I yelled, 'THANK YOU!' I often have volume control issues when anxious. I grabbed the stuff and took off running for my car. On the way out, someone spoke to me, she asked about running and it exhilarated me! I got in the car and started flapping, vocalizing, and screaming, 'BEST DAY EVER!' I couldn't wait for Saturday to attend our first group run with Kala's new enclosed jogging stroller.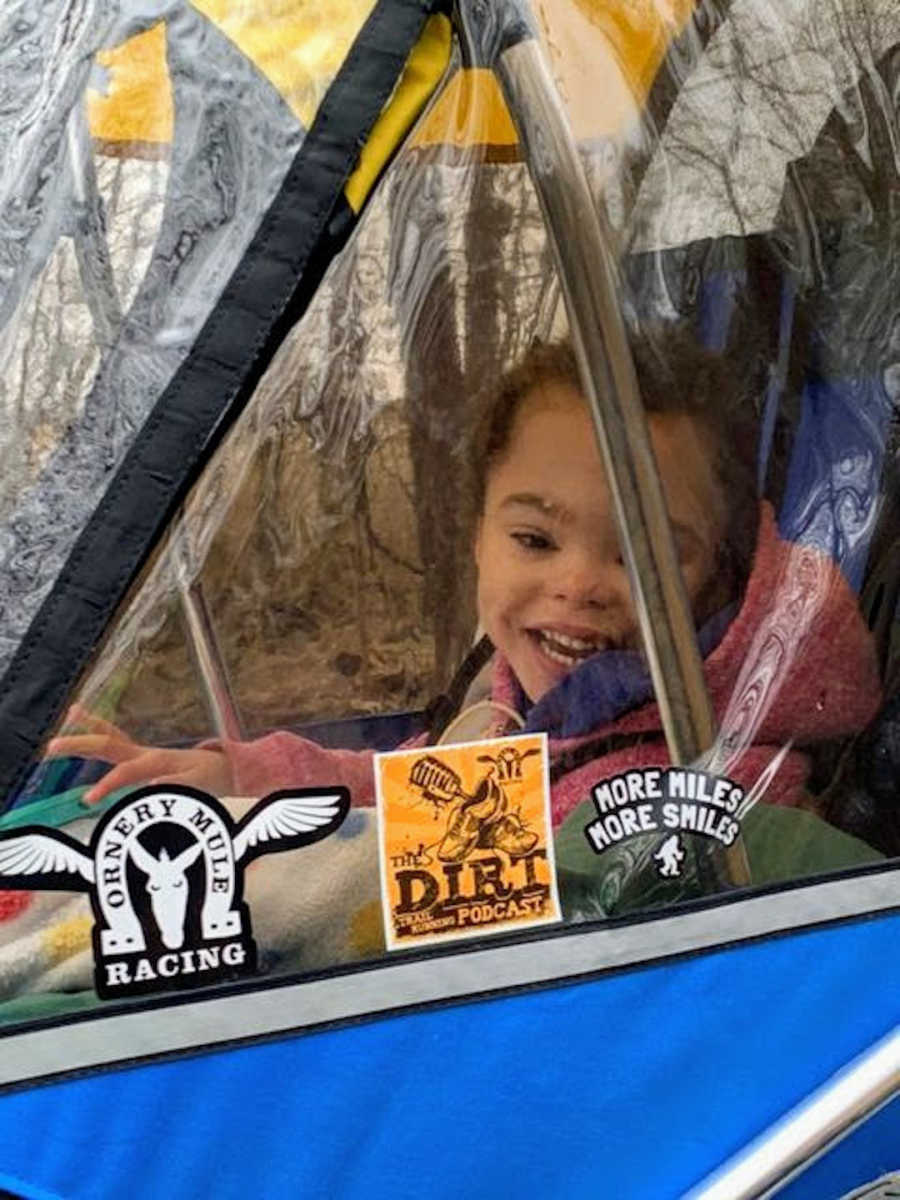 In March of 2020, when the world shut down, Kala and I went into isolation due to her medical problems. We even had to isolate from Amanda for a short time. The enclosed jogging stroller became one of our most used 'medical' devices. Kala and I were living in the basement with no reprise but running. Amanda was still out seeing clients, so Kala was only able to see her through the plastic of her enclosed running space. After each run, we would visit with Mommy, so Kala started bringing me my running shoes to communicate she was ready. I kept up the hope my upcoming ultramarathon wouldn't be canceled and the world would be back to normal by October.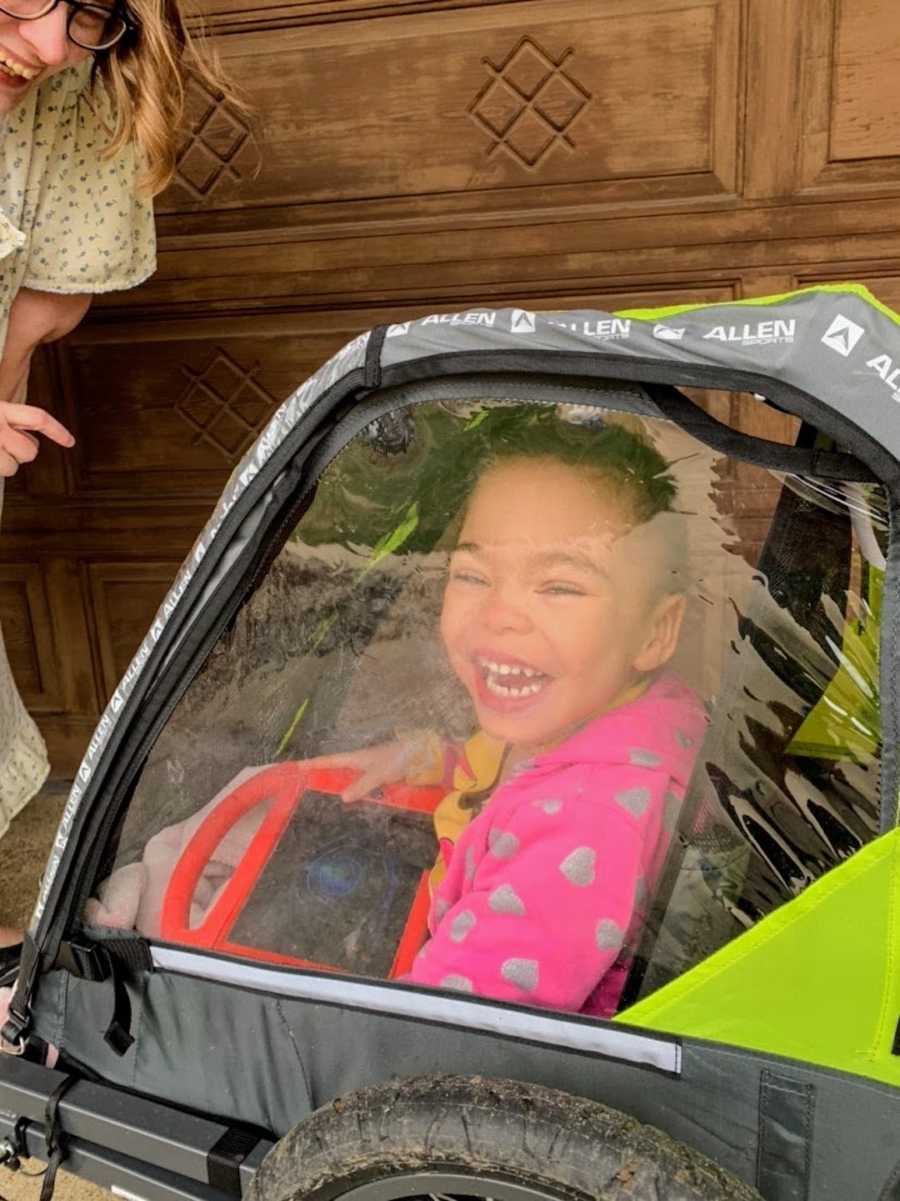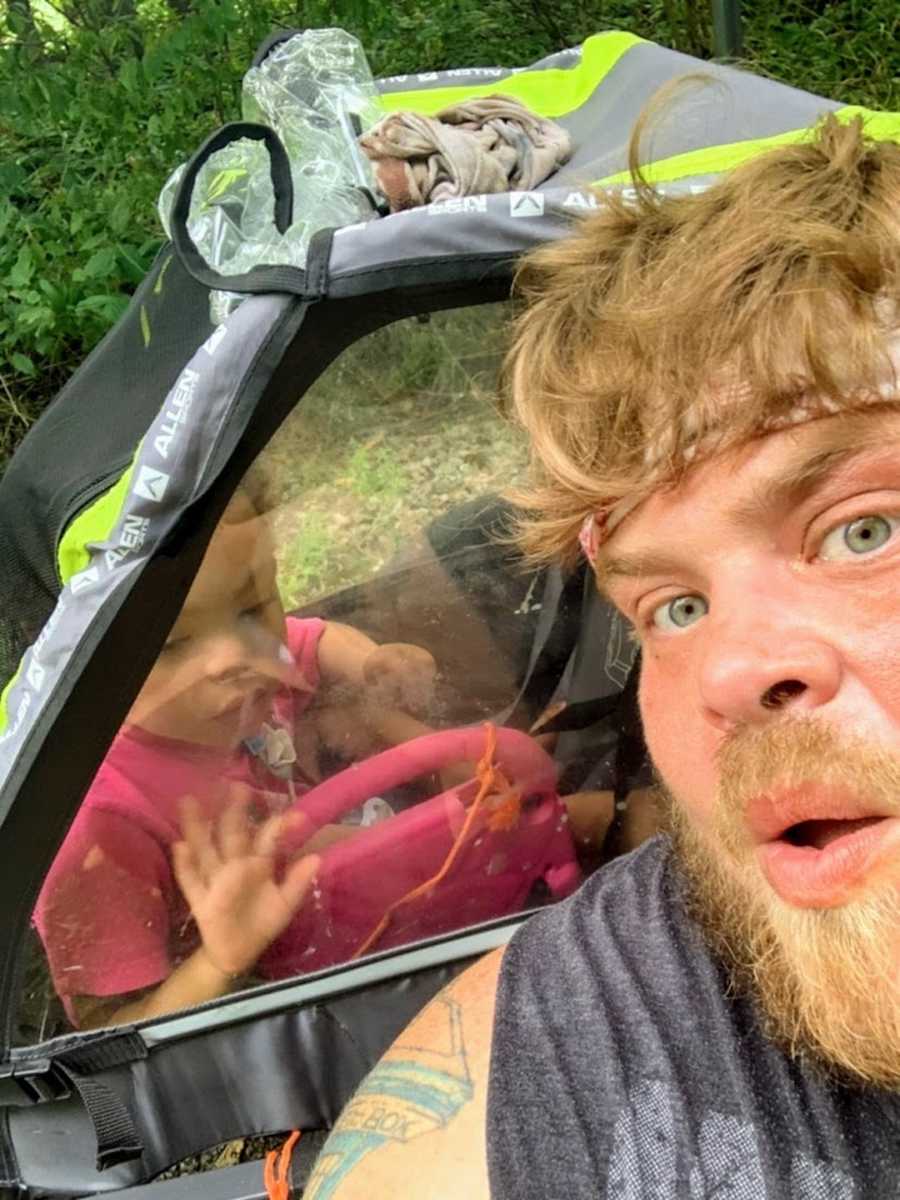 When the race was officially called off, I went to Facebook to share my disappointment and my accomplishments. To me, the weight loss is just a side effect of what I do to keep my head and body feeling like the 'me' I love. I wanted to share it, though, because I understand the magnitude. I made a post, picturing the extra skin from my 425-pound weight loss. The post got so much attention I was invited to go on The Dirt Trail Running podcast.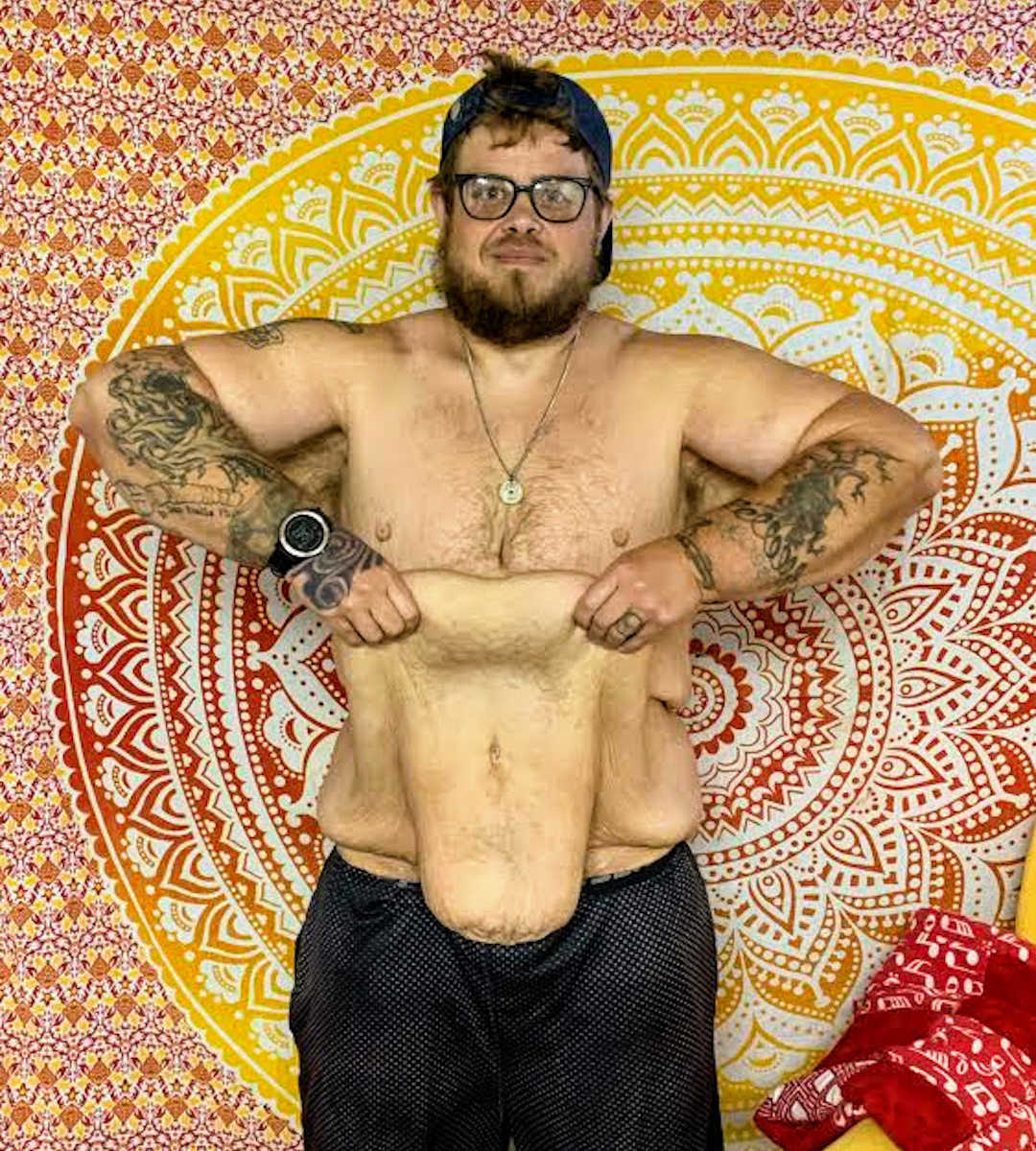 Running with Kala is one of our most important daily tasks. It has truly saved my life. Someone told me along the way Kala and I have a symbiotic relationship and it just stuck with me. I would do anything for her and as it turned out, she was changing my life, too. To date, Kala and I have run over 700 miles together and we have no plans to ever stop. We have completed several challenges together, including The 12 Days of Yeti trail-running challenge. Currently, we are running the Freeze My *ss Off 400-mile winter challenge.
While my in-person 50K race was canceled, I was able to complete the virtual version of the race solo. It has become my goal to encourage as many people to run as I can. You don't have to be fast, it's just about being out there. I want to show people the power of running and its impact on autism. To reach this goal, I applied to become an Ambassador for Ornery Mule Racing and recently found out my dream is coming true. I found a tribe of people where I belong, whose goal is to share the love of trail running with everyone. Their slogan reads, 'Kindness, community, ordinary people doing extraordinary things.' So here Kala and I go, heading out into the world, just two ordinary people on an extraordinary adventure."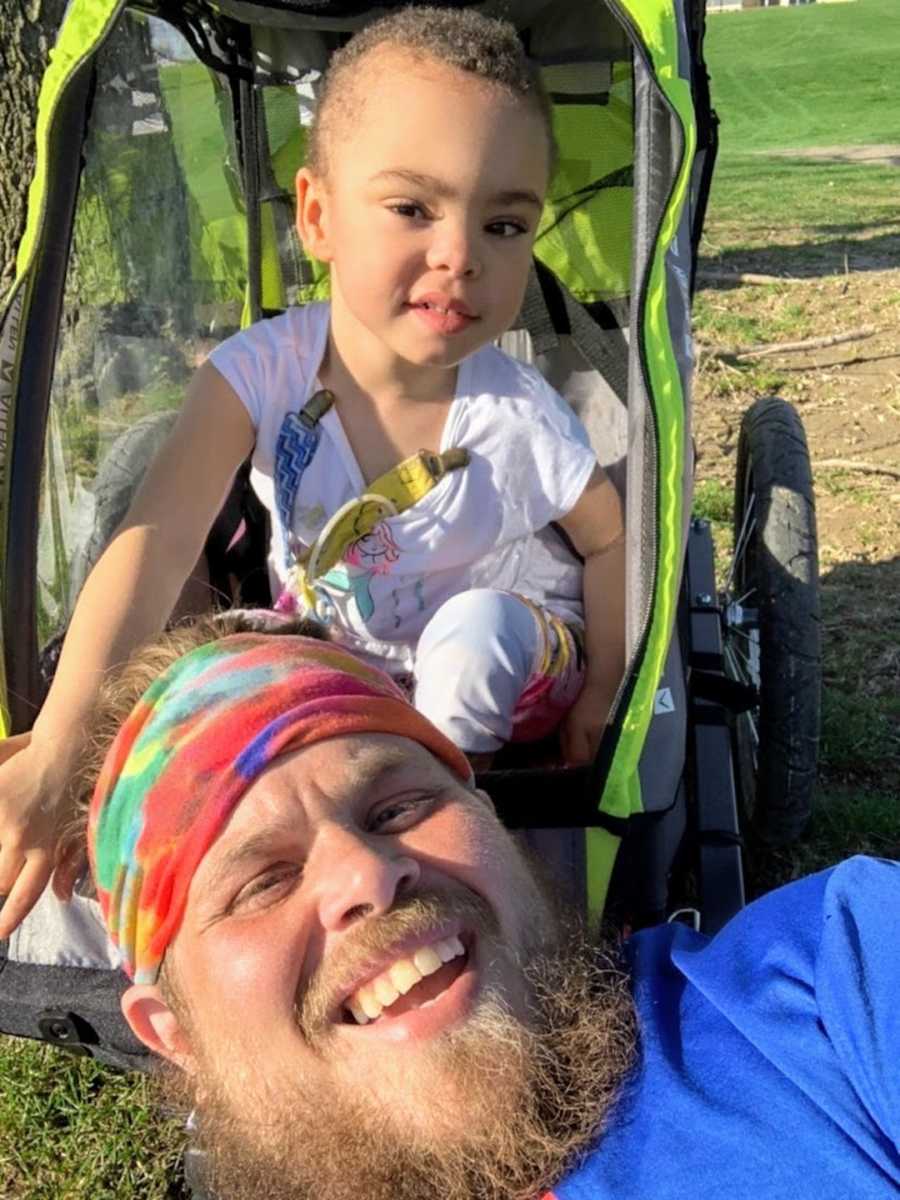 This story was submitted to Love What Matters by Ryan Steiner of Peru, Indiana. You can follow their journey on Instagram. Submit your own story here, and be sure to subscribe to our free email newsletter for our best stories, and YouTube for our best videos.
Read more inspiring stories like this:
'I can only do so much.' It's just the two of us. One day, I won't be here. Who will tell her I'm gone? Who will make sure she's safe?': Autism mom shares daughter's journey, 'I'll let her lead the way'
'He gave up visions of Little League for IEP meetings and speech therapy. He avoids the stares, holding his teenager's hand, and his entire heart.': Woman pens appreciation letter to Autism Dads
'I loved him when he had words, and when he lost them. Through the sleepless nights, endless screaming, and walking in circles. I loved him even when he couldn't say, 'I love you.': Mom to son with autism urges 'all you need is love'
'Your son has severe autism.' I became a divorced mother of 2 post-diagnosis. Josh welcomed him with open arms.': Special needs mom, bonus dad urge 'our love knows no bounds'
Give other parents strength and courage who are continuing to learn about their children with autism. SHARE this story on Facebook.