"Bringing a baby into a blended family rocks the boat. There are no ifs, ands, or buts about it. I take that back — bringing a baby into ANY family rocks the boat. But I want to share my experience in terms of how it affected our family unit in good ways and in more challenging ways.
When we found out I was pregnant, Joe and I were so excited. I had always wanted to have kids of my own and that was always part of our plan when we decided to get married. We had talked at length about it. Joe understandingly had some reservations, having two kids already and the logistics of a new baby, the girls' schedules, Joe's and my work schedules, etc. It was enough to keep me awake for a week. But what I realized was all that really didn't matter in the grand scheme of things. I had faith we would figure it out, just like we had figured out all the other obstacles that had popped up for us along the way. Thank God I didn't let it hold me back. I think that's important: you can't let fear and uncertainty in a blended situation halt your journey. Looking back, I can't imagine life without the boys. The positive things it brought to all our lives vastly outweigh any negative ones.
We waited until that 12-week mark to tell the girls and everyone else about it. And to be honest, it wasn't the girls I was worried about telling. I knew they would be excited — and they were! It was the outside world I was sweating. I knew most would be happy for us, but there was a nagging feeling that coworkers, acquaintances, some family members, and the girls' moms would not be thrilled.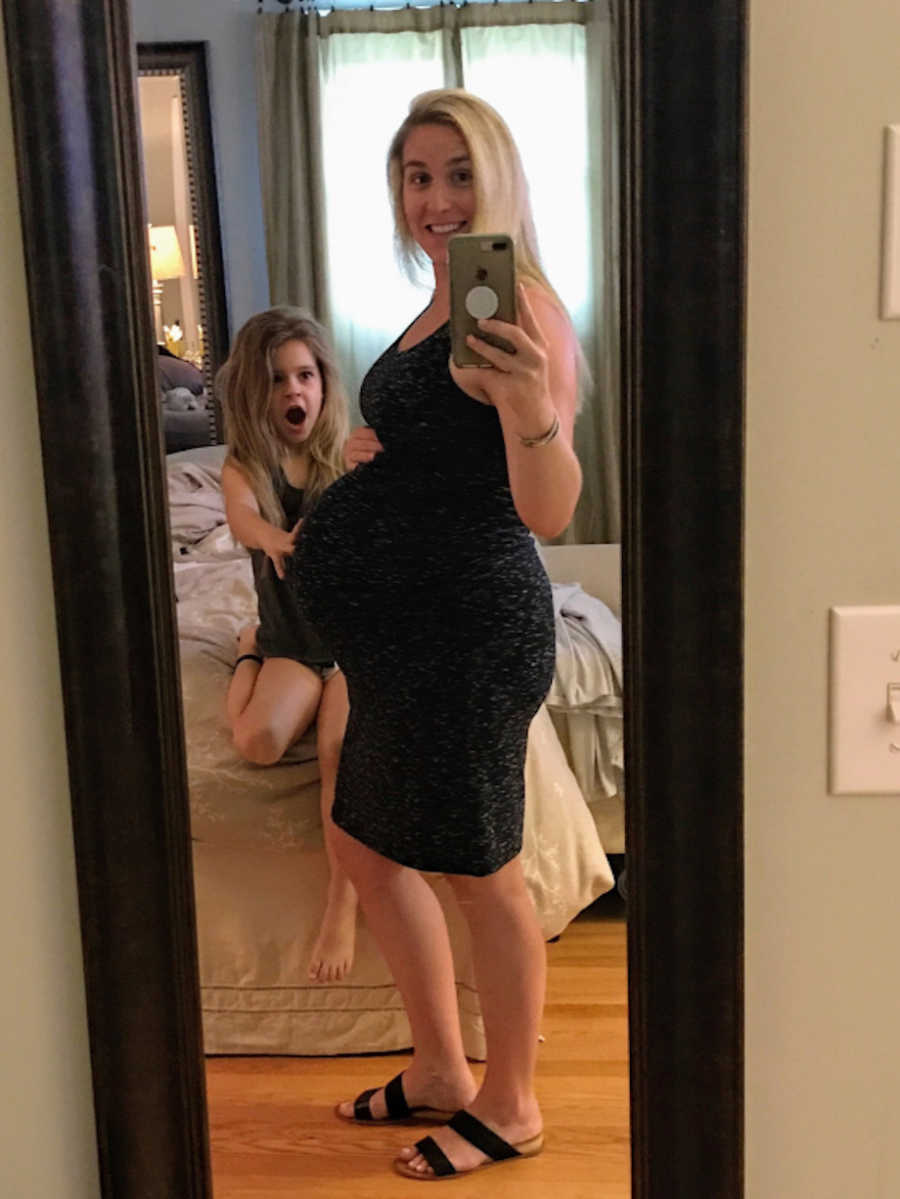 I hated the idea that not everyone would be elated. It took me a few months to move past that. At times, the anxiety was so consuming that I would make a concerted effort to hide my bump if we were at school or sports functions for the girls. I just didn't feel like having the conversation. My eyes would dart around defensively, wondering what other people were thinking. 'Really? More kids? Another mom in the picture? What are they thinking?'
When I got pregnant with Jack only 7 months after having Joey, that's when the best quips really came out of the woodwork. 'Oops! Must have been an accident! They're crazy! This will be the end of them…' But you know what? The second time around, it didn't sting as much. You have to isolate yourself to a certain extent when you're in a blended family. People will ALWAYS have something to say and if you let it get to you, it will steal your joy. On top of that, when you let it in, it will set up shop and build a big heap of resentment. Just because you're a stepmom or a second or third wife, does NOT mean you don't get to revel in your happiness. There is no reason to feel guilty for building a family. What matters is HOW you do it, not THAT you do it.
From the moment we told the girls, I tried to involve them as much as possible. I wanted them to feel the joy I was feeling. We created a family gender reveal for them with blue frosting-filled cupcakes, and I know they'll never forget that. They helped me set up the nursery, attended my baby shower, L even did prenatal yoga with me (even if she laughed the entire time at the crunchy teacher).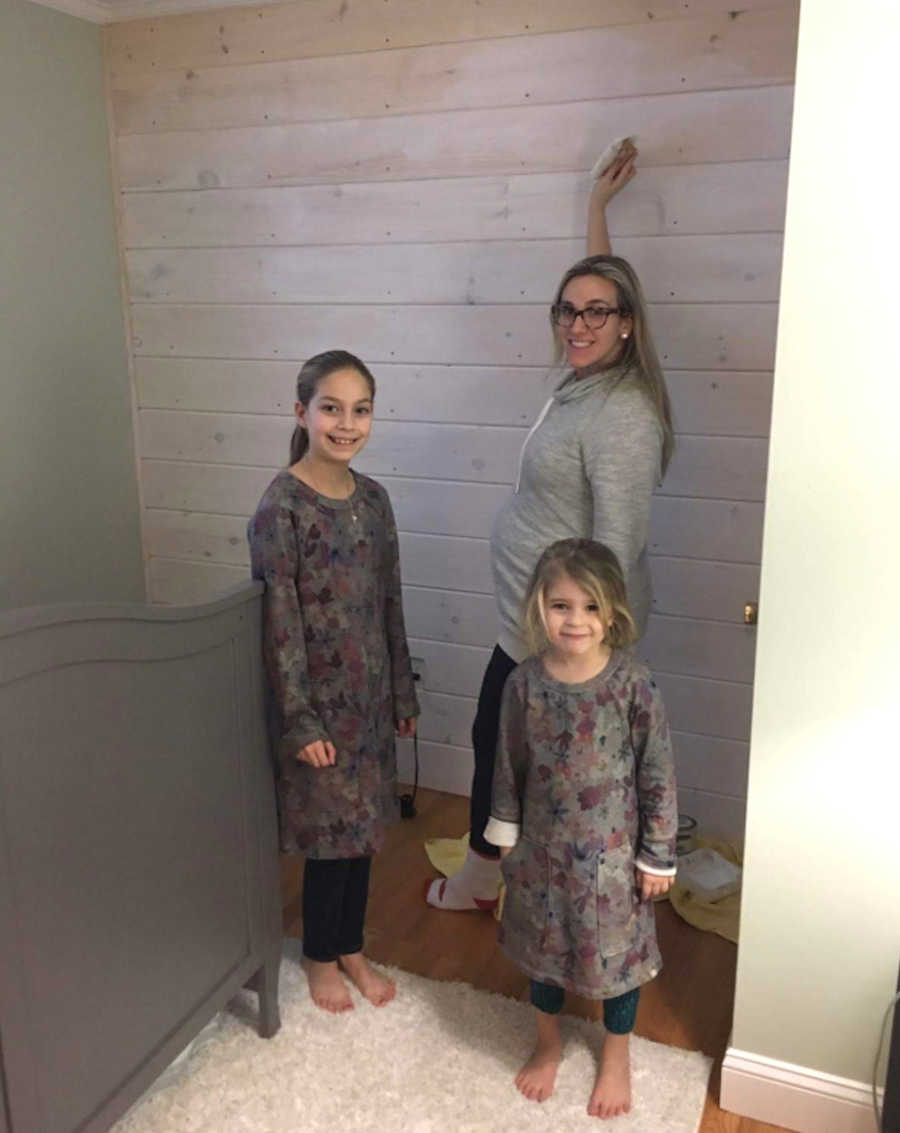 The day Joey was born, I had ONE request. I wanted a photo of our entire family in my hospital room. And even on painkillers, numb from the waist down, I made sure it happened. I asked the same thing when Jack arrived.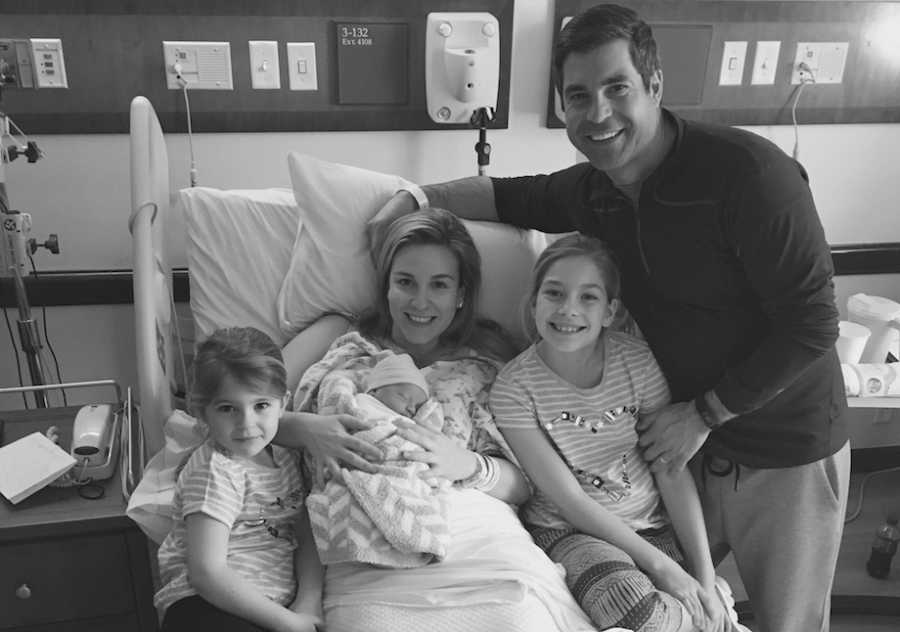 I love looking at those photos. They capture the essence of that moment, all the blended drama aside. Everyone is happy, everyone is smiling and the only thing that matters in that moment is there is a beautiful, healthy new baby in our crew.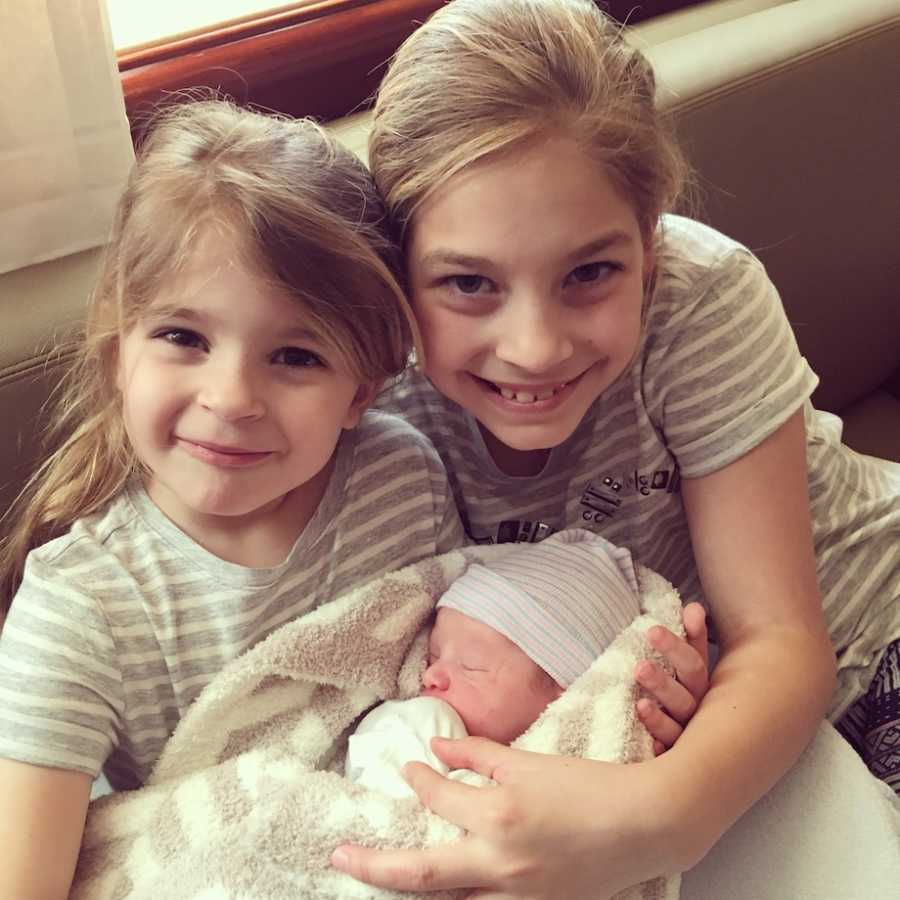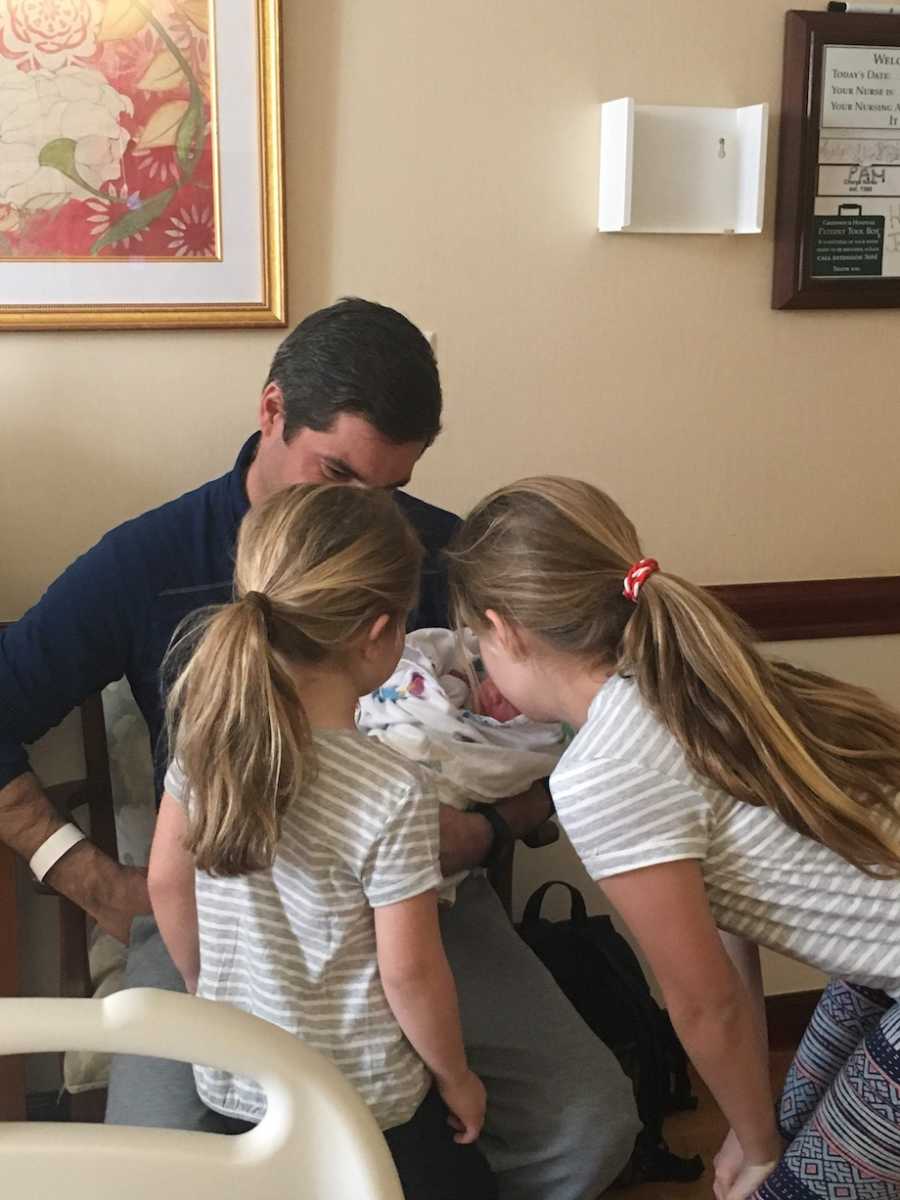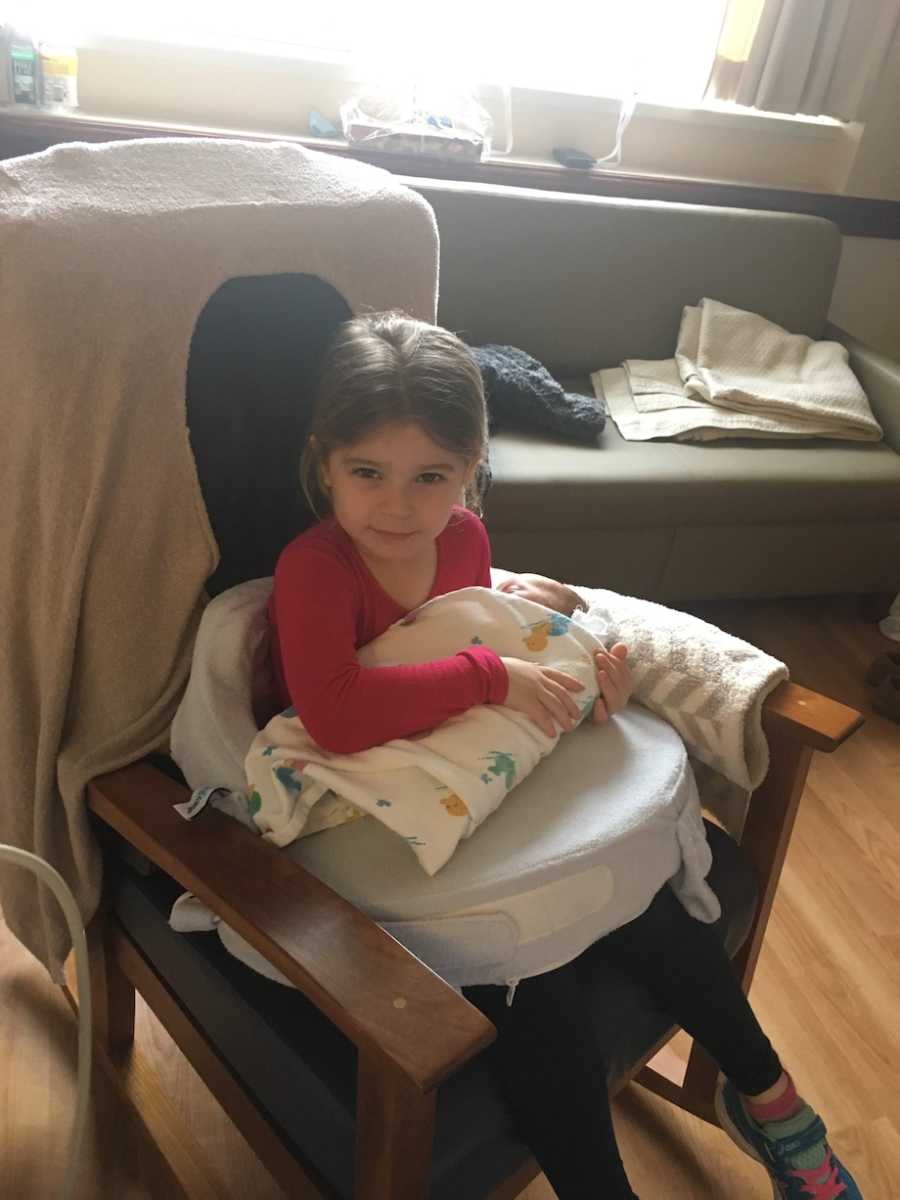 Yes, there are a thousand logistical challenges that come from a new baby. There are issues with jealousy that pop up now and again or frustration with the change in lifestyle. I remember the girls one night asking to go out to dinner after a string of sleepless nights with Joey. When we said not tonight, one of them said, 'How come we NEVER go out to dinner anymore?' It was not meant to be a hurtful comment by any means, but it jolted me into the realization that maybe I had robbed them of some of their favorite things by having a baby. And with just a little effort on my part, I could put some of those pieces back together.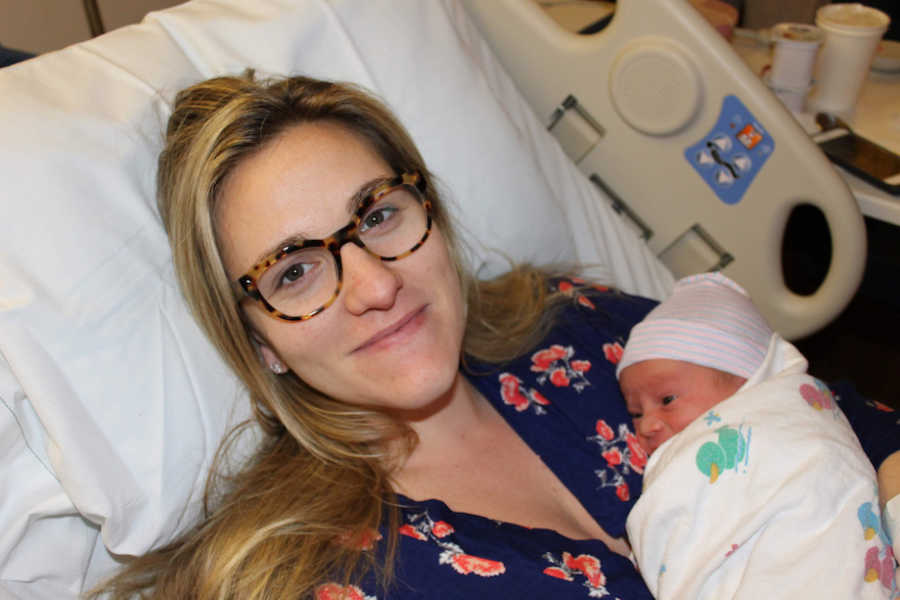 I changed out of my spit-up covered sweatpants and we went to the Cheesecake Factory that night, party of 5. I had dark circles under my eyes and a baby attached to my boob for most of my meal, but the girls had a blast and I was able to show them these things are still possible. I just had to bend a little. Would I have rather been home binge-watching Real Housewives and eating lactation cookies? Yes but honestly, it was more important for me to be there that night.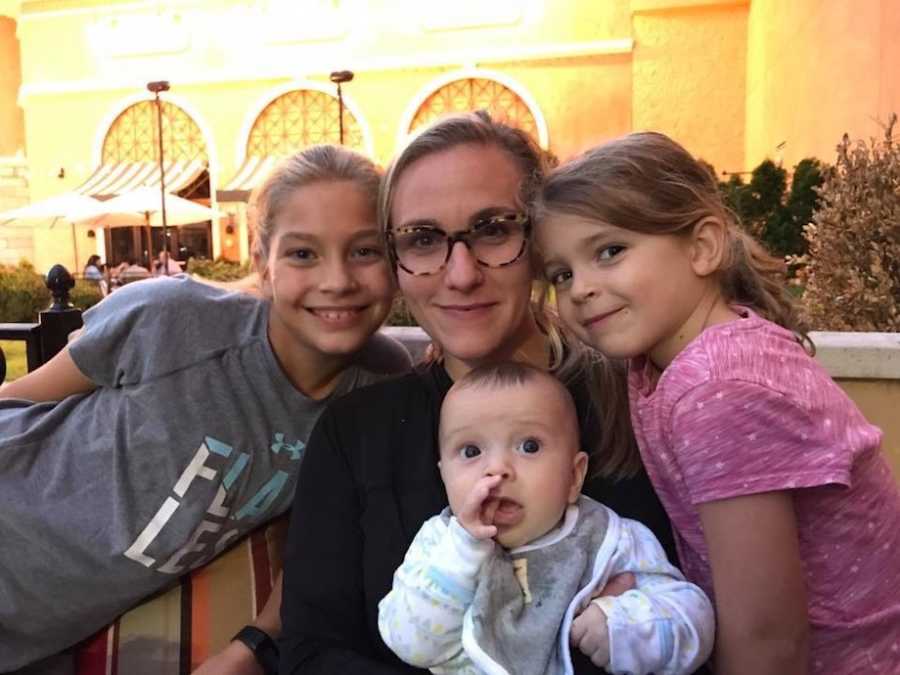 That's what it's about. Bending, bobbing, weaving. Every member of a blended family has to exhibit flexibility from time to time. Small sacrifices can have a huge impact, especially on your stepkids. What's your experience with adding bio-kids to your blended family? What were the challenges you faced? The small victories?"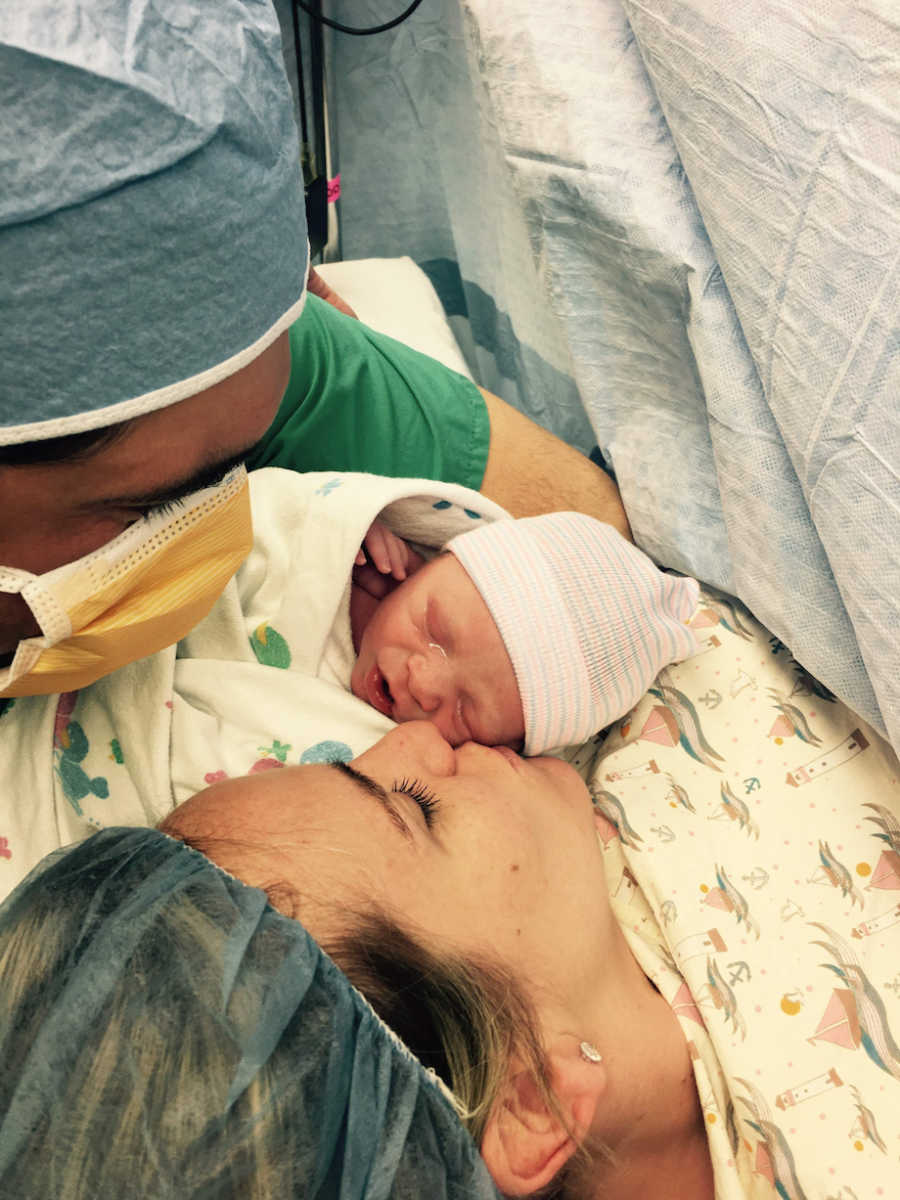 This story was submitted to Love What Matters by Nina Turcsanyi, 31, of Connecticut. Do you have a similar experience? We'd like to hear your important journey. Submit your own story here. Be sure to subscribe to our free email newsletter for our best stories, and YouTube for our best videos.
Read more from Nina here:
'This was NOT in the plan. Everyone was supposed to stay home.' His daughter had been to Walmart and the grocery store a few days prior.': Stepmom urges 'keep everyone as safe as you possibly can'
'My husband texted me a photo of her, sitting in the doctor's office getting her pink cast on with her Mom. My heart hurt, but I couldn't express it.': Stepmom says the key is to 'step up, step back, and step over'
Read more beautiful stories about blended families here:
'My ex-husband married my best friend,' she tells everyone. We've given 'Sister Wives' a whole new meaning.': Wife and ex-wife become best friends after years of fighting, successfully co-parent blended family
'Did she want another woman in her life? I waited to meet my stepdaughter for the very first time. My heart pounded as she stepped in the car.' Woman explains there's 'nothing natural about a blended family'
Please SHARE this story on Facebook and Instagram to encourage others to live life to the fullest.