"You get married and then you start a family together. It's that easy, right?
Well, in my first marriage, babies came easy to us. But not this time. Not for my second marriage.
Yes, I am older, but that shouldn't matter, right? Little did I know, my new husband and I were about to travel down a long and painful road. Secondary Infertility isn't even a term I had ever heard of, but I was about to become very familiar with it.
After a honeymoon to the Dominican Republic, we waited for the 3-month recommended time to begin trying because of the possible exposure to the Zika virus. I began searching on Etsy right away for a great way to announce to my husband I was pregnant. I found the right onesie and came up with a beautiful plan right away. Several months pass with no positive test. I was told it would probably take 3 months or so for us to become pregnant. Besides, that's how long it took me for my two boys. I wasn't worried too much, YET.
6 months pass, and I began to worry a little. It began to hurt each time I didn't get the positive result I expected. A dinner one night, my sister told me not to wait anymore and to go to a fertility specialist as soon as possible. That conversation turned into a blessing, that's for sure.
We had our first appointment and talked over our game plan. Blood work was done and testing was also ordered for my husband. We had no idea the battleground we were about to walk into. Surgery was up for me first. They found I had stage 4 Endometriosis. Well, no wonder I had been having such painful cycles! It had just become my normal. I was then thrown into a medicated menopause in between that surgery and my next. It more or less threw me into being a monster and depressed for the next several months. My body just didn't know how to take the hormones. I was told I couldn't become pregnant during that time, due to the hormones, but I still hoped I would anyway. Fast forward to the second surgery. It went well and my recovery was a little better than the first.
We jumped right into trying an IUI or as most people know it as Artificial Insemination. We just KNEW this would work for us. The extra money would be well worth it! We went on a family vacation and I watched everything I did, making sure I wouldn't do anything to cause it not to work and to make sure I had a healthy baby! We really didn't see it as something that wouldn't give us our baby. Yet another negative test. This was starting to hurt!
We gathered ourselves together and said we would try again. Two more failed IUI's later, along with countless pregnancy and ovulation tests later, we were just heartbroken. Why were we not able to get pregnant? Talk about pain, so much pain I couldn't give my husband a child. YES, most women feel like it's their fault. You feel like such a failure. Even though nobody points the finger at you. WHAT A FAILURE. Try to talk me out of that one.
We were told our only option, due to my egg count number dropping in half after both surgeries, IVF was our only option and we had to work fast. We immediately moved into the process while still grieving the past two years of not being able to have achieved pregnancy.
IVF is HARD. It's mentally and physically draining. It brings you to the point of breaking over and over again. It's so many doctor's appointments, you lose count. It's money you had planned for other things. It's not being able to go places because you are so consumed with the process that you don't know how to be the 'normal and carefree' person you used to be. It's crying when you have to mix meds and inject yourself. WAIT, I'm not a nurse. How am I ever expected to do that? It's your husband learning how to give you shots because you can't reach your backside. It's learning to trust him in more ways than you ever thought possible. It's all about timing everything out JUST SO. It's waiting on phone calls and test results. It's feeling absolutely nuts on certain days because you have so many hormones going through your body. It's many days of Googling what to expect because you don't know anyone who is going through the same thing. It's crying over all the bruises your body now has. It's crying and feeling jealous when your friends announce their pregnancies. Then it's guilt for feeling that way.
I couldn't find a soul that was going through what I was. Nobody talks about infertility. I wanted to. I needed to. I found a group on an app where there were women going through what I was going through. Thank God for that. I don't know how I could have gone through IVF without additional support. I found a beautiful friendship with someone who was across the country from me, but she knew how I felt. That was one thing I was very thankful for.
Two months later, after all our travels to the doctor and Nashville, after countless injections, after egg retrieval, after waiting on genetic test results on our embryos, and after the transfer of our little embryo, we had our big day. Beta day. The pregnancy blood test day. It all comes down to this moment. It's emotional beyond what you could imagine.
I even met another woman coming out of the office who was bawling her eyes out. She had just had her blood drawn too and was going home to wait for that all too important phone call. There's nothing you can do at that point. It's either happened or not. You have prayed your way here. The moment is finally here.
My phone call came in with the most beautiful news I have ever heard. It was positive! It wasn't a high positive, but it was positive. I ran to get the bag that had the onesie in it I had bought in faith years before. I couldn't wait to give it to my husband. It was a beautiful moment I had dreamed of sharing with him.
Two days later, I got another call my other beta testing numbers didn't rise. I was told I may not have a viable pregnancy. To be on such a high, it was devastating to hear. We had to wait for another couple of days until another blood draw could be done. That phone call was the same. Just didn't look good. I lost it. I yelled at my husband, ran out of the house and called a friend. I literally sat in my car down the road, screaming and crying for at least half an hour. I had managed to stay strong for so long, it all came out at once. I gathered myself and went back home. I apologized to my husband, who understood. Then I put my big girl panties on and put on my usual strong face.
We were told after the third blood draw, I needed to stop taking my meds and give up. I refused. It didn't feel right, so I demanded another blood draw, which has never happened. The fourth blood draw came back higher! Praise God! But our happiness was short-lived when we were told it was most likely an ectopic pregnancy. We had to wait for an ultrasound when they could see the placement of baby and then another to see a heartbeat after we saw our baby was in the right place. It's all a horrible waiting game. You really have to tap into yourself, each other, and your faith to get through it all.
Baby Addy was just fine. She wasn't ectopic. She was viable. She was so strong! She proved everyone wrong!
Our baby girl was born at exactly 37 weeks. She was rushed off to the NICU 4 hours after she was born because she turned blue after eating. We found out her lungs just weren't mature yet. She continued to fight there. She is a warrior beyond anything I know. She is my little superhero. But beyond that, she's HOPE. She's hope to those who feel like they won't ever get their baby, who suffer silently or even not silently.
To those women who feel like they won't ever get their miracle, I'm here to tell you to keep on keeping on. Continue to fight the fight. Cry when you need to. Get mad when you have to. But know YOU HAVE THIS. Everyone's story can be different, but we are all warriors in our own right."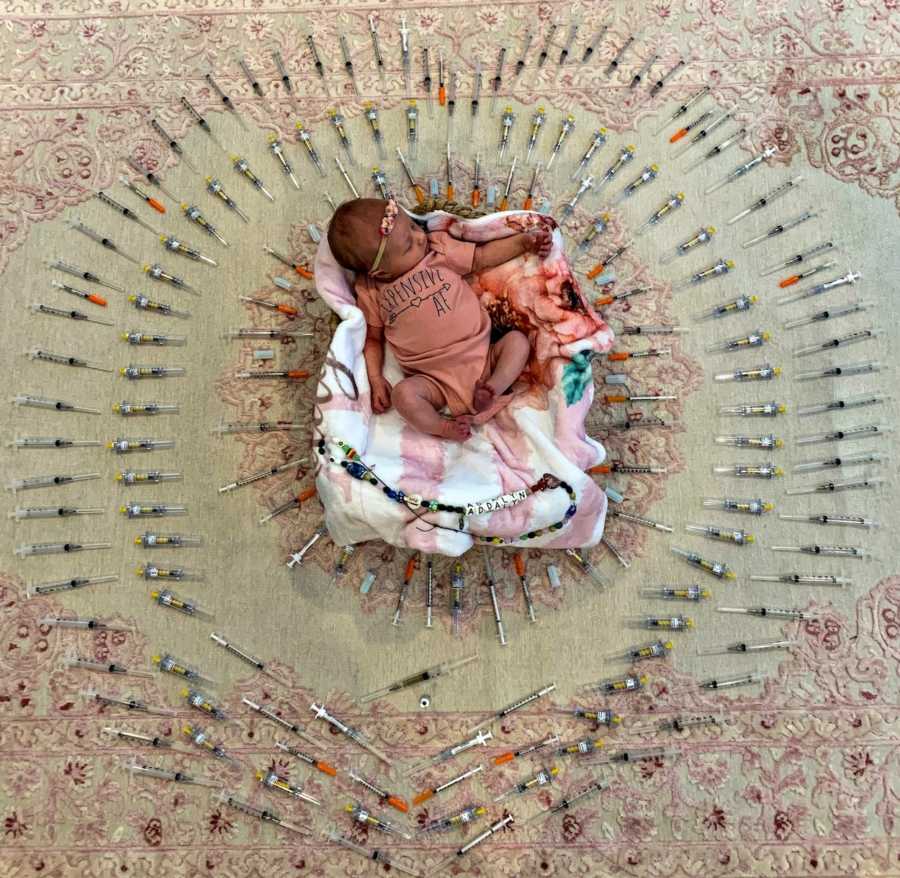 This story was submitted to Love What Matters by Allyson Wilson. Do you have a similar experience? We'd like to hear your important journey. Submit your own story here. Be sure to subscribe to our free email newsletter for our best stories, and YouTube for our best videos.
Read more stories like this:
'What kind of woman carries a baby for two men?' I decided to help a stranger. They say it takes a village to raise a baby. Sometimes, it takes a village just to grow one.': Woman becomes surrogate to help couples battling infertility
'They're gone, we lost them.' A substitute teacher touched my belly. There was no belly. I had to mutter these words.': Couple struggling with Fragile X Syndrome, infertility, finally pregnant with rainbow baby, 'People tell me how strong I am. I wasn't given another choice.'

Do you know someone who could benefit from reading this? SHARE this story on Facebook with family and friends.