"My name is Kristin. I have a wonderful husband and a very active 6-year-old son. We live in the small country town of Chesnee, South Carolina. My pregnancy journey with baby number 2 started when our son started asking and praying for a baby brother. After about a year of his requests we decided we would start trying. I went in for a checkup and to talk with my OB-GYN doctor in August 2017 and they found a baseball-sized cyst on my ovary. They wanted to watch the cyst in hopes it would go away on its own before surgery was discussed. At this point I was told it was unlikely we would be able to conceive with the cyst, because the other ovary also had several small cysts as well.
The doctor was right and for a couple of months we checked the cyst, did blood work to check levels and there was no sign of pregnancy. In November 2017, I woke up with very bad cramping and side pain and thought that cyst had burst so I went to the ER.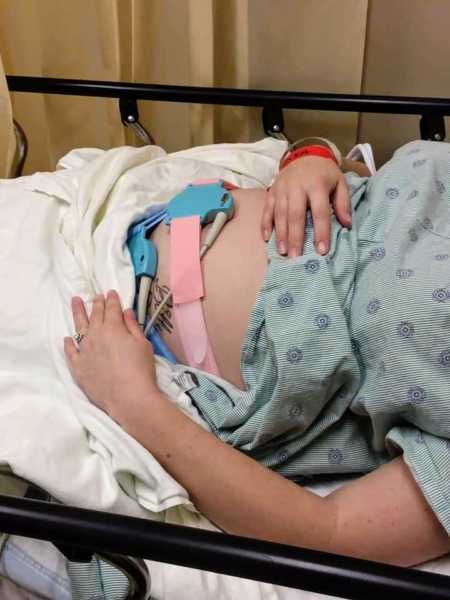 They began running tests and when the doctor came in she told me I was pregnant! I sat in shock! My mind racing, I had thought until this cyst was gone nothing could happen and then feared for the baby with this large cyst there. My husband and I talked and decided to pray and wait to tell our 6-year-old until I was further along. At 8 weeks we went in for an ultrasound and as I lay terrified she said, 'There it is, the heartbeat is strong, and this baby is already very active.' I looked and there was our precious blessing on the screen. She then scanned over and there was the huge cyst also still there and a little larger than before.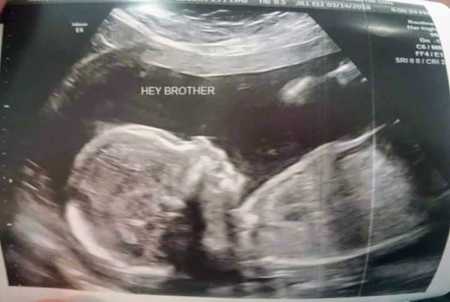 We were told that surgery for the cyst and being pregnant was very dangerous and unless there was an emergency they would try to wait until the baby was born because the risk of losing the baby was significant. After the ultrasound we bought a bear that said big brother and let our son open it as a Christmas gift.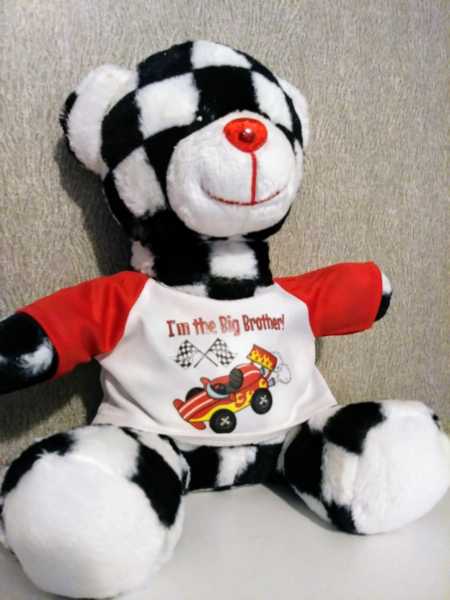 He was confused and then over the moon excited! At 14 weeks, my son was with me when they told us this baby would be a boy! My son started crying with excitement. God had heard his prayers and answered them. Skip ahead until now. I'm currently 33 weeks along, this will be our second son, and I'm on light bed rest because of going into early labor at 28 weeks.
At 28 weeks I woke up around 4 a.m. with cramping. I called the doctor and was told to try a warm bath and drink lots of water. At around 5 p.m. after a whole day of several baths and tons of water, the cramping turns into full on contractions that were 3 minutes apart. I went into labor and delivery and was told I had dilated, and they were going to try and stop the contractions. I was hooked up to fluids and medications through IV and told they just had to wait and see how my body would react. I prayed, I texted my family and friends and they prayed. And finally, around 11 p.m. the contractions began to stop. The baby looked perfect on the monitor and I was finally able to go home! I was put on light bed rest and still have contractions off and on some days. We are due in July and every day that he stays in my belly is a blessing and another day he grows and gets stronger.
I have craved Chick-fil-A his whole pregnancy and I love that the servers are so polite. Since I've been through their drive thru so frequently, they ask about our precious baby and how we are doing. With this pregnancy being so crazy and unpredictable, as the cyst still remains with a baby now kicking and squishing it, it makes you feel great when someone tells you to have a blessed day. A blessed day… to me that means my husband and older son getting through the day safe and us all being together, with no contractions and another day this sweet baby can grow and develop. And another day the awful cyst has been okay in there and no surgery had to happen. My best friend is always my Chick-fil-A sidekick and one day we were laughing about how the baby would love chicken and we needed a cute picture for his scrap book I'm making.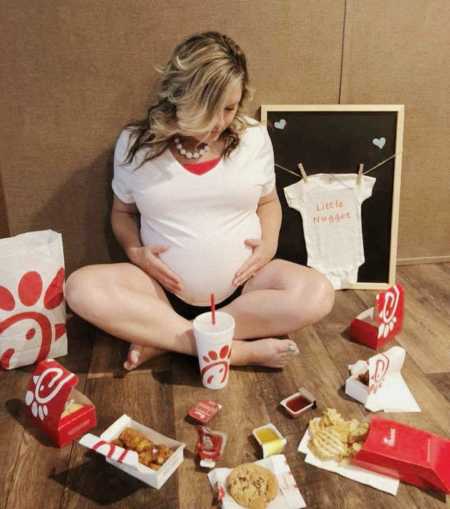 Two weeks later we ordered all my favorite foods and our photo shoot took place. The Chick-fil-A shoot was therapeutic in a sense that we were worried in the beginning that this stage of pregnancy wouldn't happen. Here we are, each craving for Chick-fil-A means the baby is growing and we are progressing! It is perfect and displays another one of our amazing blessed days!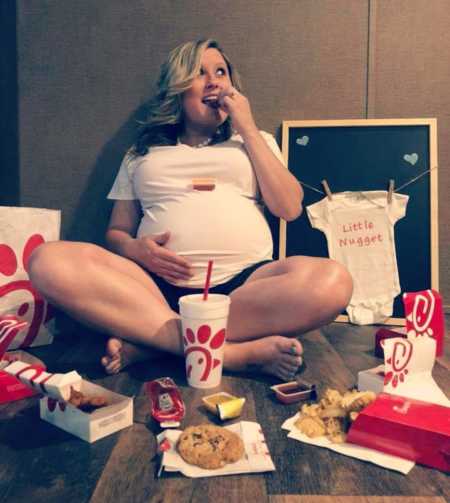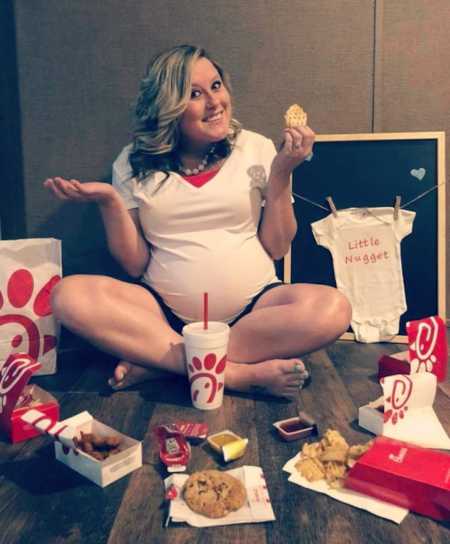 My pregnancy journey has been long and still isn't over, but through it all we've looked to God to get us through. I have friends who are still trying for their sweet babies and so even though this pregnancy hasn't been easy I'm very blessed and thankful. For anyone who is struggling, never give up hope, always pray and let God take control! He always hears and answers prayers."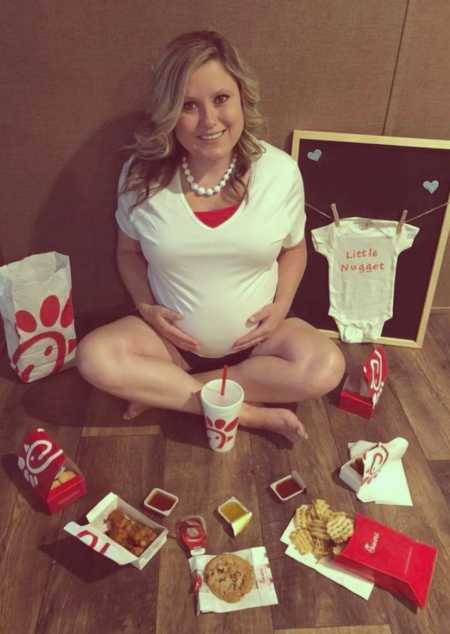 This story was submitted to Love What Matters by Kristin Scruggs West, 30, of Chesnee, South Carolina. Submit your own story here, and subscribe to our best stories in our free newsletter here.
Read more stories like this here:
'The ultrasound tech got quiet. 'Are you here alone?' I was freaking out. 'This is what I see. Here's one, two, and three.' THREE BABIES!': Woman births miracle triplets after pregnancy losses
'My doctor told my 12-year-old self I'd still have children, but since I was so young, she never went into details. 'Your doctors never cleaned out your abdomen in surgery,' I learned. I was betrayed.': Woman shocked by surprise pregnancy after childhood medical issues
'You didn't lose your baby, but there's two in there.' This was the moment I knew I was in for a wild ride.': Twin mom thanks NICU nurses for helping premature daughters 'come home'
SHARE this story on Facebook to encourage others to cherish every moment and love what matters most.