"Let me start by saying my husband, Justin, is one of epic proportions. He handles a mostly female household that includes our 8-year-old daughter, our 15-year-old German foreign exchange student, 2/4 female dogs and myself. He deals with all my WILD ideas and spur of the moment decisions with grace and it's a wonder how he keeps sane, or how I keep married LOL. We try super hard to have at least one night a week where we go out together sans kids for a date, schedules permitting.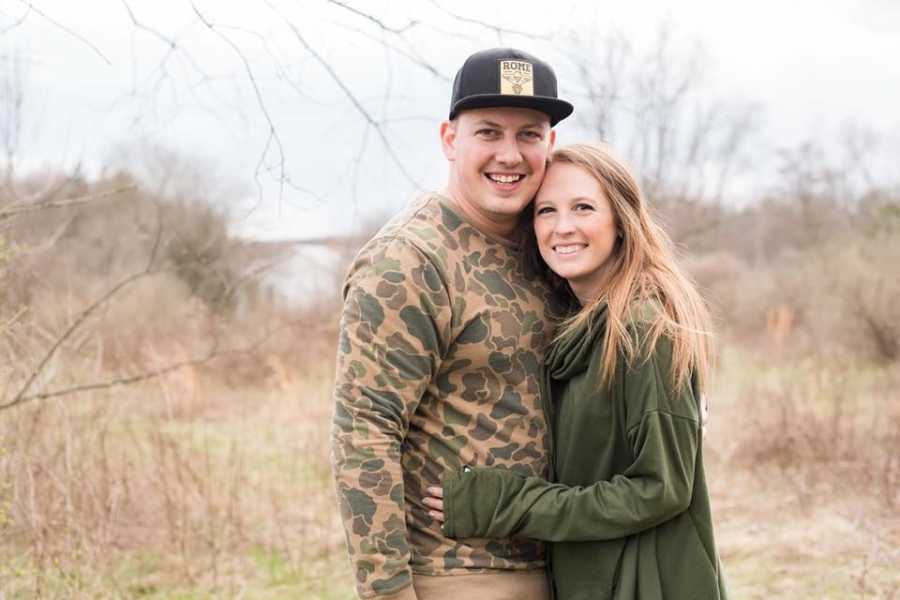 When thinking of some of our best nights out it usually includes our friends Brendan and Tim, who also make up the band called 'The String Theory Duo.' Thankfully, they are now our good friends. They cover everything and typically let me be their little fan, calling out my favorite songs for them to play and annoy them.
December 23, 2017.
The night the world stood semi-still. Maybe with a slight lean.
Justin had a work get together that evening for his job so we met up with those guys and had some wings and shot the breeze before heading out to see the guys play.
We then make our way to the local restaurant where they are playing and have a couple beers. We are laughing and ordering apps and having an exceptional time. We are singing and laughing and enjoying the time with our friends.
A few hours in, Brendan yells to my husband, asking if he'd like to play the tambourine for them for one of our favorite 'Lumineer' songs. Justin's a drummer in his spare time and knows the song, so of course he will play the tambourine.
And play the tambourine he did. OFF BEAT. If I could explain how fast my head swiveled around, you would have thought I was the Exorcist. I shoot him the eyes of, 'What in the actual hell are you doing,' to no avail. He was in it to win it. Beating on his tambourine like he was getting paid, and we had NO idea what song he was playing to.
Then I saw it. The glassy eyes.

I have NEVER in our 4 years together seen my husband DRUNK. The waitress comes around asking him if he'd like another round, and as I look at him with 'NO' eyes, he goes, 'Yes, I'll have just one more.' He's LOST. HIS. MIND.
About 10 minutes later I look over at him and he has 'the lean' down pat. You know the one I'm talking about. The one where you don't know you are, in fact, leaning, because you're so intoxicated – but you are most definitely not upright.
He has 3/4 of his beer left and I grab it and I say, 'We are done with this.' His response? 'Okkkkk,' in the nicest, most mild-mannered way. I knew at that moment, I had lost him.
I get him some water and about 15-20 minutes later we are walking out the door. The following conversation occurs:
Justin: 'Ohhhhhh, the truck is already on, you're so smart.'
Me: …Eyeroll. 'Yes, I hit the auto start about 10 minutes ago.'
…silence…
Me: 'If you puke in my truck I'm dropping you off wherever it happens and whenever you make it home, you're cleaning it top to bottom.'
Justin: 'I'm not going to puke.'
Me: 'Then put your window up. It's literally 30 degrees out.'
(We live about 40 minutes outside of Pittsburgh where the hills and winding roads are a norm.)
Pulling onto the road to our neighborhood…
Me: 'You ok…?'
Justin: … (no sounds, just that little hand gesture that tells me he's not really sure)
I am now FLYING to get home because even in the darkness I can see he's borderline green.
We get home without incident and I go to let our dogs out, and although to this day he swears he wasn't sick outside, I swear I heard it. I get his couch/bed ready because I REFUSE to listen to him snore all night. Blankets, water, Sprite, a garbage can and a pillow were all ready for him. I peek into the bathroom to see how he's doing and I see something I will NEVER forget.
He is NAKED, on the toilet with his face in a garbage can. He hears me shriek with laughter and screams, 'CLOSE THE DOOR DANIELLE!!'
Me: 'You drink a little too much?'
Justin: 'NO! It was the chicken wings.'
Me: Blank stare… 'Wait, are you trying to tell me the chicken wings we BOTH ate are what has you spewing?'
Justin: 'Just leave me alone.'
At this point I am DOUBLED OVER laughing at how ridiculous this is and how stupid he thinks I am.
The most vulnerable I have ever seen my husband in my life.
I go upstairs to bed after making sure he makes it to the couch, and I hear him screaming my name. It sounds like he's dying. I go running downstairs and I am met with, 'Can you leave me the puppy so I can snuggle her tonight?' CUE EYEROLL. THIS MAN DID NOT EVEN WANT THIS DOG. She was a present to our daughter who has asked for a miniature dachshund for YEARS, however we are a 'big dog only' kind of house. He wants the damn puppy. BLESS.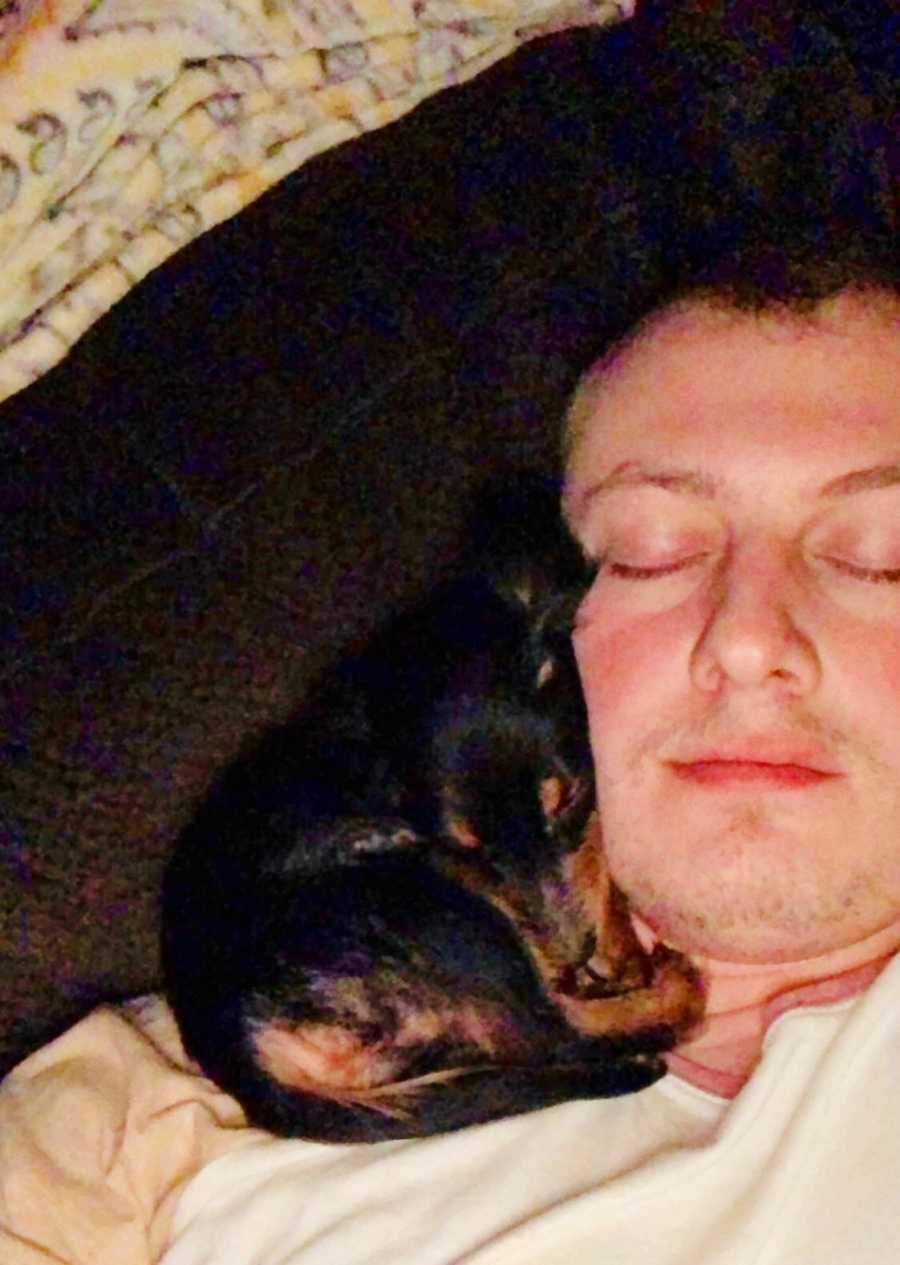 I go to sleep and when I wake, I am totally afraid of what I will walk into the basement and see. I even hold my breath, waiting for vomit to hit my nostrils.
NOPE.
HE IS UP AND HAS COFFEE MADE WITH NO HANGOVER. I hate him. I HATE HIM.
Side note: He had no idea the beer he was ordering all night was 9% ABV, and the next morning confessed that it was not, in fact, the chicken wings."
From podcasts to video shows, parenting resources to happy tears – join the Love What Matters community and subscribe on YouTube.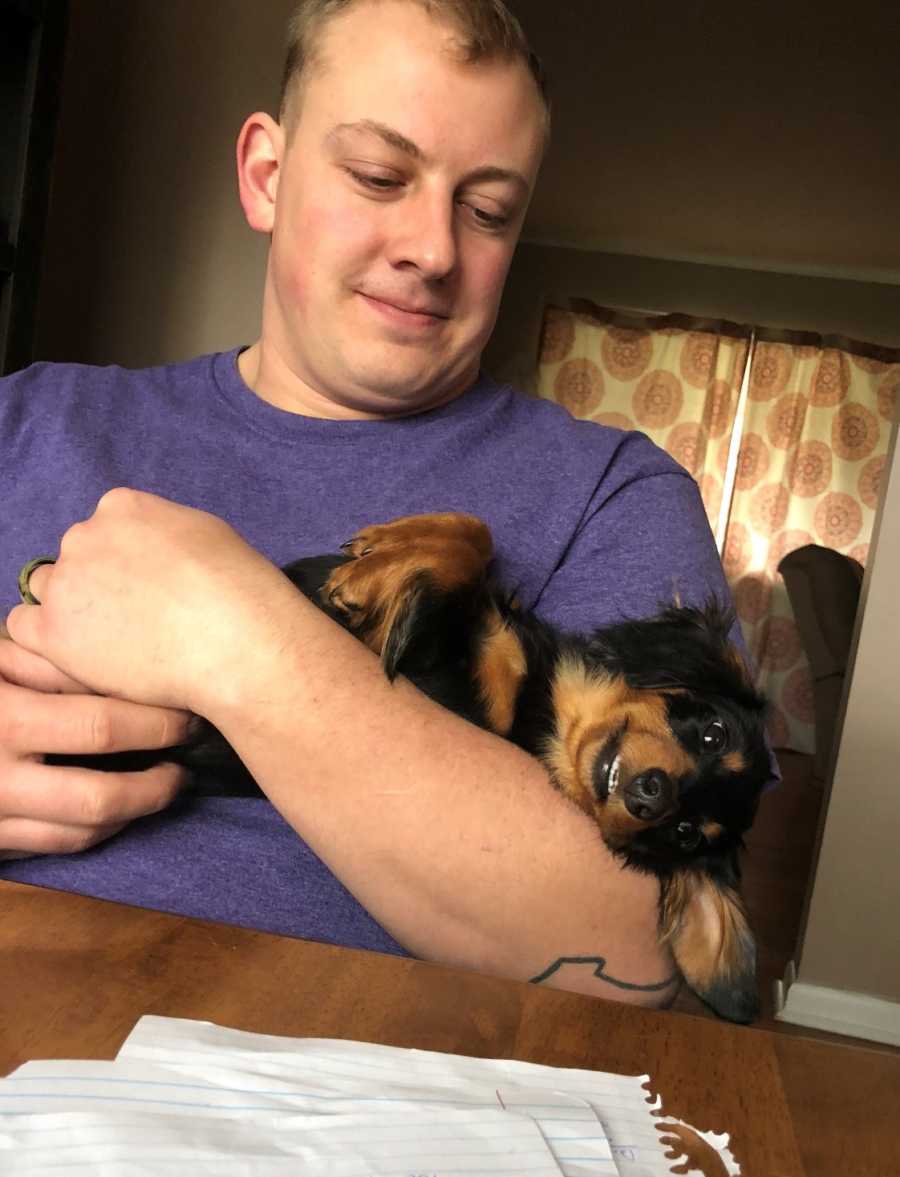 This story was submitted to Love What Matters by Danielle Bryant of Greensburg, Pennsylvania. You can follow her journey on Instagram. Do you have a similar experience? We'd like to hear your important journey. Submit your own story here. Be sure to subscribe to our free email newsletter for our best stories, and YouTube for our best videos.
Read more of Danielle's backstory donating her kidney to her best friend:
'We have to tell him, tonight. We cannot hold this information from him.' It was written all over my face. We immediately lose it. All of it. We sobbed.'
SHARE this hilarious story on Facebook to give other wives a good laugh!