Disclaimer: This story mentions child loss and may be triggering to some.
"Justin and I found out we were pregnant in April of 2012. We were absolutely in shock! We were NOT trying to get pregnant. This would be Justin's first child and my third child. I was previously married and divorced.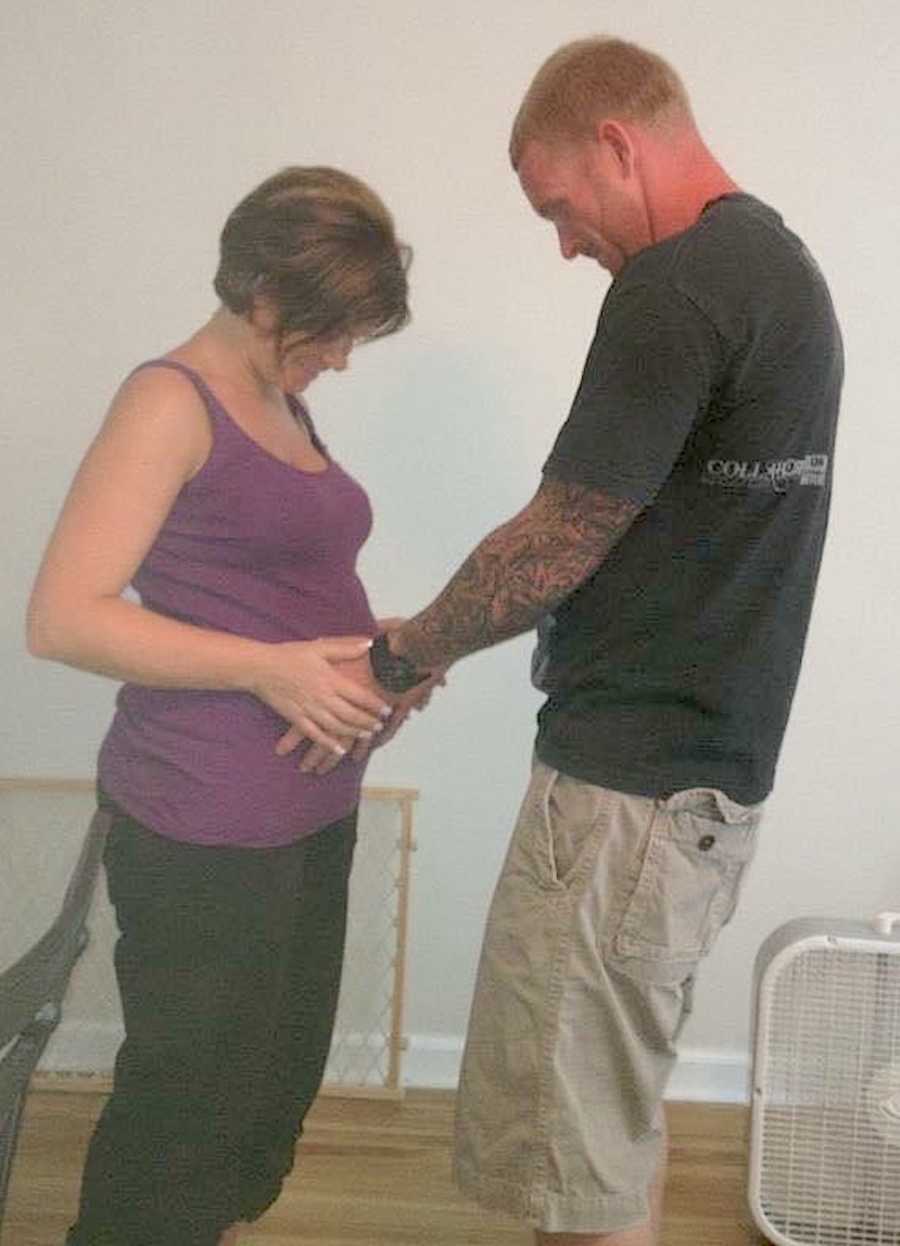 All went great with the pregnancy. I was told our baby was healthy and strong. 'She's growing as expected.' We moved into a new home and were getting ready to bring this precious girl into the world. Justin was so excited. Like, over the moon excited. He was buying her all the shoes, and anything he could get his hands on. I have NEVER seen a new dad so excited. I had two prior c-sections with my girls, so we scheduled a c-section on January 15, 2013.
January 15, 2013 came. We got up at 4 a.m. and drove to the hospital. You could tell Justin was SO nervous. He was not talking or anything. For me, it was a walk in the park. I was so excited to bring our baby girl into the world, who was always kicking me.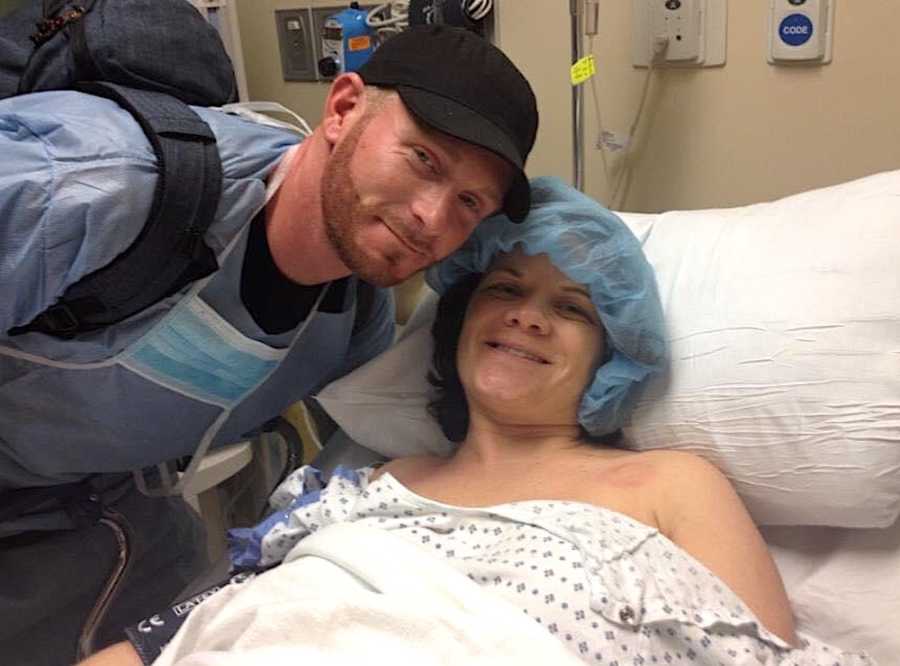 We got into surgery and we were ready to bring her into the world. She comes out and oh, the tears were flowing from both of us. The excitement! Justin asked, 'Is she okay?' They said, 'Yes, she is perfect!' She weighed 8 lbs. 11 oz, with red hair and totally was her dad's twin. I wonder did she even come out of me? HA. We were told she was the biggest baby on the floor! We were proud. We were complete. We were happy.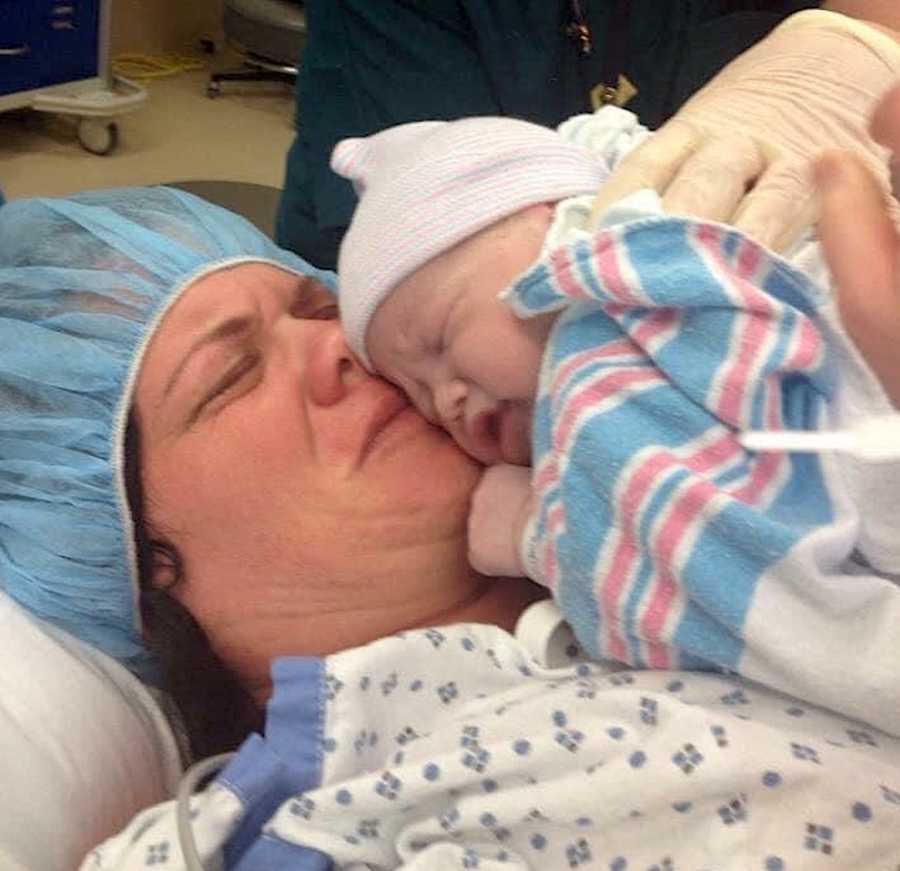 We took her home and began a new life with a newborn. She was such a good baby. She ate like a champ and slept so well.  She barely even cried. We could not have asked for a better daughter. We were blessed. Justin was such a hands-on daddy. Hannah was exceeding her milestones. She was amazing. We felt so lucky!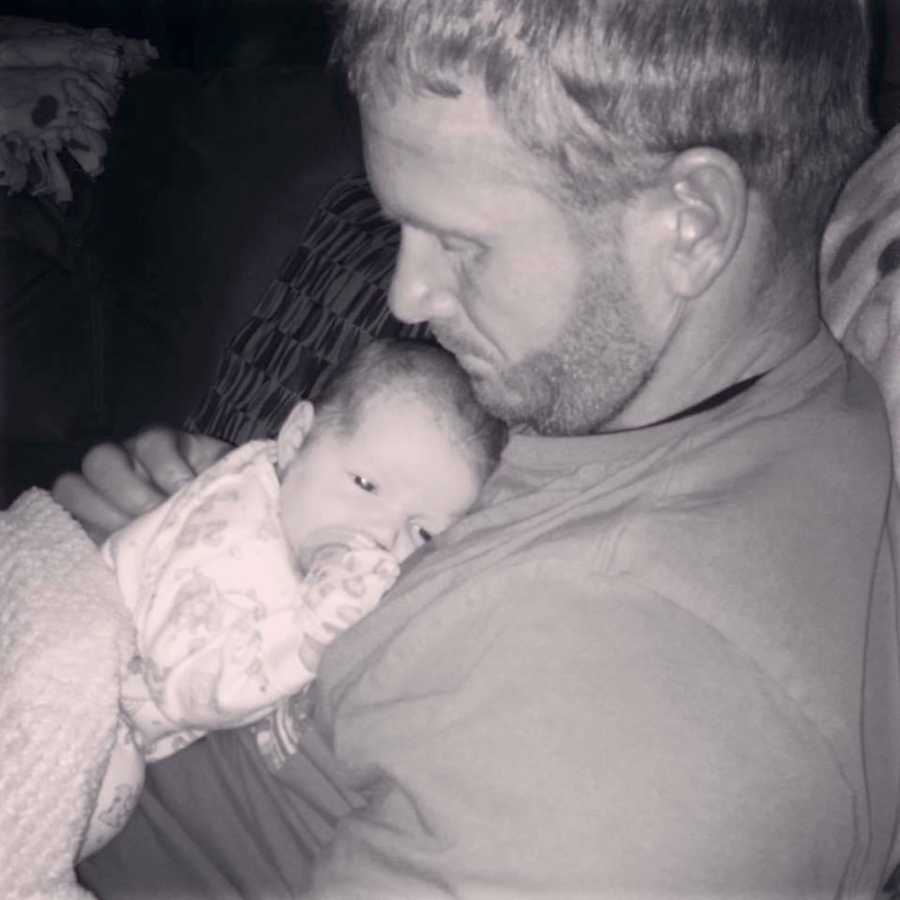 Around 4 months, Hannah turned into a different baby. She would cry all the time, and would not always take her bottle. We could not understand what was happening. We took her to the doctor, and they told us, 'She has acid reflux. She's fine.' But Hannah was regressing. They told us, 'Oh, don't worry, all babies hit milestones differently.' We left the doctor still not agreeing 100% with their answers.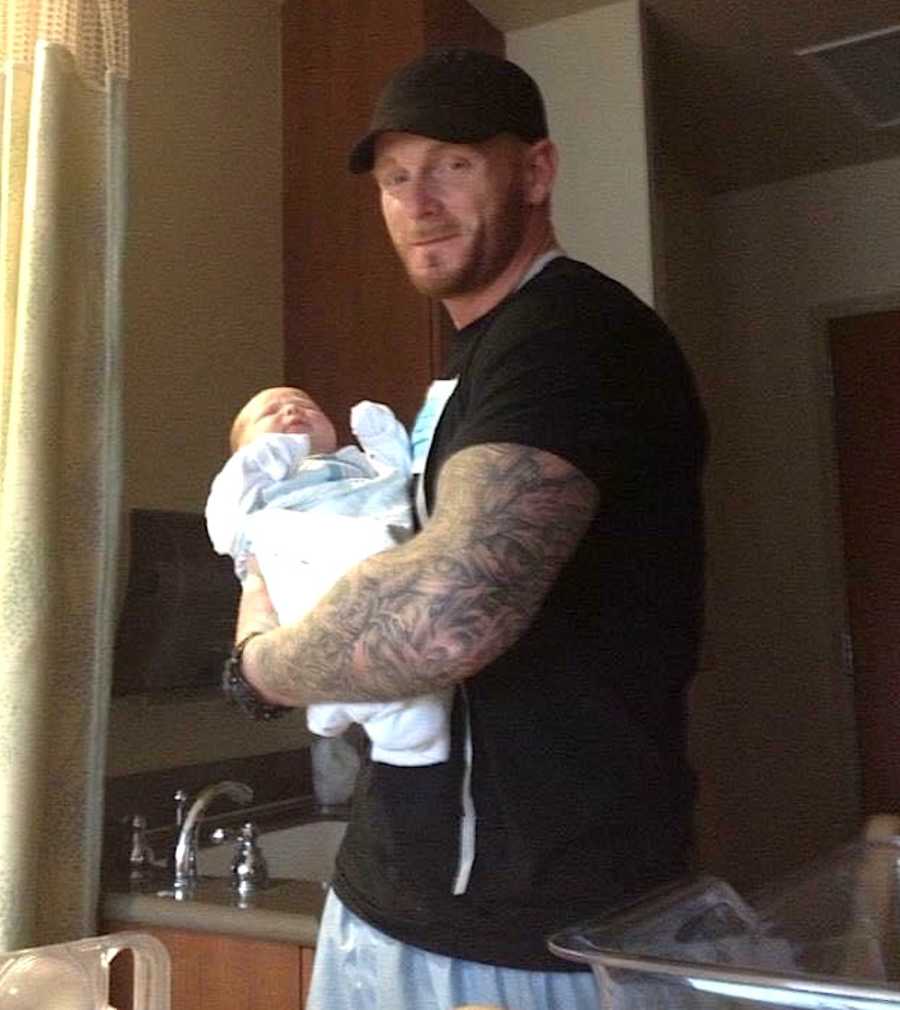 Later, that week, we took her back to the doctor. She stopped eating and was not wetting diapers. They sent us to the ER, where she was given fluids. They also told us she had acid reflux. I asked them to please run a test to confirm this theory. They told me, 'You have to make an appointment.' I replied, 'But how do you KNOW it is acid reflux?' They said they could tell by looking at her. This was coming from a doctor. We took her home again and I made the appointment for the acid reflux test. It was confirmed, she has acid reflux. But it still did not explain the other changes happening with Hannah.
About a few days later, I get a call from the babysitter telling me, 'Hannah stopped eating again.' Instead of going to the doctor, we took her to Children's Hospital of Philadelphia. Once we got there, they looked at her. I KNEW something was wrong. They sent us for a CT scan of her brain. While waiting for the results, they came in and said, 'We are keeping her overnight for more tests, and an MRI.' Right there, I knew something serious was happening. But we tried to remain calm.
Next day, she had her MRI. My mom, Justin and I were with her. All I kept thinking was, 'My poor baby, how is this happening!' At this point, we were still trying to remain positive. 'Whatever it is, we can fix it.' My mom left the hospital to go home. Justin, Hannah, and I went to her room to take naps. We were exhausted.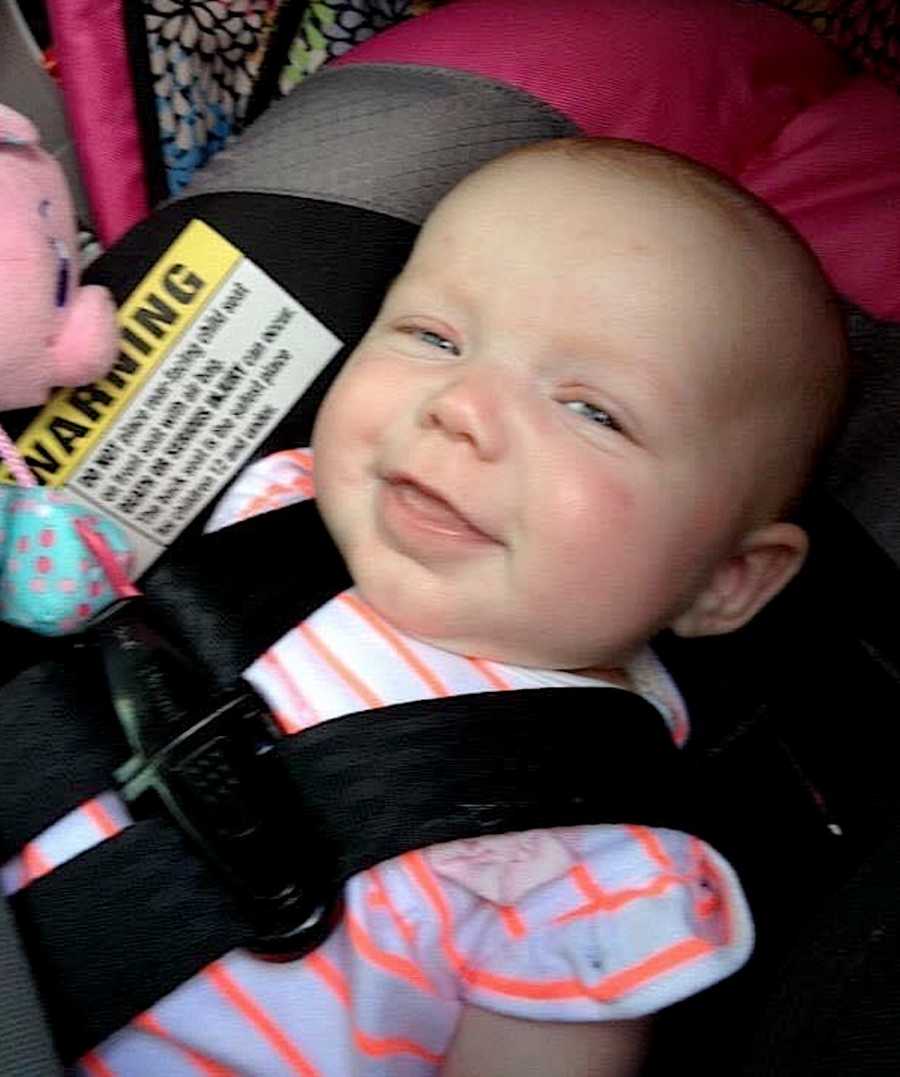 Then, we got a knock on the door. This is the moment where our earth shattered. Two neurologists walked in and sat us down. Honestly, this is about all I can remember from that day. They said, 'Hannah has a Leukodystrophy, and we believe the form she has is called 'Krabbe.' She has a life expectancy of 2 years old.' Hannah was sound asleep in her crib and the room was dark. There was a little light coming from the window. I asked, 'What can we do to fix her?' 'They told us, 'We can't, it is too late. She is terminal. There is nothing more we can but keep her comfortable.' I went to Hannah's crib, fell to my knees, and said, 'Please save my baby, she is just a baby!' Justin went to the corner and just cried. No words. Just tears. Even the doctors had lot of tears.
We did find out a few days later Hannah's disease could have been prevented if she were tested at her newborn screening. At birth, we could have begun the process of a bone marrow transplant BEFORE her symptoms started. What we found out is, most states do not test for Krabbe because it is so rare. Once symptoms begin, it is too late for a transplant.
What is Krabbe Disease? Krabbe (KRAH-buh) disease is an inherited disorder which destroys the protective coating (myelin) of nerve cells in the brain and throughout the nervous system. In most cases, signs and symptoms of Krabbe disease develop in babies before 6 months of age, and the disease usually results in death by age 2.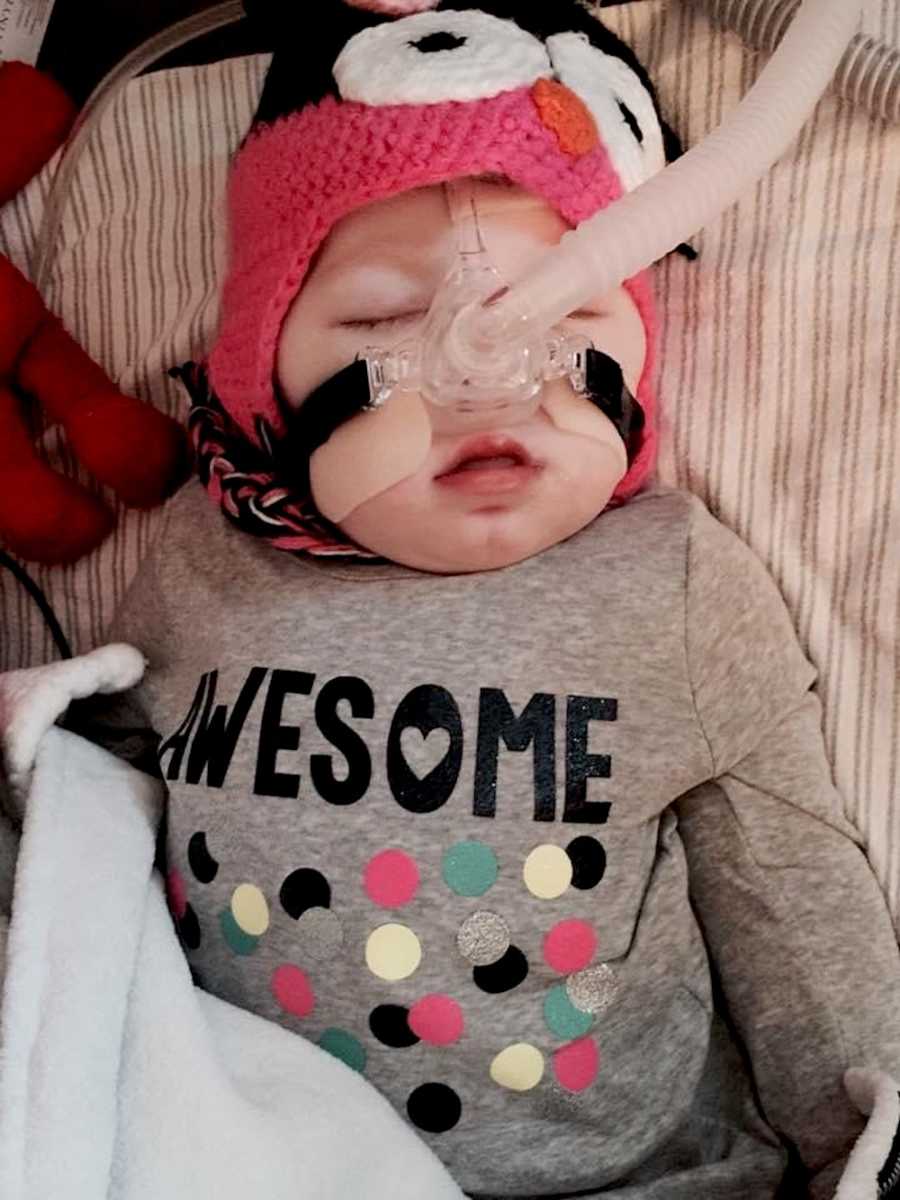 We brought Hannah home and kept her comfortable and just loved on her. Krabbe takes everything way from them little by little. Hearing, sight, breathing issues, they cannot walk, talk, smile, they have nerve and muscle pain, and they cannot swallow. Eventually, they are tube fed. Hannah had to be suctioned, we had to help keep her temperature regulated, and we had to document all the medicines and make sure she received on time. We had 24-hour nurse care, a PT come in a few times a week,  and were in and out of the hospital more times than I can count. Hannah even stopped breathing on us shortly into the journey. All we could do was love on her and know we will see her again. What can you do when they tell you your child will die? I often wonder how we kept it together, knowing she would not be with us forever. I often hoped they find a cure, or a treatment.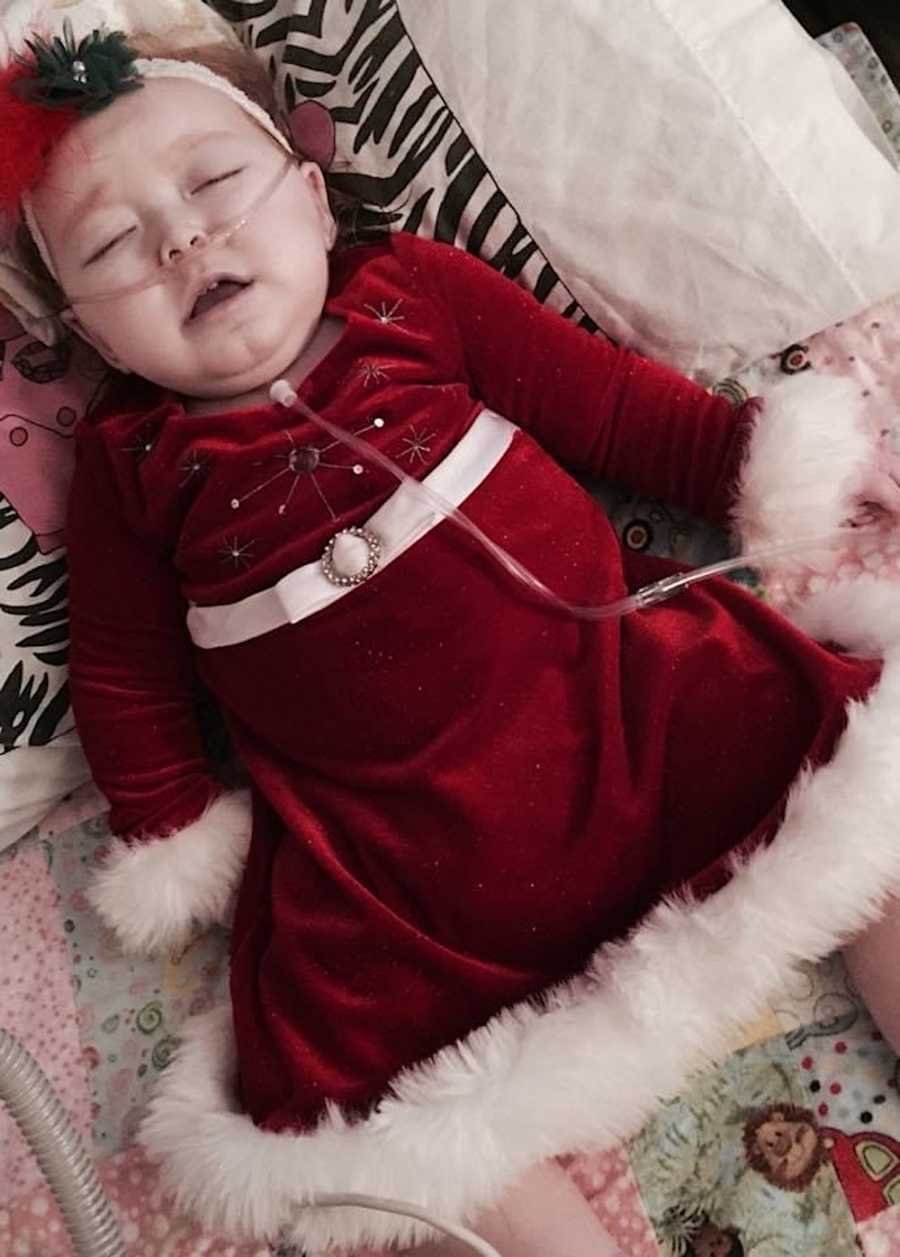 Hannah died on December 28, 2014, in her sleep. She died so peacefully, and we knew she was at peace, finally. There is not a day that goes by that we do not miss her. I don't know what I'd do without my friend,  family and our social media support. When we told her siblings they told us, 'We don't want her to die!'  We just continued to talk about her. We all dealt with it in our own way. I allowed them to grieve how they felt comfortable.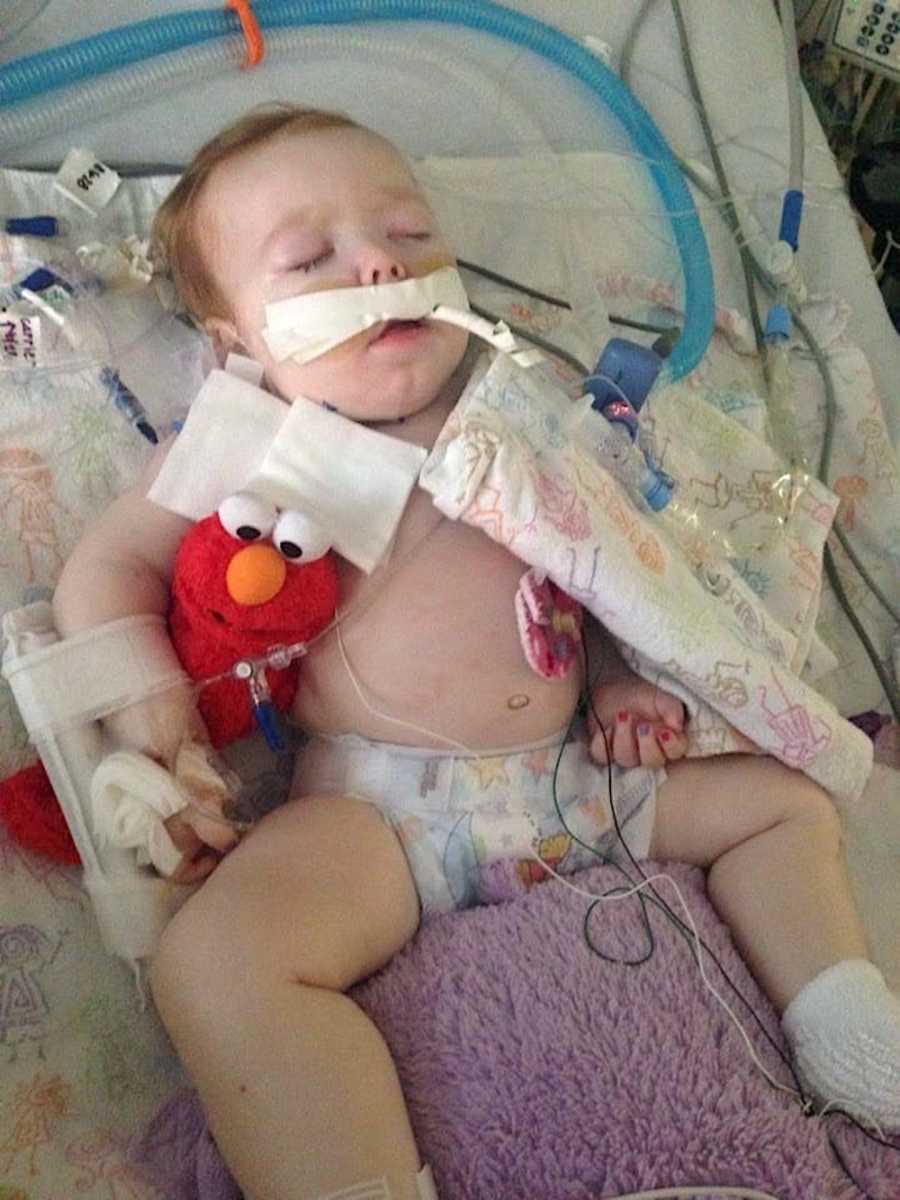 Our hope for the future is that all states begin testing for this disease. We are located in Pennsylvania and they just implemented her law, called 'Hannah's Law,' to test all babies at birth in Pennsylvania for Krabbe disease.
We help keep her memory alive with her Facebook page which has 70,000 followers called Hope for Hannah. Let's change the laws! We know we will see her again!"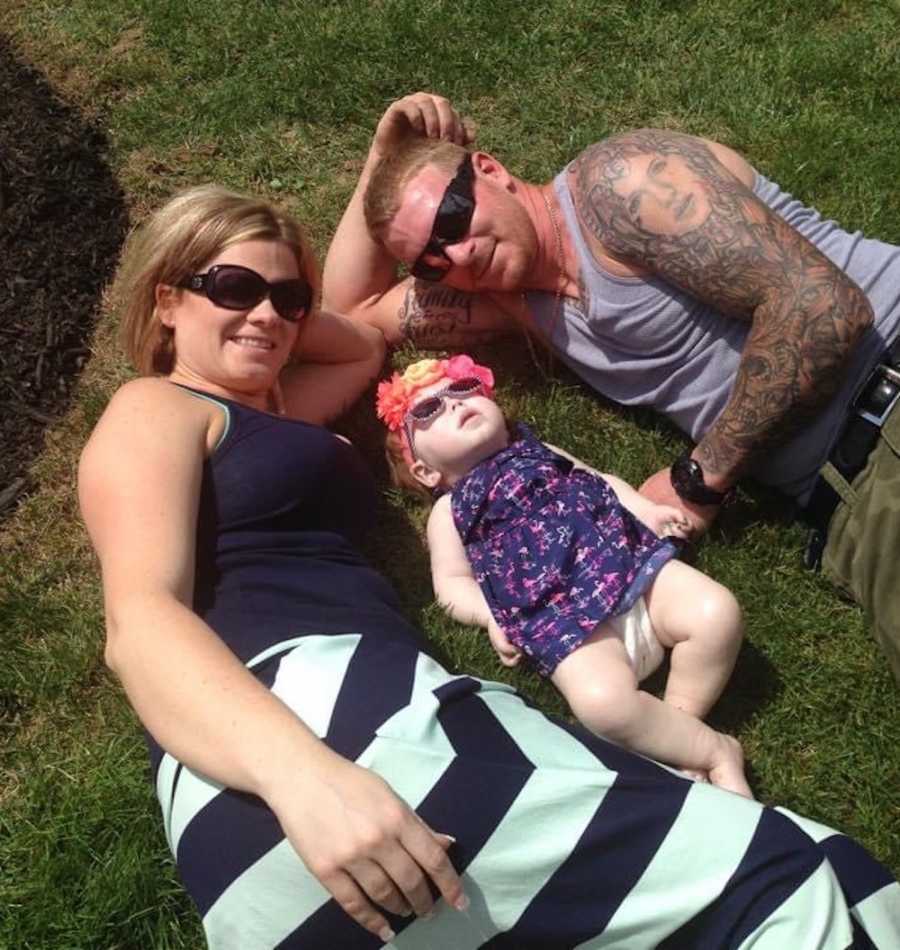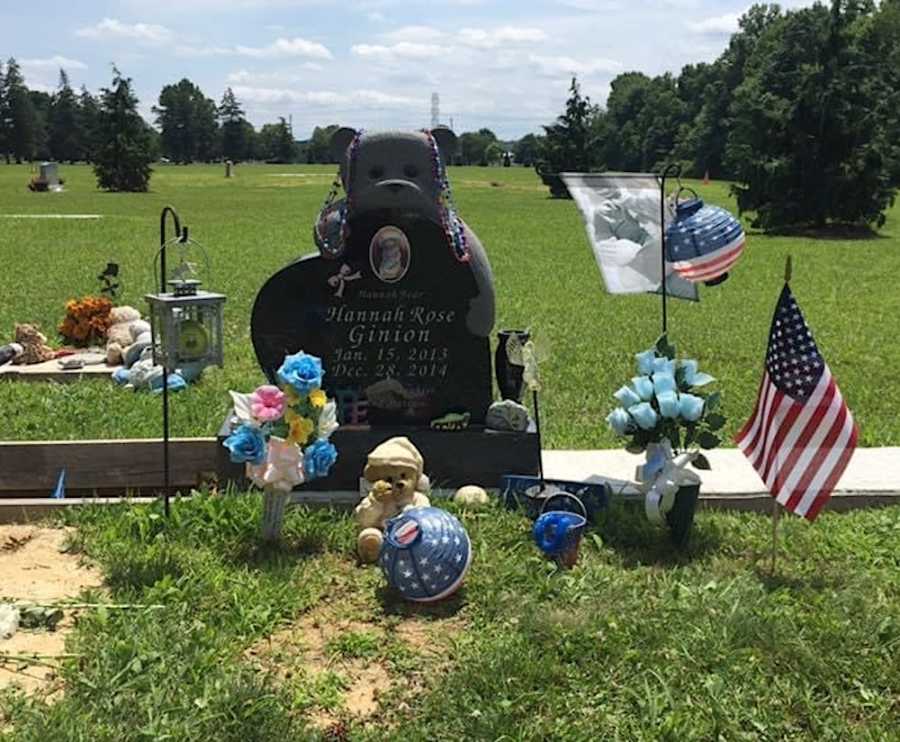 This story was submitted to Love What Matters by Vicki Pizzullo. You can follow her journey on Instagram and Facebook. For more information on Krabbe, visit www.huntershope.org.  Submit your own story here, and be sure to subscribe to our free email newsletter for our best stories, and YouTube for our best videos.
Read more touching stories like this here:
'I was sobbing. Pregnant at 40 was the furthest thing from my mind. I was scared. 2 of my babies died within 2 months of birth.': Mother of child loss says 'bonus baby' was 'biggest surprise,' now thrilled for surviving triplet to have a sister
'You kids will be ok. I'll be watching over you always.' She promised to love our angel babies in heaven.': After child loss, losing loved ones to cancer, woman gets rainbow baby only to be rushed into 'emergency surgery'
'Mom she's gone, I just know.' I sat on my stairs with my front door open, in shock.': How this 'broken' mother helps other parents of child loss heal after her own tragedy
'I was not okay. I had lost my child to death, and I was losing myself to life.': Mom's powerful vow to 'claw her way out' of 'the darkness' after sudden loss of 7-month-old son
Do you know someone who could benefit from this story? Please SHARE on Facebook and Instagram to make them aware there is a community of support available.