"A few weeks back, on maybe day two of no school, my wife had come home from work later than usual, after the first of many long days of adjustment for our new normal at home.
She was fried. As a small business owner, she hadn't slept much. Her brain was feverishly trying to strategically rearrange the life of her business to make sure her team was protected, could continue to provide for their families from their Pro Image livelihood, and that what she built over the last two decades could survive this. She didn't have the capacity for much else by the time she made it home that night. But I didn't have the capacity for much patience or grace, because every ounce of it I had left had been spent trying to reassure our children things were fine, and the lives they just lost wouldn't be gone forever.
Inevitably, our lack of capacity that night led to a heated conversation and going to bed angry, something we work really hard to not do. But the next day, when some of the feelings had settled, we took a few minutes to sit in the uncomfortable and be honest about how we were feeling. She shared how scared she was for her team, her company, and how to provide for us, and I shared how for the first time in a long time, I felt invisible. That because all her capacity was being spent on her team and her clients, she had none left to see us, her family. That I was looking at really long and hard days ahead with three young children, two of which needed skills and structure I didn't know if I was capable of. I was pretty sure I was going to fail miserably. If the one person I chose to be my partner couldn't find space to see me, I was worried I wouldn't matter. She shared that she had a team of 10 who could become invisible if she didn't have space to think about them and if the team failed, she couldn't provide for our family either.
We sat in that uncomfortable place for a good 45 minutes. There were tears from both of us, but once we were completely honest, we were able to talk through a plan that got us both to what we needed. One that could be flexible and could pivot as needed. We understood that with only so much capacity at this time, and with both the business and our family having needs that had us at capacity level, we would need to own our roles but make sure to leave room for whatever else might come up by relying on open communication with each other on what we could handle, and when we needed help.
That plan has been working pretty well for the last four or five weeks. But this week, after two really long sleepless nights with autism, I failed at holding up my end of the deal yesterday. The boys' schedules are totally off. Emotions are high, bodies can't stay calm, hands are not staying to themselves, and they are super quick and short to react. My reactions weren't as patient or kind as they needed to be yesterday either. My wife had to call me out twice on the way I responded to Jack.
When she had had enough, she finally looked at me and said, 'What do you need?' I responded defensively because I knew my actions weren't attractive — but I was TIRED.
She stayed patient, and asked me again, 'What do you need?'
After a minute, I cried. I was so tired. At 4 a.m. that morning, while Luca and Jack were up, I had been working on quotes we didn't finish the night before for her work so we could keep up with making sure the team's schedule was full. I had been patient and played with the boys at 5 a.m., even though I just wanted to nap on the couch. And when Luca threw all of his toys at me, including a heavy-duty microwave, I was so tired I didn't pay attention to my surroundings when I chased after him before he could throw something at Jack. I ran into the baby gate, scoring a solid bruise that still hurts. I cried because even though I napped for an hour while Alli took her morning nap, it wasn't enough. I cried because I knew I wasn't holding up my end of the bargain. I wasn't proud of my behavior either and was ashamed my wife had to call me out.
She looked at me and said, 'This isn't you, or the parent you want to be, so you need to tell me what you need or snap out of it.'
I could have fought back. I could have been nasty, but weeks before I promised to be honest, so I simply said, 'I am tired.'
She said, 'Okay, go to bed. I will put Jack to sleep by myself,' as it was after 8 p.m. and both Luca and Alex were already asleep.
I always put the kids to bed. Jack usually needs to hold my hand to fall asleep and ridiculously, it's my 2 minutes with him at the end of the day that feels worth all his emotional roller coasters that come before it.
But I had just told my wife what I needed. I needed to listen to myself and let her show up while she was willing to.
So I went to bed.
And the kids slept through. Jack got up at 4:30 a.m., but he was willing to play in his fort (our master closet. It gave me an extra 45 minutes later to snooze, which I NEVER get.
I slept from 8:30 p.m., woke up at 1:30 a.m. to find everyone was sleeping so I went back to it until 4:30 a.m. and didn't get out of bed until 5:15 a.m.
I am two cappuccinos in as I sit in the playroom and type this up on my phone watching Alex and Jack play with legos at 6:30 a.m. My wife is still asleep and Luca is hanging under his sensory sheet, content enough he isn't quite ready to get up yet.
I share this in case anyone else is struggling as a parent navigating the new normal, not just with their kids, but with their relationship as well.
Our parentship, aka parent-relationship, is one we put a lot of effort into. But while pregnant with the twins, we agreed to make sure she and I, outside of being just parents, always came first. If we couldn't take care of each other, how could we possibly take care of our kids effectively?
Sitting in the uncomfortable was a theme my therapist encouraged that scared the crap out me. She said if I always thought the worst was going to happen, I needed to find a way to let the facts debunk my fears. By sitting in the uncomfortable and doing the work to be honest about how I was feeling in a situation and let others do so as well, I would learn the worst that could happen, wasn't really the natural outcome, slowly helping to build muscle memory in facing uncomfortable situations for what they are — momentarily decisions that need to be made, not monumental in size or life-altering.
As you face another week of this pandemic, ready to parent, teach, show up as a spouse, and get some work done to pay the bills on top of it, I just want to say — you can do this. You CAN do this. It looks to be that the country will slowly open up again and although the newest form of normal may still not be the totally preferred one, hopefully, it will continue to provide options that make things better able to meet everyone's needs.
If you find any of this helpful, what has worked for me is remembering to be present in our parentship, keeping open lines of communication, asking each other for what we need, and letting my partner show up when I ask her to. Nothing about the last couple of months has been normal and we have all had to adjust in some way. If you can sit in the uncomfortable long enough to find what's comfortable, maybe the solution can be something you never knew you needed, but gets you to be better than you knew possible before."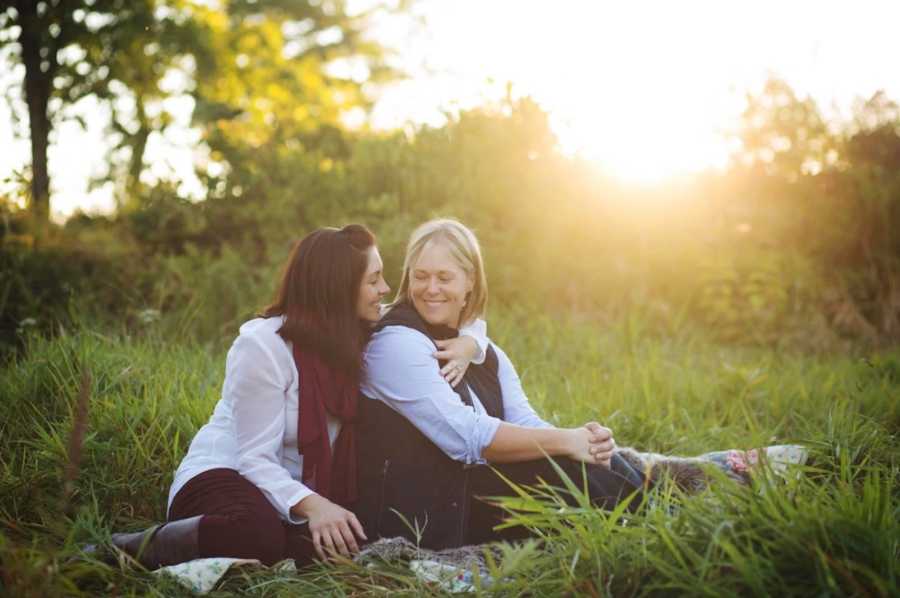 This story was submitted to Love What Matters by Christina Young. You can follow their journey on Instagram and their website. Do you have a similar experience? We'd like to hear your important journey. Submit your own story here. Be sure to subscribe to our free email newsletter for our best stories, and YouTube for our best videos.
Read more touching stories like this:
'What happens to my girl when society realizes it's not 'cute' anymore? How do I make people see the beauty I see?': Mom to daughter with autism urges us to challenge our idea of beauty
'I fell in love at 17 and had two boys. Then the doctor said, 'We believe Cale has autism, and I suspect your youngest does too.': Teen mom births 2 non-verbal, autistic sons, 'Love needs no words'
Do you know someone who could benefit from reading this? SHARE this story on Facebook with family and friends.