I struggle with postpartum anxiety. When I was told that I have severe postpartum anxiety, I wasn't even sure where to start. I knew about postpartum depression but anxiety is a topic so closely related yet never spoken about.
I had to find ways to keep the intense thoughts out of my head while caring for my son, along with keeping communication open with my husband.
Here is how I learned to manage my anxiety along the way, according to what worked best for me and my family.
Tips For Managing Postpartum Anxiety
1. Therapy
The Norton Women's and Children's Hospital in Louisville was absolutely phenomenal. I could not have asked for better care before, during and after my sons birth. When I started to realize around 6 months postpartum that I was having mental health issues, I immediately contacted my OB office.
They gave me a list of contacts and I started scheduling weekly therapy sessions. Therapy is never something you should be ashamed of. I find this block of time to be crucial and we discuss issues as to why I have these thoughts in my head, how to manage them and how to continue on a path of keeping the thoughts out of my mind.
2. Writing
This blog has been a space for me to journal and write about topics that bring me joy. As some of you may know, fashion is my background, so I find the creative process in designing mood boards and styles very calming.
Now that I have found a niche for my blog, writing about postpartum depression and anxiety is a way for me to process my feelings. I believe writing in a journal is a great key to growth.
3. Self-Care
This can come in many different forms. A few great examples are; exercise, meditation, praying, retail therapy, spa day. My family is busy. It is so important for me to utilize my time alone. During the day I'm usually working or cleaning up the house. Evening is when I focus on my blog.
I'm sure you're asking, "Where does she ever have time to herself?!" Well, it's few and far between, but I've made a commitment to be verbal in my needs. If my husband has a day off, I try to schedule a mani/pedi or retail therapy for myself. Having 2 hours alone is an amazing turn around in my mood and overall functionality as a human being.
Hearing the words depression and anxiety can be very overwhelming. It is important for me to take baby steps so the overall picture can come together that my family is happy and healthy.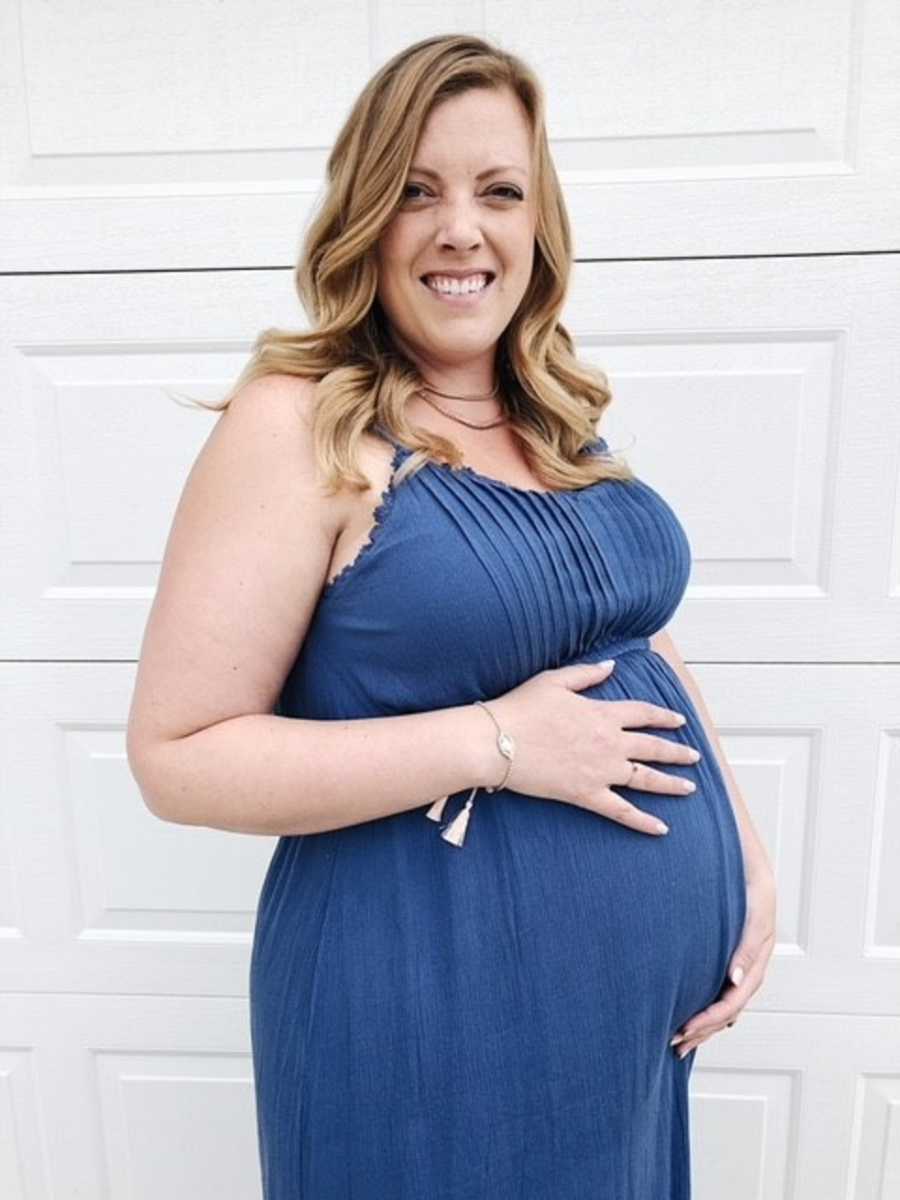 This story was submitted to Love What Matters by Kelsey Kosztowny of Motherhood in May.  You can follow her journey on Facebook. Subscribe to our free email newsletter, Living Better—your ultimate guide for actionable insights, evidence backed advice, and captivating personal stories, propelling you forward to living a more fulfilling life.
Do you have a friend/family member suffering from PPD or PPA? SHARE this story on Facebook to remind them that mothers are in this together!