"If you have followed my stories, you know how funny my husband was. A week before he died, he was in the hospital for complications from a stroke. At some point, the doctor ordered physical therapy. The physical therapist lady gleefully hopped into his room with a walker and told him it was time to get up and walk. He looked at me, looked at her and when he paused, I simply said to him, 'You want to get out of here, right? Just walk the hall.'
He reluctantly moved to the edge of the bed, planted his feet firmly on the ground, stood tall and asked, 'Now, what do you want me to do?' She put her hands on the walker and stated, 'I want you to take this walker, and walk. Let's see how far you can go.' I saw the twinkle in his eye as he shot me his mischievous grin. Before I could tell him to behave, he smiled at her and did exactly what she told him to do. But, instead of shuffling along with the walker, he picked it up, held it at chest level and took off in almost a sprint. She galloped after him, and I shook my head and laughed. He did his round quickly and almost skipped back into the hospital room, still holding that walker up off the ground with her in pursuit and out of breath by the time he climbed back into bed.
After that performance, we all thought he was going to recover. We all thought he was going to beat his cancer. We all thought he was going to be running laps around us for the next 50 years. But we were wrong. He didn't. He died three weeks later.
The day before he died, we still did not know death was so imminent. We still didn't know he would be taken from us so quickly. But, something inside of me prompted me to ask the doctor for a copy of his EKG anyway. I don't know why. But I asked and they gave it to me. A week after he died, I ended up out of state, in my mother's home, trying to hide from the pain, when I decided I wanted to find a way to honor him, and keep him close. My daughter and I walked into the tattoo parlor with conviction, and in less than 10 minutes, I had his heartbeat tattooed on my foot. Never mind that I almost broke my daughter's hand squeezing it so tight, because when the pain from the needles got so bad I almost stopped the artist – but I reminded myself that if he could endure the pain he did, for as long as he did, I could do this. I reminded myself that he refused to get a port for chemo because he didn't want it interfering with his bullet proof vest, because he didn't want anything to keep him from doing his job as a cop. He took his chemo in the veins in his arms, every two weeks for six months. He never once flinched, or moaned, or complained. He did it that way because he wanted to continue to serve his community, and he was going to do anything he had to do to continue that.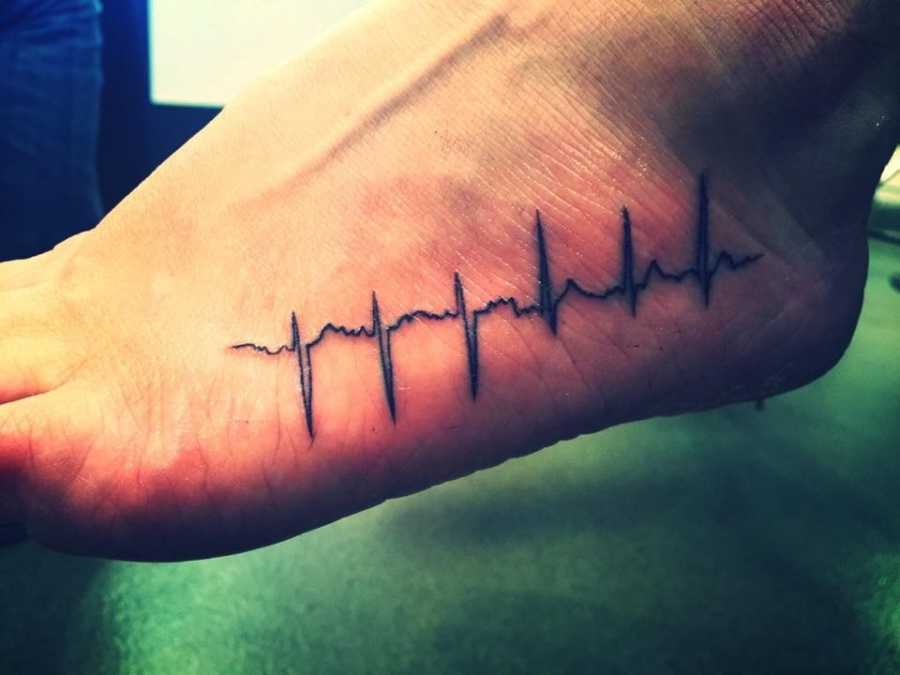 And now, as the third anniversary of my husband's death rolls around, I have been giving a lot of thought about how people grieve, and how they honor the people they love. I have been giving a lot of thought about how people come together in their grief and how people treat each other even when they don't know each other's stories. I have been giving a lot of thought about what love looks like when the person you love is gone. For me, it's the tattoo. It's the book I've written to help other people with their grief. It's the charity we founded to help pancreatic cancer patients. For me, it's the random hug from my 16-year-old on the worst days. It's the messages of support. It's the sharing of stories. It's the constant work, day in and day out to keep his memory alive.
But, until tonight, the night that I write this, I have not seen a more moving display of grief than I did just a few hours ago. My friends and I heard about a thing they were doing in Boise with water lanterns. Basically, you get a kit and decorate it and when it gets dark, you launch them onto the lake. We bought tickets not really knowing what it was all about, and the allure for us was mostly good music, good food and a pretty atmosphere. We really had no idea what we were getting ourselves into. We got there, laid out our blankets, got our snacks, decorated our lanterns and waited for whatever was going to come next. Three of us 40ish-year-old women, just sitting there, catching up, telling stories, laughing and watching our kids come and go.
One of the women I was with has cancer. If it wasn't for the fact that she wears a scarf on her head as a result of losing her hair during chemo, I would forget. Not only is she as beautiful as she ever was, if not more beautiful, her positive attitude is contagious. She's thriving in the face of her challenge, and in her fear, much like my husband did. So, as I sat with her, the conversation wasn't about that. No, it was about teenagers and real estate and what we're going to do for the next adventure. It was about dogs and geese and that the air wasn't too hot, or too cold. We weren't thinking about sad things or scary things or even our grief. We were just being present, together.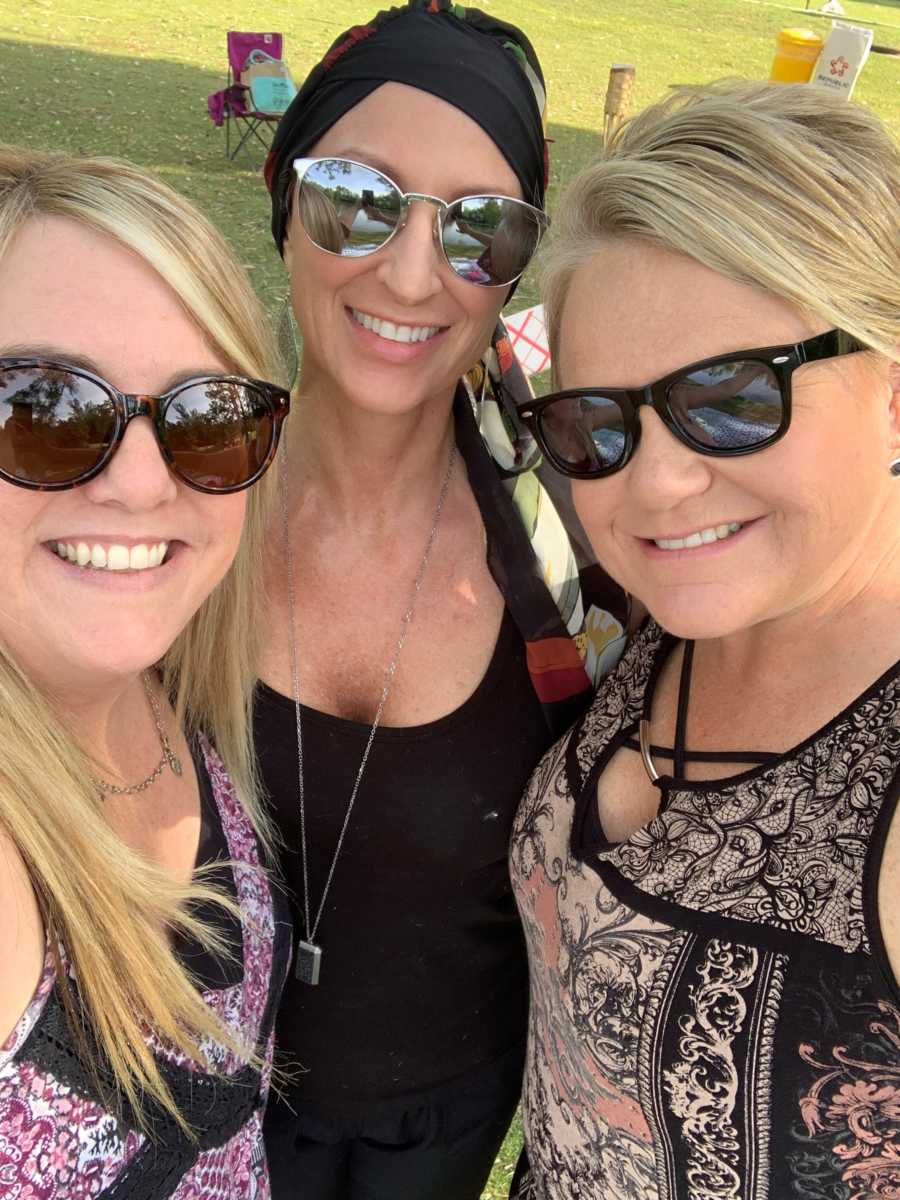 And in the middle of that conversation, a woman and her husband walked up and stood before us. She had tears in her eyes. We stopped talking and looked up at her, and she placed her sunglasses on her head. Her voice broke as she started talking. She simply asked for a favor. 'We have to leave, and I was wondering if you guys could launch our lantern for us.' We agreed in unison. She thanked us. I quickly read the side of her lantern, which included a tribute to 'Trenton.' He was 21 when he died, just a week ago. I instinctively asked her what happened. He had drowned. My heart broke for this woman and I could not help but stand up and hug her. She told us that she had been looking in the crowd and wanted to find the perfect people to do this honor on her behalf, and she chose us. She didn't say why. Maybe it was because she could tell my friend is in a battle. Maybe she heard us talking. Maybe she heard us laughing. I don't know. But we gladly accepted it and placed her lantern with ours.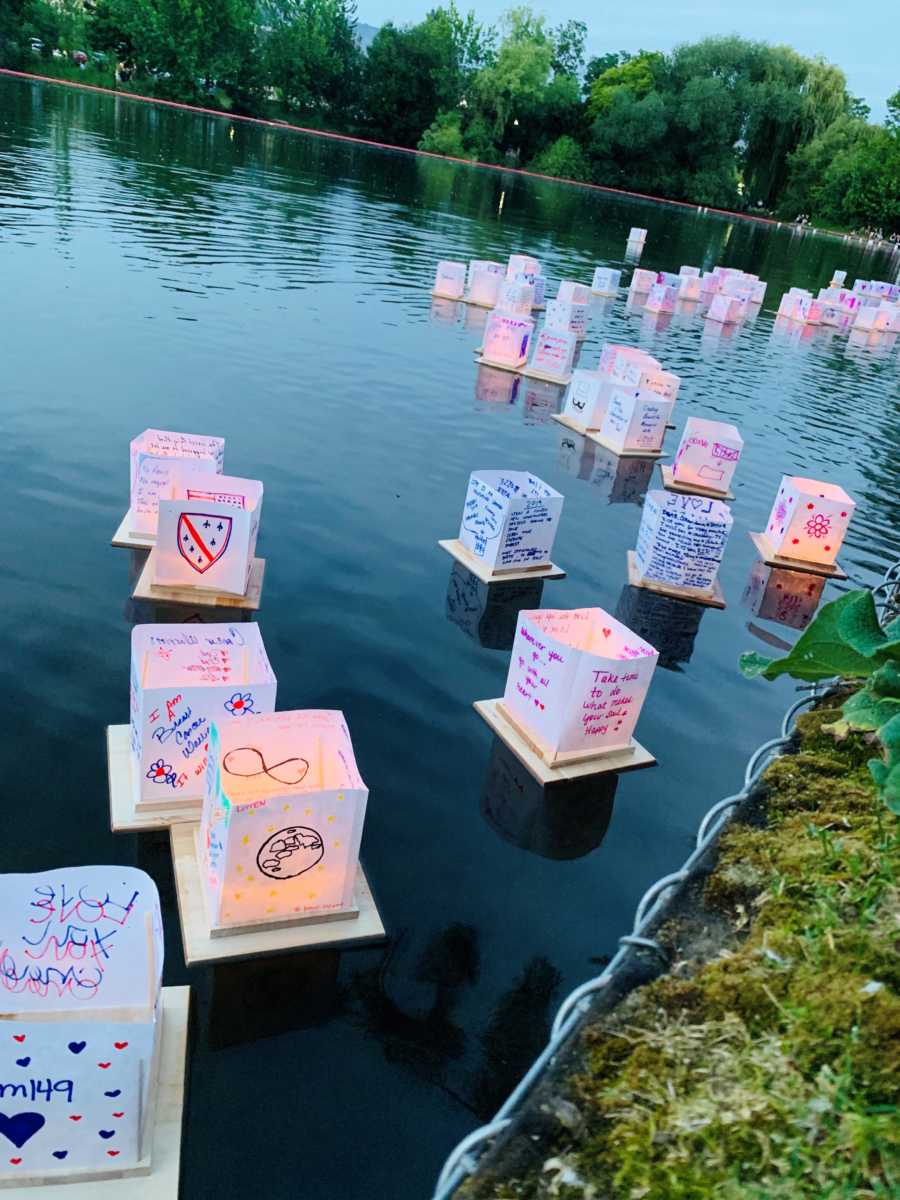 We went back to our conversation, and about 20 minutes later, two other women came and stood in front of us, much like the first one did. They said they had a favor to ask us. We nodded. They said they had to leave for an emergency, and they had been looking for somebody to launch their lantern for them. This time, it was my friend who got up and hugged them both.
The three of us sat quietly for a moment, not so much confused why two independent parties asked us to do this for them, but more in awe of the honor. Because that's how we saw it. Not a burden, not a problem, not an imposition. No. It was an absolute honor.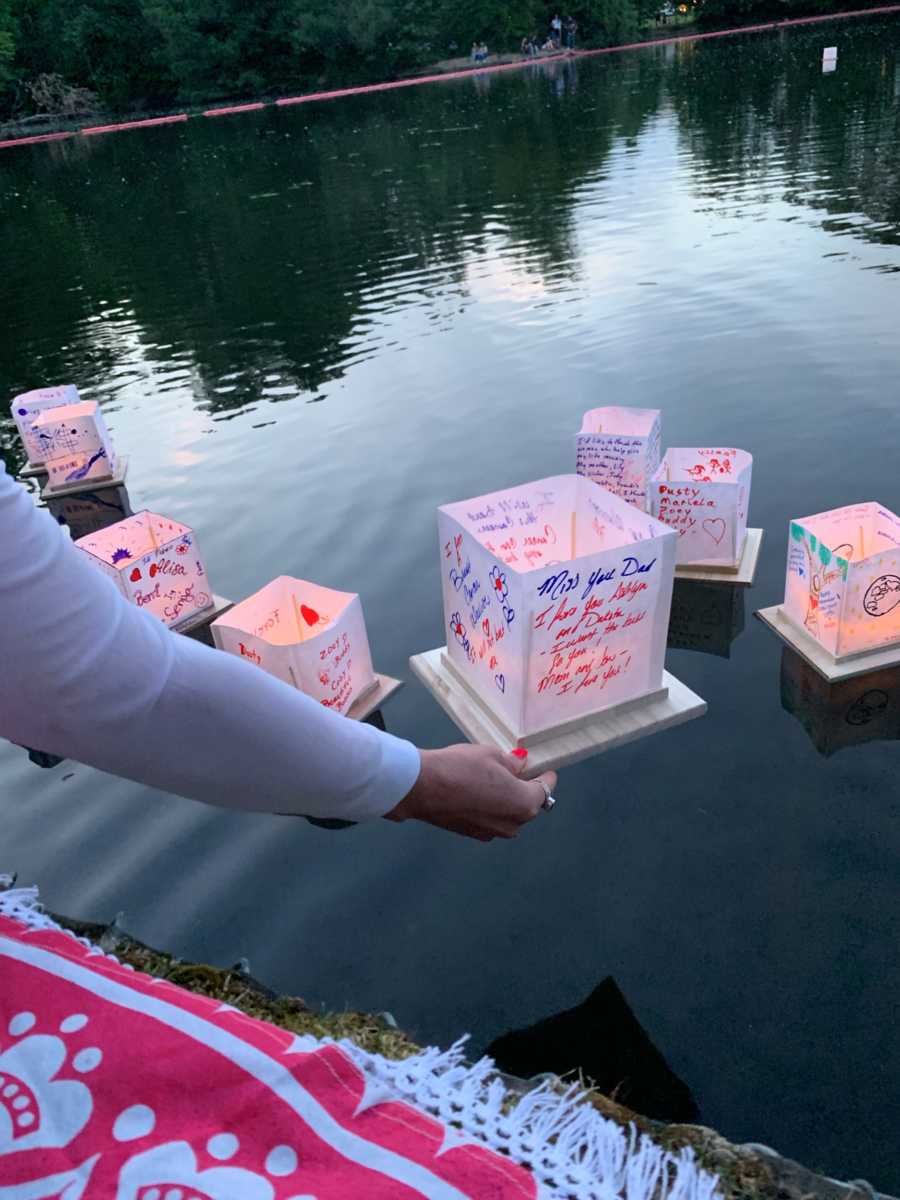 Even before this, it has been my experience that people come together in grief. Sometimes, that's with complete strangers. It is not necessary to know why. It is just necessary to know that people need each other. And it is our job to be there for one another. Sometimes, with no questions asked.
As the sun went down and darkness fell, hundreds of people made their way to the banks of the lake to launch their lanterns. We set theirs off first, watching them twinkle as the set off to join the others in the middle of the lake. We took pictures and video and texted them to our newfound friends. And then we sent ours off to follow theirs. The park was silent, with the exception of the music score playing in the background as people, one by one, released their pain on a floating board with a flickering candle in the middle. I wasn't fully prepared at how amazing it would be. I really wasn't. I watched people cry. I watched my own daughter, who rarely shows her emotions, bawl. I watched people around me hug. I watched children wipe tears. I watched people staring off, just letting it all sink in.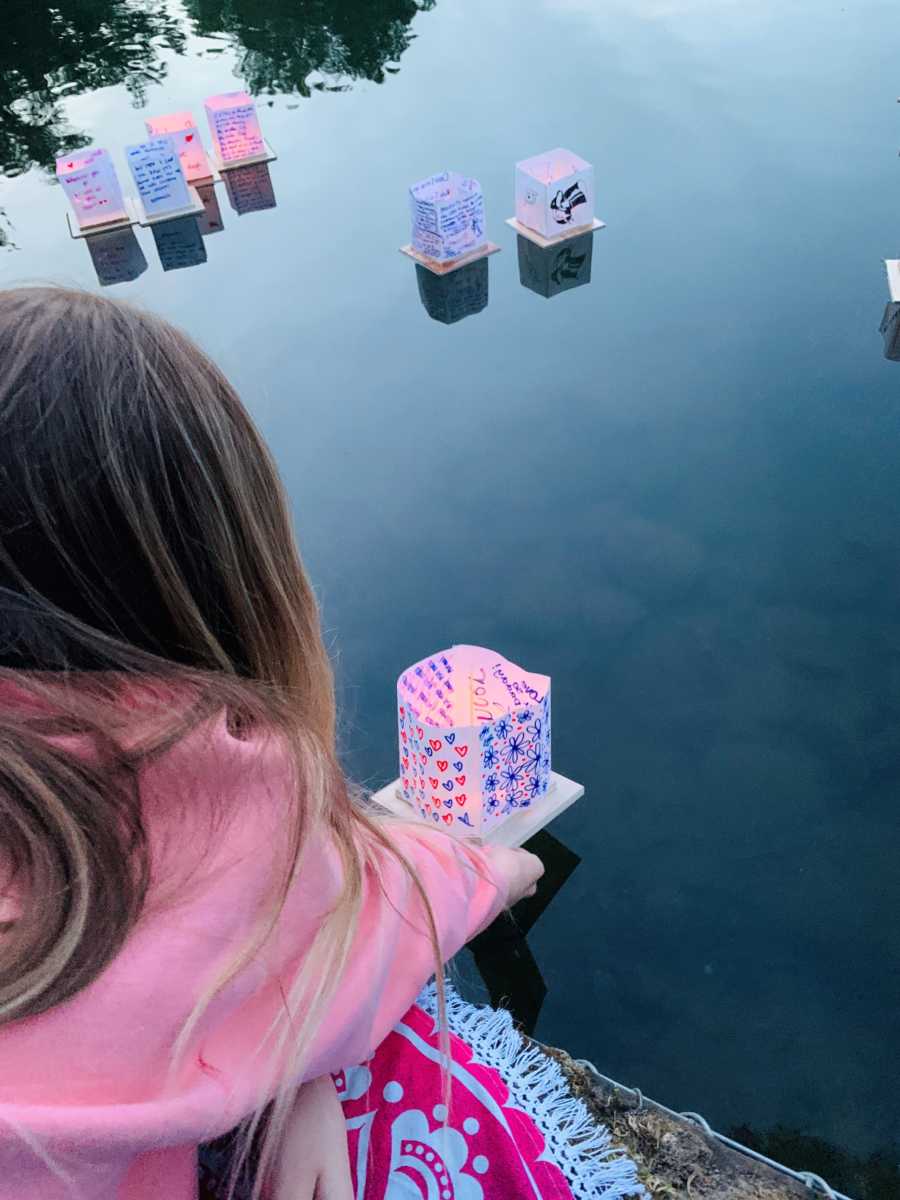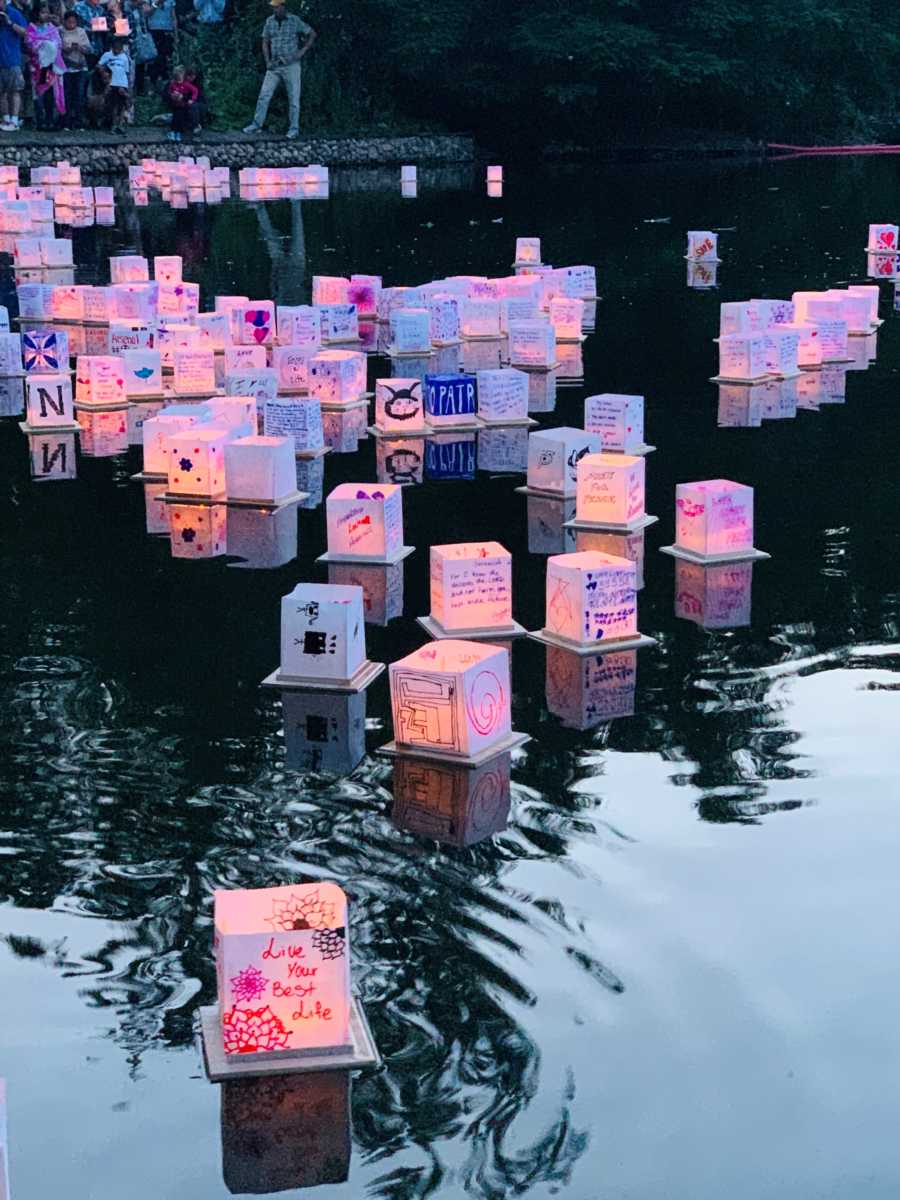 I started to read the lanterns as they floated by. So many names. So many inscriptions. So many 'I love you's' and 'I miss you's' and dates that they lost somebody scribbled on the side. So many souls shattered. So many people in grief.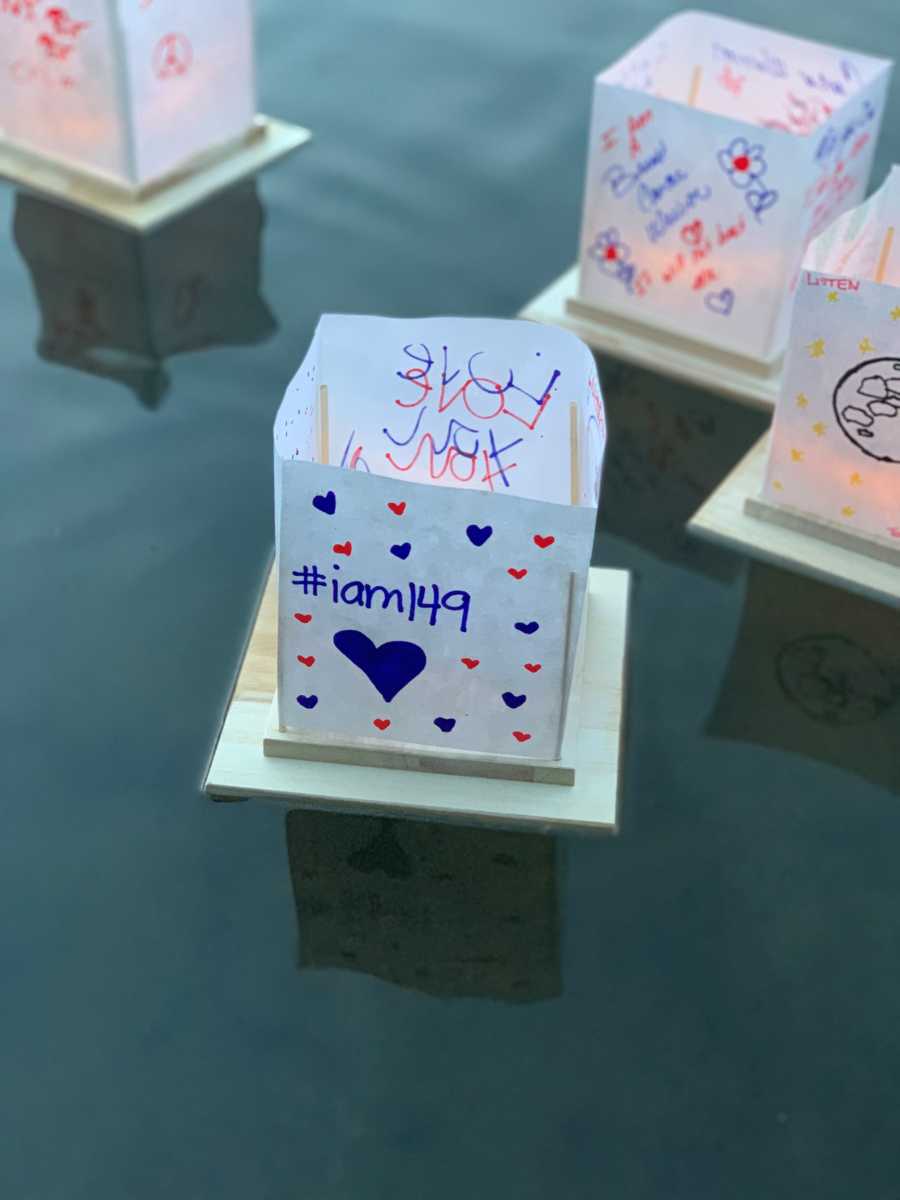 And as I looked out onto the lake and saw the vast amount of amber glow, it dawned on me. Every single one of those is a broken heart. Every-one. It was the most beautiful, tragic, wondrous sight I have ever seen.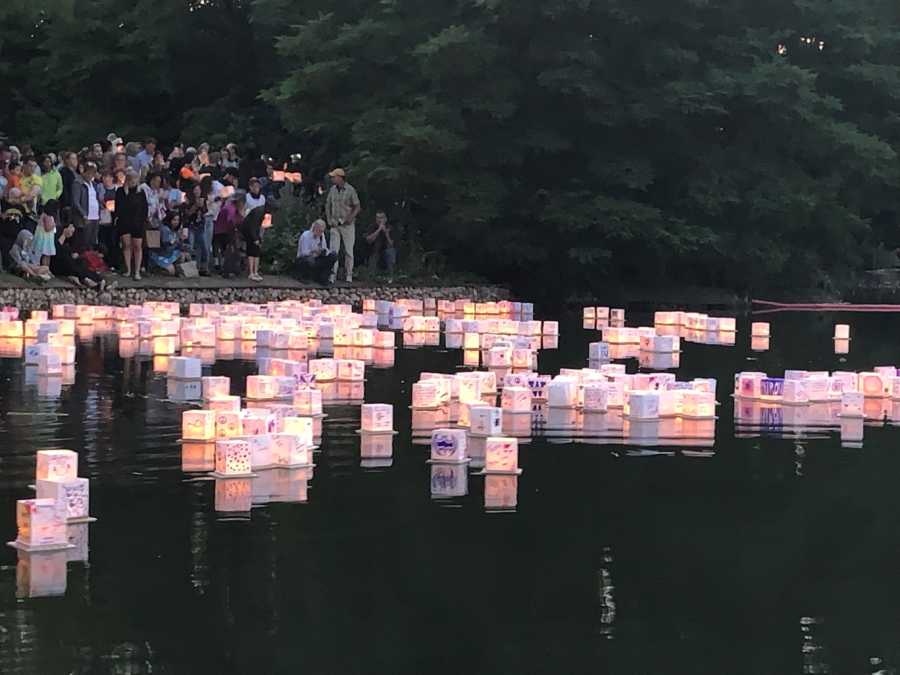 I want you to know something as you look at this picture. I want you to breathe this in. I want you to feel it and understand it fully. You are not alone in your grief. You-are-not-alone. So many people are grieving. So many people need you, and you need them.
Please, as you go through this journey, please remember this. Please remember that sometimes you are going to be the person asking for the favor and receiving the hug, and sometimes you are going to be agreeing to the favor and giving the hug. Both are so important. Both are so necessary. Both are healing you, whether you realize it at the time or not.
Thank YOU for being on this journey with me, for reading and laughing and crying and just 'getting it.' Your comments, your thoughts, prayers and well wishes have meant the world to me. I miss my husband every day, but especially today. But, I know, deep down, that with amazing people like you in my life, I am going to be ok. One way or the other.
In the most loving memory of my sweet husband:
James Chad Register
January 5, 1971 – June 24, 2016."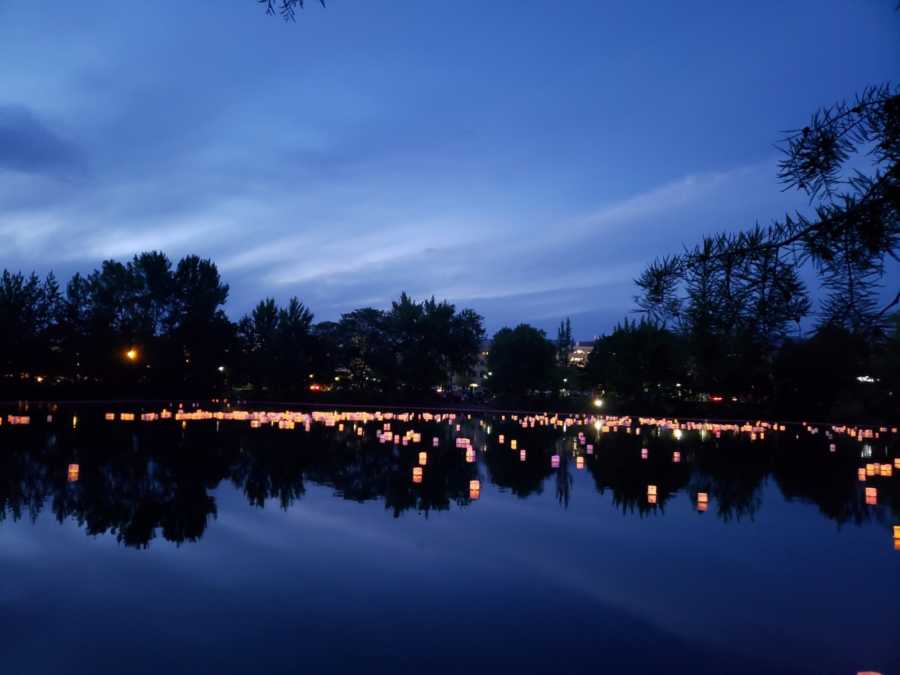 This story was submitted to Love What Matters by Diana Register of Meridian, Idaho. Her books "Grief Life" and "My Kid Is an Asshole, and So Is My Dog" are now available in print and kindle. You can pre-order her newest book here. You can follow her work on her author Facebook page, and Instagram.
Read Diana's backstory about her husband's death:
'With his body full of tumors, he kept working': Wife's tremendous grief after husband's cancer diagnosis
'I looked to the corner of my room and saw him sitting there. 'No,' I thought to myself. 'No, I will not do this.' I looked back to the bed. Still empty. And then it happened. I fell to my knees.'
Provide hope for someone struggling. SHARE this story on Facebook to let them know a community of support is available.