"Last January I had so much hope for what a great year this would turn out to be. I was pregnant with my little girl after 3 boys, my autistic son's doctors appointments were winding down and we had just secured a new home that was perfect for the kids.
February 1st we moved into our new home, which was amazing. The kids absolutely love it here and we settled in quickly. March came around and Jacob turned 9, I turned 28 and we were putting last minute things together for Evelyn's arrival, we were SO excited.
Early April came and Evelyn was keeping everyone on their toes! One day I went to a midwife appointment and my blood pressure was high. I was seeing dots and she thought I may have to be induced. They decided to keep Evelyn in a little longer, and even though I was so annoyed at the time, I'm so grateful now.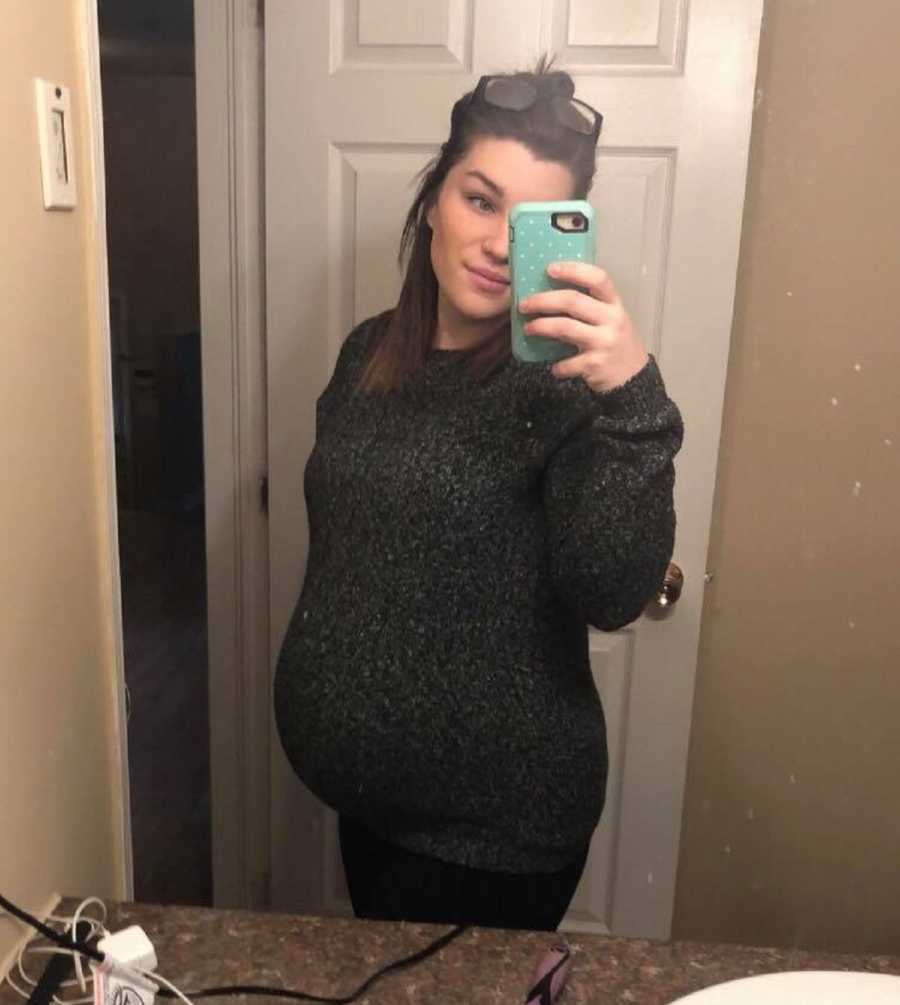 A few days later I got a call that my dad was in the hospital, which was strange to me because my dad was never sick! Even if he was, he surely never went to the hospital. I knew from our previous Facetime calls that he wasn't feeling the best, but it sounded like one of his yearly sinus infections. Nothing to worry about. He always said, 'it'll pass.' The hospital ended up giving him an MRI and that's when everything came crumbling down. 'Dad has a brain tumour,' my mom told me. A brain tumour? He's only 61, how is that even possible? I broke down. I knew it wasn't good – then my brother informed me it was the worst kind. He was diagnosed with Glioblastoma multiforme and would need surgery. How did I miss this? His texts over the last week were jumbled and the spelling was off, but he told me he just had big thumbs and a small keyboard. I brushed it off, but looking back now it was a sign I wish I hadn't missed.
He was transferred fairly quickly to the Montreal Neurological Institute where my mom promised me he was in the best hands. 'He doesn't want you to worry and doesn't want to stress you or the baby out,' but how could I not be? I was hysterical. The rest of that night was a blur, I yelled, I cried, and I finally fell asleep.
The next day I asked my boyfriend to drive me the 2 hours to the hospital. I needed him to know I was there and I'd be by his side for this fight we were about to embark on. We decided to pack baby Evelyn's hospital bags just in case I went into labour while visiting. When I finally got there, he was in good spirits, but looked like hell. His hair was shaggy, his beard was the longest I've ever seen it and he just didn't look like himself at all. I sat in front of his bed contracting all day. I remember texting my mom saying it wouldn't be long, as I was showing signs of labour. I'll never forget bargaining with my unborn daughter, 'I know I asked you to come, I know I said I was done, but I need you to stay in a little longer now. I need to make it home tonight.' Thankfully she listened and I made it home at midnight. Off to bed I went, mentally and physically drained. Tomorrow was my due date.
April 16, 2018. I woke up to more contractions, but nothing I couldn't handle. I was making snacks for my dad (because who likes hospital food? He definitely didn't!) then getting his laptop fixed so he could work from the hospital. While I was packing a cooler, I stopped dead in my tracks. Oh no. I was going to have a baby today.
I texted my mom that I wasn't feeling well and let my boyfriend know the contractions were getting worse. He asked if he could call our midwife and I told him not yet, I had things I had to finish. After about a half hour he decided to call and the midwife was on her way. She laid me down on my bed and I broke down crying. I told her I couldn't do this, I wasn't strong enough anymore. I was petrified. How am I going to deal with a newborn when I need to be there for my dad? It isn't fair that I have to choose my baby or my dad, and that's exactly how I felt. Like I was choosing to be there for one and not the other.
'You're 2cm and fully effaced, we should head to the hospital soon because she will be here by this afternoon! If we get there quickly, I can get you some pain relief and it'll help.'
I finished prepping my dad's things and off to the hospital I went.
I laboured naturally as long as I could, but decided it would be easier on my body to just get the epidural. My mom walked in as soon as it was in, and shortly after my midwife broke my water. Within the next few minutes, Evelyn Grace made her appearance. I immediately texted my dad a picture congratulating him on his first granddaughter.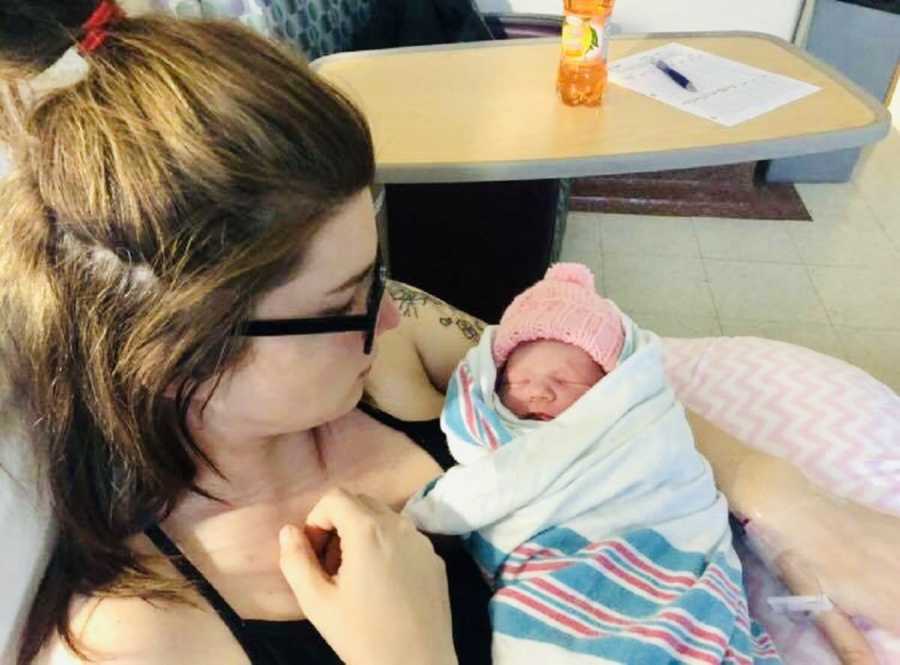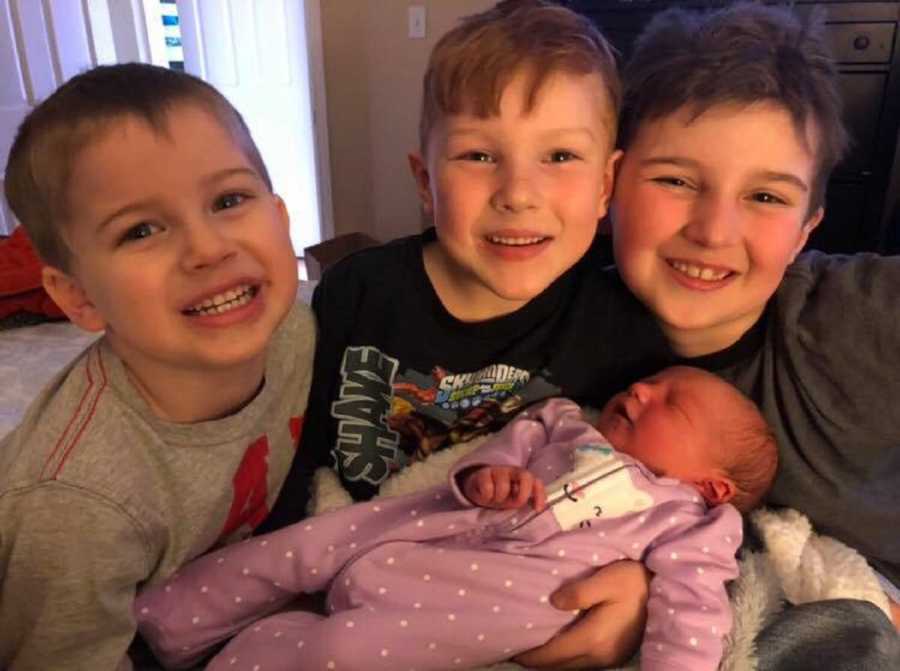 I was discharged from the hospital and on April 20 and we made the drive back to Montreal so he could meet her.
'He's been waiting for her,' the nurses said as I walked by. I couldn't help but cry. Is he going to be here long enough to watch her grow? It was very important to me that he meet her before his surgery, so we did just that. We sat with him while he checked her out, held her, talked to her and loved on her. I remember thinking how bittersweet it was, as she grows and hits her milestones, he struggles and deteriorates.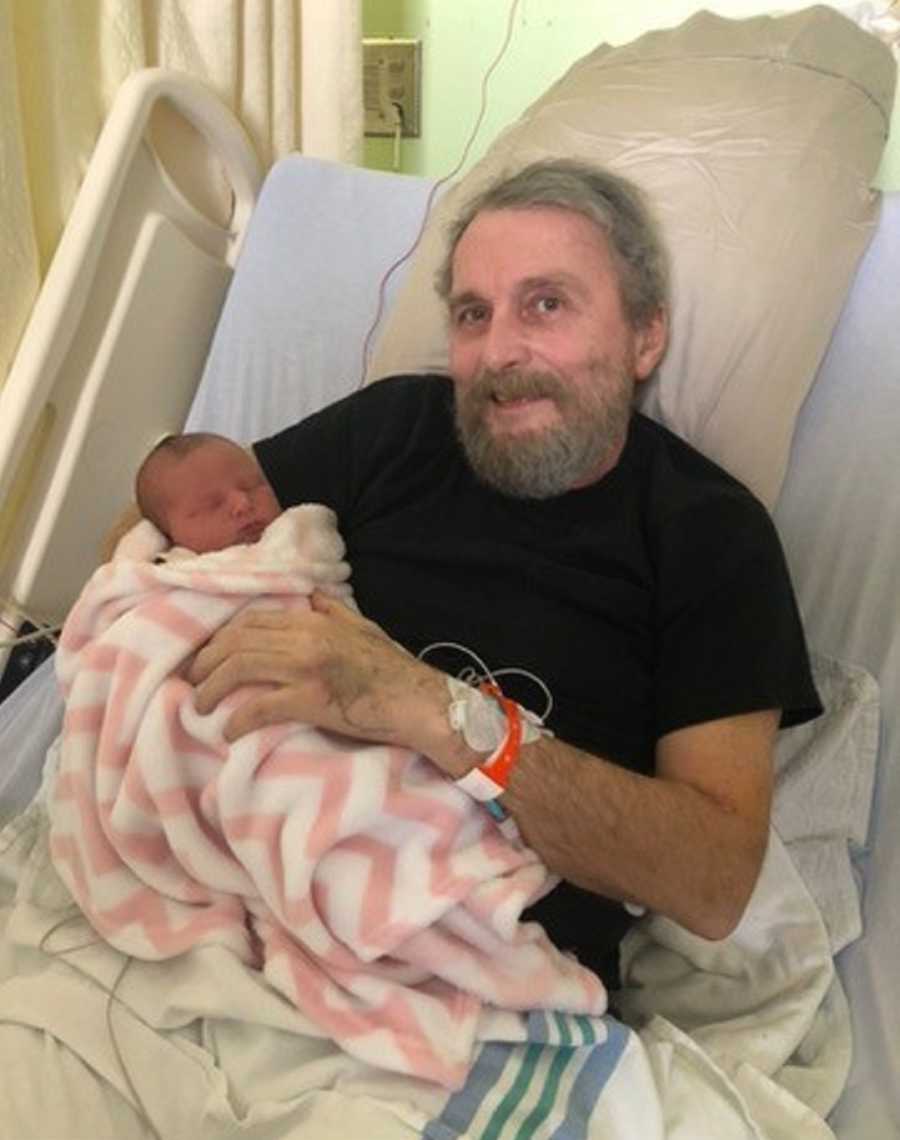 April 26. Surgery day. I set my alarm for 5 a.m., packed up my breast pump parts, kissed my boys goodbye and started my drive to the hospital. The entire drive there I prayed. I'm not overly religious but I prayed to whoever would hear me. 'He isn't done yet, and I promise you he isn't going down without a fight so don't even try to take him from us. We aren't ready, he isn't ready, and I promise to never take another phone call, visit or hug for granted if you let us have more time. Please don't take him from us.'
I got to his room and he was visibly nervous, and rightfully so. He was about to endure a 12-hour brain surgery. We hugged and kissed him goodbye and reassured him he would be ok and we'd see him soon, then they took him back. We sat in the waiting room for hours, and once my aunt got there we swapped out. I had forgotten a part of my pump and my shirts were drenched in milk, after all I was only 10 days postpartum and my body was looking for my newborn to feed.
He came out of the surgery and after 3 days was discharged from the hospital. The doctor obviously suspended his license, so I took it as an opportunity to spend more time with him.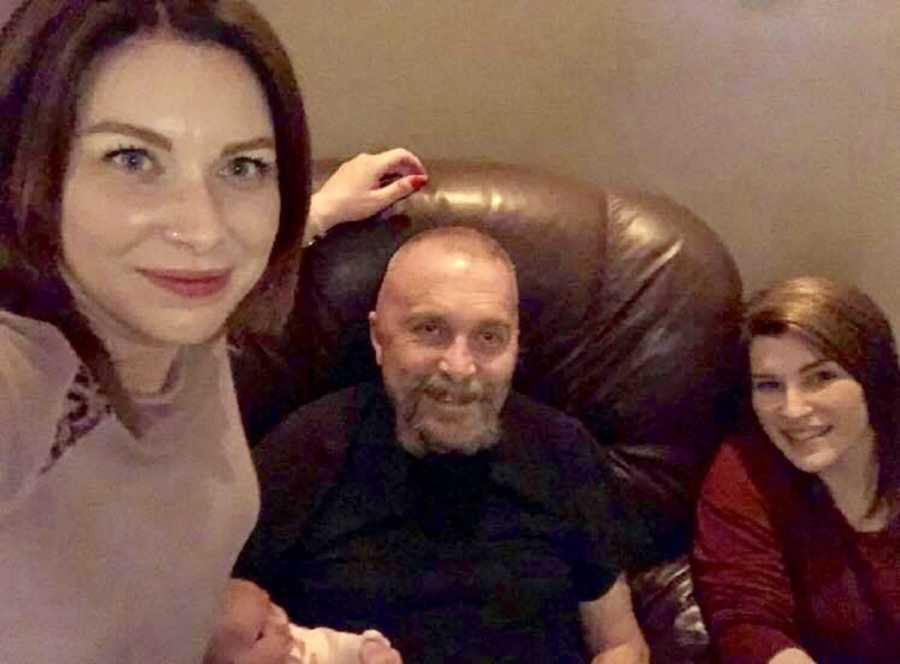 Over the summer we did everything together, whether it was sitting in his garage enjoying the weather, his favourite Costco runs, Home Depot runs for flowers and of course I'll never forget his mini excavator adventure where he dug up his entire front lawn during a tornado warning.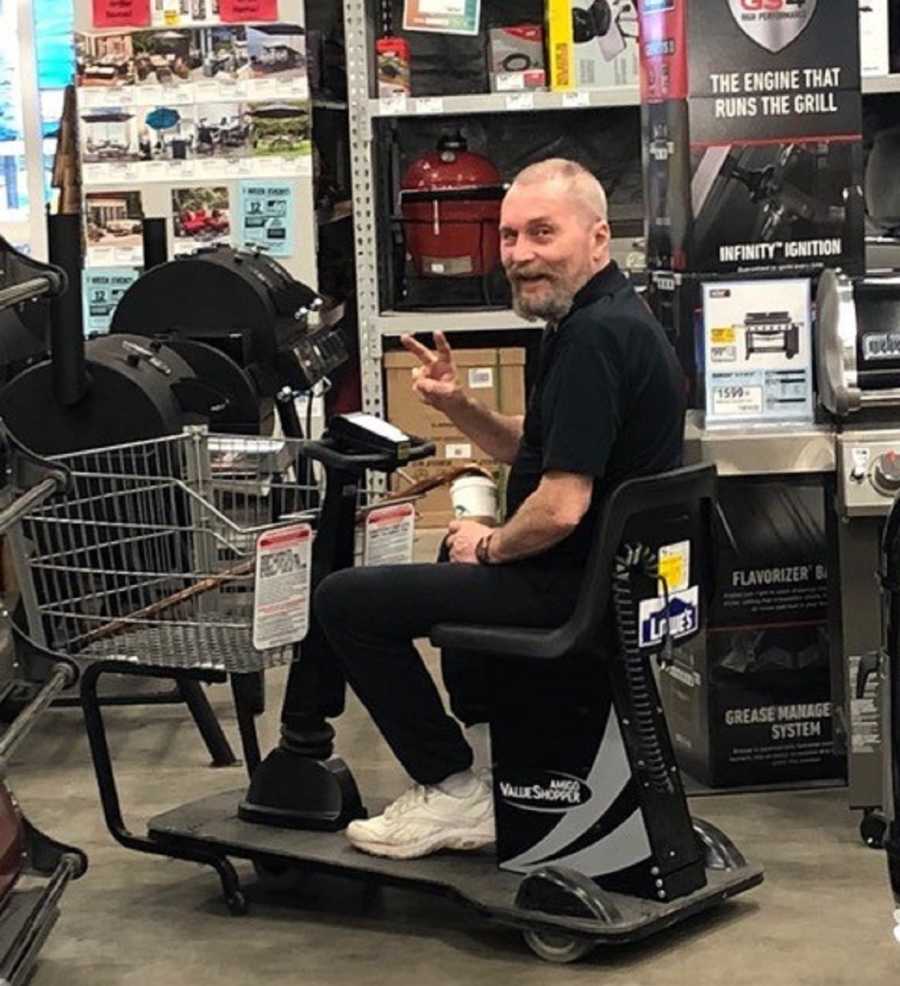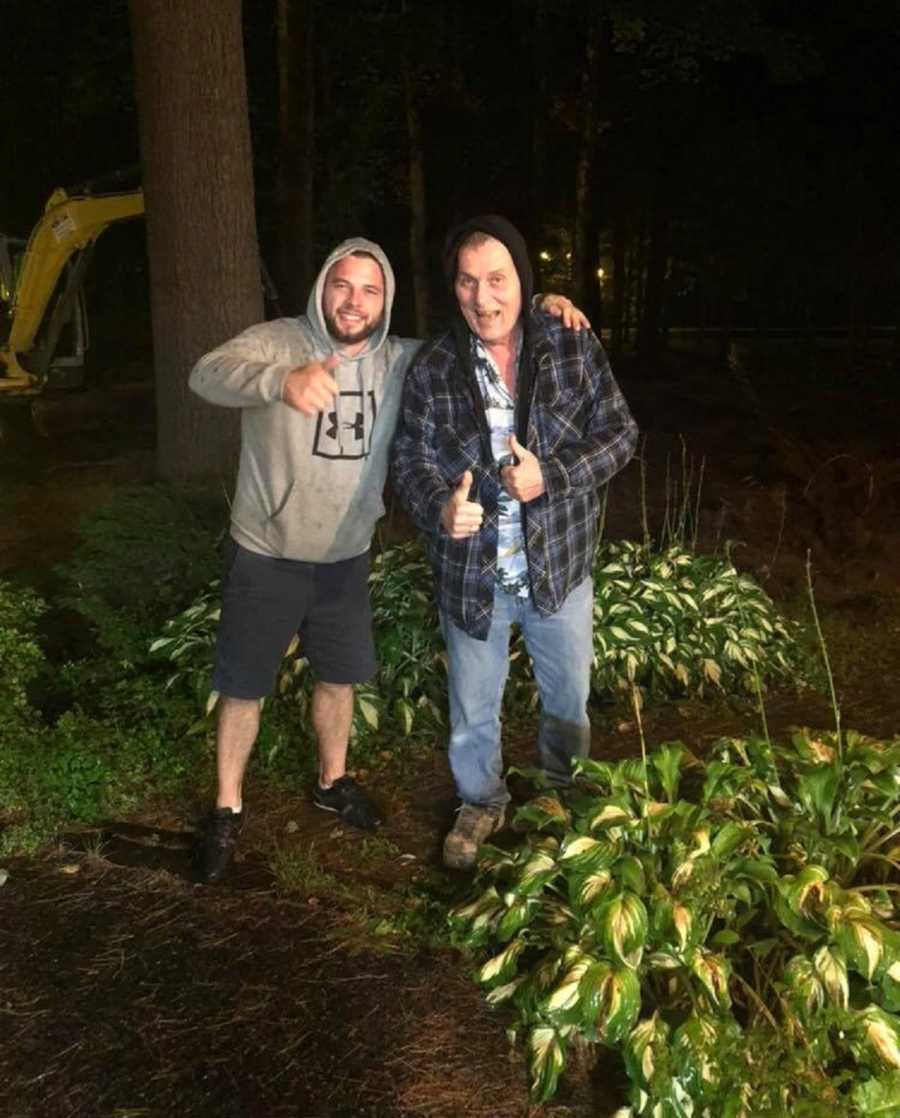 November 25. It was my 5-year-old's birthday weekend. Dad called me on Facetime to remind me (again!) not to forget his lemon pie for next weekend, and that he had asked my brother to help him get the Christmas décor out of the attic for the kids to decorate the following weekend.
An hour later, my brother called me.
'Meghan I just found dad in the bathroom, he's leaning against the washer and isn't responsive.'
'Facetime me, let me try and talk to him!'
'No Meghan, I'm telling you, there's something wrong.'
My brother Facetimed me and the image of my dad is something I'll never forget.
'Dad? Dad, it's Meg, can you talk to me? What's going on? Dad, can you hear what I'm saying?'
He didn't respond. I told my brother to call an ambulance and that I was leaving the house.
That drive brought back so many memories. Again I bargained, I prayed, I yelled, I cried. He isn't done yet, we had gotten so close, this couldn't be the end, not yet.
When I got to the hospital the doctor pulled me aside and said, 'His prognosis isn't good, he has another tumour and if he goes into heart failure we wont try to revive him.'
I remember thinking, 'Who the hell are you? Who are you to tell me you aren't going to try and save my dad? We're fighting the second tumour, we have a plan! My dad had just been accepted into a clinical trial that we had high hopes for. I told the doctor he absolutely was to do everything he could to save him. I walked into the room and started bawling my eyes out, I talked to him and he turned his head and looked at me. I held his and reassured him I was there and wasn't leaving his side.
I had him transferred back to the neuro where his doctor told us he should make a full recovery. We were so relieved to hear that, because he was starting his trial and it should give us more time.
Dad came out of his seizure. It took him weeks, but he slowly started to talk. Most of what he was saying wasn't making sense though and we noticed he would only answer questions, not ask them.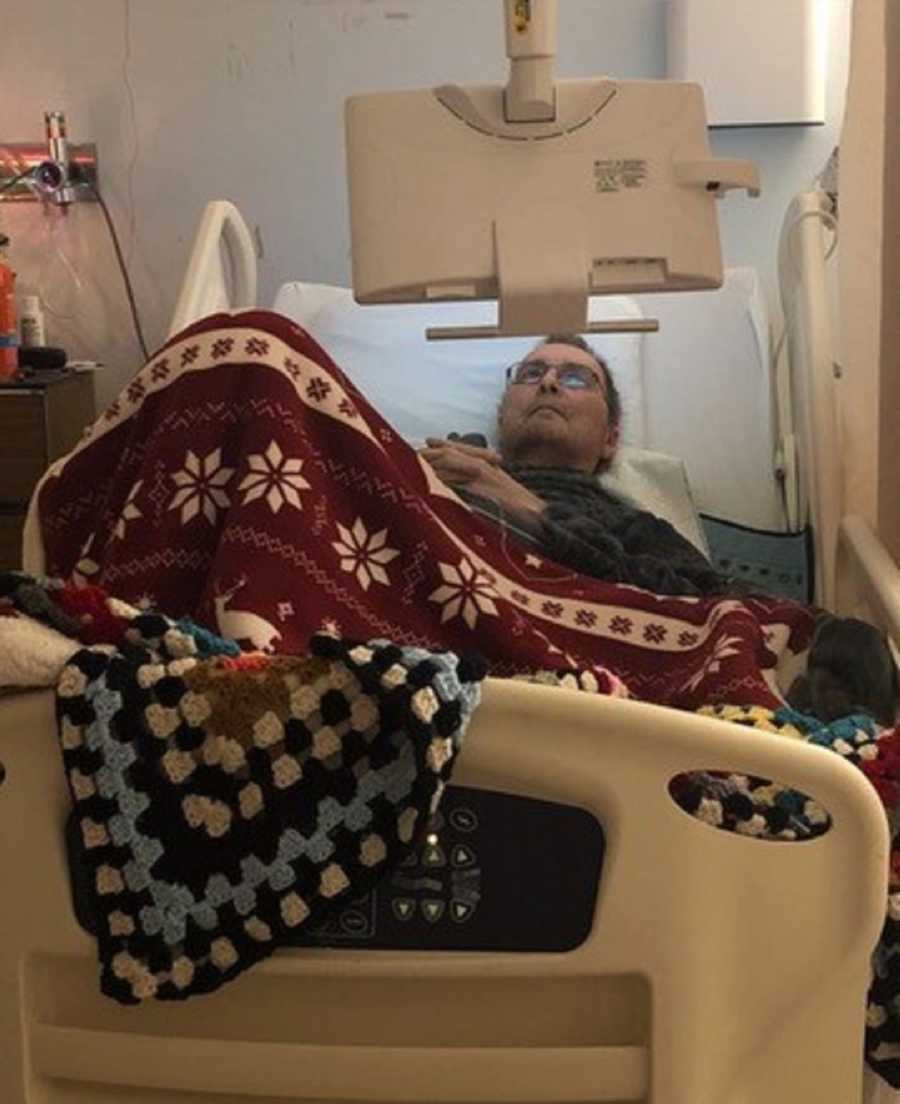 A few more weeks passed and we noticed he was kind of reverting backwards, talking less, making even less sense and his comprehension was way off, we'd have to hand feed him and his balance was terrible.
One day I got a call from my dad's doctor and he told me things weren't good. His tumour had progressed and he didn't think he would be here much longer, 3-6 months at most. He said the meds he was on were working, but not enough to bring back his speech or comprehension.
My oldest son Jacob has been having a hard time with how often I've been gone. He asked me if he would be able to go see his grandpa Glenn, and I generally brushed it off because I didn't know how to tell him what was going on. I decided to sit him down and have the same heart to heart my mom had with me when my grandfather was sick. Ironically, I was also 9, and my grandfather also had a terrible form of cancer.
I explained to him that grandpa couldn't talk, he could barely walk, and that mom had to feed him his meals, shower him and help him to the bathroom. I told him that grandpa looked different because he had gotten sicker. I had a few people who were iffy on Jacob seeing him, but I explained in full detail what was happening. I told him his grandfather was dying. He started to cry and insisted that he wanted to go see him and help. I said, 'he doesn't look very good, can't talk and may not recognize you.' He said, 'that's fine mom, I'll just sit with him then.'
So off we went to the hospital. We drove the two hours, picked up KFC and walked into the room.
'Hi grandpa, its Jacob!' Dad didn't acknowledge him. Jacob grabbed the picture frame next to his bed, a Christmas photo of all four kids with Santa and he started to name everyone. 'Look! Here's Evelyn, Brayden, Logan and look grandpa, its me, Jacob!'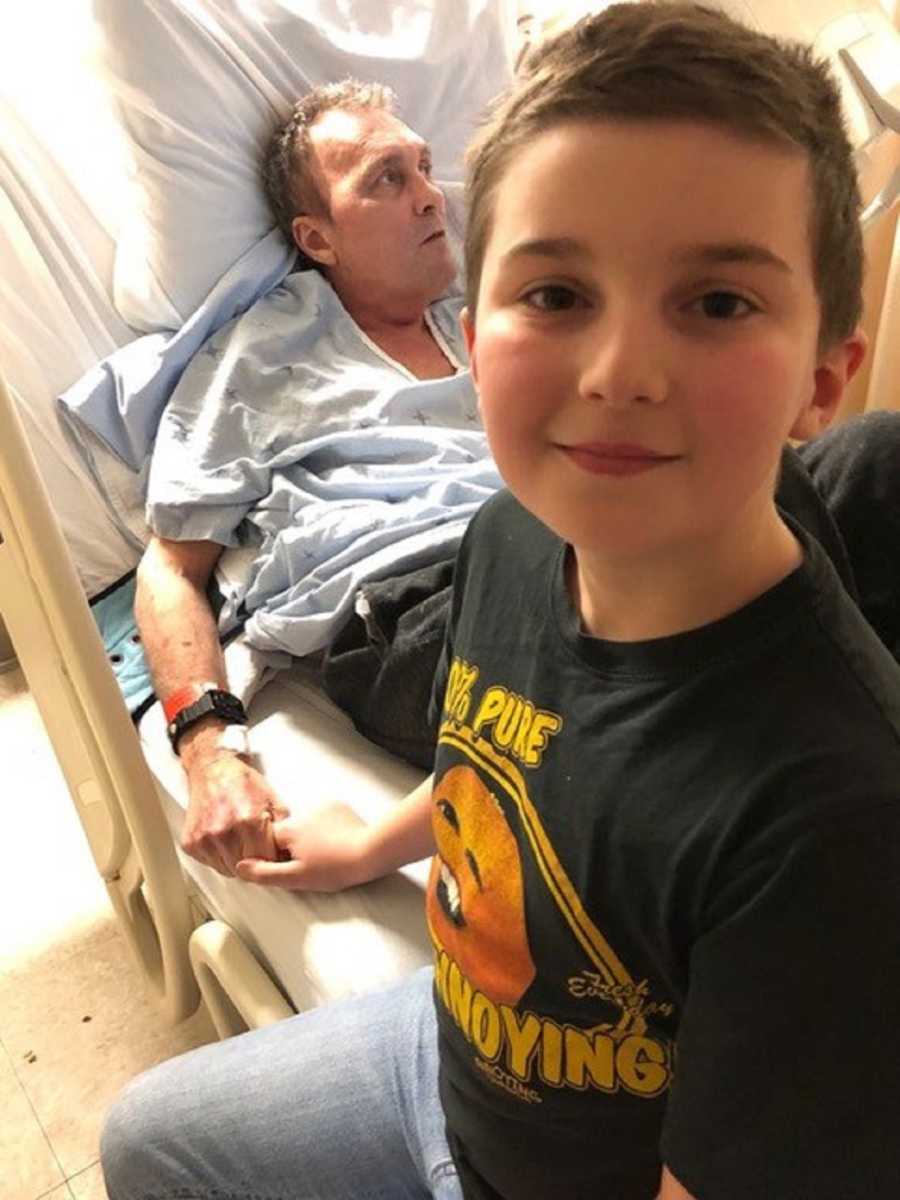 He looked at him, but that was the extent of it. We ate, cleaned up his room, walked the halls and dad spent lots of time in the bathroom because his stomach was upset
'Mom I'm gonna sit next to the bathroom door. When grandpa comes out I'm going to hold his hand so he doesn't fall.'
He sat and waited, and I told him I would be across the room making the bed. Dad came out of the washroom and Jacob sat him down. I looked over, and saw this.
Jacob knew his neck had been bothering him from laying in a hospital bed for weeks, and noticed that his hands were freezing. My sweet, compassionate boy was rubbing his grandfather's neck, warming his hands and talking to him about school, like this was a completely normal visit.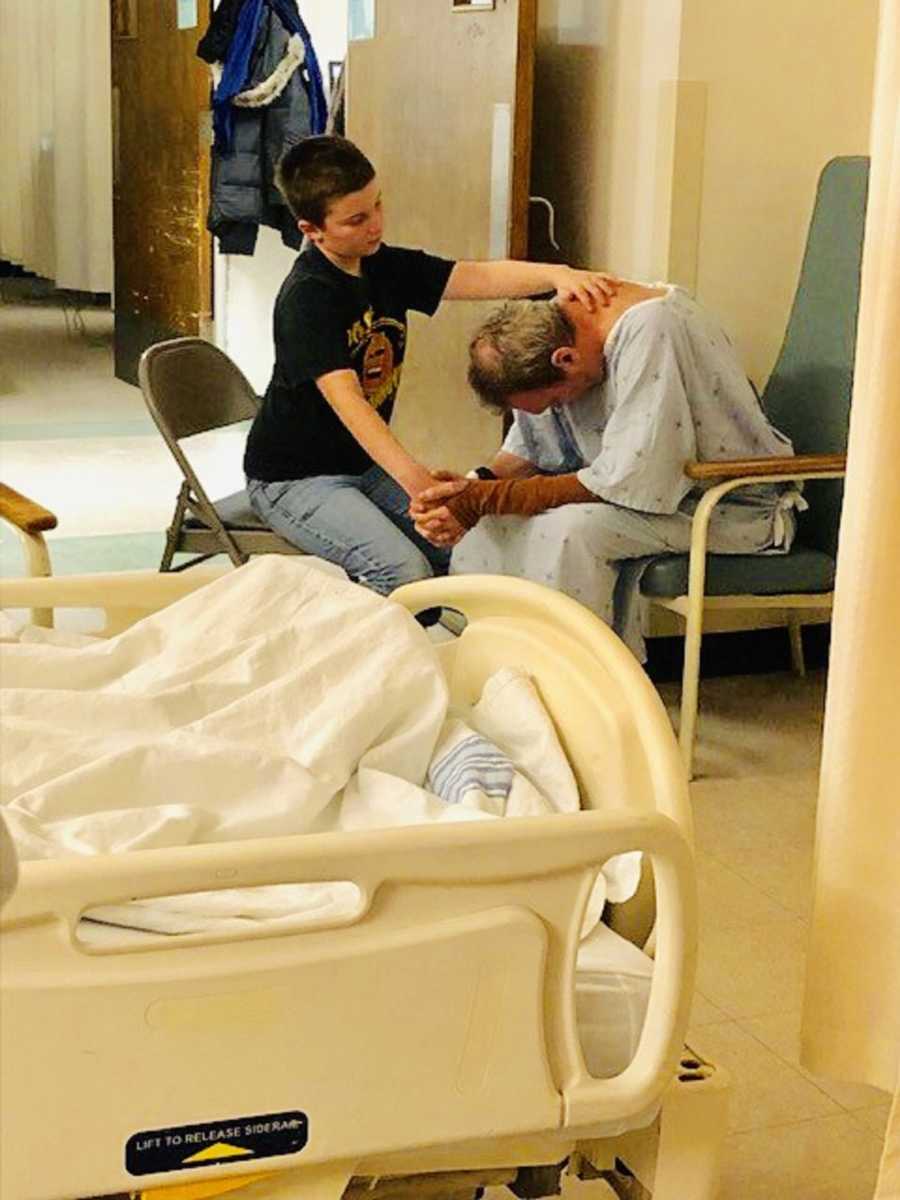 I'm not going to lie, I had tears streaming down my face. In that moment all I could think about was how I couldn't believe it took me so long to bring him with me, and I felt as though I had wasted so much time that they could have spent together.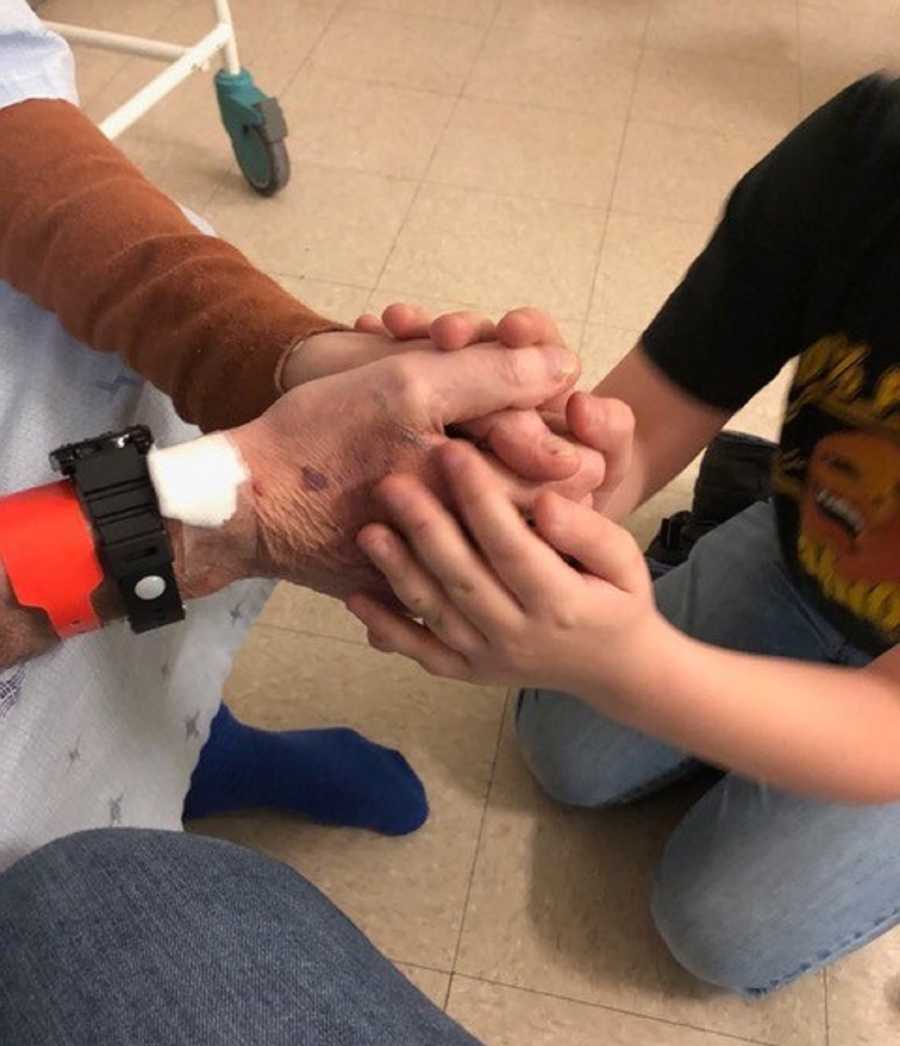 Today is January 25th and the tumour has progressed significantly. It's now invading the other hemisphere of his brain. I wish I could write a happier ending to this story, but there isn't one. The raw truth is that my dad doesn't have much time left, so for now we'll have dinners, spend time together, warm his hands, rub his neck and not take any visit for granted."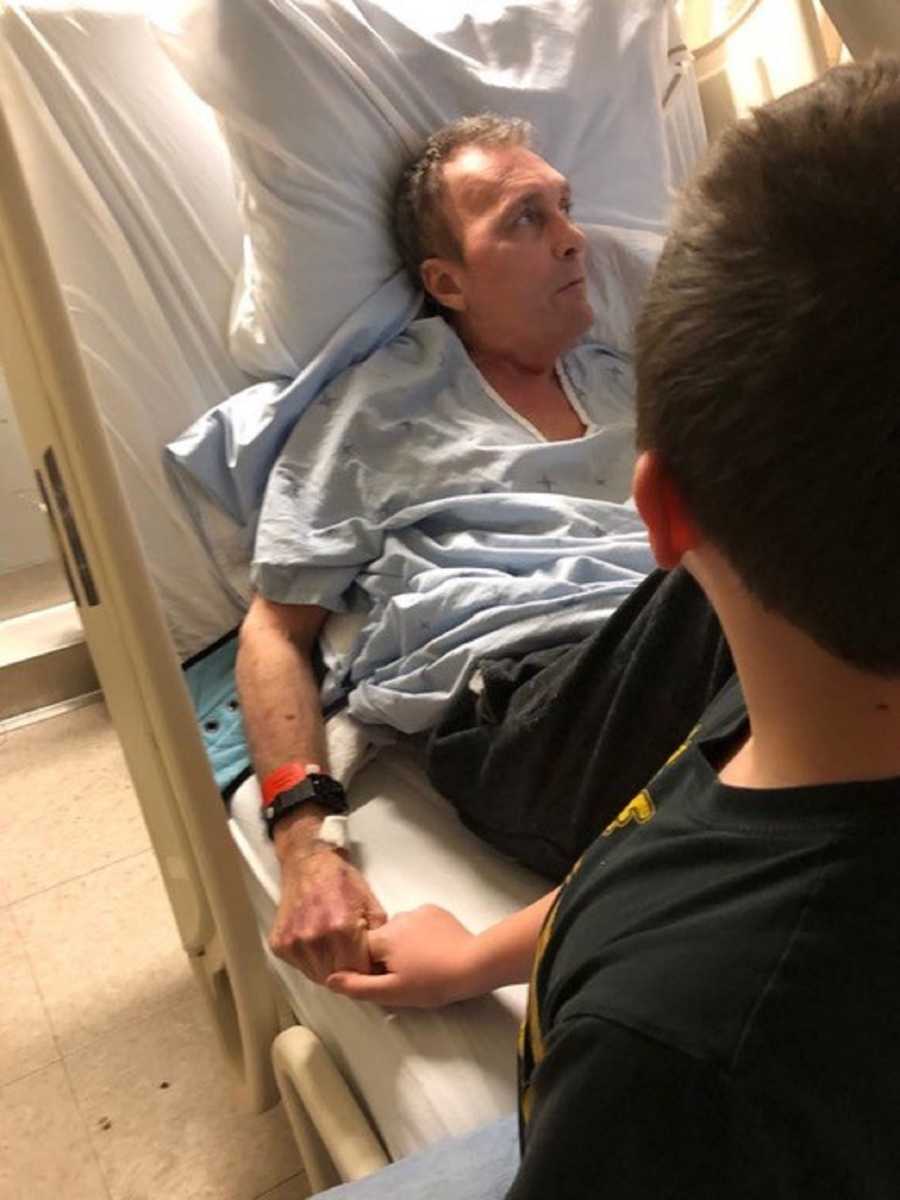 This story was submitted to Love What Matters by Meghan Sparks of Cornwall, Ontario, Canada. Submit your own story here, and subscribe to our best stories in our free newsletter here.
SHARE this story on Facebook to encourage others to cherish every moment and love what matters most.