"Being diagnosed with anything is always a tough pill to swallow, and considering I can't really swallow pills, hearing I had stage 2 cancer at the age of 31 was unbearable. I was having issues with my period so I was going back and forth to the doctor and it just so happened to be around my annual. I went in like regular but when the nurse practitioner was doing her check she asked me when the last time was I did a self breast examination, and I had no answer. I was like, 'umm,' – and before I left I was scheduled to go in for a mammogram the next day. I really didn't think too much of it. I went to the appointment and from there, my life changed.
A week later I was told I had stage 2 breast cancer (invasive ductal carcinoma). How could this be? Isn't this disease just for older women? This doesn't run in my family, I live a healthy lifestyle, and I have a relationship with God. When I first found out, I was in shock. I broke down and cried, thinking, 'am I going to die?' I was devastated. There wasn't anything I could do when I heard the news but get off the phone and call my pastor. He encouraged me to call my family. I did, and I informed my boss. He gave me the week off to decide what I wanted and needed to do. My aunt and grandma went with me to talk to my doctor to try to get further understanding, but to be honest, I didn't hear a thing she said. My aunt and grandma took notes and asked all the questions. My doctor was in tears because she couldn't understand either. Was I about to die? No, I can't. I'm not ready!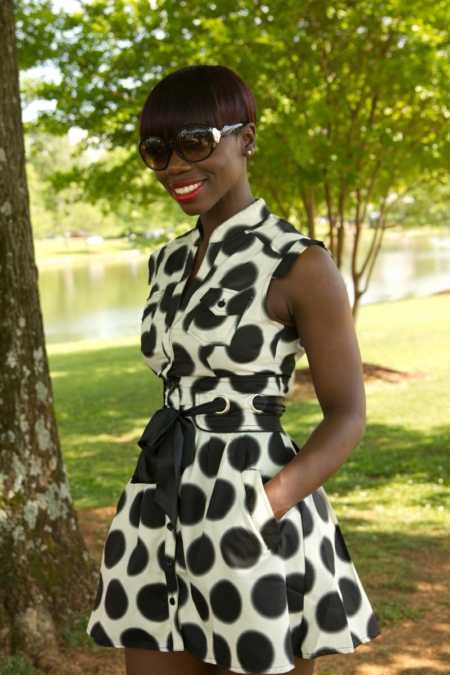 Over the next several weeks, I can say I had never been to that many doctors appointments in my life! When they told me I would have to go through chemotherapy I was really scared. How am I going to be a public figure and go through all this? I'm a midday radio personality for the local hip hop and R&B station and though people don't see me much I still couldn't figure out how I was going to be me going through all this. I was super depressed and sad, but what I didn't do was stop living. I went to work every day. I never took that week off my boss gave me. Being at home for that one day drove me crazy. I needed a distraction and work was that.
I started chemo June 6, 2013. It was a 3-hour process I had to endure once every 3 weeks for 18 weeks. After the first round I started losing my hair. I was like, 'What? Already?' I once again called Pastor AD and he explained 'that just means the chemo is working.' He was right. I called my parents and my dad said, 'hit that barber shop, baby girl,' and I did just that. My friend Mike Lowe met me at the barbershop and it happened. I was a baldie! It was weird, but I embraced it and I've been rocking a short haircut ever since.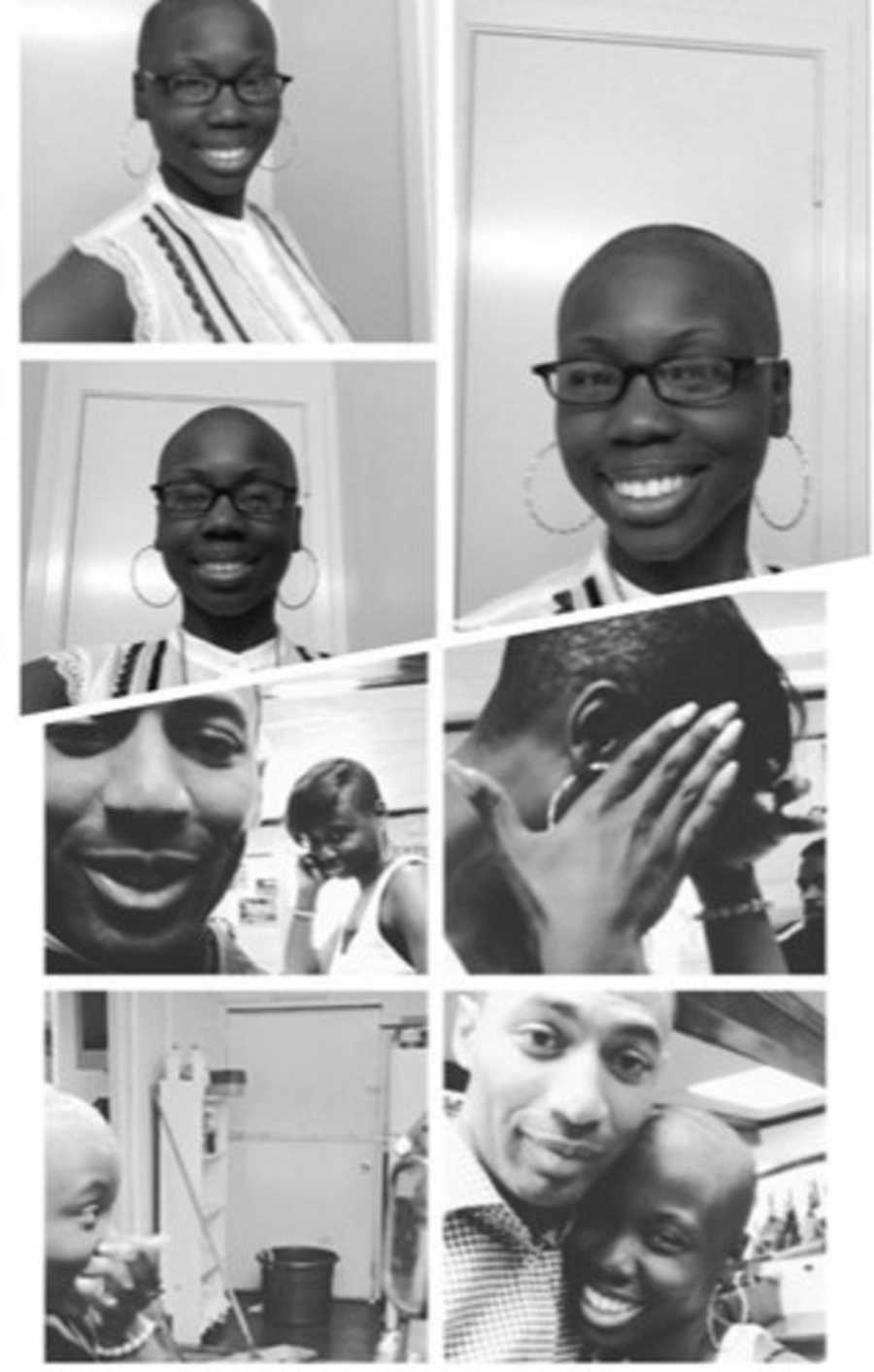 This journey has been interesting. At the top of 2013 I asked God to increase my faith in Him, make me more active in the community and use me for His will. Well I didn't realize it at first, but He definitely answered my prayer… Not like I thought, but He answered. God will sometimes answer your prayers but not in the way in which you thought or expected. I have never been closer to God in my life and I'm extremely grateful for this experience. My friend Kyle told me to call his mom, and Ms. Rita, who is a cancer survivor, helped me so much! When I first cut my hair a lot of people thought it was a fashion statement. I thought that was funny. It took me awhile even after I cut my hair to share my story but once I did, I felt free. Love came from everywhere and the prayers are definitely working.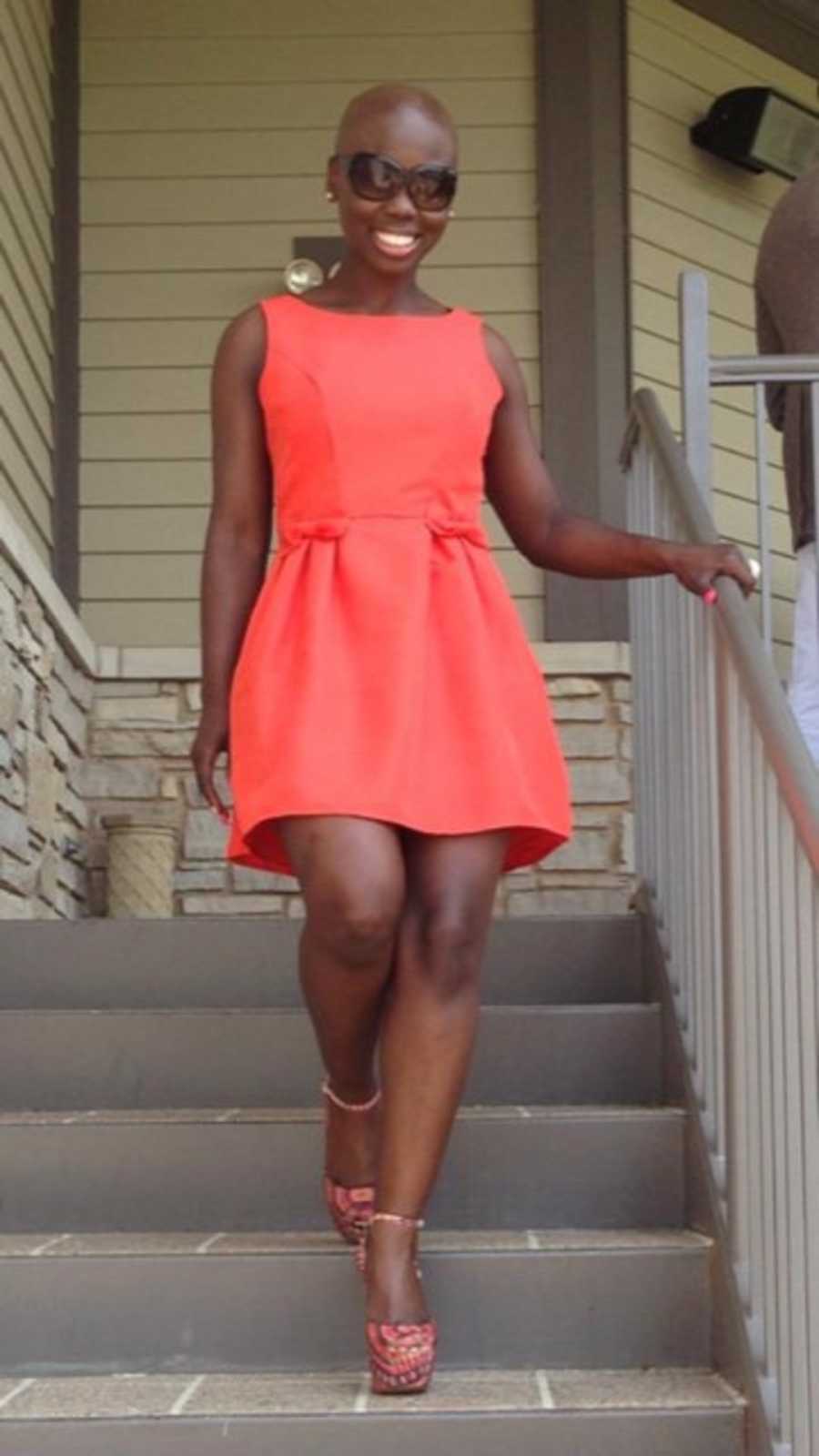 My doctors and nurses at CCI (Clearview Cancer Institute) were awesome. I spent the majority of my time there. I never got a second opinion because I was fully confident with my doctors and I saw the lump. All I could do when I saw the lump was say, 'Wow, I have stage 2 breast cancer, invasive ductal carcinoma. This can't be life!' The thing is… it was. They found a 4-centimeter lump and it had to go. My process was chemotherapy, surgery, radiation every day for 6 weeks, and then I have to take a pill for the next 5-10 years. The tumor shrunk to 1.5 centimeters half way through my chemotherapy treatments. See how God works! I managed to maintain my weight even though I didn't eat much, and all my test results came back great. I had a lumpectomy, which means I got to keep my breast.
Breast cancer doesn't run in my family and all my genetic tests came back negative, so my doctors were confused as to why it developed. I simply said, 'This is beyond any of us. This is between God and I.' Cancer does not discriminate. Go get checked! This is not our grandmother's or mother's illness anymore. It is happening to women younger and younger. Go get checked and do personal checks. Know your body. If you feel or see anything that makes you say 'hmm…' don't ignore it. Knowing and going to the doctor can save your life. It's not an easy pill to swallow when you first find out or when those physical side effects start happening. I suggest before you do anything take the time to process everything in your time, in your way.
Everyone will try to approach you with all sorts of remedies and stories. I had to cut a lot of that off. It's overwhelming and actually kind of scary. Stay close to God and find something that brings happiness to help you through it. Stay positive and don't be defeated or discouraged. You will get through this!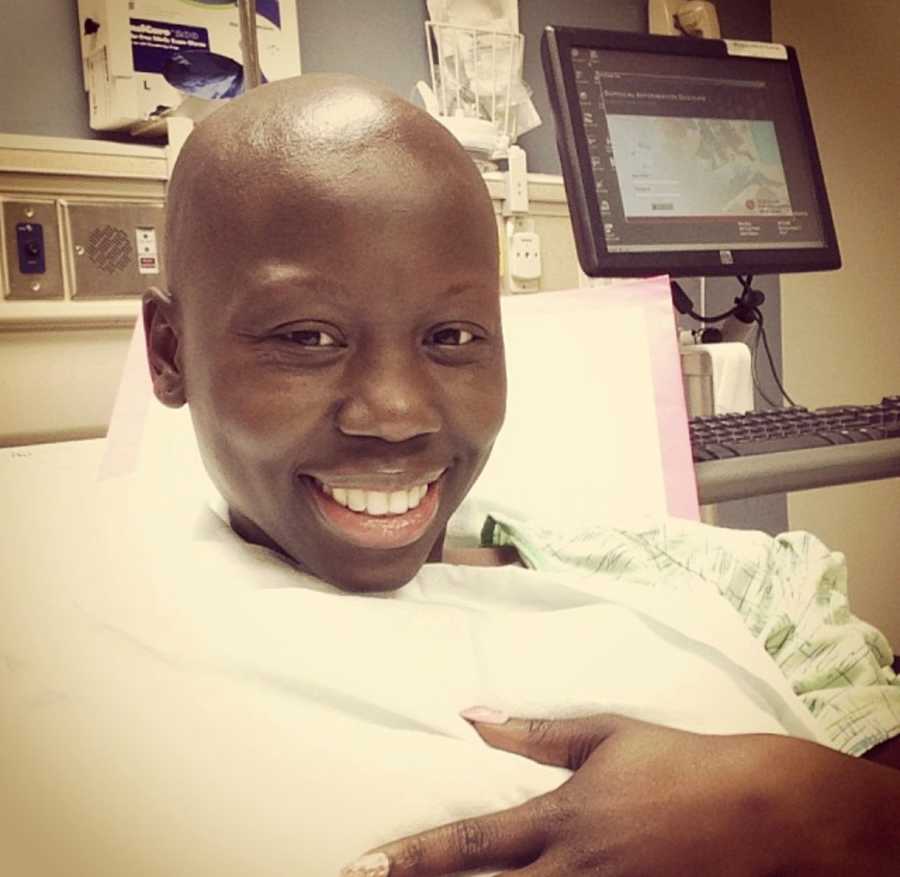 My surgery was October 22, 2013, and it was my first surgery…ever! I wasn't scared because I knew all this is for my good. God had me going through this for a reason, so who was I to worry about it? I was declared cancer free on October 25, 2013, but it wasn't over. I still had 37 radiation treatments. I must admit that process was tough on me emotionally more than anything. I was tired of going to the hospital every day. It was finally all over in January of 2014. I will never forget that call, 'the surgery was a success, we got it all.'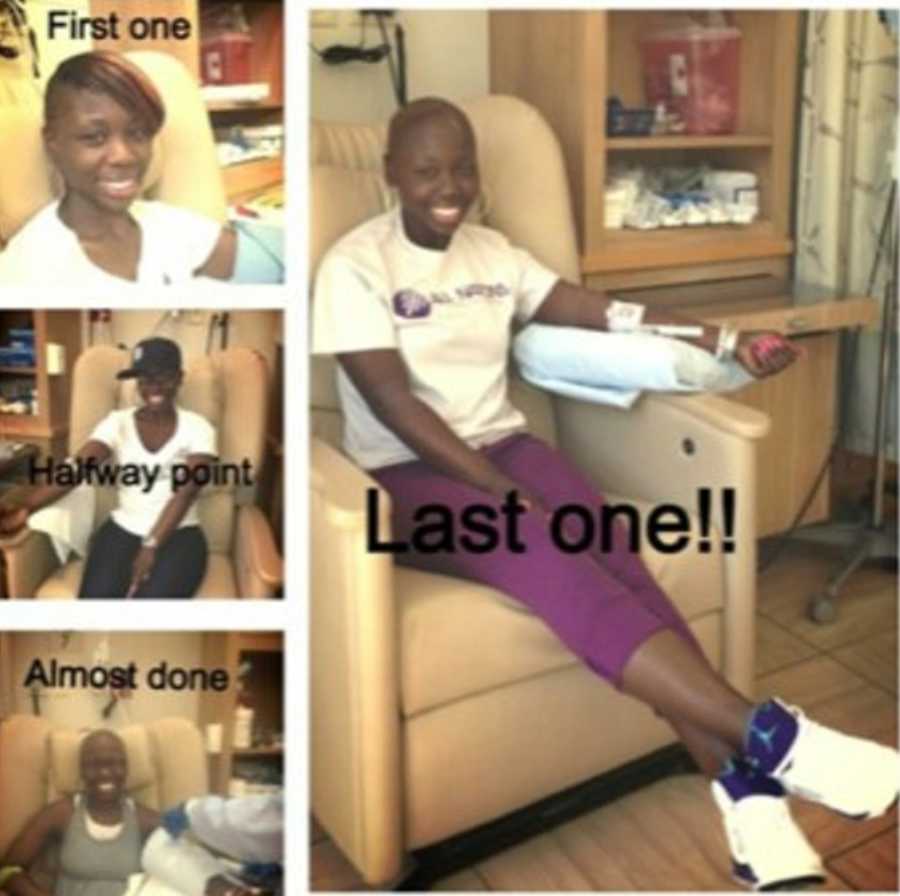 In August of 2014, they thought it returned and I was so disappointed. I didn't want to tell anyone because everyone was so happy that I was healed. I couldn't put them through that disappointment. I told a few people because I had to, due to the fact I was going back under anesthesia. Long story short… it was scar tissue, a calcium build up. I thought I was in the clear until we discovered my grandmother's cancer had returned, stronger than ever. This time around wasn't looking good. They told her she had to do chemo. I knew her body wasn't strong enough for that, but I had faith. However in December of 2014, she passed away due to complications from Uterine Cancer. I was in the room along with other family members. I was devastated. My grandmother and I had a very special bond since I was born. She told me she was so glad my mom didn't give me up for adoption because she knew I was her gift from God. I felt that I had to go through what I went through to help my grandmother through.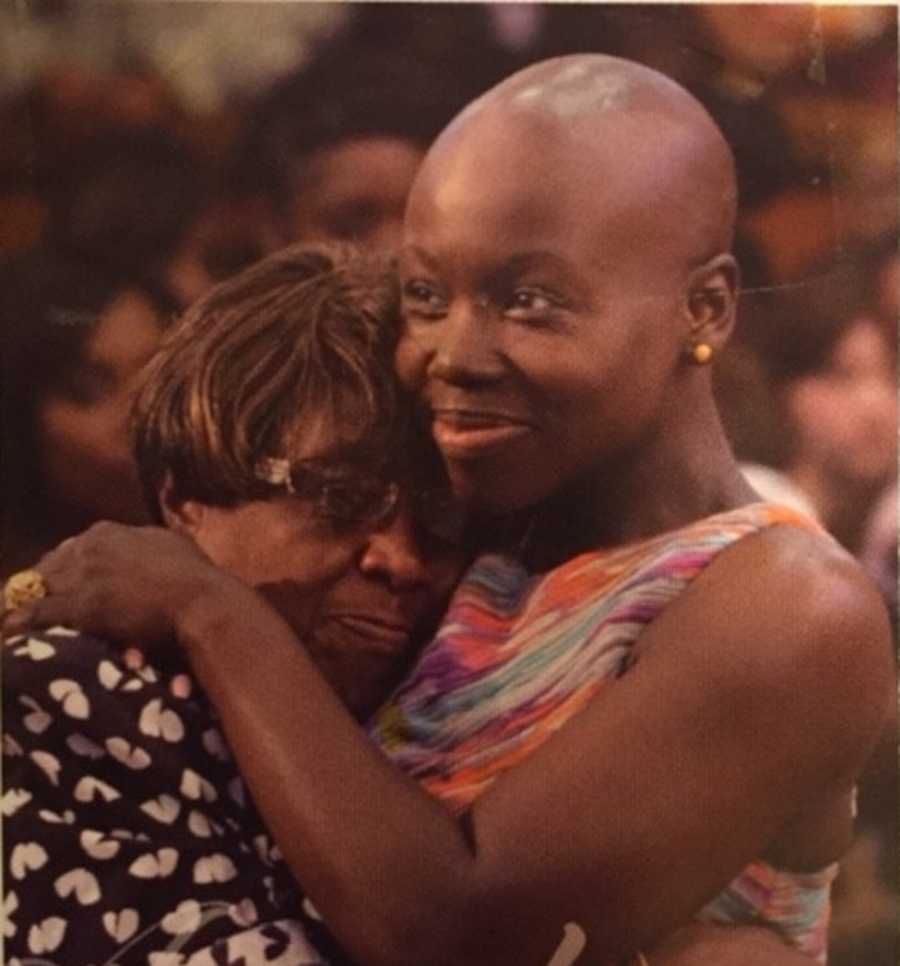 I didn't think my heart could break any more, but in November of 2015 my aunt, my grandmother's sister, passed away from Leukemia. We talked and then 2-3 days later she was gone. Then, in October of 2016, my dad passed away from bile duct cancer. His hit fast. I didn't have time to even think. We didn't get a real diagnosis until late August/September and he was gone in October. Talk about being broken. I felt a sense of guilt. How did I survive and all my loved ones are dying? I'm a natural fixer so the fact I couldn't fix these situations tortured me mentally and emotionally.
The loss of my grandmother and dad shook me to the core. I watched both of them take their last breaths, which is not something I care to see ever again. You never get those images out your mind. I didn't think it was fair, but I had to be strong for my family. I usually shut down and distance myself from people, but God didn't allow me to do that.
When I was still grieving all my losses, in April of 2018 my mom was diagnosed with stage 1 breast cancer. I was hurt. I asked God, 'why am I not getting any breaks?' Then it hit me, you don't get any breaks in this Christian walk. God has purpose and trusts you to handle certain things whether you understand or not. I'm happy to say that early detection saved my mom's life and she is now cancer free!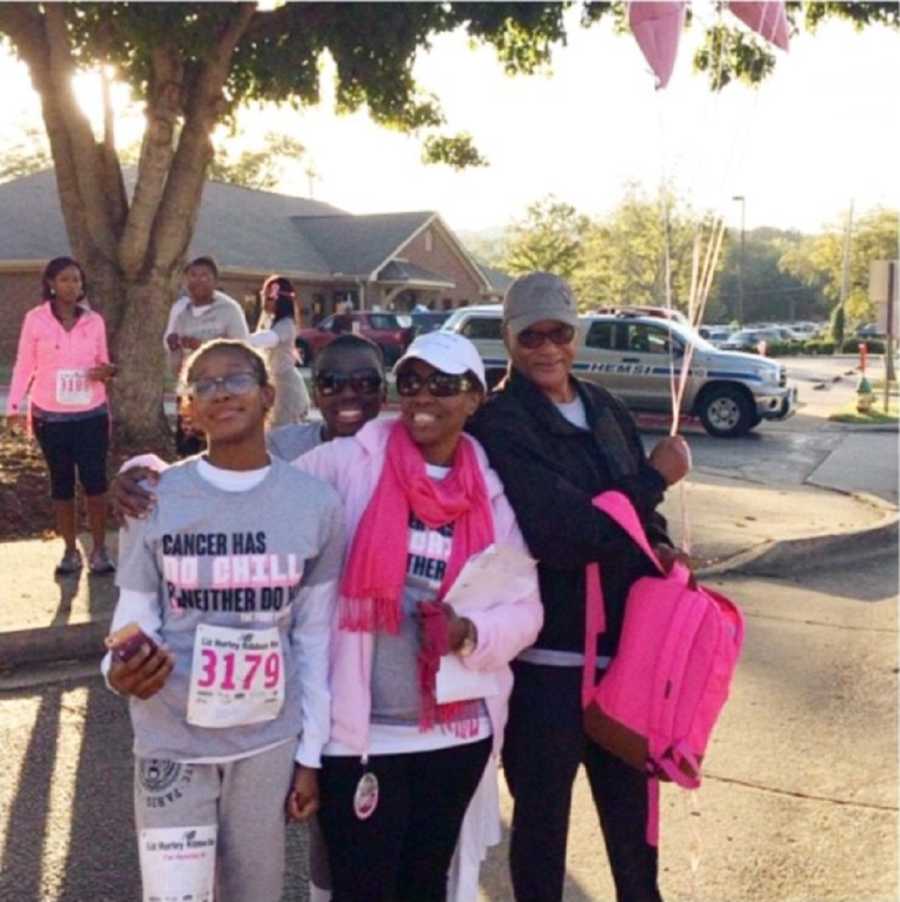 This process is different for everyone. You never know what's to come along the way, even in remission.  Did I have bad days? Yes! I also had good days, more good days than bad, even despite the loss of my loved ones. It's still very painful but I was determined to live a great life throughout my process. I did, and I am. I had cancer, but cancer didn't have me.
This year I'm celebrating 5 years of being cancer free. I'm so grateful to my support system for holding me up through this journey. I look toward to celebrating another 10 and 20 years."
This story was submitted to Love What Matters by Micha Logan, 35, of Huntsville, Alabama. She wrote a book about her survival journey called, "Just For a Season: I had cancer, but it didn't have me." Submit your own story here, and subscribe to our best stories in our free newsletter here.
Provide hope for someone struggling. SHARE this story on Facebook to let them know a community of support is available.