"For my September wedding last year, I did something atypical. I put on not one, but two sets of wedding rings—one on my right hand (from my first marriage) and one on my left. In case you might think I'm some sort of psycho who is still in love with her first husband, you could be right. But let me back up a bit because it isn't what you might think. It's not like my first husband is happily remarried with kids or living a scandalous bachelor life. I'm not holding on to some hope of us getting back together one day. Why? Because I didn't actually take our wedding rings off by choice—I took them off because he died.
To be candid, I first took them off when I was 9 months pregnant because my fingers were so swollen that I was worried of them cutting off my circulation. I never anticipated that I would never have a reason to put them back on. Three days after my son was born, I became a widow.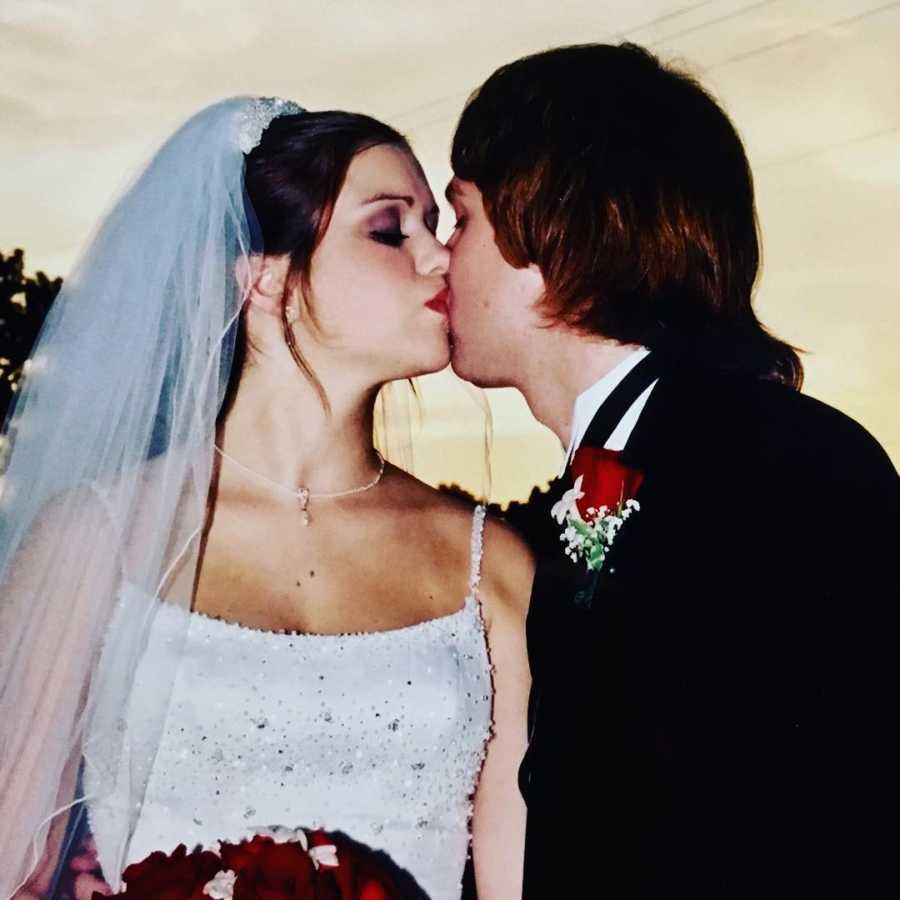 The day after my husband was killed a friend of mine came to me with our rings. 'I thought you might like these,' he said. 'How did you get Justin's?,' I asked while crying. The coroner had passed it off in the process of transferring his body to the hospital. From that moment, I held onto our rings like a lifeline. My fingers were still swollen, so I started wearing all three of them around my neck. Three weeks after Justin died, mom and I decided to find a more expensive chain that would secure them around my neck indefinitely. While visiting my best friends in Jacksonville, we spotted a gold chain that was beautiful, but way out of my price range. I tried it on and when it dangled around my neck I started to cry. The store clerk was clueless to our situation, but she sensed the raw emotions in the room and kindly offered to give us a sizeable discount. I didn't care about much in those early days, but I developed a strong attachment to my ring necklace. I felt like I was carrying a piece of Justin around with me. It became my shield, my coat of arms from the outside world. It was the only thing that gave me courage to take on the obstacles of my day. When my son Jax was an infant, he oddly developed an attachment to my necklace in his own unique way.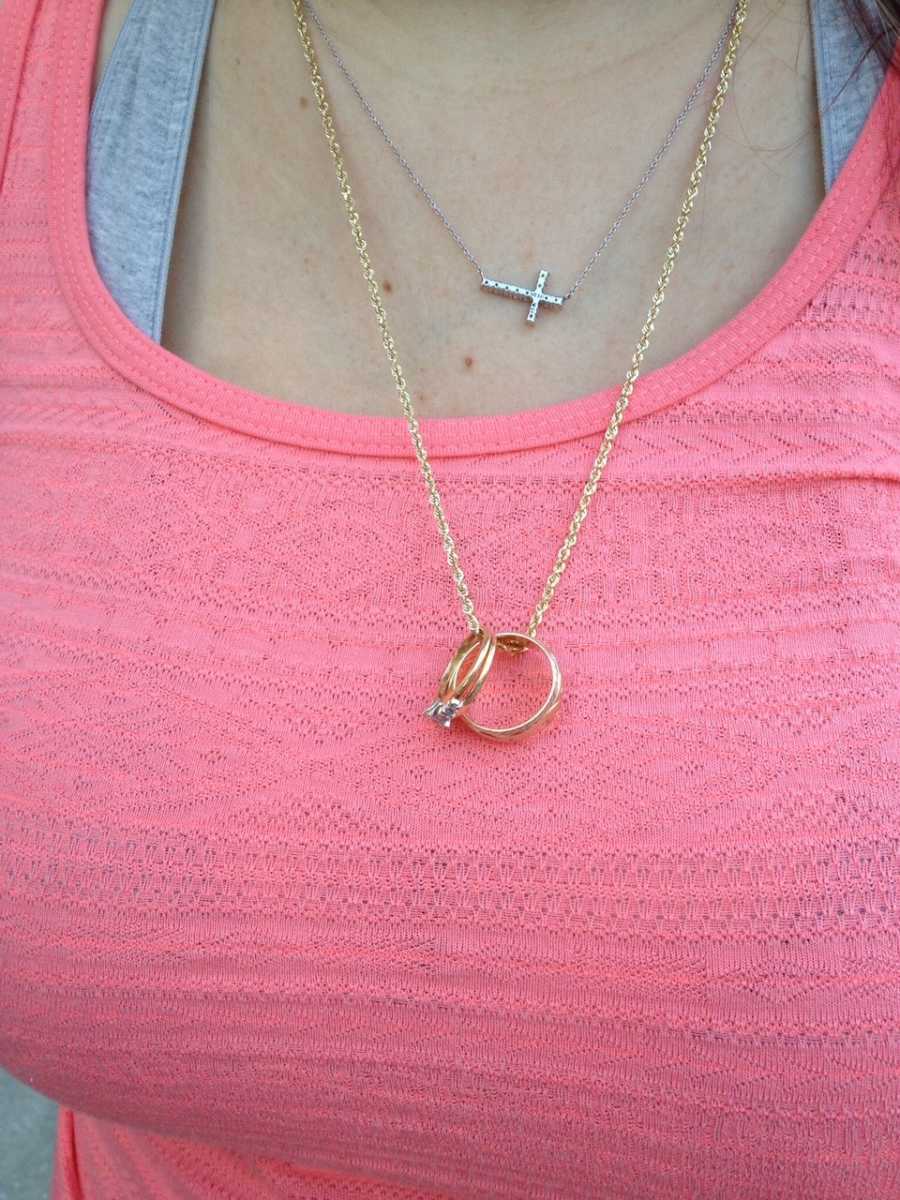 He was a fidgeter while he nursed and would stretch his microscopic finger as high as he could reach—hoping to find something to latch on to. He started resting his finger inside our rings and they became the only thing that allowed him to stop squirming. I thought it was special, so I made a vow to myself: 'No matter how much time passes, I'll never stop wearing our rings around my neck.' When I told my mom of my plans to NEVER take them off, she understood, but insisted I would change my mind. 'What if you get remarried?,' she said. 'don't you think it will make your living husband a little uncomfortable?'
'I don't care,' I told her. 'If I find someone to love again, they will just have to accept that this is the way it is.'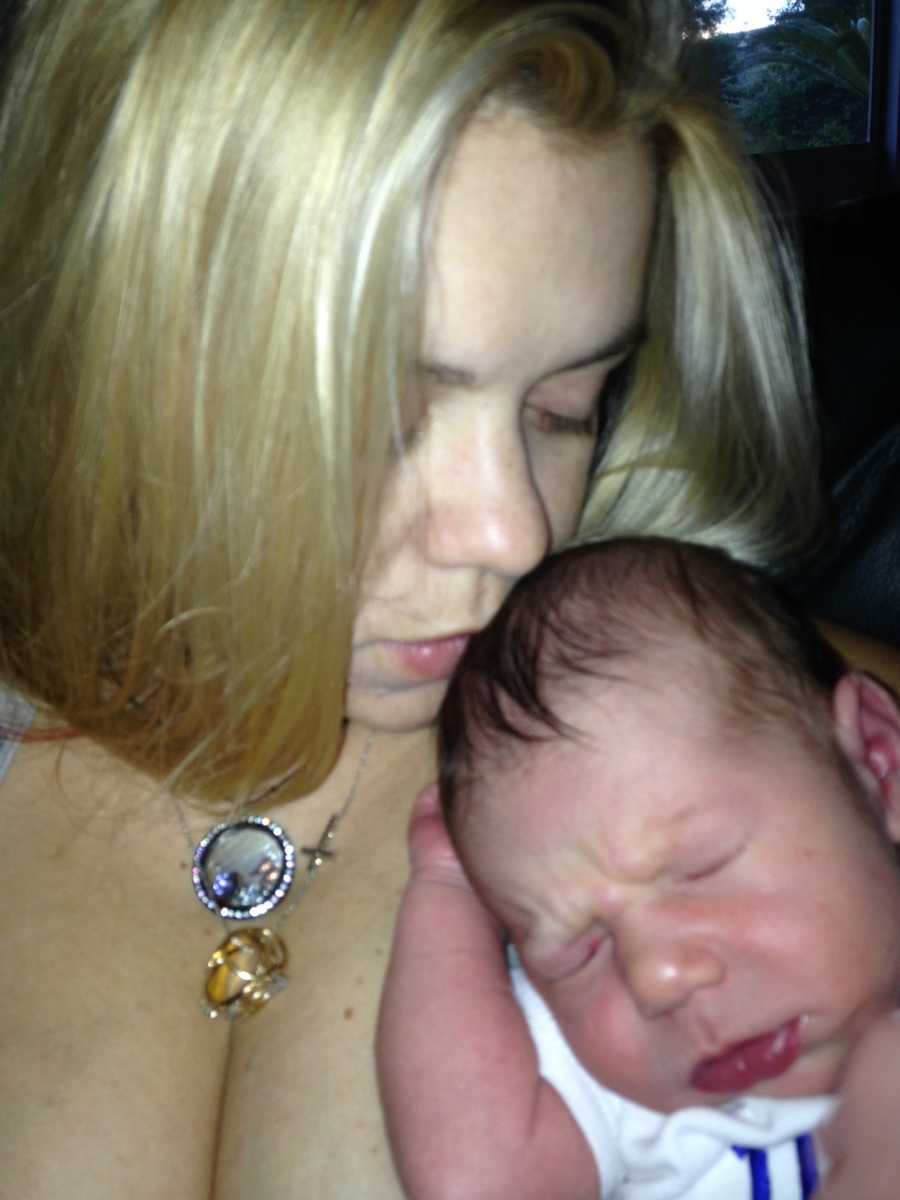 At the time, I meant what I said, but I was clueless as to what my future might actually hold. Did I hope to find love again? Sure. But did I expect my future husband to actually be so accepting of my ongoing love for my late husband? Not exactly, but I was an optimist. I had plans to get a giant portrait of Justin tattooed on my back. I figured if my future husband could get used to seeing Justin's face every day, they could get used to a few rings around my neck. It took a little while for my new husband Don and me to breech the subject of my late husband when we were dating, but when we finally did, it was eye opening.
After five dates, Don met me for drinks after commemorating Justin's 2nd absent birthday with family and friends. He was supportive, yet, not too invasive. He let me know that he was available to me anytime I needed him, but he never pushed himself on me. After that night, I decided it would be okay for me to wear my wedding rings on our dates. The first time I did it, it felt weird, yet therapeutic. I felt as though I was, once again, bringing Justin along with me in life. Even if it did involve me kissing another man. After saying 'I Love You,' to Don, I asked him how he felt about our rings. 'He was your husband for 10 years, who am I to stand in the way of your love?,' he said. It was exactly what I needed to hear.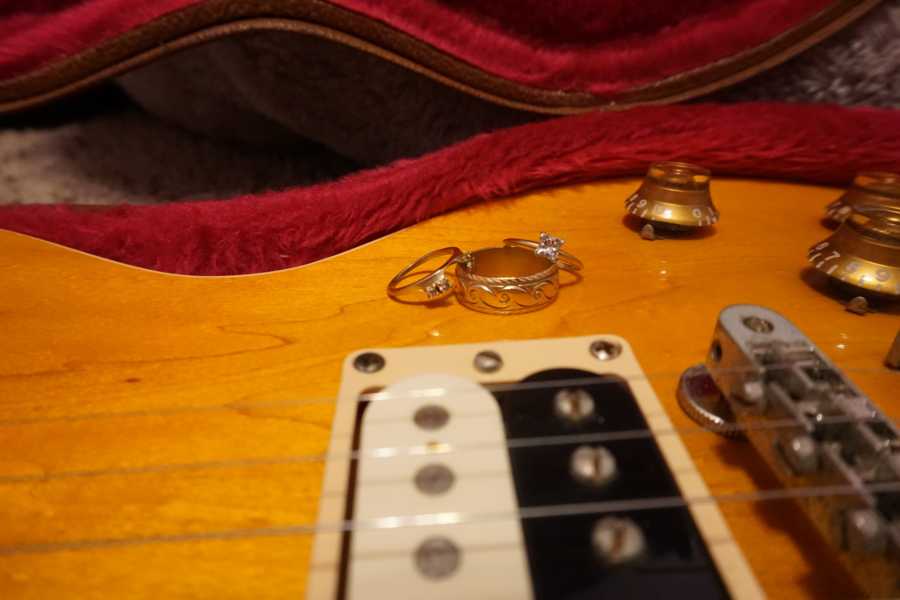 After Don proposed, I knew I would use an artifact from my first marriage as my 'something old.' It seemed too symbolic for me not to. A week before our wedding, I breached the subject with Don. 'I was thinking of wearing my first wedding rings on my right hand,' I said. Being fully prepared for an angry, jealous, or even petty response, I braced myself. It was his wedding day too; he was definitely justified. I couldn't believe my ears when Don agreed. 'I think that's perfect,' he said. And with that, I chose my something old—my marriage to Justin.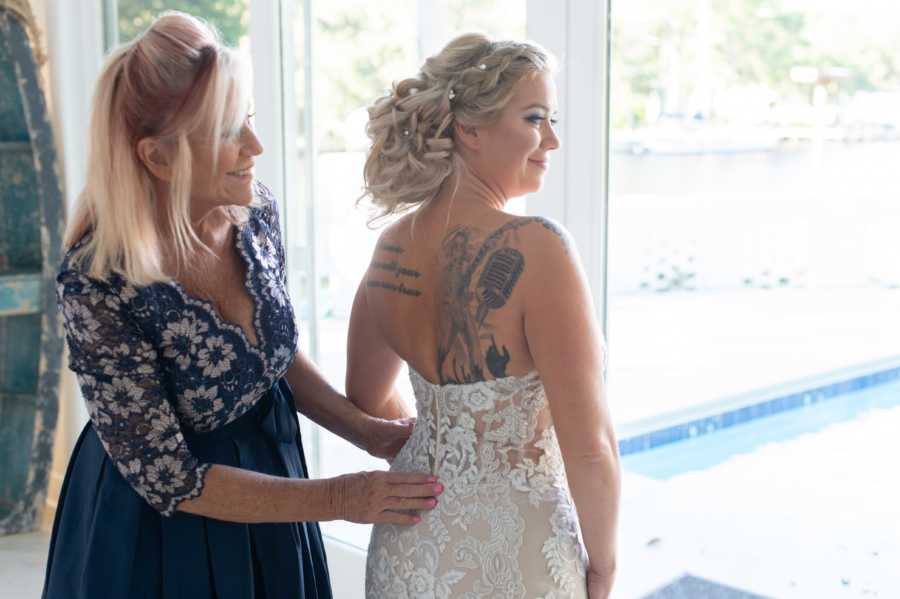 Putting two sets of wedding rings on my fingers that night felt strange, yet also complete. On my right hand was the old me, my youth—a classic yellow gold princess cut solitaire wrapped in a 4-diamond band. It was nothing fancy but to a 20-year-old girl, it was heaven. On my left hand was the new me—a platinum cushion cut halo accompanied by a gorgeous diamond band. The two rings couldn't be more different yet somehow, I love them both just the same."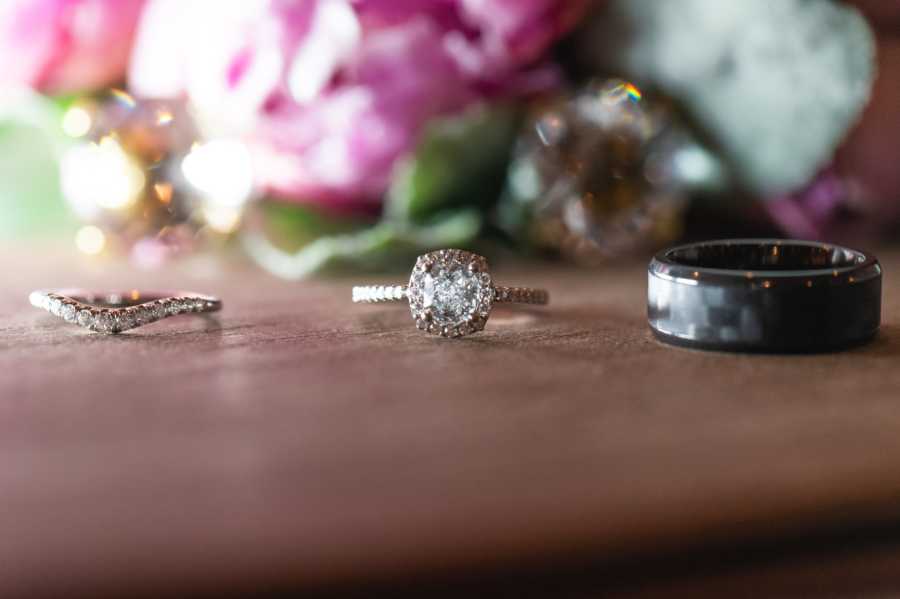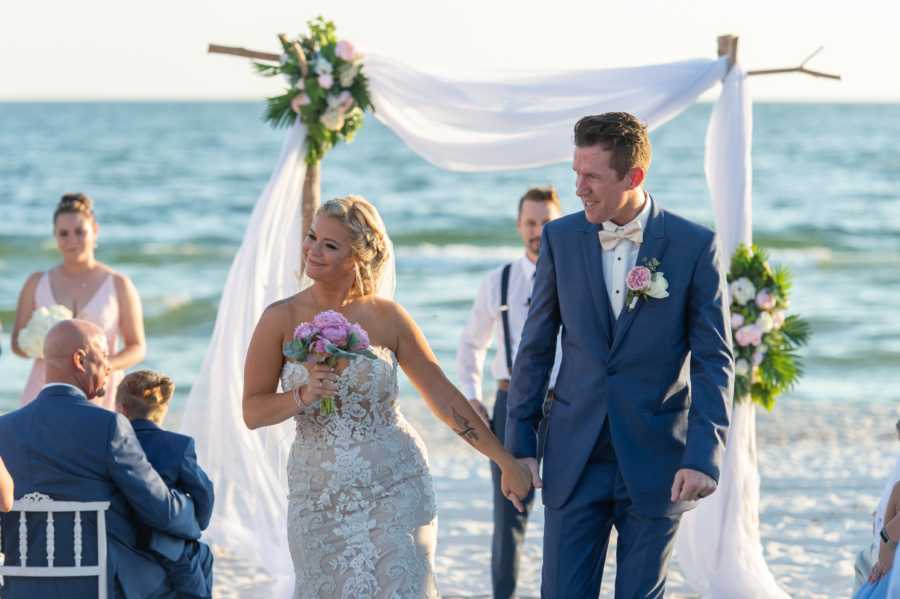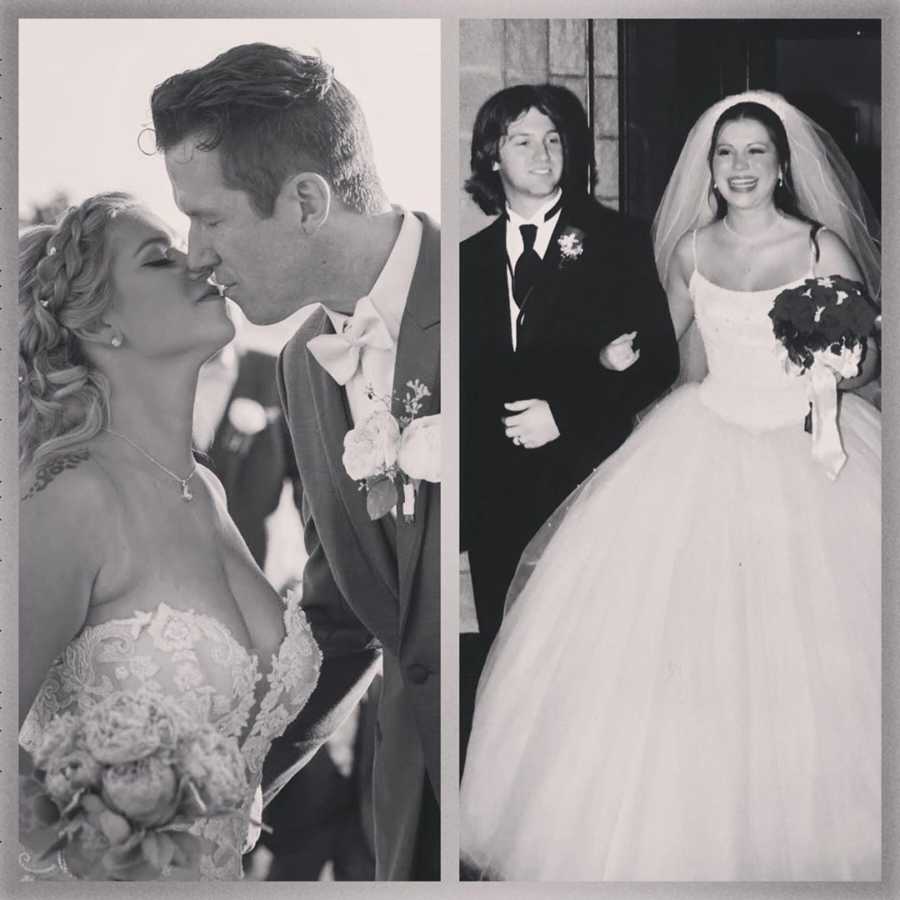 This story was submitted to Love What Matters by Jessica Ayers. You can follow her journey on Instagram and her blog. Do you have a similar experience? We'd like to hear your important journey. Submit your own story here, and be sure to subscribe to our free email newsletter for our best stories.
Read Jessica's powerful backstory of losing her husband:
'I gave birth, my life was complete. 3 days later, a stray bullet crashed through our window, striking my husband.': Widow finds love after loss with old friend, hopes her son knows how 'truly loved' he is by 'both of his dads'
SHARE this story on Facebook to encourage others to cherish every moment and love what matters most.