"There's a meme that's been circulating Facebook this week. It reads: 'In my day, they didn't have all this autism and ADHD and stuff.'
'I think what you mean is people used to go undiagnosed and get absolutely no help, and were forced to suffer through their lives because they had zero support or understanding.'
Every time this pops up in my newsfeed, it reminds me of the worry I felt the day I explained to my 84- and 85-year-old grandparents that my young daughter, Evie, was just diagnosed with autism spectrum disorder.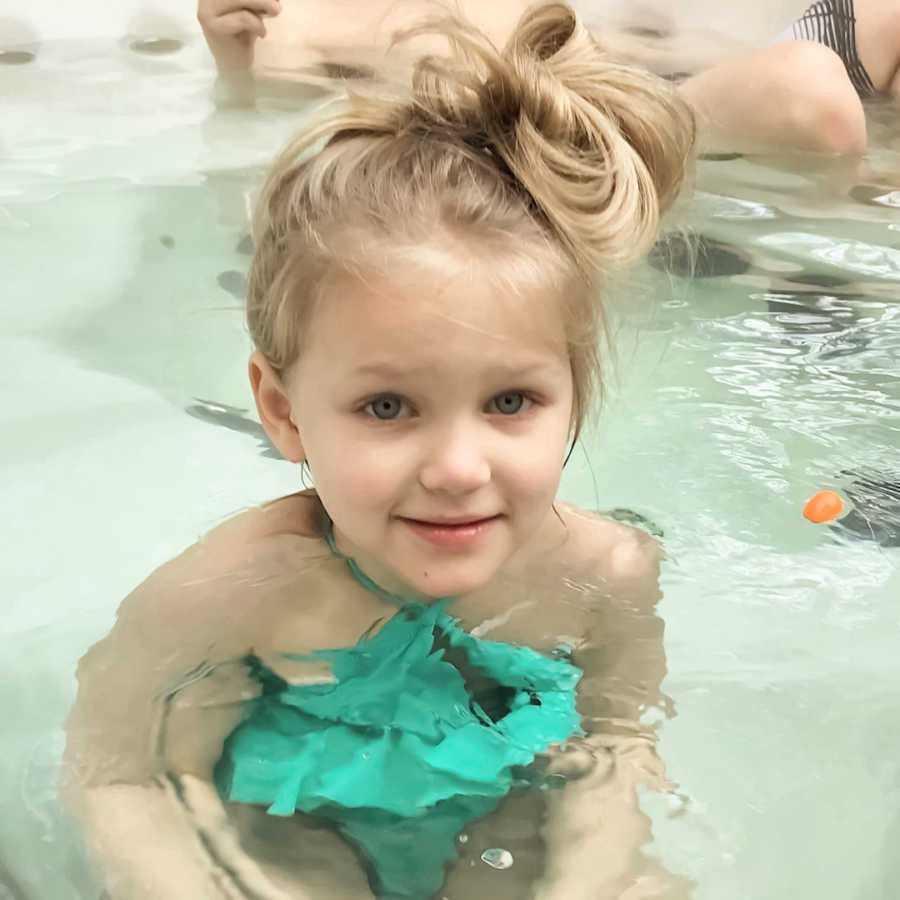 Coming from a conservative farming background, they have always been pillars in their Mennonite church community and are traditional in their world views.
I knew the generational gap would complicate their understanding of her diagnosis and what it meant. 'New' diagnoses, like autism, ADHD, and other mental health disorders aren't something they grew up with. I wasn't sure how they would react to the news.
I braced myself for what I thought would be a skeptical, potentially offensive reaction from them, but it never came. Instead, they proved one is never too old to get educated, with an open mind and heart.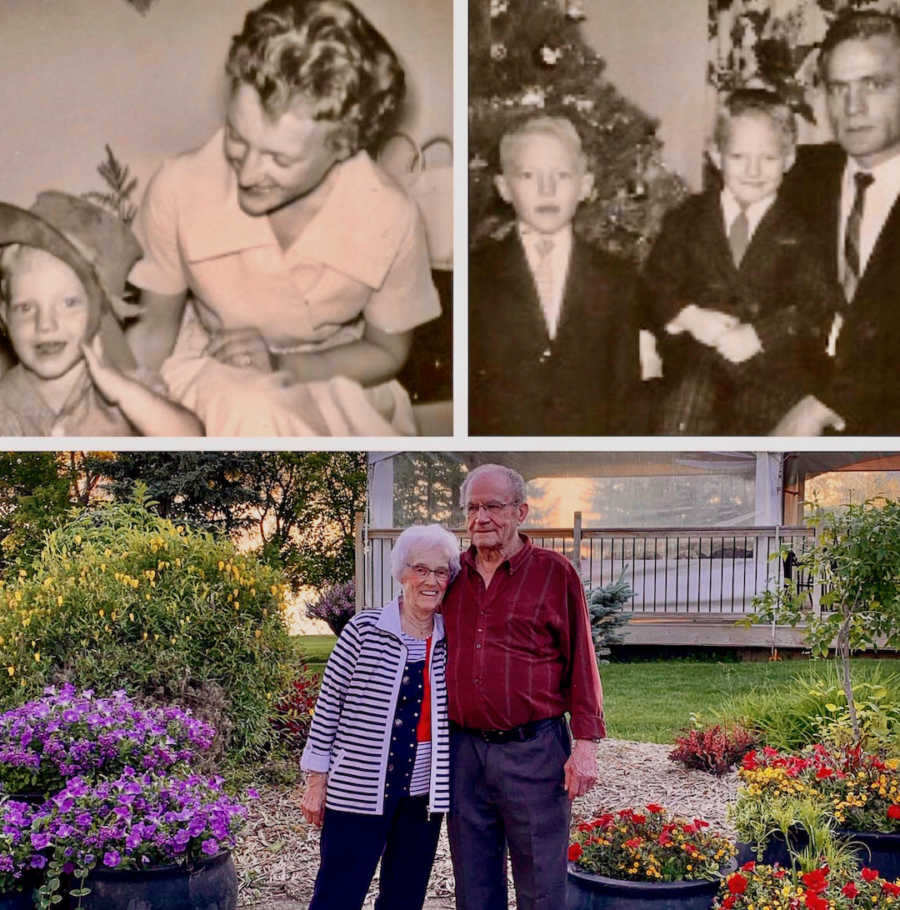 Initially, they were shocked and concerned, as I expected. What they knew about autism was far from accurate. My grandma asked if Evie would need to be raised in a 'home for special needs kids.' She thought autism was synonymous with 'mentally challenged.'
I did my best to explain, showing them some papers we were given at diagnosis that summarized the basics of autism. I tried to keep it as simple as possible, which is nearly impossible with ASD. To my surprise, they threw out their preconceived notions right then and there.
They sat and listened on the edge of their seats, sponges to every detail and fact I shared with them that day, and continued to seek out opportunities to learn as time passed. They asked questions.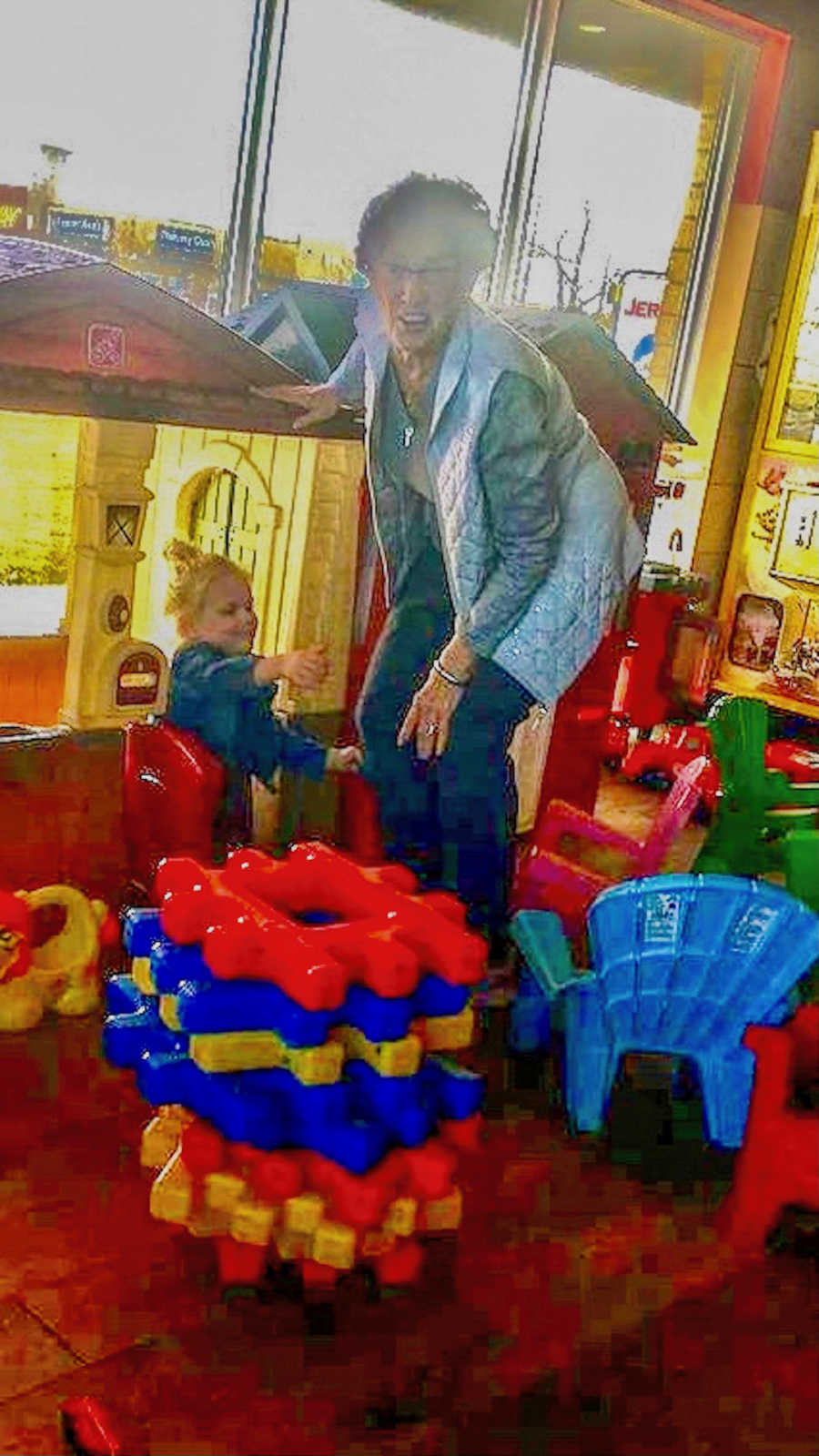 Grandma clipped every article she found that even mentioned autism from newspapers and magazines. They watched YouTube links to educational videos I sent them—my grandma navigates an iPhone pretty well for an ol' gal!
I shared a few passages from the book 'The Reason I Jump' with my grandma, and she went straight to the bookstore to buy her own copy. She read it twice before passing it onto my grandpa, my aunt and uncle, and anyone else within a ten-mile radius who was willing to read it.
They even came to watch one of Evie's SLP and OT sessions, because this type of therapy was a foreign concept to them. They needed to see for themselves what it was all about. They were determined to better understand and connect with Evie.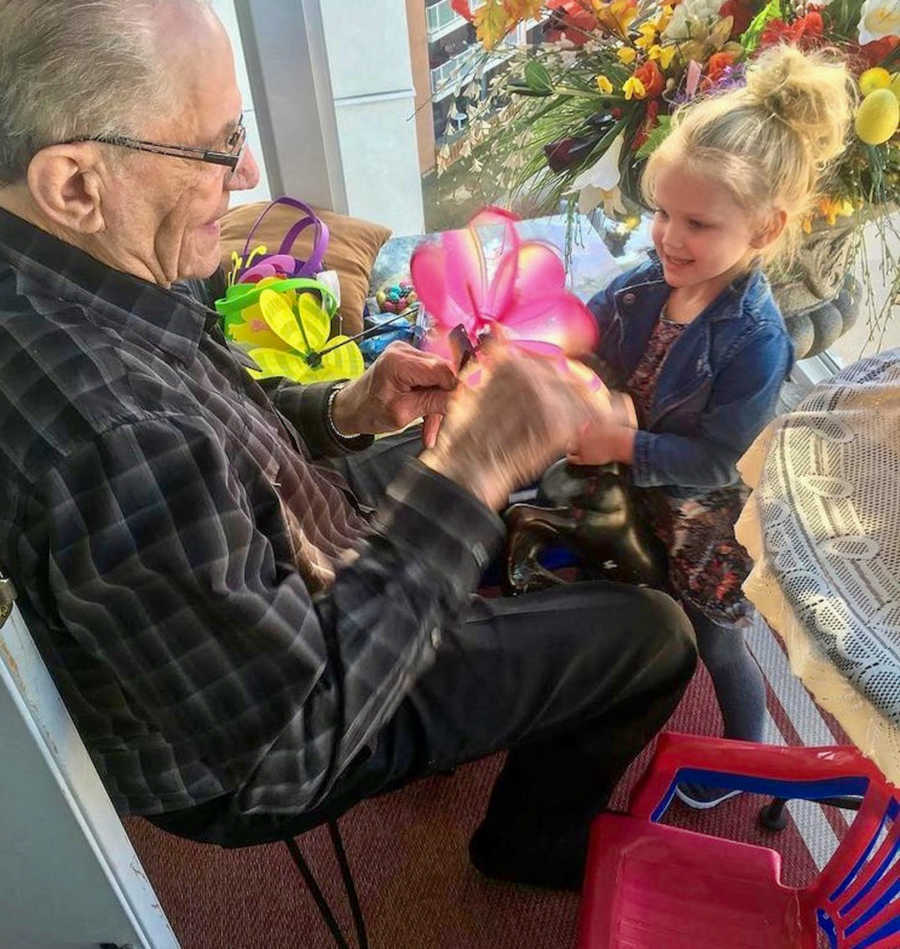 To say they adore her is an understatement. Their empathy and patience for her goes above and beyond anything I could have imagined. They don't bat an eye when vases are broken and couches are jumped on, despite the immaculate state of their beautiful home.
Grandma makes chicken fingers for Evie at every family gathering without a second thought, without being asked to. Grandpa crawls around on his hands and knees with Evie to line up animals and build towers out of blocks.
His face lights up like a little boy when he watches her run, jump, and sing. My grandma beams with pride when Evie is willing to give her a hug, or when Evie holds her eye contact and reaches out to touch her soft cheek.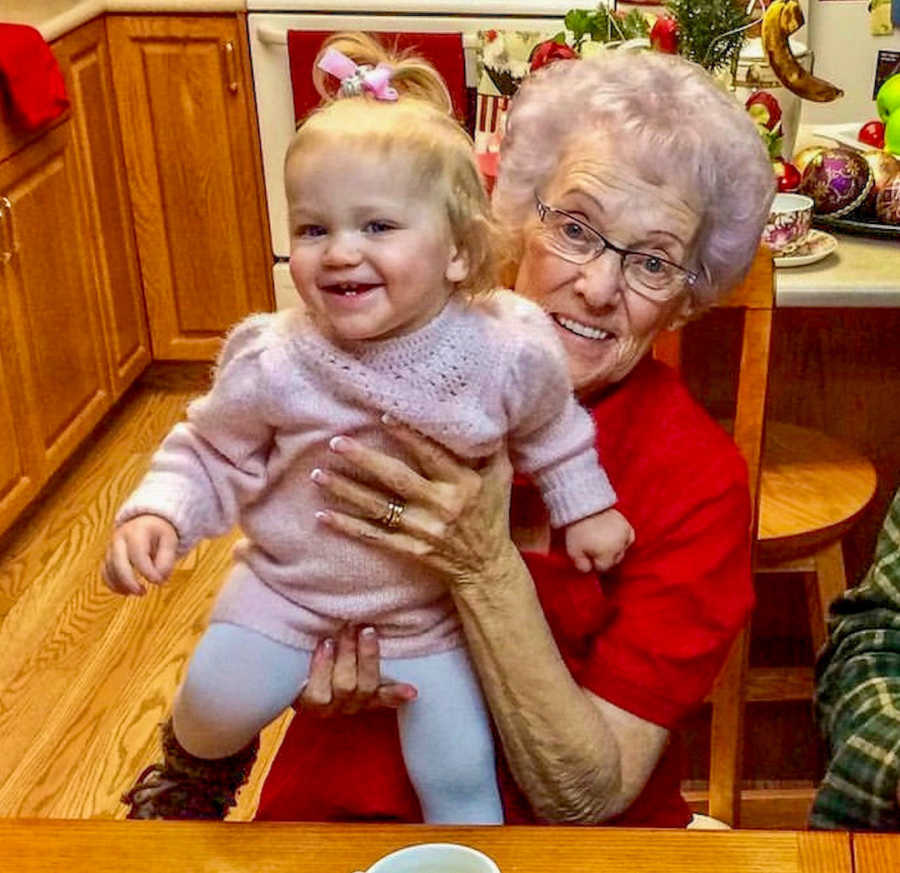 Prior to COVID, Evie and I visited my grandparents regularly—at least twice a month, often weekly. My stomach forms knots when I dwell on the fact we haven't seen them since August. Grandma and I text a few times a week, and I send her pictures, videos, and updates regularly.
It's not enough, though. Not even close. It's almost more painful, it feels like I'm taunting her with images of our family, so close yet so far from reach.
Grandma holds images of Evie on a small screen in her palm like jewels, but I know they don't stop her from worrying the connection they worked so hard to build with her is fading away every day we are apart.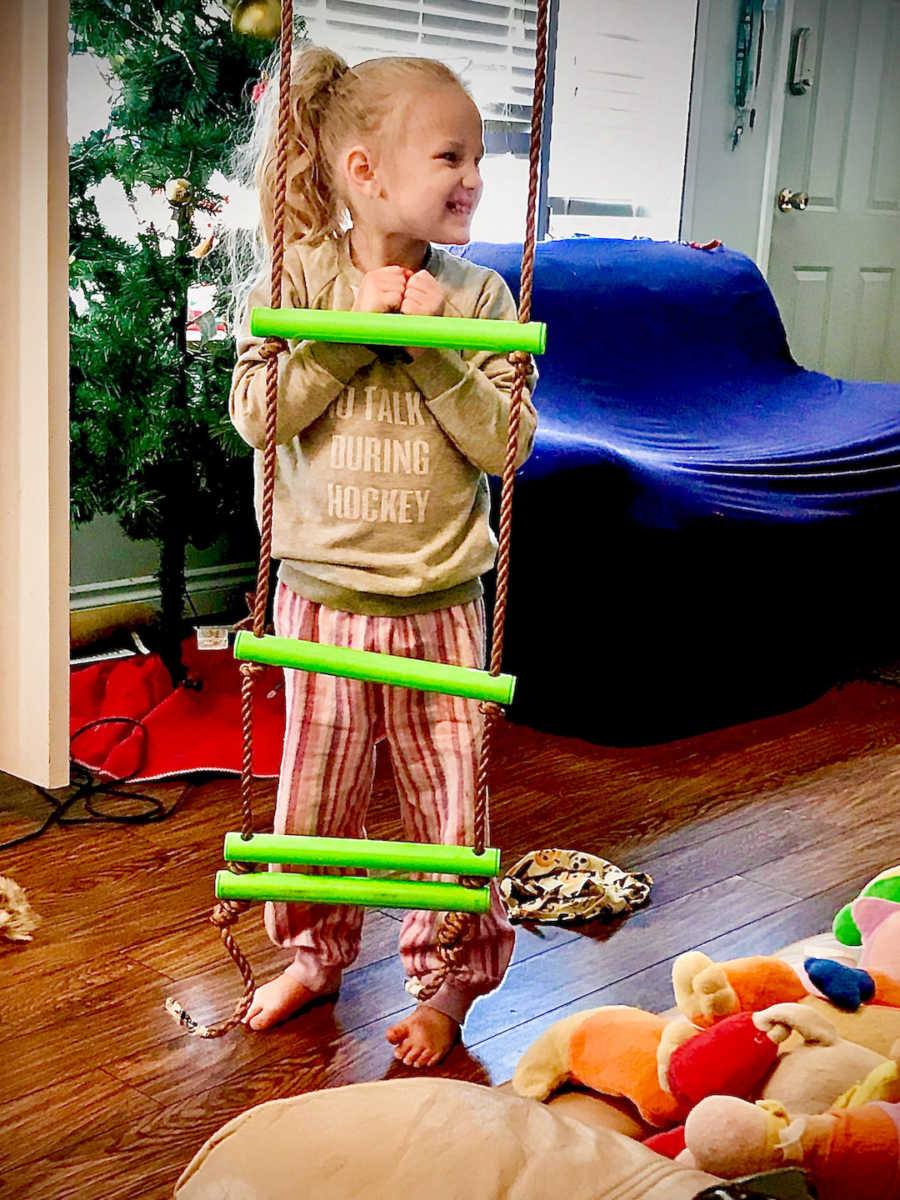 Maintaining a socially-distanced relationship with a child like Evie is not as easily navigated as it is with a neurotypical child. Evie can't talk with them on the phone, she doesn't understand the concept of Zoom chats. She needs to see, to touch, to share physical space with her loved ones in order to connect.
Evie doesn't know how to social distance, the concept of six feet apart is beyond her scope. She cannot keep a mask on. To see her great grandparents at this time would be to risk their lives.
And so we wait for the day when we can be together again, and pray for our health to hold up in the meantime. The generational gap which can create such distance between the elderly and neurodiverse children like Evie was no match for the love they have for her.
If only this love was enough to build a bridge over the canyon of separation that COVID-19 has bestowed upon us, too. If only."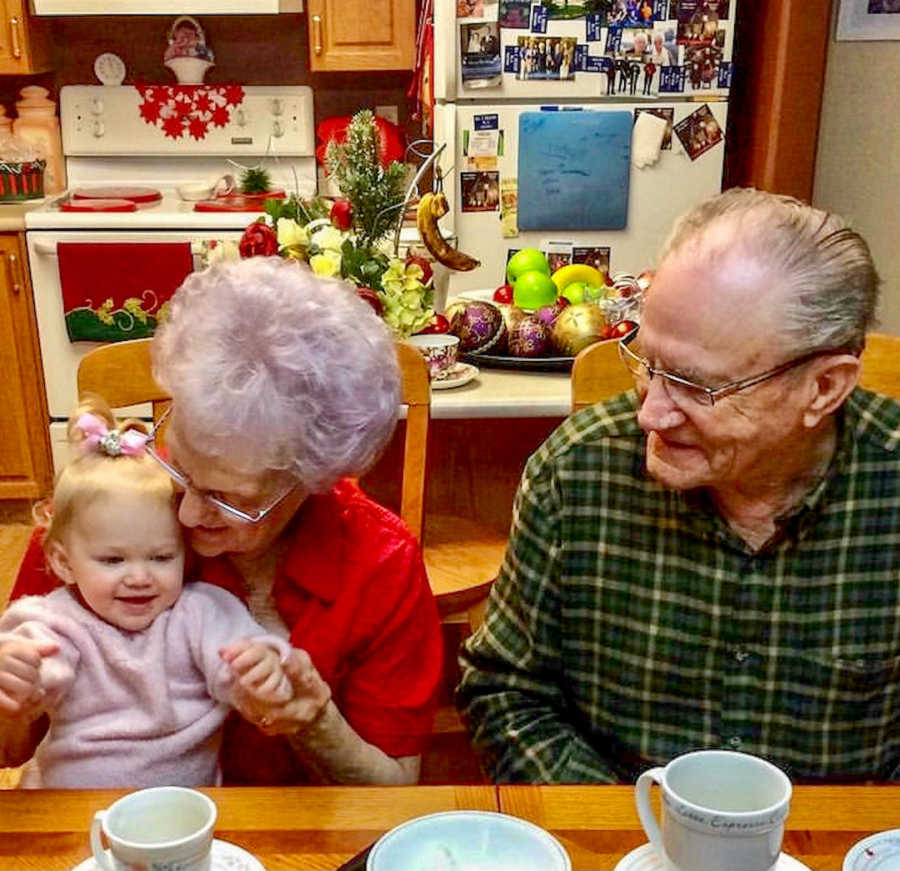 This story was submitted to Love What Matters by Jill Kakoske. Submit your own story here, and be sure to subscribe to our free email newsletter for our best stories, and YouTube for our best videos.
Read more stories like this:
'His teacher handed me a whiteboard covered in symbols. 'He's writing in Japanese.' We were mind-blown.': Mom describes son's autism journey, 'He's different, not less'
'I find you arrogant, rude, disrespectful and jealous.' A workplace conflict left me hurt. She didn't believe a single word.': Woman learns of autism diagnosis at 23, 'I finally learned the truth. I am not broken'
'At 18 months old, his friend said, 'BACKPACK!' My son was 2 and not talking. I didn't feel like I was doing a good job.': Mom runs marathons for Autism awareness, 'I've never been running this race alone'
'He's old enough to be alone. Why do you always have to babysit your brother?' No one understood. I promised to protect him.': Older sister becomes advocate to brother with autism, 'He is my biggest teacher'
Help us show compassion is contagious. SHARE this beautiful story on Facebook with friends and family.