"I'll never forget the day our family's closest friends brought home their two babies from Guatemala. In a moment's time, my heart opened up to a possibility that I would one day do the same. Fast forward a few years, I had been intimately involved in watching them grow into toddlers and I had reached an appropriate age to go on my first mission trip. Honduras opened my eyes to things I never knew existed; poverty unlike anything I could have imagined, rotted buildings, chaotic traffic, dirt, but what stood out the most: orphans. I vividly remember the moment I walked into that first orphanage. The smell alone could send your stomach into nauseous turns. I walked through a hallway of a concrete building, and I turned into a room where three rotted cribs spread out across the walls. Inside one crib, two babies. The babies wore cloth diapers, drenched in urine and I stood shocked, watching swarms of flies hover their tiny bodies.
Over the years, more opportunities lead me to other third world countries. With each trip, that desire to adopt continued to fester. I remember thinking adoption would be a non-negotiable to starting a relationship with someone I could possibly marry. But as I matured, I realized if adoption was a part of God's plan for my future, He would make it happen; I didn't need to try and create the circumstances on my own.
My husband and I have been married for over five years now. A year and half into marriage, we decided we wouldn't prevent getting pregnant. Into our third year of not necessarily trying but also not preventing, we decided to see a fertility doctor. With a quick diagnosis of PCOS, we started three months of treatments – various medicines and trigger shots. It didn't take long for me to feel completely out of tune with my body, so we decided to stop and start back up later in the year. In the few months of taking time off, my husband started to bring up adoption. To my surprise, I began to watch the Lord soften his heart to this deep desire I carried for so long. We made a decision that we would start the adoption process the following year, as that was when we'd meet various requirements to adopt a baby in Haiti.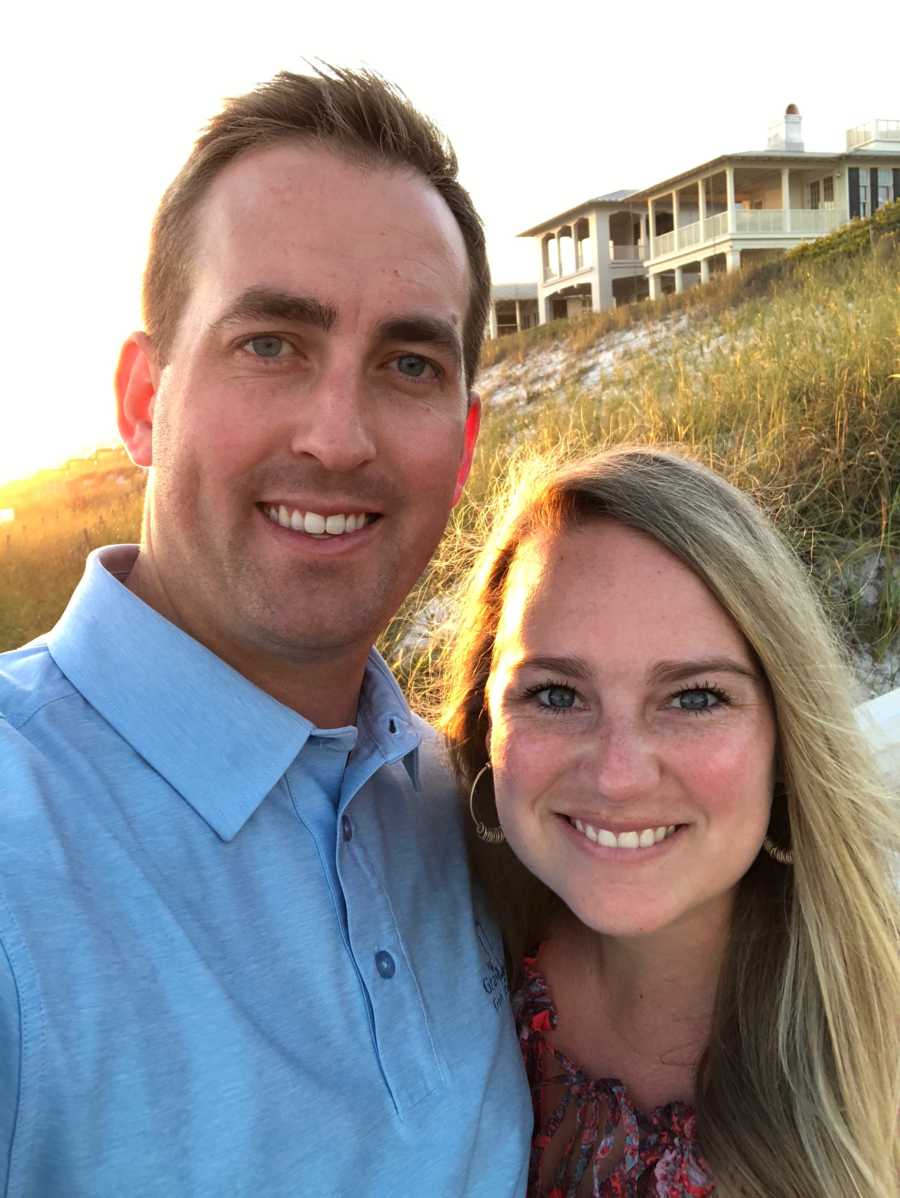 We rounded out 2017 with three more months of treatments, just to see what would happen. As January of 2018 started, I found myself in conversation with a good friend who told me about a US consultant agency they were working with to adopt a newborn baby domestically. As you can read, my heart's desire to adopt directly correlated with the prospect of adopting internationally. But during that phone call, I knew beyond a shadow of doubt we were being called to adopt domestically and to work with this specific agency. After talking with my husband, we prayerfully decided to do an intake call and learn more. Within a month of time, we were rapidly filling out the application and hoping to start the full paperwork process as soon as possible.
Six weeks of paperwork passed by, and we became active. In five months, we reviewed 100 cases. 100 cases. These cases came to us via email, and we decided if we wanted to be presented or not to the birth mama. Cases came to us based off preferences we determined at the start of our paperwork: ethnicity, level of openness, drug exposure, etc. From the start of the process, we decided we would determine openness on a case by case basis. However, as time ticked on, we continued to be more educated and challenged to consider the benefits of openness. Our hearts softened to the possibility of doing life forever with our babe's first family.
The last week of October we found out a birth mama wanted to talk with us on the phone. This was the closest we had come to a match, so as you can imagine, we felt a lot of anxiousness to get on this call. We talked for an hour and half that day. She asked pressing questions that made us think about parts of parenting we hadn't even considered. She asked, 'Do you plan to say at home? What will you all do if your child doesn't necessarily believe in what you believe? What type of school system do you want your children to attend?' In that time, there was an instant chemistry, an immediate connection. It quickly became clear our faith and ideas on parenting aligned. A day later, we were matched!
Her precious baby boy was due in three months, and although this was a lengthier match time, we looked forward to the time to get to know her. I'll never forget the first FaceTime call. I remember saying to my husband, 'I hope she still likes us as she gets to know us better. I hope she understands your sense of humor…' So much excitement, a little hesitation. Within an hour, we had already made plans to fly to Texas and spend a long weekend with her.  She graciously invited us to go to a doctor's appointment with her so we could see an ultrasound. It only took two weeks after matching for us to get to Texas. That long weekend will forever be impressed on our hearts. Three full days of getting to know each other, bonding as the three of us. We only separated to sleep. We took pictures and sent them to family members who all responded with surprise at how much she and I resembled each other.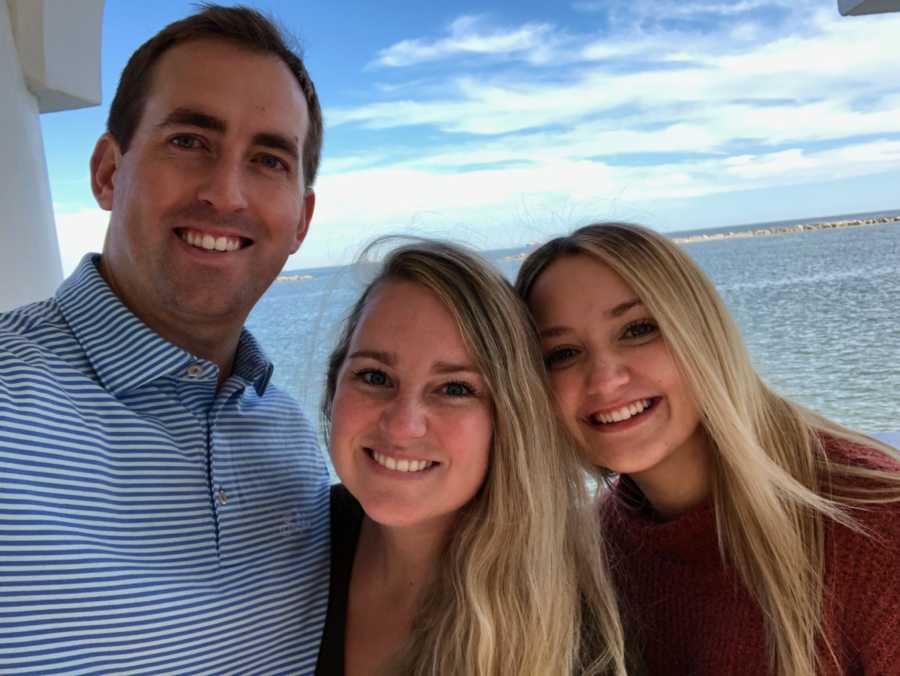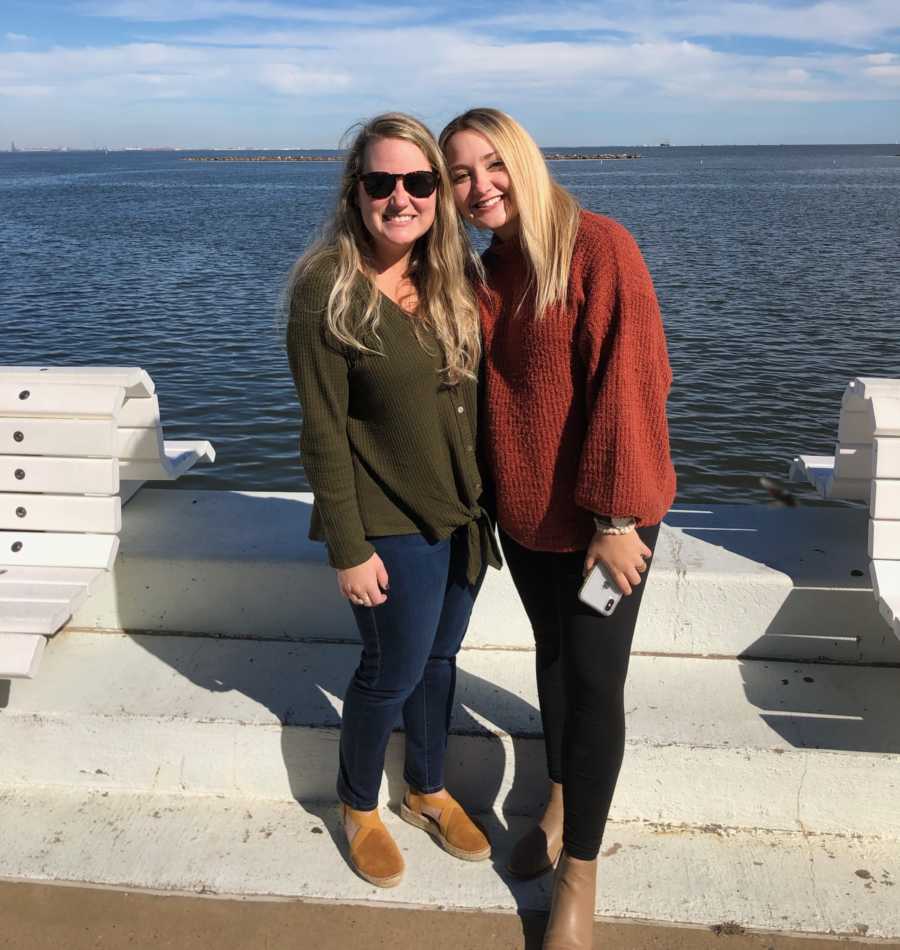 Three months came and went, and we anxiously counted down the days for this baby to be born. From early on, she asked if I wanted to be in the room when she delivered. I knew nothing would prepare me for that honor, but it meant the world to me that she would share that intimate moment. We made it to Texas in time for a quick dinner with both our families together. We walked into the restaurant, and I couldn't have hugged her tighter. 'Can you believe it's here?!,' I said. She went into the hospital that night to start her induction process. We visited that evening for a bit, spending more time getting to know her family. We woke up the next morning to a text saying her water broke throughout the night, so we made our way to the hospital as quickly as we could. A few hours drug on and she continued to progress. We had quite the room full of support – her parents, her best friend from home, my husband and I, and occasionally my little sister. A couple hours passed, and she felt he was coming quick. The doctor was next door delivering another baby, so we surrounded her as she held off pushing.
Since things moved so quickly, it ended up that we were all able to be in the room together. My husband and her dad even got to stay behind the curtain. She gave birth to our son, Cameron Fortson Slade. She showed so much strength and continued to graciously allow us to be so intimately involved. She asked my husband if he wanted to cut the umbilical cord, and it will always be something he treasures. The next 48 hours could have looked so many different ways. But those two days, although filled with grief and anxiousness, also hold so many precious conversations and memories. We all spent time together, surrounding this new babe whom was so loved. We played games, told jokes, cried. She allowed me to stay in the hospital with her the second night there, and I honestly don't know I have the words to describe that time.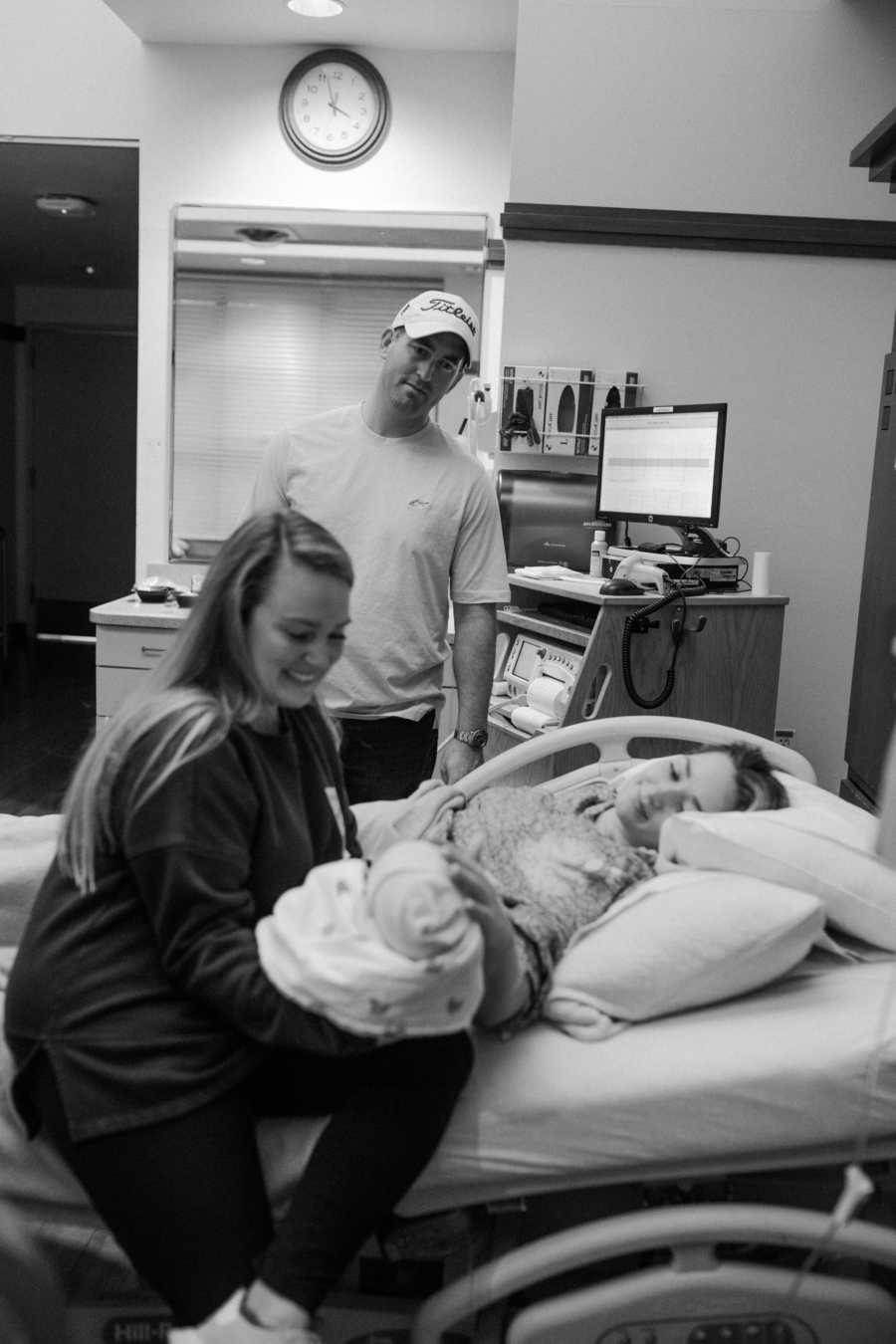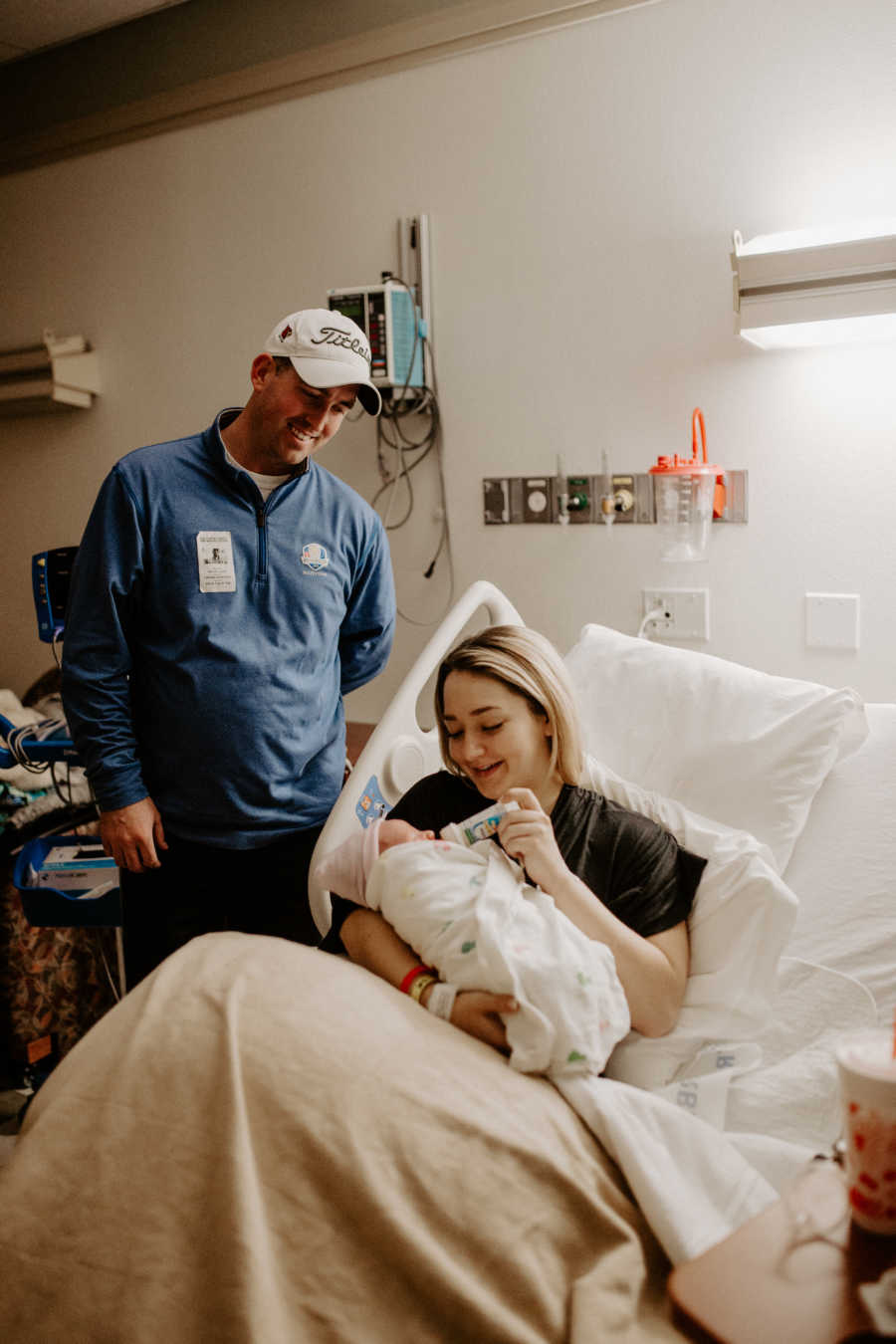 After three months of bonding and talking quite frequently, it was really the first time during our hospital stay it was just her and I. We laid in her bed, holding this sweet boy, talking about the future. We expressed concerns, our hopes, things we'd hope to do together with him as the years tick on. That night will always hold so much meaning in this journey. I'm still in awe of her willingness to share so much of this part of the process with me.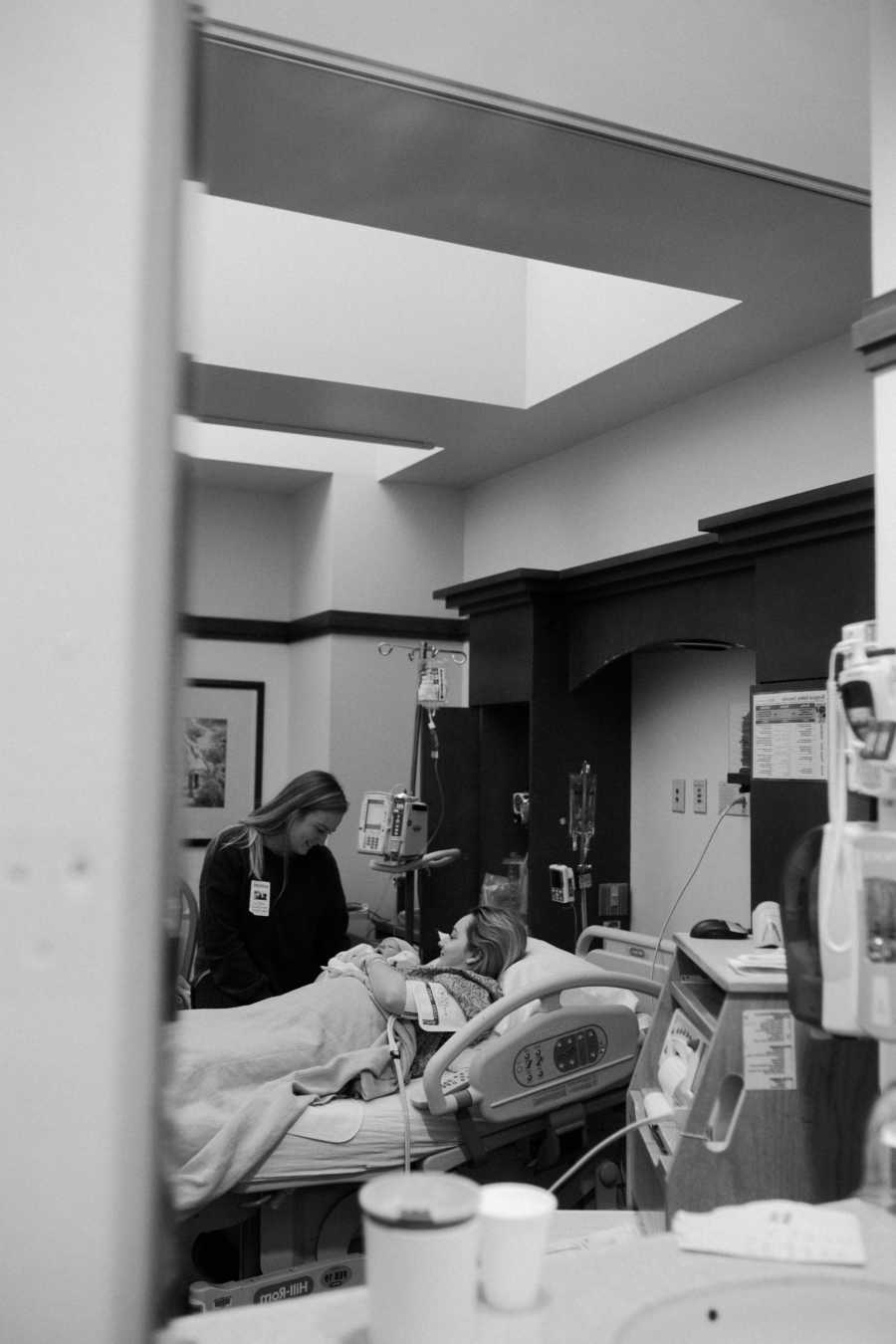 As 48 hours passed, it came time for us to leave the hospital. We all walked out together, one family. Thankfully we knew our time wasn't up, as we were all venturing back to her hometown to stay until we were cleared to come home. I'm so thankful for that time. So many extra days, outside of the hospital, for us to continue to spend time together. Multiple meals, meeting more family and close friends. My husband ended up having to come home and get back to work a few days before me, so my parents flew out to finish out our stay. Our last day, before getting cleared to come home, we had one final meal all together. I will cherish that time forever.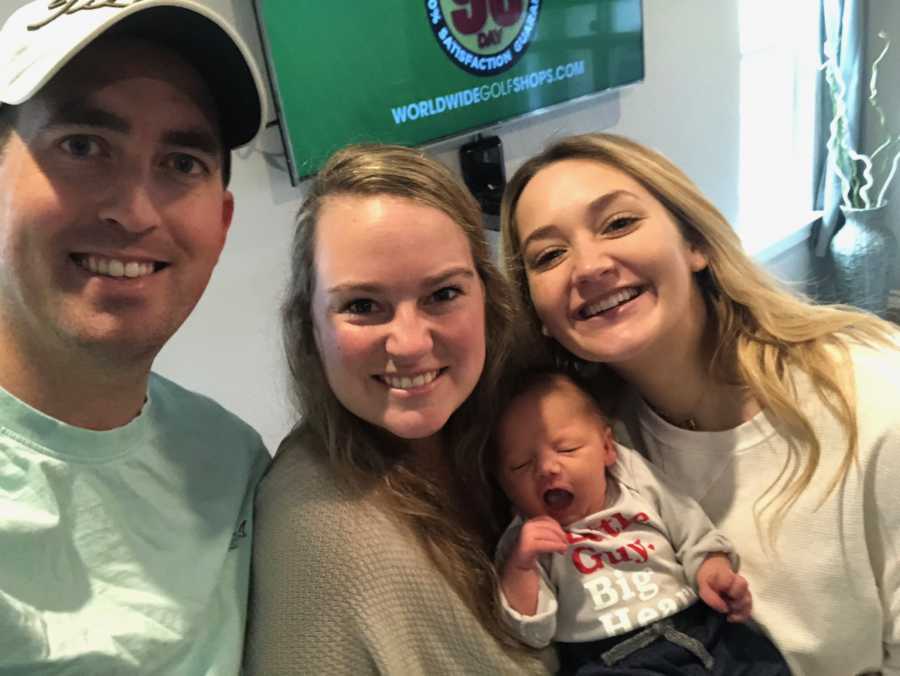 One thing I know for sure, this boy is so loved! He will grow up knowing his first family. He will know his first mama, of her selflessness and strength. He will make traditions and memories with her as the years go by. He will be surrounded by three parents, hopefully always understanding that not doing this together may have been easier, but not better. Openness can be scary. It's hard to share, easy to think it will affect the way you bond with your baby. It can be intimidating to meet the desires of even more family members. In our culture, it's so easy to make decisions based off what we think will make us happy. However, together we decided to think about him, what would make him happy, what would allow him to feel the most love.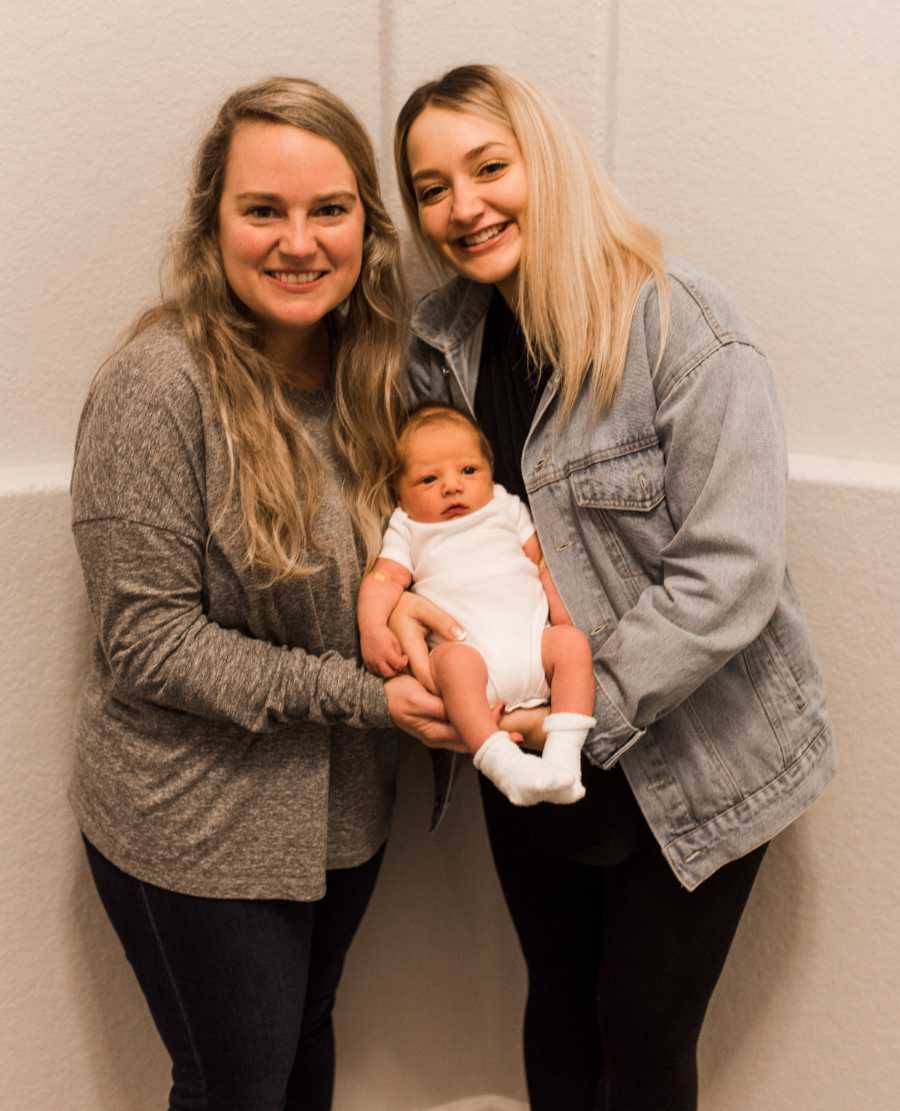 This Mama… She is the most selfless person I know. She is strong, wise and brave. It's our greatest honor that she would share her labor and delivery with us. Mama A – thank you for choosing life, for choosing us to parent this precious babe, and even more so for letting us be a part of your world forever! We love you."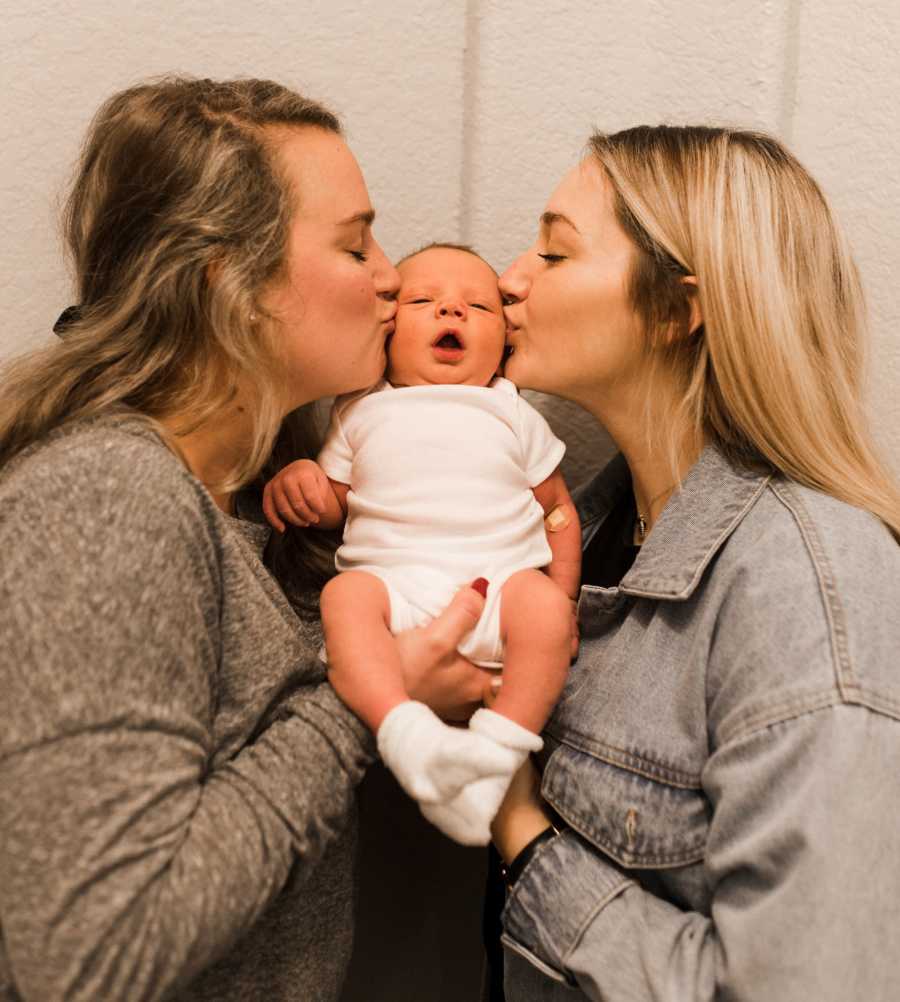 This story was submitted to Love What Matters by Chelsea Slade of Louisville, Kentucky. You can follow her jourey on Instagram. Do you have a similar experience? We'd like to hear your important journey. Submit your own story here, and subscribe to our best stories in our free newsletter here.
Read another beautiful story of open adoption:
'It hit me in that moment, this baby is not yet mine. He is hers. I gravitated to her. 'Do you want to meet your son Miller?' I took him in my arms and stared down.'
Help us show the world that compassion is contagious. SHARE this beautiful story on Facebook with your friends and family.