"January 23, 2016, I said yes to spending forever with the love of my life.
My now husband surprised me in Central Park. In a BLIZZARD. The entire city was shut down, there were 7 people in Times Square and no one was allowed on the roads after 2 p.m.
We arrived in NYC Friday, January 22, without a snow flurry. We woke up in what felt like a snow globe. It was amazing. I had seen blizzards before but not ever in a city that never stops.
Saturday we started out on our trek through the city. It was a ghost town. Taxi drivers trying to get off the roads were stuck. I believe we pushed out nearly a dozen to help and I even drove one at one point to get it out. (The top was for a gentleman's club and I was behind the wheel, smh.) At this point we are frozen, the wind is whipping in our faces and even with several layers on we were so cold. We pop into The Plaza. (my favorite hotel we had ever stayed in.)
Justin wants to go to Central Park, I do not. I am cold, I am tired, and honestly, I don't want to move for a while. He goes to look around while I sit at a table complaining to my mom in text message about him trying to drag me to Central Park. (She's obviously in on it.)
Mom: 'Why don't you just go and then you can send me a picture? Go to that one spot you like so I can see the snow there.'
I am now still clueless but even more irritated that everyone I seem to come in contact with wants to go to Central Park, except me. FINEEEEE.
We head for Central Park.
At some point while walking behind me out of the hotel, Justin slips the ring box into his coat pocket from his backpack. He now, however, has to keep his hand on it so I cannot see the bulge in his pocket since we are bundled. I clearly think nothing of it because it's cold, so naturally his hands are in his coat pockets.
Then it happens, folks.
HE FALLS.
WITH HIS HANDS IN HIS POCKETS.
Me being the loving wife I am…
Me: 'DID YOU REALLY JUST FALL WITH YOUR HANDS IN YOUR POCKETS?! DIDN'T YOUR MOTHER EVER TEACH YOU NOT TO DO THAT?!'
I am hysterical at this point just really making fun of him. We both have tears in our eyes from laughing, the joke was really on me though.
We get to one of our favorite spots in Central Park which is across from The Plaza with a little pond. Just then, 3 guys walk up taking photos and have about 2 joints each to them. Each was smoking one and each had one behind their ear. Justin asks them to take our picture, you know, 'for my mom.'
(Back story, I told him if he ever proposes, he needed to ask my dad, make sure my nails were painted and have someone photograph it. HE NAILED IT.)
The guys are down for taking our pic and we get into position. Within 2 seconds they say, 'here ya go.'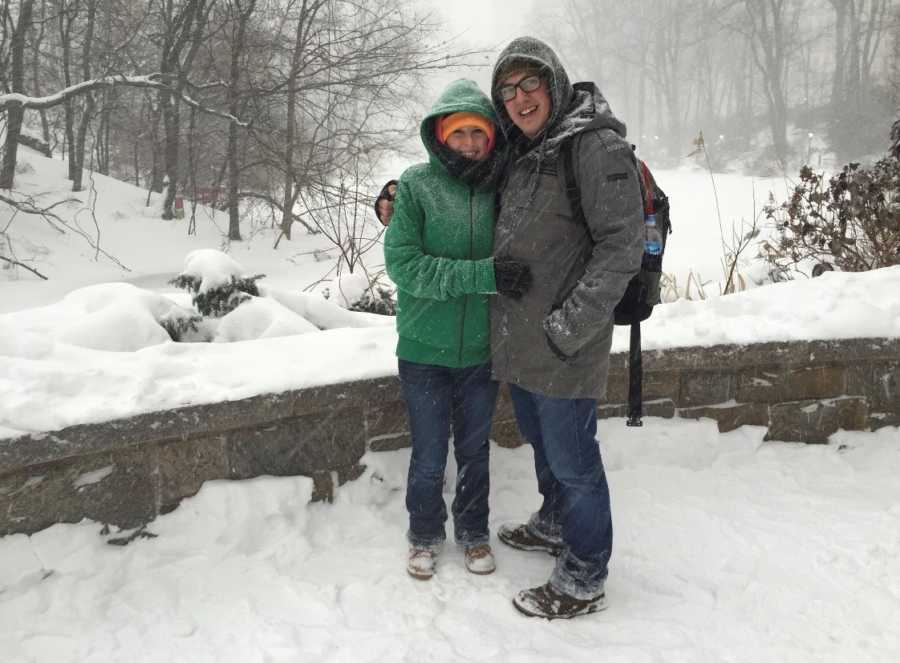 Justin: 'Can you get another one?' Winking at them trying to not draw attention to what he is about to do.
Guy 1: 'OK, got it.'
Justin (clearly annoyed): 'One more? REALLY GET THE BACKGROUND.' I feel like at this point he was winking so hard he could have lost an eye.
Justin turns and drops to one knee.
All 3 guys start screaming: 'SAY YES!! DID YOU JUST DO THAT?! THAT'S F****** EPIC!' (mind you this is being recorded and pictures are being taken, this is now my proposal video.)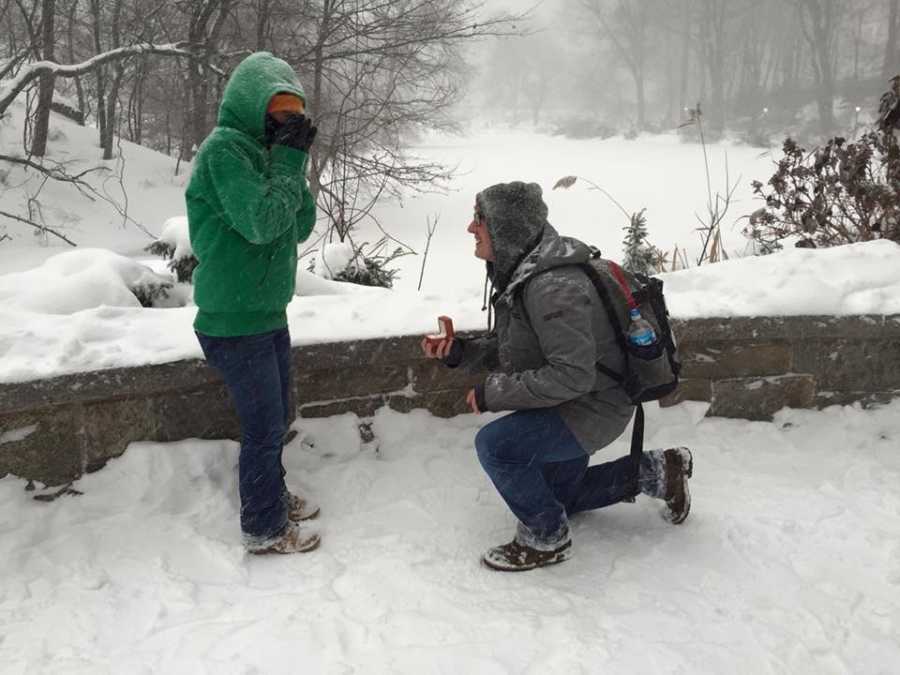 We come home elated and tell everyone the hilarious story about these guys. Everything they said and did had us laughing for months.
Fast forward 10 months. We decide to get married in Central Park. Not where we got engaged, but about 50 blocks away on West 102nd Street. We took 25 of our closest family and had a small intimate ceremony.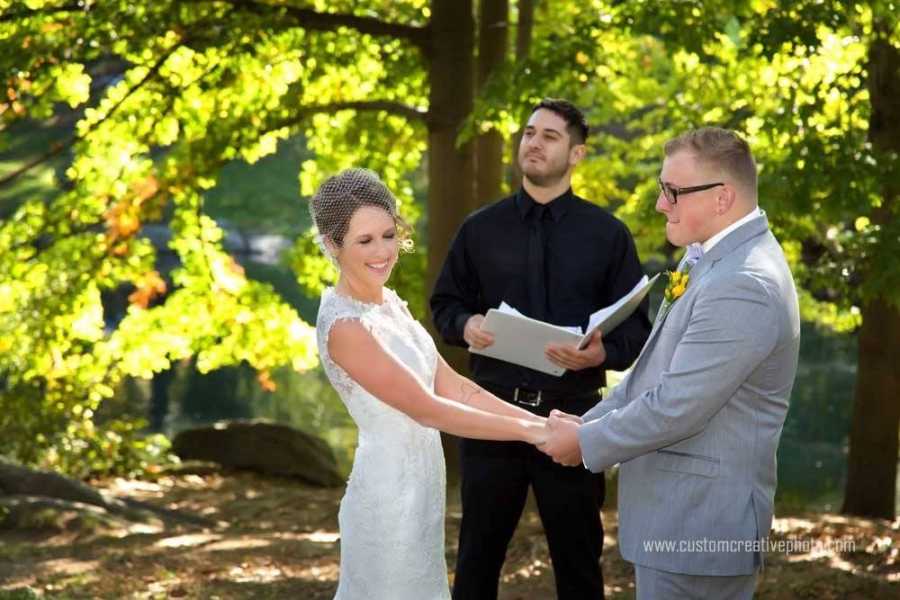 Halfway through our ceremony, who crashes the wedding? OUR ENGAGEMENT FRIENDS. No, this is not the icing on the cake.
The icing on the cake, is that they brought their speakers, and what was playing, might you ask?
Our favorite rendition of 'I don't f**ck with you,' by Big Sean. The vulgar lyrics were blasting, 'You little stupid a** b**** I ain't f****** with you.' LOUD. During the prayer. I cannot make this up. My husband and I locked eyes, turned our heads, and we knew. We knew it was them. I throw my head to the side in laughter while our wedding guests look on, HORRIFIED.
Justin: 'You want me to stop it?'
Me: 'Nope, this is NYC baby.'
Someone from our family, I believe Justin's cousin Chey, went over and kindly asked them to turn off that particular song, and they obliged. They fished through the entire ceremony in the pond right behind us. You can literally see them fishing in this photo behind our makeshift altar.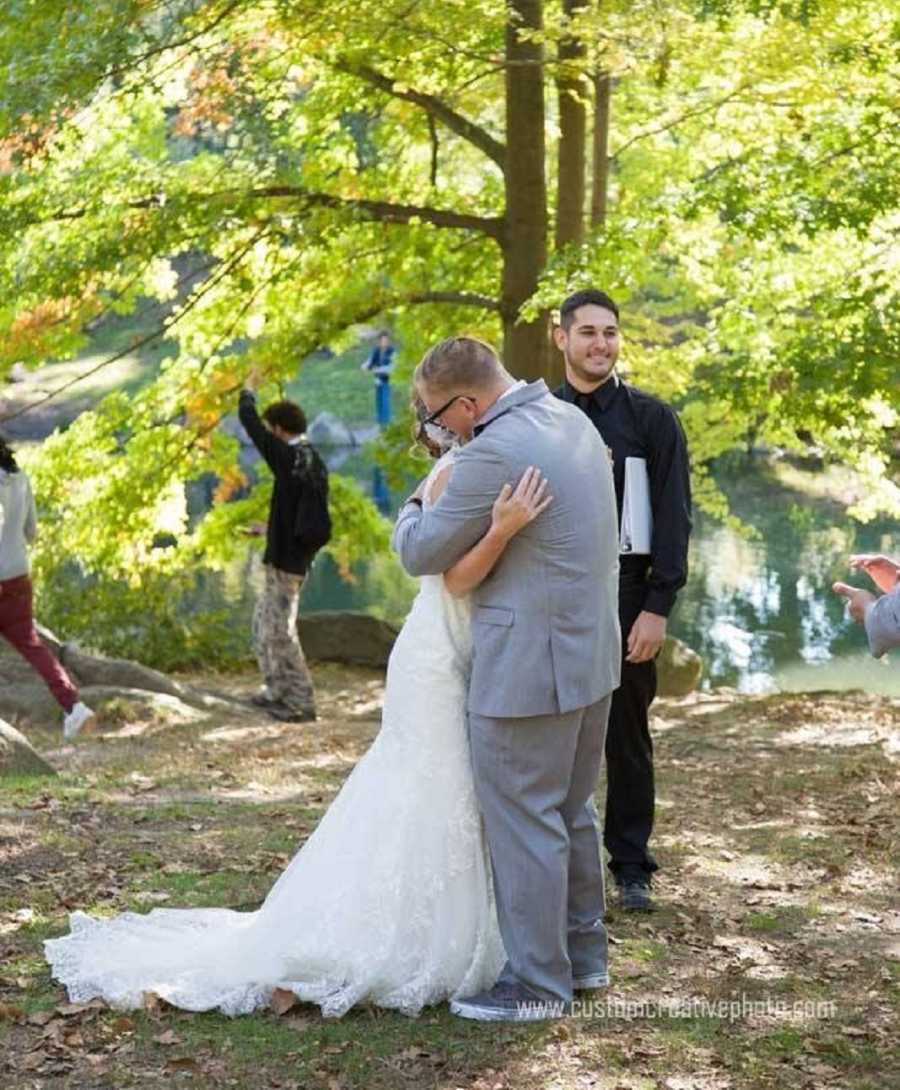 As we were announced husband and wife, they played some sweet soft music for us to walk out from. (Side note: We had a permit for that area and could have asked them to leave, but truly, they weren't hurting anyone.)
This moment in time will be talked about for the rest of our lives. It's my sister's favorite story, and definitely ours as well."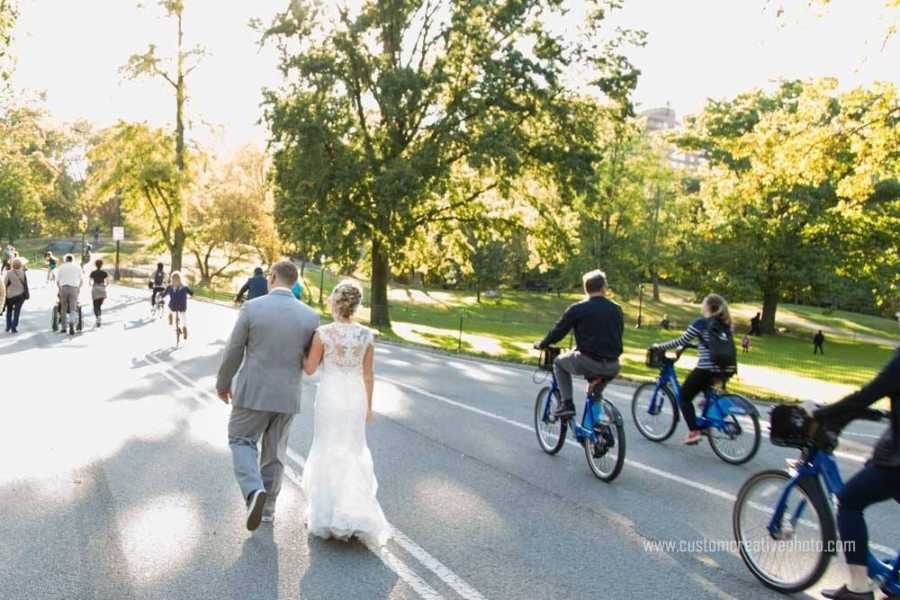 This story was submitted to Love What Matters by Danielle Bryant of Greensburg, Pennsylvania. You can follow her journey on Instagram. Do you have a similar experience? We'd like to hear your story. Submit your own story here, and subscribe to our best stories in our free newsletter here.
Read more hilarious stories from Danielle:
'What in the actual hell are you doing?' Then I saw it. The glassy eyes. I have NEVER seen my husband DRUNK. The waitress asks if he'd like another round. He's LOST. HIS. MIND.'
'We have to tell him, tonight. We cannot hold this information from him.' It was written all over my face. We immediately lose it. All of it. We sobbed.'
SHARE this story on Facebook to give other couples a good laugh!