"I will never forget the moment I got the phone call that changed my life forever. It was April 23, 2010. I was a sophomore in college and had just finished my Friday morning class and was looking forward to the weekend. I had plans to go to a baseball game with friends and also needed to bake something to bring to another event I was attending that night. I was in the parking lot of a Fiesta about to run in to get some eggs when I got the phone call. The phone call letting me know my perfectly healthy, wonderfully vibrant mom very suddenly and very unexpectedly lost her life.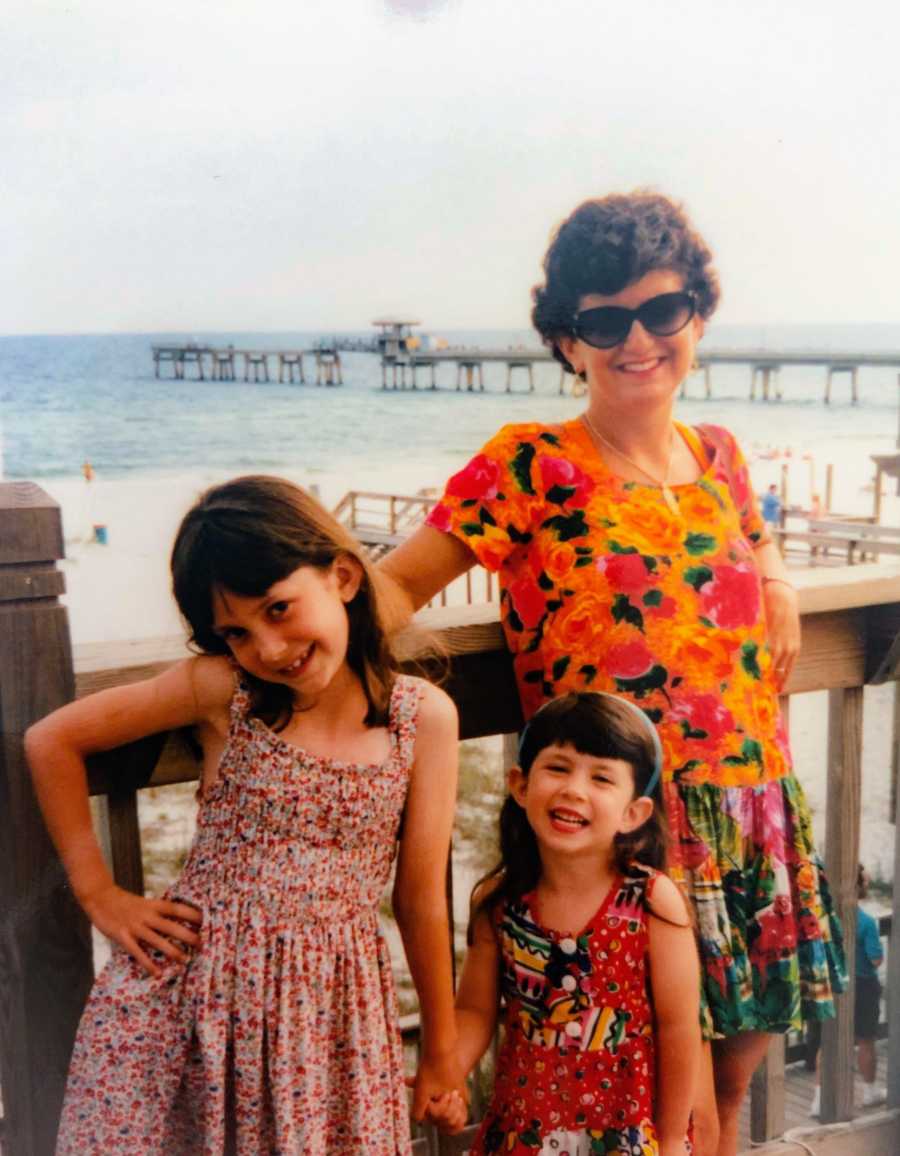 My mom and dad were in New Orleans for Jazz Fest celebrating their anniversary, so when I saw my dad calling, I answered excitedly to hear about their trip. I will never forget the sound of my dad's voice when he said, 'Kelly, something has happened to mom. We are on the way to the hospital, but I don't think there is anything they can do.' They were getting ready to leave their hotel room in the morning and she just collapsed. My dad immediately gave her CPR until the ambulance arrived, and they tried everything they could to resuscitate her. But she was already gone. We later found out through the autopsy she had an aortic aneurysm and there was nothing that could have been done to bring her back.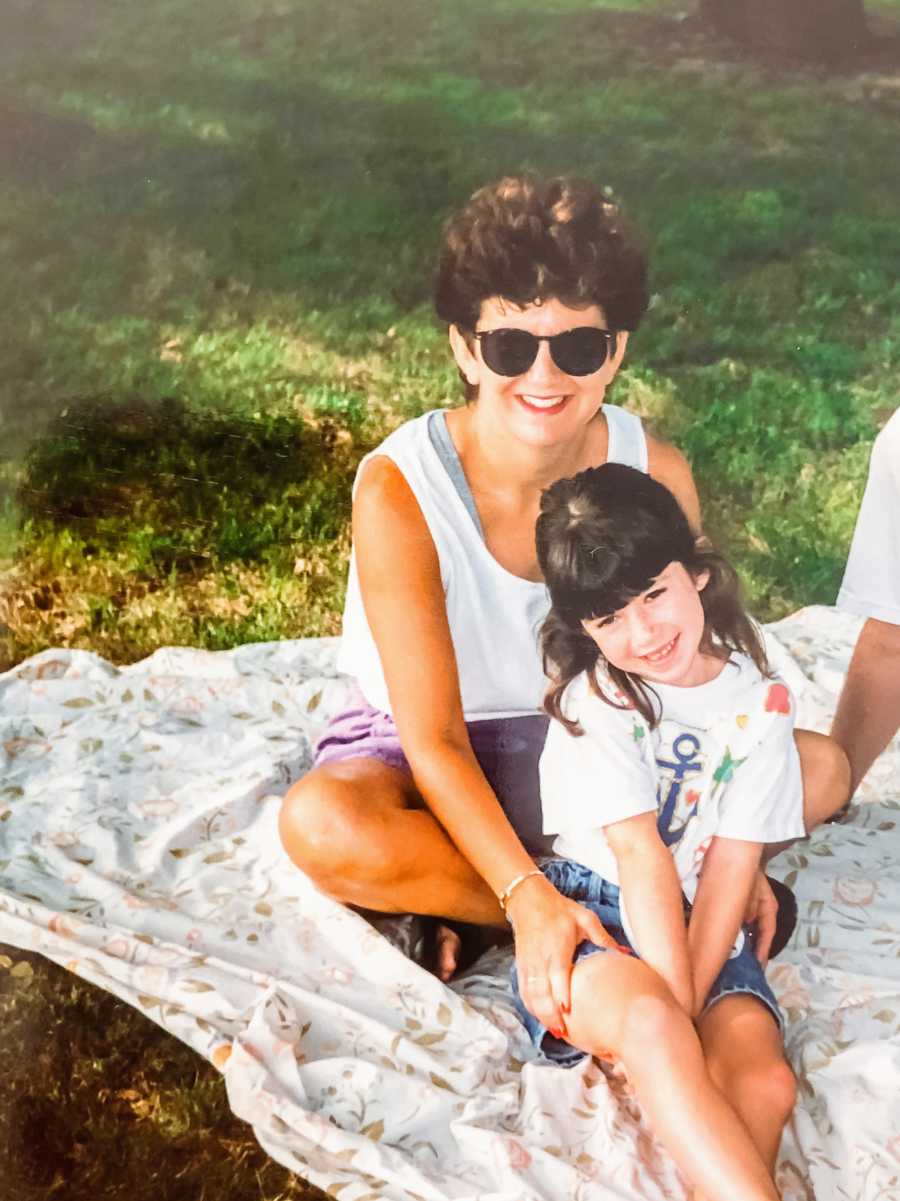 As a 19-year-old who just lost her perfectly healthy mom and best friend so unexpectedly, my world was rocked. I felt like a stranger in my own body, having to redefine daily what my life would be like without her. Questioning my being, my identity, my everything. In my complete despair, I felt God's heart break with my own as the loss of my mother was also the loss of His child. Christ's sovereignty and Divine comfort embraced me in the midst of my indescribable pain. I didn't know anything about how to handle grief at the age of 19 while also trying to finish college and figure out what I wanted to do with my life, but I knew I could not get through it on my own. I remember sitting on my knees on the floor of my college apartment room hours after she died, in physical pain from trying to stomach my new reality, eyes swollen from crying, and I knew I had a decision to make.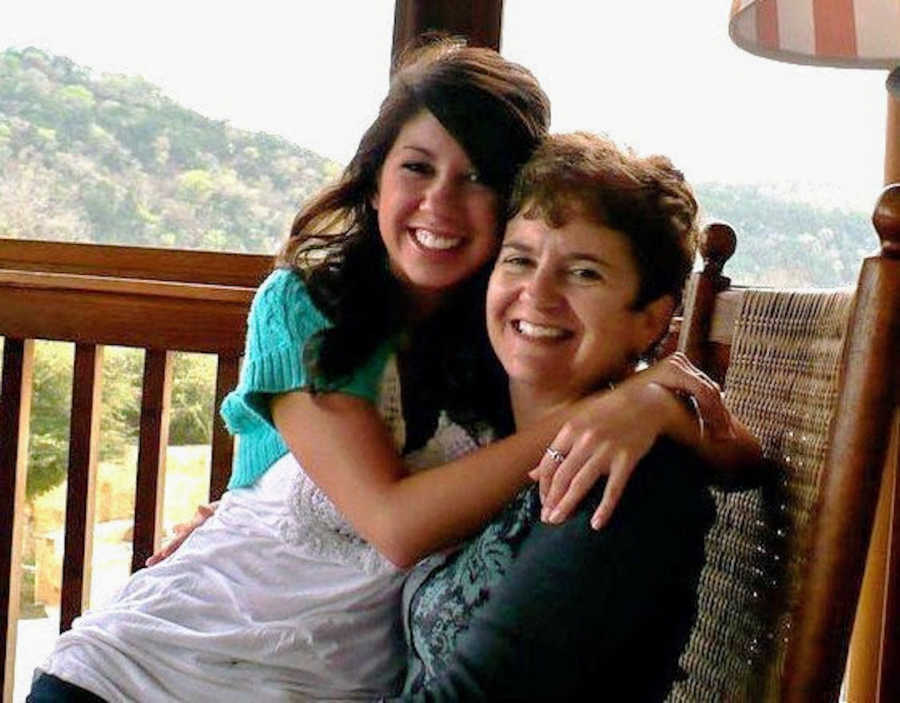 I could turn to the world to numb my pain, or I could turn to Jesus and trust all those things about Him I had read about in the Bible growing up. Turning to the world never helped me before, so I decided to choose Jesus. I opened up my journal, completely overwhelmed with grief and started writing out my prayers, my cries, my anger, and my confusion. I laid it all out to Him. I was mad at God for taking my mom so young, but I still knew I needed His help if I was going to get through this. I didn't know what else to do. And He truly did not let me down. It has now been 11 years since she died and I can tell you my faith in Jesus, coupled with support from my community and lots of counseling, has been what got me where I am today.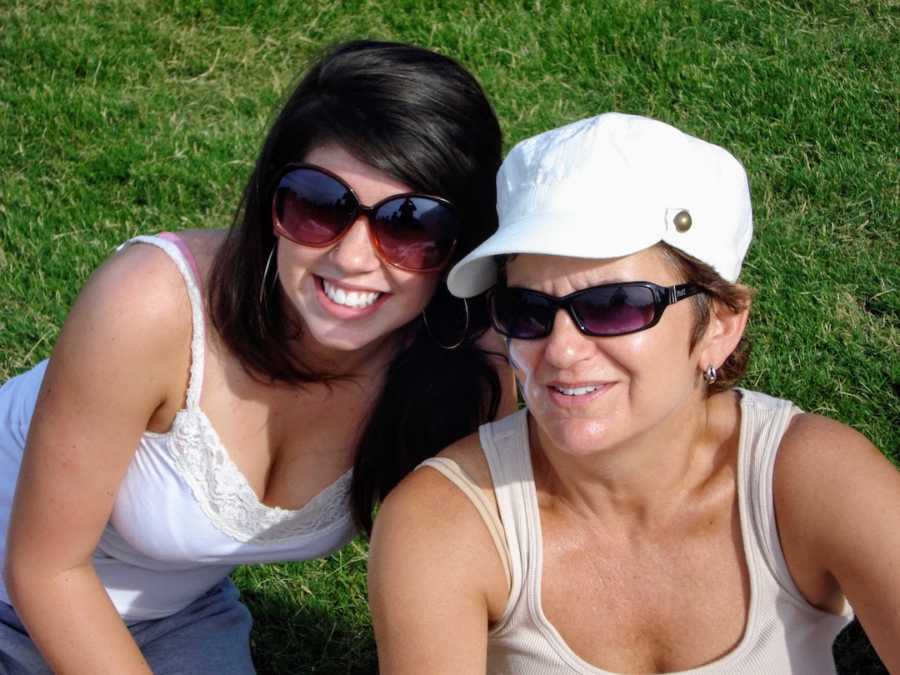 Grief does strange things to your brain and memories. There are memories I have of my mom growing up my brain latched onto immediately after she died. The way her colorful dresses she was known for wearing looked against her sun-kissed skin, the way she said my name when I walked in the door after being away at college for a couple of months, the way she would giggle on the couch after a long day while we watched an old sitcom together with my dad and sister.
After she died, some days, like April 23, 2010, I can play on repeat in my mind like an old movie I know all the words to. Other days, months even, are more like a song I heard once but would never be able to remember the melody or recite the words off the top of my head. I know I lived them, but the days are hazy and run together, leaving me with little memory of how I made it through.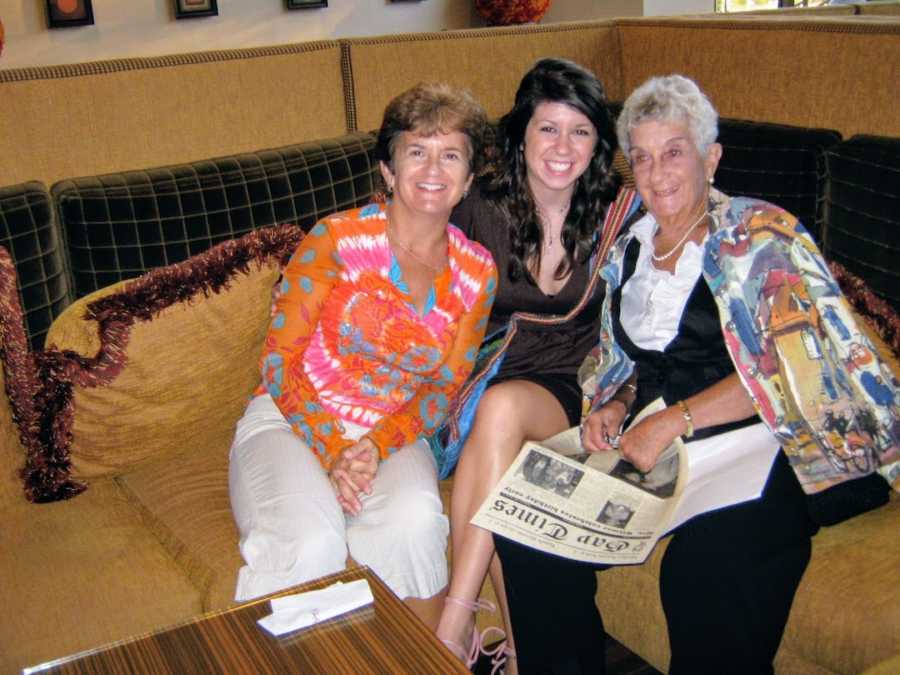 Much of the next 3 years in college felt like a blur to me, but in the spring of my senior year, something happened that was one of the most healing experiences of my grief journey thus far. I studied art education for my undergrad, and as a requirement to receive my degree I had to participate in the senior art show. Unfortunately, after my mom died, I no longer felt like making art. It felt as though my creativity died with her as well. I had no desire to create anything, but I had to for my degree if I wanted to graduate. The deadline for our senior show was quickly approaching and I still had no idea what I was going to make. Then one night as I was falling asleep, it came to me. I was thinking about my mom's outrageously colorful wardrobe and how it was just collecting dust in her closet at home. I would use my mom's clothes that had been untouched since she passed and turned them into a giant tapestry.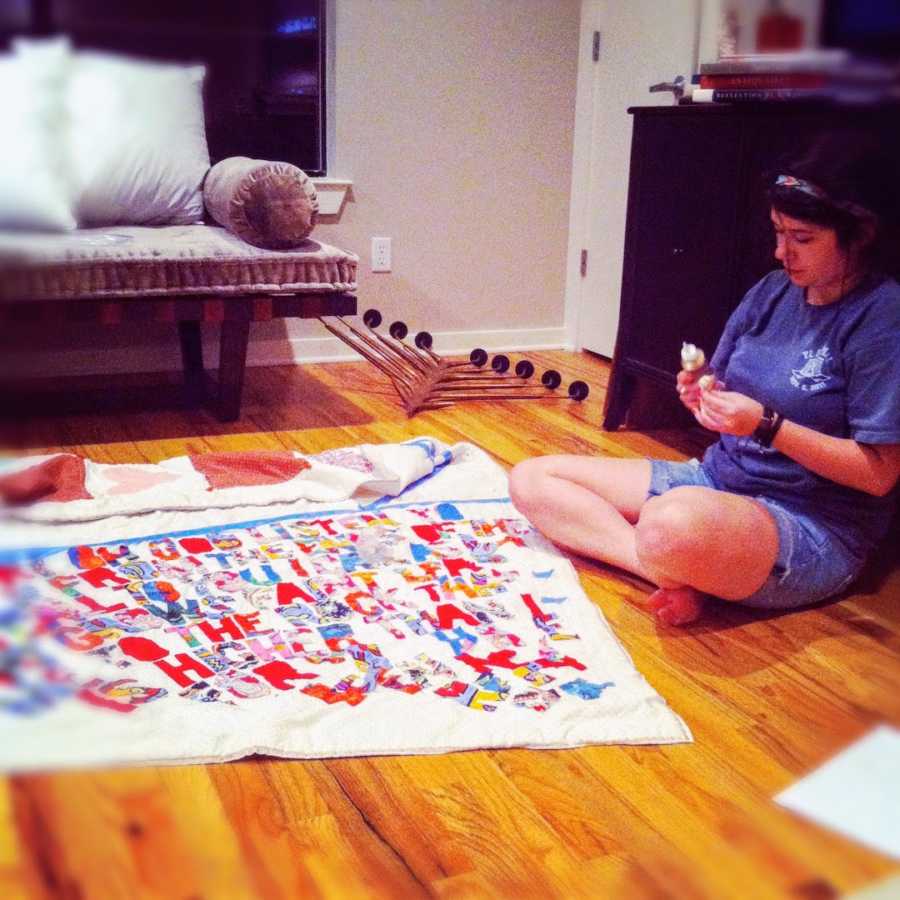 After you lose someone you love, most people are left with a closet full of clothes that are just a painful reminder they will never be worn by them again. They just sit there lifeless until you finally decide you are able to part ways with them, donate them to charity, or maybe you decide to never let them go. With permission from my family, I turned some of my mom's most 'Cynthia' outfits into my senior art piece. I cut my mother's clothes piece by piece and used them as my medium, transforming them into a restored form and giving new meaning to fabric that would otherwise remain forgotten and lifeless. The quilt illustrates the different stages of grief I had experienced the first 2 years without my mom and reveals how essential my faith was. I hand-cut hundreds of letters out of some of my mom's favorite outfits. The sewn letters form words from scripture that comforted or confused me during specific seasons of grief.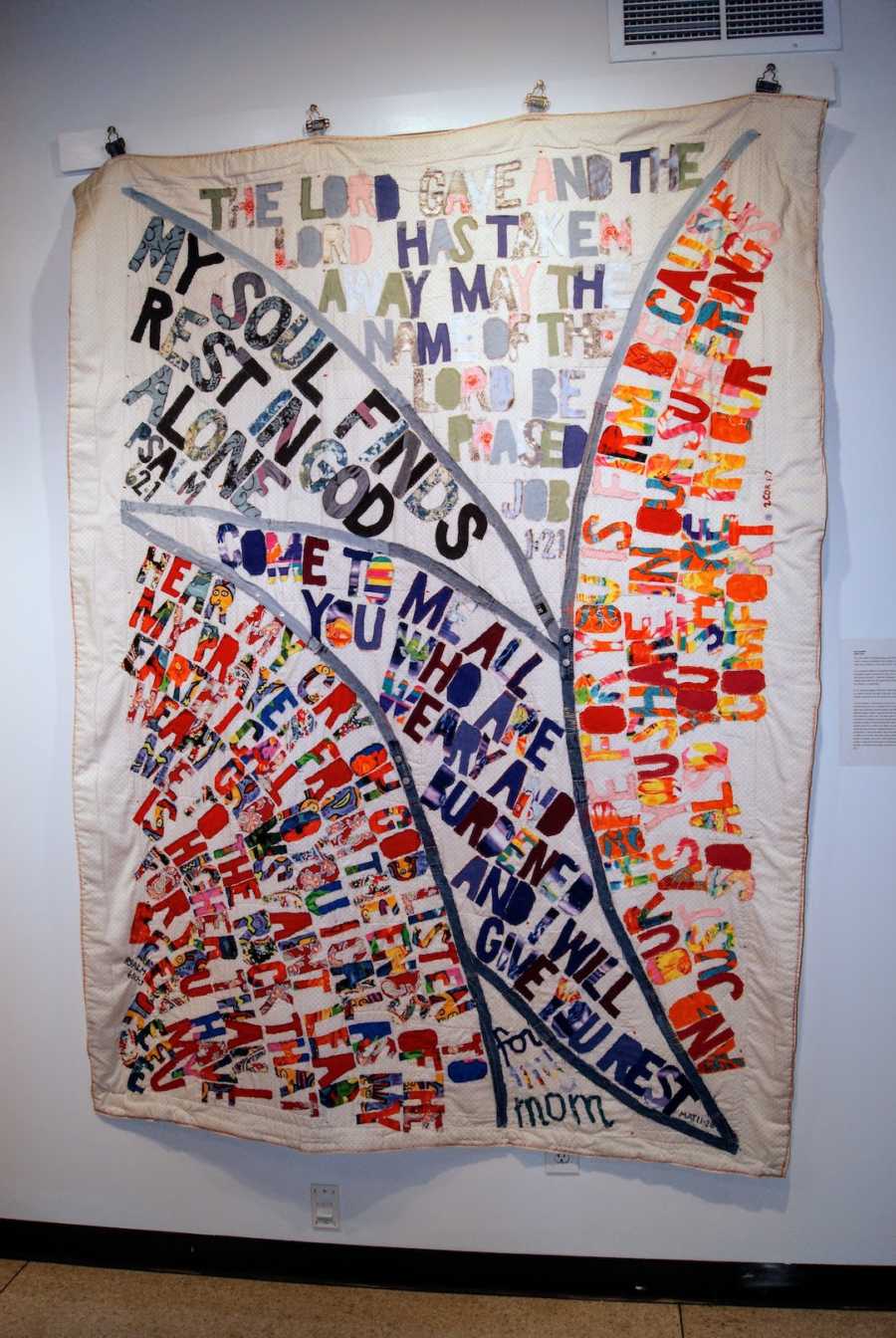 I used the back of a quilt that was a handmade wedding gift for my mom and dad as my blank canvas and hand-stitched each letter onto it. Holding some of my mom's most memorable outfits in my hands and cutting them to pieces was extremely difficult, but was one of the most healing parts of my grief journey thus far. Watching her favorite colorful dresses be transformed into the very scriptures that breathed so much life into my grieving heart was more meaningful than I could have ever imagined. My heart broke with each irreversible cut but was then stitched a little bit back together as the quilt came together. The monotonous act of needle-piercing precious, irreplaceable fabric represented a sense of permanence. Cutting the fabric was irreversible, much like the difficult truth of death on this earth.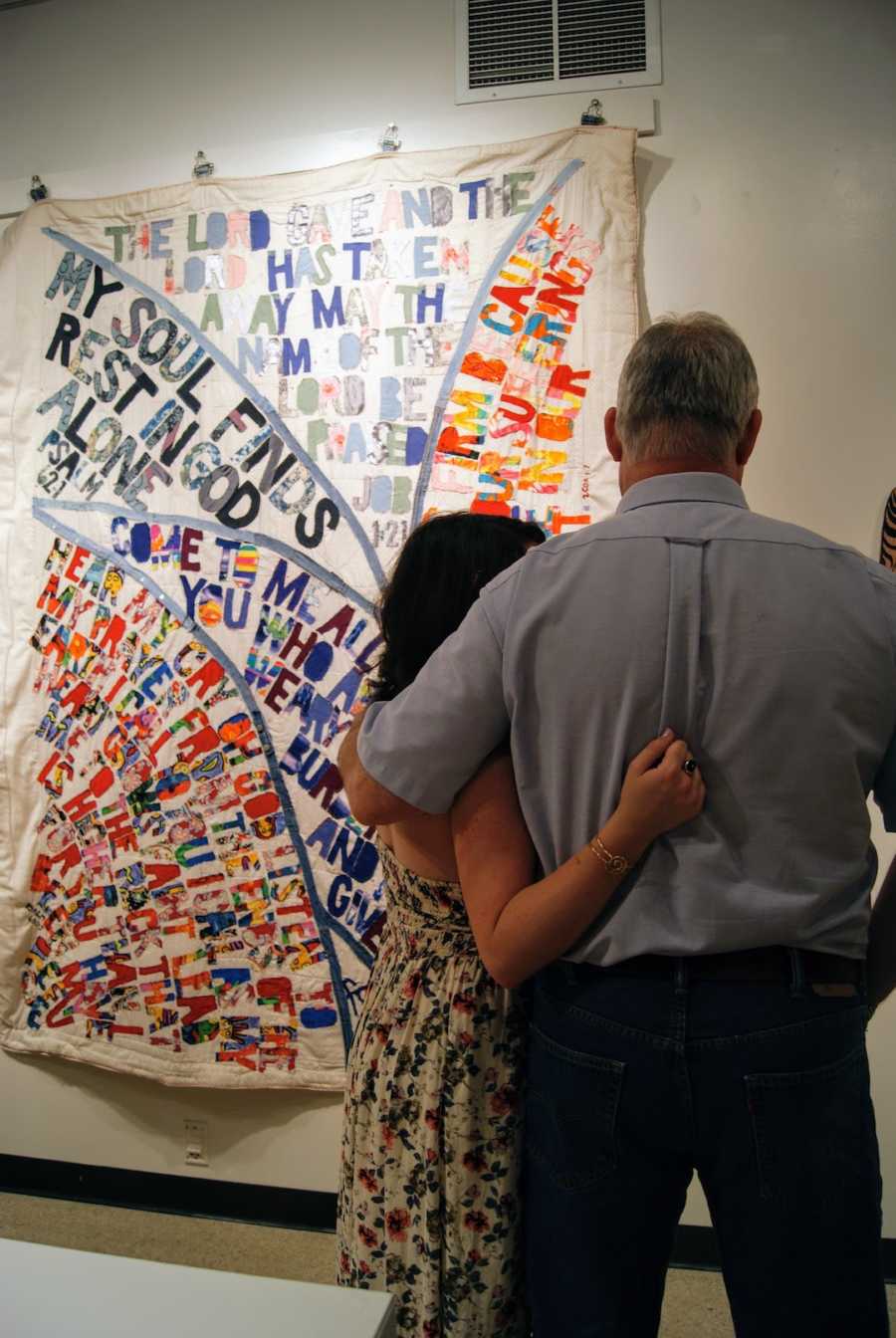 With each tedious stitch, I was reminded of her absence. However, the words I was laboring over instilled in me peace and comfort in that with Christ, death is not permanent. Because of His selfless sacrifice, I will see her face again. I titled my senior showpiece 'For Cynthia,' in honor of my mom, and graduated later that year. Each milestone that followed throughout my twenties also brought new milestones in my grief journey. Graduating college, moving to the Dominican Republic to teach, meeting my husband there, getting married, starting new jobs. All without her there to see, to cheer me on, to give me advice and support. I felt equally sad and proud of myself for accomplishing these things without her. The older I got, the more I learned about grief, the more counseling I received, and the closer I walked hand in hand with Jesus, the more bearable it all became.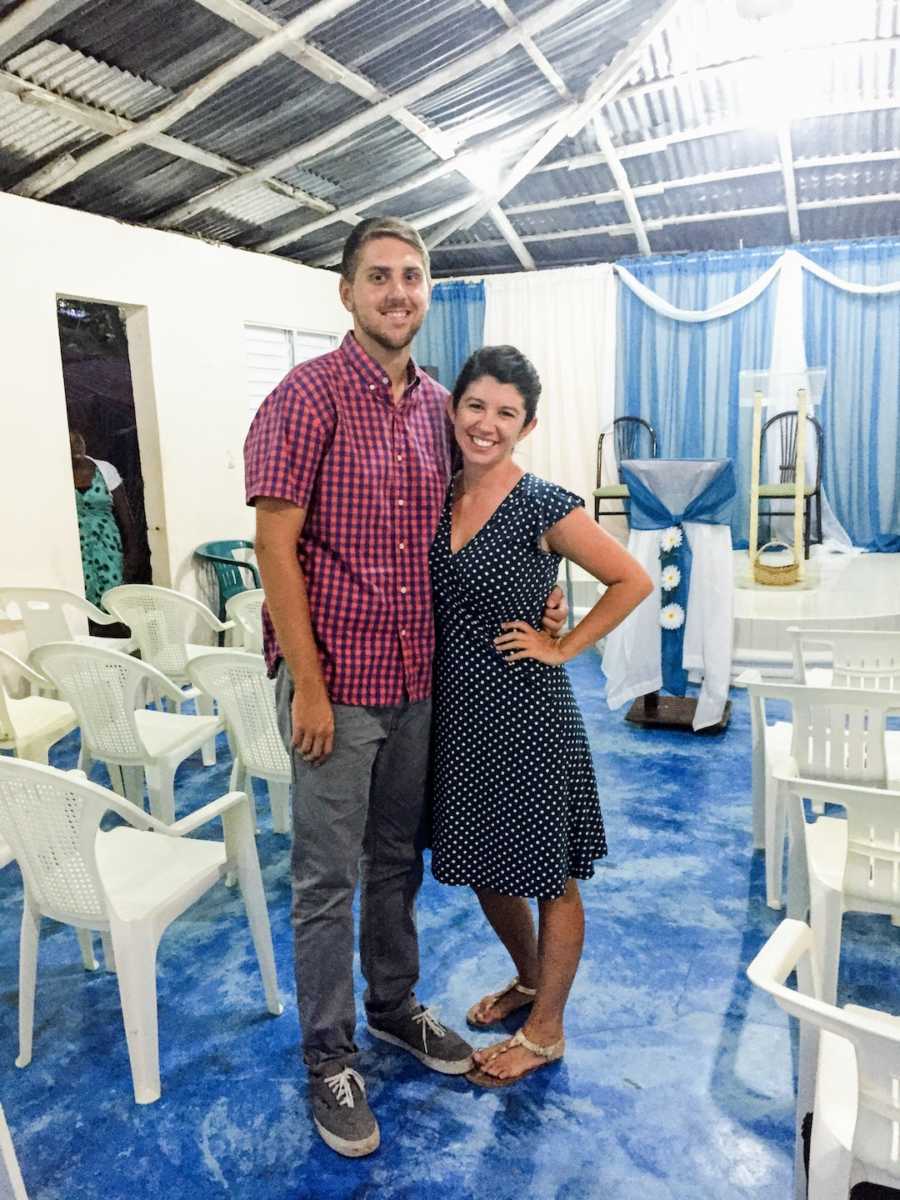 And if you've lost someone you love, too, you know just how bittersweet it is to arrive in this place. By God's grace, I was able to experience joy and peace, and acceptance which surpassed any of my own understanding. But then something happened I did not expect. It had been almost 8 years since my mom died, at this point and I was in a good place with my grief journey. My husband and I had been married for about a year and a half and were enjoying the newlywed life. We felt like it was time to try to have a baby and were excited to grow our family. Ever since I can remember, I always had the strongest desire to become a mom one day. I just felt it in my soul it was one of my life's callings. But then, when I found out I was pregnant, I was overcome with sadness. All of this grief resurfaced and it felt so fresh and tender again, like the weeks just after she died.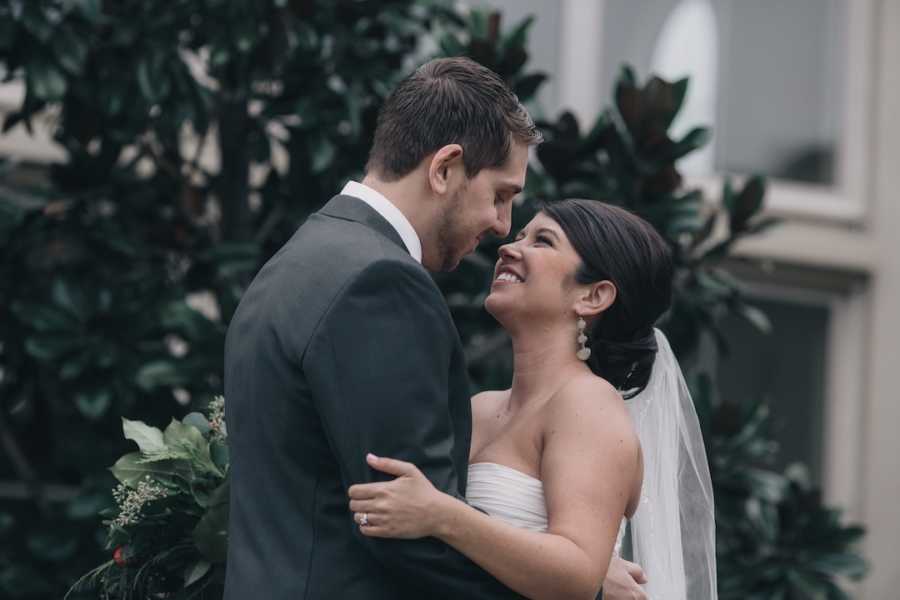 I remember crying to my husband, 'I thought I've already dealt with the bulk of my grief! Why is this happening now?!' I felt like a terrible mother already, because instead of just feeling pure excitement and happiness for this miracle (which I absolutely did and was SO grateful to be pregnant), I also felt so sad, scared, and really overwhelmed. Like, way more overwhelmed than all of my other mom friends. Jesus quickly revealed to me I was feeling all of these things because I was grieving all over again, only this time I was grieving my mom as a grandma. I was grieving the fact my child will never experience the deep love and pride a maternal grandmother can give. I was grieving the reality they will never know the sound of her laugh, the warmth of her hugs, or get to experience her unwavering unconditional love. Instead of a 'Mama C,' they will have pictures and stories, and maybe some old home videos.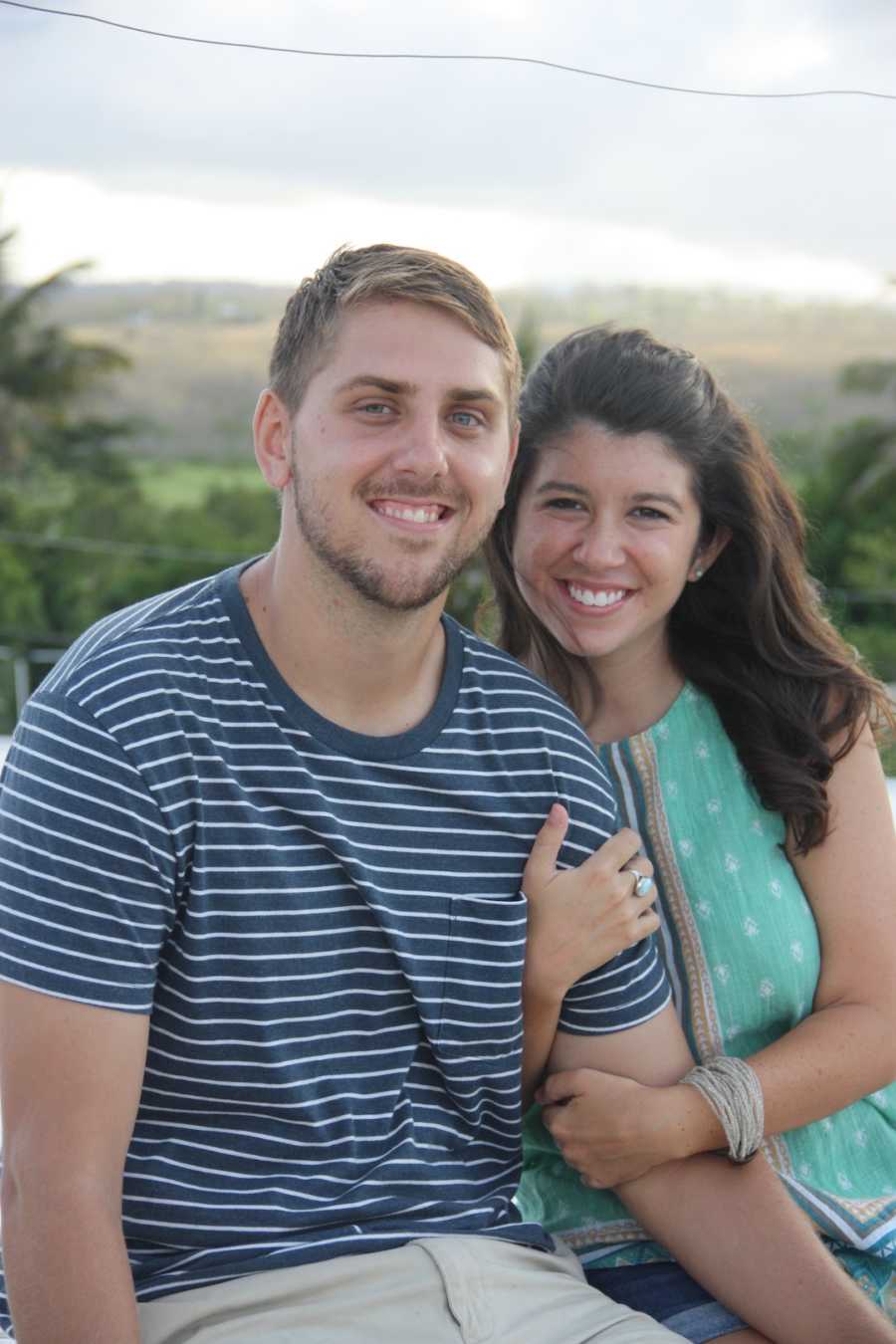 I was angry at the fact I had to enter motherhood motherless. I was overwhelmed because I hadn't been mothered in 8 years and wondered if I would be able to do it without her. I was sad she never got to pick out her grandma name and we would have to make something up for her. The reality I was not going to have the one person I would have gone to with all of my motherhood questions started to sink in. And it hurt. During this new grieving process amidst my pregnancy journey, I longed for resources and affirmation. To hear from someone else, 'Me too, sister. You are not alone. You are not a bad mother for feeling this way. You will still be an amazing mom, even without your mom to help you. God has not forgotten about you or your baby. He will be your Helper.' But to my complete shock, I could not find anything out there.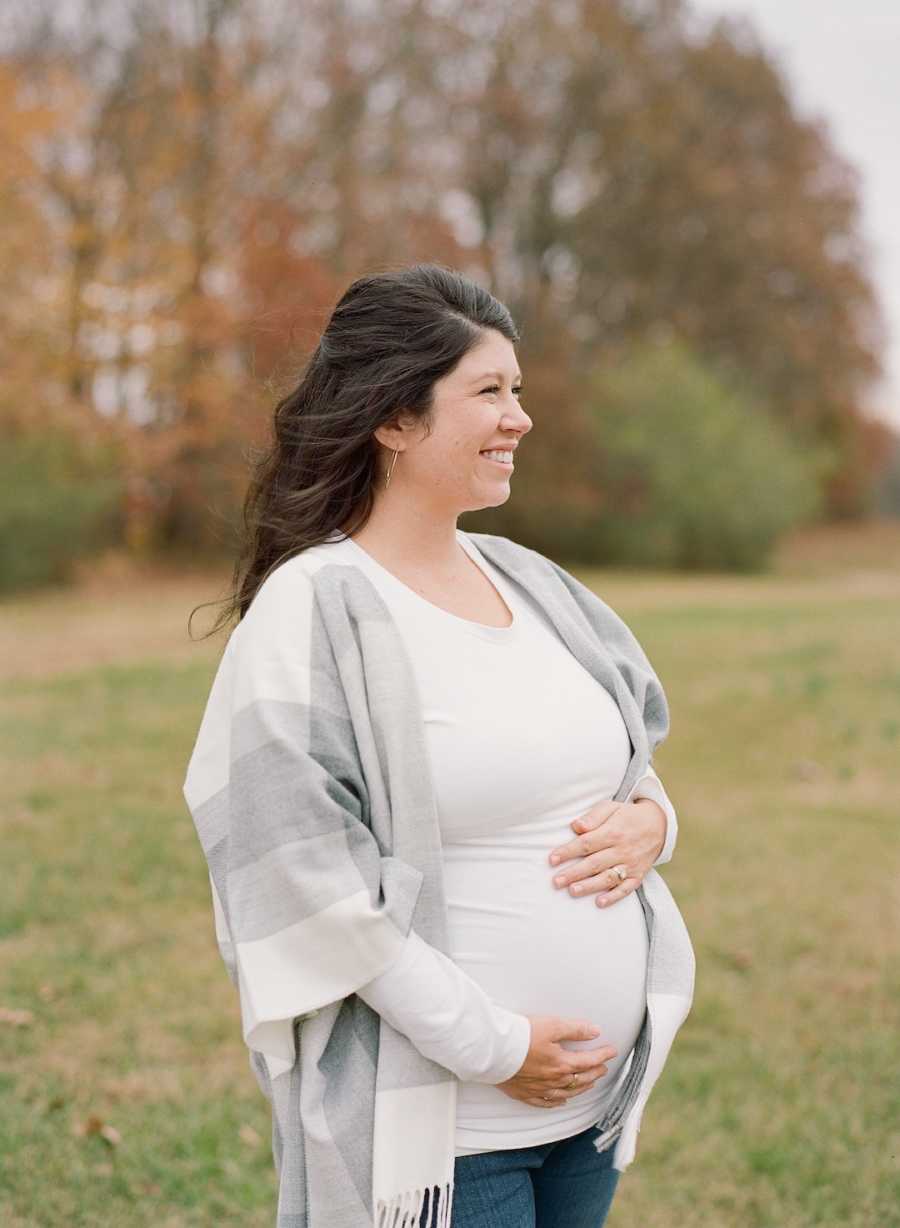 This is when the Lord placed on my heart to start my blog to share my journey in hopes one other motherless daughter who is in my shoes can feel less alone. That she can know she will absolutely be able to do this motherless mother thing, because the Lord will sustain her and help her, too. It has now been eleven years since I lost my mom. In the summer of 2018, my daughter Lainey was born, making me a mama and giving me the greatest gift I never thought I would have again, a mother-daughter relationship.  In February of this year, we also welcomed our son, Whit, named after my mom's maiden name, Witmer. I have never known a love like the love I have for the two of them. Now that I have walked through some of the really difficult parts of grief, I want to give those who have also lost their moms hope you can still experience joy as a mom and enjoy all the little moments with your baby.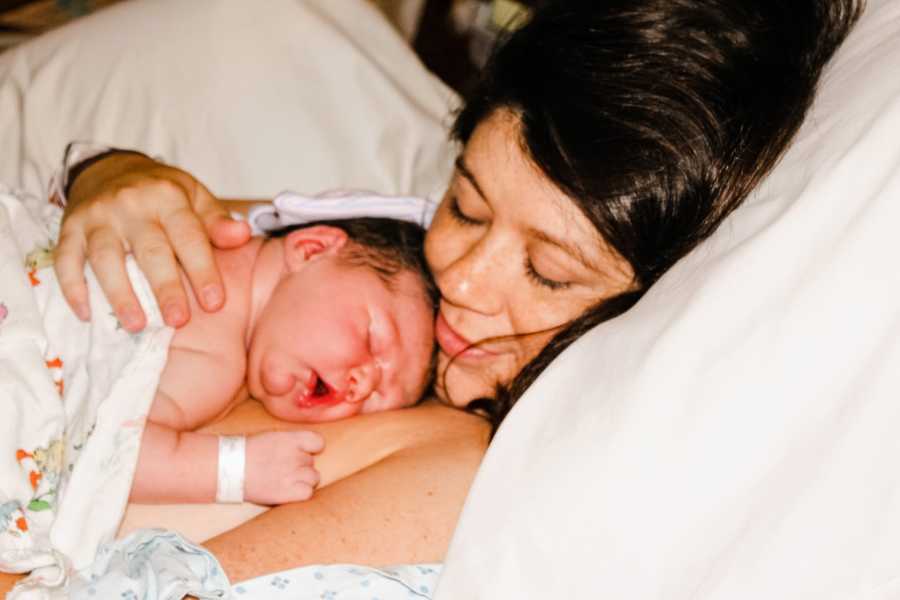 Becoming a mom has been one of the most emotionally challenging experiences for me, but also has been healing in ways I never knew I needed. I now have a mother-daughter relationship back in my life, just with the roles reversed. Becoming a mom has enabled me to have a greater understanding of my mom's deep love for me and my sister, and how much God loves us even more. I am able to enjoy my babies and experience joy and peace, knowing I am certainly not alone in this motherhood thing and God is my Helper every minute of every day. Of course, I have hard days and seasons, too. Doing this without my mom is not easy, but in many ways, it has made me feel even more connected to her than I ever thought possible. Her legacy lives on through me and now also through my children.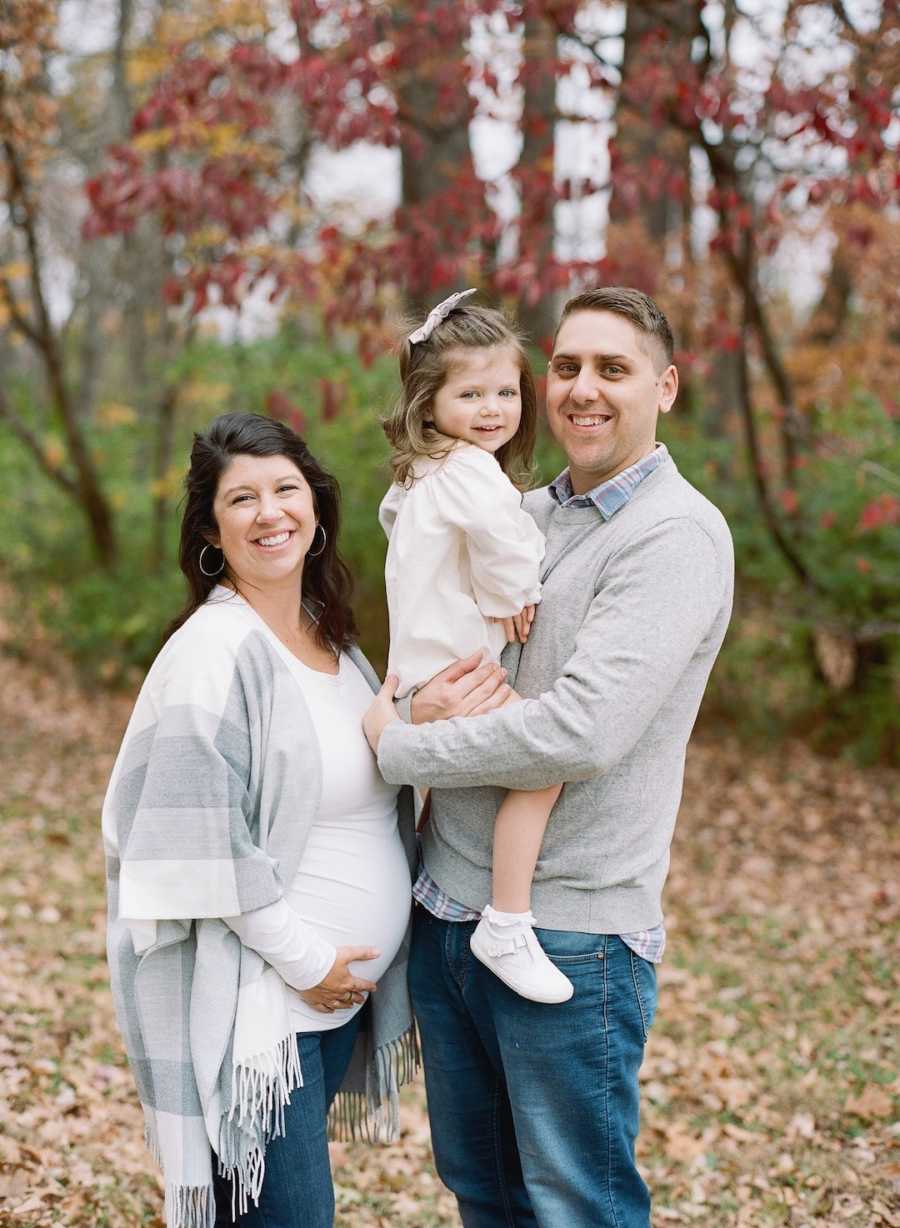 If you too are a motherless mother and are feeling overwhelmed, wondering how you are going to walk through motherhood without your own mother, I want you to know you are not alone, whatever you are feeling is normal, and those feelings and doubts do NOT make you a bad mom. If you too have lost someone you love and are in the trenches right now, completely overcome by grief and sadness, I want you to know you are not alone, you will not feel this way forever, and you can still have such a beautiful life. If you are feeling stuck in a very dark place and feel like you can't get out on your own, I want you to know you are not alone. There are so many amazing counselors and therapists out there who can help lift you out and walk with you through it. We are not meant to walk through these things alone. I am with you, and even more importantly, Jesus is with you. He is the one who can truly heal your wounds. "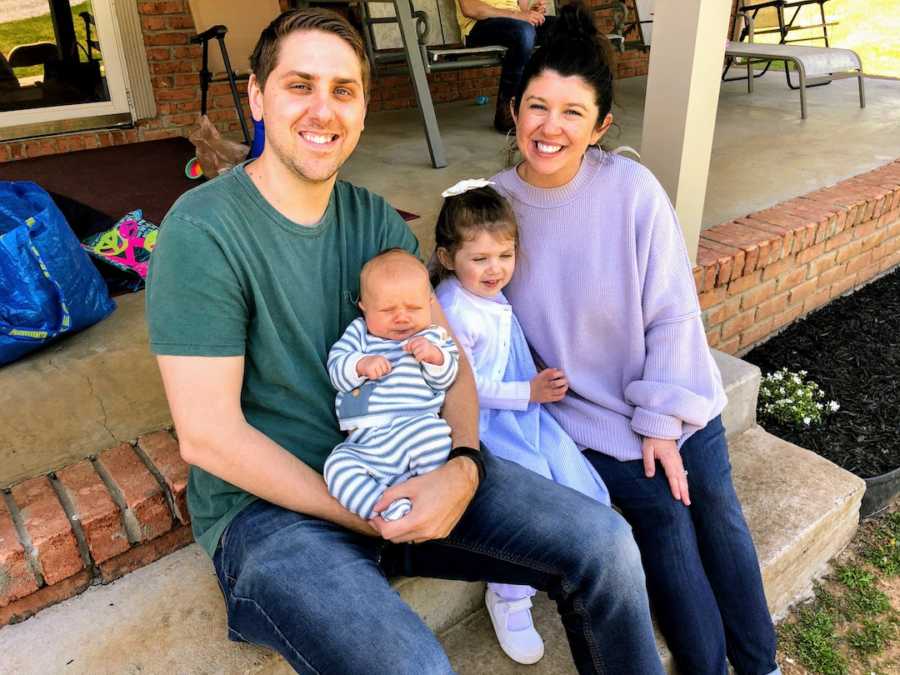 This story was submitted to Love What Matters by Kelly Walker of Nashville, Tennessee. You can follow her journey on Instagram, Facebook, and her blog. Submit your own story here, and be sure to subscribe to our free email newsletter for our best stories, and YouTube for our best videos.
Read more stories like this:
'Goodnight, Mom. I love you.': Woman recounts heartbreaking loss of mother, 'We celebrated her life'
'Raising kids without my mother is much, much harder than I thought.': Woman details parenthood after loss of mother, 'It's like driving without a GPS'
'She's not just gone to the grocery store or gone on vacation, but she's gone so far she's never coming back.': Motherless daughter shares reality of grief and loss
'I knew I had to capture her before it was too late': Daughter photographs dying mother in wake of family's 'tremendous loss 6 months prior'
Do you know someone who could benefit from this story? SHARE this story on Facebook to let others know a community of support is available.