"To the mom who just gave me a smile and a nod, I will remember your kindness forever.
The other day I was out and about with my little boy. We made a visit to the shops, because I promised him a new book.
The shopping center was SO busy! It was loud, there were crowds, lots of different lights, beeps from tills, people rushing past us. To most people that is everyday life. For us, it is an absolute recipe for a meltdown.
You see my little boy is Autistic and has a lot of sensory problems. He doesn't like bright lights or loud noises. He doesn't like crowds. He does however like to be like any other 6-year-old boy and go to pick out his treat when he is promised one.
We got his book, he picked out the one he wanted, and on the way to get food, it all got too much for Riley.
He cried, he screeched, he lashed out at me, he covered his ears. This wasn't him being bold. This was him being over stimulated. Not coping. This is life living with Autism.
We are lucky, we have an amazing service dog, who is attached to Riley, to keep him safe, but also to calm him. And she kicked into action. She licked his hands, she distracted him. She did her job. And she did it in the middle of the shopping mall.
Of course, there and then I could feel eyes on us. The looks, the stares, the comments. At this stage I am used to them. I think you become immune to people. My priority is helping my little boy.
That doesn't mean these looks don't hurt. It doesn't mean that the comments don't ring in your brain. It doesn't mean that it's not upsetting. Because it is. But in that situation, you push them aside, you can cry about them later. When you are home. When your child is safe.
At that very moment you would do anything in your power to help your child. Even if that means lying on the floor in the middle of a shopping center with him. That can cause some funny looks. Some funny comments. This day was no different.
While I was knee deep in trying to calm my son, I saw a lady walk towards me. She looked as if she had something to say. As if she had a comment to make. I felt my stomach drop. I was already just about holding it together. This was a bad meltdown.
That lady simply put her hand on my shoulder, and she whispered in my ear, 'you are doing a great job mom'. She nodded, she smiled, and she walked off again.
In that moment I could feel the tears coming.
Because in a situation when so many people make a judgement. When so many people make a comment. When so many people tut and stare. This one woman had not.
I never got her name. I don't know if she has any association to autism. But in that moment a total stranger made me feel like I could keep going. I knew I was doing what my little boy needed. I knew he was going to be OK. And every stare, every comment and every tut towards us went out the window.
So please, if you see a child in a meltdown, if you see a mom trying to calm them, don't stare, don't make a comment and please don't shake your head. This mom is doing her best. She is looking after her baby. She is making sure they can cope. She is making sure that her child can make it out of that situation safely. She is being an amazing mom.
And that can be the hardest job in the world, until that one person finds you to give you the nudge you need to carry on."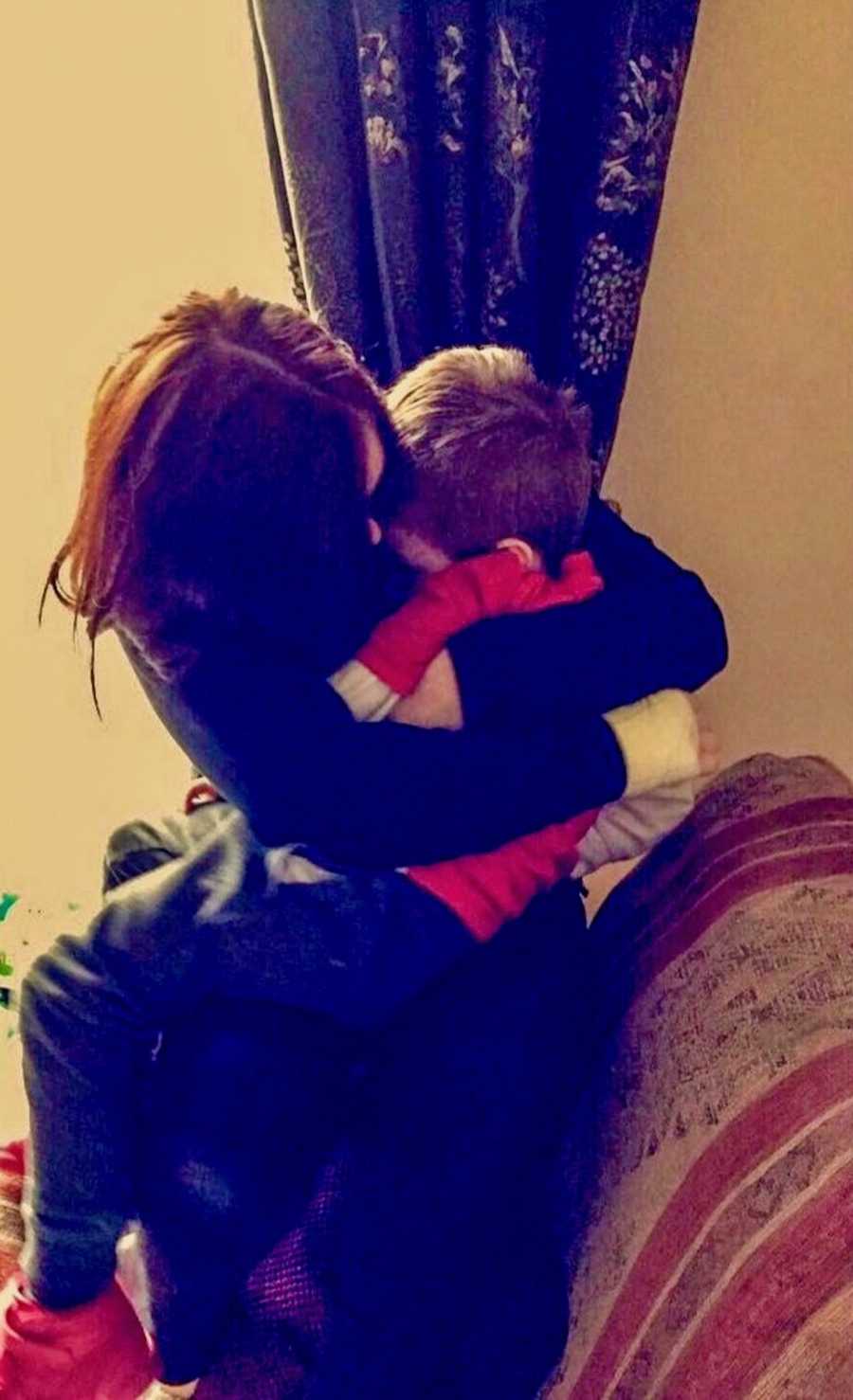 This story was submitted to Love What Matters by Nicole Duggan, 31, of Cork, Ireland. Follow her on Facebook here and Instagram here. Do you have a similar experience? We'd like to hear your important journey. Submit your own story here. Be sure to subscribe to our free email newsletter for our best stories, and YouTube  for our best videos.
Read more stories from Nicole here: 
'No, no, don't sit next to him darling, move away.' This sentence cuts like a knife. It shatters my heart into a million pieces.': Mom of autistic son wishes no other parent to 'experience this ignorance'
'Do you work?' My answer was no. I thought about that last night and realized, I was wrong.': Mom of autistic son reflects on 24/7 job of being a special needs mom
'Isn't he too big to be in a stroller? Shouldn't he be walking?' I couldn't keep my little boy safe anymore.': Family adopts service dog for autistic son, 'That was the day my little boy's life changed forever'
Do you know someone who could benefit from this story? Please SHARE on Facebook or Twitter.