"My entire life I wanted to find my birth parents. I had already searched for them once when I was 18 years old with no success. Almost 10 years later I decided to try again. This time, I learned that a letter, a blanket and a photo were left for me by my birth parents. I was ecstatic, excited and hopeful! One week later, through a series of events, I learned that my letter and photo, along with all of the adoption attorney's files that stored them, had been destroyed within the last few months. I was devastated, I was hurt, and I was very angry. The 18-year-old me would've considered it fate and moved on. But the 27-year-old me is different – I am a wife and a mother of two now. I know the love a mother has for her child. Knowing that the letter from my parents and the picture of my beautiful birth mom was forever lost was a hard blow for sure. But realizing these gifts existed in the first place, that my birth parents had something they wanted me to have and to know about them, made me want to find them more than ever before.
After exhausting all my options of finding any old copies of my records, I had one last chance at getting my birth mom's name, via the original, unsealed birth certificate. In order to obtain a closed record, I had to see a judge and plead my case. The day was long. The judge was a 2.5-hour drive away, I had a newborn with me and my back had been thrown out the night before. I had also heard over and over that closed adoption records are next to impossible to have opened. So, I had an entire tribe of people praying for a miracle…and God delivered. Without even stepping foot in the courtroom the judge signed off on my request and, an hour later, I had my sealed birth certificate in hand. On it was her beautiful, perfect name. Valerie Lopez.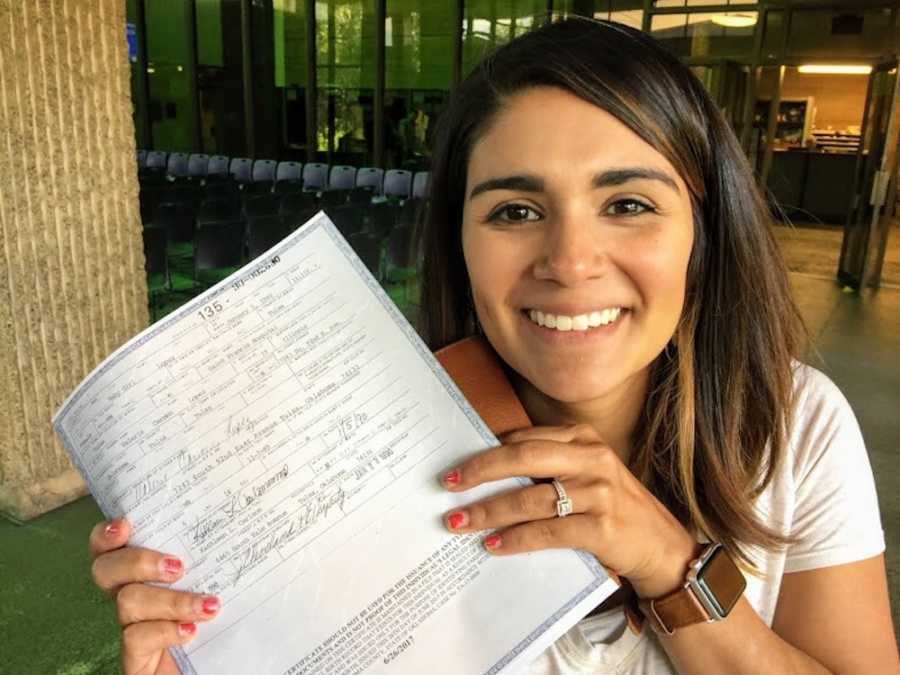 My adopted parents only knew two things about my birth parents: they believed my birth dad's name was Eddy and that they were both from the Chicago area. I searched on white pages for 'Valerie Lopez, Chicago' and, as you can imagine, I had pages and pages of results come up. I was able to narrow it down to just 3 options, we knew she was 19 when she had me and we were able to narrow them down that way. I was drawn to one of the results. It had the correct middle initial and it said she was related to an Eddy! I was skeptical. I thought, 'Surely that's not possible. There's just no way Valerie stayed with my birth dad. I mean, who has a baby together while in college, gives the baby up for adoption, and still stays together?'
We had also cross referenced what little information we already had to Facebook and found who we believed was my Valerie. Oh, my word, the similarities were incredible! I was doing my best to keep my emotions at bay, but it was so hard. Especially since my husband kept telling me over and over, 'this is her. I don't care what you say, this is your mom!' He kept pushing me to contact her. So, I did.
I remember doing an internet search for, 'What to say to your birth mom.' I always get laughs at this and I agree it's funny, but I was so lonely in this search. I had no one to talk to that had been through this. I had no idea where to begin. This wasn't something I wanted to mess up and, in my mind, I couldn't be over-prepared.
I called, left a very generic voicemail saying that I was looking for a Valerie Lopez and to give me a call back when she had a chance. I also sent an email, which read:
"Hello-
 My name is Samantha Thomas. I was born on January 5, 1990 at Saint Francis Hospital in Tulsa, Oklahoma, and I believe you may be my mother who placed me for adoption. I learned your name by going in front of a judge and asking for an unsealed birth certificate. I began searching for you almost a month ago when I learned about a picture, a letter and a blanket you left for me. My adoptive parents forgot about these items and, while I now have the blanket you left me, the photo and letter have since been destroyed with the attorney's records.
 I was adopted by Richard and Cynthia and raised in the Tulsa area and have one little sister. I graduated from Charles Page High School where I was valedictorian, homecoming queen and involved in Spanish club, student council and was an athletic trainer for the football team. My favorite subjects were math and sports medicine.
 After high school, I attended Oklahoma State University and studied athletic training for the first year but ended up switching majors and graduated with a degree in Public Relations. I was nowhere near as involved with clubs in college, as high school was enough of that for me
 I now live in Owasso, Oklahoma. I'm married and have two children, a girl, 2, and a boy, 4 months. We love being home together and I love to go to community events, travel and just being with friends. I am a stay-at-home momma now but used to handle marketing for a local restaurant group.
 If you are my birth mother, I would like very much to be in touch and meet you whenever you are ready. I won't contact you unless you're agreeable but knowing you would mean so much to me.
 Your daughter—
 Samantha"
The following four days are a blur. I don't think I have ever experienced so much non-stop anxiety. I was religiously checking my phone by day and tossing and turning in bed by night. Up until sending that email I was safe. But afterward I was vulnerable. I took a risk: I put myself out there knowing the results would be a gamble. I could be accepted…. or rejected. My husband says I was like a zombie, constantly in a daze and only moved quickly whenever my phone would ring. On Friday my phone pinged again, just as it had every day before. But this one was different. I had a new email, and this is what it said:
"Hi Samantha,
 Thank you for reaching out to me. I am your birth mother. As I read through your e-mail it brought me to happy tears, sad tears and tears of amazement all at the same time. You did very well for yourself and it's great to hear! When I first received your voice message earlier this week I must admit I was scared.
 Please know the decision I made at 19 years old on January 5th, 1990, was the biggest mistake of my life. I am full of regret and that will never change. It would be an honor for me to hear more about you and I want to share with you anything you need as well.
 Can we schedule a date and time to talk?
 Text anytime
xoxo,
Mom
Valerie"
I wept until I had no tears left. I mean, ugly cried. I was sitting in the front seat of my car with no tissues. I was shaking and overwhelmed with relief, joy, and fear. I pulled myself together and sent her a text message. Here is what it read: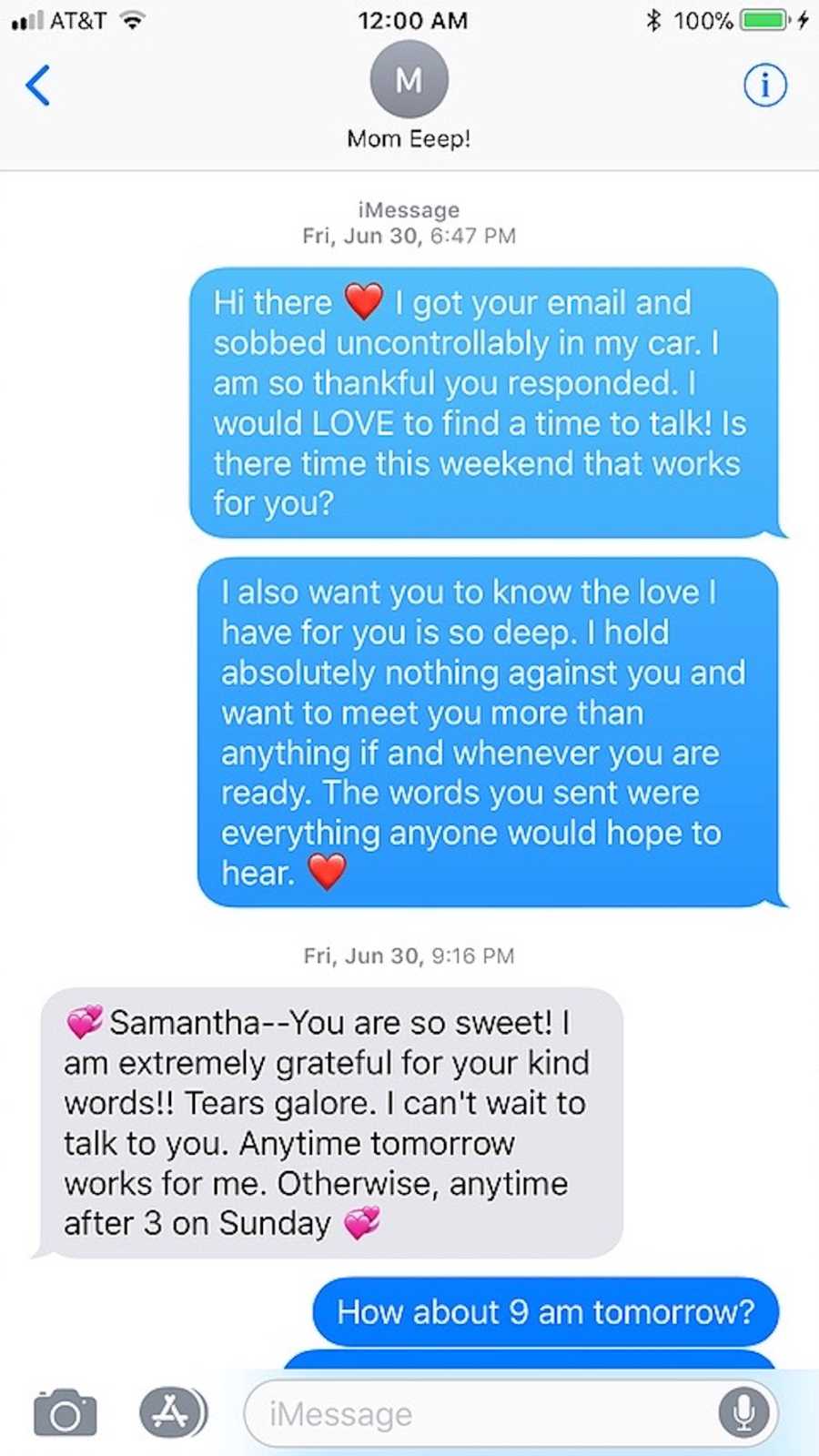 When I called her the next morning, she answered quickly. 'Hi Samantha,' she said. Her voice was so warm. It was soft, kind and vulnerable. 'Hi,' I replied, trying my best to restrain my excitement. There was a bit of silence that was broken when Valerie came back with, 'I'm not sure where to start.' I remember asking her a question and she stopped me and asked, 'Actually, can we start here: have you always known you were adopted?' I told her I had; I gave her some of that backstory; and I asked if she would share my story with me.
I learned that she did indeed marry my birth dad 4 years after they had me and that they had been married for 23 years before just recently divorcing. They went on to have two more boys and a girl. Wait, what? I have three FULL siblings? I remember hysterically crying at this news and all I could get out was 'my heart is so full.' With tears streaming on the other end, I remember her replying 'how can you say that?'
This woman expected me to be mad, resentful and deeply hurt by her giving me up for adoption. Instead, I was full of love and gratitude. For one month we spoke every day for an hour or more before we shared with anyone else. We asked each other questions like, 'what is your favorite food? What kind of music do you like?' It almost felt like the first few weeks of dating. I was giddy when I saw a text from her and got antsy to hear her voice again. I have always called this our 'honeymoon period.' I knew it had to end at some point, and I found myself both excited and afraid once again.
Valerie first told my dad on an outdoor patio near their homes. Valerie and Eddy had never told anyone about me. They were in college in Tulsa, Oklahoma, when they met, and I was conceived. Both of their families were in Chicago and they kept me a secret their entire lives. Me coming back into their lives meant they had to tell their parents, siblings and children about me even existing.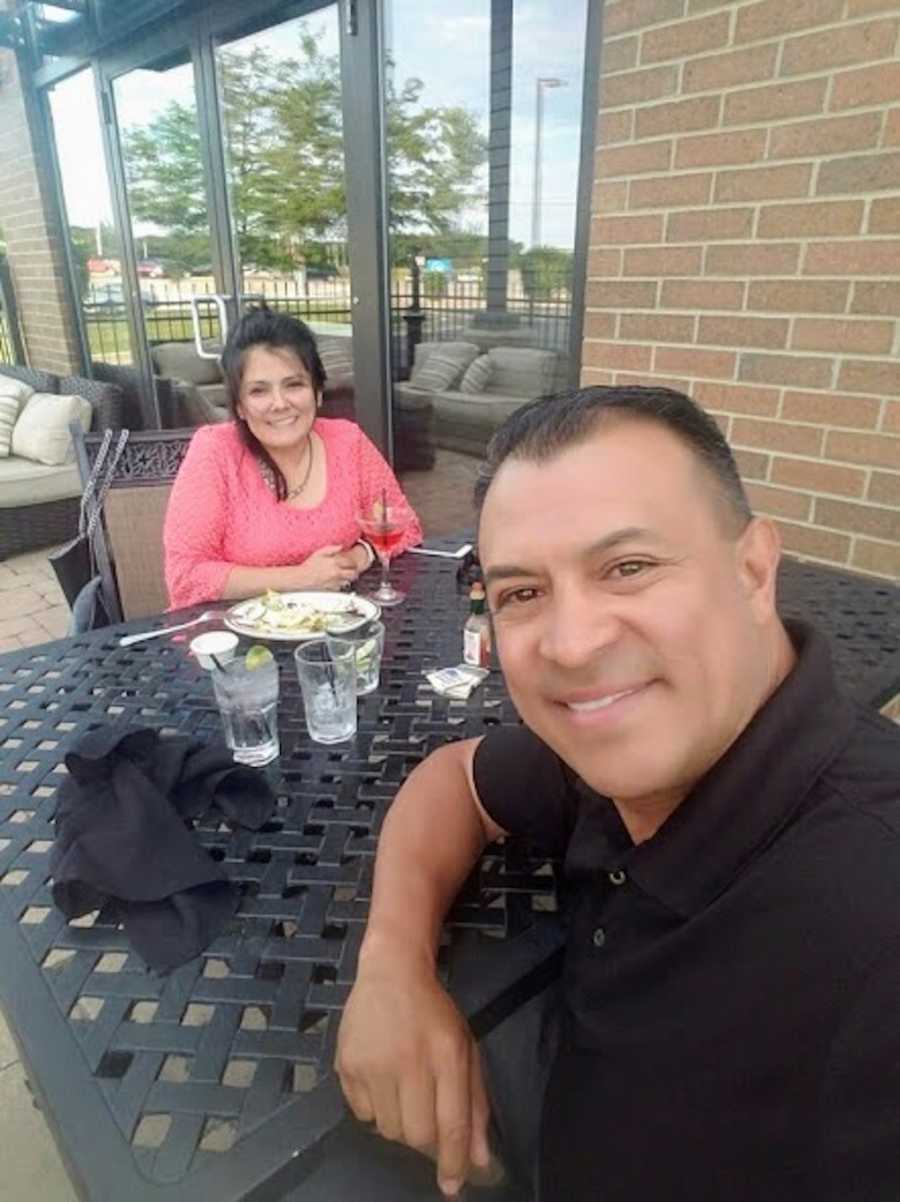 My dad was over the moon ecstatic. After my 25th birthday, Eddy had lost hope that I would ever find him. So, he had actually began searching for me a few months prior to all of this with no success. The relief he felt when he heard I found them was great. He cried buckets of tears and mom joined. They were tears of joy and tears of sadness all in one. I received my first text from him the very next morning. He shared his side of the story (of my story) and he shared pictures of my grandparents, aunts, uncles, cousins. I shared pictures of my wedding, my kids and of me as a little girl. We decided on a time to talk later that evening and I waited impatiently to hear his voice.
I called him, and he answered but I didn't even get a sentence out before he broke down. A grown man weeping at hearing his daughter's voice. I felt horrible because I literally just didn't have it in me to cry. I wanted to cry. I had all the emotion there to cry, but I think my tear ducts were just flat out of tears. It's also hard to console a person you don't know. A grown man, at that. At least with Valerie, we were both messes, so we hardly had time to worry about the other one. I just felt guilt this time. He collected himself and throughout our conversation he broke down multiple times. I remember him going crazy about my voice sounding like Valerie's in that our voices cracked the same when we spoke.
Through all of our conversation, tears eventually came for me and I was relieved. I felt human. I knew I had them in me, but I think I was so emotionally drained at this point that it just took me a little while to outwardly show it.
We talked for over an hour on many of the same things Valerie and I had already shared with each other. He texted me constantly. Like, walk away from my phone and come back to four texts just telling me how much he's missed me, loves me and wants to hold me. It was what I wanted but so much of what he said made me feel smothered. I began to not respond out of just feeling bombarded and not sure what to say back. He would say things like 'I want to know every scrape you ever had, every fall you've ever taken.' He'd say, 'I can't wait to kiss you and hold you,' and 'I have cried so much for you and thought of you every single day of my life.'
Guys, these were all the things I wanted to hear. They were heartfelt and raw and real. I began to feel guilty by being overwhelmed by his love and kindness and didn't know what to do but push away a little. Trent (my husband) and I would talk about this over and over and I just couldn't explain it to him why I was so hung up. Trent was Eddy's biggest cheerleader. He found everything Eddy did to be as charming as can be and couldn't understand why I wasn't relishing in Eddy's love and jumping at every text or call from him. Trent explained to me that becoming a dad has only helped him relate to Eddy more. He loves Lyla and Luke more than words can express, and when Trent put himself in Eddy's position, he shared he'd do the same thing. Trent would tell me that when your baby is born you didn't know what she likes, what she doesn't like, what her favorite toys are, hobbies, future career goals, etc. Instead, all you do is LOVE on those babies. You lather them with kisses, you tell them over and over how much you love them. Eddy now had the chance to speak with a daughter he gave up 27 years ago and is loving on me exactly where he left off: the day I was born. Trent's reasonings helped a lot, but I still felt like I was barely keeping my head above water with my emotions.
I knew I had to say something but, luckily, Eddy did first. He asked if I was ok and told me he didn't want to scare me away but thanked me for reaching out and told me he was so full of questions. Valerie must have picked up on it and said something to him because he mentioned that she was on his tail telling him to calm down. He told me, 'It's been 27 years since I held you and I am full of all kind of feelings. I love you so much!'
My response:
'Hi there! I am a little overwhelmed. I don't want you to not be you. I want you to feel free to be you and just know it's me that's going to take some getting used to all of this. My adopted dad, Richard, loves me very very much. His eyes get soft when he looks at me…he's patient with me, and we joke a lot. He just shows his love in much different ways. Neither way is wrong or right. Again, it's just a matter of me getting used to the way you show your love. When I contacted mom, it was very emotional, but we started the relationship off slow. We texted for a few days and then began talking on the phone every day. Our conversations were about our day and simple things like what are your hobbies? What kind of music to you listen to? Etc. With you it has been 100 mph from the beginning and it's been so fun, just a lot!
I've loved messaging Betsy (his sister) and you both. I can't wait to meet and hug you all. I really don't want this to hurt your feelings…that's my biggest fear in sending this. Please don't step back, just slow down a bit. I'm realizing I'm processing this a lot like my mom <3 I love you.'
Eddy took it AMAZINGLY. He apologized, said he'd tap the brakes some and reassured that he loved me. I responded that I'd much rather him have to hit the brakes a little from being so excited than for me to feel like he didn't care enough. He joked he may love me a little toooo much and I simply told him there was no such thing. You would never know we went through this now, because we are so stinkin' close.
I continued to talk to Valerie every day at 1:30 pm and Eddy and I spoke in the evenings when he was available and through texts. The next week was challenging for Valerie as she tried to align the schedules of three teenagers in order to set them down to tell them they had another sister. We had two or three occasions where it was scheduled but then something came up and it was cancelled last minute. Things like cheer practice, soccer games, job schedules all kept popping up and the meeting kept getting bumped back. The stress from that week probably cost me five years of my life.
Finally, Tuesday, August 1st was chosen, and a family meeting was scheduled. My siblings knew both parents would be there, and they knew something was up. They hadn't had a family meeting like this since they were told about the divorce. Eddy came to pick them up for dinner before the news was told and I scheduled my night to be at home and waited for an update.
Valerie was nervous. She was so fearful that this would cause them to lose respect for her. She had prepared for every question possible, every reaction possible. Would someone storm out? Would tears fall? Would yelling ensue? She just didn't know.
I knew my brothers and sister were being told about me at that moment. Val had created a slideshow to tell them. She asked me to write a letter for her to read so that I could express how I felt, and it wouldn't all be her words. It read:
Alex, Bri and Neeko-
Hi there. I'm sure by now your mom has told you about me. My name is Samantha Thomas and I am your older sister. I live in Oklahoma with my husband, Trent, and my daughter, Lyla and son, Luke. I know this is a lot to take in, but I want you to know that we can get through this.
I tried searching for your mom ten years ago when I was 18 years old but had little luck. This time around, I began my search on May 31 and heard back from her on June 30. It has been an incredibly emotional journey and continues to be as we catch up on the 27 years we've missed.
I have tried to put myself in your shoes a thousand times since I learned about you. I have no idea how I would react to the news you've heard, but I want you to know that when I learned about the three of you, I sobbed. I cried because my heart instantly became full. I was overwhelmed with joy and immediately my mind flooded with what adding three siblings to my life could look like. I imagine graduations, birthdays, vacations, weddings, baby showers, and just the ability to do everyday life with three more souls that I can call "brothers" and "sister" for the rest of my life.
I can imagine it would be hard to know how to feel towards your parents right now. I hope and pray that you feel nothing but respect and adoration towards them. They chose the most brave and selfless decision they could in the situation they found themselves. Instead of choosing to end my life, they chose to give me a chance. They chose to put their desires aside and sacrifice so much in order to let me live a good life. Being a momma myself, I cannot even begin to imagine the pain they endured to give me up. I sure hope you can see it through that lens.
Since your mom and I first spoke the morning of July 1st, she has been kind enough to answer my unending list of questions. Many of my questions have been about you three.
Alex, I have always always always wanted a brother, and am still in disbelief I have one. Your mom told me you love soccer. I literally only know that there is a goalie and a sweeper in soccer because I had two friends growing up who played these positions. I hope you can teach me more about the sport. I also found out you are in college locally. I think it says a lot about the love you have for your family that you are staying local and getting a couple more years in with them. I missed being able to grow up with you, but count myself lucky because, since I grew the most as a person during my 4 years of college, I hope to be able to watch you make your way through these next few years.
Bri, your mom tells me that you are driven and that you're going into your senior year. That is so exciting! Everything from prom, figuring out college, all the "lasts" of high school, it's such a crazy, chaotic, emotional time. This is such a fun chapter in your life coming up, and I'm so thankful I'm able to watch and (fingers crossed) be a part of it, too. And a cheerleader?! Whoa. I tried out for cheer in the 8th grade and didn't make it. I never had the guts to try out again. Your mom sent me a clip of you at Worlds and my jaw dropped. Such talent. I can't wait to see it in person.
Neeko, I first have to tell you how much I LOVE your name.  I always wanted a brother but never dreamt I'd have TWO! Pinch me! Your mom tells me that there is something about you that is effortlessly funny… that you can walk into a room and say one sentence and make everyone laugh. I can't wait to get to know you and your fun personality. I also hear you are a homebody. I can relate. I am very social but there is nothing like being home. Just a little fun fact…I am and have always been obsessed with the number 23. I couldn't tell you why, but if anyone ever asked me what my favorite number was, 23 was, and still is, my answer. When your mom told me your number in baseball was 23, I grinned ear-to-ear.
I want you to know my intentions are pure. They are to only expand my family and to love you all unconditionally. Please let me know if there is anything at all I can do or any questions I can answer to help make this easier.
I look forward to meeting you soon.
With all the love I have to give—
Sam
Trent was about to hop in the shower and I had taken all my makeup off, jumped in my jammies, turned the light off and was crawling into bed when my phone rang. It wasn't just a call, though…it was a FaceTime call! Omigosh. WHY DID I JUST GET READY FOR BED!?
Oh, phew! It was just Val. I could tell by her puffy eyes she had been crying. She told me everything went beautifully and that they loved me already. Then she said, 'They're right here. Do you want to talk to them?'
Oh my gosh. Yes! Yes, of course I did. Few times in my life have I wanted anything so badly. Trying to calm my voice and the obvious nervousness it held, I replied 'Of course.' She turned the phone around and three puffy-eyed beautiful souls stared back at me. Immediately, tears began to flow from all of our eyes. We just stared at each other and cried and laughed.
Val started the conversation and asked each of them to share what they thought of the news. Neeko said that he already had two siblings he looked up to, and that he was excited to have another. He was shocked, in disbelief, but happy.
Alex went next and told me he was so surprised to learn he wasn't the oldest but shared with me that I was now one of them. From here on out, if I ever needed a thing, he, and my other siblings, had my back. He said that I was family, that I was loved deeply and that he could not wait to meet me.
Bri just stared at me and we talked about how it seemed like we were looking at ourselves in a mirror. She started crying again and said, 'I'm just so excited to have a sister!' She seemed to be the one with the most shock and the least amount of words, but she still expressed her happiness.
When Trent heard me frantically running around and screaming like a banshee, he decided to nottake a shower and instead join me. Of course, that's where he wanted to be. Once I spoke to each of my siblings, I introduced Trent and we all spoke of how excited we were to meet in just 32 days. Eddy was so excited that it was out in the open now and that we all knew. Now began the longest 4 1/2 weeks of my life.
The morning of September 2, 2017 came early. I texted Val as soon as my alarm went off. 'I get to hug you today,' I said. She replied, 'Come home.'
When we pulled into the driveway, I felt like all eyes were on me. Who knows if they were, but I just sat there for a second in the front seat breathing heavily. Trent was getting Lyla out of her car seat when I finally grabbed the handle to the car door and opened it. Trent had come around to get Luke and I brushed my fingers through my hair, tried to calm my heart rate and slowly made the steps towards the front door. We hadn't even made it halfway up the sidewalk when the front door flew open and we finally embraced for the first time.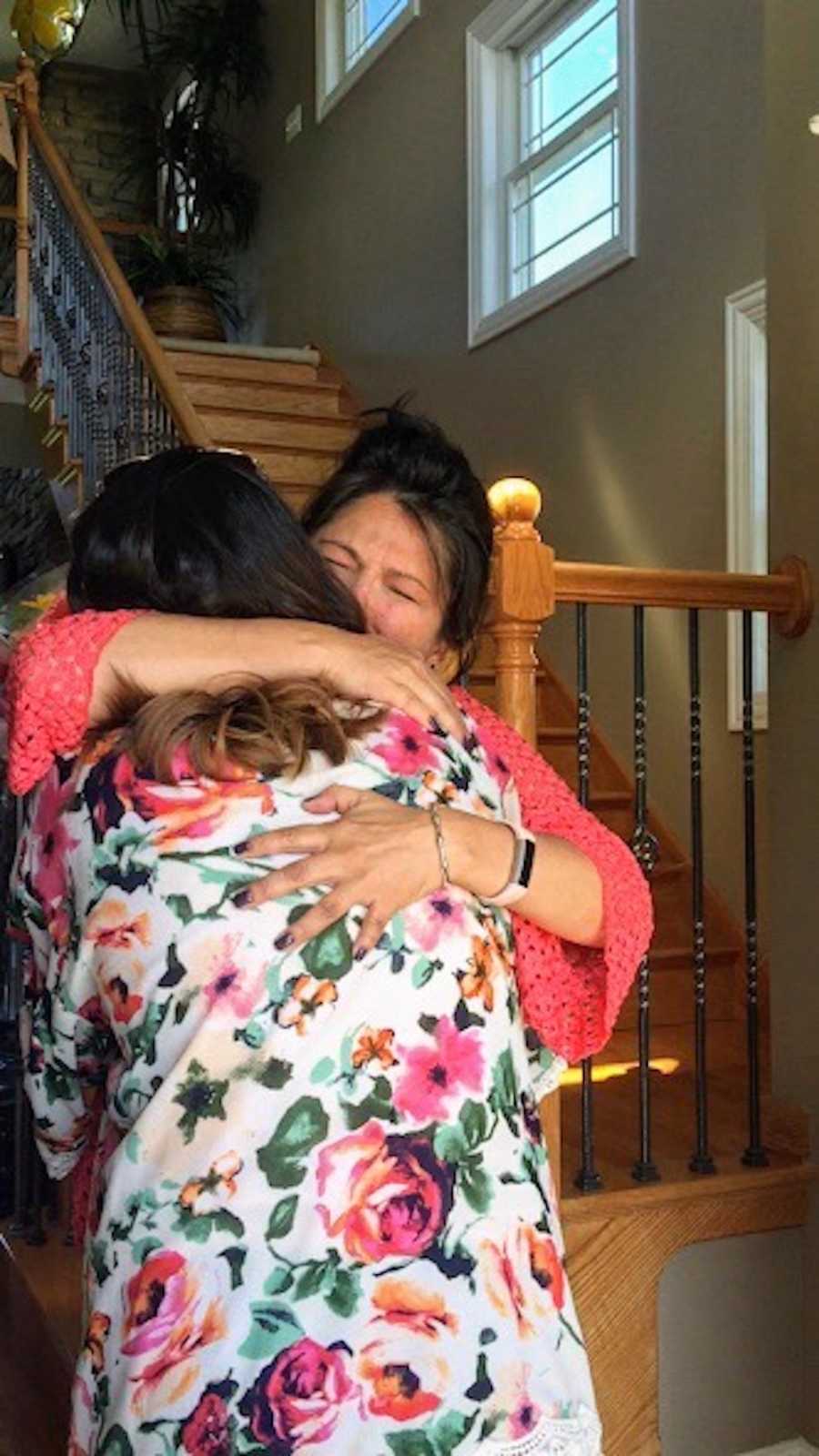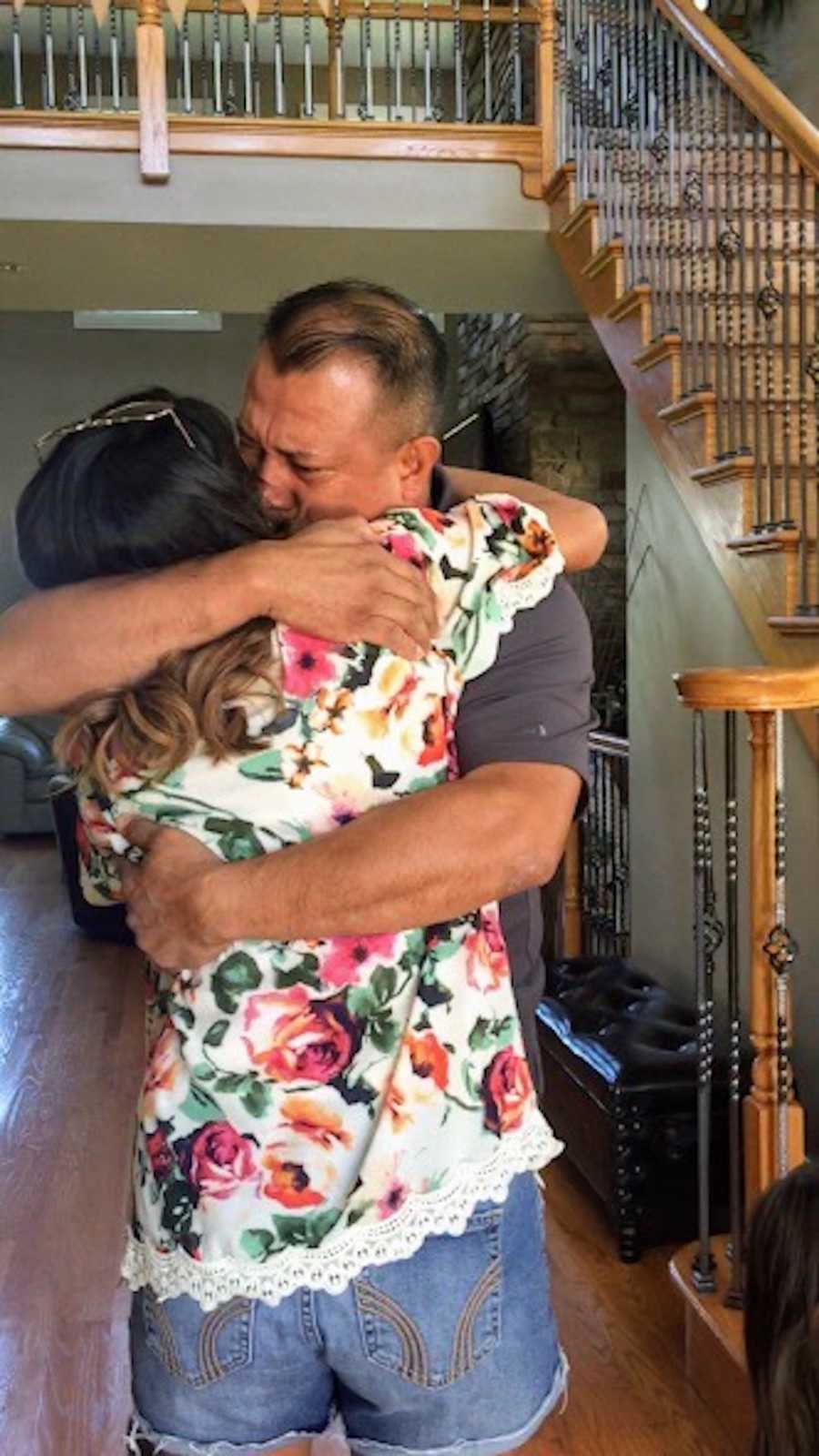 You can see that reunion video here. Warning, tissues are a must. The rest of that weekend, and the trips that followed, is a dream. I have grown especially close with my sister. She keeps me young and is just so contagiously fun to be around. In fact, she is currently on her way to move into Oklahoma State University's dorms. She decided to attend my alma mater after visiting and I am ecstatic to have her so close.
The entire journey was very difficult. I was emotionally drained, the highs were very high, and the lows were very low. Sometimes I wasn't sure what I was supposed to feel, and other times I felt my body breaking down and my mind going numb. I had to rest in them until I was ready to pick up all the emotions again and just feel them. Of course, things have now leveled out a lot, but it is still a real-life fairy tale. I have the most amazing grandparents, aunt and uncle, cousins, you name it. I not only gained a mom, dad and siblings, but I gained an entire family who love and accept me and my family without reservation.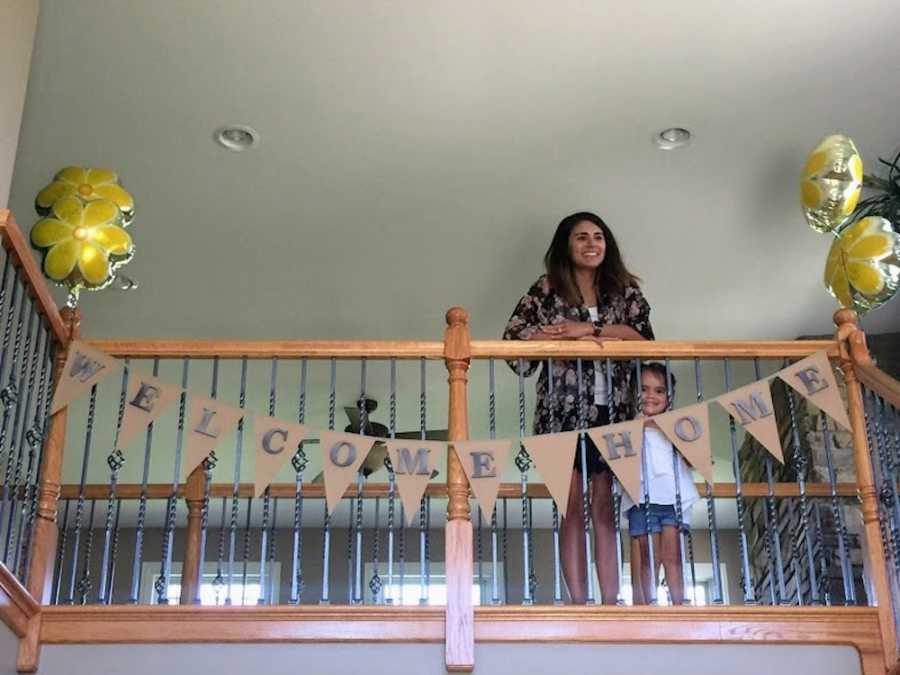 My heart is so full."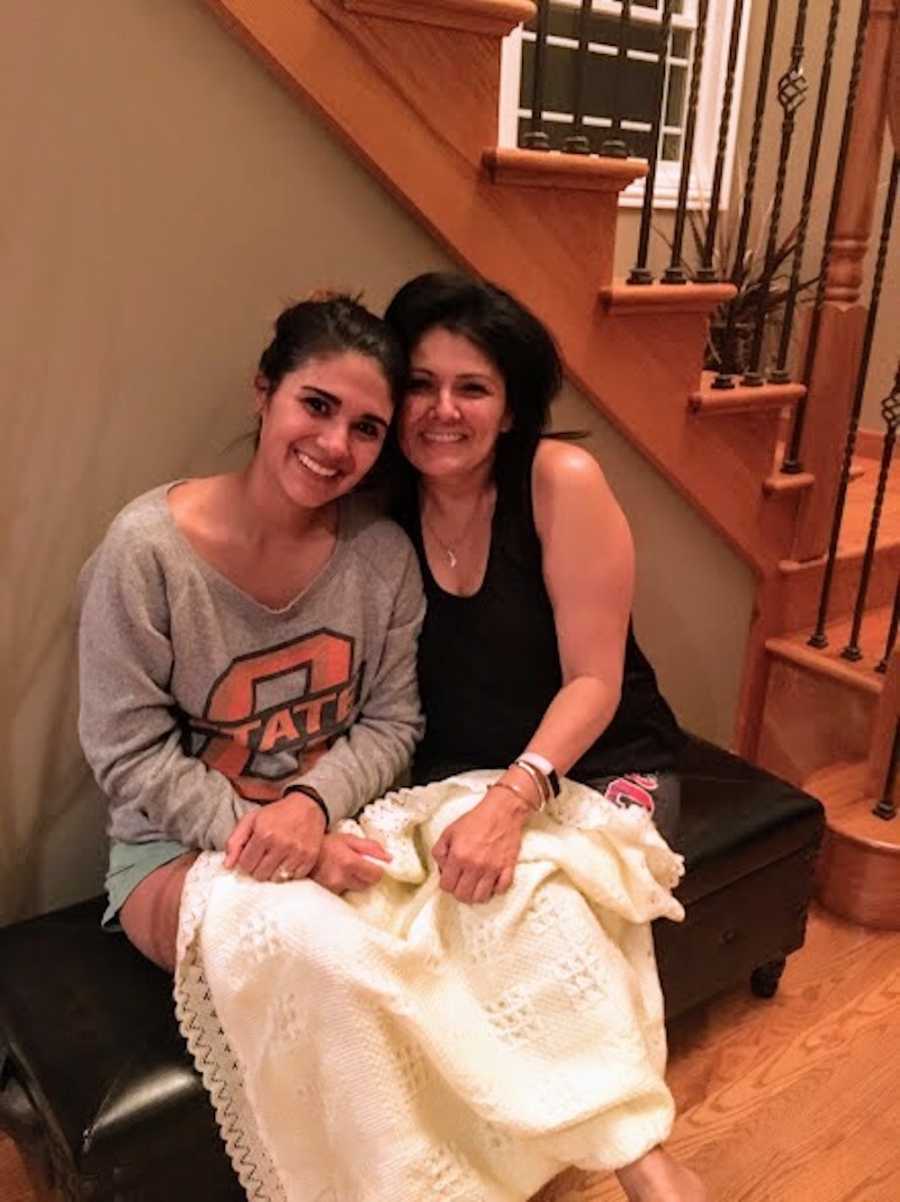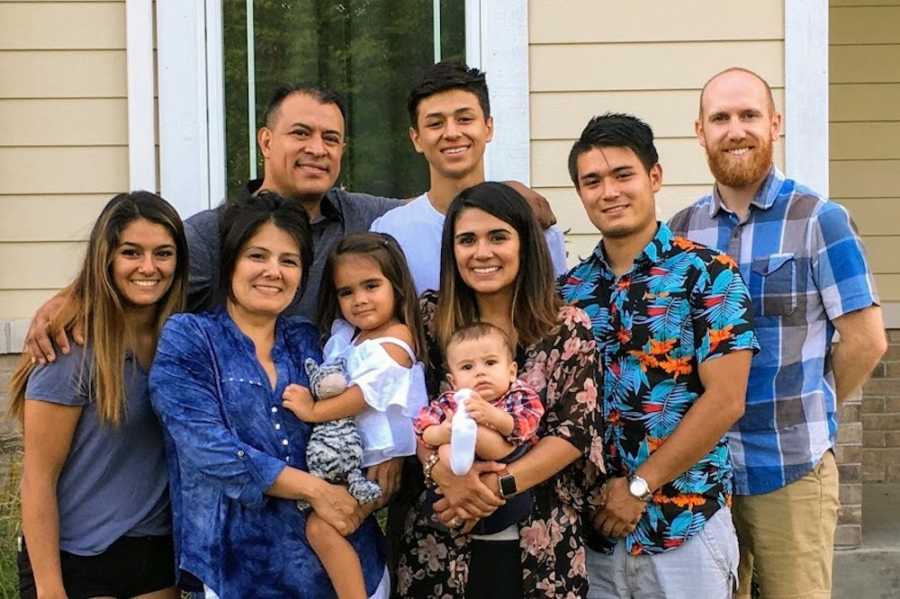 This story was submitted to Love What Matters by Samantha Thomas, 28 of Owasso, Oklahoma. You can visit her website here.  Submit your own story here, and subscribe to our best stories in our free newsletter here.
Read more stories like this: 
'We fell into each other's arms for our first hug ever in 31 years. There are no words. It was perfect.': Woman meets birth parents after finding them on Facebook, finally 'feels whole' again
'I often think about what I would say to my birth mother if we were to ever meet.'
'She made it look like giving birth at 50 was easy. Our son was created, frozen in time, thawed, and then grown in his grandmother's womb.'
Please SHARE this story on Facebook to encourage others to cherish every moment and love what matters most.