"We never set out to live this life. A different life. Unique. Rare. Blessed. What started as a quiet whisper in our hearts became a loud roar we could not ignore. This is our story.
My husband and I set out to accomplish the typical American dream: a good job, a three-bedroom house, two cars, and 2 kids. We managed to see the reality of these dreams over the next few years. A great job was landed, a car was purchased, and we bought our first home. Our first son was born in 1999 and our second in 2001 making our family a cozy four. We entertained the idea of having a third child, but decided we were happy right where we were. All of our baby items were packed up and given away. Eagerly, we looked forward to the next phase of our lives.
Then a whisper of adoption began. That whisper became a loud voice in 2005. A new dream began to form. This dream was of a sweet, petite, brown-eyed little girl from China. Paperwork was completed, a dossier was compiled, and we settled back to wait the estimated 6-8 months for a healthy infant girl.
'Our baby had a head full of hair — WHITE AS SNOW': Mom's shocked reaction to albino newborn
We waited. We waited some more. That 6-8 month timeframe became one year, two years, three years, and seemed to have no end in sight. We watched other families enter the adoption journey for a special needs child and return home while our family continued to wait. It was heartbreaking. No one could even give us a reasonable timeframe. We contemplated switching to the special needs program, but dismissed the idea because we felt we would be switching just to speed along the process.
Then God began to change our heart about adoption. The term 'special needs' began to look less scary. We realized there were many special needs that were not so terrifying for us. We decided to trust God in how this adoption would be completed and filled out the medical checklist for a child with special needs.
Imagine our surprise when five years after our initial paperwork was begun, a file of a sweet little girl showed up in our email inbox. With great excitement, we clicked open the attachment. There before us was our new daughter. She was not at all what we had dreamed of for the last five years. She was a chunky, blue-eyed, platinum-haired little girl. Our little one had a very visible medical condition, albinism, and we fell in love with her that moment.
Our adoption trip was perfect in every way. Our daughter, Lily, took to us right away and our happy little family of four became a joyful family of five. We were smitten. Lily fit our family like a glove on a hand.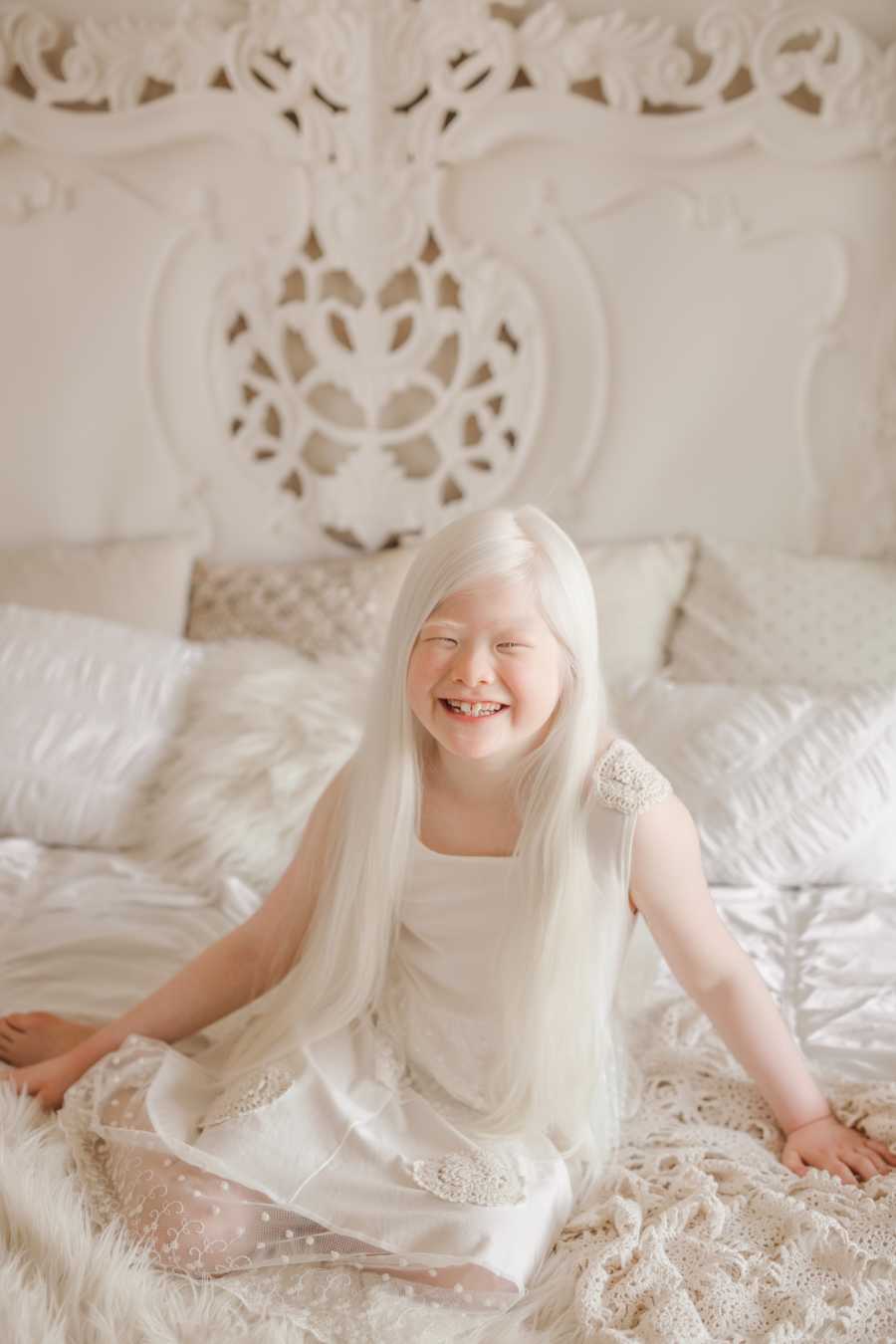 One month after returning home we jumped into the process to adopt another little girl from the special needs program. God had changed our hearts tremendously concerning special needs. We learned to see past the diagnosis and see the heart of the child instead. We dreamed of another blue-eyed, platinum-haired little girl. When the call came that we had a referral we were shocked to discover she was a petite, brown-eyed, brown-haired cutie. Our new daughter, Mae, had brachial plexus nerve damage to her right arm limiting its function. We couldn't wait to go back to China and welcome her into our family.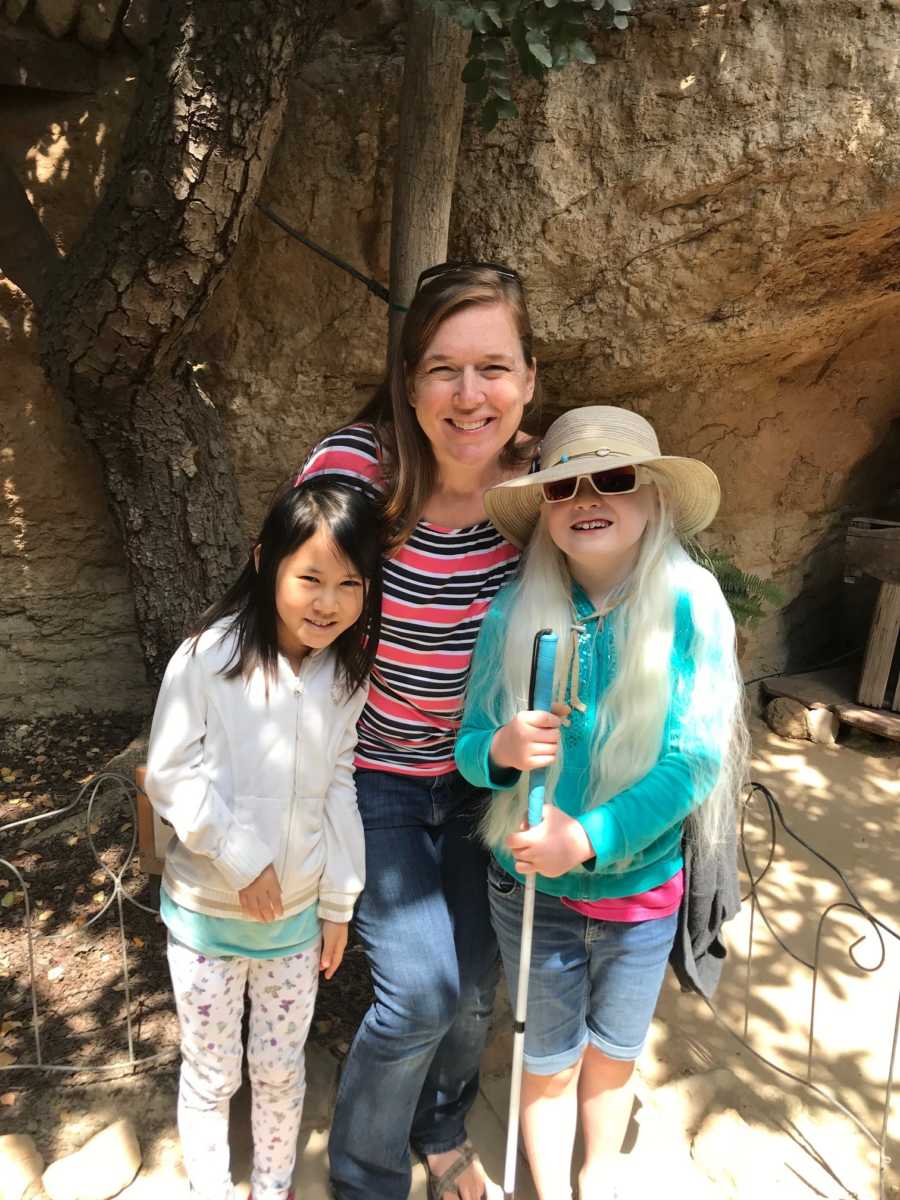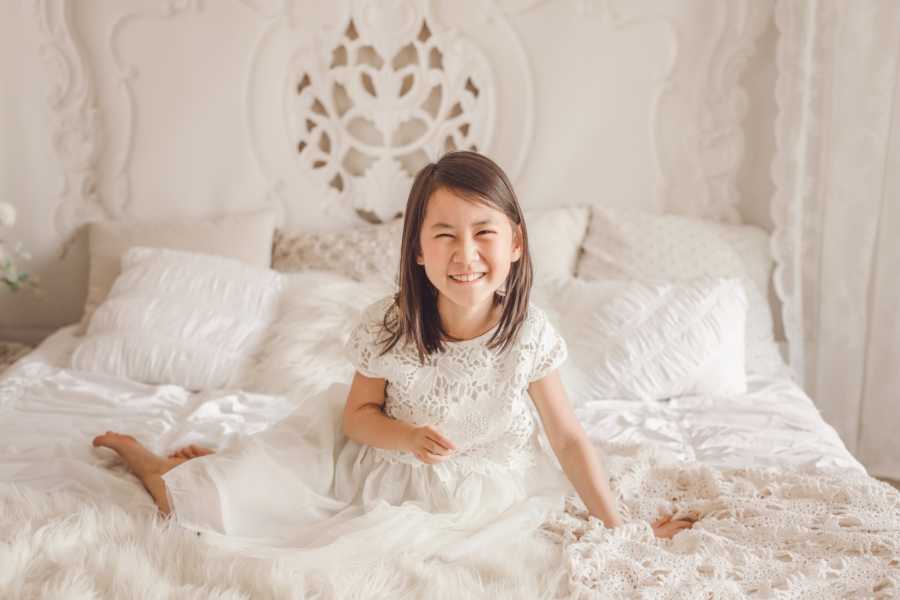 While we waited to bring home Mae, God began to stretch us in ways we could never have anticipated. Pictures of little boys with albinism were constantly appearing before us. We felt that God was asking us to do more, to love more, and be willing to risk more. These little boys with albinism had been waiting for families to find them for years and we could not sit back and not take action. One hour after calling our agency to inquire about adopting two at once, we had a referral for a little boy, three years old with albinism. His name would be Nathaniel, meaning gift of God. A new journey had begun.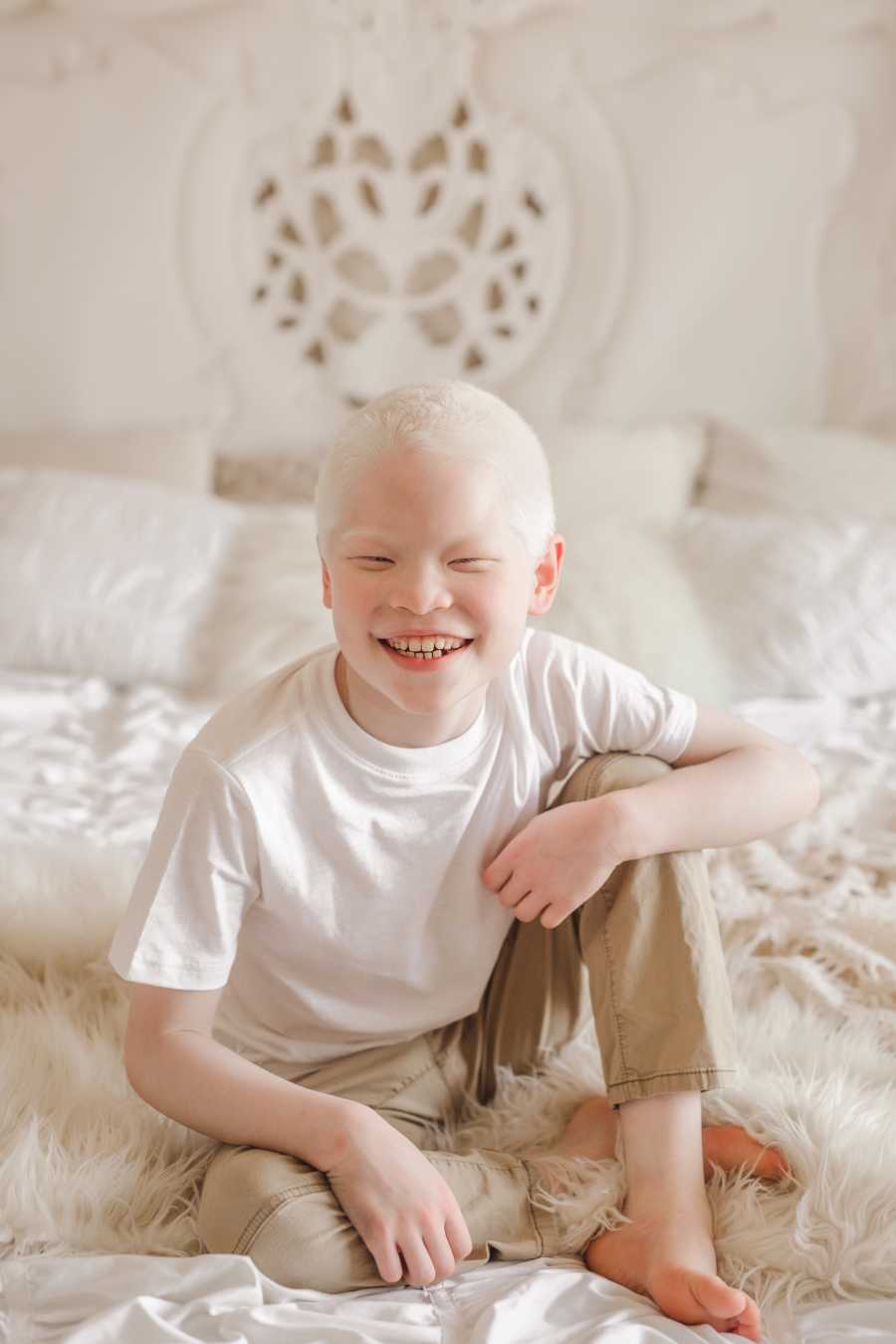 The jump from three kids to five was a bit of a challenge. We adored our children, but the struggle was real. We lived in a fog of exhaustion parenting two 2-year-olds and a 4-year-old who was more like a 2-year-old. Not to mention keeping up with our busy biological boys. We decided our family was complete. Our hearts were full.
Then the fog lifted. We began to see the sun shining and could breathe again. Once again, we felt the nudge to adopt another child. Albinism was a diagnosis we were very comfortable with, so we asked our agency to match us with a little girl between the ages of five and seven with albinism. They told us that the chances of us finding a little girl with albinism that age was pretty slim. Three days later we were matched with a darling 5-year-old with albinism!
This time around, the process was packed with uncertainties. The story of Kaelyn's first four and a half years is not one that brings a smile to your face. It's one of loss, grief, and neglect. Her development was considered poor due to her physical and mental development at the time. The years she spent in the orphanage were ones of what we can only assume as neglect. At the age of 4, she could not chew food, make any sounds, and was not toilet trained. We were told she did not even walk like a typical child.
By the grace of God, Kaelyn was rescued from her situation by an Australian ministry, China Heart, and placed in a group foster home. While there she had many people who loved and cared for her. In that care Kaelyn began to make great strides. She learned to chew food, use the toilet, and even begin to communicate. The nannies and ministry staff there worked with her, showering her with love, and Kaelyn thrived. When we met Kaelyn in China she still had a lot of catching up to do. She did not know how to play and her eyes seemed vacant at times. We were scared, but those from China Heart said Kaelyn would bless us all. Her improvement over the next few years was miraculous! She will never be independent, but she is loved and happy.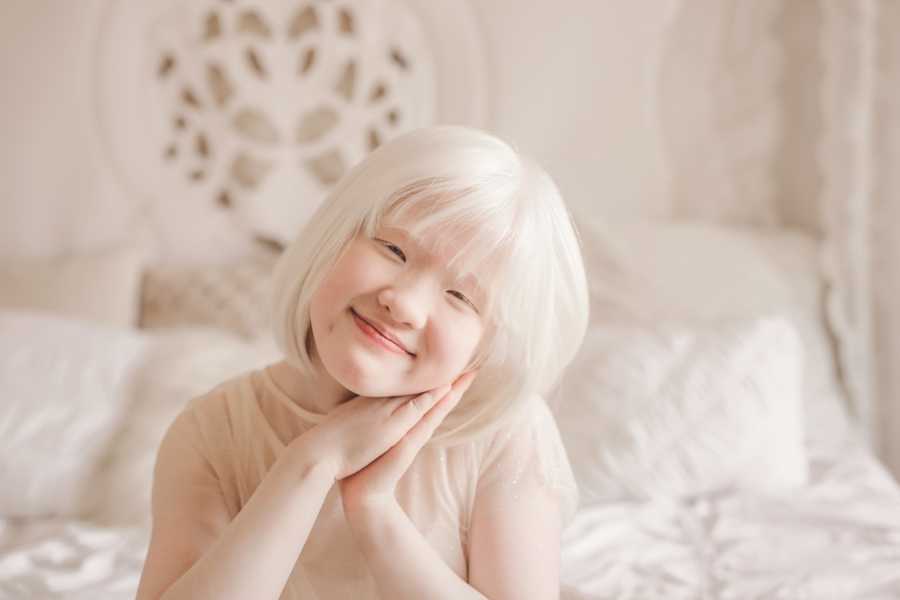 With six kids, three boys and three girls, sharing two bedrooms and a full car, we once again declared our family was complete. Fast forward a few years and we found ourselves back in the process again. Two sets of bunkbeds could easily be squeezed into the girls' room. We could hang up another towel in the bathroom and strap in another car seat.  One year after we applied to adopt again we were matched with another sweet girl with albinism, Emily.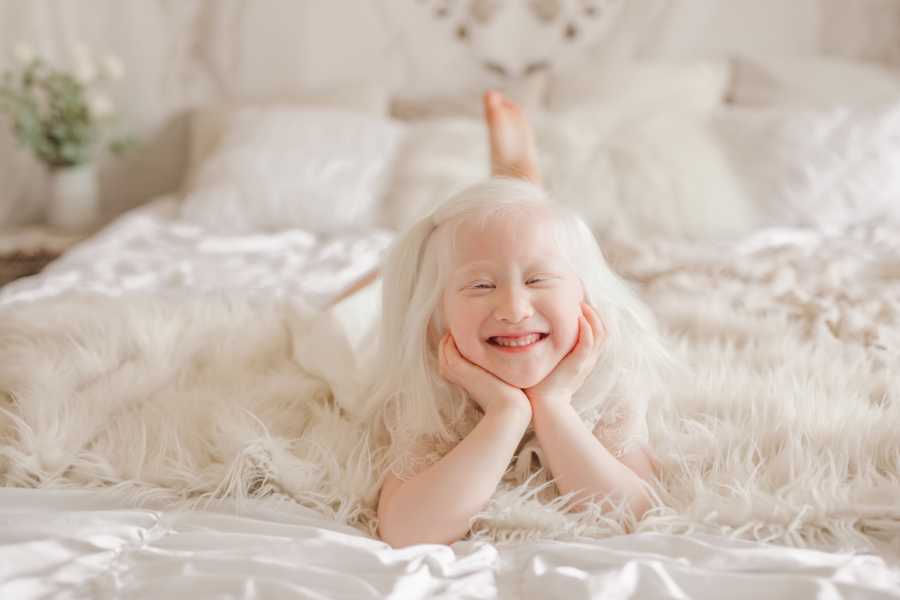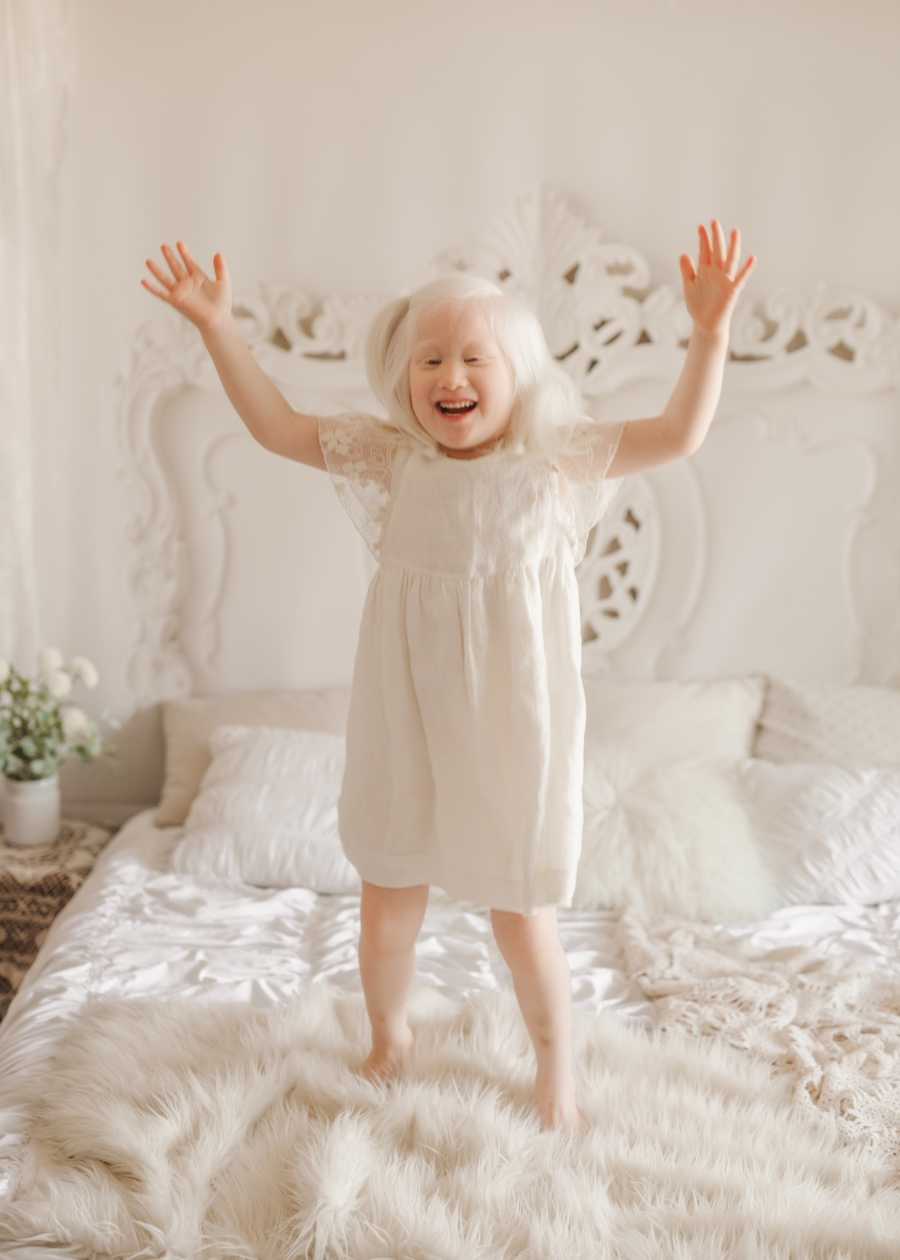 Life with four children with albinism has been quite the adventure. Albinism is a rare genetic condition, 1 in 17,000, that causes a lack of pigment in the hair, skin, and eyes. This is why our beautiful Chinese children are white and blue-eyed. Another challenge for those with albinism is a lack of clear vision. The back of the eye is damaged causing visual impairment in differing degrees. We see this between our four children. Kaelyn has the best vision at 20/70 and Lily is the worst at 20/400+. They use all types of technology to get through their days like any typical sighted child. Magnifiers, iPads, monoculars, and canes help them navigate the world. They play Lego, draw, read, swim, and participate in activities just like any other child.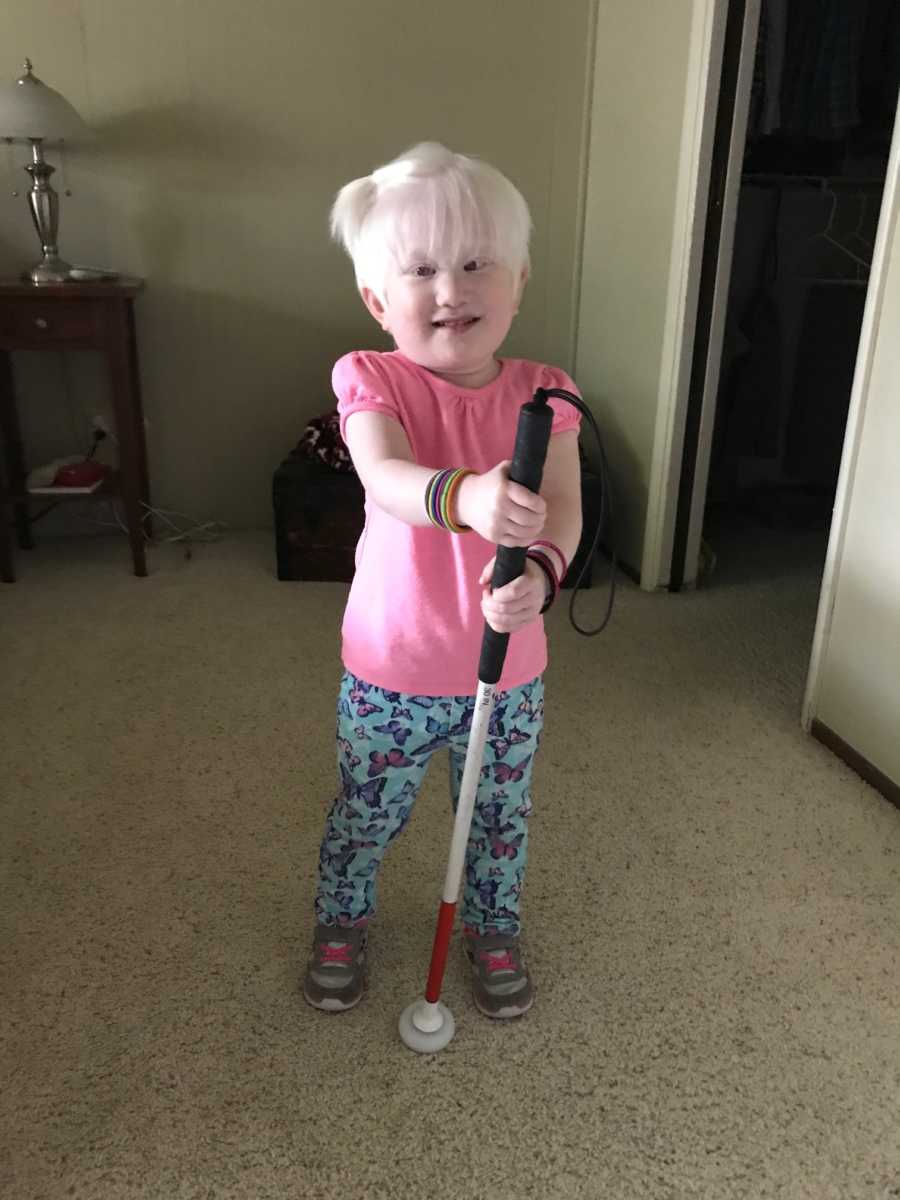 We stick out in a crowd and draw attention almost anywhere we go. Most interactions with people are positive. They seem to be genuine in their interest of our kids and are polite. There are occasions, though, when the pointing, stares, and whispered comments are invasive and annoying. We've had situations where people reach out and touch our children's hair without asking. We have even had to step in and stop strangers from taking selfies with our kids!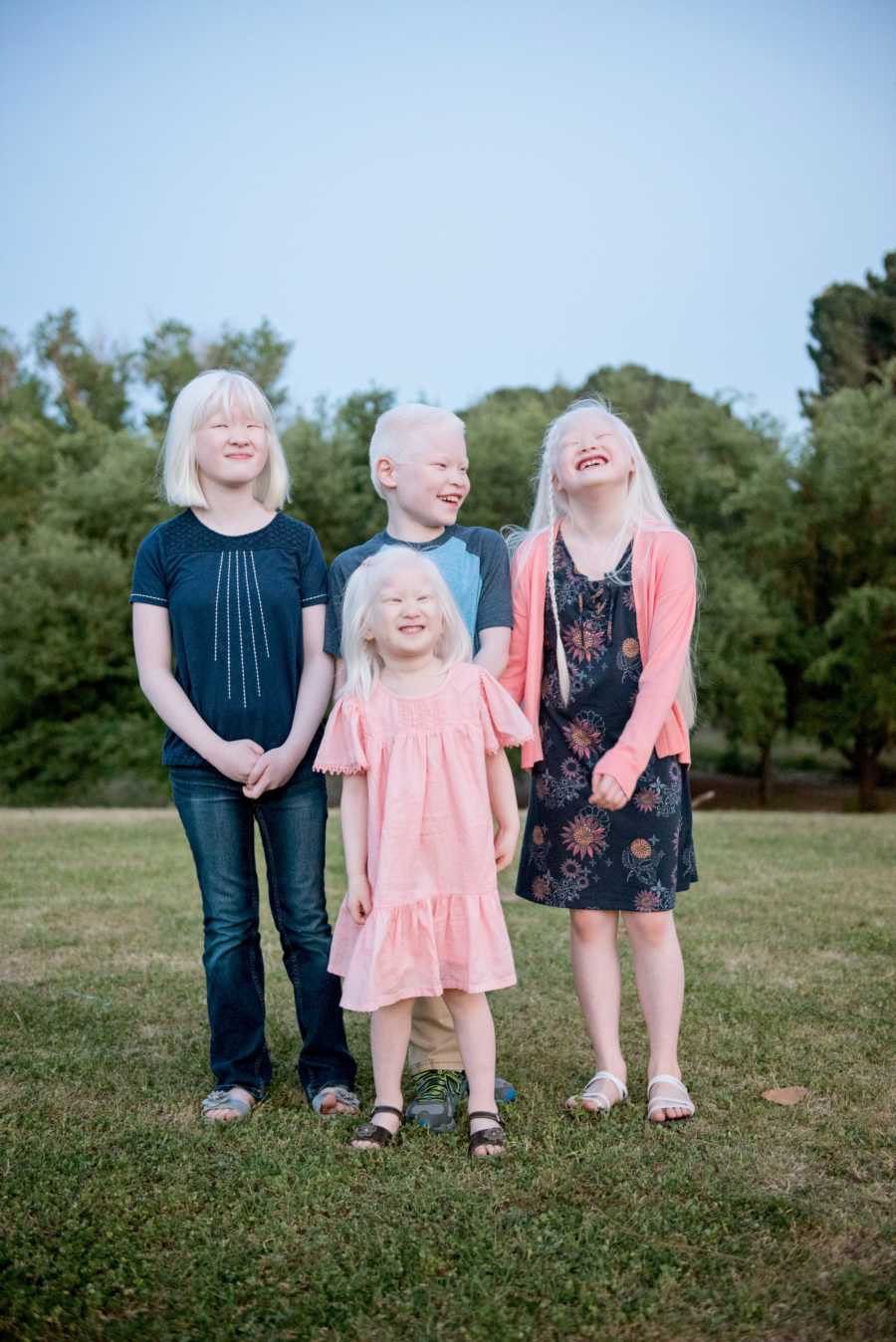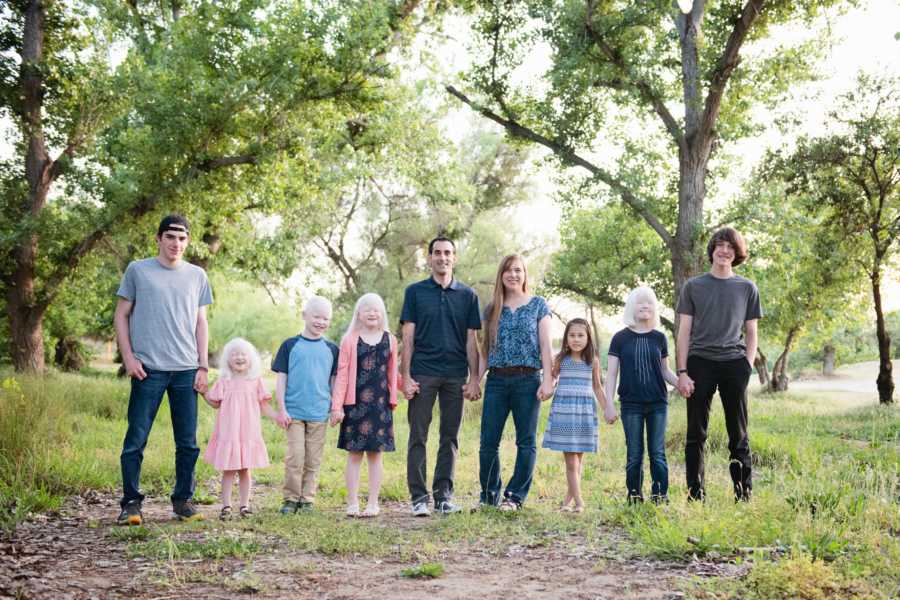 We often get comments about how amazing our family is. Or people tell us we are saints for what we have done. We are far from saints. We struggle every day to be the parents our children need. We fail often. But, by the grace of God, we rise in the morning and have the opportunity to try again; to love the children that have been placed in our lives, to encourage them to be all they can be, and to help them reach their dreams. And because of them, we are blessed!"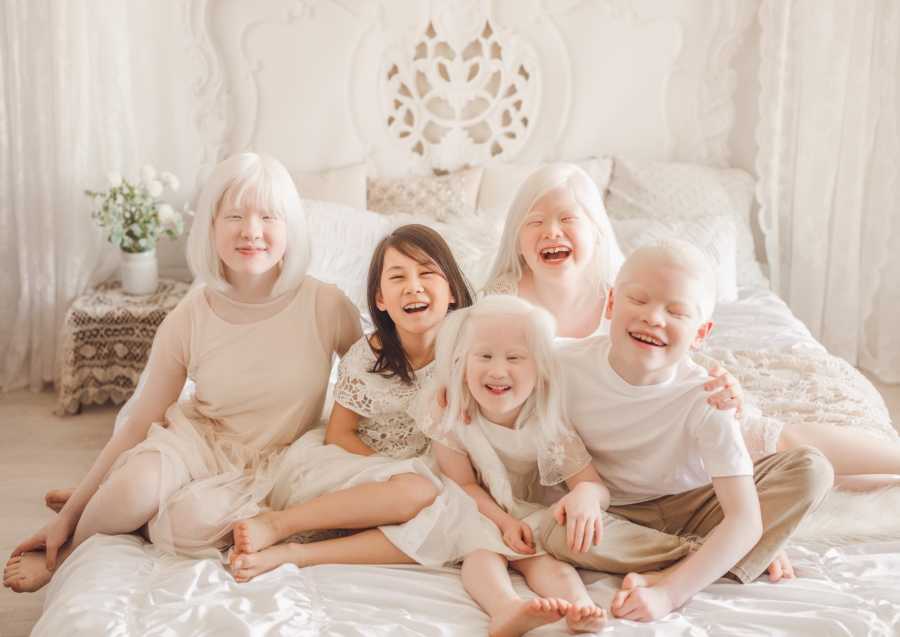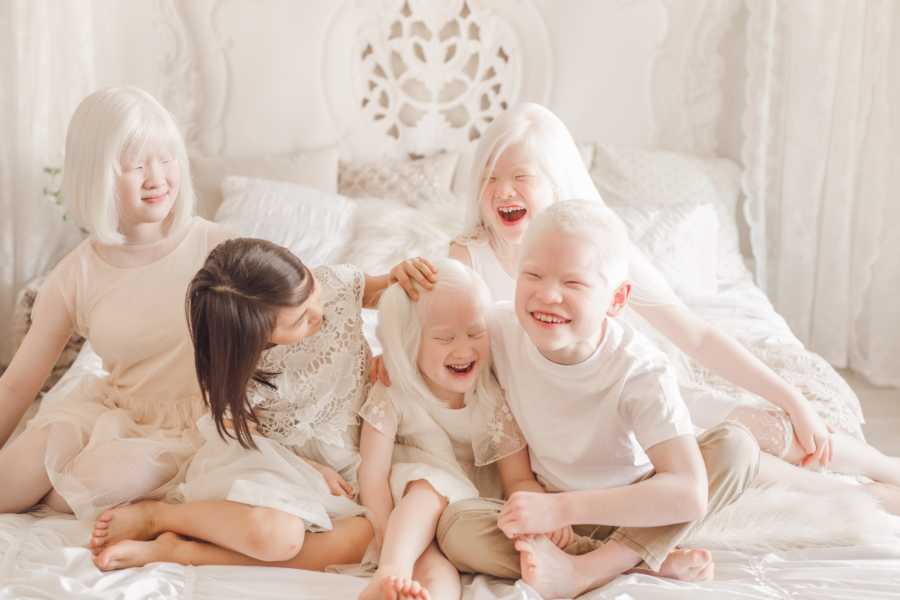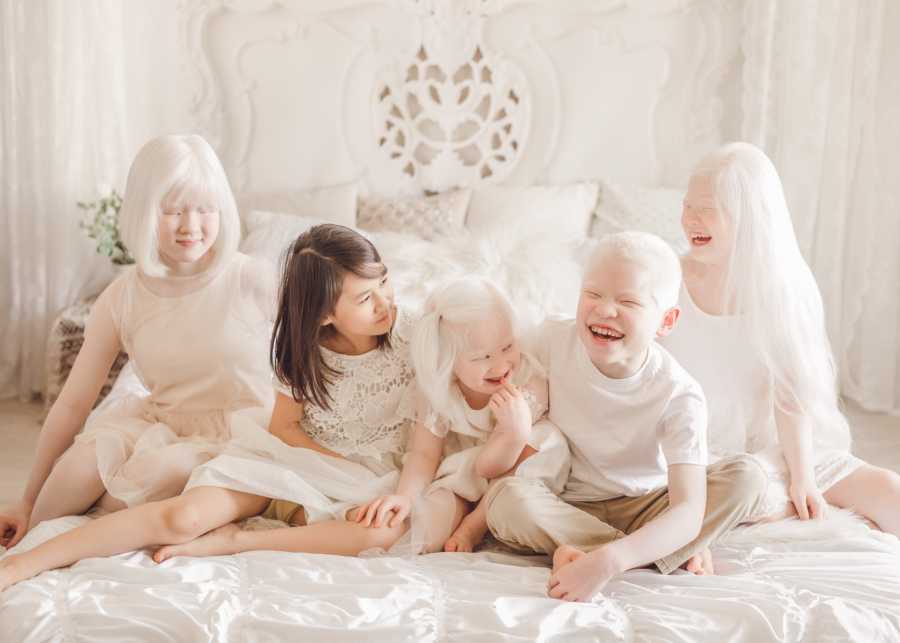 This story was submitted to Love What Matters by Elizabeth Grabowski of California via Sweet Nectar Society. Submit your own story here, and subscribe to our best stories in our free newsletter here.
Read more stories about albinism here:
'Whoa! He has some really blonde hair.' I JUST KNEW. My husband smiled. 'He's an albino.': Mother of 2 sons with albinism says the best thing she can instill in them is 'confidence'
'They held her eyes open with metal prongs. 'Your little girl is blind.' I had to protect her.': Mom gives birth to 2 albino babies, 'They were meant to do this together'
'What's happening? Is anyone seeing this?!' My baby was WHITE. I contemplated whether or not I cheated.': Mom unexpectedly births beautiful 'albino princess'
I was quite surprised by how white she was. 'Perhaps she's just very fair in complexion,' I thought. I envied other black babies and thought, 'Why me? How did I get black and white twins?'
SHARE this story on Facebook to help celebrate unique and beautiful differences!