"What do you see when you look at this photo? A family enjoying their holiday traditions? A mother's joy for her baby's first and toddler's first truly magical Christmas? A happy family?
All of those answers are very true, but I bet what you don't see in this photo is a mom who's quietly dealing with her own inner battle. I bet you can't see how even though she is truly joyful in this moment and beaming on the outside, inside she feels like she can't quite seem to come up for air.
For the past two or so months I have been feeling immensely overwhelmed, but it wasn't until the busy pumpkin season ended that it really began to consume me. It bubbled inside of me silently, and looking back I can recognize it began towards the end of summer. I chalked it up to seasonal depression.
The last few weeks it's only felt deeper and darker. Mom rage boiled over when the tiniest thing would go wrong. I have been so overstimulated by every noise, toy, every cry of 'mom,' every mess… it's all sent me spinning. I knew something wasn't right, but in this climate it's been hard to find a new therapist and I was in between them.
Well I finally found a new therapist, and when I explained how I was feeling, she confirmed my suspicions. This is what postpartum depression looks like.
It felt like a breath of fresh air for someone to say 'Yes, you're not crazy, and it's okay – I'm here to help.'
Instant relief.
I'm sharing because I want you to know even with PPD I am truly joyful in many of life's moments, I'm not crying in a corner all day long, and I'm still doing things I love…but on the inside I'm not getting the level of enjoyment I once did.
I share this so you know you're not alone if you're 8 months postpartum and this hits you out of the blue.
I share this so you know even if your friend looks like she's doing great, make sure to ask her how she's really doing. That question could make all the difference in her day.
Even when someone's smiling, they may be facing a storm inside. Let's be each other's village and check in with one another, and this sounds like you know help is out there, and it is worth it.
We got this, mamas."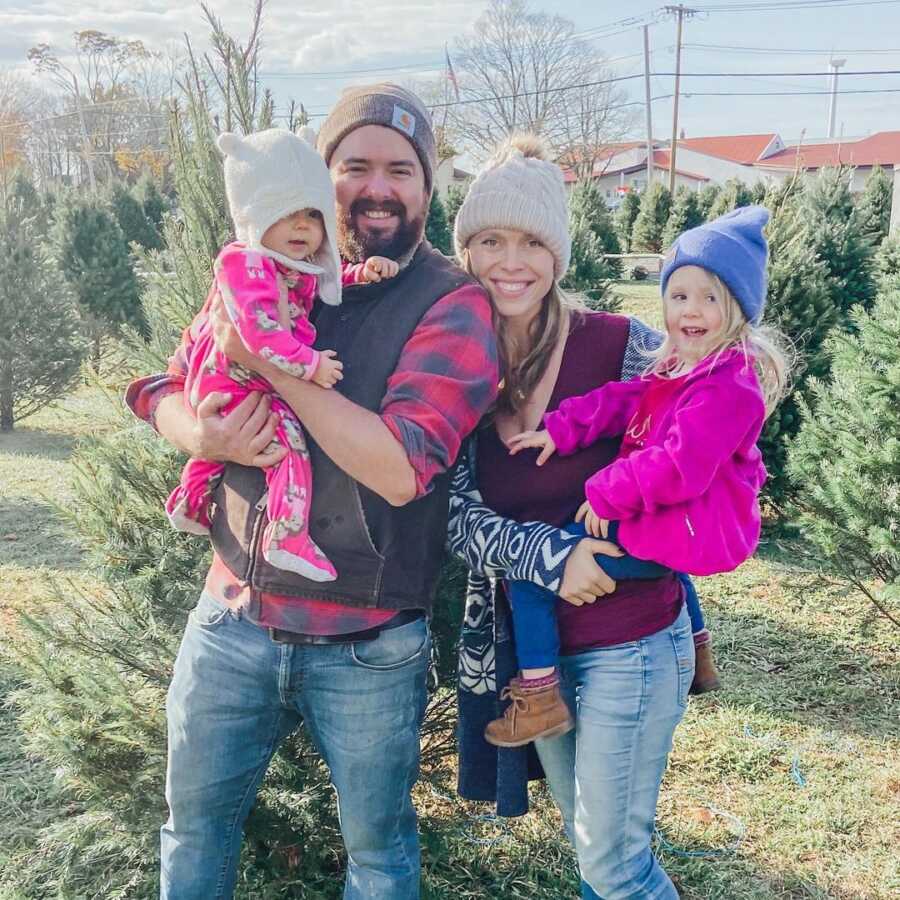 This story was submitted to Love What Matters by Rachael Krupski of Long Island, NY. You can follow her journey on Instagram and her blog. Submit your own story here, and be sure to subscribe to our free email newsletter for our best stories, and YouTube for our best videos.
Read more from Rachael here:
'She's gonna have to get over it!' Then I thought to myself, 'What about when I'm upset?': Mom to daughter with anxiety urges 'stop asking kids to act more maturely than we do'
'My second baby, you get a BETTER mama.': Mom pens sweet ode to second child
Read more stories like this here:
Being A Mother Is Hard, Postpartum Disorders Are Even Harder
'I wondered why on EARTH I thought it was a good idea to have a child.': Woman opens up about postpartum depression, anxiety, 'Mamas, please know you aren't alone'
Provide strength and encouragement for other parents. SHARE this story on Facebook with friends and family.