"My daughter Violet was born in September of 2018. I lost my previous pregnancy at 20 weeks, just a year before her birth. My pregnancy journey was difficult, but the day Violet came into this world was the best day of my life.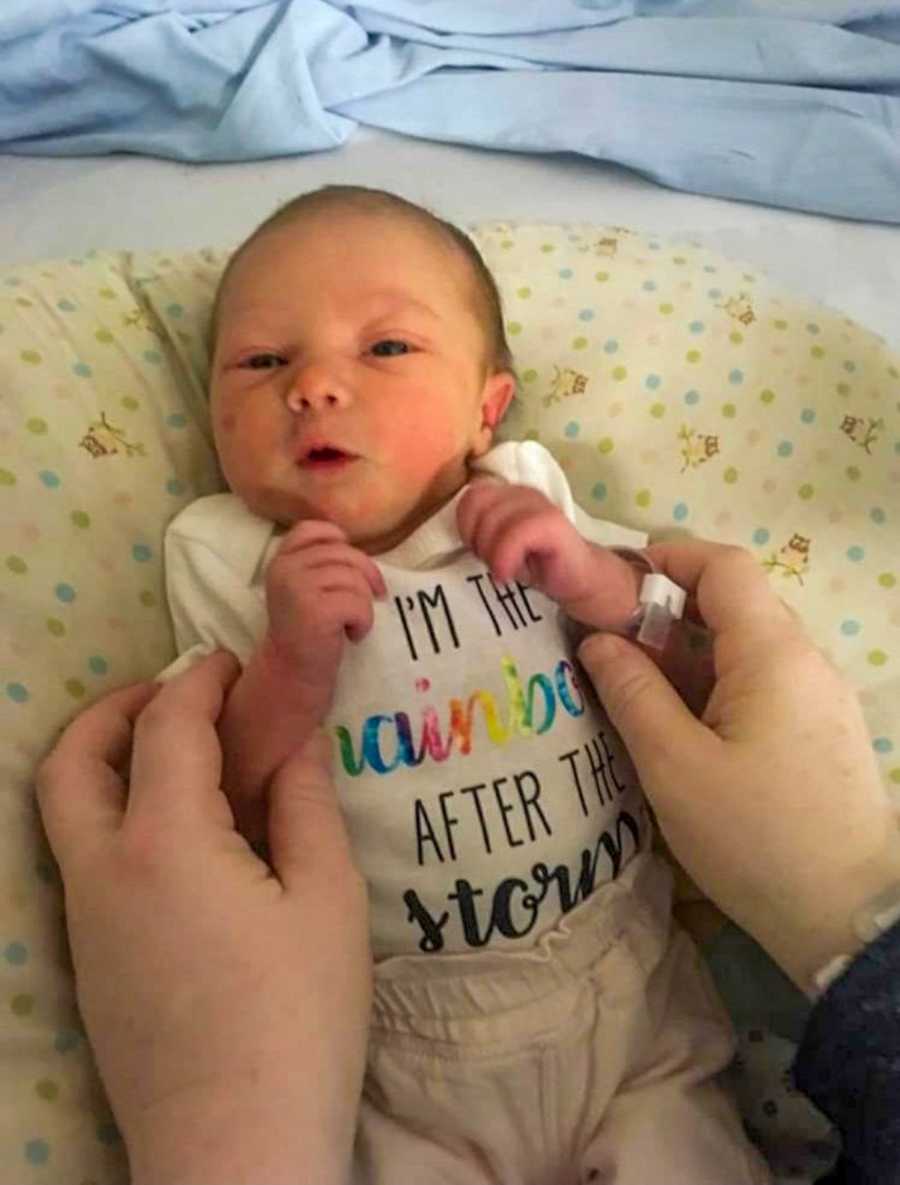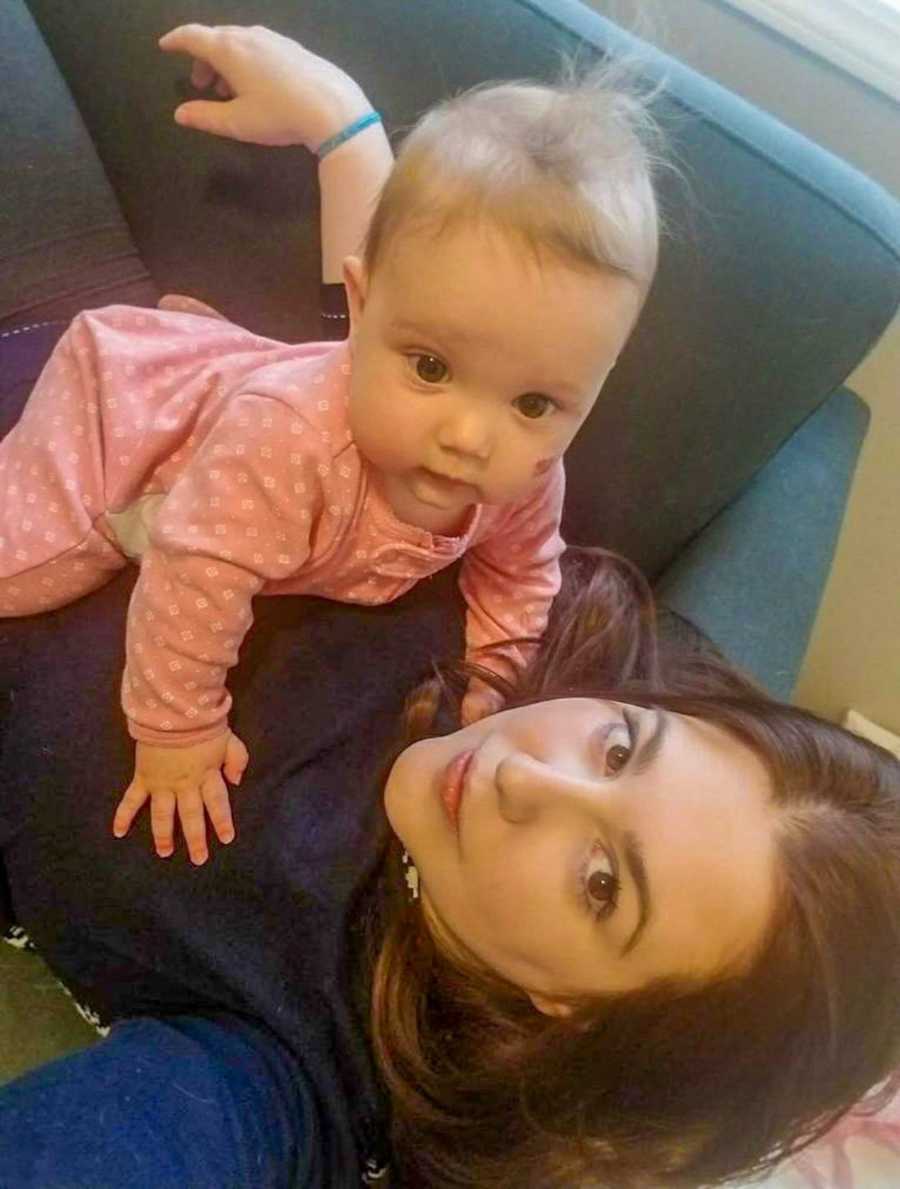 Unfortunately, it was quickly followed by the worst day of my life. I was diagnosed with breast cancer at 34. Violet was only seven months old at the time.
The memory of my walk into the clinic is vivid. I took Violet's baby carrier from the backseat, brought her in with me, waited in the lobby, and finally laid down on the ultrasound table. I had no perception of the life changing event about to occur. After all, I had shown this lump to my OBGYN previously and she had seemed unconcerned.
They wanted me to have a mammogram that day. I thought it was completely normal, as I had never been to a breast health clinic before. This would be the first and last mammogram of my right breast. It was also the last day of my life I would consider myself a healthy woman. I was seen by a doctor after the mammogram and he informed me I might have breast cancer, but it could be '20 other things' instead. I think they knew it was breast cancer but he decided to soften the blow.
My experience and knowledge of breast cancer had lulled me into a false sense of security. I didn't think younger women could get it unless they were genetically predisposed—after all, if we were at risk, wouldn't there be more mammograms? Additionally, the statistics for breast cancer are so promising, boasting a survival rate of 70% at five years after diagnosis even at stage three. My mother had breast cancer at 48 and after chemotherapy, it hadn't come back for 17 years. My knowledge of breast cancer was the same as most of the public—I considered it an 'easy' cancer most people survive.
After my appointment, I started reading in depth about breast cancer and my world was shattered. This was not an easy cancer, this was not a cancer with cures, this was a cancer killing approximately 47,000 women a year in North America. 1 in 3 women who had early stage cancer later developed incurable metastatic breast cancer. And that five-year thing? Irrelevant, as hormone positive breast cancer, the most common form, could recur basically forever.
I received my biopsy results on a Friday while at my parents' house. I was devastated to find out I had breast cancer with one node. They estimated I had eight centimeters of DCIS, Ductal Carcinoma in Situ, and IDC, Invasive Ductal Carcinoma, within my right breast. The cancerous node was 1.8 centimeters. I was so shaken; my parents had to drive me home because I couldn't drive myself. It was raining and I spent the drive singing to my seven-month-old daughter in the backseat, texting my friends to tell them my diagnosis. It was the first time I ever saw my husband cry.
I had several CAT and bone scans revealing I did not have cancer in the rest of my body. I was then rushed into all the early stage treatments, starting with eight rounds of AC-T dose dense chemotherapy, a single mastectomy, followed by a serious infection and week-long hospital stay, and then radiation. I would need hormone suppression therapy for ten years because my cancer was hormone driven. This part of the treatment proved to be the hardest for me. Horrible night sweats and hot flashes occurred as my ovaries shut down, followed by the recommendation to never get pregnant again. My dreams of having a second child were shattered.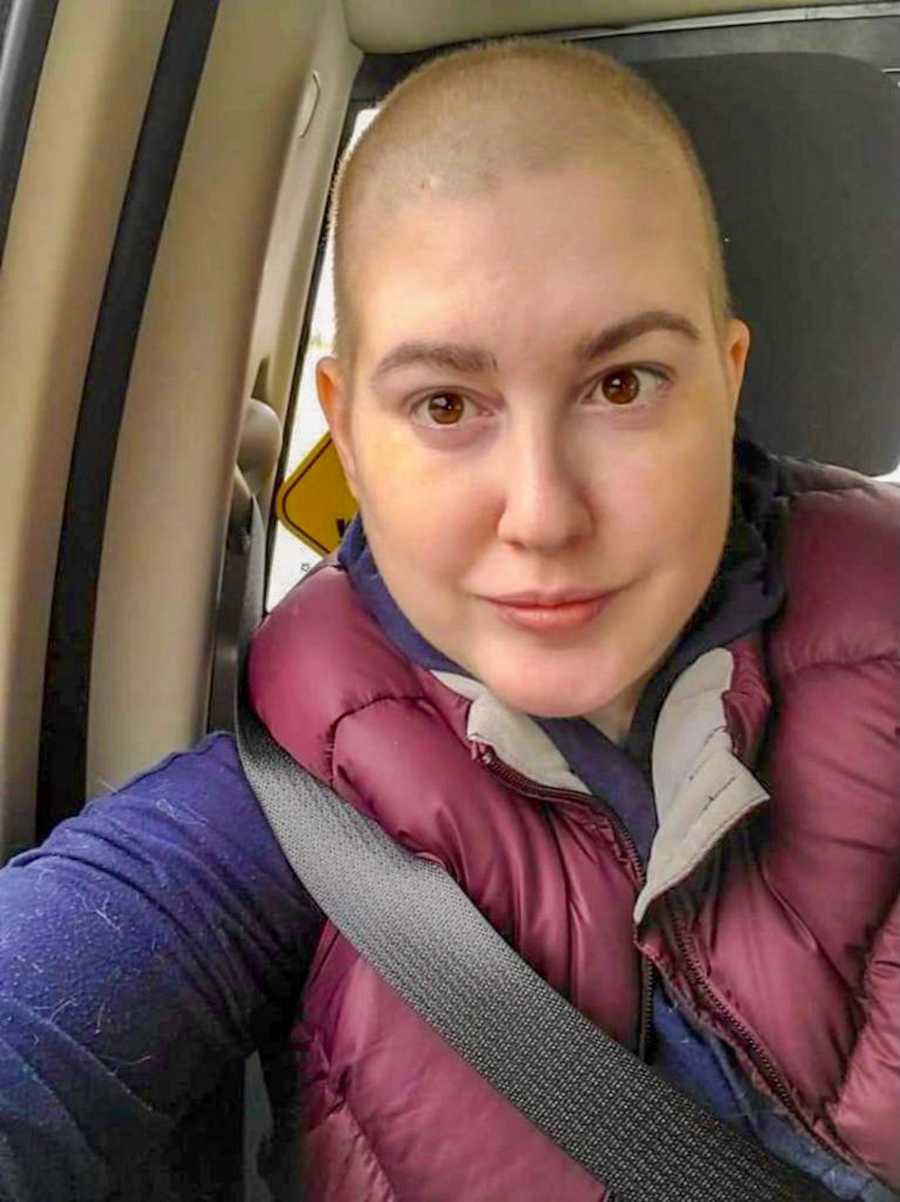 After my early stage diagnosis, I fell into a deep depression over potential recurrence and death. I was brought to the emergency room several times for suicidal thoughts. Eventually I wound up in the inpatient psych ward for a month. I actually found this very healing, as I was separated from Facebook and my cellphone. I was finally able to focus on something other than my repetitive thoughts about my death. I was put on an antidepressant, anti-anxiety pills, and sleep medication. I was finally able to begin healing, to care for my daughter full time again, and I planned on returning to work in March. I reminded myself that while my cancer might recur, it could be ten years away.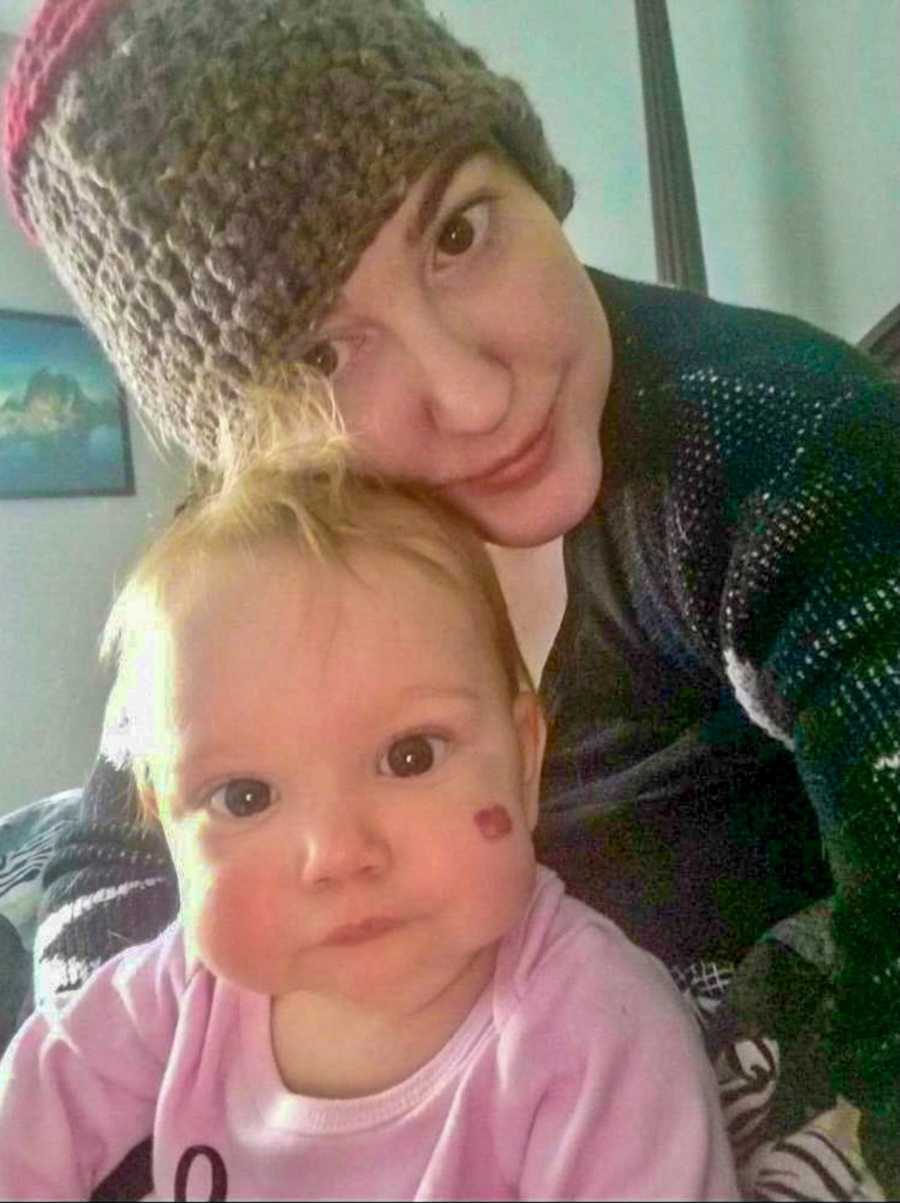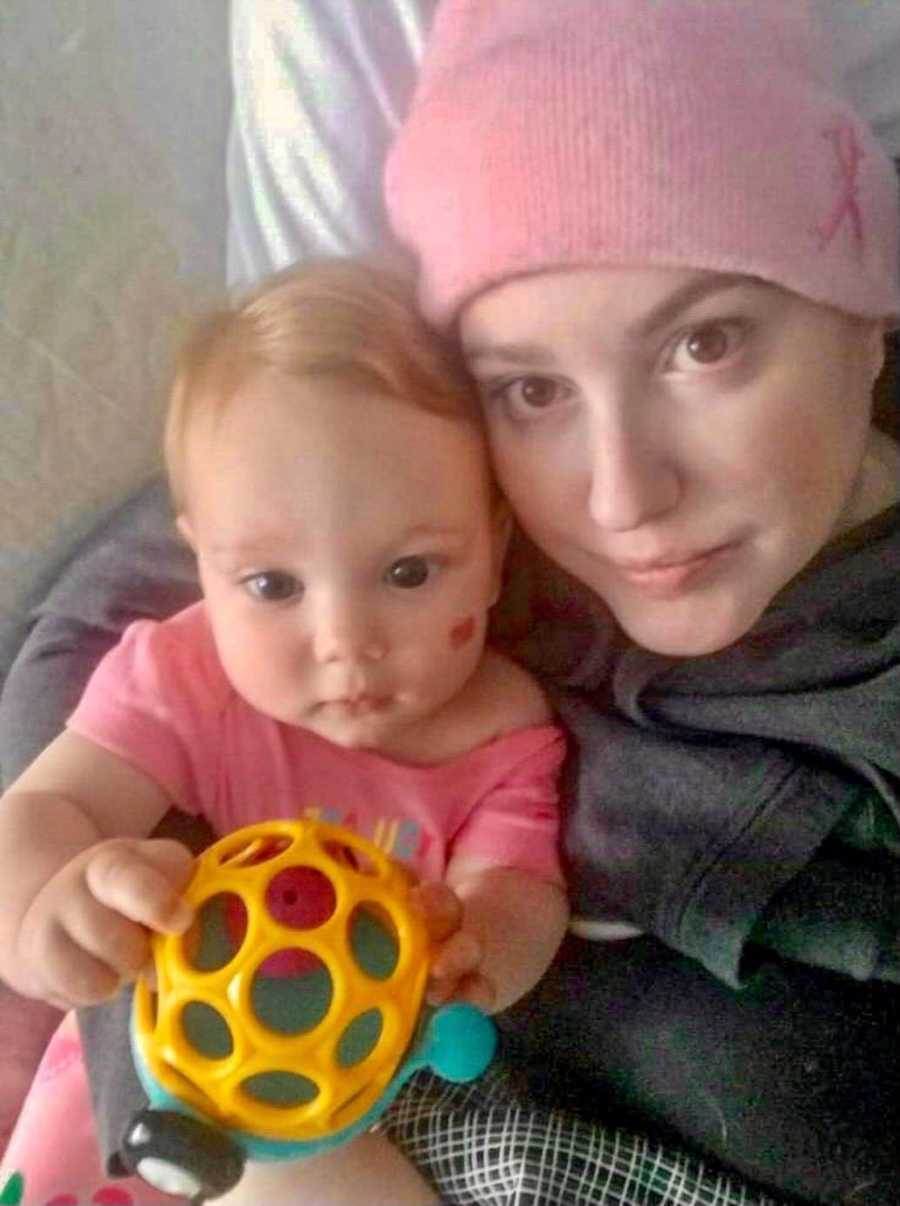 I returned to work on March 23rd, 2020. I had a new position and I was excited about returning to work. Unfortunately, fate had other plans for me. Driven by my high anxiety after my early stage diagnosis, I requested a PET scan from my doctor. There are typically no follow up scans after a breast cancer diagnosis. My doctor said, 'It doesn't matter if we scan because it doesn't improve survival.' I wanted to know what was going on inside my body, so I vowed to get a scan every year.
This was my first PET scan, just five months after finishing treatment. During the scan, they had spotted something on my sacrum—they thought it was an injury. My doctor told me it wasn't breast cancer because it was only in one location. I had a bone scan and an X-ray. The following report stated I had metastasis. I received this report alone, via email on a Friday afternoon. My doctor reviewed everything with the radiologists and they again concluded it was likely an injury.
My doctor suggested we just watch and wait, but I requested a bone biopsy. The bone biopsy seemed like a scary procedure, but after they put me under twilight sedation I didn't even care. I remember telling the doctor, 'I could feel you drilling into my bone.' After they finished, they showed me a little clear container with two tiny pieces of bone floating in it. This little container was the crystal ball deciding my future.
I waited a long time for the results to come in. Finally, on April 16th, almost a year to the date from my early stage diagnosis, my doctor called me at home. 'We found the same breast cancer in your sacrum.' Strangely this diagnosis was easier for me; as a pessimist I had already assumed I would metastasize and I'd processed some of these feelings already. I was upset, but I wasn't surprised. While we were on the phone, my doctor said, 'You have five years to live.'
After this I was put on a new hormone blocker and Ibrance, a CDK 4/6 inhibitor. I was given a special type of radiation on my sacrum. I thought I would have a few years of NED, or no evidence of disease, with my new treatments.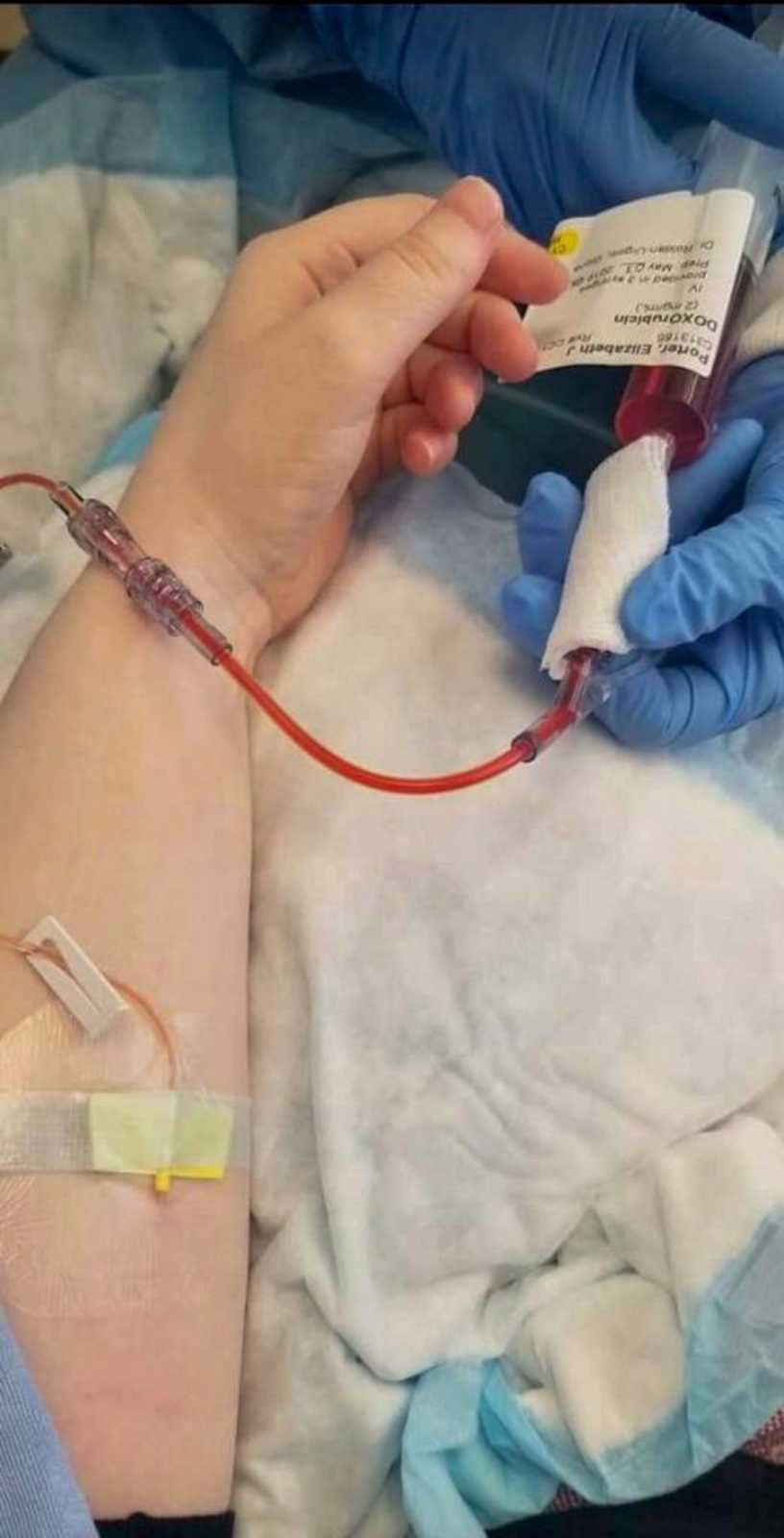 Unfortunately, an MRI several months later revealed several new metastases on my spine. This was very upsetting, as it meant I had already failed my first line treatment. I had to send my daughter to her grandmothers for a week to process this. This is what metastatic breast cancer is like, it's a rollercoaster. I have had mostly bad news since my diagnosis in 2019, but I still hope I will find a treatment or clinical trial that could work for me.
In the meantime, with my plan of having a career and more children on hold, probably forever, I focus my energy on raising my daughter, who is two now. I advocate for better screening for young women, as well as higher quality care and research for women with metastatic breast cancer. I am trying to raise funds for a retreat for people under 50 with metastatic breast cancer, creating an opportunity for camaraderie and healing. MBC is very hard on mental health and having it at a younger age is a very different experience.
I am also trying to start a charity in Western Canada to raise awareness of metastatic breast cancer, including raising money for services and research for people with metastatic breast cancer. People with MBC are often overlooked. Many need help with childcare and other variables to attend treatment. I also run a group called 'Momming with Mets' on Facebook. It's a place where mothers with MBC can share advice and discuss parenting with a terminal illness. Helping others is the best outlet to take my mind off my own diagnosis and fear."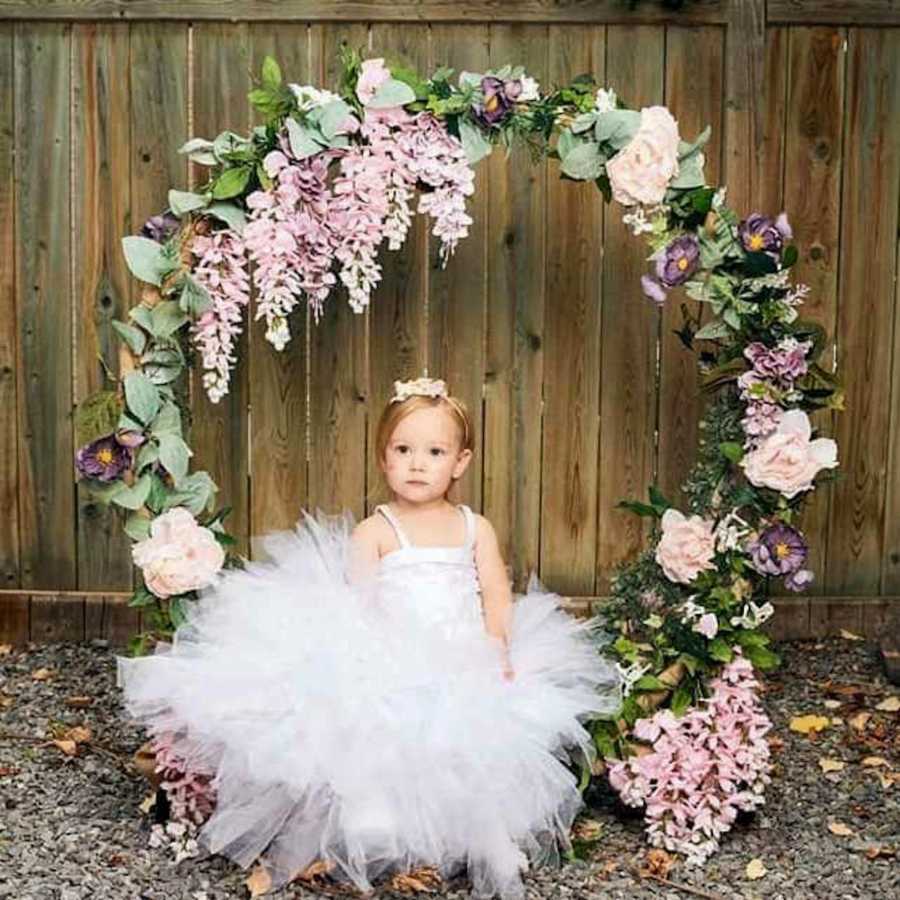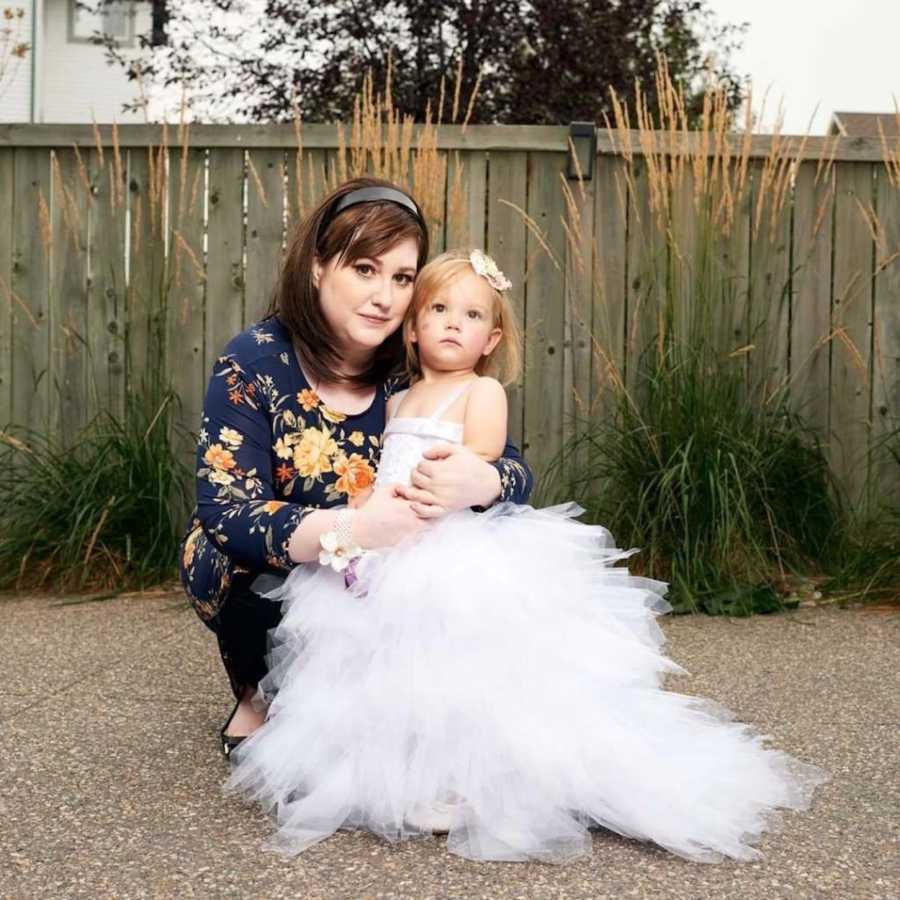 This story was submitted to Love What Matters by Elizabeth Wilson, 36, of Calgary, Canada. You can learn more about Metastatic Breast Cancer and Elizabeth's story on this website. Submit your own story here. Be sure to subscribe to our free email newsletter for our best stories, and YouTube for our best videos.
Read more stories like this:
'Her doctor burst in. 'Where is she?' He looked nervous. I wished for a second parent to defer to. But I didn't have one.': Daughter supports mom through terminal illness, 'I hug her a little longer each day'
'There I was, 17 and 34 weeks pregnant, learning my daughter had a huge tumor in her brain and was going to die.': Teen pregnant with daughter receives terminal brain cancer diagnosis days before delivery
'I love you, mom. I'm not ready.' I kissed her forehead and said goodbye, knowing we'd never speak again. 'It's your turn to be strong now.': Daughter exchanges vows in front of terminally ill mother
Provide strength for someone struggling. SHARE this story on Facebook to let them know a community of support is available.