"I grew up in a family where disabilities or illnesses, whether physical or mental, weren't any different than not having them. My family is full of differing abilities/illnesses, so I was never that kid to look at someone who was disabled and think 'he/she's different,' or judge them. Neither was my husband.
In fact, in daycare I had a non-verbal friend in a wheelchair who had cerebral palsy, but that never kept us from being friends. My aunt (who worked at the daycare) even had him join me as flower girl to be the ring bearer at her wedding. This is how normal it was to us. My aunt never thought twice about inclusion and, thanks to her, neither did I.
In junior high, I was friends with a girl who had Down syndrome. She had a lot of friends in our small school and her mom visited at lunch hour frequently. She was always open to answering the questions us nosy teenagers had and I believe that honestly made a huge difference in how her daughter was perceived, she was just a teenage girl who wanted to be included and she was. I give her mom so much credit, not only was she this amazing advocate for her daughter, but the bond they shared was something most people would be envious of. I knew that whenever I got to be a mom, I wanted to be just like her. This is something I still strive for to this day.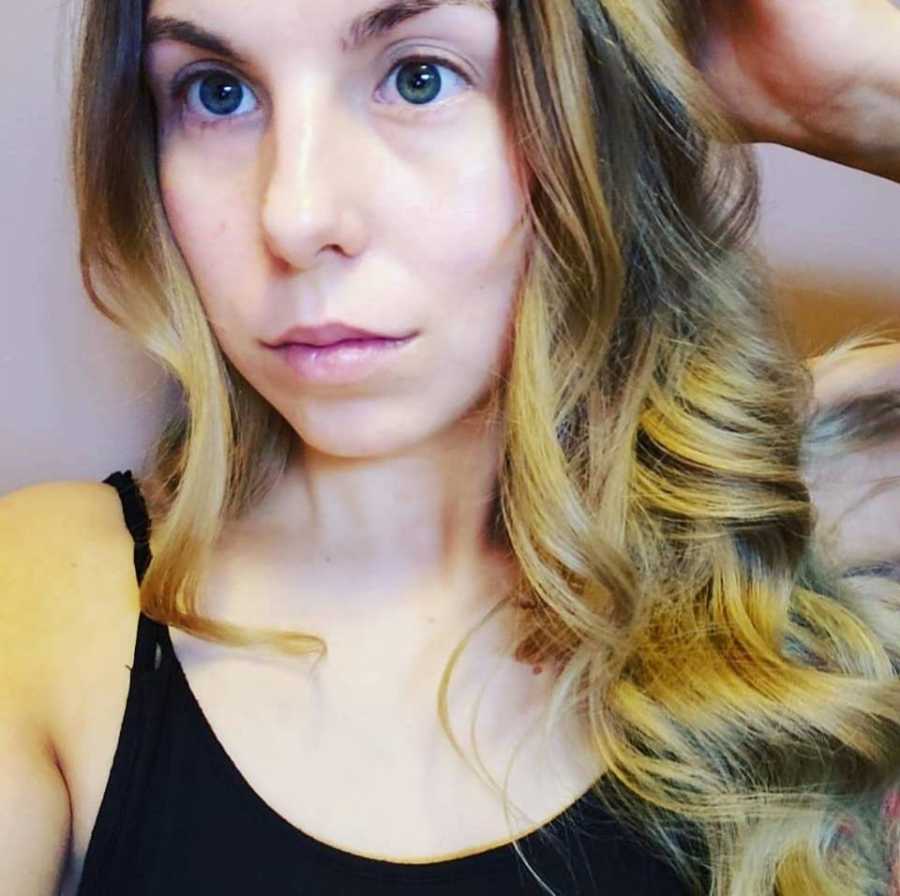 Our Down Syndrome journey isn't the 'normal' one where there was something to overcome or come to terms with. I don't want to discredit those journeys in mine. I can fully sympathize with parents who have dreamt of this child they expected to have, who've had doctors scare them with a (potential) diagnosis, or who were just scared of the unknown. I mean, most doctors are still stuck in this ignorant frame of mind when it comes to disabilities and push for termination because of it.
Pregnancy, in general, can be a scary thing. I've personally suffered loss and I have also managed to carry three high risk pregnancies which granted me the ability to become a mom to three amazing boys. While my pregnancies and birth stories are all different and all scary in their own way, I wouldn't change a single thing about them or the boys that I get to mother because of them.
With my first pregnancy in 2007, I was able to carry to term through high risk, which resulted in our now 12-year-old son. He is an incredible young man. He's smart, funny, and ambitious. He's had a business plan since he was six and wants to open his own restaurant and work toward helping feed the homeless. He has a heart of gold. Fast forward 5.5 years and there I was with yet another high risk pregnancy. This pregnancy was hard and I would eventually be diagnosed with Crohns disease, a type of Inflammatory bowel disease that runs in my family.
That labor, which would be my easiest, resulted in another healthy baby boy, who happened to have a heart murmur he would later outgrow. He's now 6. He is our wild child in every sense of the word and a total man's man. He is courageous, outgoing, and has energy we envy, yet he is the biggest cuddle bug. Fast forward another 4 years. There I was, 29 years old, expecting our third baby boy. This pregnancy would be the scariest one yet.
I was early in my pregnancy when I first started having complications. One day, I had a 'wet' feeling at work. My mind instantly went to 'another miscarriage' when I went into the bathroom and saw the blood. I left work, called my husband, and went straight to the emergency room. There, I would be hooked up to an ultrasound machine and they would find a strong heart beat with no signs of miscarriage. The relief we felt was great. However, there was no 'cause of bleeding.' This bleeding would continue through 20 weeks of pregnancy, giving us mini heart attacks every single time I had to rush to the hospital only to find a strong heart beat.
At 20 weeks, I was sent for an in depth ultrasound with a specialist. The bleeding had continued regularly and we (my OB and I) NEEDED answers. That answer would be 'chronic placental abruption' – when the placenta detaches in part or in full from the uterine wall. There is no way to prevent it, and it can result in fatality of not just the pregnancy but the mother as well. A chronic placental abruption is considered when random spots of the placenta are detaching in multiple areas a little at a time. They also found at this time a hole in my baby's heart, which they were not concerned about as a lot of babies have this same hole and it tends to close by the time they're born or shortly after.
I also had full genetic testing done and everything was negative. We had our answer finally and I would face at least 17 weeks of bed rest ahead with an induction planned for 37 weeks (the longer you are allowed to carry a pregnancy with a placental abruption, the higher the risk of stillbirth or dual fatality). I was allowed to do some things, but I wasn't allowed to be working or on my feet a lot. Definitely challenging when you have two other children. I have to give props to my husband and our two older boys during this time for being able to keep it together while I wasn't able to do all the things we were used to doing.
I would have in depth ultrasounds every week from this point on until they scheduled my induction. Now, this induction would not go as planned and would end up with an emergency c-section, but we would welcome our third (and final) healthy baby boy, Cash (as in Johnny Cash, Cashton for professional purposes when he's older).
October 30th, 2017, our almost-Halloween-baby came to be. Back in the recovery room when I was able to keep my eyes open and hold our son, my husband and I looked at each other and our son and just knew he had Down syndrome. We were so in love that when none of the doctors or nurses mentioned anything about it after doing their routine tests. We never bothered to ask.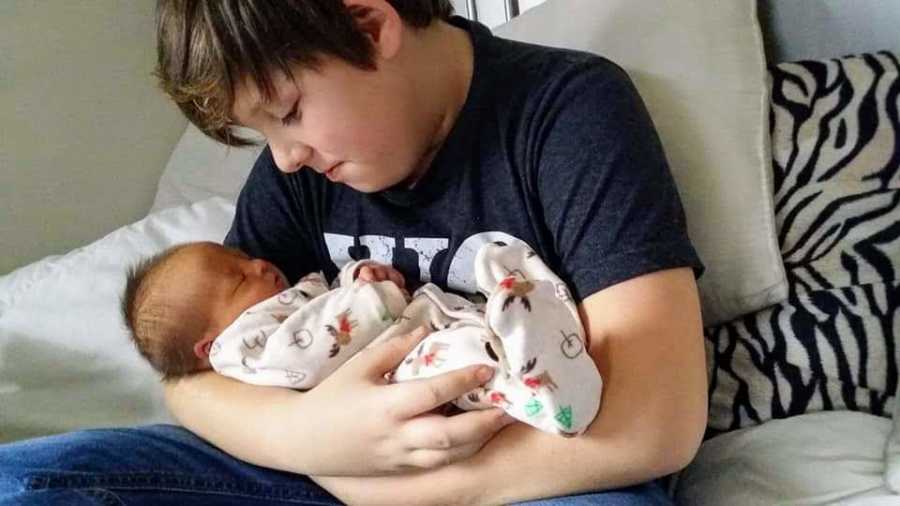 Our pediatrician came the following day and did his routine exam. My husband had run home to shower and our pediatrician said he'd come check on us when he was done with all his other rounds and everything was great in his opinion. When my husband got back, I mentioned to him that no one had said anything about Down syndrome to me yet. We thought that was a little strange because if we as non-medical professionals knew our son had Down syndrome, how could they not know?
When our pediatrician came back, he mentioned that our son had almond-shaped eyes. But because my eyes are a little almond shaped, he wanted to check my husband's as well. He asked if we had any concerns and we stated we thought our son had Down syndrome. He agreed that we could have him tested as he also had small ears, but again I have small features naturally so he wasn't sure. The relief we actually felt that we would be able to know for sure was immense. Not because we were scared of a Down syndrome diagnosis, but because WE wanted to be prepared for the challenges he could face. WE wanted to be able to provide him with the best medical care possible and WE wanted to ensure we were doing everything in our power so that he would have the same quality of life our older two boys have.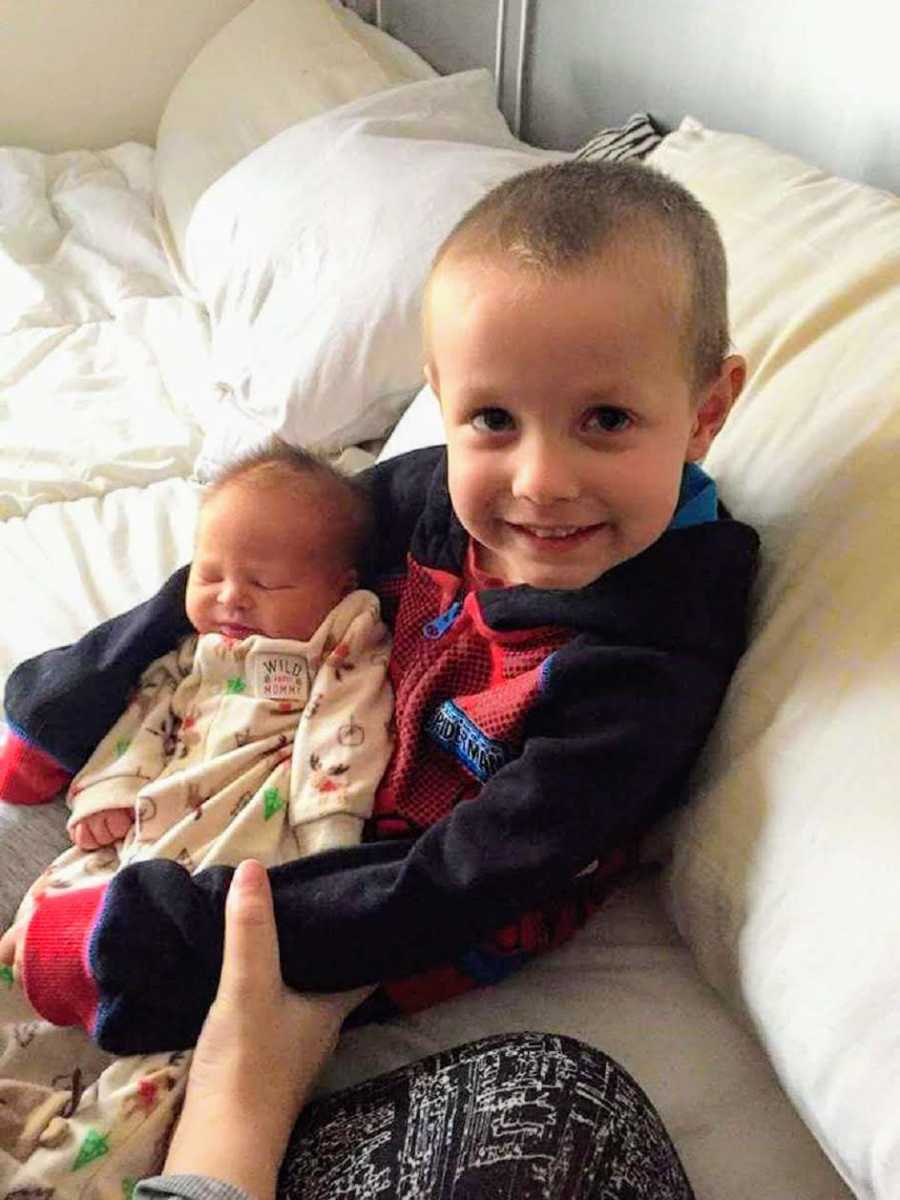 WE embraced this possible diagnosis as if there wouldn't even be one. He IS beautiful, he IS ours, he IS perfect. The only tears I shed were when the head of genetics for the Children s hospital brought the resident genetic doctor to our room. The resident doctor was cold, and rude to me. He demanded to know answers to questions and had no regard for how he asked them. He mentioned a lot of people choose adoption and he recommended it. He completely ignored my husband any time he tried to speak as my husband could tell how uncomfortable he was making me. I mean, I was crying.
The head of genetics seemed to be able to tell he was too much for us as she told him to leave our room and she would 'take it from here.' She was warm, friendly, and less abrasive with her questions, but she didn't seem to agree with us that Cash had Down syndrome. She asked if she could check Cash over before they did a blood test to see if he would even need one. While she was checking him, she told us, 'If he has Down syndrome in my 20 years here, I have never seen a child with this good of muscle tone, with this firm of a skull or with these abilities.' (She had done some weird movements with his limbs.)
She continued, 'I don't believe he has Down syndrome. No, he doesn't have Down syndrome.' You'd think at this point there would be some sort of 'relief' for us. I mean, no one wants for their child's needs to be different than anyone else right? Everyone wants a 'healthy' baby with no 'extras,' don't they? Who would continue to push for a diagnosis when the head of genetics is telling you what you were sure you knew about your new baby is wrong?
WE did.
Crazy, right?
We must be, or at least that's what the doctors must have thought because we fought. We proudly and repeatedly demanded they do that blood test and check his genetics. We didn't want to base our child's future on just words and thoughts. We wanted cold, hard facts, proof. We wanted support for our child and we knew it was our responsibility to advocate for him and his best interests. We weren't looking for a pay day from the government or wanting to force a disability on our child (not that you can, disabilities are there whether you 'choose' them or not) and I know to some it might sound like that. We, however, just wanted to know 100% for certain if our son had down syndrome or not.
After 10 blood tests, we were told we would get a phone call with the results in two weeks time. We had let our family know as they came to visit that we believed Cash had Down syndrome and everyone fully embraced what we thought we knew, especially my mother in law. That woman is literally god sent. She kept us sane while having our backs through every single process and joining appointments. She is honestly the best grandma and we are all lucky to have her.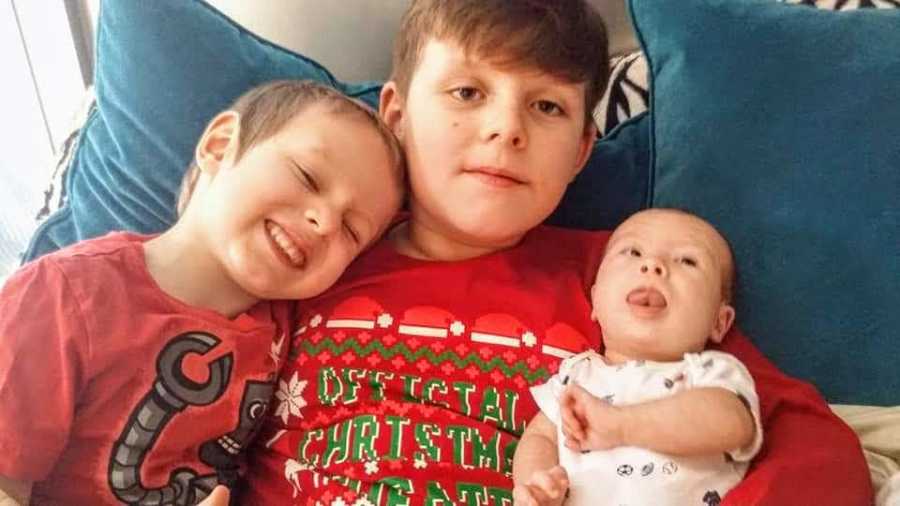 Not even three days after we got home did I get a phone call from that very same genetics specialist who reluctantly told us, we were RIGHT. Cash did in fact have Down syndrome. We set up an appointment and received our referrals to disability services, OT, PT, SPT, developmental goal specialist, an emotional support worker, and variety heart foundation (his hole hadn't closed). All preventative measures we were told, we welcomed all these therapies fully and still do.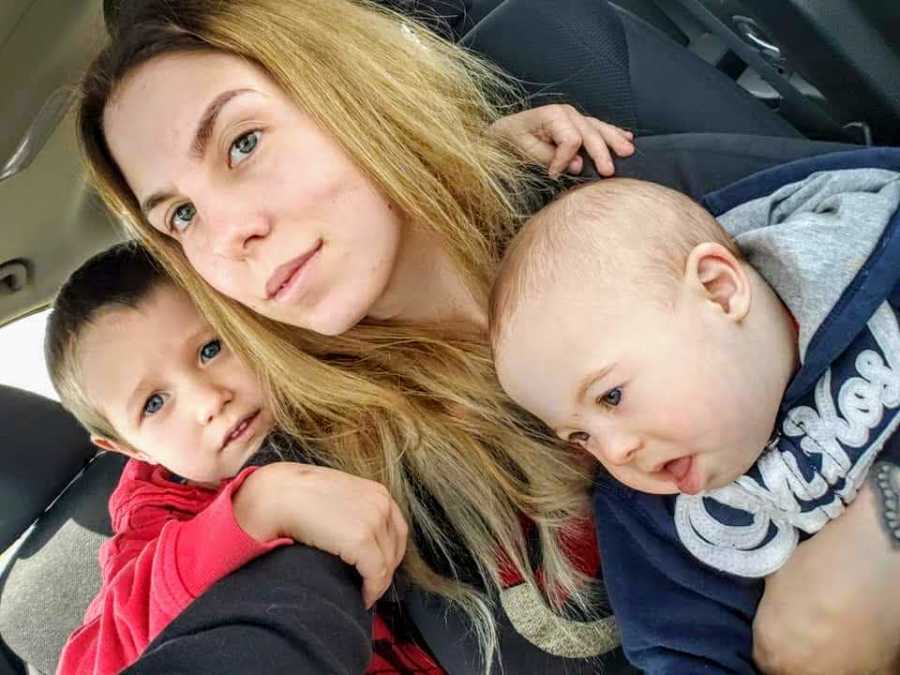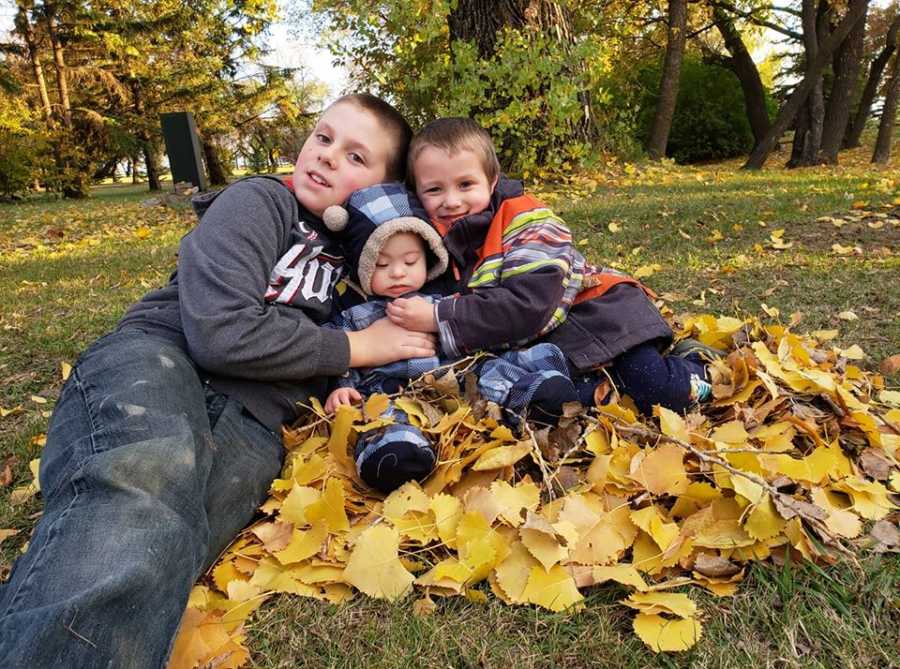 Over the past 23 months, we have had some challenging times and a lot of therapy appointments. We have also made some incredible memories and shared a lot of laughs and love. Cash was unable to gain weight during the first few weeks of his life due to being extra sleepy. I woke up every hour round the clock and nursed him. Within 4 weeks, the public health nurse didn't need to come anymore. I was proud of Cash and my body, working together to ensure he got what he needed nutritionally from me so he was able to gain weight. He's a fighter.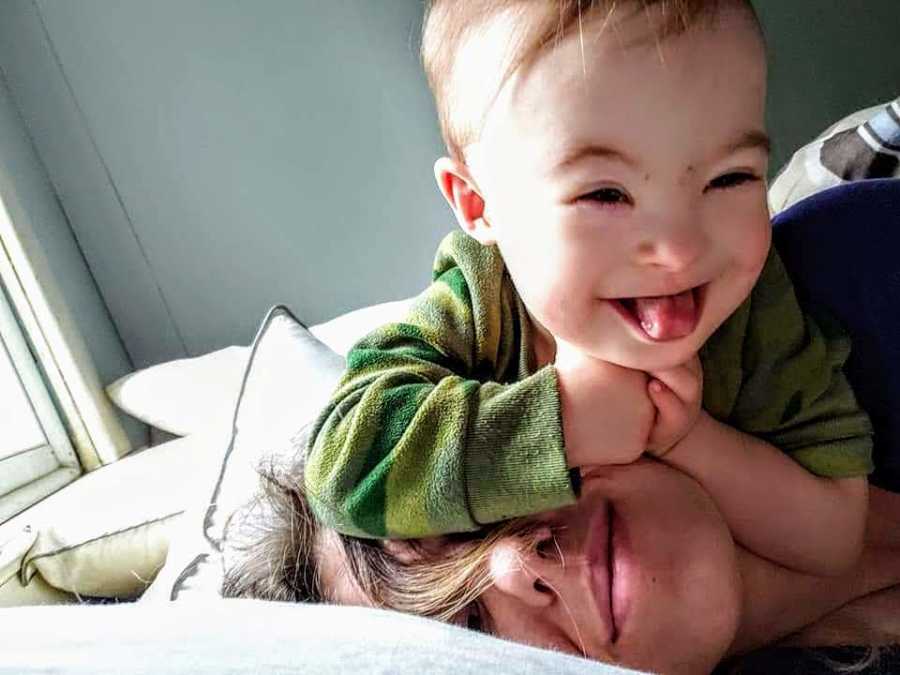 The cardiologist discovered a few more holes in his heart which we know he will eventually need heart surgery for, but after his last appointment she is confident we can wait a little longer so he has more weight on his body. We were told all these milestones to not expect with Cash like crawling, talking, self feeding, walking etc. To which his attitude has been, 'Hold my sippy cup and watch this.' This seems to be his general take on life so far.
Cash is doing all the things they said he wouldn't and he's proving stereotypes wrong along the way. While I know it may not be typical for all babies/children with Down syndrome to have the same success this early on as he has and while we know better than to compare any child to another, we know all kids of all abilities will hit all those inch and milestones when they are ready. We know that people with disabilities are only as limited as WE force them to be. We know that Cash may not always be on track with his peers and that's okay with us. We will encourage, motivate, and support him to the best of our abilities. We will ensure he does things to the best of his abilities, whatever they may be. But for now, he's just a typical toddler doing typical toddler things.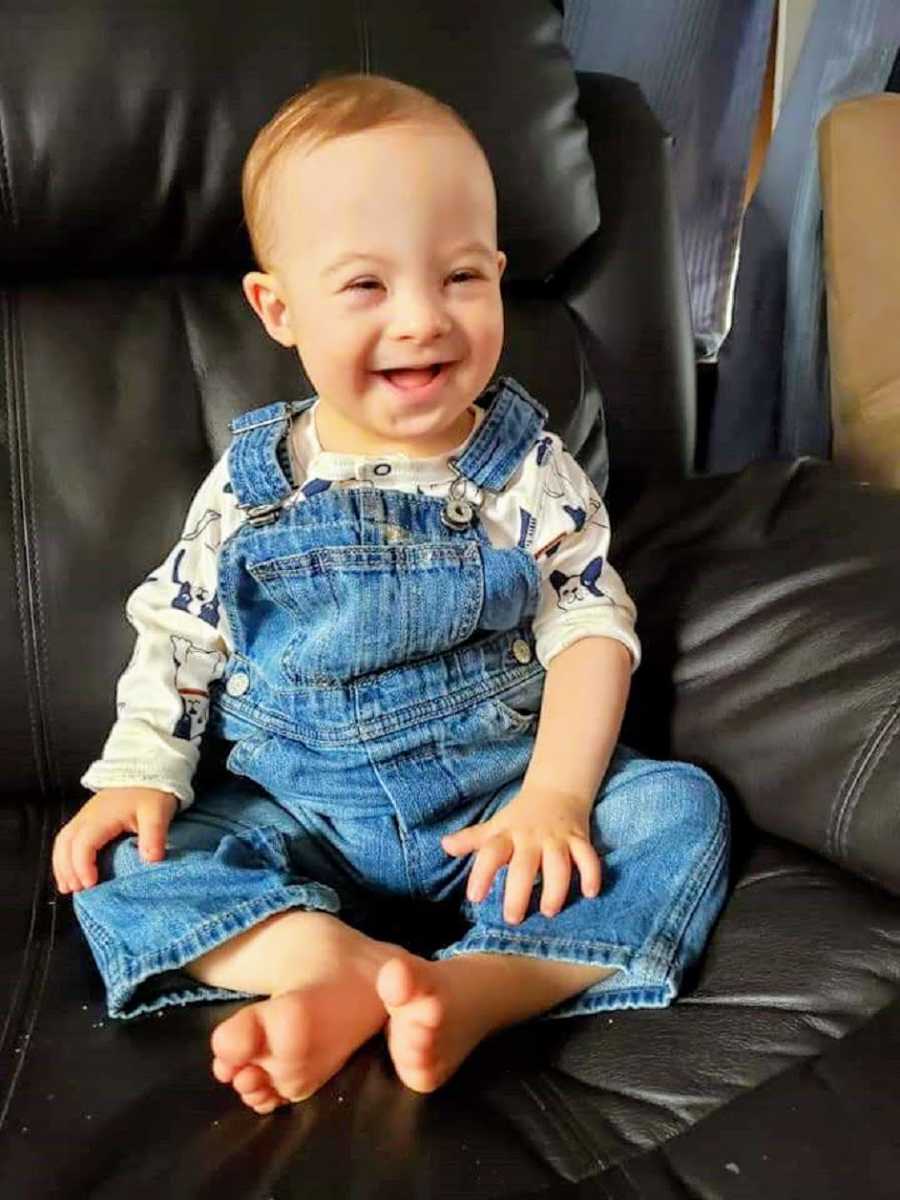 He has such a big personality with a full range of emotions (no, he's not always happy). He is compassionate, gentle, and kind. He is becoming more fearless by the day. He loves dinosaurs and anything vehicle related. He zooms around the house with his cars and trucks yelling, 'Vroom vroom.' His current favorite movie is The Secret Life of Pets. He LOVES to dance to music and we frequently have family dance parties. Though it pains me to admit, he is fully a daddy's boy.
He does say some words and is also learning sign language, which he's picking up surprisingly quickly. His older brothers adore him. They include him in playing toys and video games. We've broken up many arguments over who gets to be on Cash's team. Our kids have a very special bond and we feel blessed that they love each other the way they do. They never go to bed without ensuring Cash has had goodnight hugs and kisses.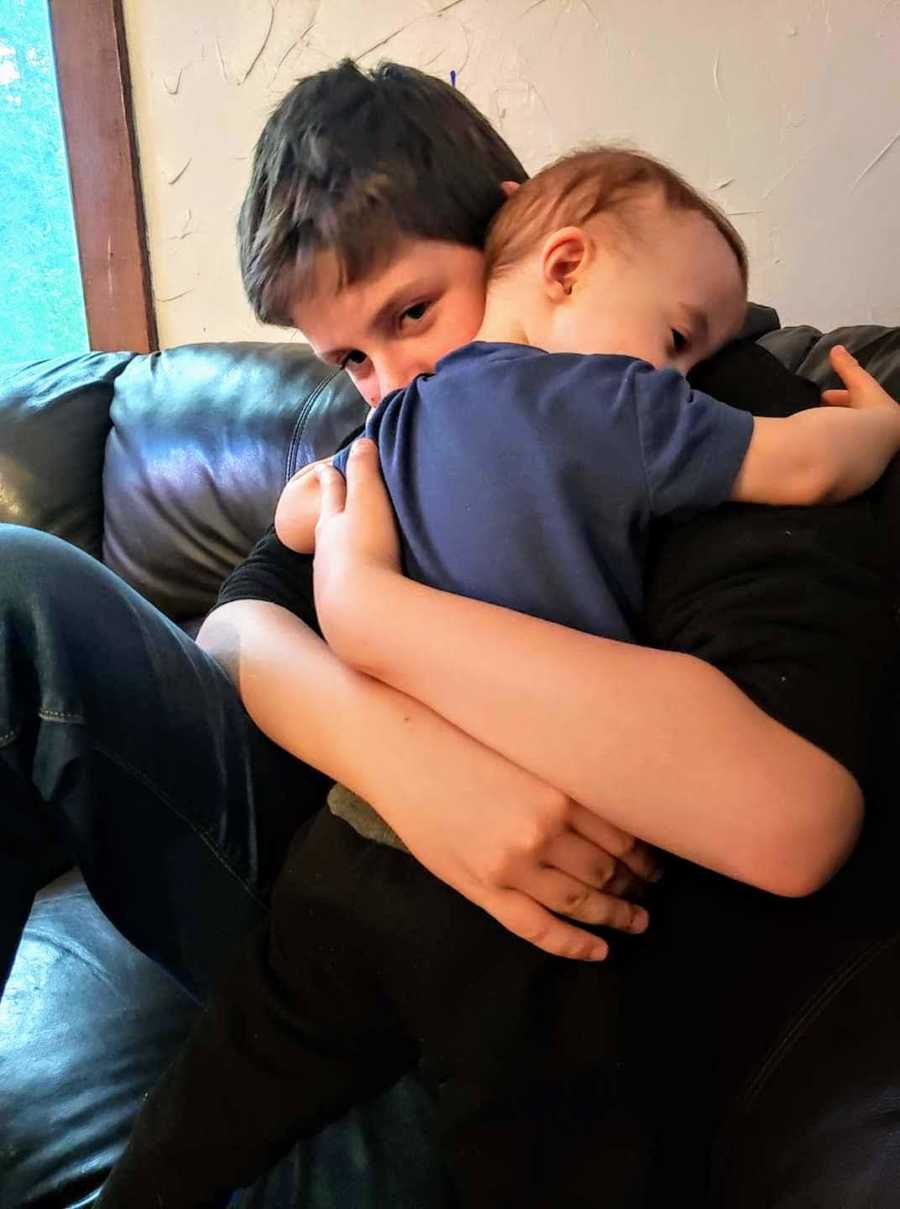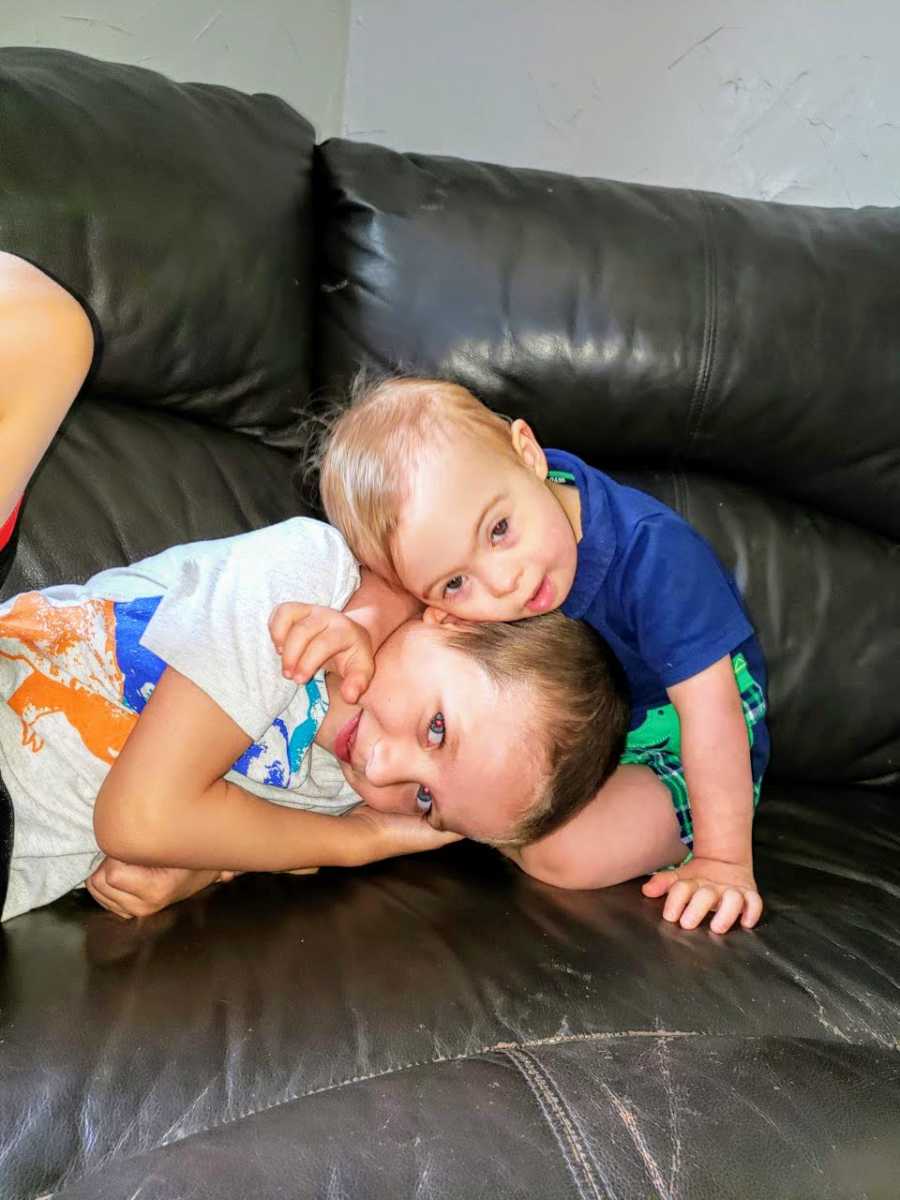 Thus far, we've only had one experience of ignorance. An older lady made a comment to Cash and I as we were in an elevator leaving a check up. I froze in shock. You know there will be intolerance in the world and as much as you mentally prepare yourself, it still stops you when it happens. I'm thankful others in the elevator spoke up for us and you could tell the woman was ashamed of herself.
If I could tell parents with a (potential) diagnosis anything, it would be as much as the unknown is a scary thing, as ignorant as doctors can be, and how outdated google search is, Down syndrome is NOT scary. It is NOT a life-ending diagnosis. Your world will NOT fall apart and your lives will NOT end. Yes, there can be challenges, but babies without an extra chromosome are just as challenging. Yes, it can be overwhelming at times but again that IS parenting. Yes, there can be health complications, but ANY baby can have a health complication. When it comes down to it, we feel privileged to get to be parents to a child with Down syndrome. In all honesty, Cash has taught us all to love whole heartedly and embrace all differences, whether big or small.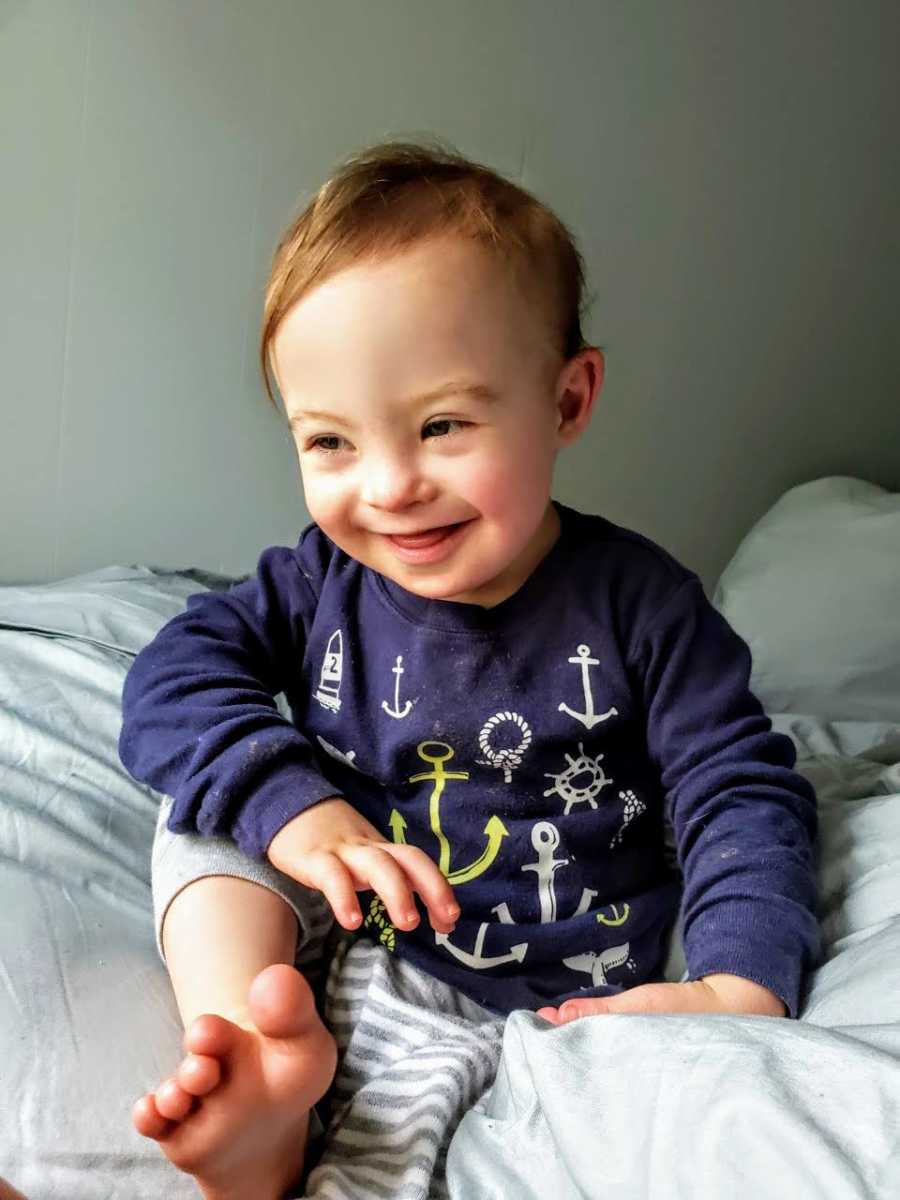 While we cannot stop other people's judgments, comments, or ignorance, we can choose to educate others and advocate for inclusion. That's all anyone really wants, is to always be/feel included. I say if you can just for a second take the time to look past the diagnosis you've just received and realize how much you'll still love that baby and how much that baby will love you back, the words 'Down syndrome' won't mean anything more to you than the simple addition of an extra chromosome.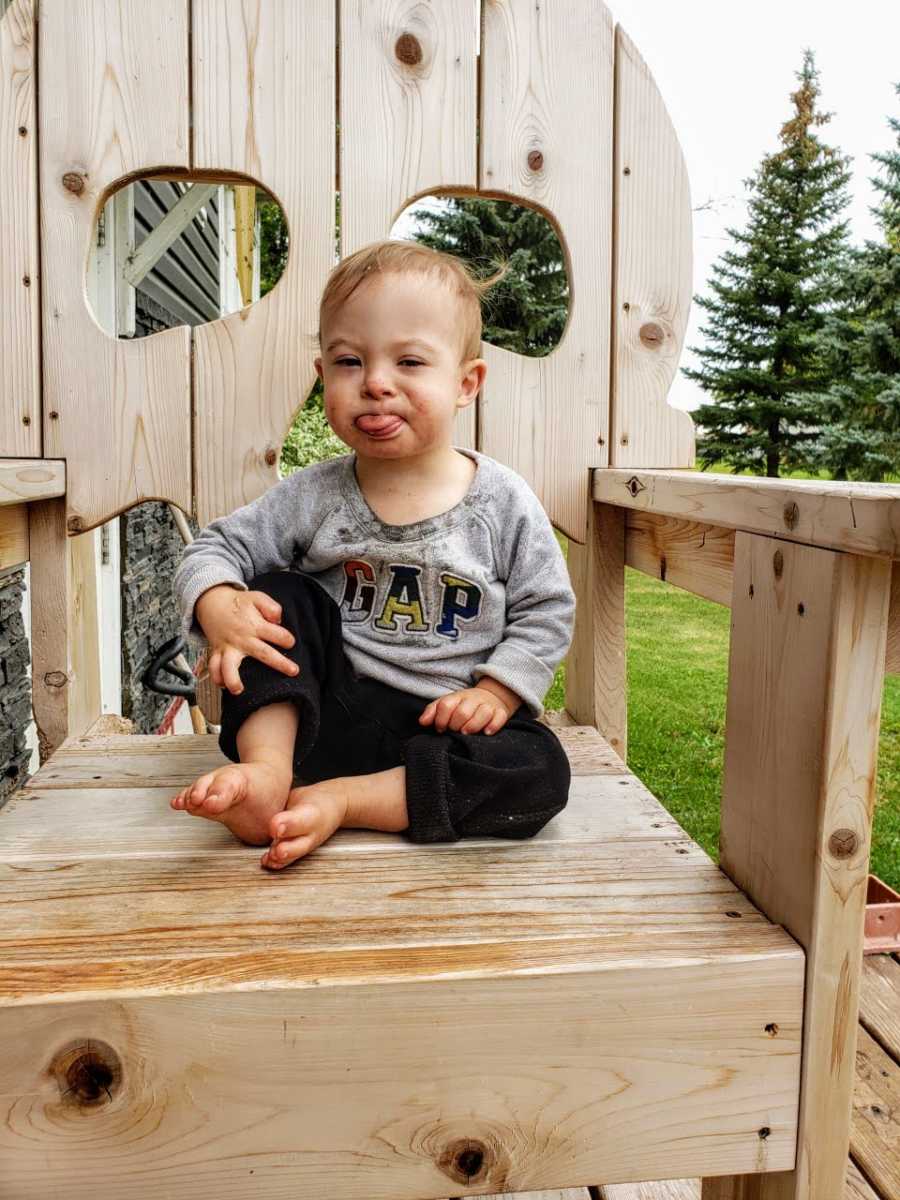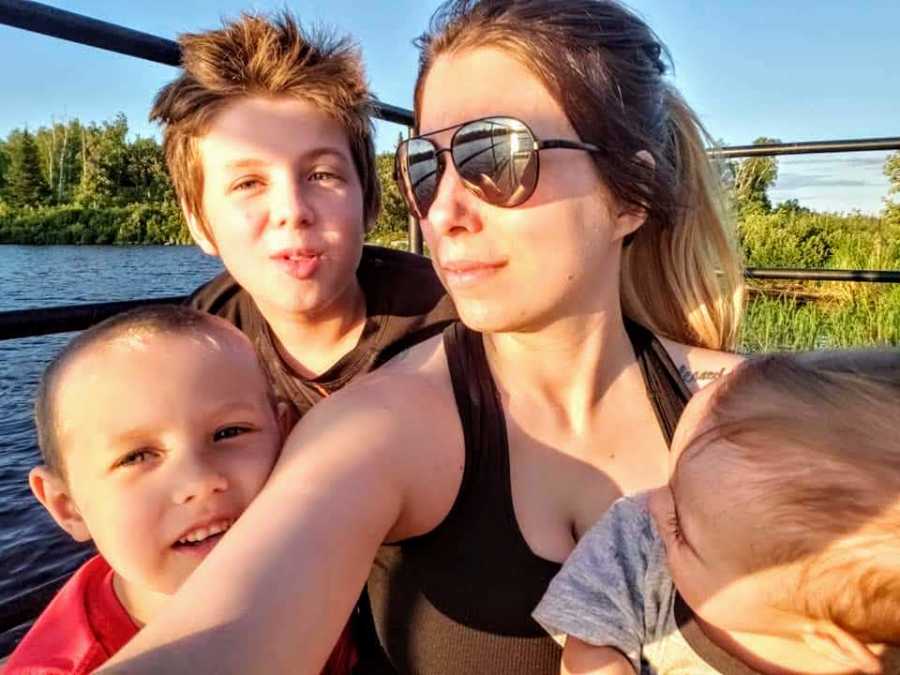 You wont look at your baby and think 'Down syndrome,' you will look at your child and see them for who they are. Don't let doctors, family, or friends have any impact on your pregnancy and the decisions that come along with it. There are plenty of great resources and parents sharing their Down syndrome journeys. We are proud ambassadors for @savedownsyndrome (Instagram and Facebook) and have personally learned so much more because of them and the content they share.
Believe me when I say our family is just an ordinary one. We just happen to get to be the lucky parents and siblings of a child with an extra chromosome, and yes WE are the lucky ones."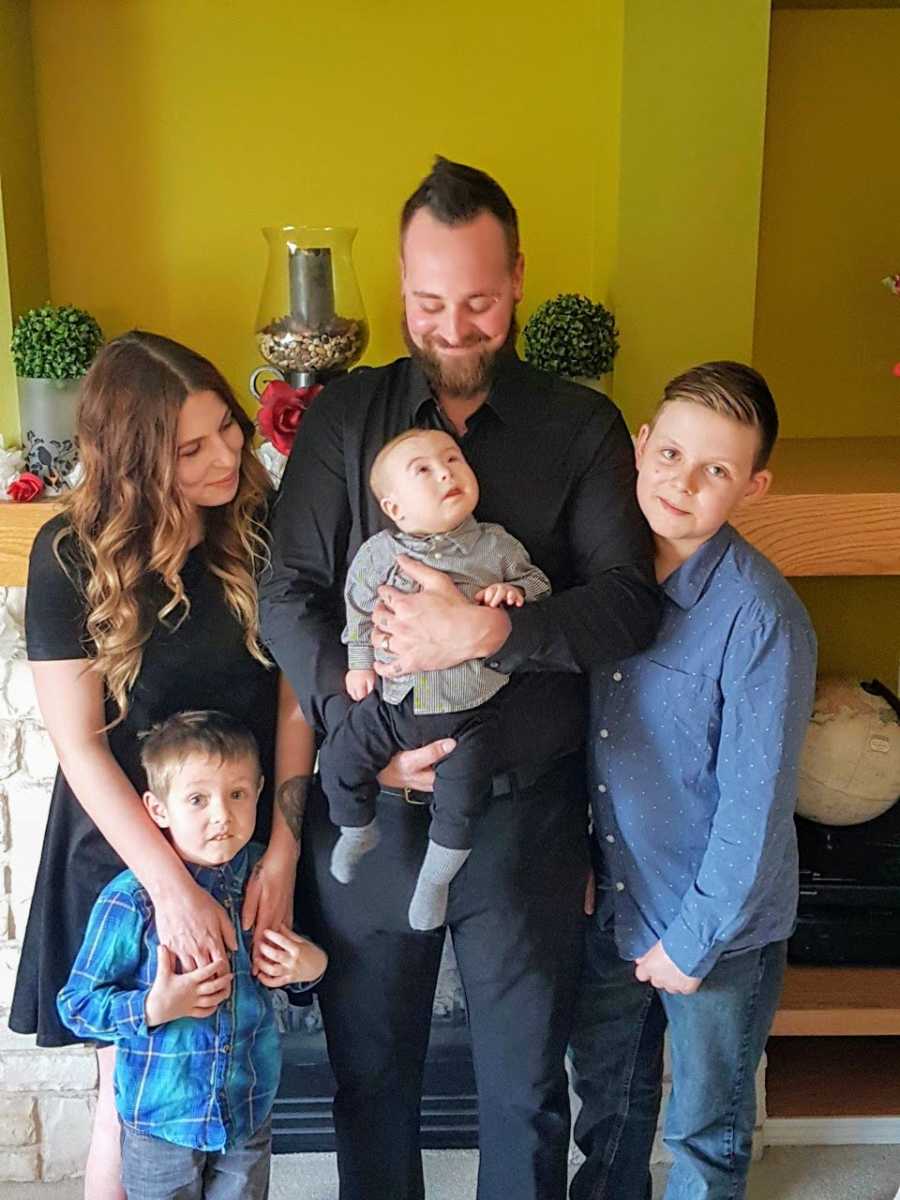 This story was submitted to Love What Matters by Kay Gosselin. You can follow her journey on Instagram. Submit your own story here and be sure to subscribe to our free email newsletter for our best stories.
Read more stories like this:
'They can't read or write. They don't understand danger or time. But they understand pure love. And they've felt it 29 years.': Married couple now 'longest living' pair with Down Syndrome, sister says it's 'nothing short of a fairy tale'
'Don't take her home with you,' I was told. 'If you have other kids, she'll be a detriment to them.' How wrong they were.': Mom keeps baby, now world's first 'working model' with Down Syndrome
Spread beauty and strength for others. SHARE this story on Facebook with family and friends.