"Last October I was sitting at work when my cell phone buzzed. I didn't realize when I first picked up that this call would completely change my day, my week and my month. 'Hi Bart, this is Patricia from the Fertility Clinic. I'm so sorry…' Those were all the words I needed to hear to know that our surrogate had miscarried and we'd lost the baby. We were only on week 6 of our sibling journey and passed a few positive blood tests, still pre-heartbeat, but it didn't make the news any easier to swallow. It was still a life, a beautiful sibling for our daughter Sloane to play with, to grow up with.
I immediately started crying uncontrollably at the office and rushed to the bathroom to contain myself. After months and months of physical exams, psychological screens, blood tests, genetic testing, embryo testing, and hormones, we'd gotten the worst news possible. I looked in the mirror at my glassy eyes and felt shattered. I felt devastated for our surrogate, for our family, and for the life that would never be.
Our journey to start our family began in the winter of 2011, almost a decade ago, when I met my future husband, Dave. We were at an ugly sweater Christmas party thrown by one of our mutual friends, and I tossed out my drink so I could cozy up next to him at the bar. The rest, as they say, is history. We had so many shared interests; Japanese culture, going for long runs, seeing obscure indie band concerts at the Williamsburg Music Hall, and having kids was no different. On our third date we quickly established a mutual desire to have a family and for us, the question was just how many. A few years later I proposed on top of a mountaintop during an epic trip to Norway, and a year later we got married at a barn in upstate New York with bistro lights and wild flowers arranged in mason jars (I know you can visualize it).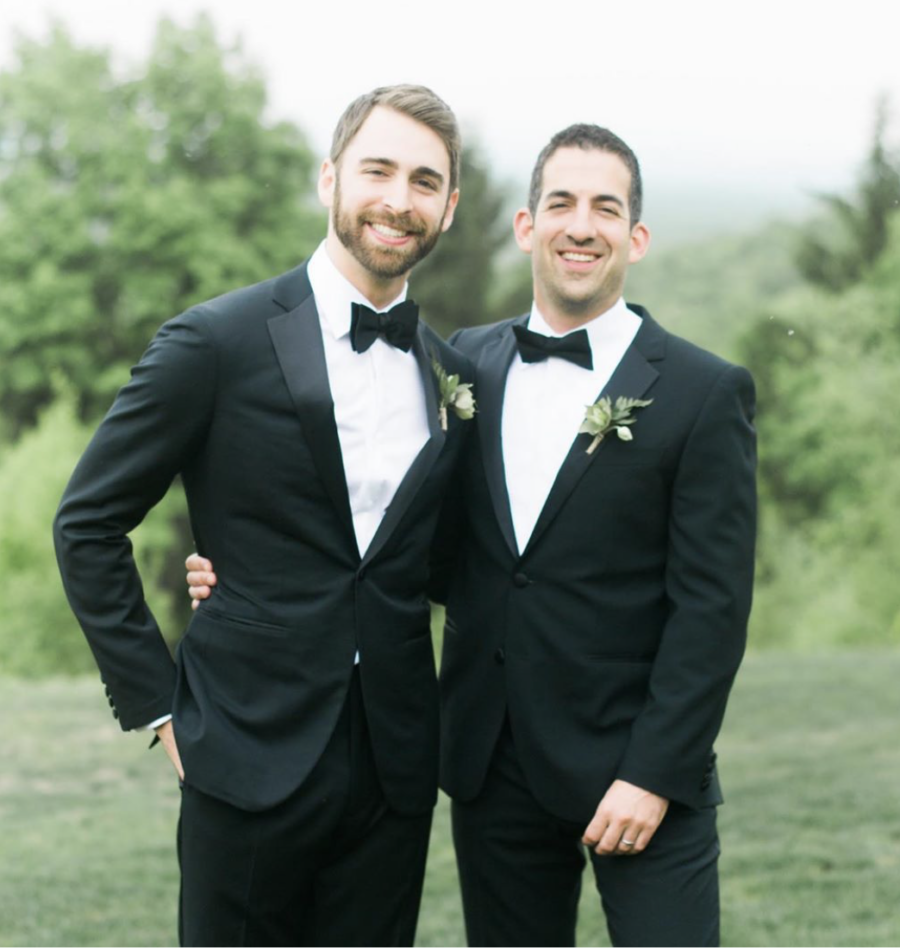 Shortly after becoming newlyweds we reached our first juncture in the road: adoption or surrogacy? Neither of us were sure. So, being Type A's, we scoured our networks for friends of friends that had done either. We ended up talking to about a dozen families, half of which had pursued adoption and the other half surrogacy. We grilled them on the pros and cons, why they had chosen one path or the other. All of that research distilled down to one fundamental truth- there really is no right or wrong answer regarding how to start a family. You just have to do what feels right for you and your partner. And for us, it was surrogacy.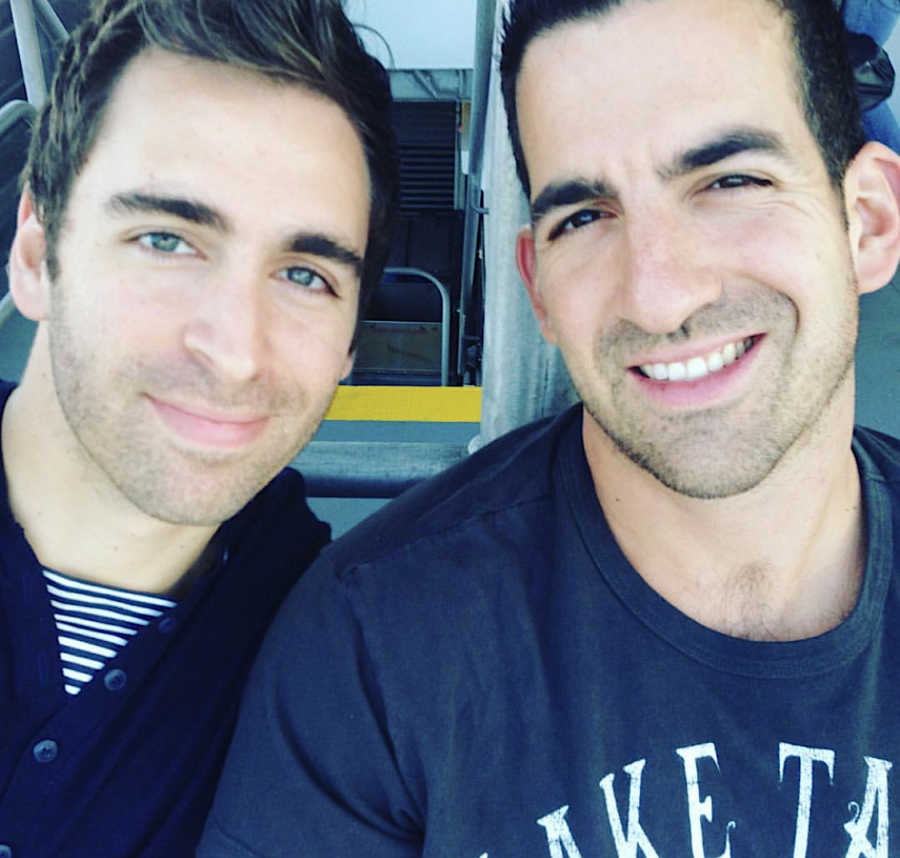 We found an agency, created some embryos with an anonymous egg donor (which involved going to our agency's online database and selecting a woman that would comprise 50% of our child's genetic material…no biggie!), and 10 months later we were matched with our surrogate, a truly spectacular woman living outside of Denver with her wonderful husband and two great kids of her own. Our first video chat call was nerve-wracking, we were all so nervous meeting each other that the first few minutes were filled with awkward pauses and nervous laughter. But we must have made a good impression because after the call, everyone decided the match felt right, and we were on our way. The embryo transfer was a few months later and we flew to the Californian fertility clinic to be with her in person. We spent the rest of the weekend with her while she was on bed-rest, which was an awesome opportunity to really get to know her better and to share our hopes and dreams for our surrogacy journey together.
We'll never forget the day we found out our surrogate was pregnant. It was Thanksgiving, and we were home in New Jersey at my parents' house. Our surrogate texted a weird picture of a coffee pitcher in the oven, which I showed to Dave. 'Why do you think she sent this?' I asked him. Dave, who is a puzzle master, quickly got it. 'Oh my God, oh my God. It's a Bunn in the oven! A bun in the oven!' (Bunn is a brand of coffee maker if you didn't know!) We called our surrogate right away and screamed with excitement at the news. The timing was perfect, and it made the rest of the weekend (a holiday I've always loved, surrounded by my equally excited family) that much more special.
The first few blood tests came back positive. And then there was the heartbeat ultrasound. We heard it! I remember just losing it out of sheer joy. The next 9 months passed by in a surreal blur, with us in NYC and our surrogate across the country, texting or calling daily to hear how she was doing and how she was feeling. We visited her several times over the course of the pregnancy and mainly just tried to be supportive, knowing she was doing this incredible thing for us. Finally, it was two weeks away from our daughter's due date and we flew to Colorado for the delivery. Our surrogate had preeclampsia and ended up being induced early. My parents flew in to be with us. Being in the delivery room when Sloane was born was the most amazing, mind-blowing experience I've ever been a part of. I remember Dave, who I call a robot because he's usually very stoic and reserved, just sobbing his eyes out throughout the delivery.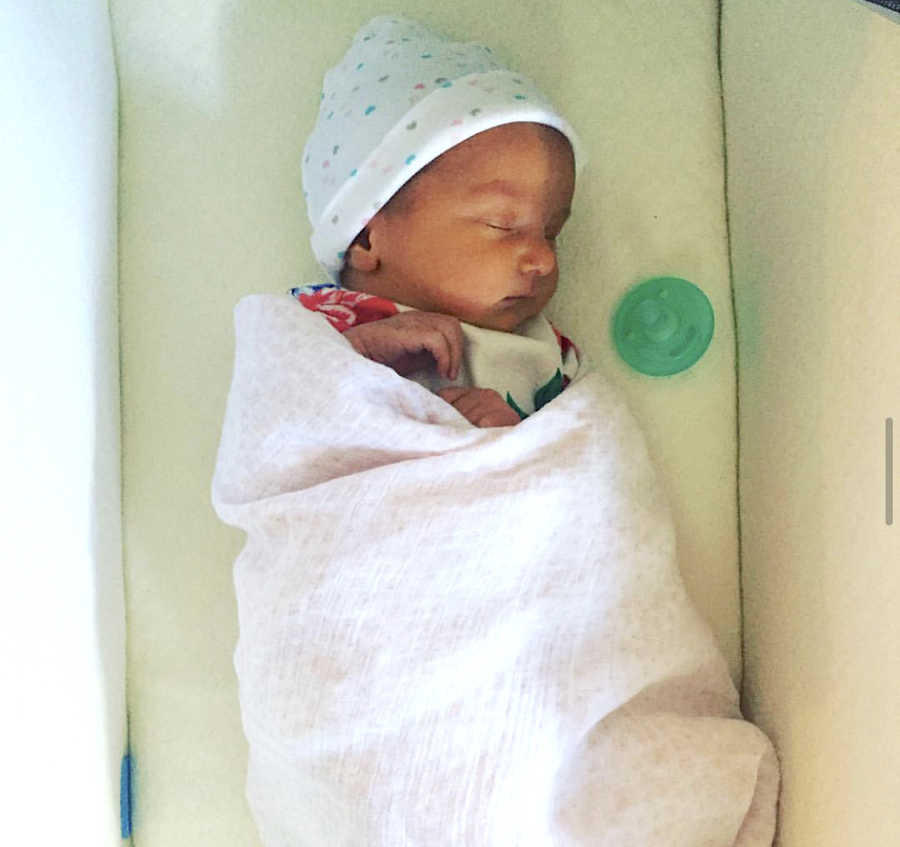 Being a father to Sloane has been everything I'd hoped it would be. Sloane turned two this past July and every week it seems like there's another new heart-melting thing that she can do. This past week she started to say her full name! She is just the sweetest, most precious girl and it's hard to remember life without her. Of course her newly-minted toddler temper tantrums are never fun, but there is a richness to life that I've never experienced before. When I hold her on my shoulders and walk around the neighborhood, going for a babycinno (steamed milk with a little bit of cocoa powder) every weekend morning, it's incredible to see life through her eyes. One of my favorite things about going on vacation nowadays is getting to spend uninterrupted quality time with her at different stages of development; it's an invaluable bonding experience that I wouldn't trade for the world.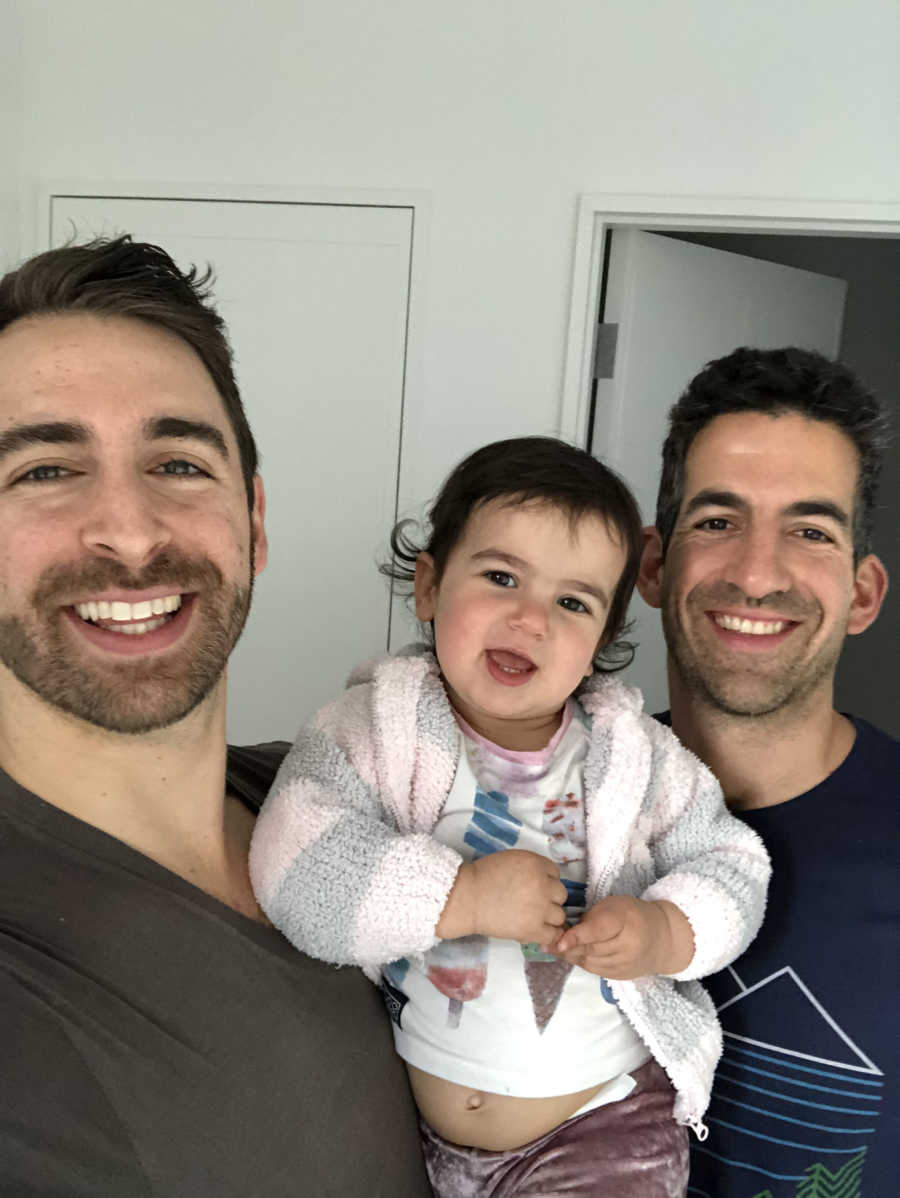 Dave and I are lucky to come from fully supportive families who adore Sloane just as much as we do. Beyond family, we do get a lot of reactions about being gay dads, but have yet to have any negative ones. Mostly it's a lot of smiles and an occasional 'you guys are doing great!' One particular moment stands out. We were flying back with Sloane to New York City 5 days after she was born in Colorado. As we boarded early, we passed by a number of men wearing hunting gear that I thought may have had a problem with our family. But as we sat in our seats, wiping down all the surfaces and trying not to freak out as we were about to takeoff with a newborn, two of the guys in hunting gear came up to us and said, 'Congratulations, you three make such a beautiful family.' It was an important reminder for me to always check my own bias at the door.
Back to that call last October. After leaving the bathroom I quickly walked back to my desk to grab my belongings and canceled my meetings for the rest of the day. My husband Dave was away on work travel in Dublin, but I knew I had to spend the rest of the day with Sloane – she would make things better. I jumped on the subway and called Dave on the walk home.
His voice was broken: 'I'm so sorry, Bart. I wish I was there with you. It's so hard to process this halfway across the world.' I promised to FaceTime him later with Sloane.
When I got home I saw my beautiful girl smiling at me from across the room, oblivious to our news. I ran to her, got on my knees, and gave her the longest hug as tears rolled down my cheeks. I took her to the park where we spent the rest of the afternoon together, helping her down the slide and rolling around in the sandbox and pushing her on the swings (FaceTiming Dave, as promised, so he could join in virtually). And as she swung back and forth, the repetition of the swing turned meditative, and I entered a place of calm. Yes, we'd lost a baby, but we would try again — and no matter what happened, I was so incredibly lucky to live in this day and age when I could have my family, my husband Dave, a beautiful relationship with our surrogate, and my lovely daughter Sloane, who will always mean the world to me."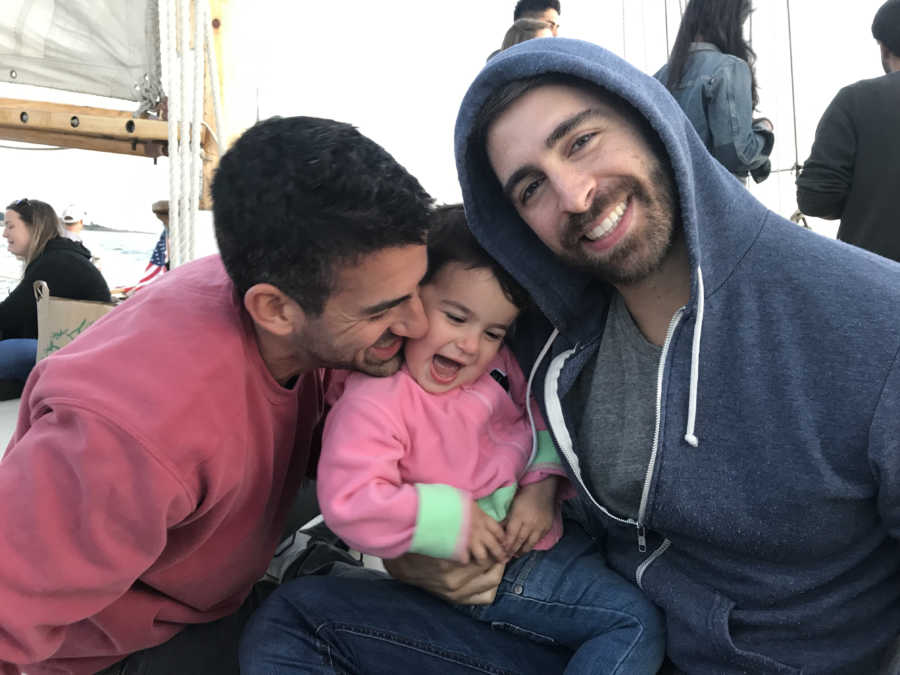 This story was submitted to Love What Matters by Bart Rosenthal of NYC.  Follow his journey on Instagram here.  Do you have a similar experience? We'd like to hear your important journey. Submit your own story here. Be sure to subscribe to our free email newsletter for our best stories, and YouTube for our best videos.
Read more inspiring stories about gay dads having children here:
'YES! Could this actually be true? One sister the surrogate, the other sister an egg donor!': Gay dads reveal 'blessed' surrogacy journey with sisters, the 'most fabulous aunties imaginable' to their son
'We went out to eat. There was a family sitting beside us, obviously disgusted. That hurt. My 'life choices' interfere with their views. We ARE the new normal.'
Please SHARE this story on Facebook to and Instagram to encourage others to live life to the fullest.