"Over the weekend, I was brought into a group text with a couple of old friends. One that I talk to on a fairly regular basis that I met in college, and one that I met at work who I talk to sporadically (he's in and out of rehab among other things). I introduced the two many years later. The relationship between all of us is weird and I try not to give too much time to it, but the discussion this weekend really opened up a lot and ended one friendship.
As with a lot of people these days, politics got brought up. None of us in the group chat have the same views and things unfortunately got heated fairly quickly. The topic of abortion came up, and I won't get into that, but I did bring up how I think we're getting into a not so great spot with abortions. For example, due to genetic testing, babies with clefts are being aborted three times more in some countries and even HIGHER in others. The people want a baby, just not that baby. Having a cleft baby of my own, I strongly feel that that isn't right.
My 'friend' said, 'Come on, of all people, you should get why someone would want to abort a cleft baby.'
That shocked me. Why would he think that? Why would someone think I would agree that babies like my son shouldn't have the opportunity to live, simply because they're different? Not long after that statement was made, I spoke my last words to him. BUT, I thought, maybe this could lead to great opportunity to share my son's story (so far) and hopefully shed some light on clefts. So MAYBE, when a mom and dad go to get a sonogram or get blood work done and find that they've got a beautiful cleft baby, they won't think their world is over. That it'll just be a little different.
On April 3, 2018, at 10:46 a.m., my son Jack Carson Martin was born via C-section. The nurses cheered, and the doctor congratulated us. 'He's so big and perfect,' one nurse said. Tears of joy streamed down my wife and I's face.
Exactly two minutes later, my son Cam Dawson Martin was brought into the world. As the doctor held him up, the room went silent. Something was different. The doctors were worried. My wife's doctor leaned over to a nurse and asked her to call the NICU.
'What's wrong?' my wife asked.
'I don't know,' is all I could say.
I stopped taking pictures. I let go of my wife's hand. I made my way over to the babies. Jack was laying on his bed, already wrapped up. Nurses were crowded around Cam, so I couldn't get to him.
Jack's nurse pulled me over to him. '8 pounds, Dad! He's a big boy!'
I leaned down and kissed my son.
'What's going on with my other son?'
The nurse, uncomfortable, looked over at the other nurses. She whispered to them. After what seemed like forever, they all turned to me. 'He'll be okay.'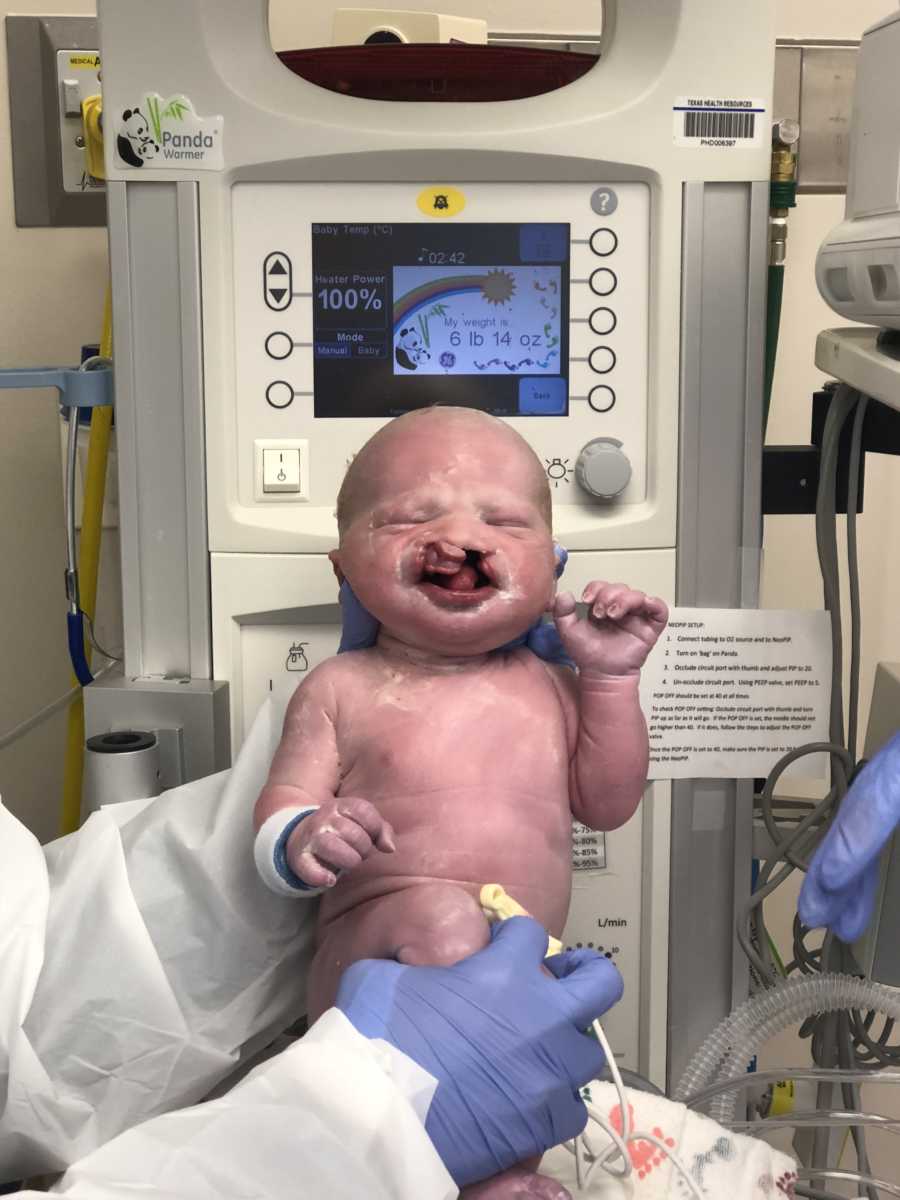 It was a shock. I didn't know what I was looking at. There was clearly something wrong on his face, but I had never seen something like that before. Nobody said anything. The nurse put him in my arms. He cried and cried, and all I wanted to do was help him. I have never in my life felt so helpless.
After what felt like two seconds, the NICU team rushed in and took him from my arms and out the door they went.
My wife looked over at me. 'Is he okay?' I shook my head. No words could come out. My wife didn't even get to hold him.
Later, we were told that Cam had a bilateral cleft lip and palate and that he would have to go to the NICU, so they could make sure that he could eat. Once that was figured out and he was eating a decent amount (two days later), he came up to our room. People apologized and cried for us. Our doctor came up and apologized for their sonogram tech not catching it, so we could be prepared. These first few days were full of mixed emotions. Overwhelming love for these two that just came into our family, and fear for everything we didn't know about Cam's future.
Not too long after we went home, we had an appointment with a plastic surgeon. He got fitted for what's called a mouthpiece called a NAM, which in essence would cover his palate and also stretch things out in preparation for his first surgery at 4 months which would be his soft palate repair and lip repair. At 18 months he would have his hard palate repair and they would reshape his nose. Between ages 4 and 6 he would have a bone graft done to make his top gums one solid piece.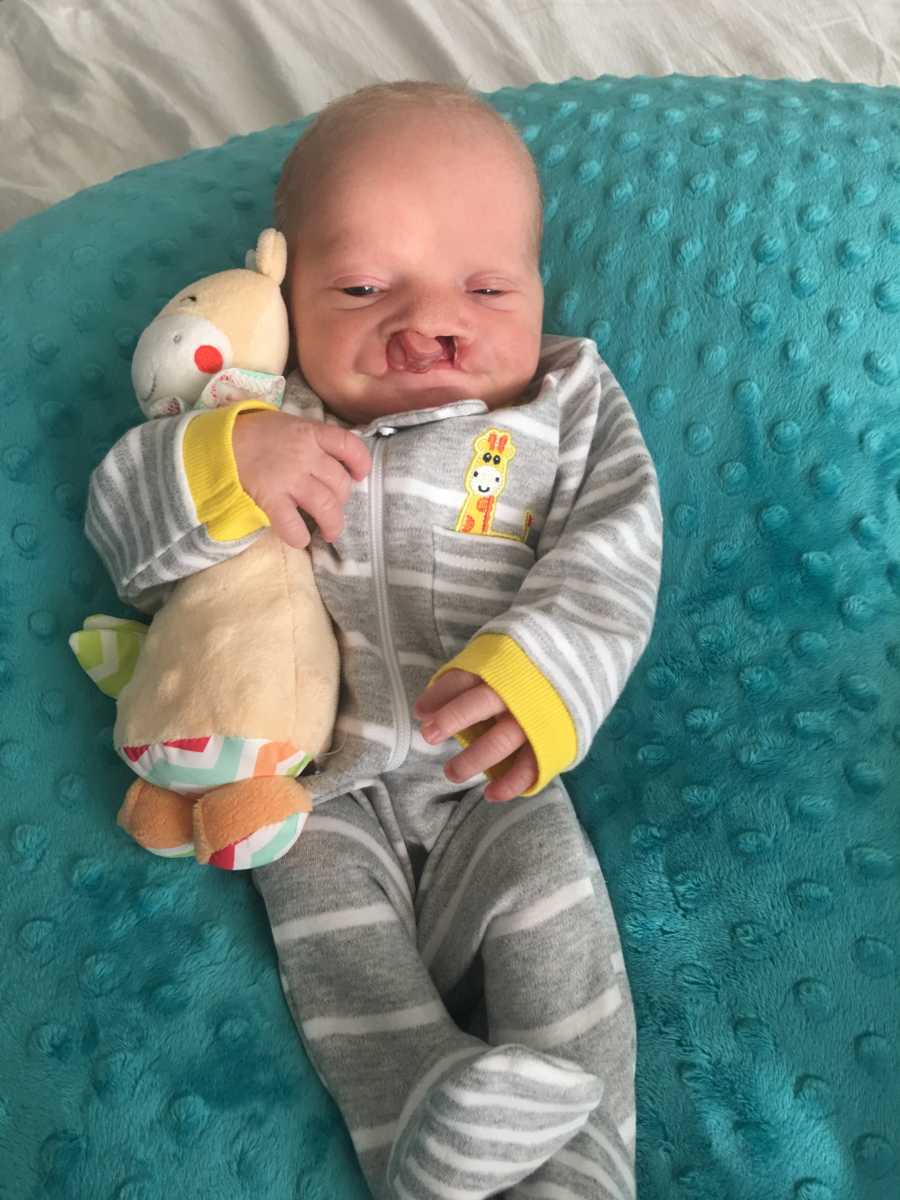 He had a lot going on with his face, that's for sure. And I feel like someone was always messing with him. We had to take the NAM out twice a day and clean it and constantly fix the tape. He had a special bottle that he had to use with a valve in it since he couldn't suck. I won't lie to you, it's hard. But it's hard in the sense that you don't want your baby to have to go through all of this.
We LOVED the moments when the NAM came out and we got to see his huge beautiful smile. It's crazy how fast you fall in love with them. We just wanted to stay home with him all day and stare at his face. As his surgery quickly approached, we got a lot of anxiety. This little boy wouldn't look like the same little boy anymore. He wouldn't be the same boy we fell in love with. It's weird to say, but we didn't want to do it.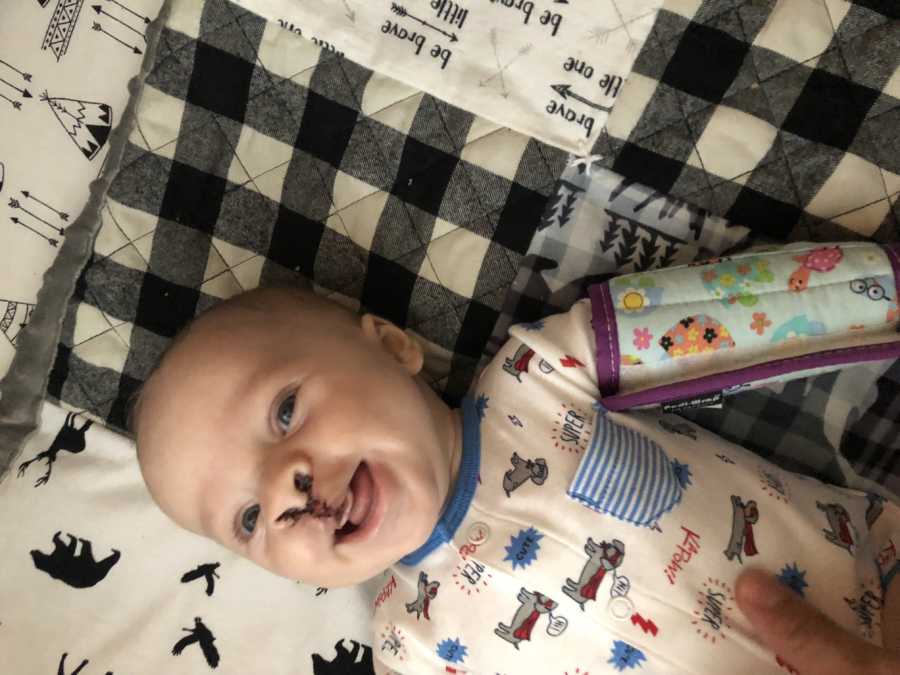 But, of course we did it. That first day was rough and he was on a lot of pain meds. My wife and I cried…a lot. He was so different. He was in so much pain. What had we done? The nurse told us a lot of cleft parents go through that. That there's a grieving period you go through. After he was over the pain, and his personality was coming back, we saw our son. We REALLY saw our son. His huge smile was still there, and he was just as beautiful now.
He healed fast and has the best freakin' personality. That kid loves so hard. Do I wish he didn't have to go through all of this? Of course. But do I wish we never had him? A million times no. This baby has changed me in so many ways. He really has changed my life.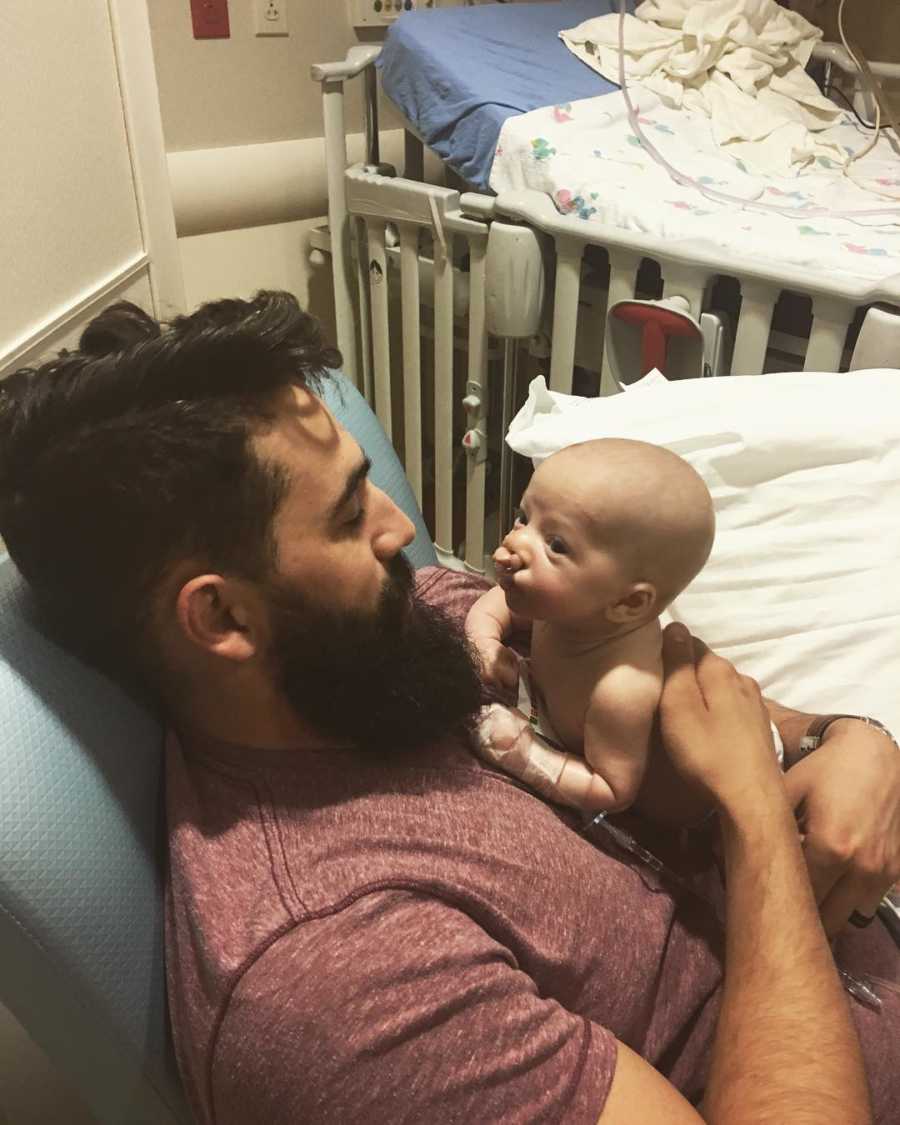 The first 4 months were difficult. There are a lot of appointments. But once that first surgery is over, things get so much easier. He's got a few more surgeries to go, but he's a tough little dude. I hope he'll be a beacon of light to others, that their world isn't over just because they're a little different. Having a cleft baby is difficult at times and it's terrifying to go into the unknown, but it really is so rewarding."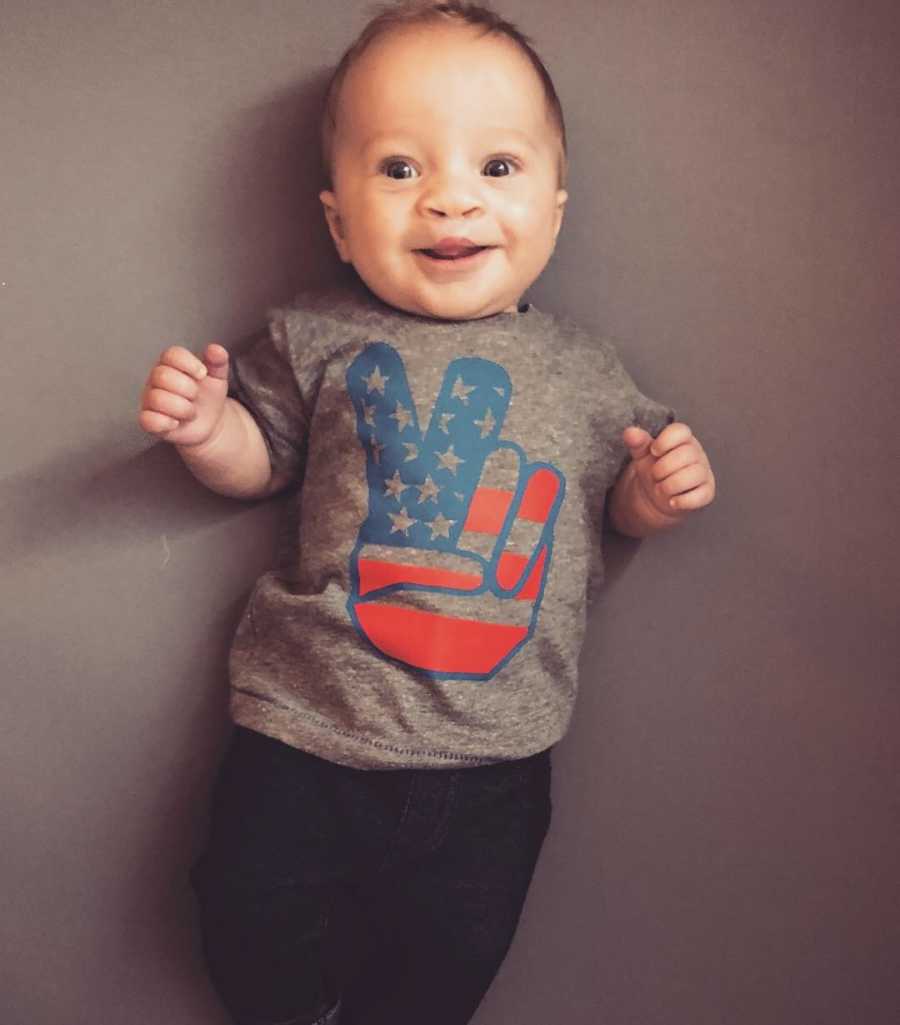 This story was submitted to Love What Matters by Matt Martin, 28, of Dallas, Texas.  You can follow him on Instagram here. o you have a similar experience? We'd like to hear your important journey. Submit your own story here. Be sure to subscribe to our free email newsletter for our best stories, and YouTube for our best videos.
Read more inspiring stories like this here:
'What's wrong with her? Can it be fixed?!' I had wide-set eyes, webbed fingers. People can't help but stare.': Woman meets child with similar Craniofacial differences, 'I hit the jackpot and found belonging'
'My cheek was swollen. The doctor said, 'I've never seen anything like this before. Your life expectancy is 6 years old.': Woman gets Facial Infiltrating Lipomatosis diagnosis after 22-year battle
Do you know someone who could benefit from this story? Please SHARE on Facebook to let them know a community of support is available.