Disclaimer: This story mentions loss and may be triggering for some.
"Little Fitz,
Oh how I wish we could bring you home. Every fiber of my body mourns for you. I don't know if this hole in my heart will ever feel full again. I don't understand why we couldn't bring you home. I cannot fathom why you were too sweet for this world and meant only for heaven. I imagine this will never make sense.
We were told on February 21st, 2019, you were not going to live. I was 21 weeks pregnant. You would die either intrauterine, during delivery or shortly after your birth. For 106 mornings, I would wake up and for a few moments I would forget our time was temporary. I would lay still hoping to feel your tiny kicks to confirm your viability. I feel like the luckiest person to have you for 9 months. I'm so grateful for my time with you. Each day my stomach grew, and my body supported you. I'm grateful for the choice I had to continue this pregnancy. Without the support from friends and family, I don't know if I could have done it. I loved carrying and protecting you. I fully appreciate why this choice doesn't work for every family.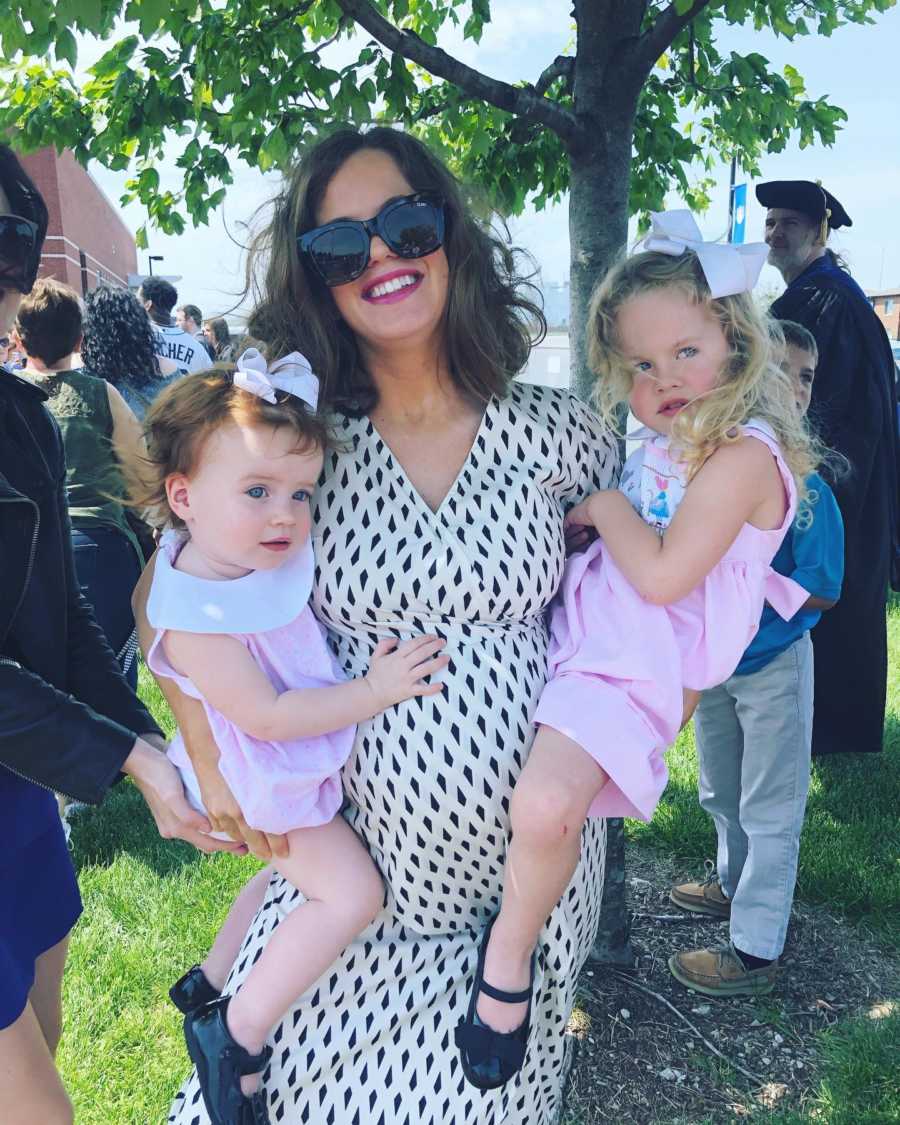 We navigated uncharted waters this pregnancy. Instead of decorating a nursery or washing tiny clothes, we were grappled with tough decisions. How much testing to pursue, picking out a funeral home, deciding what to do with your little body or explaining to your toddler sisters why you are an angel.
I wasn't spared the pregnancy symptoms either. In fact, being a Mom of 3, I know my body worked extra overtime to support you. That is okay. Instead of complaining over the morning sickness, swelling, aches, heartburn, sweating, sleeplessness—I knew all of this confirmed you were still alive. I had to dig deep to appreciate these little nuisances. It's all I had.
Despite what multiple doctors conveyed, I secretly hoped for a miracle. Every visit or ultrasound, we looked for a sliver of hope that we could bring you home. Nothing would prepare us to hear the doc confirm your heart beat stopped, kissing your cool forehead goodnight, hearing new babies cry on the postpartum floor, listening to the nurses talk about you in past tense, or waking up the first morning grabbing my still belly looking for you. I'm dreading leaving the hospital without you.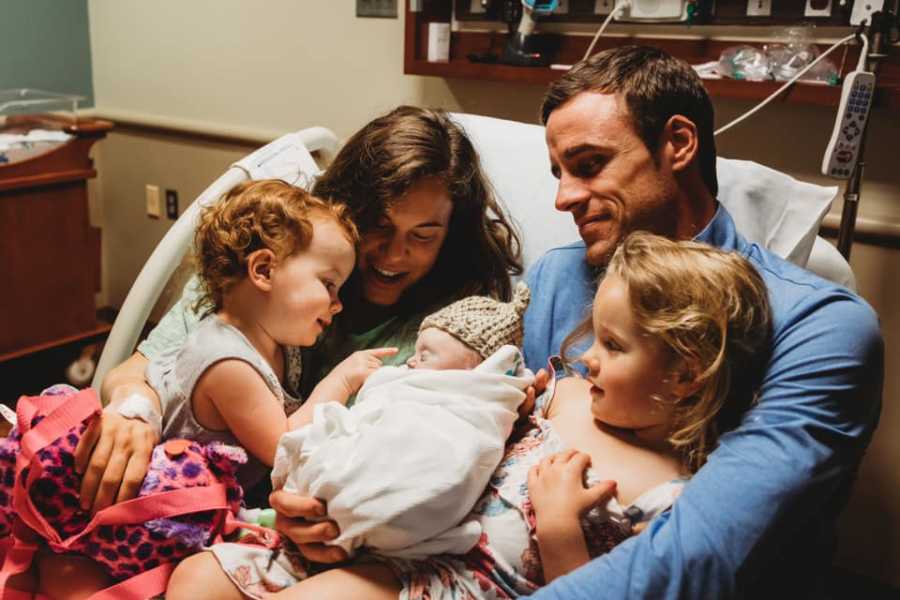 Little man, your home is a brick house in Kirkwood, Missouri. There is a white dogwood and a rod iron fence in the front yard. Daddy works hard to keep the lawn green, manicured, and Mom manages to kill every flower she plants. You have two sisters who would dote and adore you. I imagine you would have been tormented with bows, jewelry and nail polish! You have a squirrelly dog, Dax, who would lick your face when I wouldn't be looking.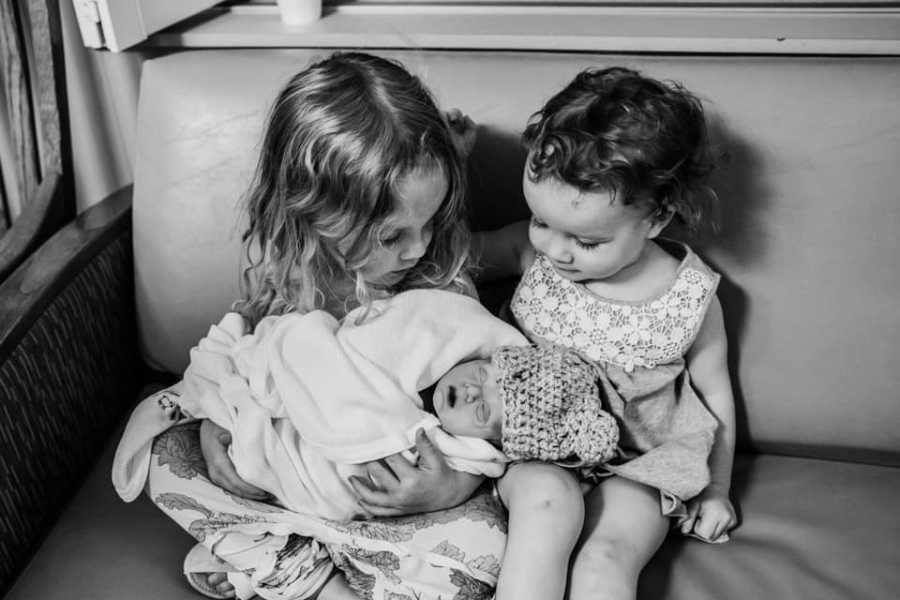 I feel so grateful for the time I had with you. Not a day went by where I didn't think of you or shed a tear. You kicked around the most when Lucy would sing to you, hearing the girls laugh, or when Winnie and Dax would lay next to my belly. I know you grew to love us, your family, in my womb.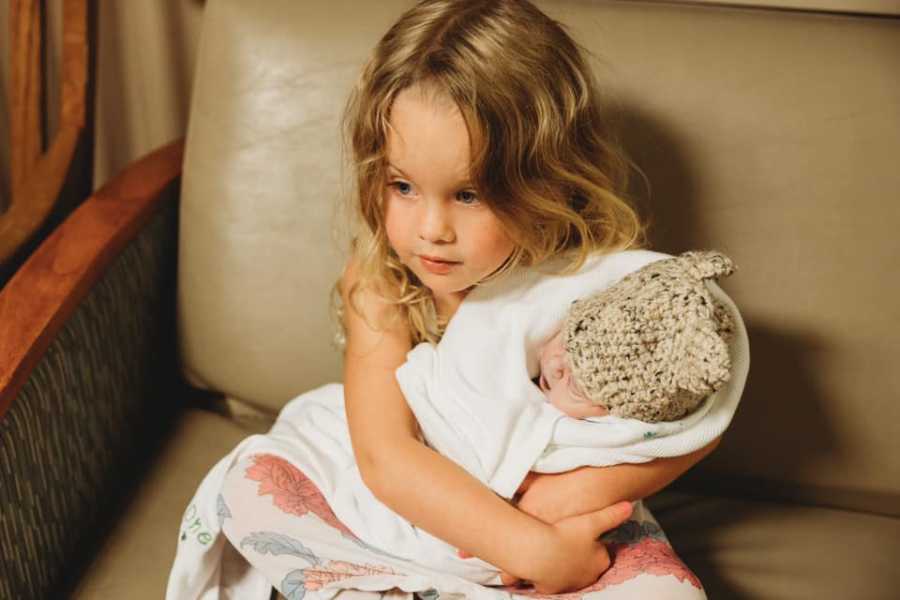 It pains me knowing we won't be able to see you take your first steps or spit out mushed-up peas. I tear up knowing Daddy won't be able to teach you to kick a soccer ball or swing a bat. I won't be able to hear your first laugh, console your boo-boos, or pull you into our bed during a thunderstorm. I won't be able to see a brace-faced boy awkwardly place a corsage on a girl's wrist before a high school dance, freak out in a parking lot when teaching you how to drive, or help you move into your college dorm. No future family pictures will ever feel complete. I wonder what you would have been like, what you would have done, and how you would change the world.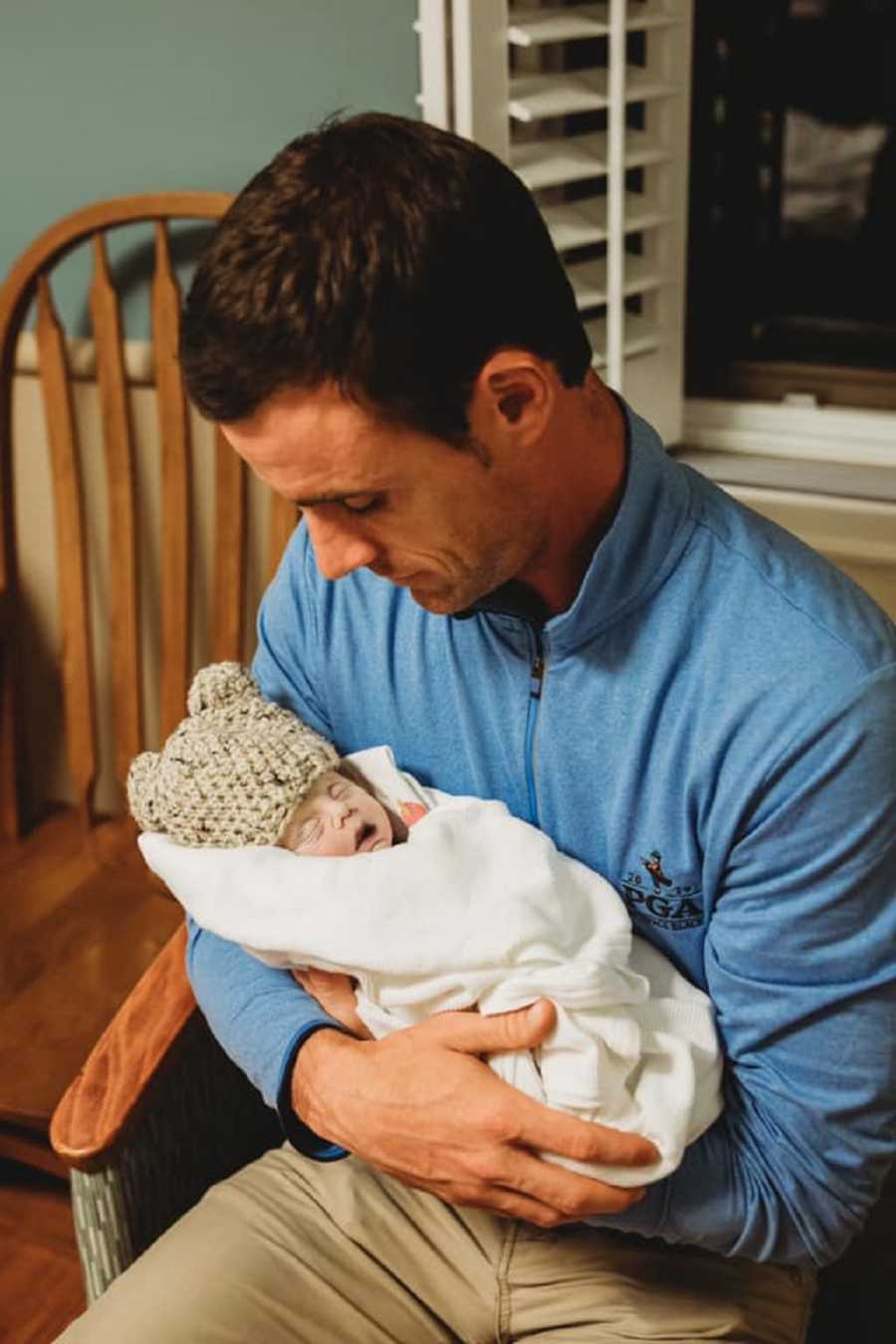 I imagine and hope your purpose is greater. For starters, you have taught Mom and Dad how to have a broader perspective. You opened our eyes to fully appreciate everyone's differences. You taught us to console others about our tragedy. In a situation without control, you have guided us to focus our energy. You showed your sisters how to empathize. You taught us it is easy to celebrate the good in life, but how it important it is to be there for loved ones in the dark. To look at hurt and pain straight on, and reach out to them—even if you don't know what to say. You taught us that simple questions like, 'When are you due?' and 'How many children do you have/want?' may be way more complicated than one would anticipate. You have brought the good out of so many. Unexpected flowers, gifts, prayers, meals, cards and notes all sent to our family for you. You showed us others' kindness. This gave us the push to get through each day. For this, I am grateful.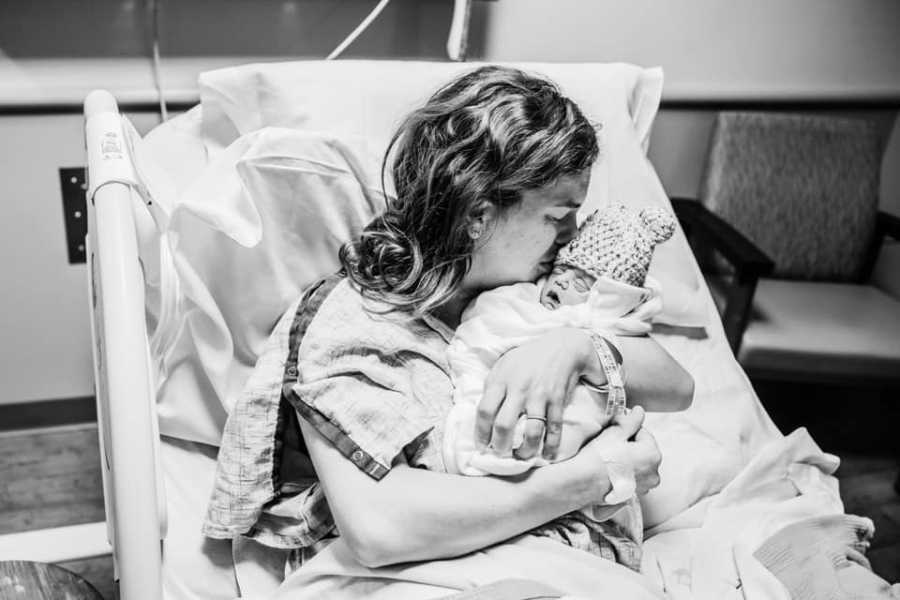 My sweet first boy, Fitz, you will always have an extra special place in my heart. All good things come to an end, sweet baby. I yearn for the day to hold you again. I wish your home was with your family rather than heaven.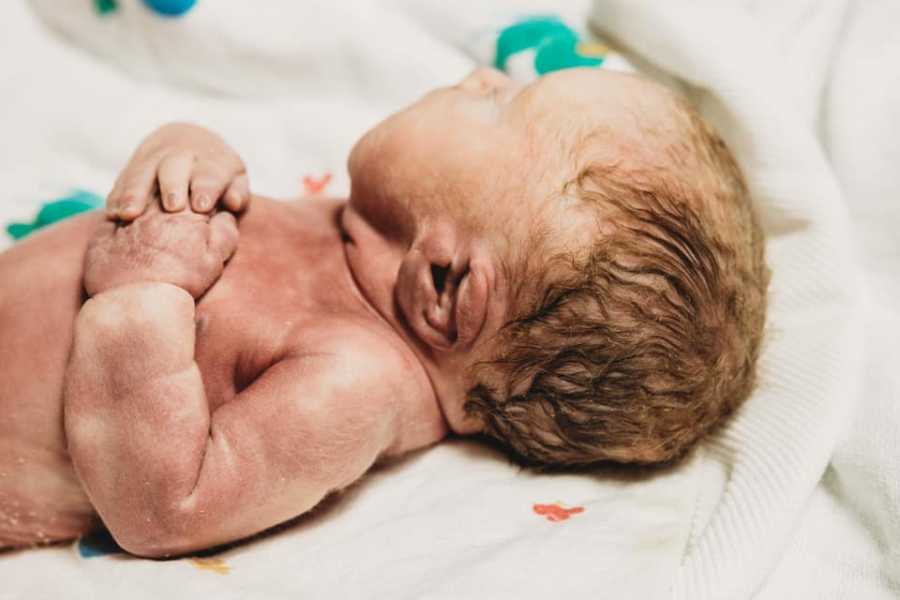 Fitzpatrick 'Fitz' Ralph Boschert was born on Friday, June 7th at 5:15 p.m. weighing 3 pounds and 11 ounces. Fitzpatrick is Gaelic Irish, meaning 'noble birth.' We had 1 hour with our warrior before he peacefully took his last breaths on Mom's chest. I'll always remember our last morning together, coffee on the back porch and seeing a red cardinal fly by. I'll never forget that tiny little kick on my chest before you took your last breath. I'll never forget watching Dad cuddling your tiny body during your baptism, singing to you after your birth and celebrating you for that one quick, beautiful hour. Rest peacefully, my sweet Fitz boy."
This story was submitted to Love What Matters by Allison Dolan-Boschert of Kirkwood, Missouri. Do you have a similar experience? We'd like to hear your important journey. Submit your own story here, and be sure to subscribe to our free email newsletter for our best stories.
Read more powerful stories of families grappling with child loss:
'I put you in your mom's arms so you could be snuggled while you drifted off to sleep. I hid behind the curtain and shed silent tears. I still hear the echo of, 'I'm so sorry, but he is gone.'
'Unsafe and idiotic,' is how they described it. I was hurt. I cried heavy tears all night. This neighborhood has been such a safe space for me since my son died. Evil will not win.'
'Are you at work? Can you call me?' I'm thinking, 'Today is the day I get to meet Abigail!' Now I'm over-excited! I call, her tone is bleak, then she begins to cry. 'Abigail didn't make it.'
Do you know someone who could benefit from this story? Please SHARE to let them know a community of support is available.