"My pregnancy nightmare came true. As a first time mom, labor and delivery are scary thoughts as you creep closer and closer to your due date. It consumes you with questions and doubt. Who will be there when I go into labor? Will I be early or late? How bad does this 'labor' stuff hurt? How long will it take?
I am not the kinda gal that doesn't like to go to the doctor at all… and I'm horribly frightened of needles, so I'm already filled with fear about delivery from my own anxiety. But at the same time, I'm excited to meet this little boy who will change my world.
My pregnancy was very normal and healthy. Everything checked out just fine at all my appointments with my doctor. I had no swelling whatsoever except my belly where my little guy was sitting. We were 'right on track,' the doctor would tell me every time I'd see him. I had my hospital picked out, papers filled out, and been through the labor and delivery room tour. I was your typical new mom anxiously waiting for my baby. I was 6 weeks away from my due date at this point.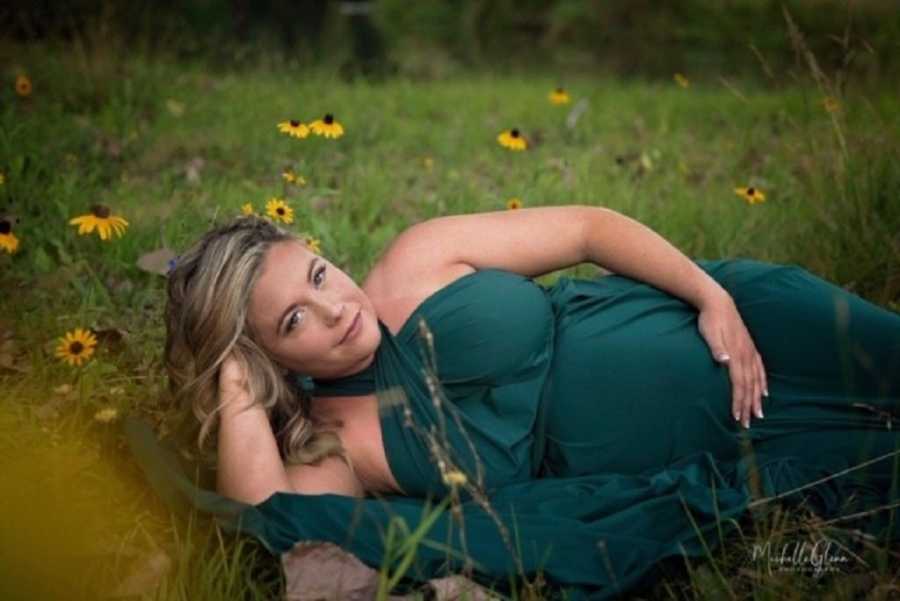 That all changed in a HURRY. That fantasy labor and delivery I dreamed about and all those bonding moments was not at all what I was about to experience.
It was a Saturday the middle of August, and very hot that day. After a hot day's work in the yard, my parents had just put in a pool and that's where my big, 34-week belly was usually landed in an inner tube anytime I was off work, or if I just wanted to cool off, relax and get the weight of baby off my back for a little bit. I swam around feeling fine. Some family and friends came over and enjoyed the pool as well. Everyone decided they would order a pizza and enjoy the evening. I climbed out of the pool and plopped down in a patio chair and was immediately taken over by a horrible headache and blurred vision.
My mom (who is an OB Nurse) said, 'just relax in the chair and let me take your blood pressure.' She grabs an old blood pressure cuff she had in the closet from nursing school and said there's no way this is right. My BP was skyrocketing and I was at levels where I could have gone into a seizure at any point. Mom says to me get in the car, we are going to the hospital now. Instant fear strikes me. 'No, not the hospital! I'm not ready. I will be ok if I lay down and take a nap. I must have overdone it swimming. I can fix this.'
My mom had my cousin's girlfriend (also a nurse) check my blood pressure to make sure it wasn't just her or the cuff. It was correct, my blood pressure was out of this world high. I argued with my mom and cousin's girlfriend about going to the ER as tears ran down my face as it started to sink in. My mother wasn't going to let this go or back down. She called my husband who was on duty as a deputy for our county and he agreed to meet her at our hospital.
The entire car ride there, all I could think was, 'calm down or you're only going to make this worse. They will just check me out and send me home.' Wrong. I got to the ER and was sent up to labor and delivery. They monitored me for an hour with no stimulation, lights, TV, or phone to help protect me from a seizure. After speaking with the on-call OB doctor they decided to keep me for a 24 hour urine screen. They were looking for proteins in my urine that would indicate preeclampsia, although I had zero swelling anywhere.
Afterward, the nurse tells me I have to stay overnight and I'm crying in fear of what's next and what's happening. I was admitted at 10:30 p.m. so I had to stay until 10:30 p.m. Sunday to gather the 24 hours worth of urine they needed for the lab. Meanwhile my blood pressure is staying consistently high.
At 8:00 a.m. Monday morning (my birthday) I'm laying in the very hospital that my mother was in 26 years ago giving birth to me. The on-call doctor comes in with the lab results and it isn't good. He explained that since I'm 34 weeks I could not deliver the baby here at my hospital I had picked, and with my protein count, I would have to be transferred via ambulance to the closest NICU hospital 45 minutes away from home. And that I will most likely need to deliver my baby on Wednesday.
By noon I was loaded up in the ambulance and started on magnesium drip via my IV. My husband ran home to gather clothes and things we would need for the next few days as my mom and sister followed the ambulance to the hospital. I remember thinking, 'wow, my first ambulance ride!' My husband being a first responder I've been in and around most first response vehicles. But never transported in one for my own personal needs. I made chit chat with the ambulance crew and about halfway down to the hospital I felt the magnesium take hold of me. I started to feel sick – weak but still alert.
We arrive at the hospital, get settled in my new room do all the paper work. The nurses padded my bed for if I would have a seizure so I wouldn't hit my head. I met my new doctor and got an ultrasound done to check on baby. And then baby and I started to slip into distress by 2 p.m. My oxygen levels started to decrease, and baby's stats were all on the low end with no moment from him.
I laid in the bed and felt like I had been hit by a semi. It was hard to even blink.
My doctor then comes in and tells me, 'You will have to deliver today. You have HELLP Syndrome and you're filling with fluid internally.' What wait today?! I thought we would deliver Wednesday, now today? Today is my birthday. How could this happen?! 'My baby is too little,' I thought to myself. 'He's not ready.'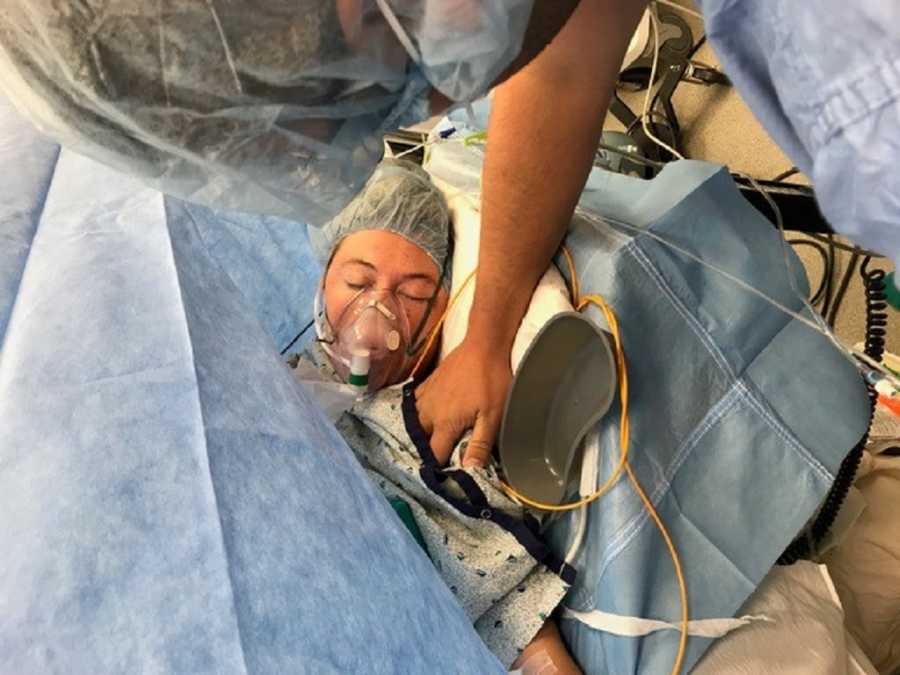 I was prepped for an emergency C-section at 5. By 6 p.m. my worst nightmare of a labor and delivery was happening right in front of me, in slow motion. The magnesium had made me so weak I just laid still for every poke and pinch they did, which is not like me at all to not to put up a fight. I laid on that OR table gasping for air and trying to yell, 'help, help, help me!' It was a faint yell, as if I was asleep and in a bad dream. 'I can't breathe!' No one seemed frightened that I couldn't breathe. No one was helping me.
I stared into my mother's eyes in the OR as I could see the fear written all over her face, even with the mask on she had to wear. She knew what was happening to me. She held strong for my sake and did not cry.
I hear the doctor say, 'Ok, here we go, and a huge splash of fluid hit the curtain in front of my face. All I could think was, 'I'm going to die right here. I was born on this day, and I'm going to die on this day giving birth.'
A few minutes go by and they pull my son out 2 hours exactly before I was born 26 years prior. He did need some resuscitation when he was born, but he came to shortly after they started. He weighed 4lbs 8oz. I was so fogged and beat up. I never got to see him until we got up to the NICU 4 hours later.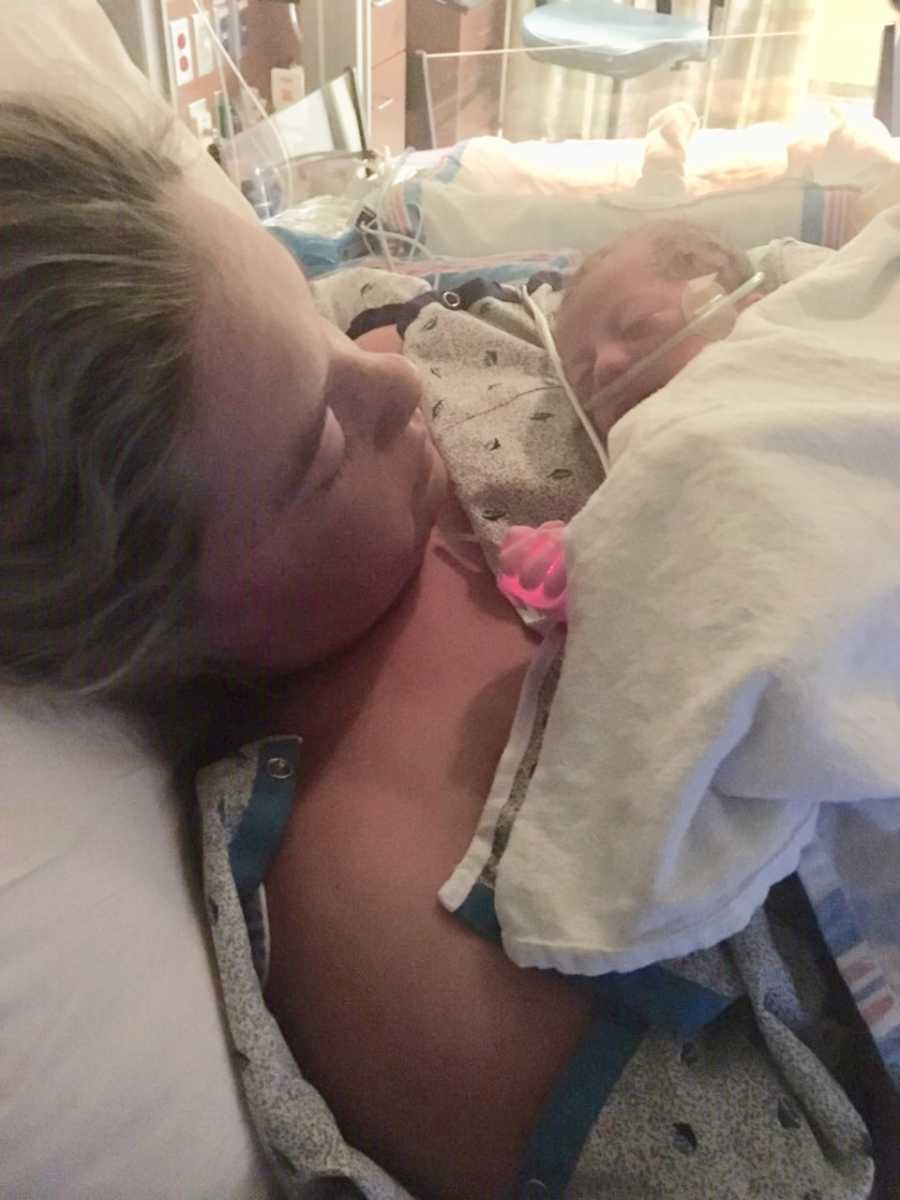 I remember afterward being wheeled out of the OR thinking, 'You're done, it's over. You made it. But where is my reward? Where is my baby? Why isn't he in my arms? This isn't how it's supposed to be. They don't prep you for that.'
At 10 p.m. my bed was wheeled up to the NICU to meet my son and I was overcome with tears and pent up emotions – what in the hell just happened to us in the last 48 hours?
After 20 long, stressful days and nights in the NICU teaching my little fighter how to eat and have him wean off the magnesium I was put on to keep me from seizing, we all got to make the 45-minute drive home and be a new family – with no wires, cords, beeps, nurses or blood tests from the hospital.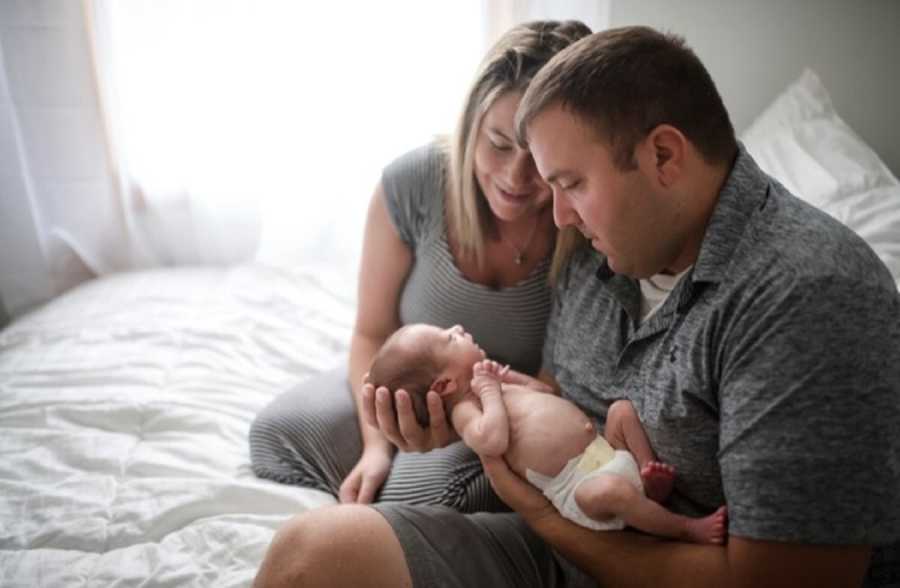 The most important thing is everyone is alive and well now, 3 months later. When they say all deliveries are different, they couldn't be more true. Mine nearly killed me and my son. It was a nightmare come true. HELLP Syndrome is real and fast and if you have any doubts about your blood pressure during pregnancy, go to the hospital or it could cost you and your baby's life."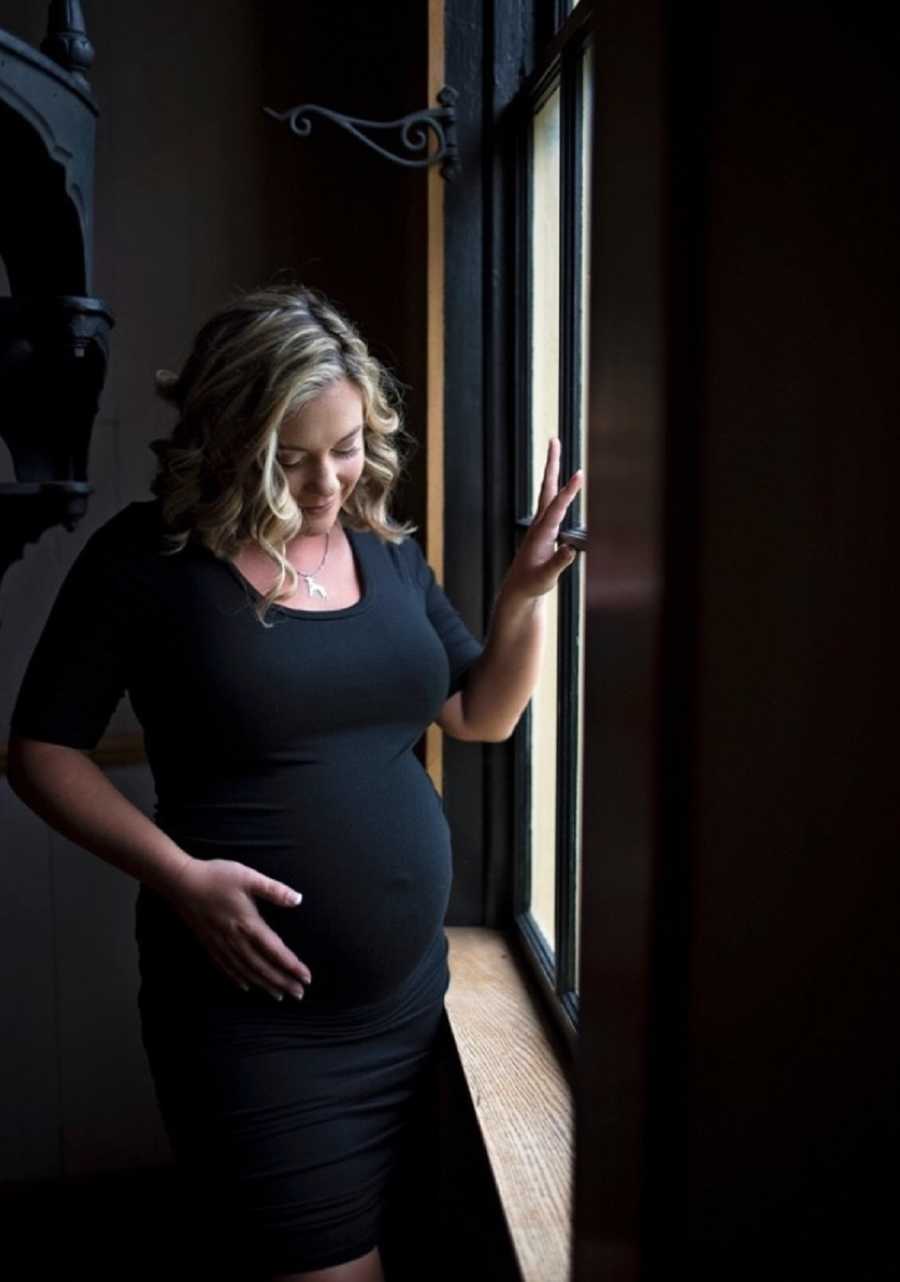 This story was submitted to Love What Matters by Kylee Harris, 26, of Angola, Indiana. Submit your own story here, and subscribe to our best stories in our free newsletter here.
Provide hope for someone struggling. SHARE this story on Facebook to let them know a community of support is available.