"As a child I always knew I would be a mother, but never expected I would go from single teen mom, to twin mom, to birth mother, to adoptive mother, to stepmom.
I was 17 years old when I got pregnant for the first time. I was in a quasi-committed relationship with my boyfriend. I was not his first choice, and he certainly was not mine, but we had mutual friends. In fact, I had dated two of his best friends and slept with one of them.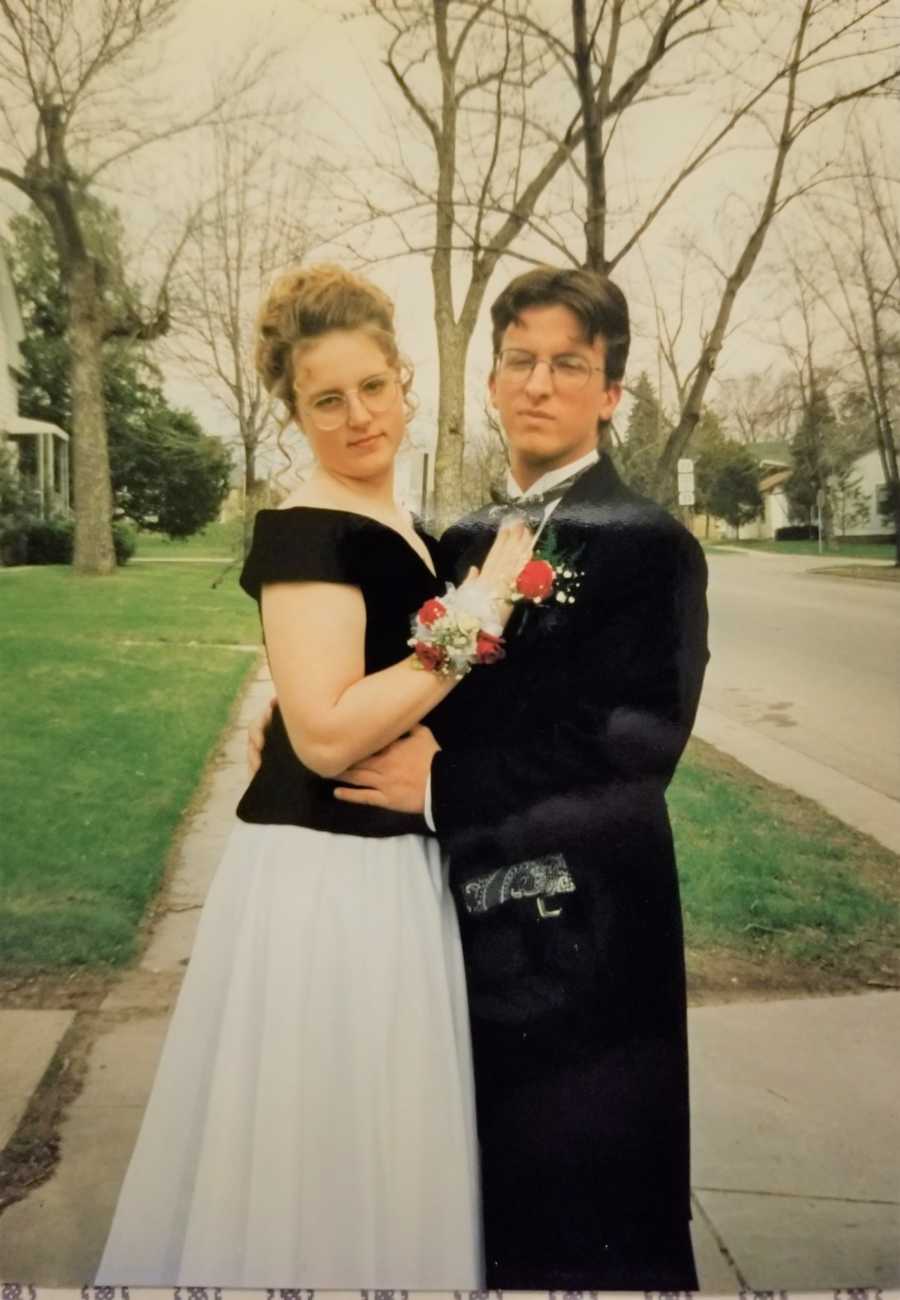 At 17, I wanted only to be loved. The only way I knew how to receive love was by sneaking out of my parent's house and meeting my boyfriend for quickies in the backseat of his Oldsmobile.
We were together for 5 months when I got pregnant. I was working as a camp counselor at a summer camp for children with disabilities. I wanted to be a special ed teacher after college, and it seemed like a good learning experience.
Two weeks after I missed my period, the morning sickness set in. On my four-hour break, I drove to the nearest Walmart and bought a pregnancy test. My friends and I drove to the local McDonald's where I peed on the stick in the bathroom. I was hoping my fears would be wrong.
'One line. Please one line.' 3 minutes later, two pink lines showed my fate. Pregnant.
When I told my boyfriend I was pregnant, he replied with, 'Yeah, so whadaya want me to do about it? Marry you?'
That was not exactly the response I was expecting, but something, anything, would have been more helpful than that. I spent the next month or so puking my guts out every morning at camp, knowing that any day I was going to have to inform my mother. I could not just keep that tiny fact hidden from her. And then one unlucky day for me, I got injured at work. Because I was under 18 years old, I knew that my mother would find out I was pregnant when we had to go for an exam and an x-ray.
I told her. 'I'm pregnant. I am keeping it.' Just like that. There was no other question about it. And so, while I was having my injury checked out, we got a prescription for some prenatal vitamins and a follow-up exam.
When the summer was over, I went back to high school. I was one of 5 other teen moms in my grade. I spent my senior year taking fluff classes like home economics and family living, as I only needed a half-credit to graduate that year. I had tried to persuade the principal to let me graduate early, however, the rules were that you had to apply a full semester earlier. During a semester that I was not even pregnant, nor had any plans on being pregnant. Go figure.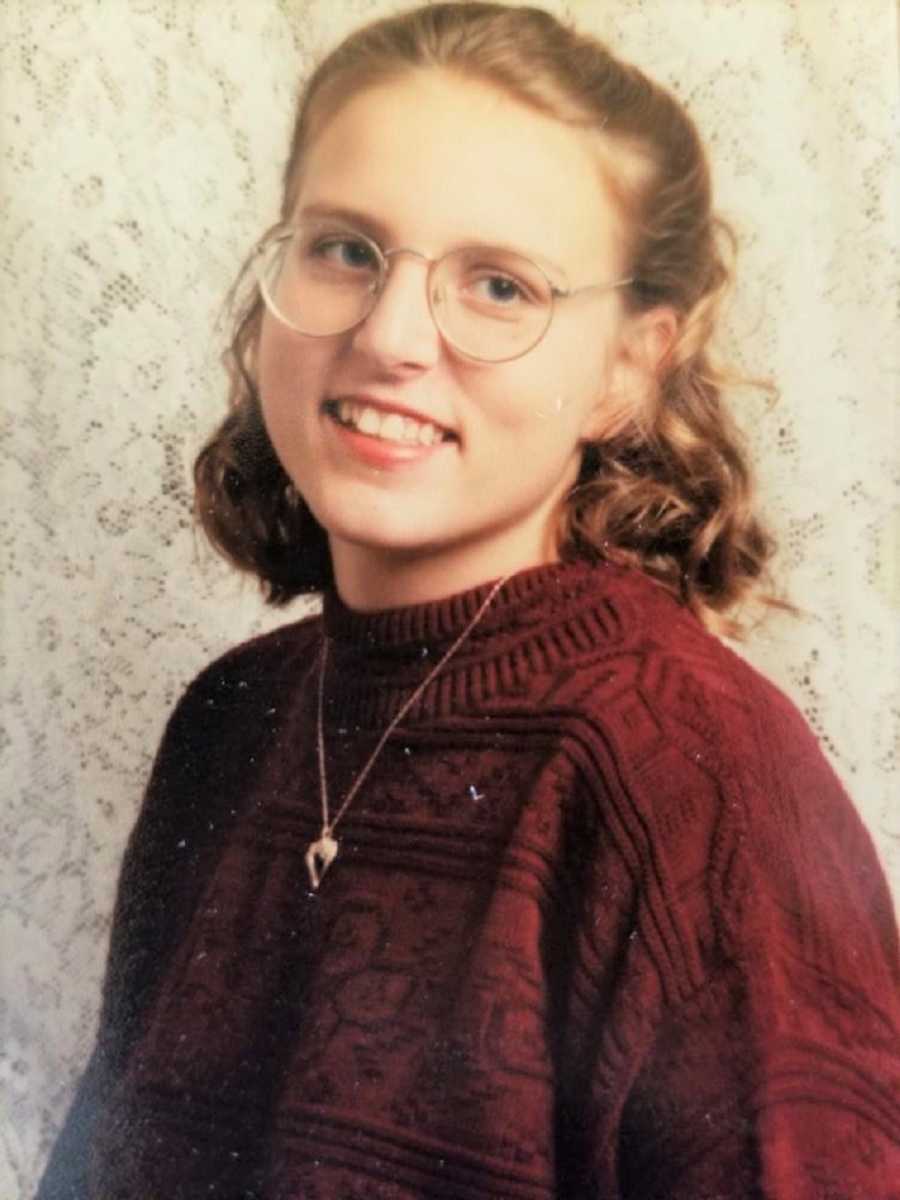 I spent my senior year with a small group of friends, my on again-off again boyfriend, and working. My son Taylor was born 11 days after my 18th birthday. He is the one that made me a single teen mom.
My boyfriend and I tried to 'play house' while I lived at home with my parents. However, we knew we were all wrong for each other. He was a volunteer firefighter and worked for a factory, and I still had the dream of going to college and being an amazing teacher. As the next few months wore on, we knew we could not continue in the relationship as most times we did not even like each other.
After I graduated high school, I went to college for only half of a semester. I had a new boyfriend and continued to lead a lifestyle that was somewhat destructive and left me longing to be loved. I learned early on that babies do not really love back. My son was needy, cried a lot, and certainly didn't care how lonely his 18-year-old mother was. I was a terrible mom back then, often leaving my son with my parents so I could work, go to college, and see my boyfriend. It was really the last part that made me terrible. Always wanting my own needs met. I am thankful every day my parents were there and able to take care of him the way I could not.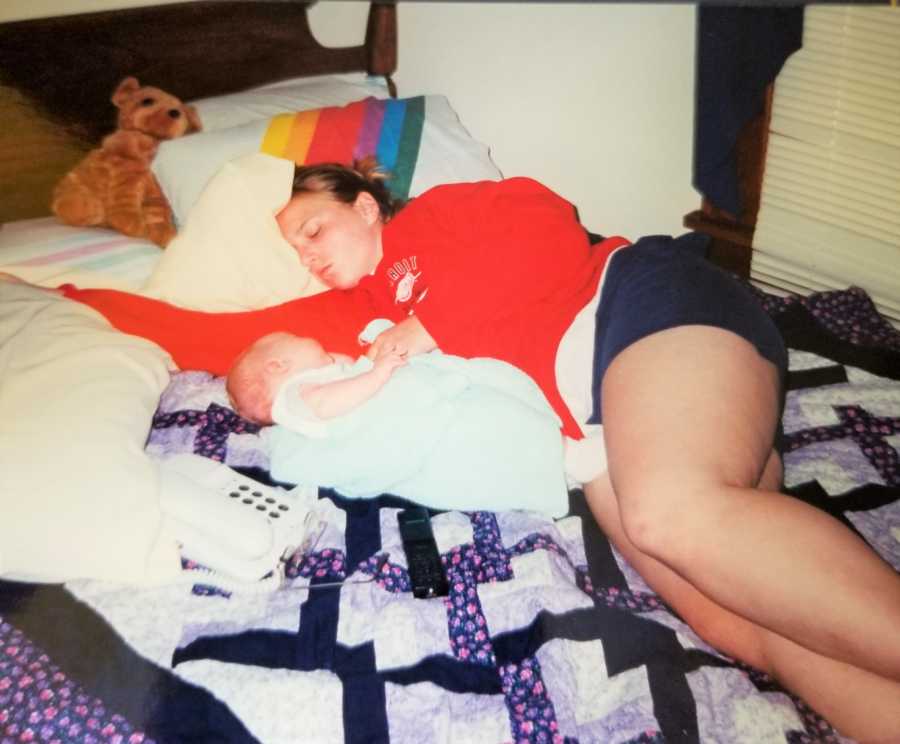 I only completed a half-semester of college because one day I decided to skip class and go see my boyfriend who lived an hour away. On the way home, when I was headed back to work, I blacked out at the wheel and my car crossed the center line. I hit a semi-truck head-on in a collision in my Dodge Neon. Thankfully, after the jaws of life and an ambulance ride, I sustained minor injuries to my leg and a few cuts to my face. Every time I see the pictures of my crumpled-up car, I feel grateful to be alive.
You would think such a life-altering event would change me, but I am sad to say it did not. I dropped out of college and became a bit of a drifter while my parents continued to raise my son. It was not until I became pregnant again that I changed my life around.
I had a decent job working for a local fast-food franchise. I had been hired to be an assistant manager and felt pretty proud of myself for the life I was making. Then, one night, a friend of mine invited me to a bar and said we could have a few drinks. I was only 20 years old, but she assured me she could get me in. While I was not much of a drinker, I decided what was one night to let my hair down and enjoy myself.
From the moment I stepped into the bar, there was a man that noticed me. I was dressed in black pleather pants, high heeled boots, and a skimpy shirt. I was naïve enough to believe I was just there to drink with my friend and had a low enough self-esteem to think I wasn't going home with anyone. He started buying my drinks after my friend bought me my first one. Dr. Mcgillicuddy's vanilla schnapps with cranberry juice, 'a cherry cheesecake,' was the drink of the night. I stopped counting after he brought me the fifth one. The room was spinning when he asked me my age. 'I am guessing I am about ten years younger than you,' I giggled.
He said, 'That would make you 26.' And I said, 'No, that would make you 30!' And just like that, he asked me if I wanted to leave the bar and go home with him. It was the first time I was intoxicated to that degree and I only wanted someone to like me, so of course, I said yes.
I woke up the next morning, hungover, naked, and completely confused as to where I was. How my car was parked in front of his house, I will never know, but it was there. I got dressed and left while my one-night lover lay sleeping. I had no intention of staying any longer than necessary, nor did I ever plan to see him again.
Three weeks later, I found myself once again nauseous and having missed a period. What was I going to do? I kept the news to only my good friend and waited to tell everyone else until it was absolutely necessary. The problem began almost instantly. I was sick. Not just normal, run of the mill pregnancy sick; I was puking every hour and keep-nothing-down sick. I was losing weight, there were dark circles under my eyes, and I could barely function.
I told my mother I was pregnant again and she told me to make an appointment. The doctor informed me his kind of sickness happens sometimes, but I needed an ultrasound. So just after 15 weeks pregnant, I lay on the exam table where I would see my baby for the first time.
The ultrasound technician made a funny face almost instantly when the image came on the screen. 'I will be right back,' she said. Moments later she entered the room with another technician. 'See this?' she said to me. I had no idea what I was looking at, but I said, 'Mhm.'
'This is baby A, and this is baby B. You are pregnant with twins.'
Twins? From a one-night stand? I vowed then that I would change my life and take care of my children. I continued to live with my parents while I was pregnant. If I was feeling unloved prior to this pregnancy, I was certainly at loss during it. I was 20 years old with a 2-year-old, pregnant with twins, living in my parent's house. The question that constantly begged my mind was, 'Who would want me now?'
I started having contractions one week before my c-section was to be performed. I spent hours at the local hospital before making a trip down to Madison, Wisconsin where they would perform the surgery. I got to the hospital at about 9:30 p.m. when the attending physician told me, 'They don't just do c-sections on demand or everyone would want them' and then checked to see if I was dilated. When she realized I was in fact dilated they started to prep me. I was so tired I could barely keep my eyes open. But, just after midnight, two beautiful boys were delivered.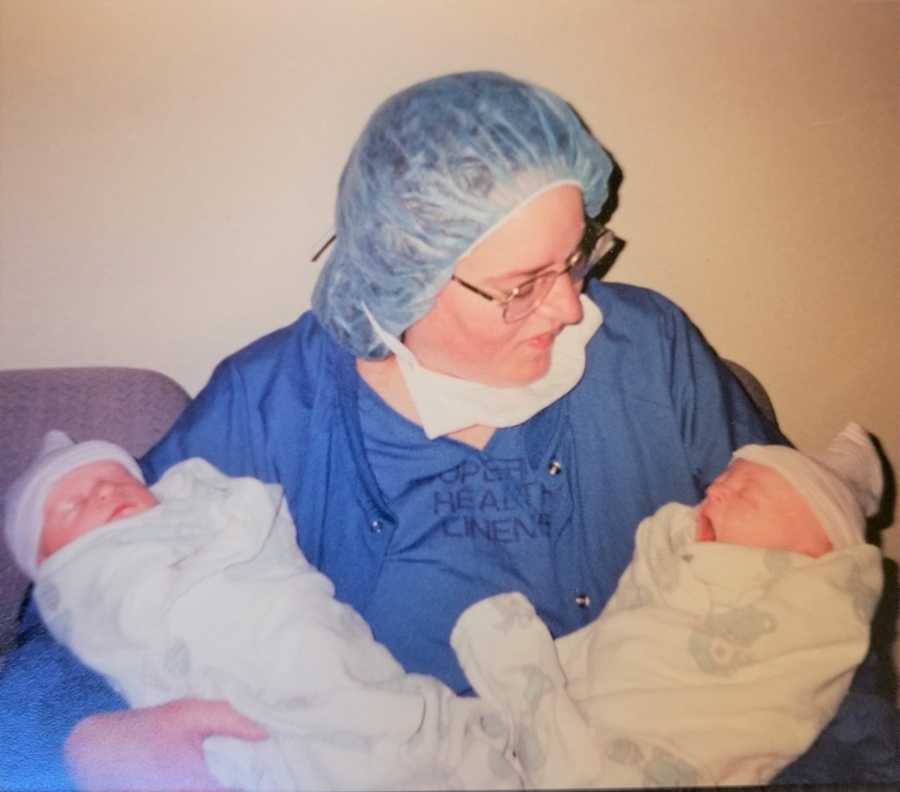 Isaac and Jonathon. They made me a twin mom. People used to ask me how I did it, being a twin mom. I would reply with, 'I didn't really have a choice.' I had two babies whether I planned for them or not. That's how I did it.
Weeks later, I met the man that would become my first husband. He started attending the church where I was going. He was 23 and I was 21. He took an interest in me right away, even though I was the mom to 3 children under three years old. We started dating in April and were married by September, just a few months later. I always knew something wasn't right, but I was desperate to be loved, so I accepted every flaw he came with. Why shouldn't I, he was accepting of mine.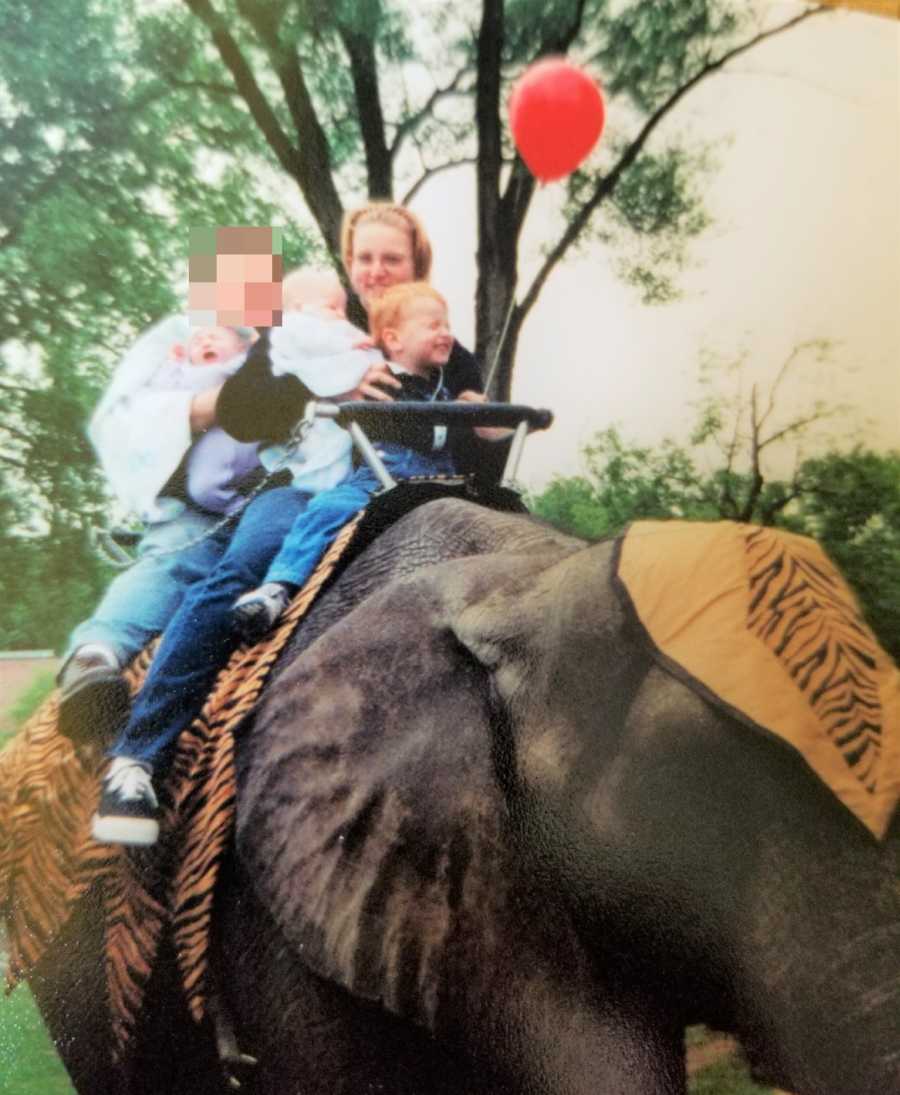 Everything changed the day after our wedding night. He was angry, sometimes violent, and controlling. I overlooked a lot, often begged for forgiveness, and hoped we could make things work. My life seemed like it was falling apart. And then, just like a bad movie, I had gotten pregnant on the honeymoon.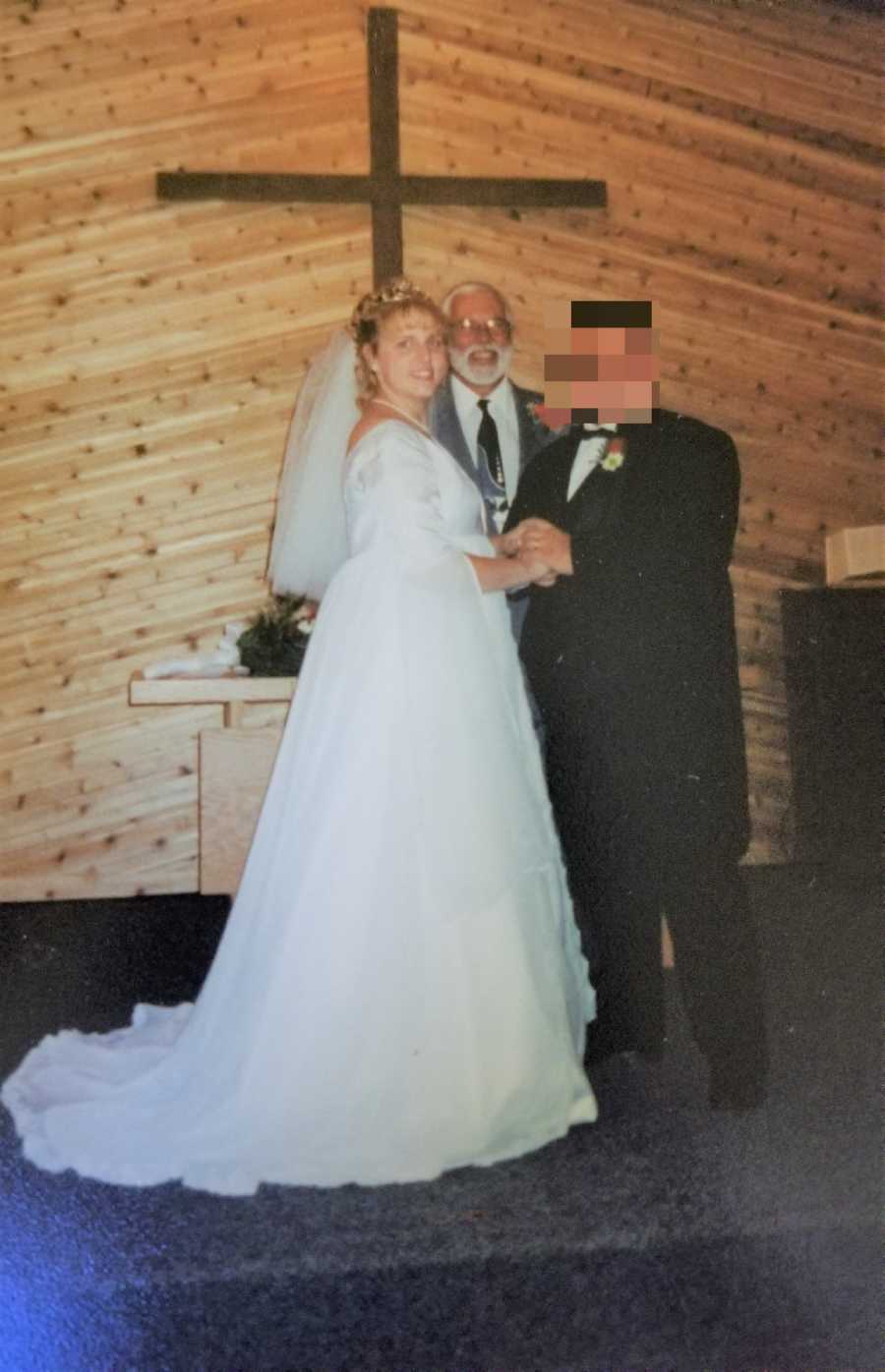 I told him I was pregnant and for a moment he seemed happy. The anger got worse, the violence and the rage, until finally one night when he was waving a butcher knife around in the air, I told him to leave. And he did. My hopes and dreams of finally pulling my life together shattered around me.
A month after he left me, he came to take all his things. All the things that he had brought into the marriage. It left my house virtually empty, except me, my children, and their things. I was sleeping on a pull-out sofa my dad got for me, set up in the living room like a bed. I had no job, no education, no money, and no skills. I went back to work and enrolled in a night class.
I was six months pregnant when I came home from school one night where my dad told me he wanted to talk. 'Mom and I think you should give this child up for adoption,' he said. I was angry, heartbroken, and completely beside myself. After I kicked my dad out of the house, I spent the night praying God would give me answers.
The next day I met with my pastor and his wife from the church I was attending. We talked, wept, and prayed. By the end of the meeting, I was certain I was going to give the child I was carrying up for adoption. There was a couple in the church who had been waiting 14 years to become parents and I knew they would be perfect for the child I was carrying.
Three months later, I gave birth to another beautiful boy named Michael, which is how I became a birth mom for an adoption. I spent 4 beautiful days with him in the hospital before he was whisked away to foster care (mandatory in the state of Wisconsin). 13 days later, I stood in the courtroom trying to hold myself together as I voluntarily signed over my parental rights. I cried when I hugged his parents and said, 'Go get your son.'
I cried for days after that. I spent the next two years in a deep depression trying to make sense of my life. I didn't date much, not feeling valuable or worthy of love. When I did finally settle on a mate, he was 14 years older than me. I did not believe I could do any better, and so we married.
I found out after we were married that the only children we would ever have would be the ones I already had. He could not have children with me, and again my heart broke. I had wanted something that could make me feel whole again. Every time I would get my period I would sit in the bathroom and cry in secret. Having the three boys I already had should have been enough, but my heart had a gaping hole in it.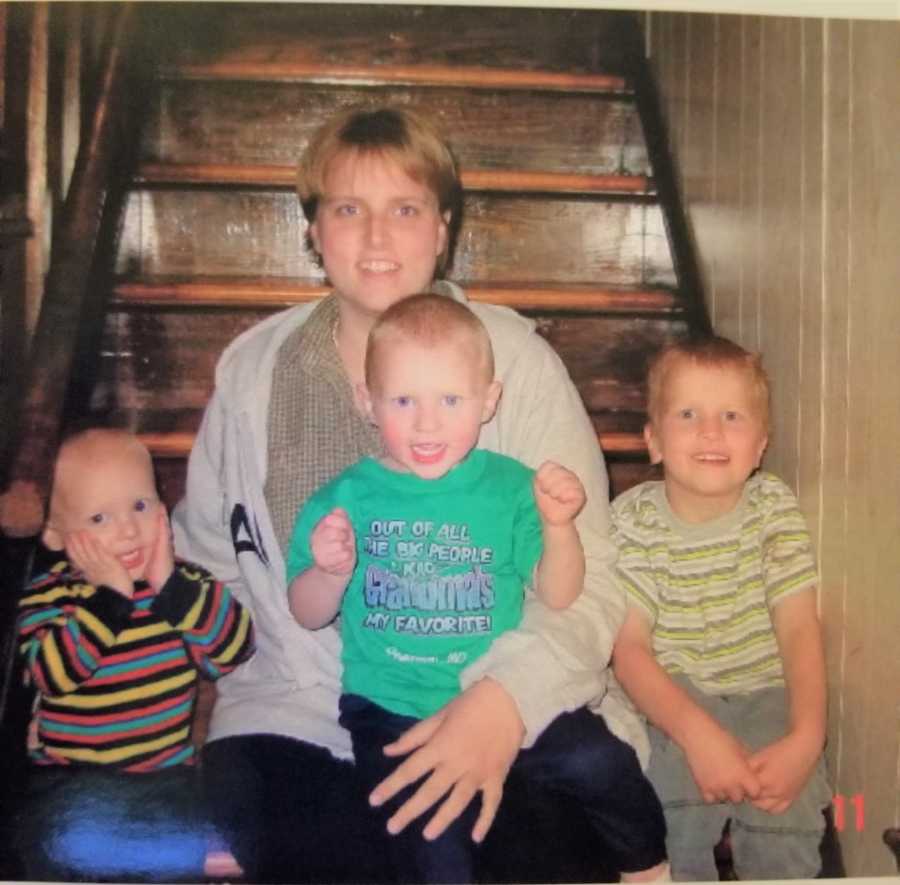 We had been married 4 years when my husband came to me and said we should try to adopt, to have a child to complete our life. A child that was ours. We became licensed foster parents a year later. Three days after our license came through, we got the call. I had always wanted a baby girl, but that was not what the state had in mind. Two kids, 5 and 8, a boy and girl. They had been tortured and abused by their birth mother for as long as they had been alive, and they were considered one of the worst cases of the time in our county. They came to live with us permanently about a month later, after several visits to make sure we were a good fit.
Amber and Joe made me a foster mom. The struggle was real. They were like infants of a mental age of 1 and 2. They struggled with basic living skills such as getting dressed, feeding themselves, walking, and talking. It was like having 2 babies that weighed 50 and 80 pounds. Every day was a blessing to see how far they had come and the push we needed to keep going. After 2 years of them living in the foster care system, their biological families' rights were terminated, and we were able to adopt them. It was everything we had been working for.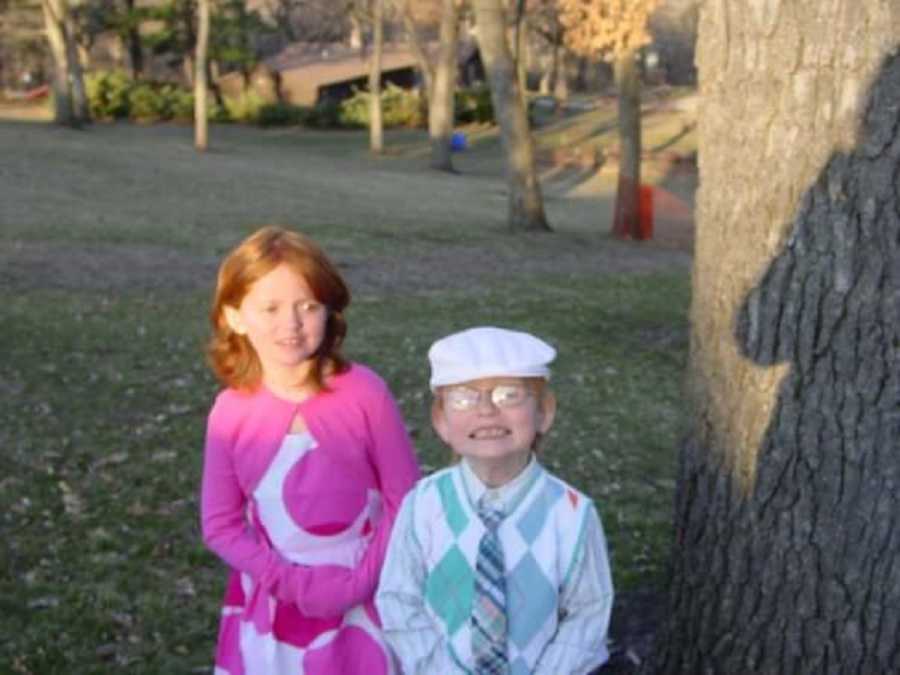 We started filling out the paperwork and working on all the necessary documents for the adoption. I pretended my life was bliss. The reality was, my husband and I were not getting along. We fought almost every day. One night I was reading a book in my recliner, enjoying the peace and quiet after everyone had gone to bed, when he came down the stairs to tell me he was going out to get us a couple of milkshakes. He came home 6 hours later telling me he wanted to talk.
He told me that night he never wanted to adopt, and I would be better off without him. He wanted out of our marriage, and we should probably just put the kids back in the system. I was furious, and I begged and pleaded with him to stay with me. In the end, we made an agreement that he would stay and pretend to be my husband until the adoption was final. No matter how hard I tried to make things work, I could not make him love me, the children, or get him to stay. He moved out 5 months after our adoption was final.
The day he walked out the door, I made a decision. I needed to change my life. My self-esteem was in the toilet, and I often felt like I was barely able to hang on. I was parenting children with special needs, and I was doing it alone. I truly was lost. My life had become a total mess.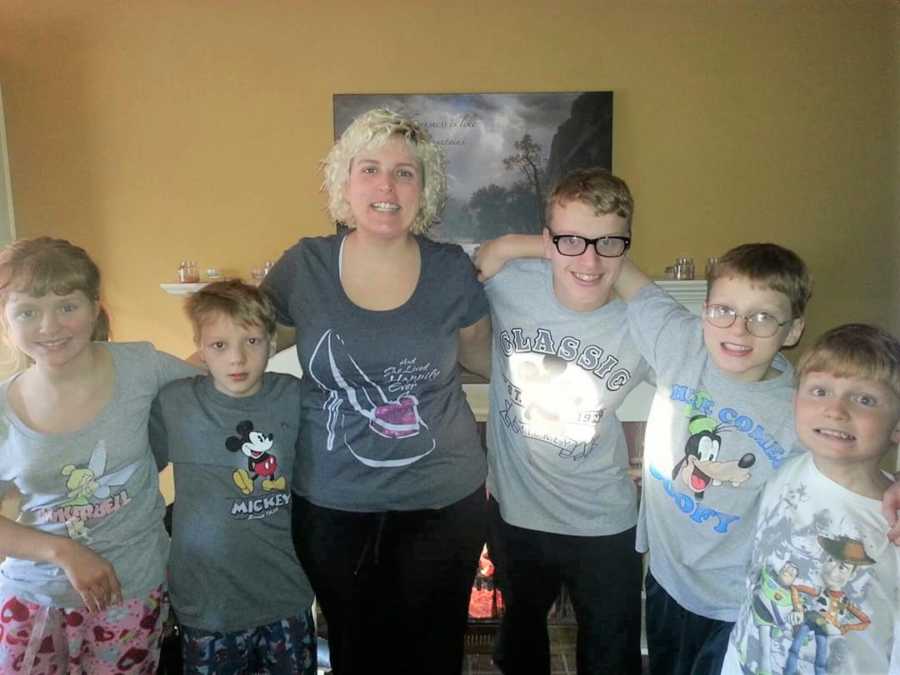 I spent well over a year working on myself and finding out who I was. I took classes, went to seminars, and found a therapist. I wanted something different, something better. I was tired of being miserable. I spent over a year learning who I was, that I was an amazing woman, and I needed to stop being attracted to deadbeats.
After my was-band (my once was husband) left, I made a promise to my children that we would live a life that was grand and filled with adventure. I started working for myself, doing odd-jobs, and not so odd jobs, so I could create a life that would give me more time for my children. I saved every dollar I had so I could take my children to Disney world, a promise I had made to them years earlier while I was still married.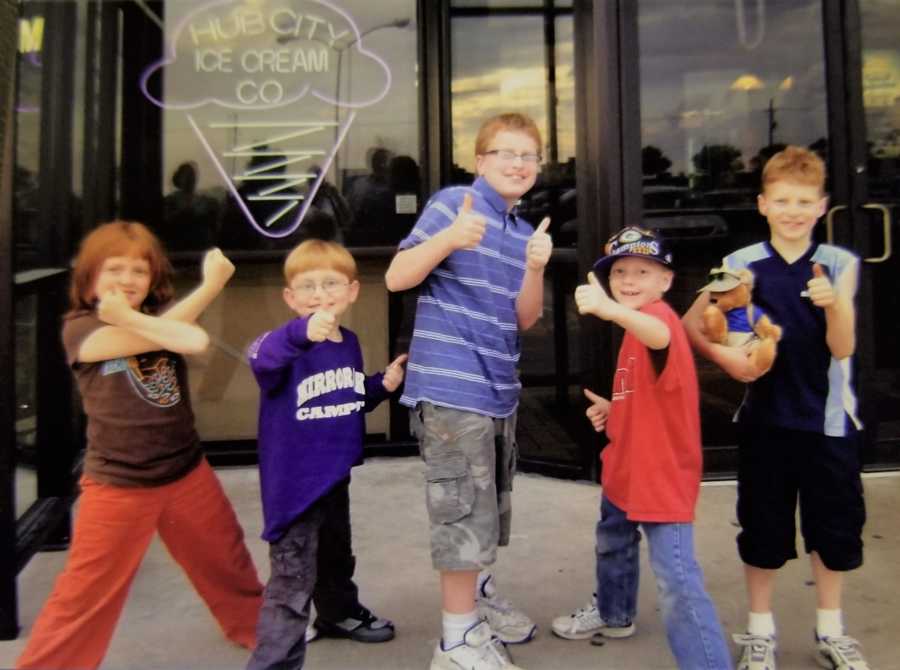 We lived as our happy six for a while, until one day I had an email from a single dad in my town. He had seen me around town and wanted to take me to dinner. I did not trust men, and I certainly didn't trust someone who had been 'watching me.' I refused, repeatedly. He spent the next several months asking me to just go out to coffee with him and I finally gave in. I figured if I gave the guy an hour of my time, he would leave me alone. I was wrong.
I walked into the place where we were meeting and instantly was smitten by the man who felt like my best friend. Edward. He had two daughters, Kiera and Riley, and they were the ages of Amber and Joe. Edward asked me to marry him after 12 days of being together, and we have been inseparable ever since. His daughters made me a bonus mom.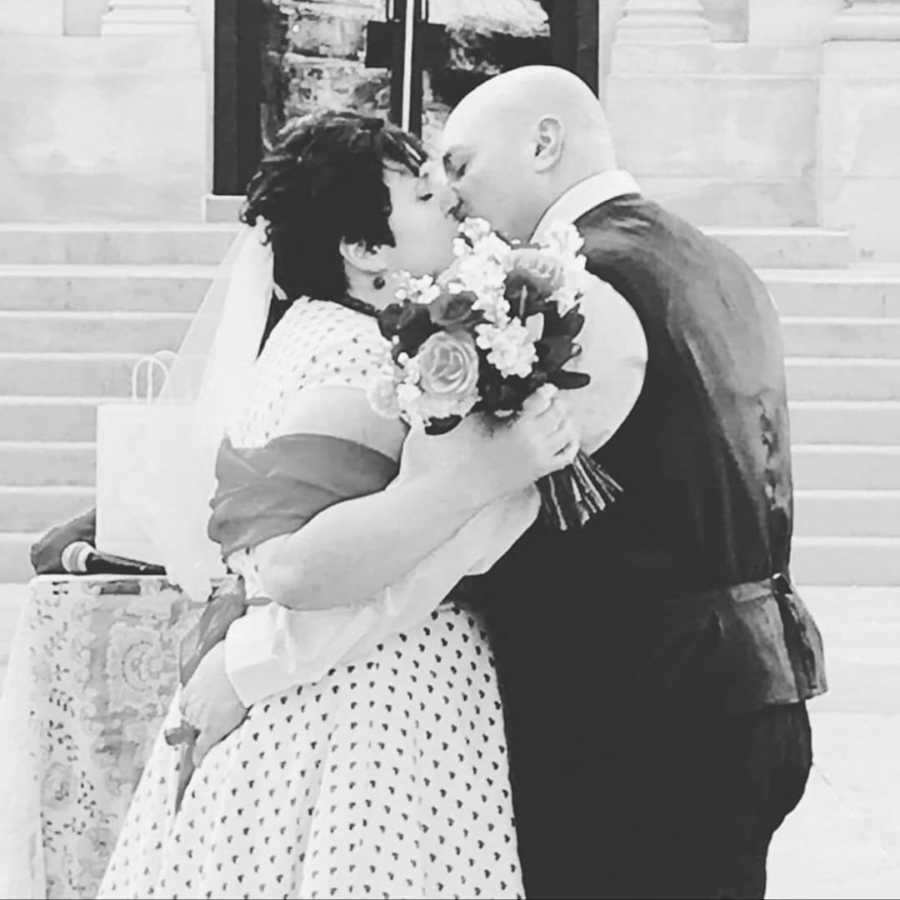 Blending families is certainly not easy. It takes grace, love, and a whole lot of patience. It takes saying I am sorry, I love you, and I forgive you. It takes creating boundaries and finding joy no matter the circumstances. It always boils down to choosing the best for each other and our family. Every day.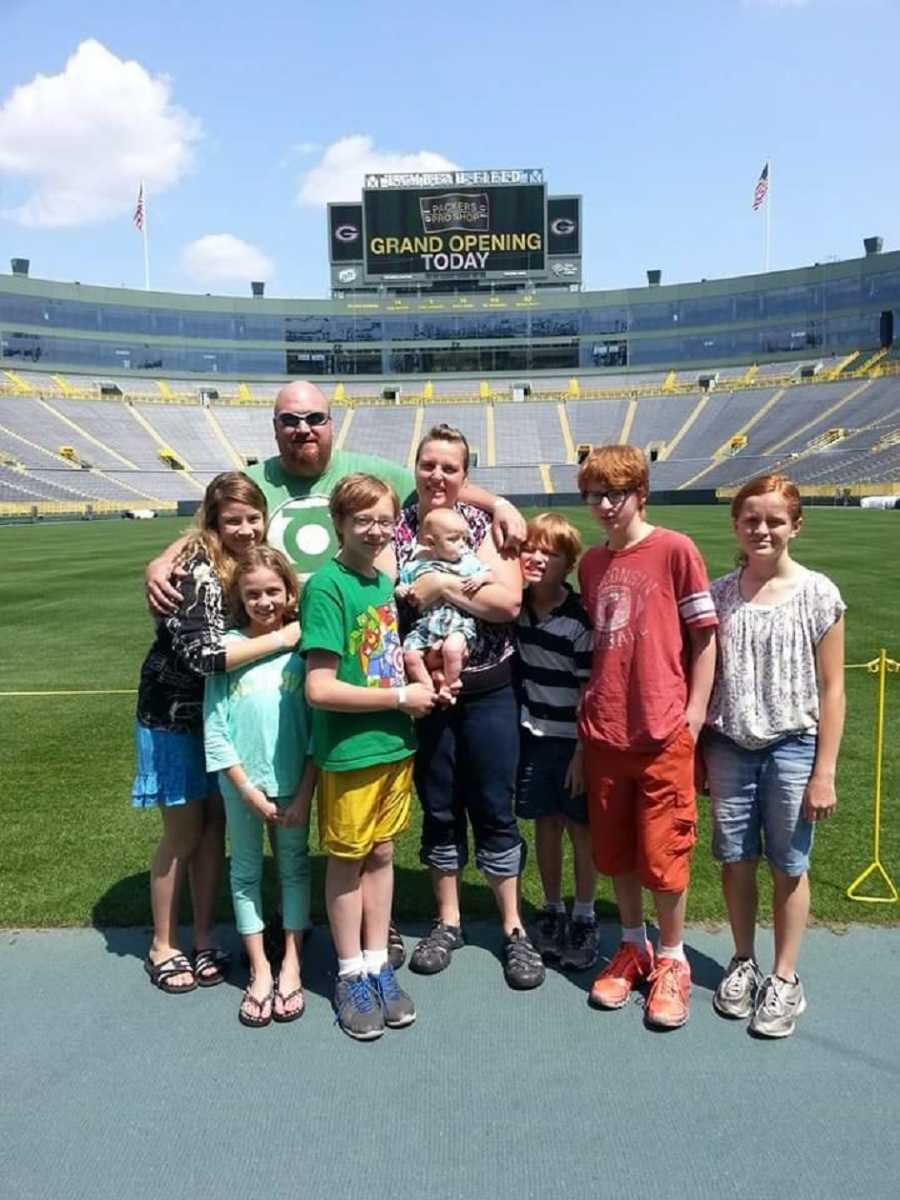 We had been together just 6 months when Edward told me he wanted a child of 'our own.' I asked him if he was crazy and reminded him we already had 7 other children that were teenagers. A pregnancy would mean starting over and being 'old parents' and having kids around the house for another 18 years. He told me he wanted that and so much more.
And that is how we got Eli. He completes our family and makes us a perfect ten.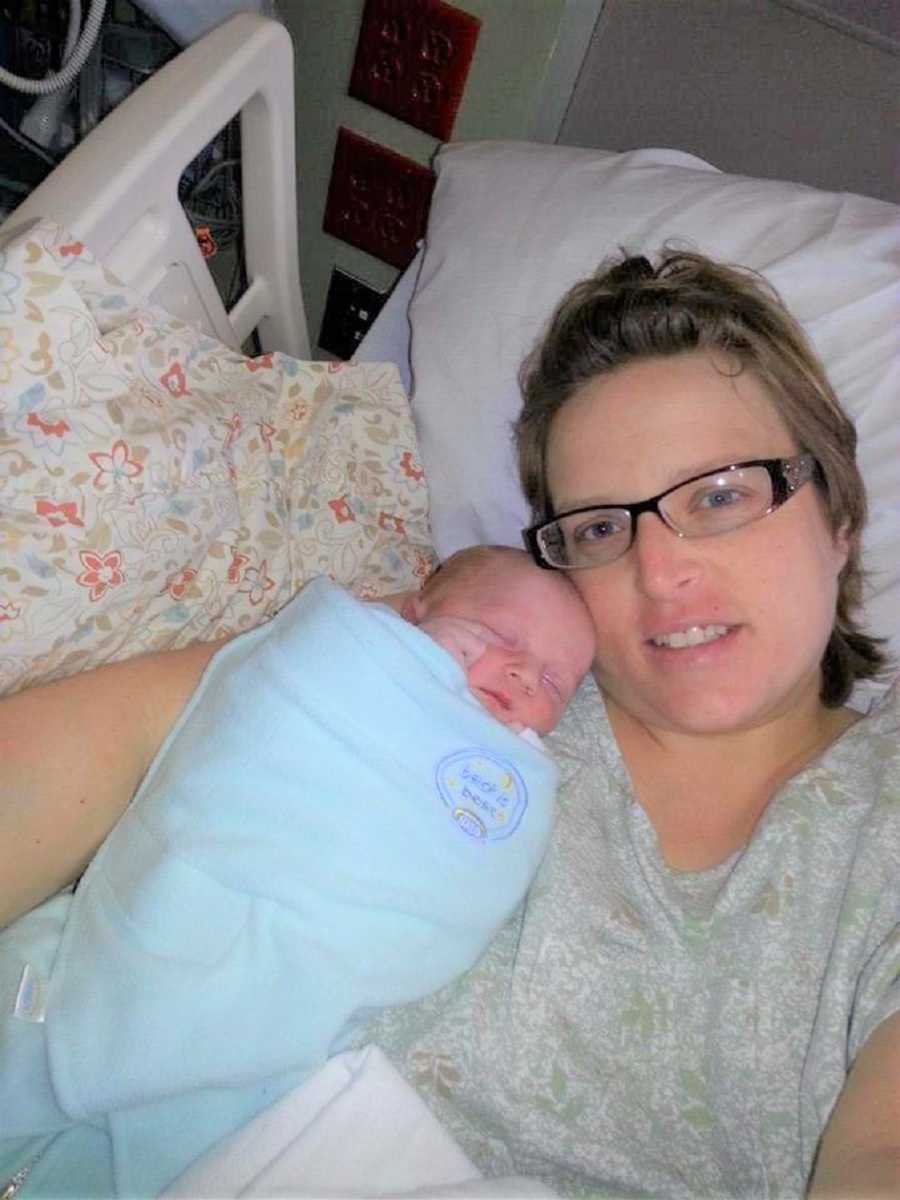 Parenting is not easy. Whatever the struggle you have in life, and whatever kind of parent you are… remember, you are doing a good job. Life is not easy, and parenting is even harder, but do not ever give up. Know you are valuable, worthy, and you are loved. Also remember, no matter where you are in life, no matter how hard it might seem, you can make the choice to change your life. I believe in you."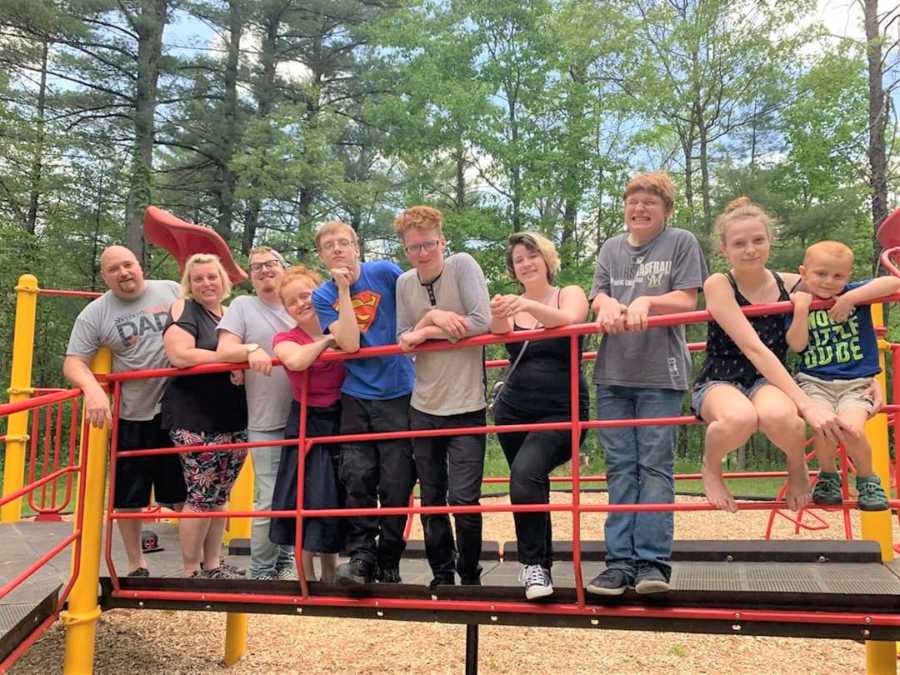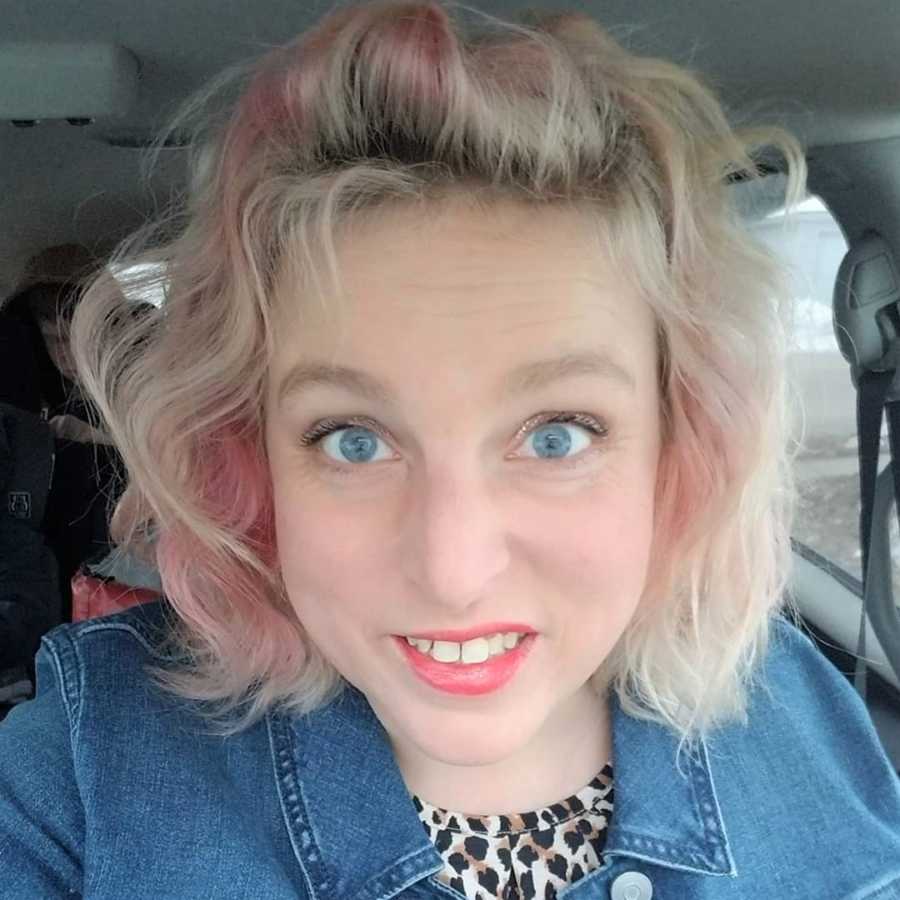 This story was submitted to Love What Matters by Angela Witczak from Baraboo, Wisconsin. You can follow her journey on Instagram and Facebook. Submit your own story here and be sure to subscribe to our free email newsletter for our best stories, and YouTube for our best videos.
Read more powerful stories like this:
'Your sister's been in an accident.' He broke the news. 'Where are the kids?!' CPS had no idea they ever existed.': Woman adopts long-lost nieces and nephews, 'Our hearts are so full'
'I was embarrassed to announce my pregnancy. 'I have a 3-month-old. What will they think?': Mom of 11 'thankful for each healthy baby'
Do you know someone who could benefit from this story? Please SHARE on Facebook to let them know a community of support is available.