"I tried to make out the words coming from her lips, but I couldn't. My ears were ringing then everything went silent. I tried to read her lips as she gave me a saddened but concerned look. 'Sarah, are you okay? Did you hear me? I am… so sorry.' I had come back into her office with what I thought was a post-op checkup. My OBGYN handed me a sticky note. I looked down at the note and in all caps written in purple ink was the suite number to the oncology unit—two streets over.
Still do this day, I don't recall making it over to that waiting room. I don't remember getting in my car or even parking. But I do remember waiting in the waiting room. My husband was on his way to meet me. I scanned the room of sick people. 'Did they get it wrong?' I thought. 'I don't belong here.'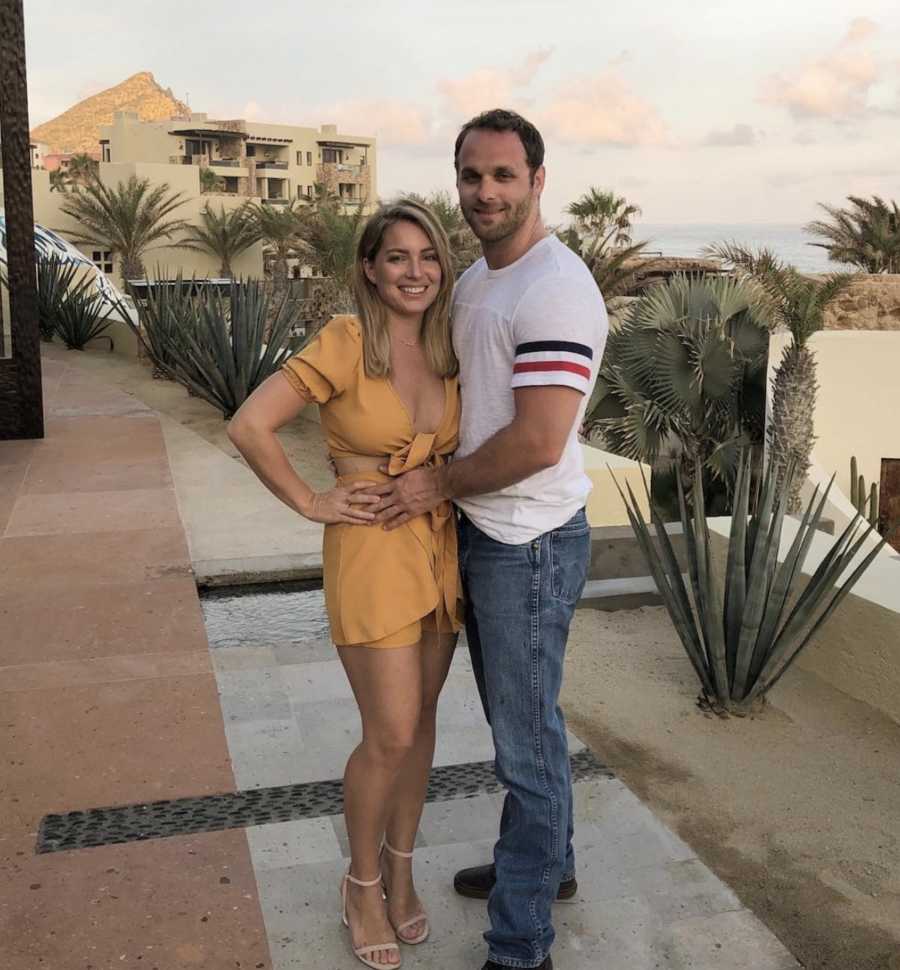 My body was paralyzed with fear and at the moment, all I could do was ask God for strength. Strength to walk up to the reception desk. Strength to fill out the new patient paperwork. Strength to hear the news… strength to hold my husband. Strength to believe the Lord had me in his arms. What started off like a normal July summer day, quickly turned into the worst day of my life and a pivotal moment in my life journey. That day, at 4:30 p.m., I would sit in front of my oncology doctor and she would confirm to both of us I have cancer. I was diagnosed with choriocarcinoma. A rare form of uterine cancer that forms from placental tissue (a past pregnancy or molar pregnancy). It's rare and aggressive.
Three months earlier.
I was 31 years old. Just 6 months into my 31st year and just celebrated my daughter turning one. I had recently left my corporate job of 8 years in April. That spring, my daughter was about 8 months old. I had decided as a new mom dealing with postpartum issues it was time for a break. I hadn't felt rested in years, and what better time to take some time off than now, I thought. It's funny how our children change us, even when we try hard to stay the same. I felt the inner tug to change direction, slow down, and start my self-care journey. After all, being a mom was what I had always wanted, and I wasn't about to miss out. Work had consumed my twenties and I wanted to be a new, better version of myself in my thirties.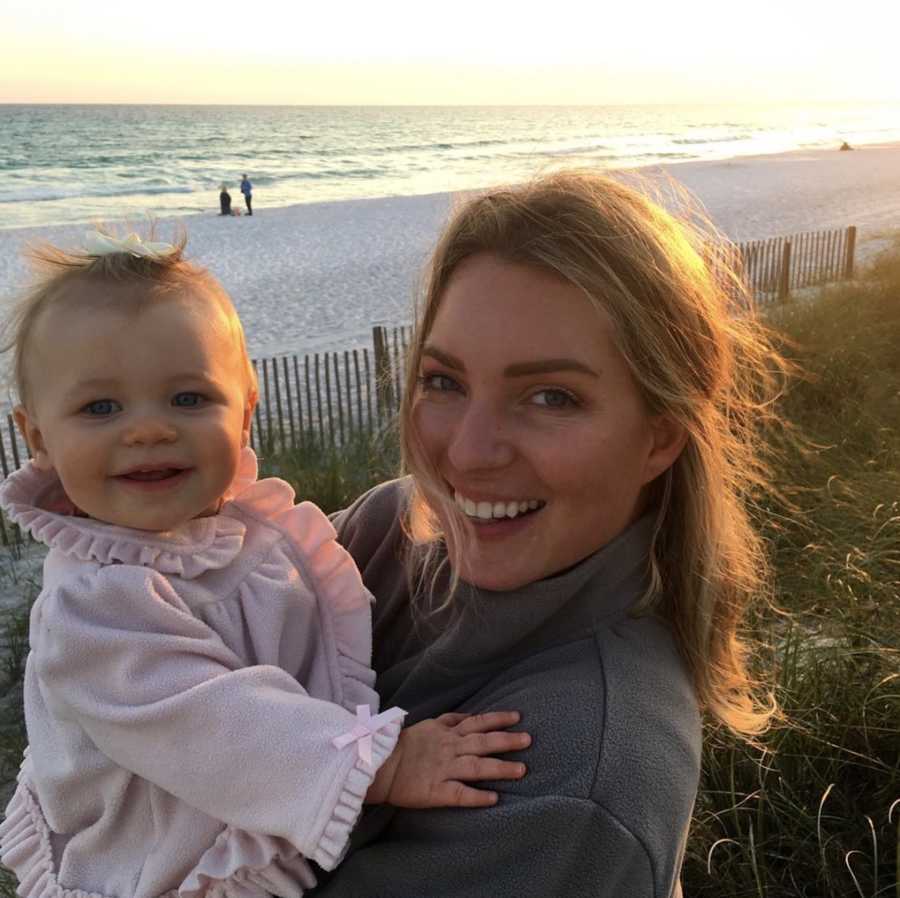 Just 3 short months passed after I left my career and summer had started. I felt blissful… I felt like I could breathe for the first time in years. I was working on my health and my mental well-being and just enjoying being a mother. Shortly into the summer, something shifted. I started having strange symptoms and a prolonged period. I had irregular periods throughout my young adult life, but this was different. My inner womanly tuition perked up and I had remembered my twin sister bleeding a lot after her miscarriages. She had two small children and before them suffered from several losses. I luckily had never, but remembered her voice and rushed to the Walgreens.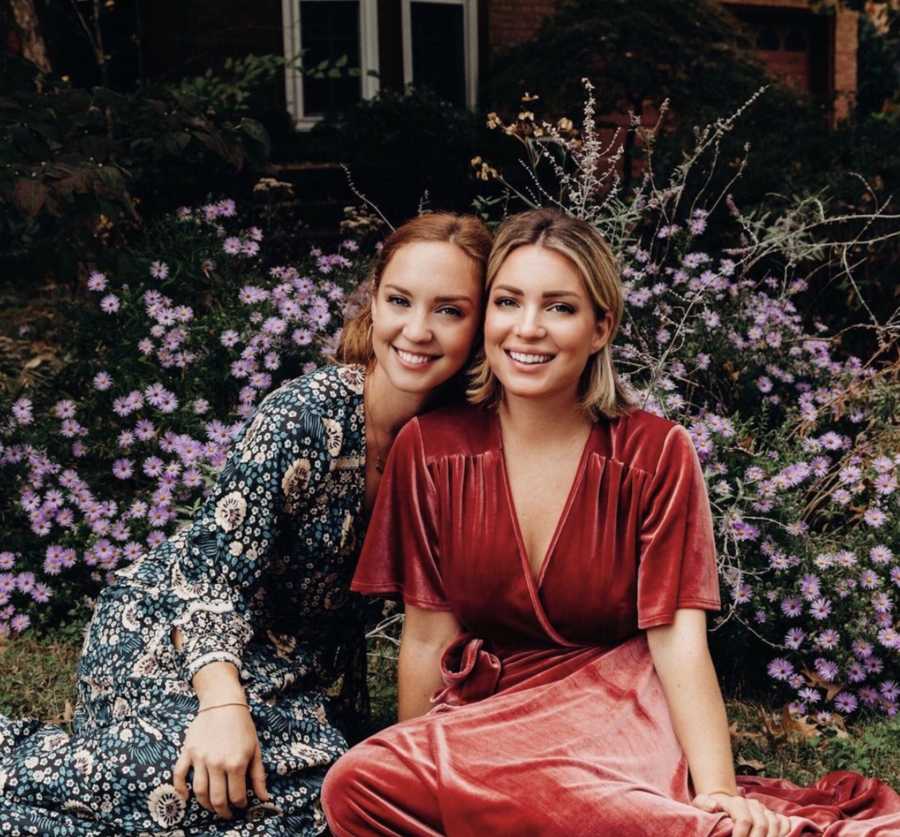 I took a pregnancy test and it was positive. AH, of course, that's it. I was heartbroken and relieved all at once. I was sad but thankful to have some kind of answer for the bleeding. I made an appointment with my OB right away. A few days later, I went in for an ultrasound and what I thought would be a routine DNC. I will never forget the look on the technician's face when she didn't see anything… at all. No sign of a pregnancy whatsoever. Although my bloodwork was climbing, my beta HCG showed my baby was growing. They monitored my bloodwork for several weeks and the markers kept climbing. Stunned… no one understood. I started to panic when they rushed me into the ER for emergency surgery. They were worried I had an ectopic pregnancy and prepared me for a possible hysterectomy.
At the time, I was distraught at the thought of losing my uterus because it would end growing my family forever. Little did I know what I was really facing… and what I would face just one week later. My husband was by my side and so was my twin sister. She and I had been through a lot of life together. We had both lost our father at the age of 4 to cancer. My father was only 33 years old. And how ironic now, all these years later, in my early thirties, I was now embarking on a similar journey. The pain and fear were harrowing. She gripped my hand in the ER just before surgery and said, 'Don't worry. If they give you a hysterectomy today, I will have your babies.' We laughed, and she squeezed my hand again. Was it divine foreshadowing? Premonition? Sisterly or womanly intuition? Maybe. Because that day, I didn't have a hysterectomy. But what we didn't know then lay ahead.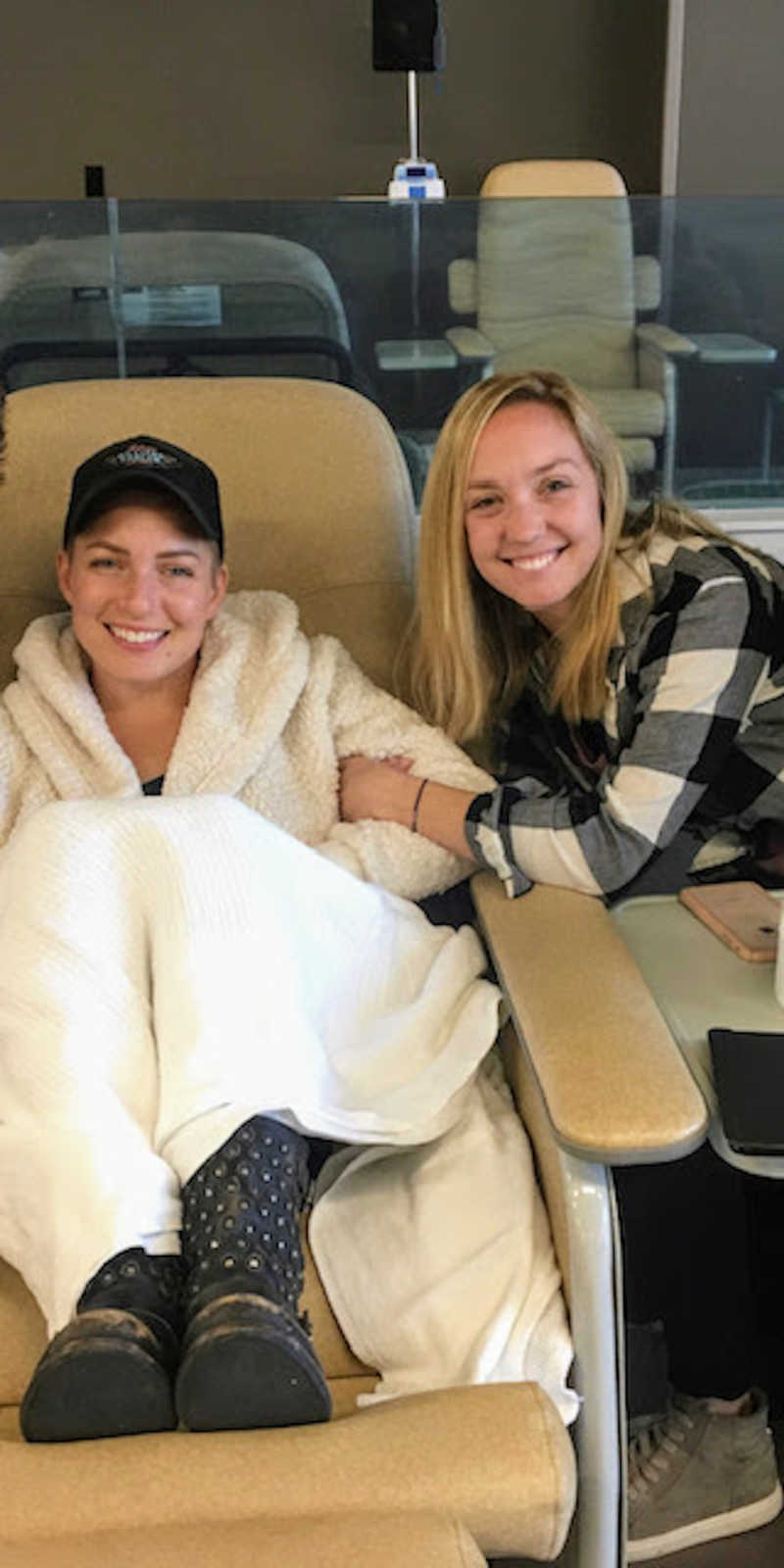 Over the next 8 months, I would do chemo every week. My treatment consisted of five chemotherapy drugs. I would do one inpatient treatment and one outpatient. The nights in the hospital were grueling. My chemo drip pumped for 24 hours because they had to give me the drugs very slowly. They'd send me home the next day with what they referred to as 'rescue pills' that essentially rescued my body from all the toxins. I knew I'd lose my hair, so the moment came where I was ready to shave it all. My sisters came over and my twin sister was the first to cut with shears. It was fitting she was there with me now just like she'd been with me the entire time. She'd been by my side in the womb, in life, in motherhood, through my diagnosis, and now through my cancer journey.
We get the question a lot—do you feel each other's pain? Well, not physically, no. But in all other aspects, yes. When we were little, if she fell and scraped her knee, I would burst out in tears alongside her. It was just that way. When you have another half… someone who understands you to your core. Someone you know who would take a bullet for you. Someone you know would switch places with you in a heartbeat, then yes you feel everything and all of them. She felt my pain… she felt my sadness as a mother grieving her circumstances. She felt my fears right there alongside me. I felt a lot of grief day in and day out. We all did. She stepped in and loved on my baby girl when I didn't have the strength to. She encouraged me and told me it was going to be okay. She's always been the glass-half-full kind of gal.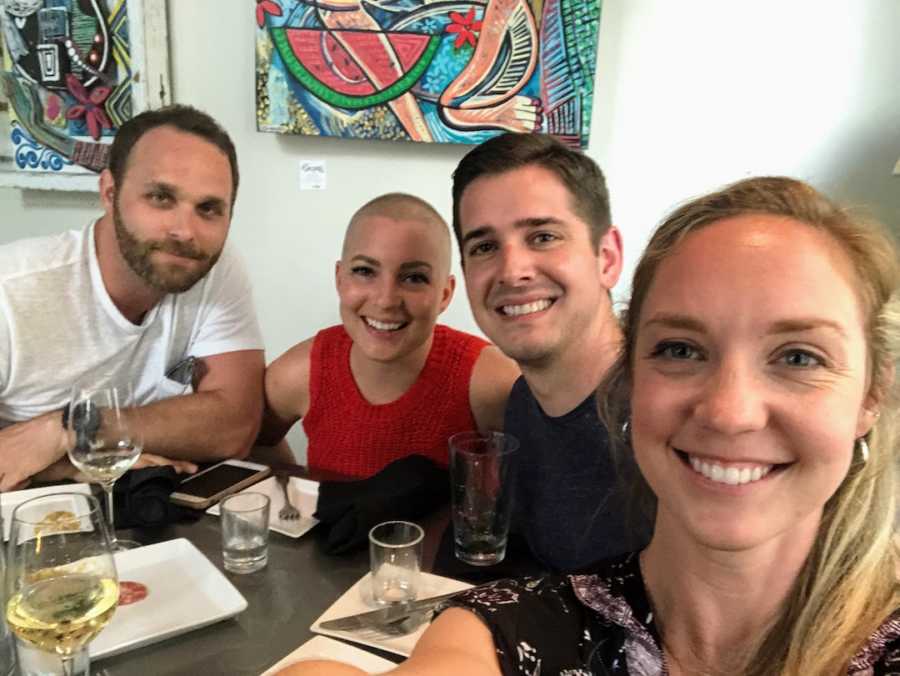 We've had our differences as twins and in our teenage years, sometimes I found her positivity annoying. But boy, was I glad God gave her these gifts now. I needed her presence and her love. She was beside me when I was pronounced cancer-free in December. And she was there for me when they told me it came back in January. I spent the better part of a new glorious year back in the hospital. 4 months passed and I started my chemo over. The fear thickened. The small light I was holding onto quickly started to dim. I felt fear overcome by hope… and this was the most scared I had ever been. The hole felt dark and I tried desperately to keep my eyes fixed on Jesus. Although dark, this was what I called my growth period. My strengthening in the struggle, so to speak. The period where I shut out the background noise, allowed myself to heal, healed past wounds, and felt all the feels.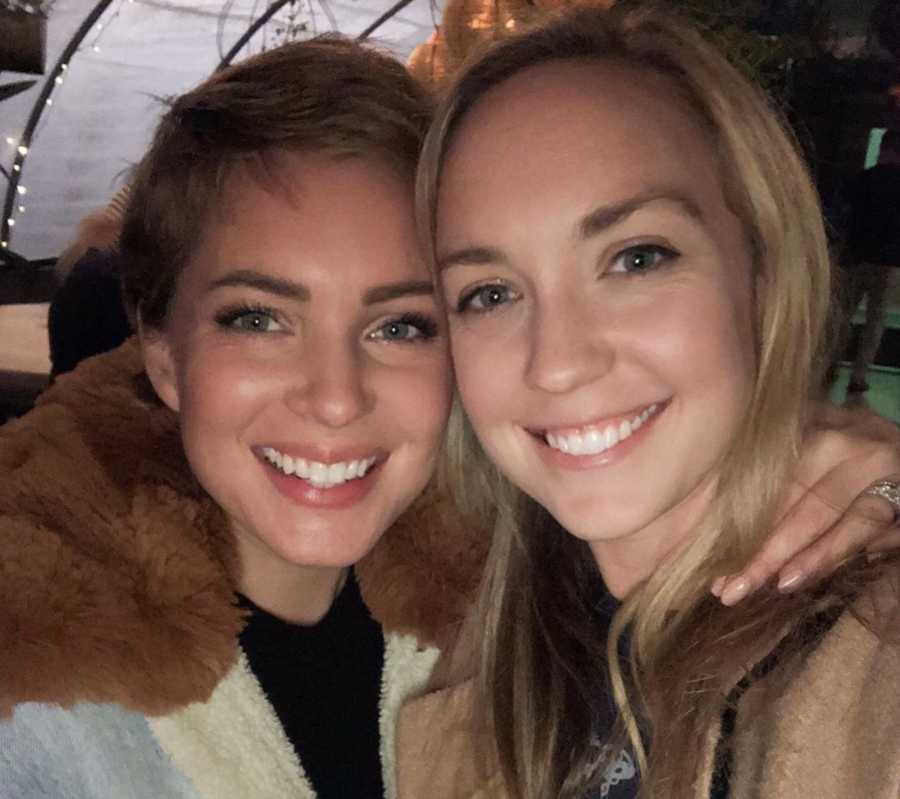 Slowly, I started seeing progress in my bloodwork. The second time around, my doctors told me it was time. Now, I needed a hysterectomy. The place of origin was in my uterus and it needed to go. At this point, I was in survival mode and wanted to do anything I could. It didn't mean as a woman and mother I didn't grieve it. The loss of a uterus meant no more babies, no more growing my family, not giving my husband a son, the loss of a future family, and the dreams we had for ourselves. At 32 years old, I hadn't prepared for this part. I hadn't prepared for any of it. On the day of my hysterectomy, my husband and twin sister were there by my side again. It was like déjà vu or a bad dream. Here we were again, one year later, preparing for the hysterectomy in between chemo treatments. I was about to be wheeled back and my twin sister shouted again for the second time, 'Don't worry, I will have your babies.' We laughed again, and I was wheeled back to the OR.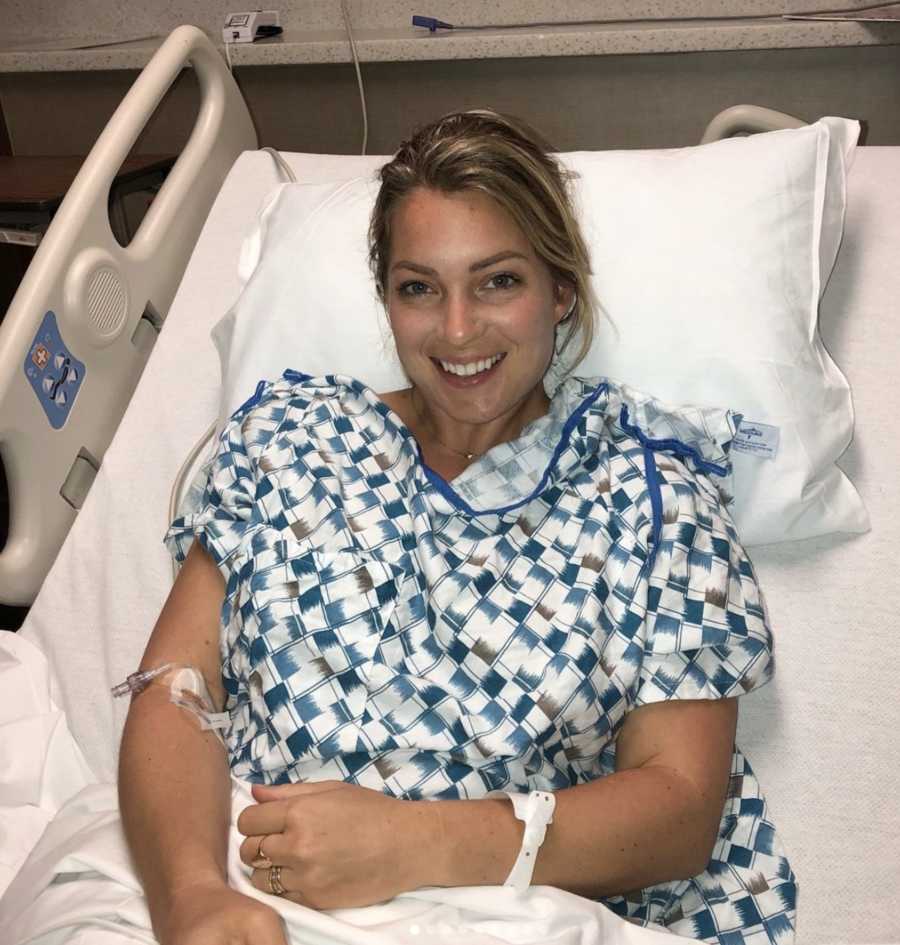 That coming April was my last treatment. I was pronounced cancer-free the second time. I was elated. There really isn't a feeling to describe this moment when the doctors tell you, 'There is no sign of cancer left in your body.' When there were times I doubted if it would stay that way, I read my report again. I printed it out and taped it to my bathroom mirror. Jesus had claimed my healing, doctors had, so it was important for me to claim my health and healing every day. The next year, I focused on strengthening my physical body. My spirit had already transformed, I just needed my body to catch up. I spent the whole year thankful—blissfully enjoying my family and my 2.5-year-old. I relished in the small moments and lived in a constant state of gratitude. Things I once took for granted were my favorite moments. Little things, like taking my daughter to school or brushing my hair.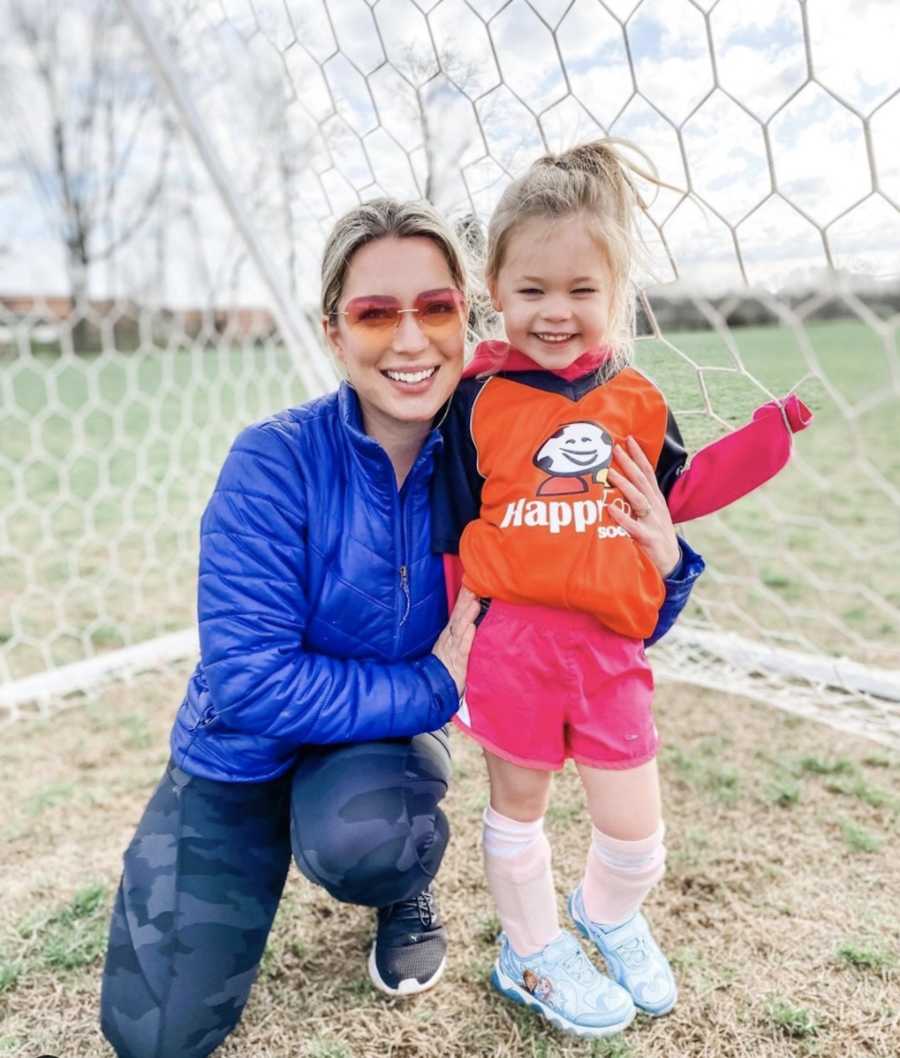 As I approached my one-year cancer-free appointment, my husband and I started discussing possibly looking at my egg count and ovaries. I had only had a partial hysterectomy, which meant my ovaries were still intact and working normally. My hormones were back, and for the first time in 3 years, I felt good. My oncologist had mentioned surrogacy around the time they took my uterus as a possible option to look into. I sort of remember her saying, 'Well, you still have your ovaries if you ever want to look into surrogacy.' I didn't think much of it because I was so focused on surviving. But now, one-year post-treatment and getting the news my reassurance probability was down to 5%, I was curious. I set an appointment with a recommended fertility specialist and prayed my heart out for answers.
I didn't think anything would come of this appointment, but little did I know how God would take this, use this, and transform our family. Against all odds, my ovaries looked okay. One ovary had enough eggs to try retrieval. God continued to open doors and against another set of odds, we fertilized three healthy embryos. Our family prayed for closed doors (ironically) because we had been through so much, we wanted to make sure this was right. I had told my twin sister the news in private and she was over-the-moon gushing. I had prepared to look at surrogacy agencies and she scolded me. She assured me she felt called for this moment and she wanted to give me this gift… us this gift. She had come so far with me on my journey to health, and she wasn't about to not be a part of this side of the story.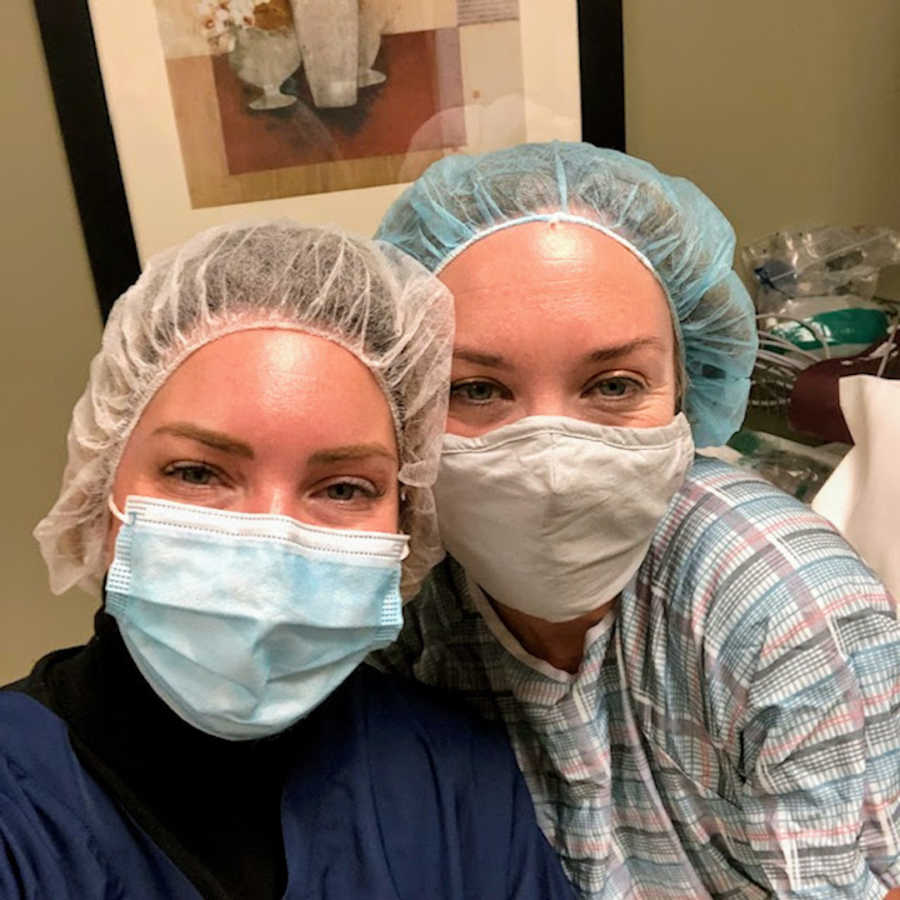 We had come through such dark days, so this meant more than anything. I was speechless, to tell you the truth. I couldn't believe she was even considering being our surrogate. She had two children of her own already. Would her husband be on board? Her kids? To tell you the truth, I couldn't pick a better surrogate. Her career is in fertility and nutrition, so who else better for the job? Of course, we all had our own set of fears through the process, but we trusted God's timing and hand in all of it. My twin sister and I started our surrogacy journey together. We went through screening, counseling, IVF, transfer, and pregnancy together. I am proud to say she is 25 weeks today with our SON. When we told our mother, she stared at us in shock trying to understand.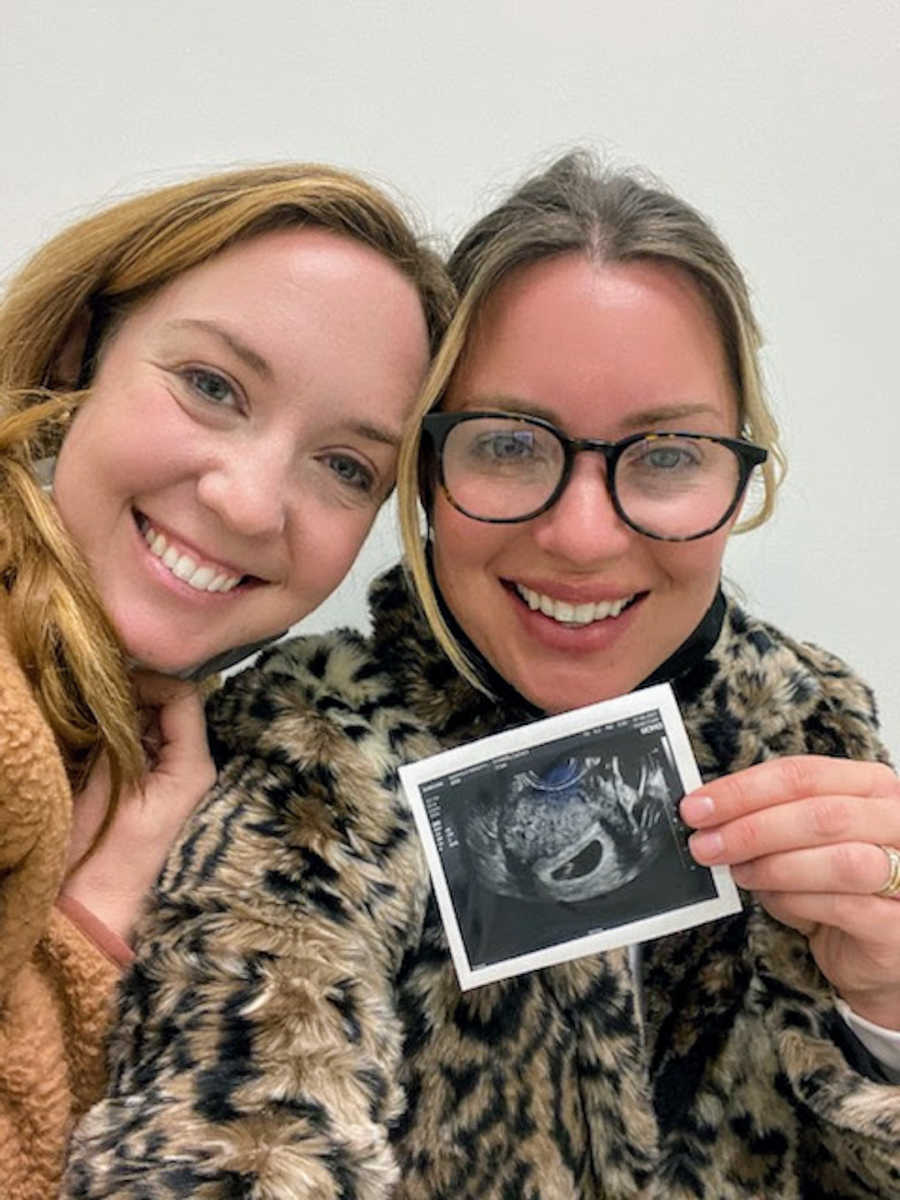 Cathey, my twin, said, 'Mom, if Sarah needed a kidney, I would give her a kidney. She just happens to need my uterus.' My mom looked up, she was flooded with tears. She knew being a mother was everything to me. I had watched my sisters so gracefully raise their children. I am in constant awe of mothers and the strength it takes. I often felt like I lost a full year of motherhood or more during treatment, so for me, this is more than a gift—it's a dream come true. It was an answer to prayer to be going to the hospital now… for good news! And good reports.
If you had told me on that day in July when I was diagnosed this is how the story would unfold, I wouldn't have believed you. I am in awe of God's goodness, of my sister's love for me, and God's love for me. I always say, 'Surrogacy is love.' Because it is. It is a pure, selfless, kind act. My son's pregnancy and our surrogacy journey have been the biggest gift to us and healing for our entire family.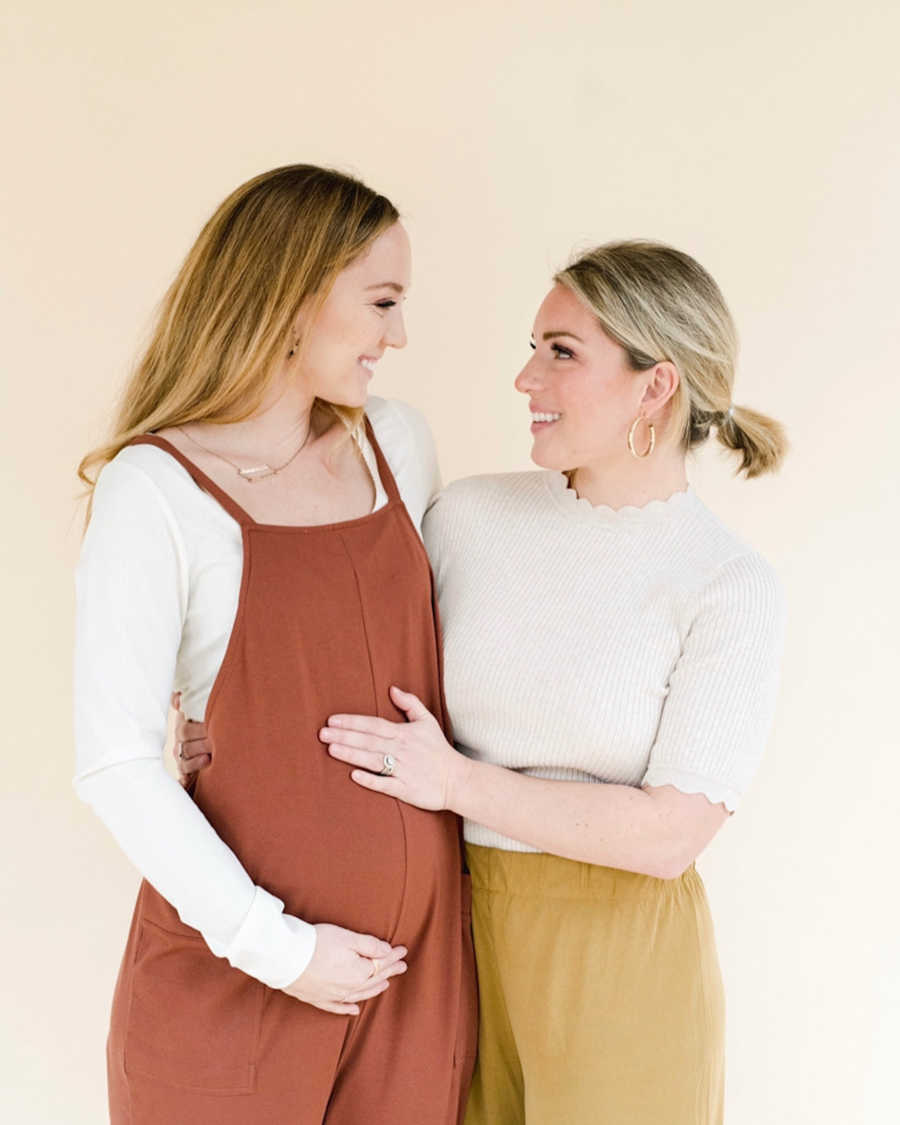 Going through cancer isn't something you think is going to happen in your life. But now looking back, cancer changed my life forever. I am a new creation, and in a strange way, I wouldn't be the person I am today without that journey. Cancer changed more than just my life. It changed us all. It changed the course of my sister's life as well. We are all better because of it. Sometimes people ask me how it felt to be cancer-free. I often say it's like seeing color for the first time. You live differently. I will always be grateful for my journey, even when the fog was thick, and I couldn't see ahead. When I was in the thick of it, I desperately wanted a road map or answers. I don't have a road map for whoever is reading this because every journey is different, but I do know this.
1. Pain doesn't last forever.
2. Jesus heals and God makes ALL things new, in time.
3. When you can't see the road ahead, rest in the fact you are taken care of.
4. Suffering softens your life with gratitude.
5. Love and kindness are the biggest healers.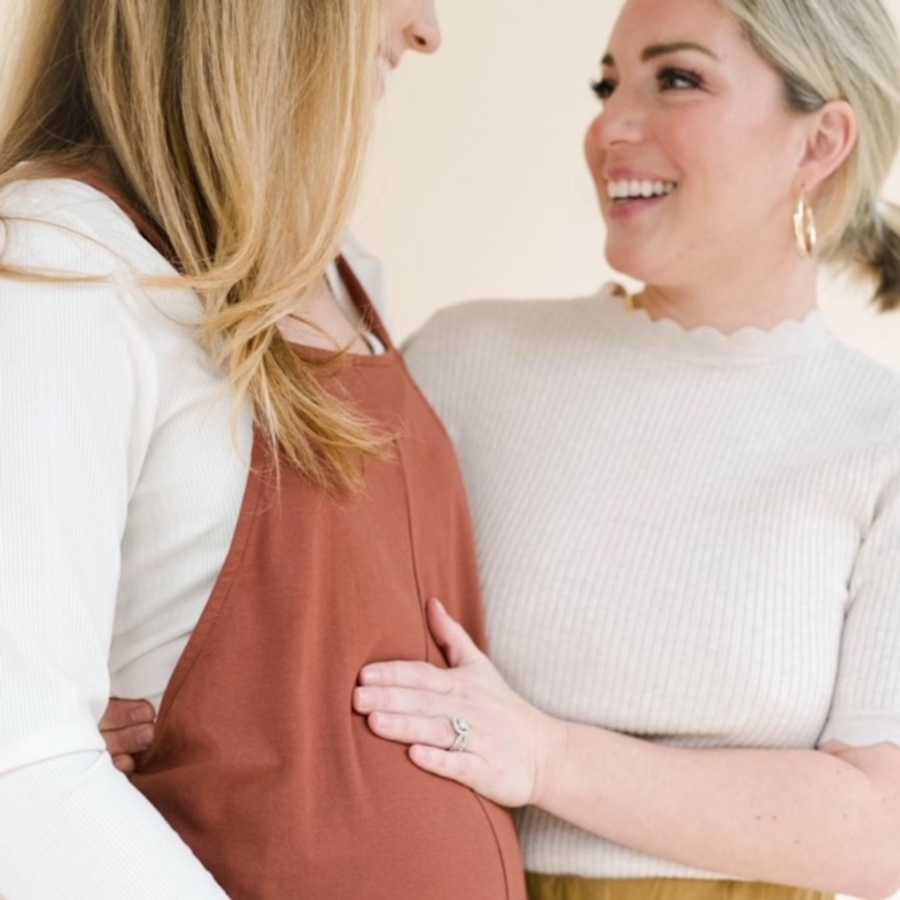 Today, I am grateful for my life journey, new beginnings, and now a new life. I look at my twin sister, pregnant with my son, and understand what love is. It's the kind of sacrificial love I feel when I understand Jesus's suffering on earth and why he died for me. I understand now that love heals. I will strive for the rest of my life to help others feel this kind of love. Because when push comes to shove, love is all that matters."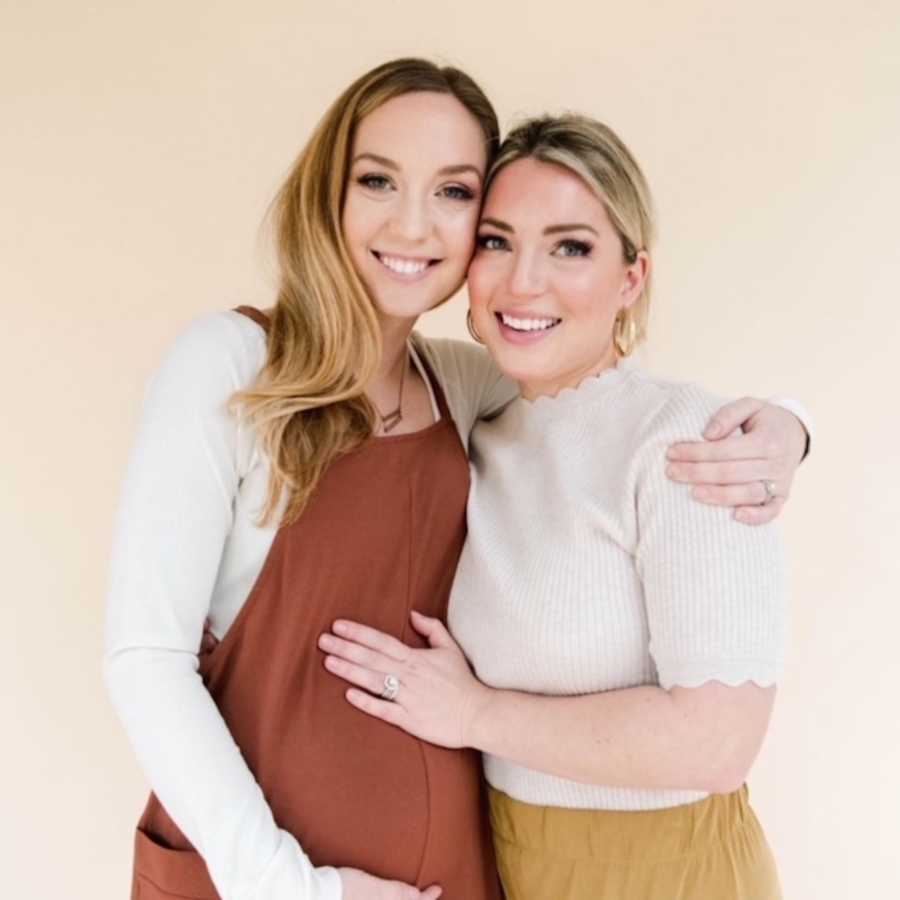 This story was submitted to Love What Matters by Sarah Ruth Sharp of Nashville, Tennessee. You can follow their journey on Instagram, here and here. Submit your own story here, and be sure to subscribe to our free email newsletter for our best stories, and YouTube for our best videos.
Read more stories like this:
'My sister called: 'Let's make a baby!' WHAT??? I stammered, making sure I heard her correctly.': Couple battle infertility for 14 years, sister surrogate delivers baby, 'she brought a new level of love into our home'
'I awoke from the anesthesia. 'Is it closed?' My family nodded. I feared passing it to my kids.': Sister surrogate births twins in wake of sibling's infertility battle, 'I couldn't be more proud of her!'
'He was too small to be saved. Have $120,000 cash ready if you want to move forward.' Our jaws hit the floor.': Sister becomes surrogate after unexplained infertility, still birth
'At 60 years old, my mother said, 'Oh, I love being pregnant!' We laughed. She couldn't have a baby, could she?': LGBT couple welcome baby after sister donates eggs, grandmother volunteers as surrogate
Provide beauty and strength for others. SHARE this story on Facebook with friends and family.