"Two weeks ago I stood at the end of a hospital bed and delivered my daughter into the world—one of the most surreal experiences of my life. As I held my baby girl in my arms, I stared in awe at my exhausted sister who had tears of joy running down her face. She had just given birth to my daughter, and I was completely overwhelmed.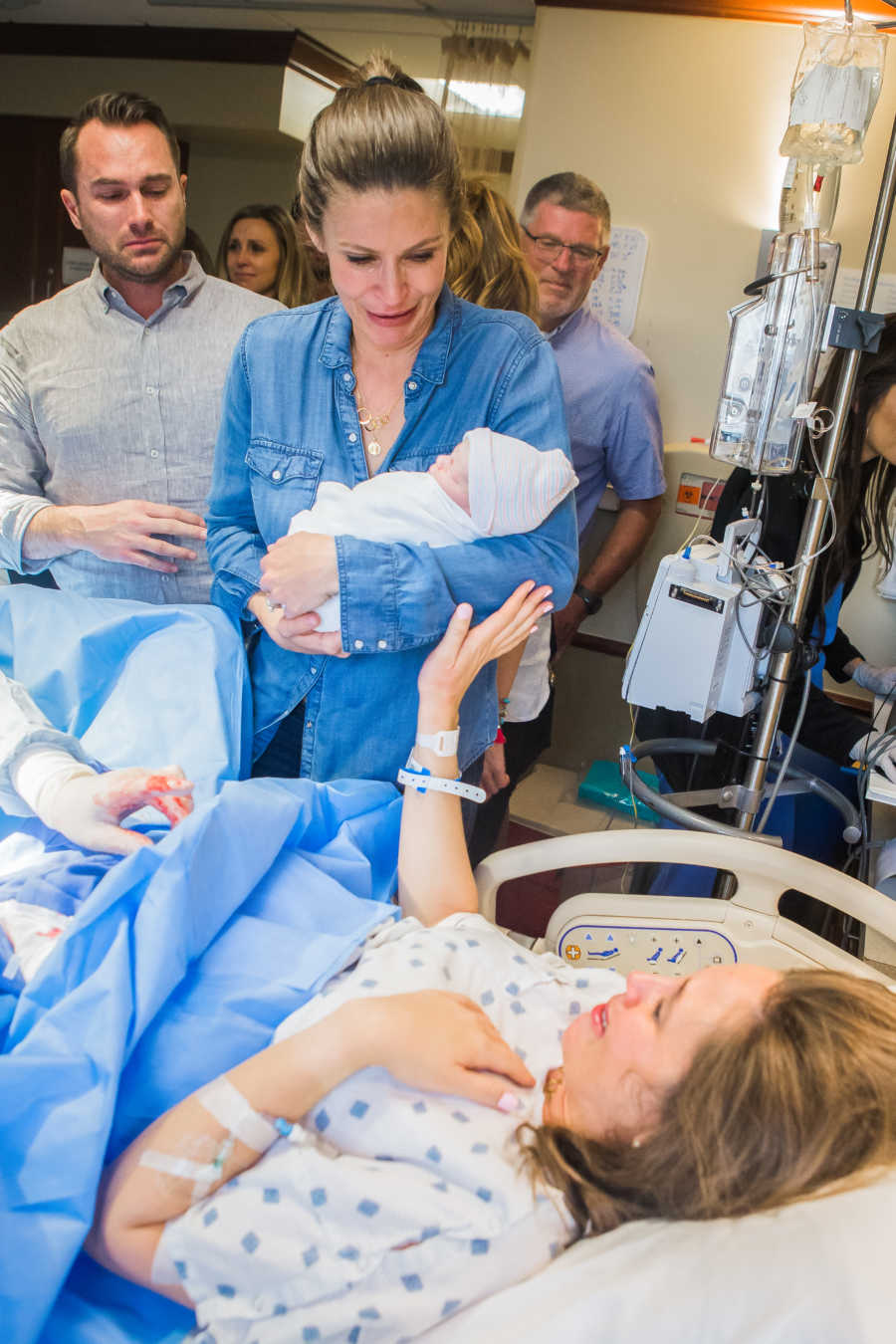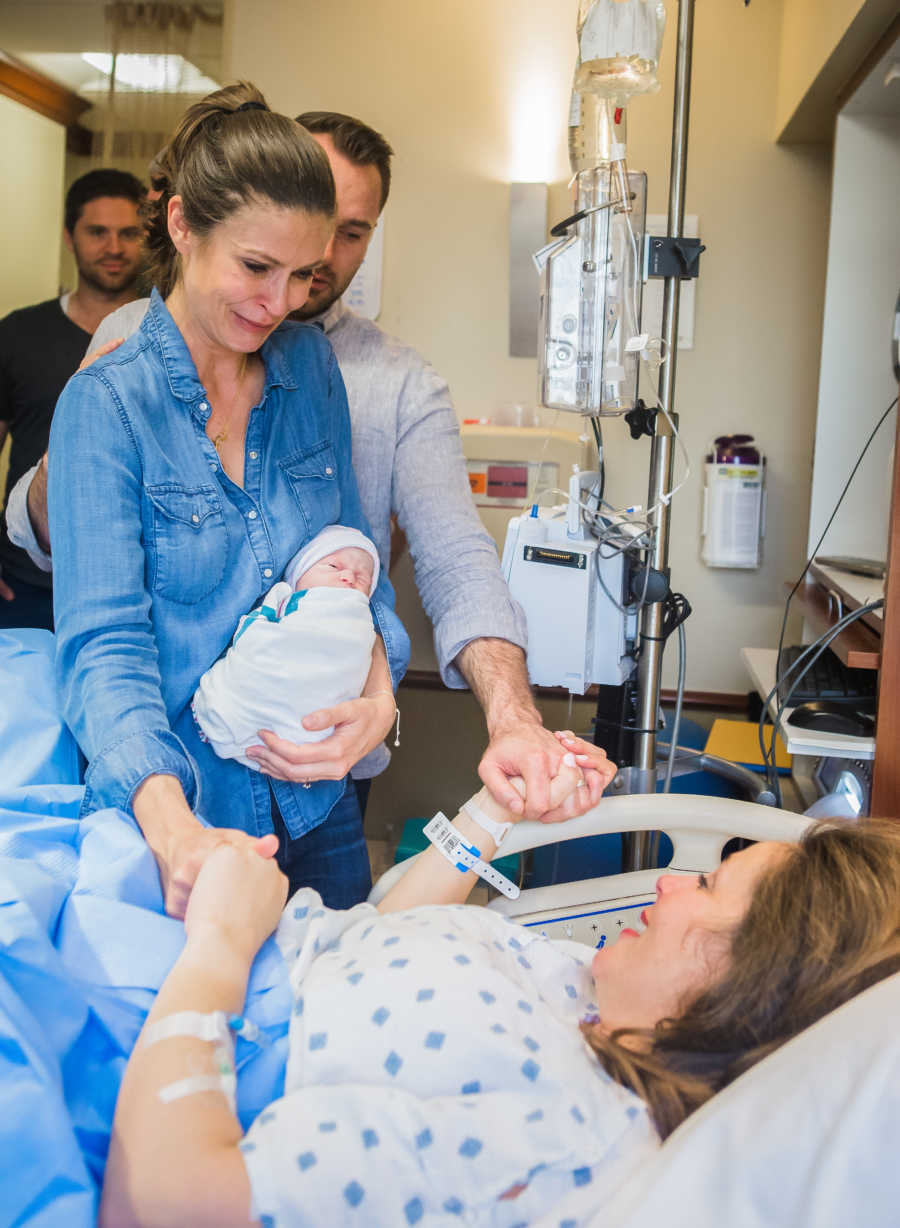 April 9, 2019, was the most incredible day of my life. Not only did it conclude our 14-year struggle with infertility (including hundreds of doctor visits, countless hormone shots, and worry, guilt and fear that I would never be a mother) but it ended in a room filled with love, sacrifice and hope. Somehow, sharing my inability to get pregnant had brought family, friends and strangers together in a way I could have never imagined…my family was now complete.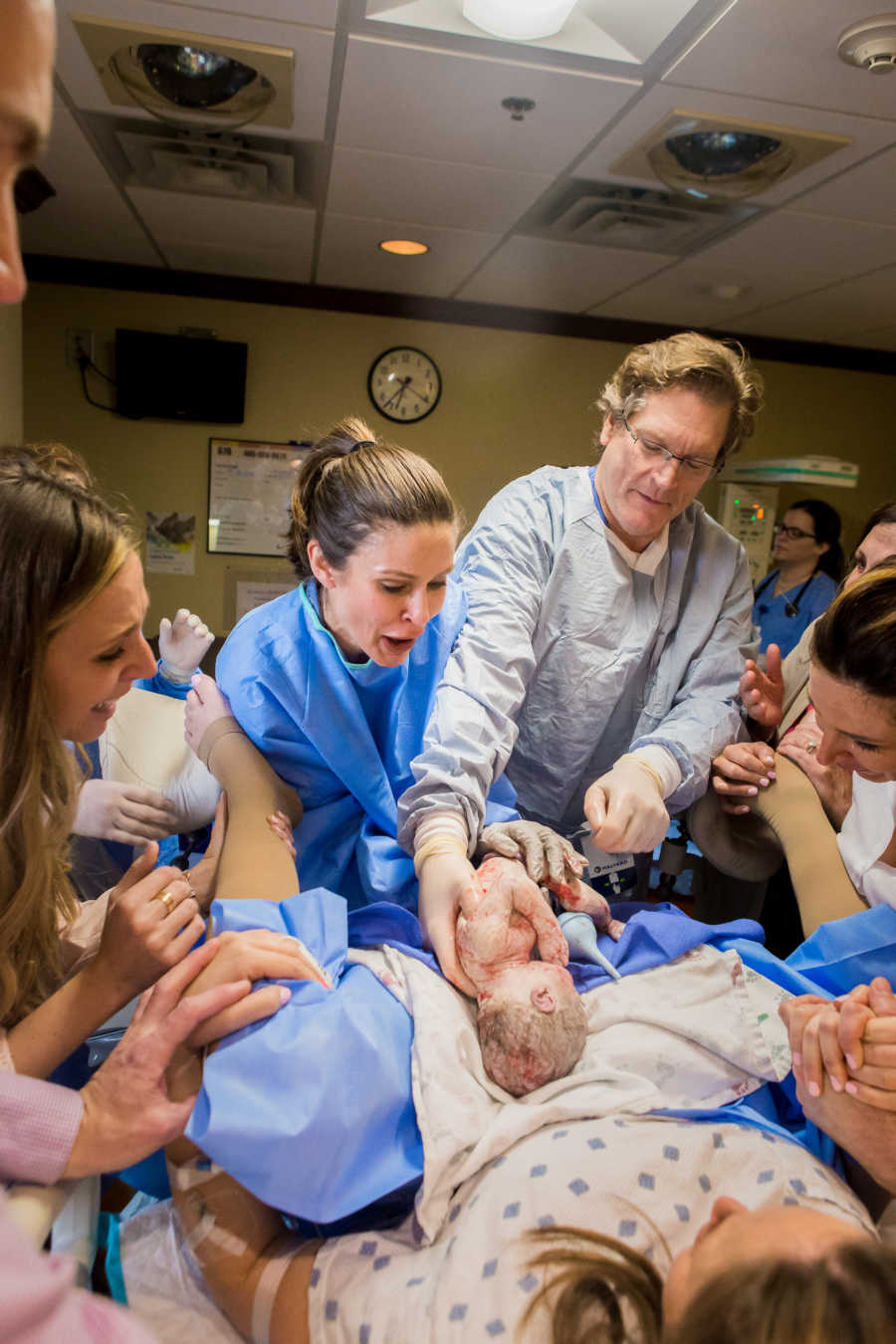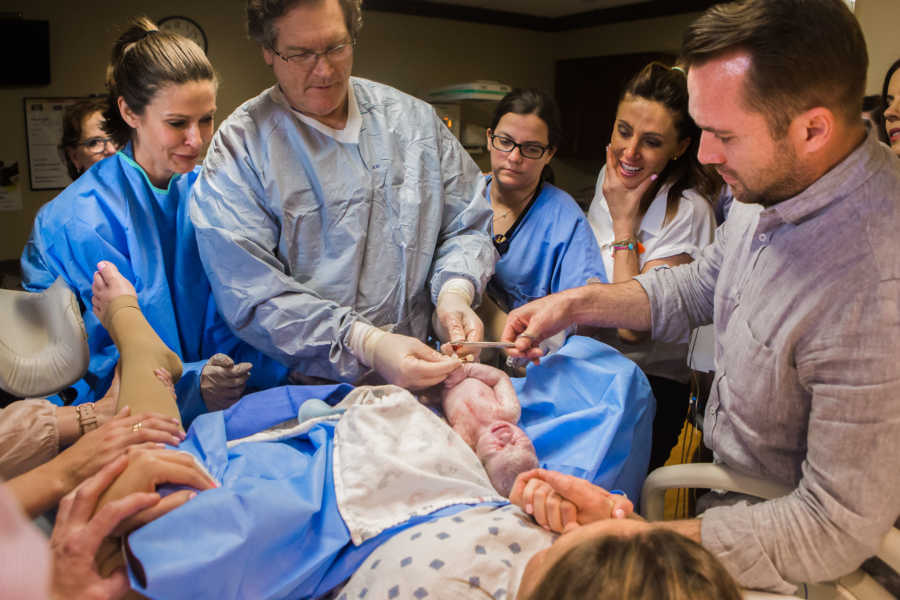 We first learned of my sister's offer on April 7, 2018. It was a Saturday evening and my husband, Ben, and I were at the grocery store with our almost 1-year old son Hugh, trying to hurry and shop before his bedtime. 'Michelle's FaceTiming me—mind if I pick up?' My sister rarely called, and I picked up the phone hoping she would be a good distraction for our son. 'Is Ben with you?,' she asked. I called Ben over and we moved to the produce section where we had better cell service. I'll never forget Michelle's next words: 'Let's make a baby!'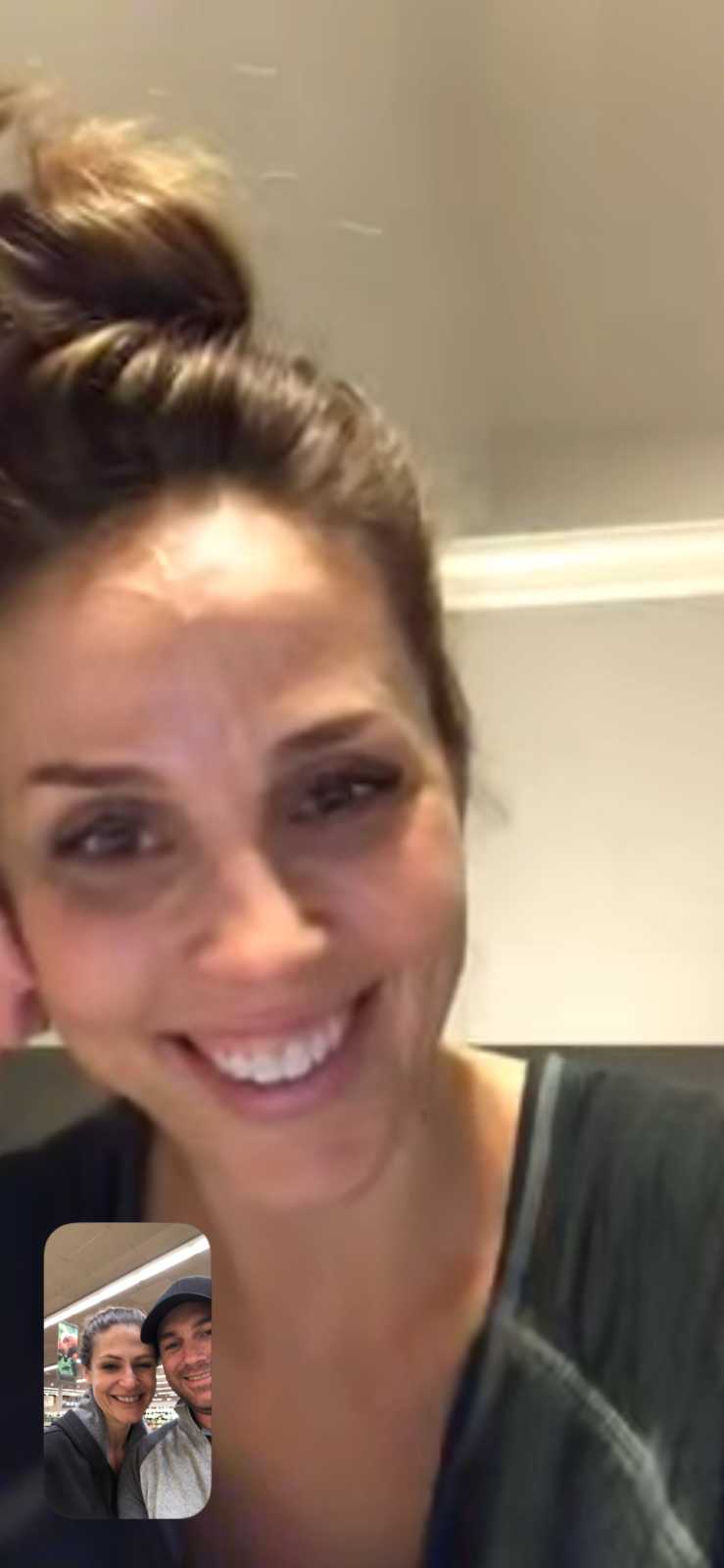 'What??' I stammered, making sure I heard her correctly. 'I'm going to be your surrogate!' Michelle exclaimed. My eyes filled with tears and Ben grabbed my hand. 'Michelle, are you guys sure you want to do this?,' he asked. Ben's step-sister had volunteered to be our surrogate for our son, and we knew surrogacy wouldn't only be a sacrifice for Michelle but her entire family as well. 'Yes,' she nodded on the screen. 'Dave and I discussed this at length and our kids all agreed. We're excited to try and give Hugh a sibling.' Tears ran down our faces—we were amazed by her offer.
Ben and I had tried for 12 years to have a baby without success. We married young—I was 23 and Ben 26—and started trying for a baby in my mid-twenties. We were healthy and both came from large families…we thought getting pregnant would be easy. Months of failure turned to years, and every wait to see if we were pregnant was hell. We went to the best fertility doctors and spent all we had on tests, treatments, acupuncture and therapy without ever having a positive result. We were doing everything we knew possible, and nothing worked.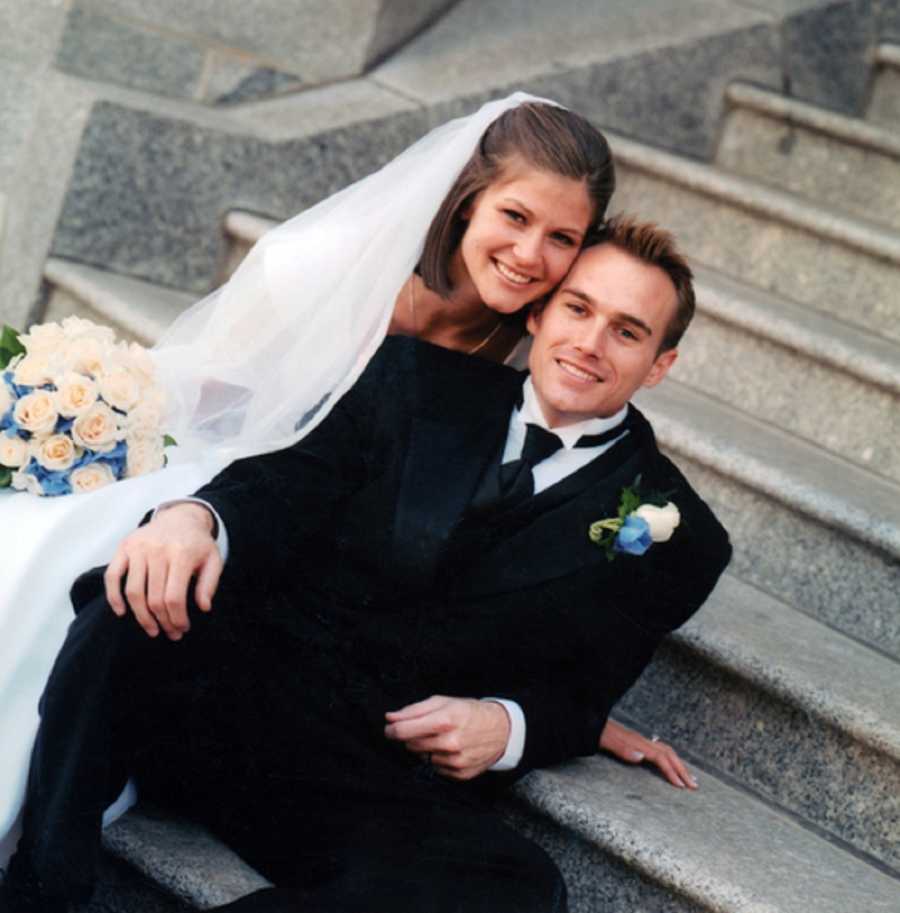 Privacy was how we coped—no one in our family even knew we were trying. Each of our siblings had kids. How could they relate? Family gatherings became a reminder of what we didn't have, so we stopped attending holidays and rarely went to family events. We had more nieces and nephews than we could count…what were we doing wrong?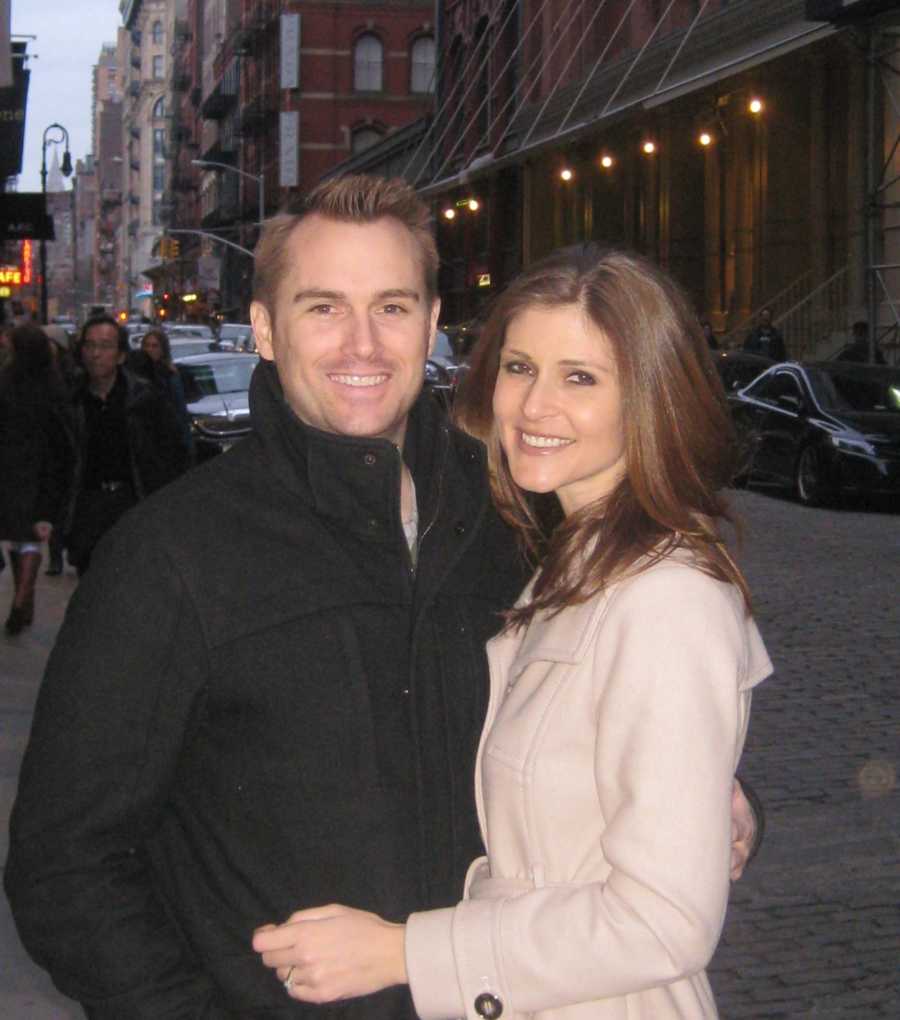 The first time I told anyone in our family about our fertility issues was in April of 2015. Rather than spending a week at a family reunion, we opted to drive all night for a family day-hike at the Grand Canyon. We had been pushing off seeing Ben's family for months—we knew we needed to see them and this was the shortest option. Ben's mother had recently remarried and we were joining Ben's mom, step-dad and step-sister Jenna. Jenna and I spent most the day hiking together and at one point she innocently asked if we wanted kids. I was at a point of exhaustion in the process and in that moment, I let my guard down. 'We've been trying for over 10 years and nothing's worked. We're running out of options.' Without missing a beat, Jenna casually replied, 'You're family. I'll be your surrogate.' I smiled and dismissively thanked her. She couldn't be serious.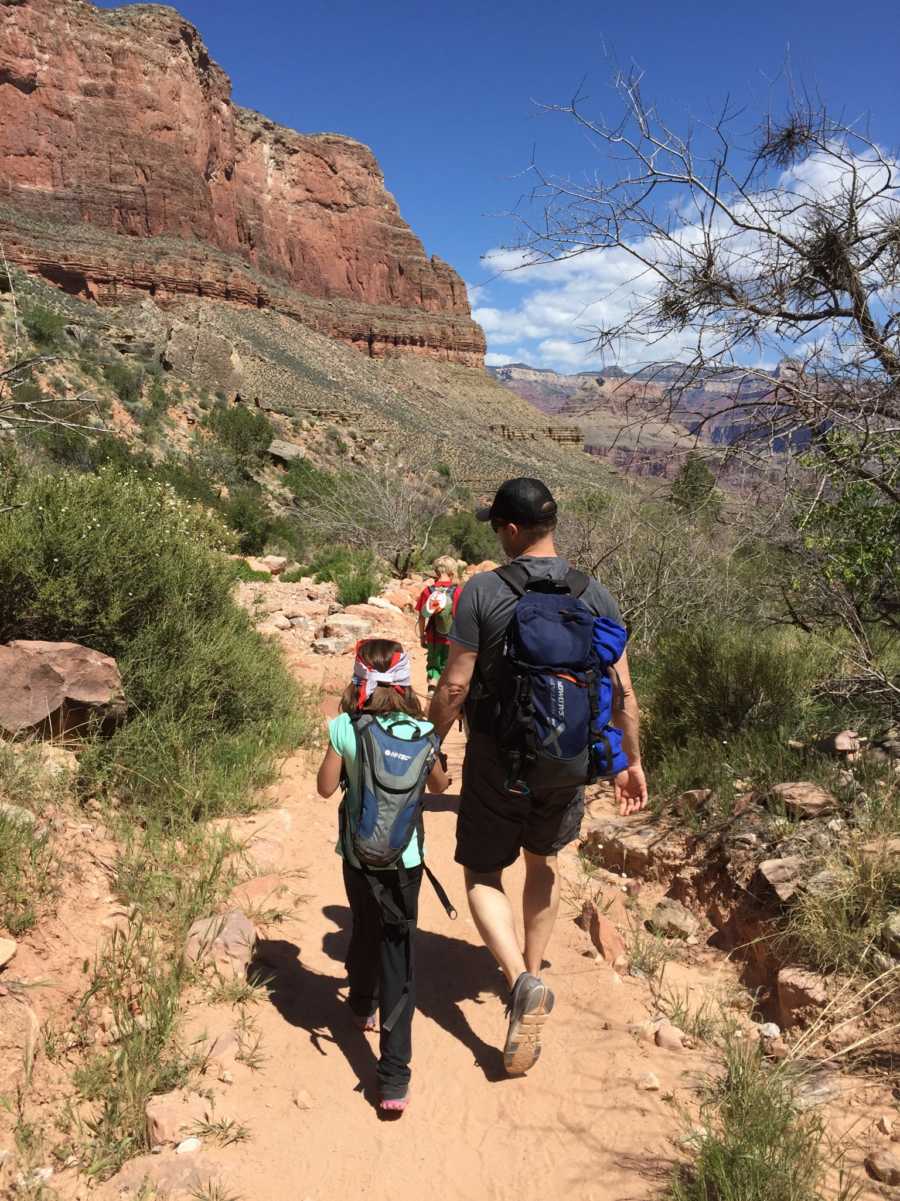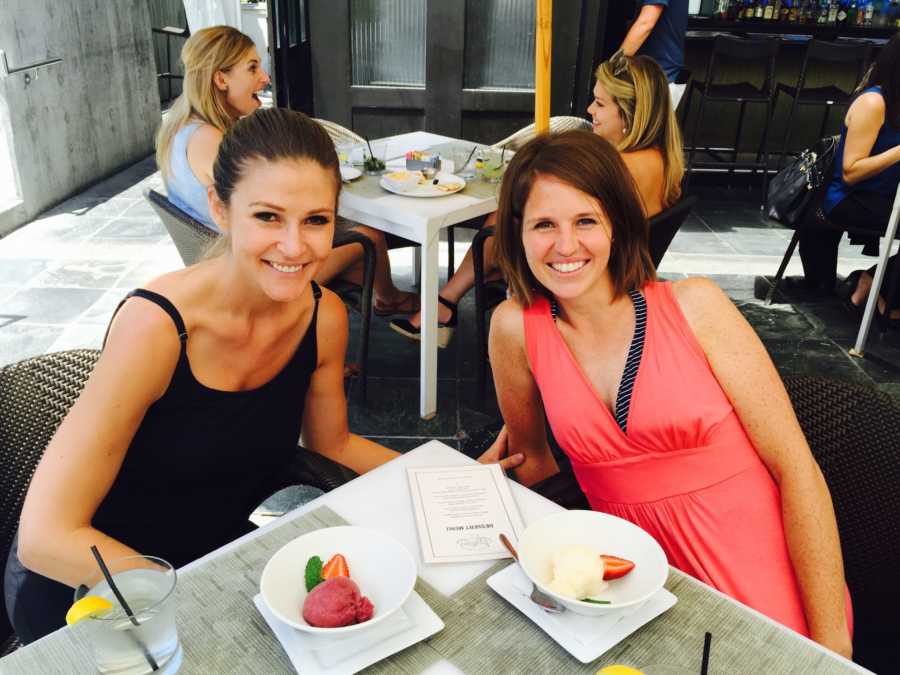 A week later I got a call from her. 'I spoke with my husband and my kids and did a ton of research. We're really excited to be your surrogate!' I didn't know what to say. I hadn't told Ben of Jenna's offer, because I didn't think it was real. We had gone through 6 rounds of IVF and had never considered surrogacy—our plan was to use the embryos we had been able to get and then try to adopt. I called Ben and told him about my conversation with Jenna. 'We can't,' he replied, 'how could we every repay someone for that…for giving us a life?' He's very independent and worried about everything that could go wrong. We decided to consult with our fertility doctor before making any decisions.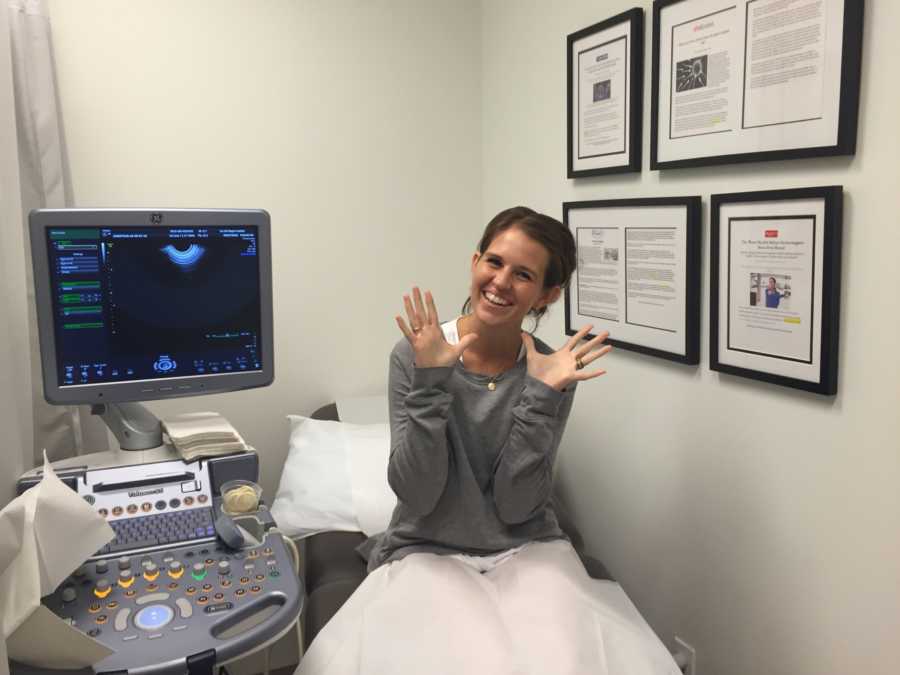 Jenna passed all her tests with flying colors—we were ecstatic! It took months to get all her test results, medical records, legal agreements, and hormone medications. She came to Los Angeles for the transfer and the doctor implanted our embryo in her. For the first time in years we felt hope.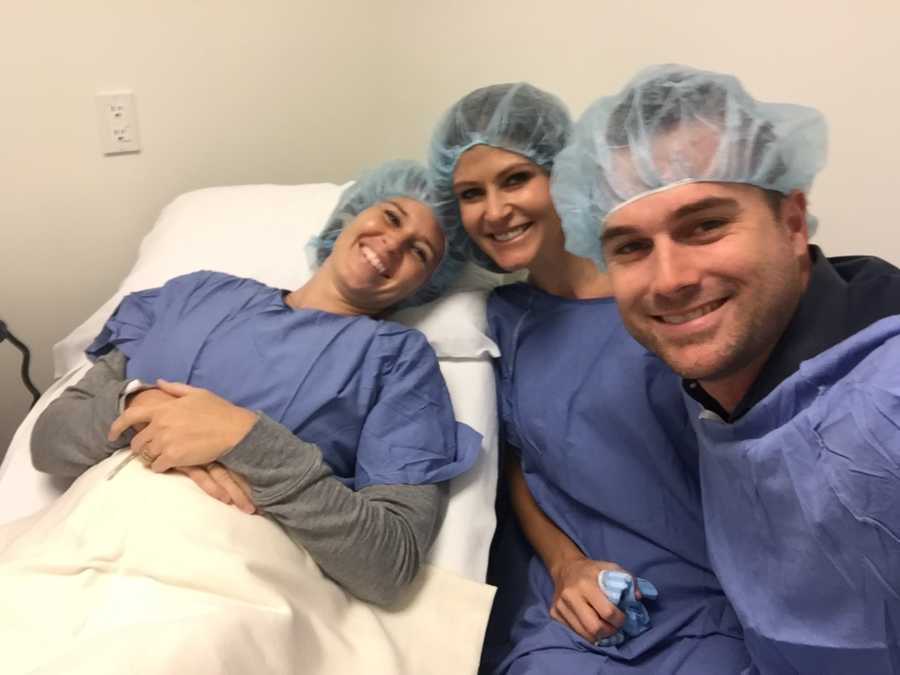 Jenna's first transfer failed, and we were all rocked. When we accepted Jenna's offer, we never considered this process would be so emotional for her and her family. When we recovered, she offered to try again. After another year, multiple surgeries and two more attempts, she was finally pregnant with our baby. We decided to wait until the end of Jenna's first trimester to finally tell our families we were expecting. They were amazed—my family couldn't believe I had kept this a secret, and Ben's family didn't know we were close with Jenna. While we were worried we would be judged and questioned, everyone was thrilled and supportive.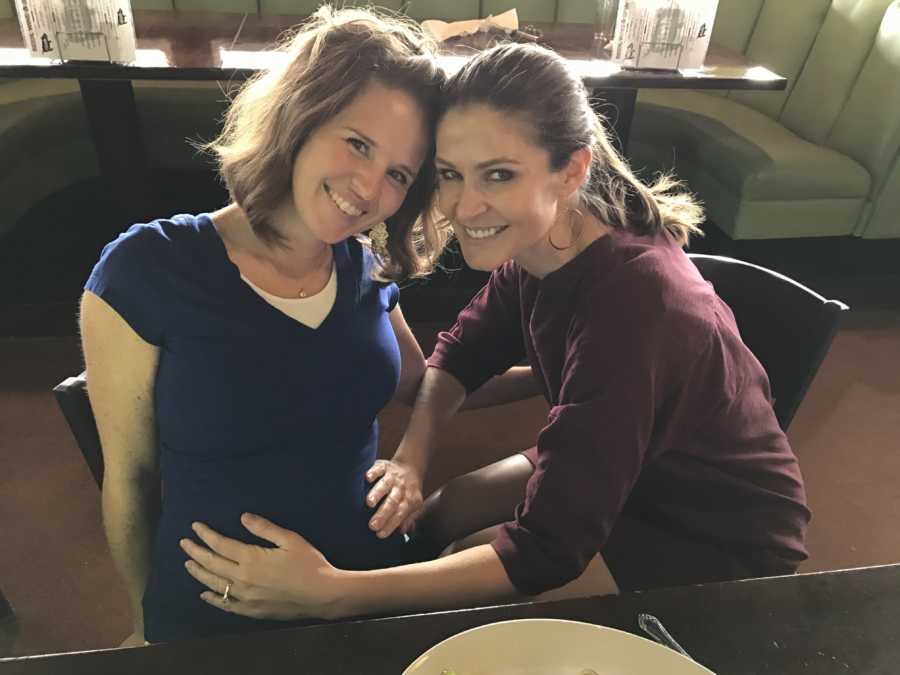 Navigating the pregnancy had its highs and lows. I was thrilled to finally be expecting, but had feelings of jealousy and resentment that I wasn't the one pregnant. Simple things such as deciding how and when to tell others we were pregnant was complicated; I didn't want to have to share my entire fertility journey but also didn't want to feel judged for using a surrogate. When my friends and sisters-in-law learned of our pregnancy, they celebrated with us and threw amazing showers. Instead of judgment and shame, I received an outpouring of love I never expected. These simple gestures and the kindness so many showered me with along the way revealed to me a side of humanity I had never experienced before—all because I finally let people know I had been struggling.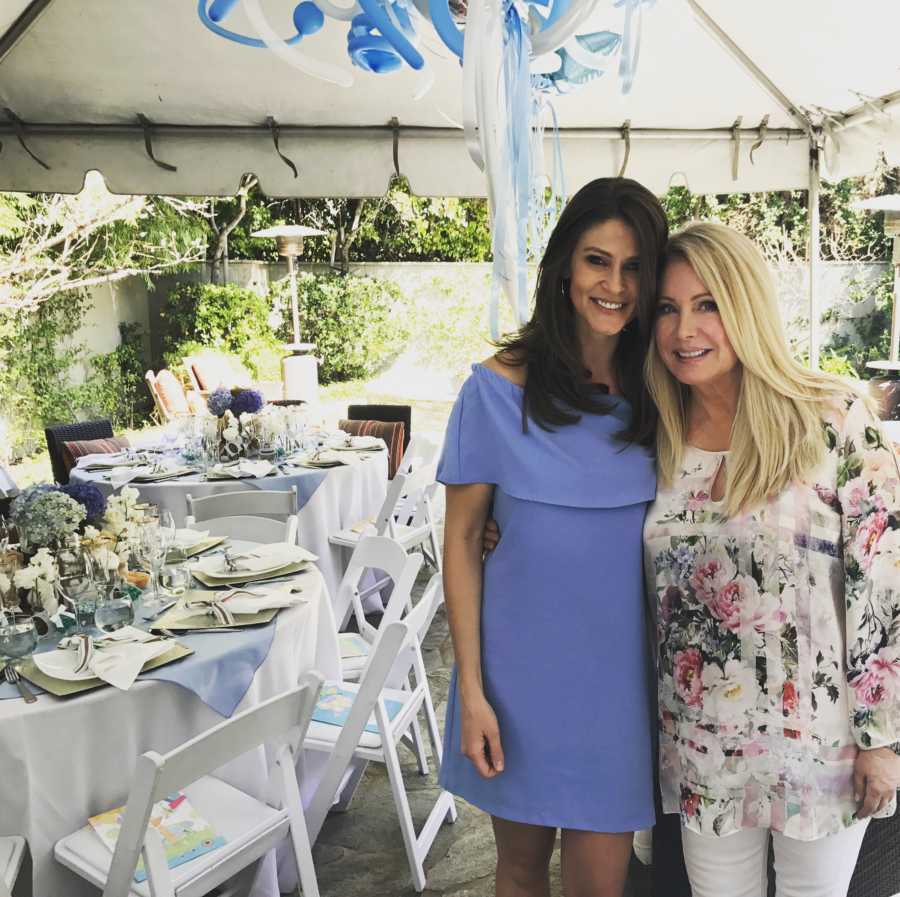 A few weeks before my son's birth, we hit another low point. I received a call from my employer's insurance company telling me that because I wasn't physically pregnant, I wouldn't receive my employer's maternity benefits. I work for the largest private employer in Los Angeles, and according to records I was the first employee to use a surrogate. I was devastated. We had worked so hard to have our baby; I couldn't believe that because I wasn't physically pregnant, I didn't get the same time to bond and take care of my baby. It seemed that anything that could go wrong went wrong, which made us work even harder. I challenged my employer's policy and spent a year advocating for change—as of May 11, 2018, they officially changed their parental leave policy to include equal benefits for surrogate and adoptive parents.
Jenna gave birth to our son May 23, 2017 via C-section—one of the happiest days of our lives.  We felt like the luckiest people alive as we held our son. We cried tears of joy as we realized our new reality—we had a son. We were finally parents!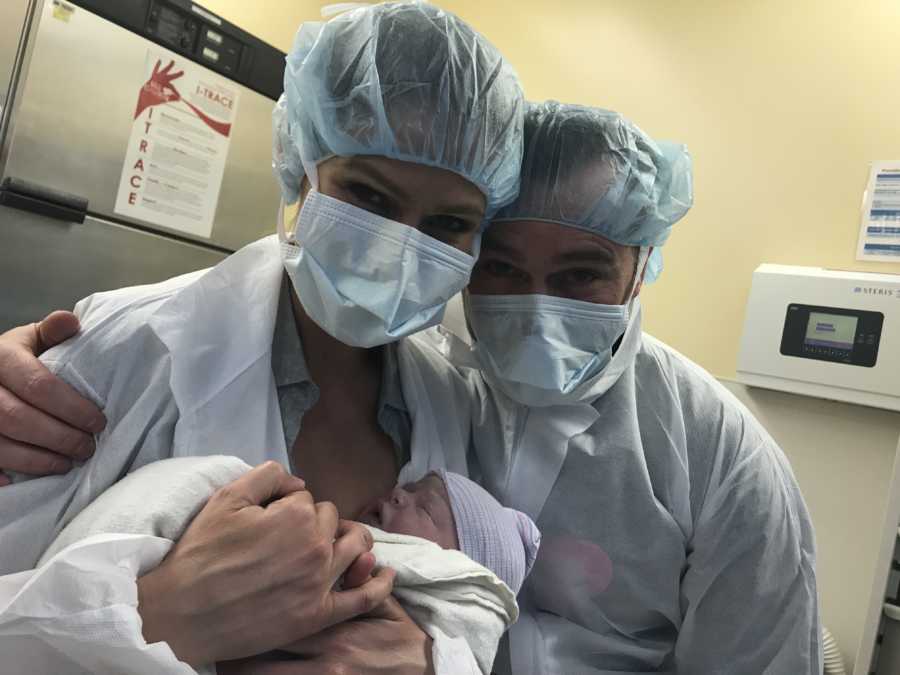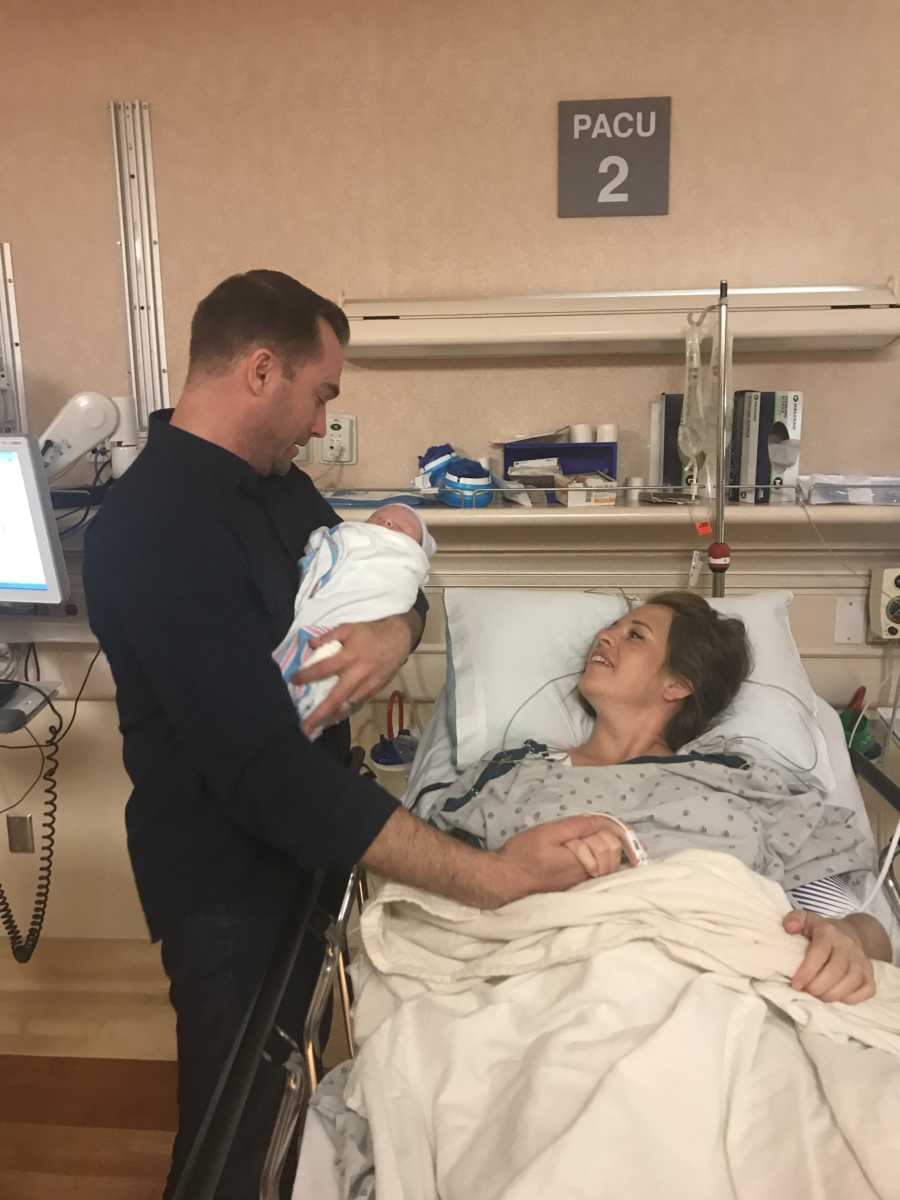 Michelle's call came less than a year later; we couldn't believe she was also offering us this gift. While we were thrilled at the prospect of giving Hugh a sibling, we were also concerned knowing how stressful surrogacy can be—especially knowing there was no guarantee of success. I let Michelle know that she could back out at any time if this became too hard for her, but she responded, 'Ever since you told me Jenna was your surrogate, I felt it should have been me. Had I known you were struggling I would have offered to help you earlier. I've thought about doing this for you for years, and I'm so excited to help you complete your family.' I am in complete awe of my sister.
Michelle had thought long and hard about making this decision. Michelle had been really sick during her three pregnancies, and knew if she did this it would be a sacrifice on her whole family. 'I was concerned about my emotional attachment and what my kids' emotional attachment would be towards the baby. I couldn't imagine giving birth and not coming home with a baby. But in the end, my desire for my sister to complete her family outweighed all my fears.' When presenting the idea to her children, her six-year old son said it best, 'Mom, it's bestest to be nicest. You need to help your sister.'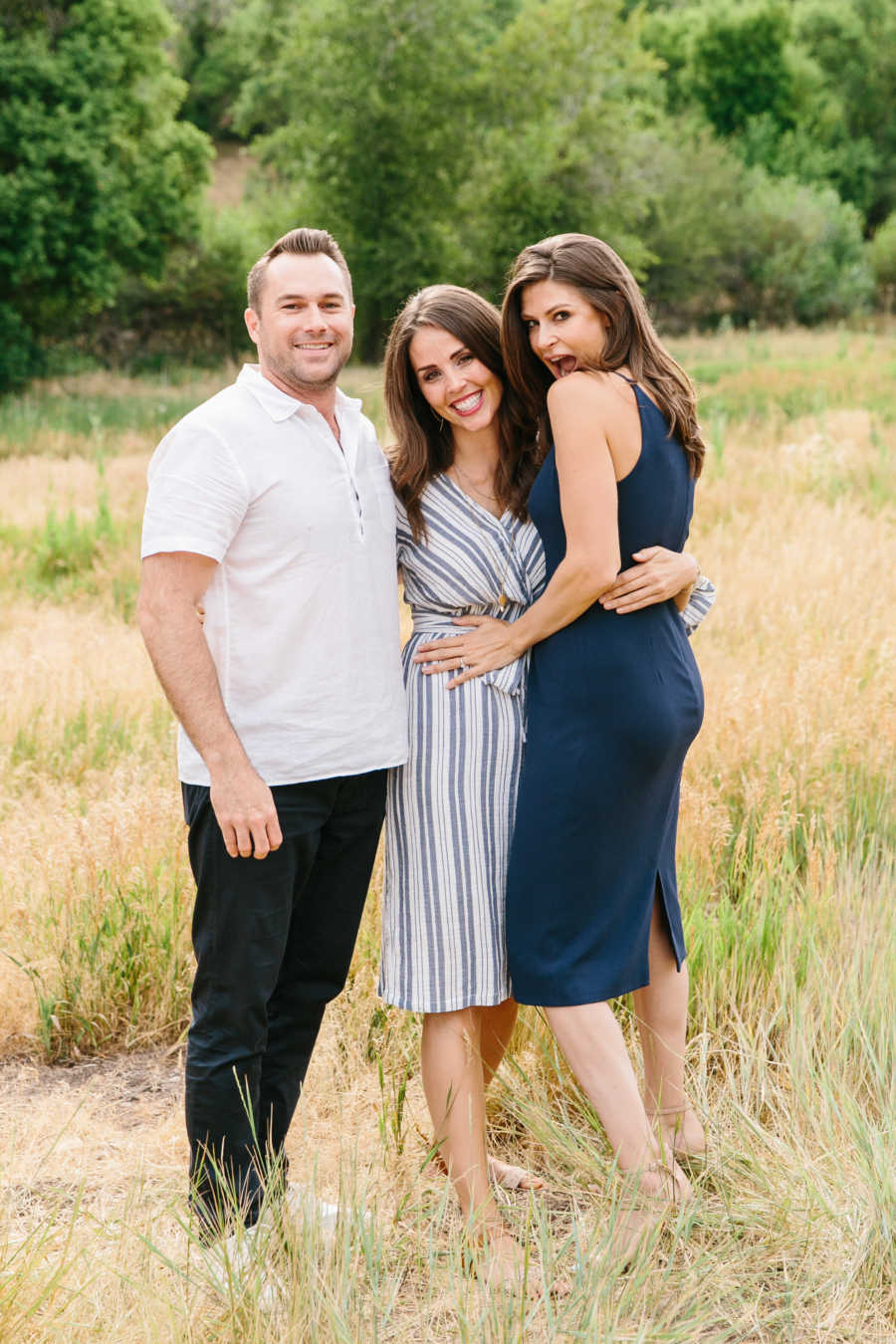 Ben and I learned the hard way that being private and isolating ourselves didn't get us anywhere. We decided to be more open this time and share our journey in hopes of removing the stigma of infertility. We announced Michelle was going to be our surrogate on social media before she even started her medications, and Michelle and I recorded almost daily videos on how we felt throughout the process. Sharing what we had kept so private for years was liberating.
Michelle flew to Los Angeles for the embryo transfer. We had to wait 11 days until we knew if the pregnancy took, which felt like an eternity. We got the news that Michelle was pregnant right before my 40th birthday. It was the best present I could have received.
Michelle's pregnancy meant the world to me and being so far away from her during the pregnancy was hard. Michelle was nauseous the entire 9 months and I felt terribly she was sick because of me. It was heartwarming for me to see how people I didn't even know cared for Michelle while she was pregnant with my baby. Her friends delivered gifts, our youngest sister cooked dinner weekly, and her best friend attended every doctor's appointment. We flew to Oklahoma for her 20-week appointment and she came out to LA for our shower. Michelle and I are less than two years apart and were close growing up, but I had distanced myself from her during my years struggling with infertility. In Michelle's words, 'Sara and I were really close growing up. We lived down the hall from each other during college and got married nine months apart. Then I started having kids, and she didn't. For 12 years she never told us about her infertility struggle. I thought she was pursuing her career and was choosing not to have kids. We drifted apart because my joy was her pain, and I had no idea. But now, we share this joy and journey together, and we are closer than ever.' I love having my best friend back.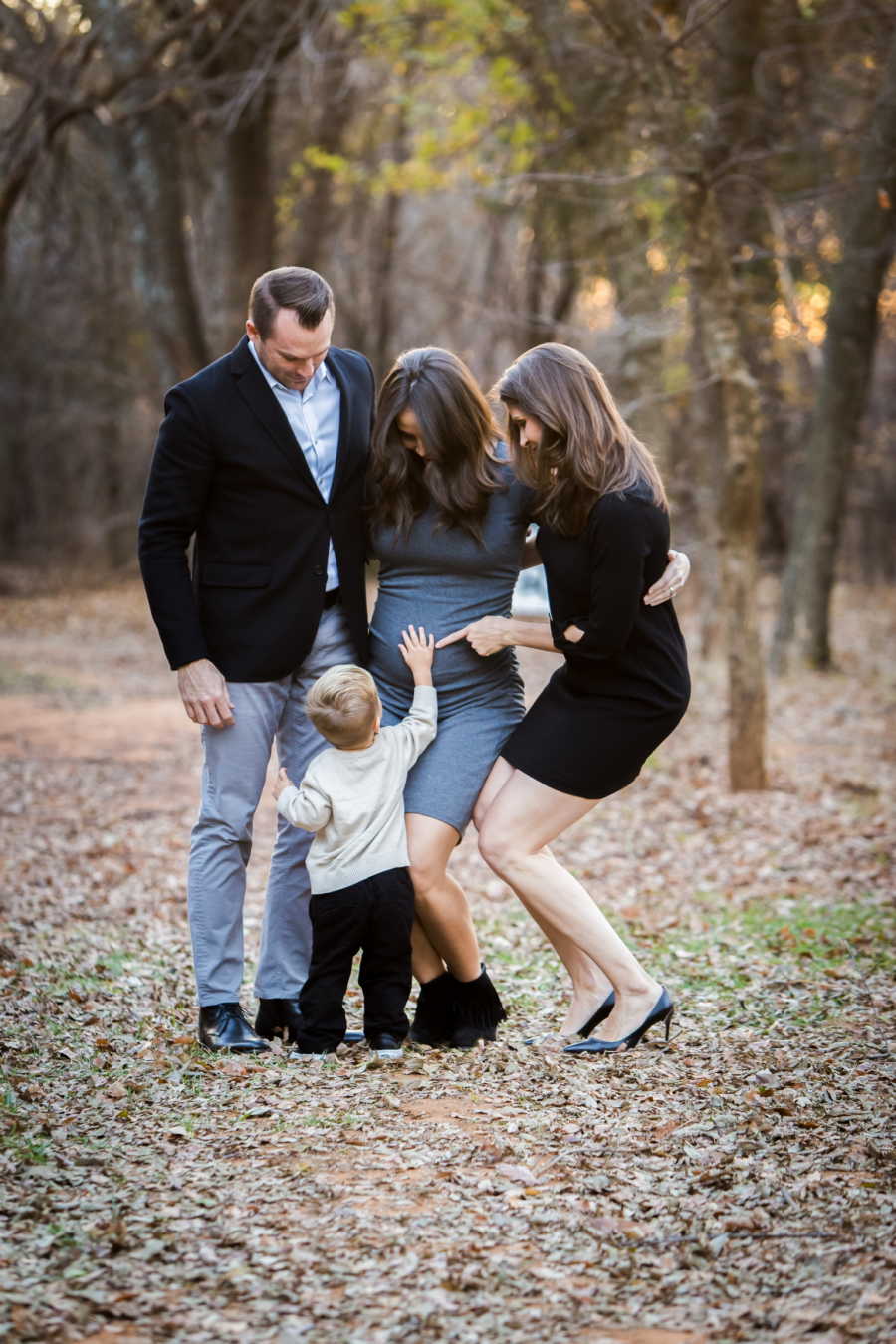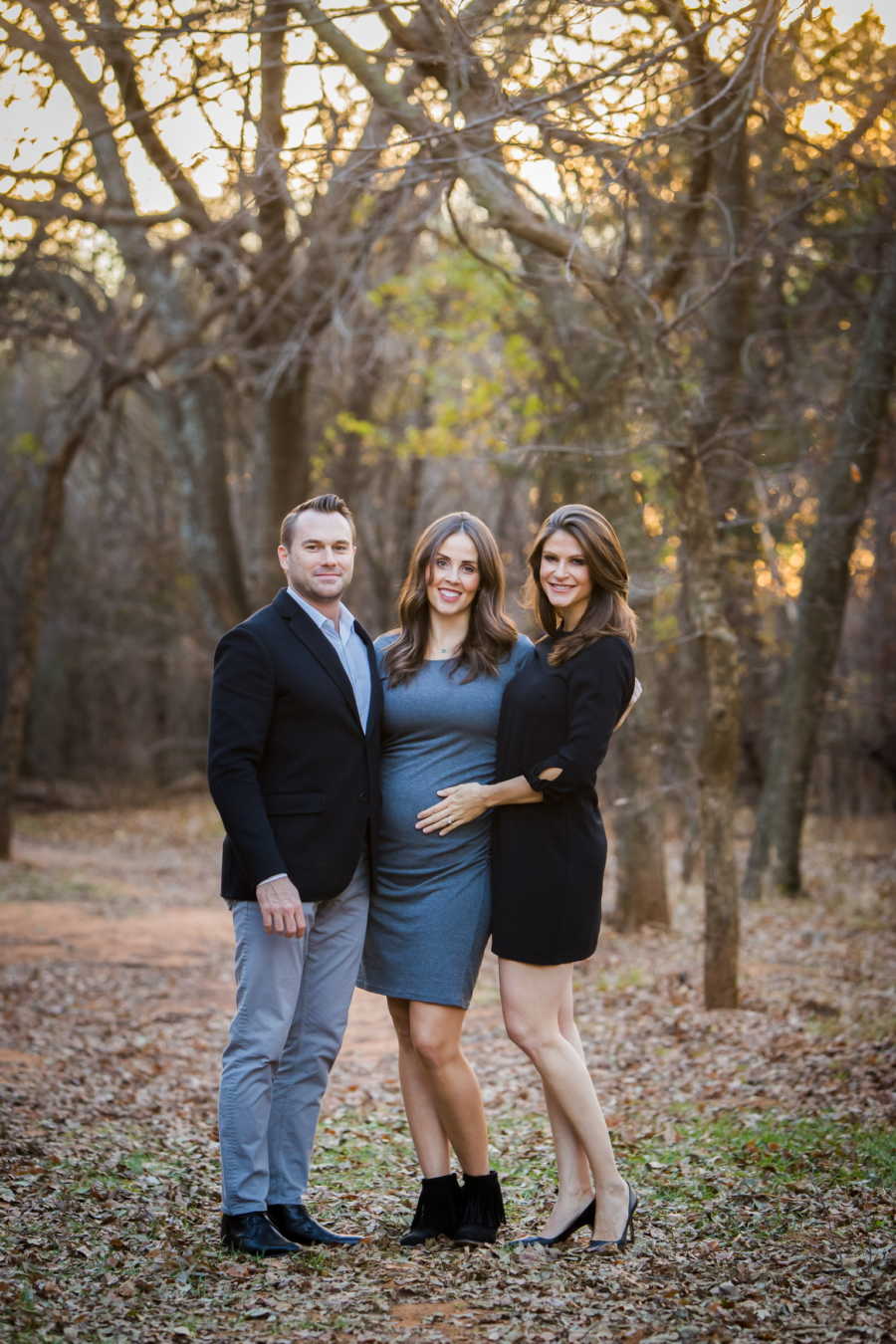 My entire family flew to Oklahoma to support me for our daughter's birth, and we all cried tears of joy when our daughter was born. The room was filled with love, and I still get emotional thinking about her birth. Infertility, the reason I had pushed my family away for years, was now the reason for bringing us together.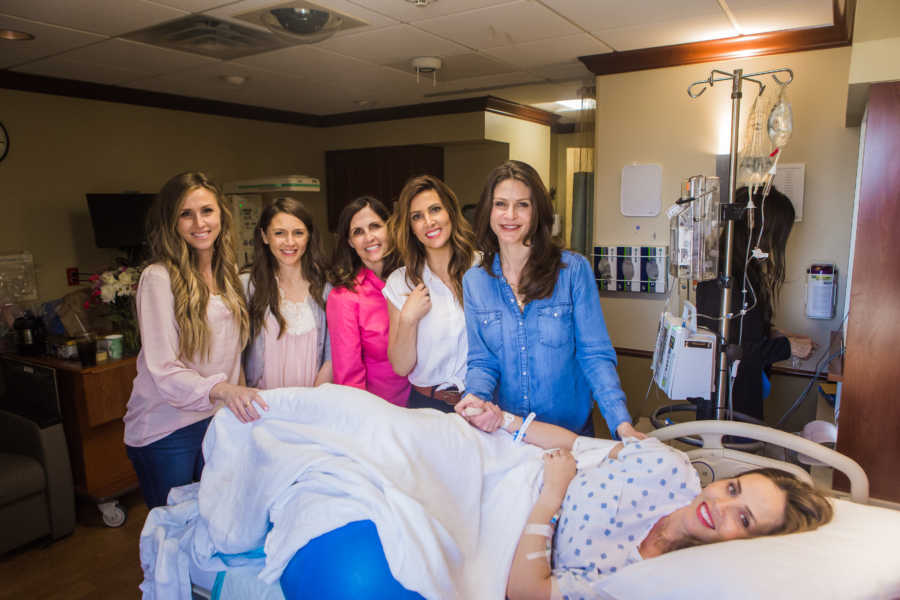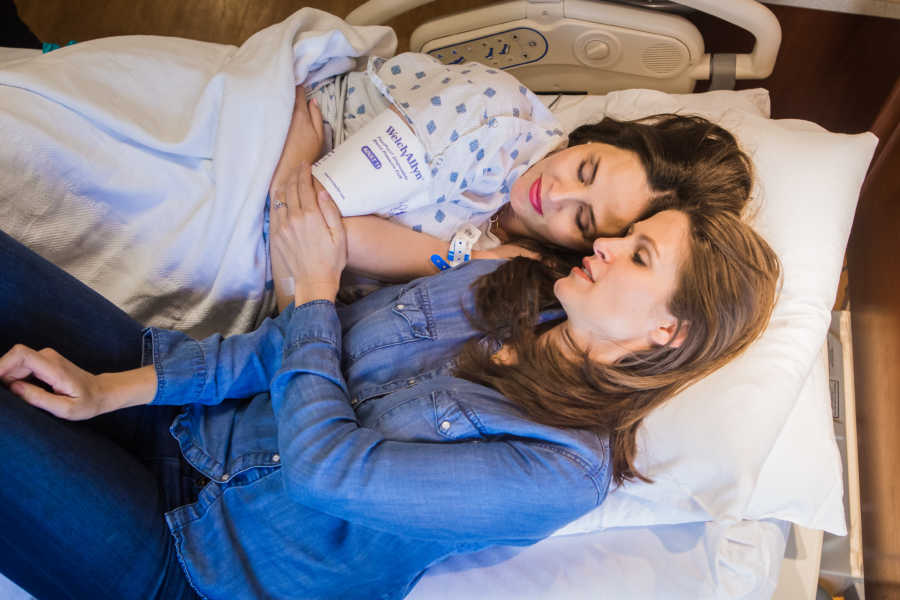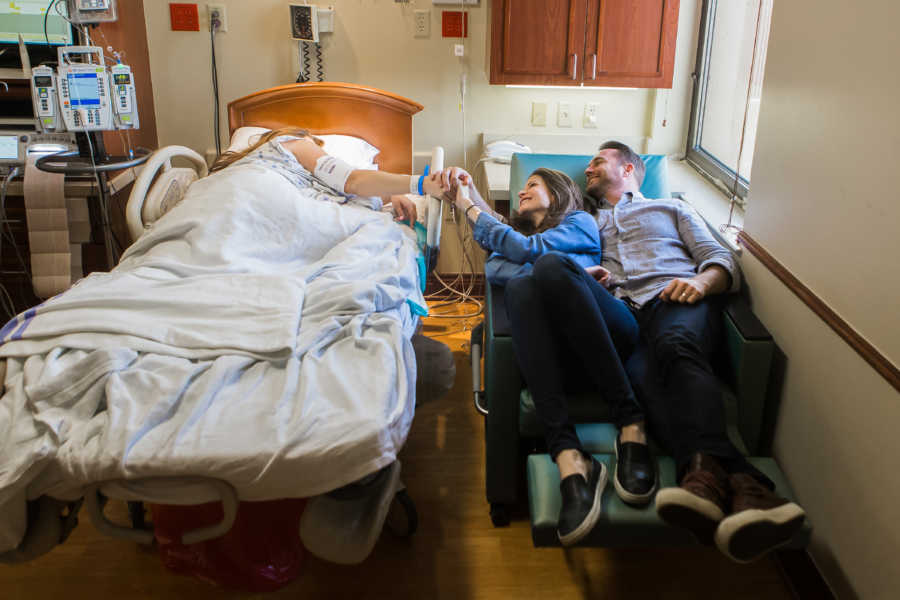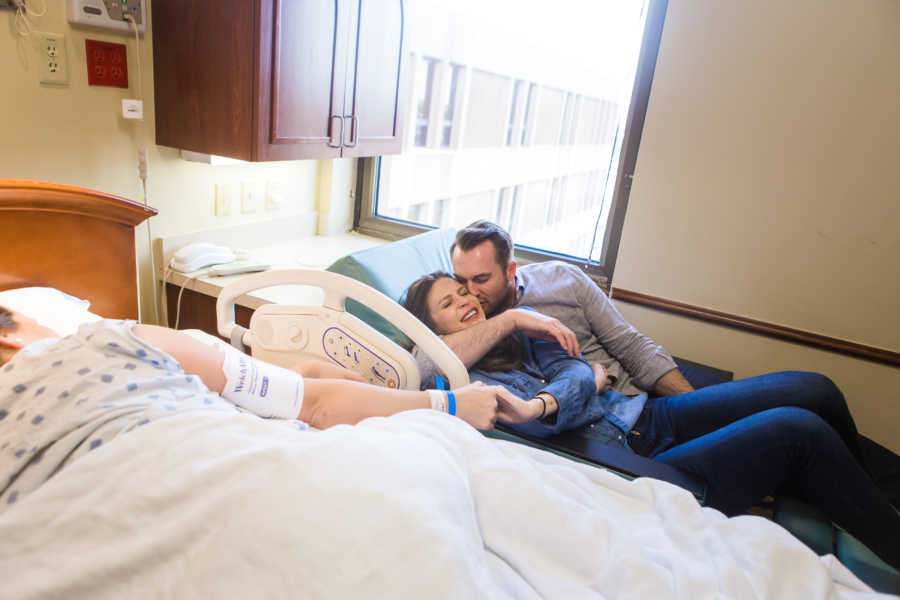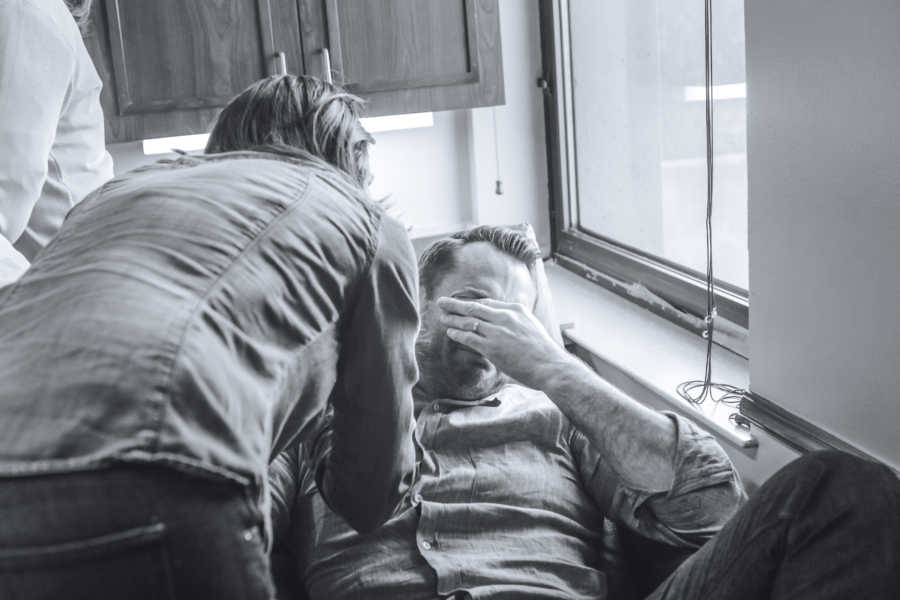 I will always be in complete awe of my sister and sister-in-law's sacrifice for us to have our family. After our daughter's birth, my sister wrote her a letter to let her know how loved she is. 'Your story is unique, and I feel privileged for the role I played in bringing you to this earth. You taught my children the importance of family, that we sacrifice for those we love, and we love those for whom we sacrifice. You brought a new level of love into our home. You made my heart bigger, allowing me to love those around me more deeply. You have such a special place in my heart, and I'll love you forever.'"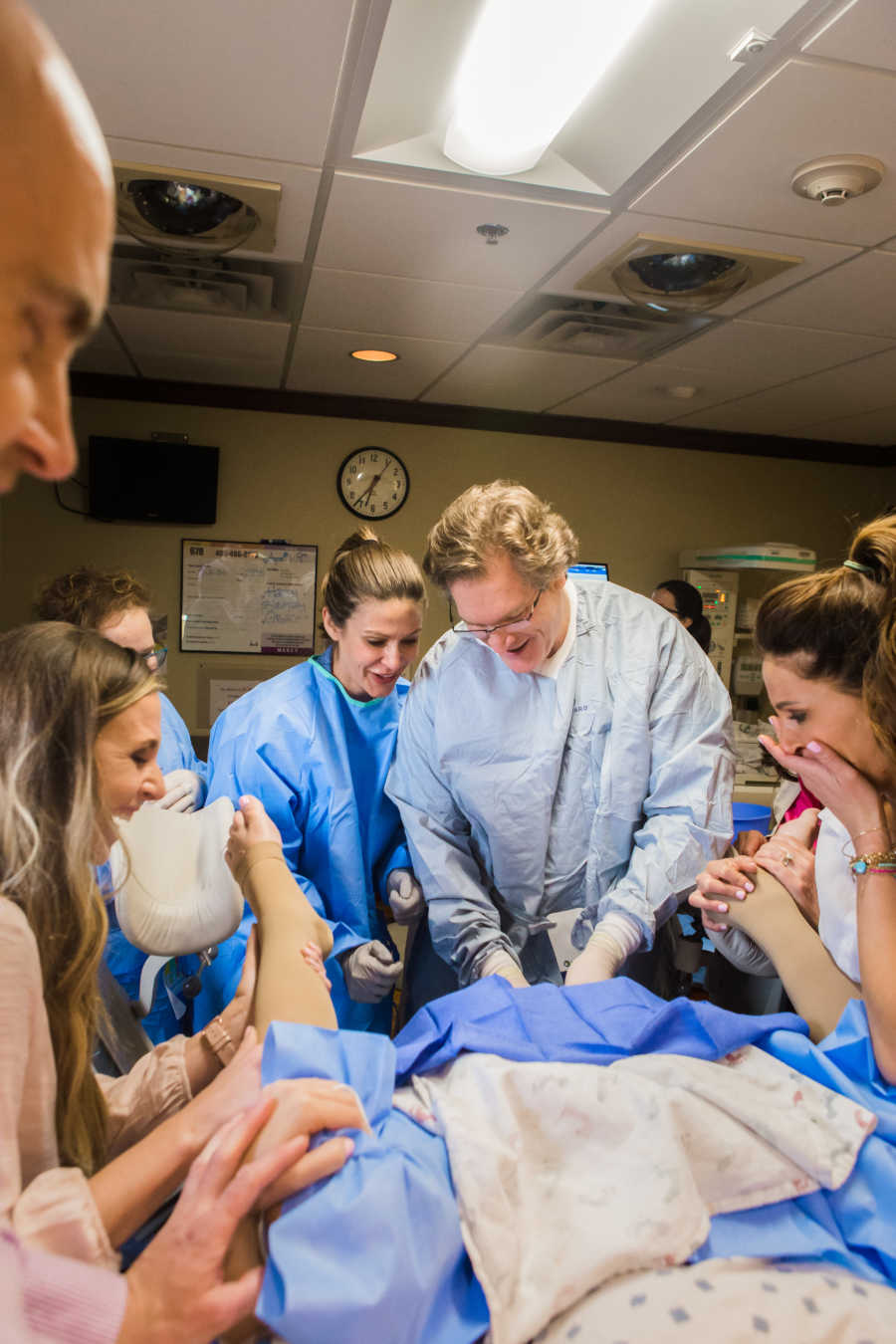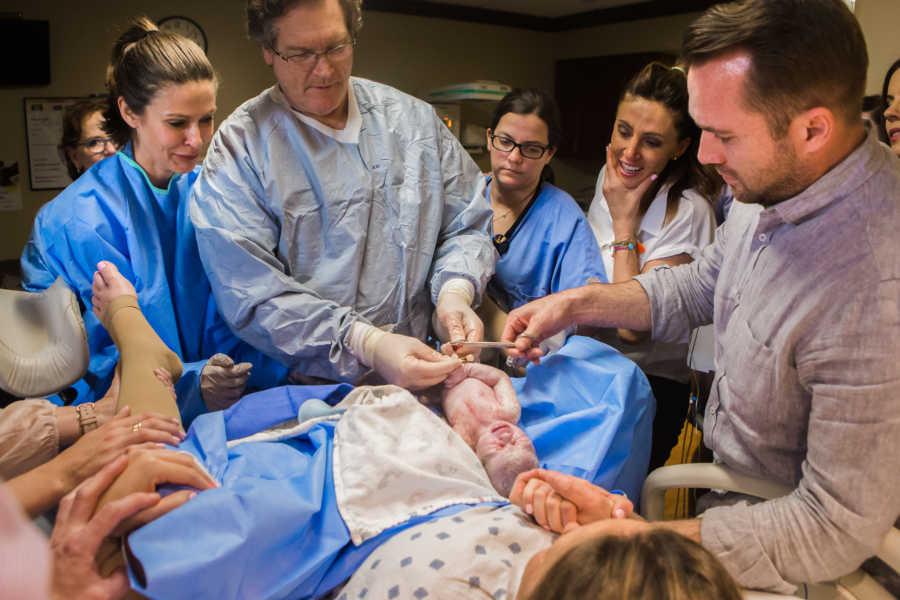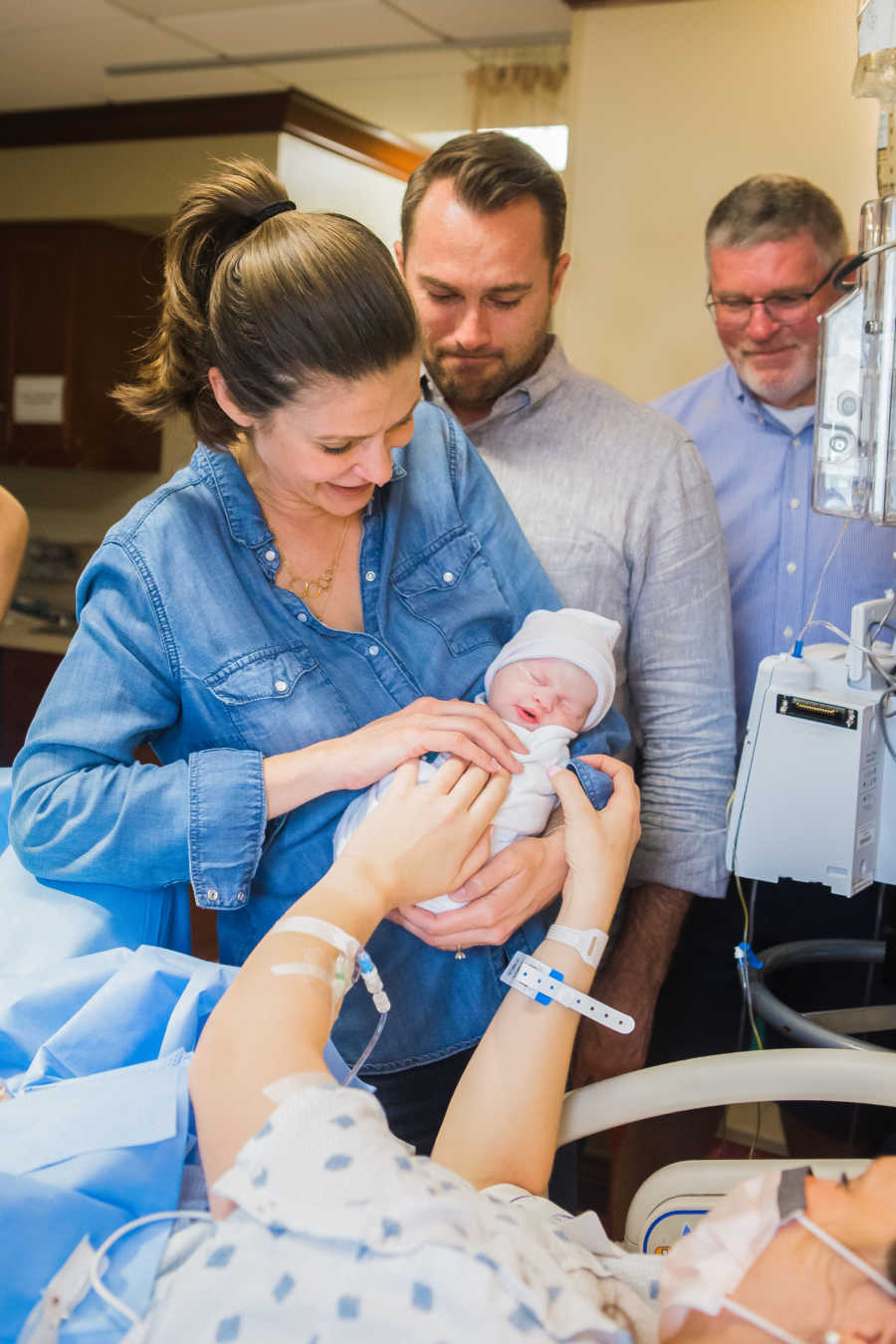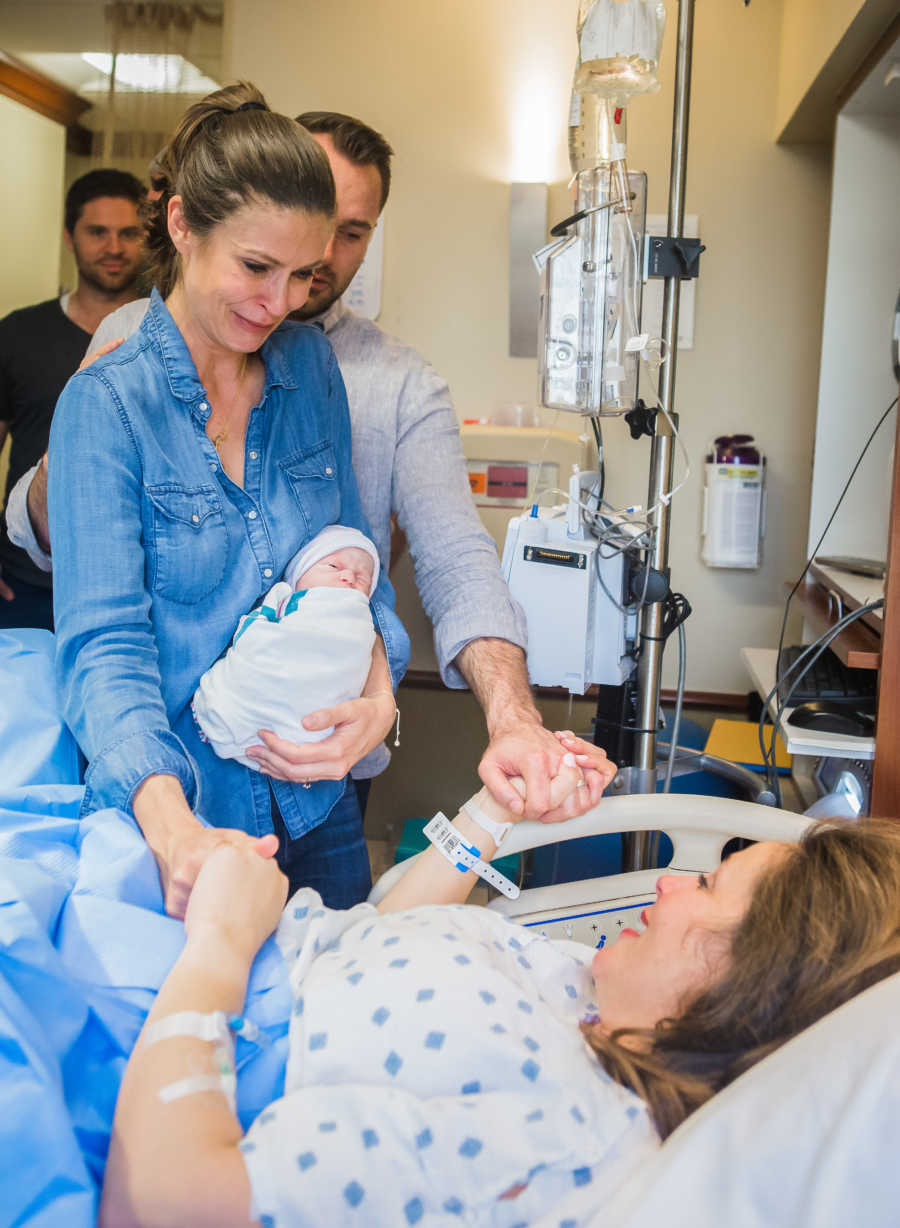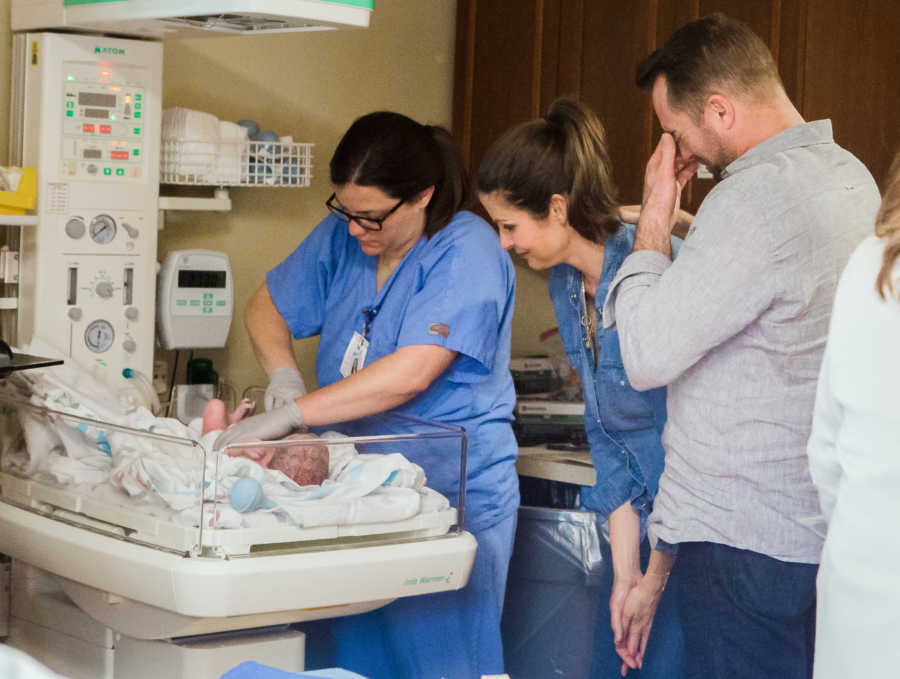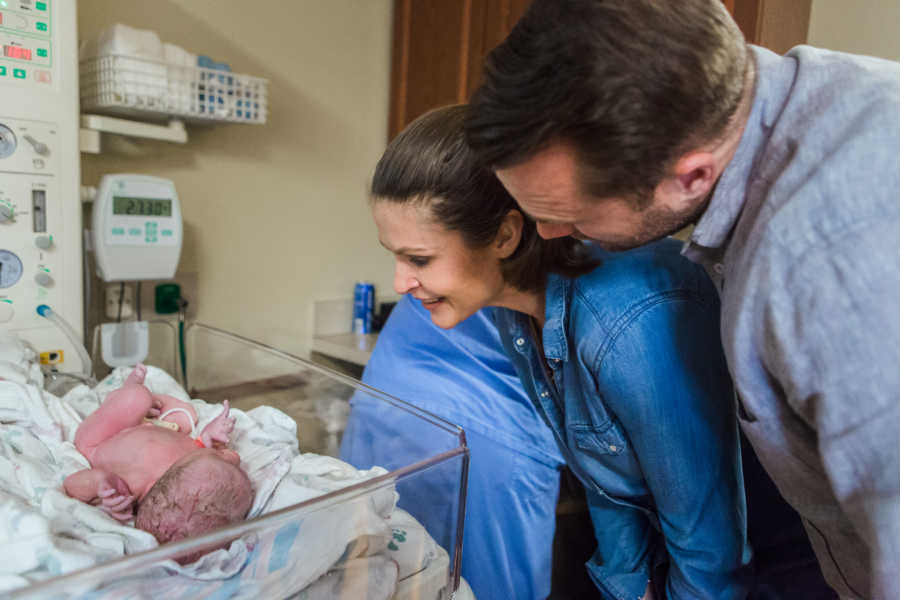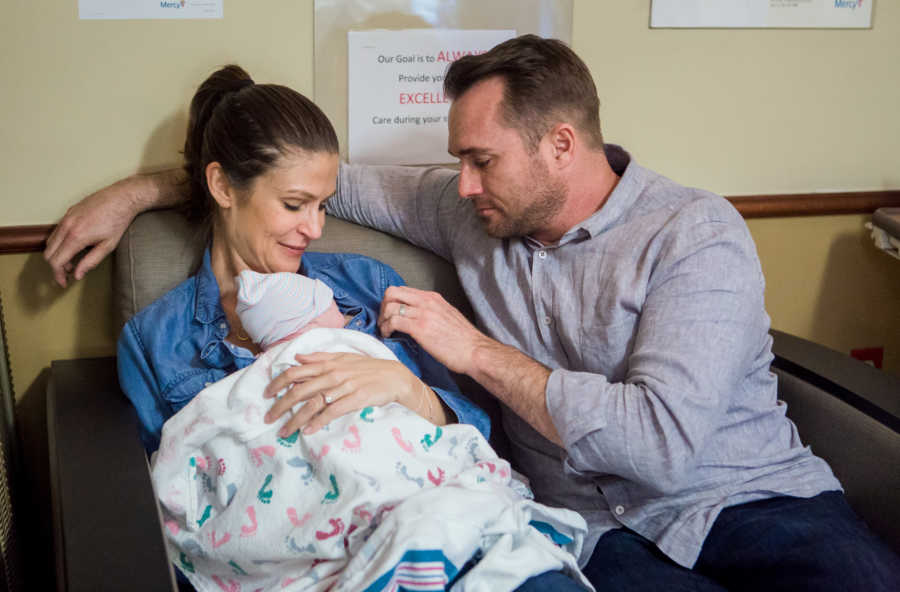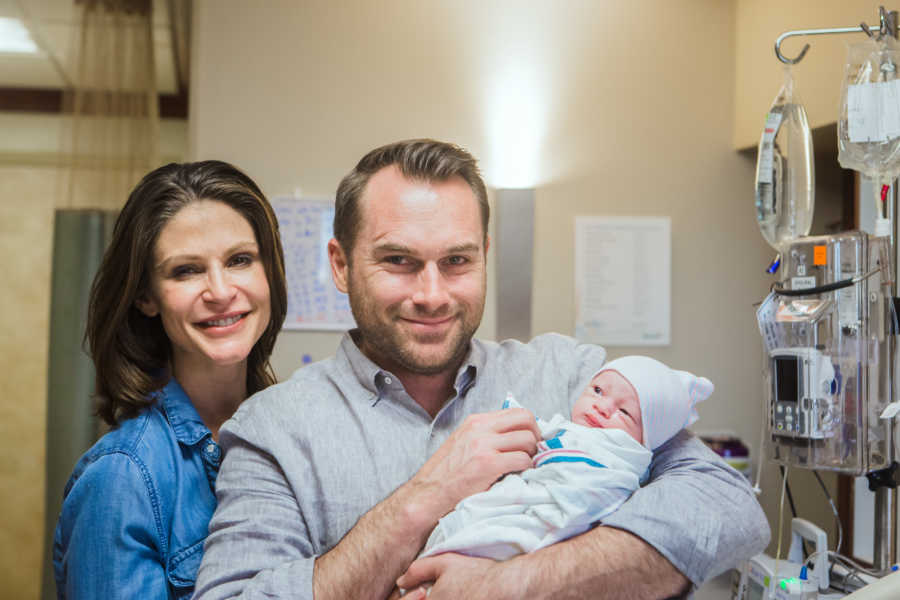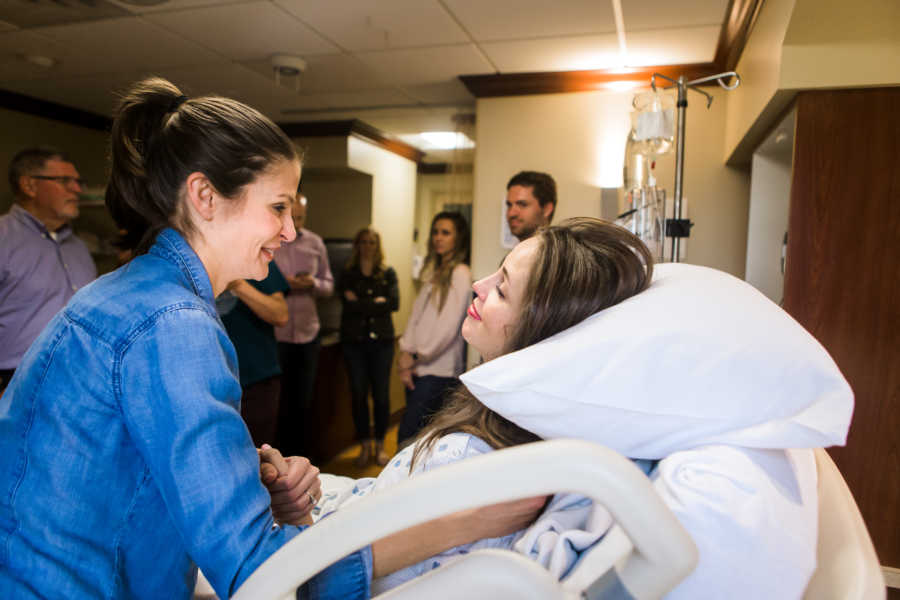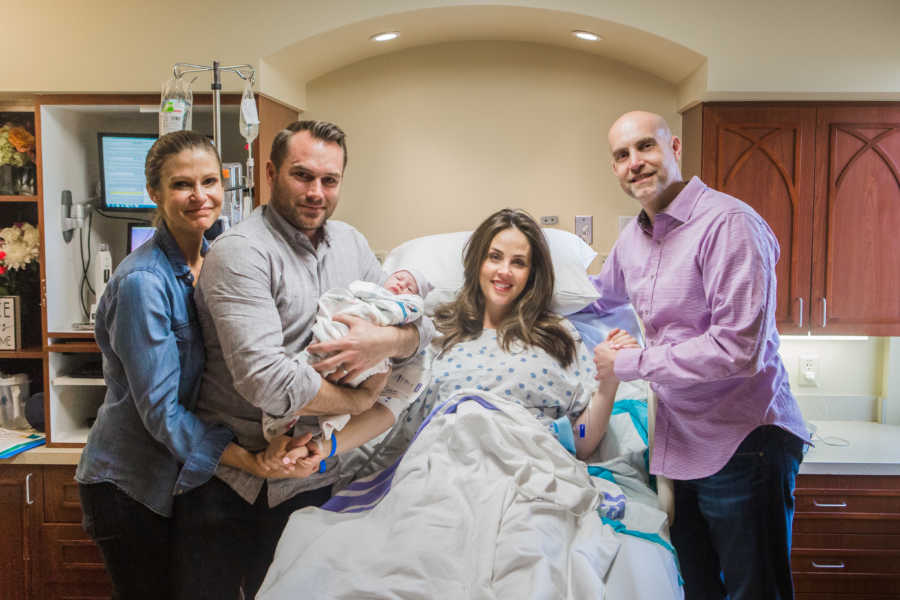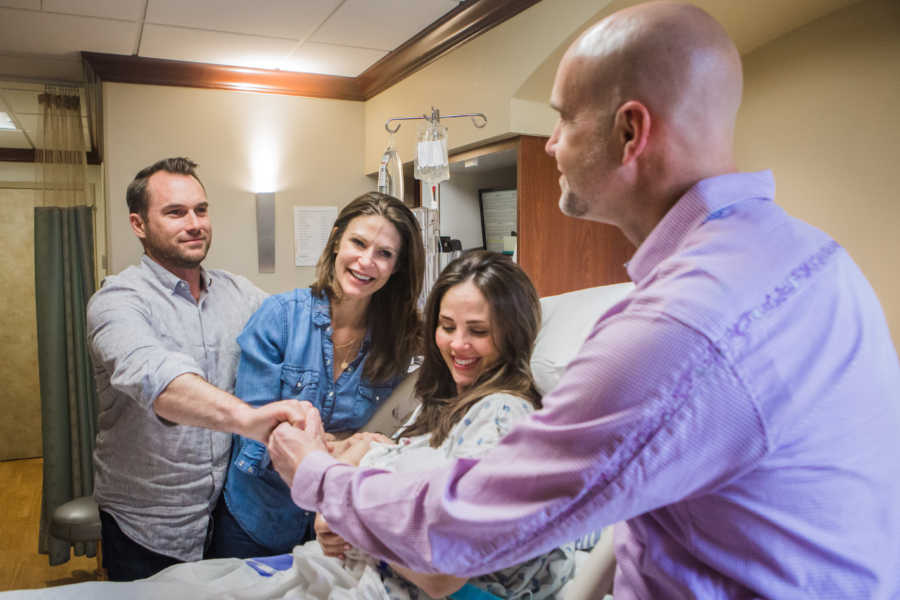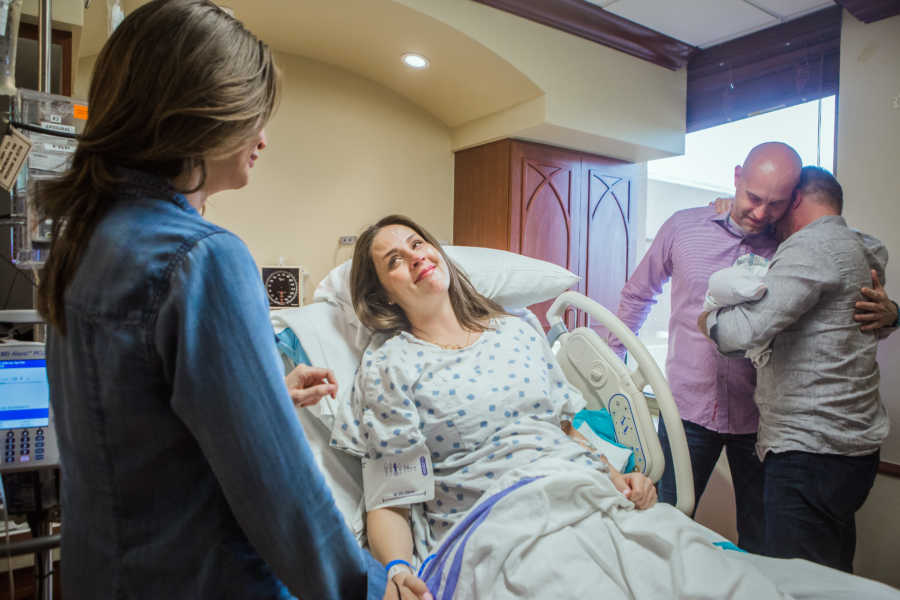 This story was submitted to Love What Matters by Sara Jensen and Michelle Bird. A version of their story originally appeared on their photographer's blog. You can follow their surrogacy journey on Instagram.
Do you have a similar experience? We'd like to hear your important journey. Submit your own story here, and be sure to subscribe to our free email newsletter for our best stories.
Read more beautiful surrogacy stories:
'We needed a surrogate and she was 60 years old. My mother-in-law said, 'Oh, I love being pregnant!' We laughed at the unrealistic gesture. She couldn't have a baby, could she?'
'I was pushing while nurses were rushing to break down the bed, my husband and a soon-to-be dad on each side, and a soon-to-be mom gloving up to help deliver HER baby.'
Provide beauty and strength for others. SHARE this story on Facebook with your friends and family.