"I didn't get to have my mom in the delivery room with me when I had my son. I didn't get to have her teach me how to fix my hair or do my makeup. She never taught me how to cook. Normally, these stories would mean that she wasn't around or wasn't alive, but that wasn't the case. My mom was physically there, but couldn't be the mom I needed her to be. I grew up knowing who my mom is, but it's always been a hole in my life.
I'm not an addict, but I've known addiction all too well my whole life. I'm the daughter of an addict.
I've made excuses. We made promises. I never wanted to use that term, but I can't deny it anymore. It's funny how when you're a kid, you don't know how to put it all together. I remember the weed and the pills. I remember her falling asleep at the table while we were coloring together. I never realized just how bad her addiction had gotten until I was a teenager and wouldn't hear from her for months. Or, until I was 20 years old getting a phone call from CPS asking me to take in my two younger brothers. One being 9, and the other 13 years old. Or when she showed up on heroin at my little sister's graduation. Despite losing her kids, her addiction still wouldn't let her go. She was going from bad to worse in the blink of an eye.
You don't expect the progression into hard drugs that will one day take her from you completely. I didn't want to be the daughter of an addict. I didn't want to claim that title. It didn't set in, until I lost her forever.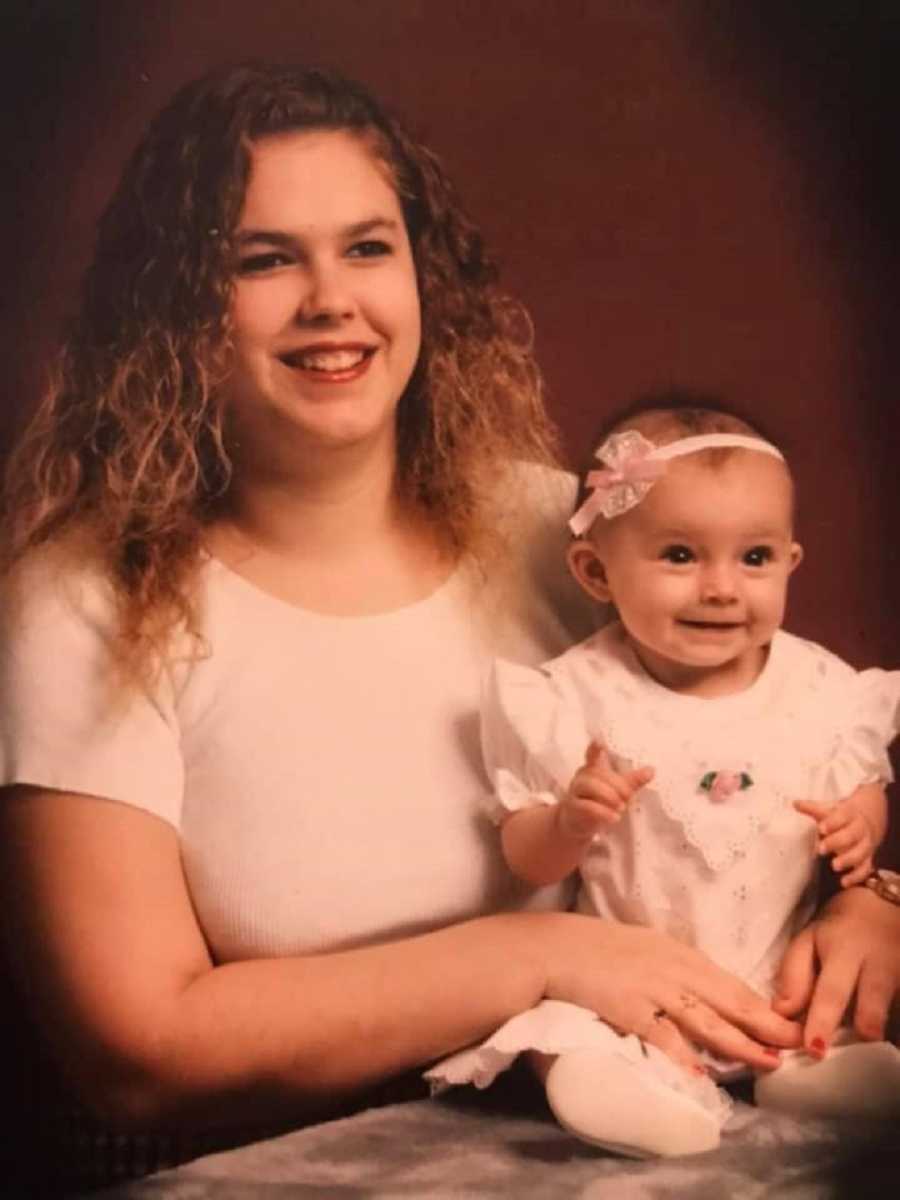 My mom didn't win her fight. It got worse and worse, but she was always fighting. I was always along for the ride and it leaves me heartbroken that if she only could have gotten clean, we would have had this life together that didn't have to be about darkness and pain. It could have been about our weekends watching movies together and going to Texas Roadhouse. It could have been about how she was a massive animal lover and threw a funeral for my hamster that passed away.
The first time that I got a phone call about my mom being in the hospital, it was May of 2017. She was on life support, but we didn't know much of anything else. She showed up to the hospital and was called Jane Doe – 53. Whoever dropped her off failed to give her name or any other vital information. The doctor told us that he looked at her after she arrived, turned to his team, and said, 'Well…we can try.' And thank God, they did. He said she was basically dead when she arrived.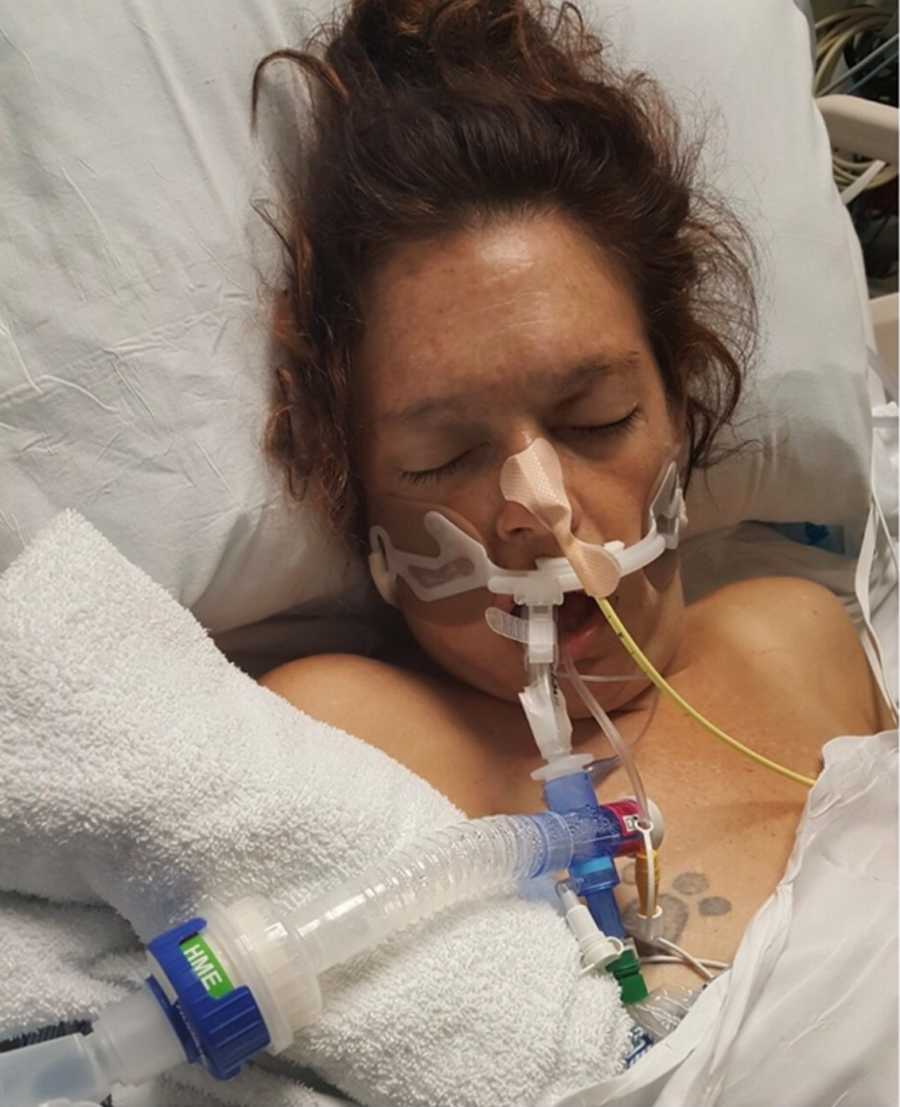 When we arrived, we found out that she had bacteria growing in her blood from the IV use. Her heart was in trouble and she had contracted Hep C. To get her heart valve replaced, she needed antibiotics to prep for the surgery. I don't know if she even took them because after a few days on the vent, they took her off. The first 5 minutes she was left unsupervised, she called someone to bring her heroin. In the hospital. Her drug of choice. We found out and begged the nurses to put her on lockdown, but she signed herself out of the hospital and disappeared. She'd resurface in patches. Weeks and months would go by. I'd fear the worst.
This picture of her hand is from when she was still on the vent and couldn't talk yet, but signed 'I love you' to me and my sister when we told her we loved her.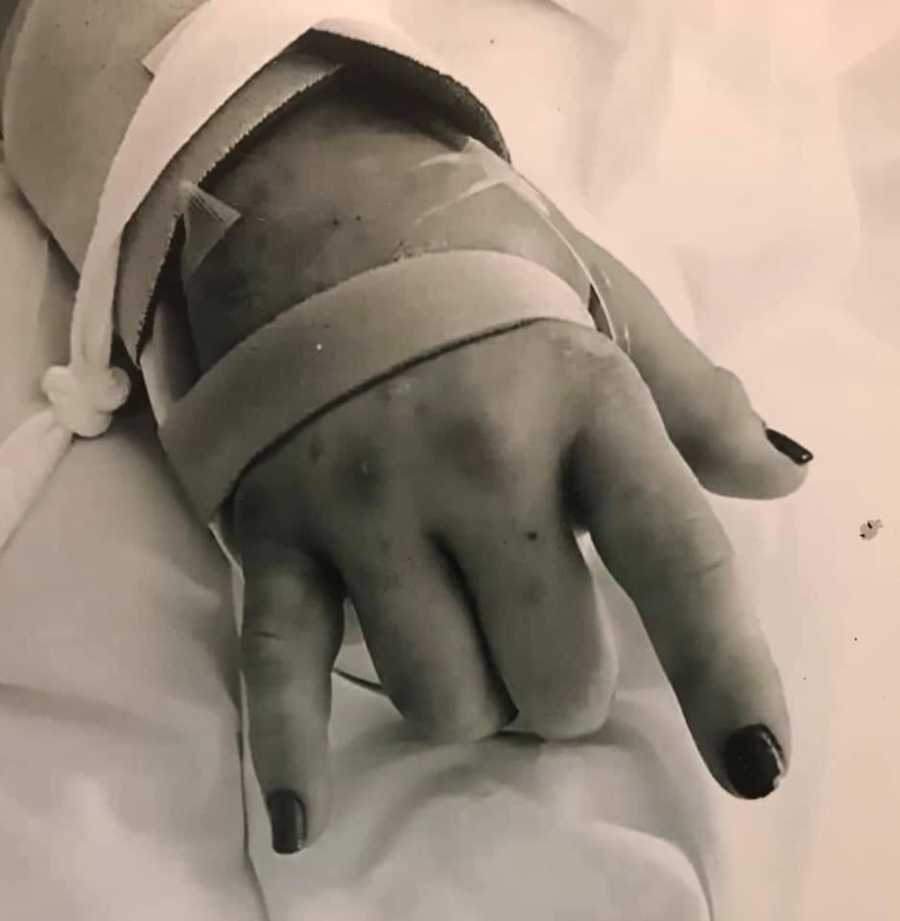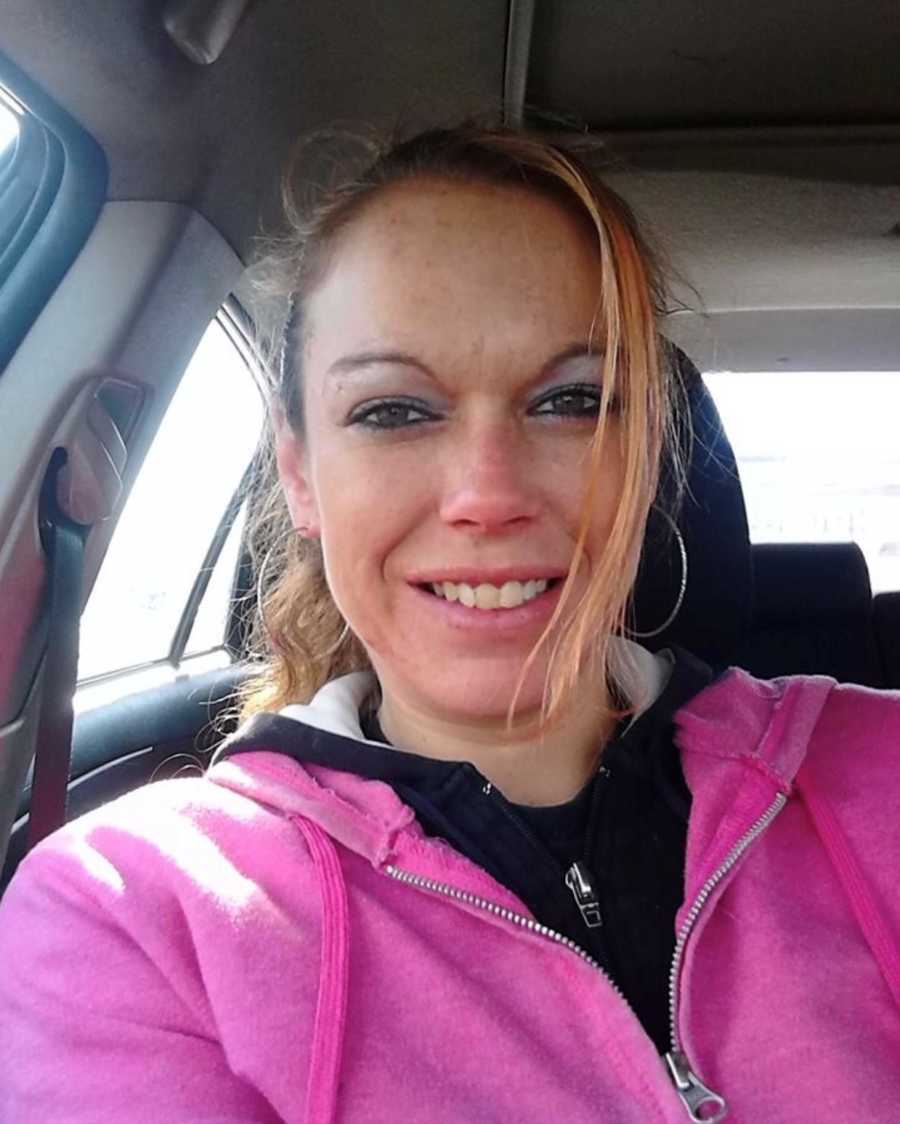 Whenever I found out she was in a new hospital, I showed up because that's what you do. If she wanted her back rubbed, I was the one rubbing it. She signed herself out if they wouldn't give her enough pain medication. I spent most of the next year worrying, waiting for phone calls that would let me know that she was alive. Even when they were from jail, it was confirmation she was safe. She had a pretty lengthy record going. Sometimes I tried to search for her, but there was no luck. If she didn't want to be found, she wasn't.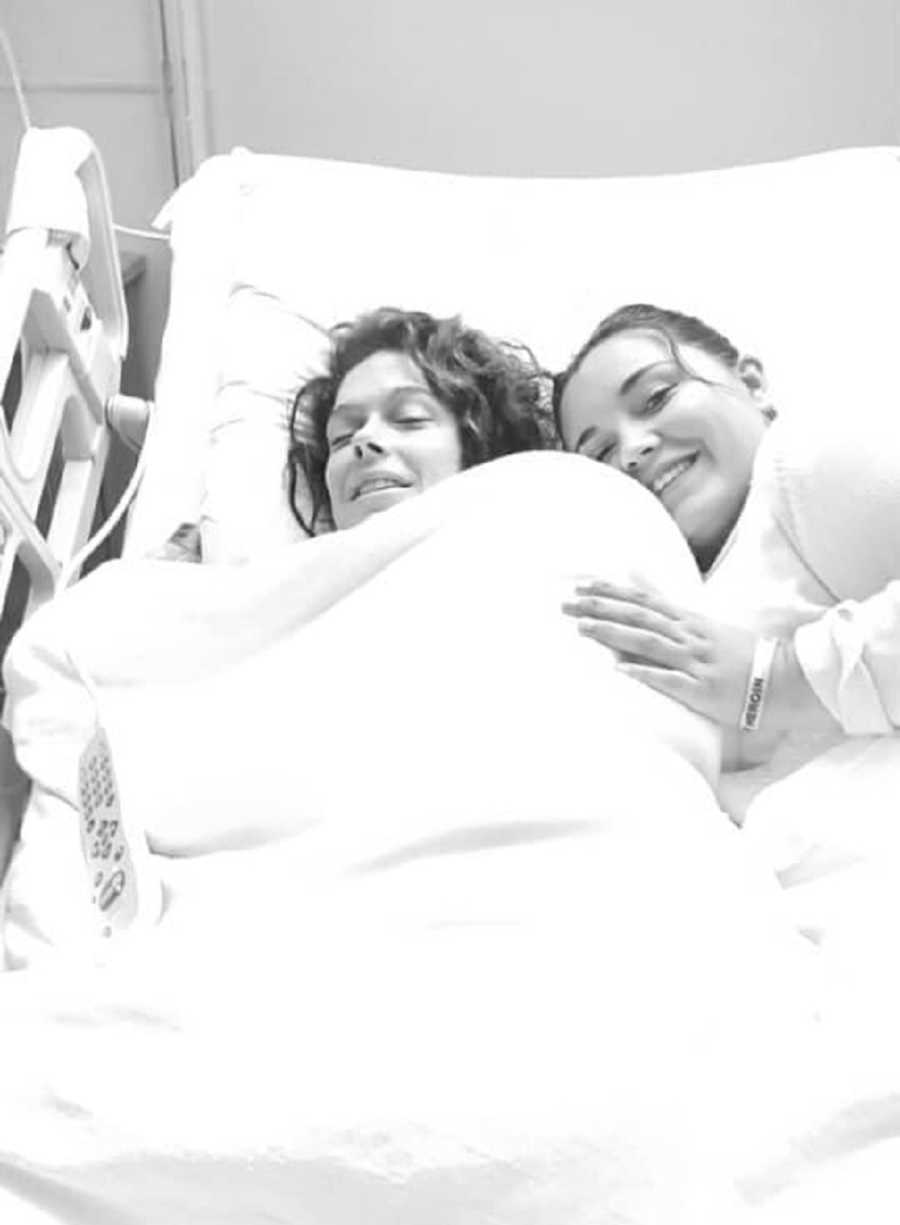 On April 26, 2019, my dad called me a little after 10 a.m. Someone on Facebook had messaged my sister telling her that our mom had passed away. All I felt was disbelief. I broke down. Crying uncontrollably, feeling like I couldn't breathe. Trying so hard to pull myself together because my 2-year-old son was now awake, and didn't understand why his mommy was so upset. All I ever hoped for was now shattered. She was gone, and I was never going to have her be the mom I'd always wanted. The mom I needed.
I called the same person and they repeated the news. We had to believe it wasn't true. We waited for the coroner's office to confirm it. When they did, they said a lot of words that boiled down to my worst nightmare coming true. Meth and heroin mixed together. That was the last straw. She was gone. My dad had to pull me out of the room as I said goodbye to her. Despite everything, walking away willingly wasn't something that I could do. I never meant to hate her, but sometimes I did. I hated that my friends were close with their moms and mine was never there when I needed her. I hated that my child never met his grandma. I hated that drugs stole her from me.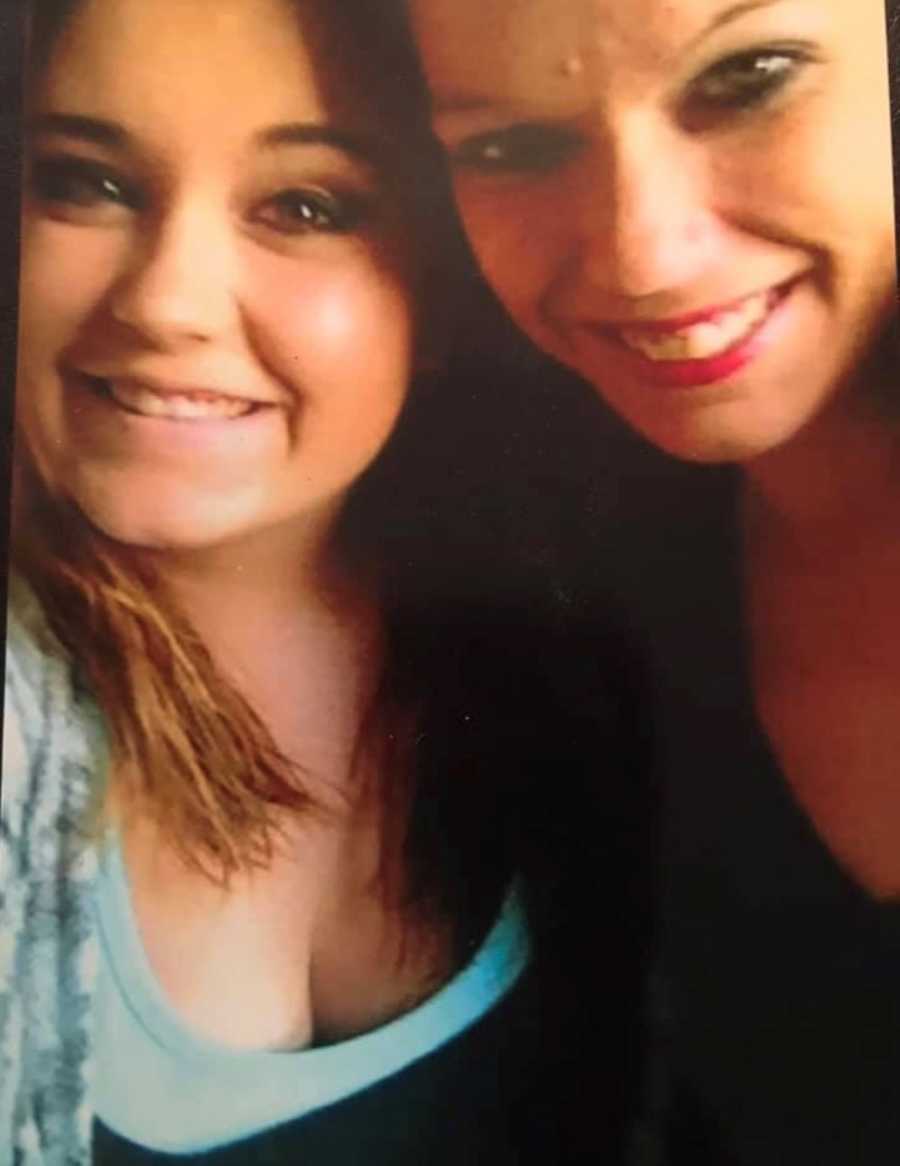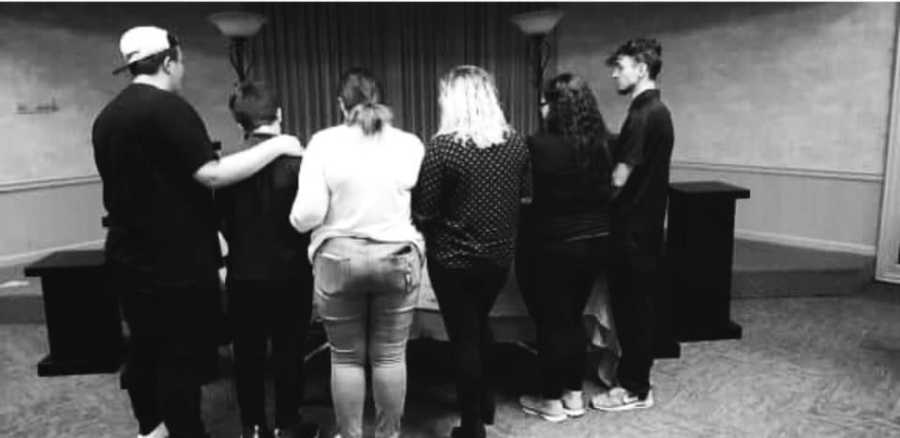 Now all I have left are some pictures, some of her ashes, her ring, some of her clothes, a birthday card, and a few pictures she made for me years ago, and an aching pain to feel her just one more time. I'd give it all up if it meant I could have my mom back.
One of the last few conversations we had, I cut the phone call short. I told her I had to do laundry. She was bragging about how beautiful I was to one her friends, showing him my pictures, and he wanted to talk to me. I didn't want to talk to him. I didn't want to talk to anyone my mom was friends with. I wanted her away from all of them. I didn't know that was going to be the last phone call I'd ever get from her. I didn't know that on April 24, 2019, I'd get the last message from her on Facebook. So, I replied a day later, instead of the day she sent it. She told me to tell my son happy birthday for her, since his birthday is a week before hers. When I replied, I told her I would tell him, and that I loved her. I told her happy birthday because it was her birthday. But, she never got the message. She passed away between Thursday night and in the early hours of Friday morning. Her declared time of death is April 26, 2019. The day after her 40th birthday.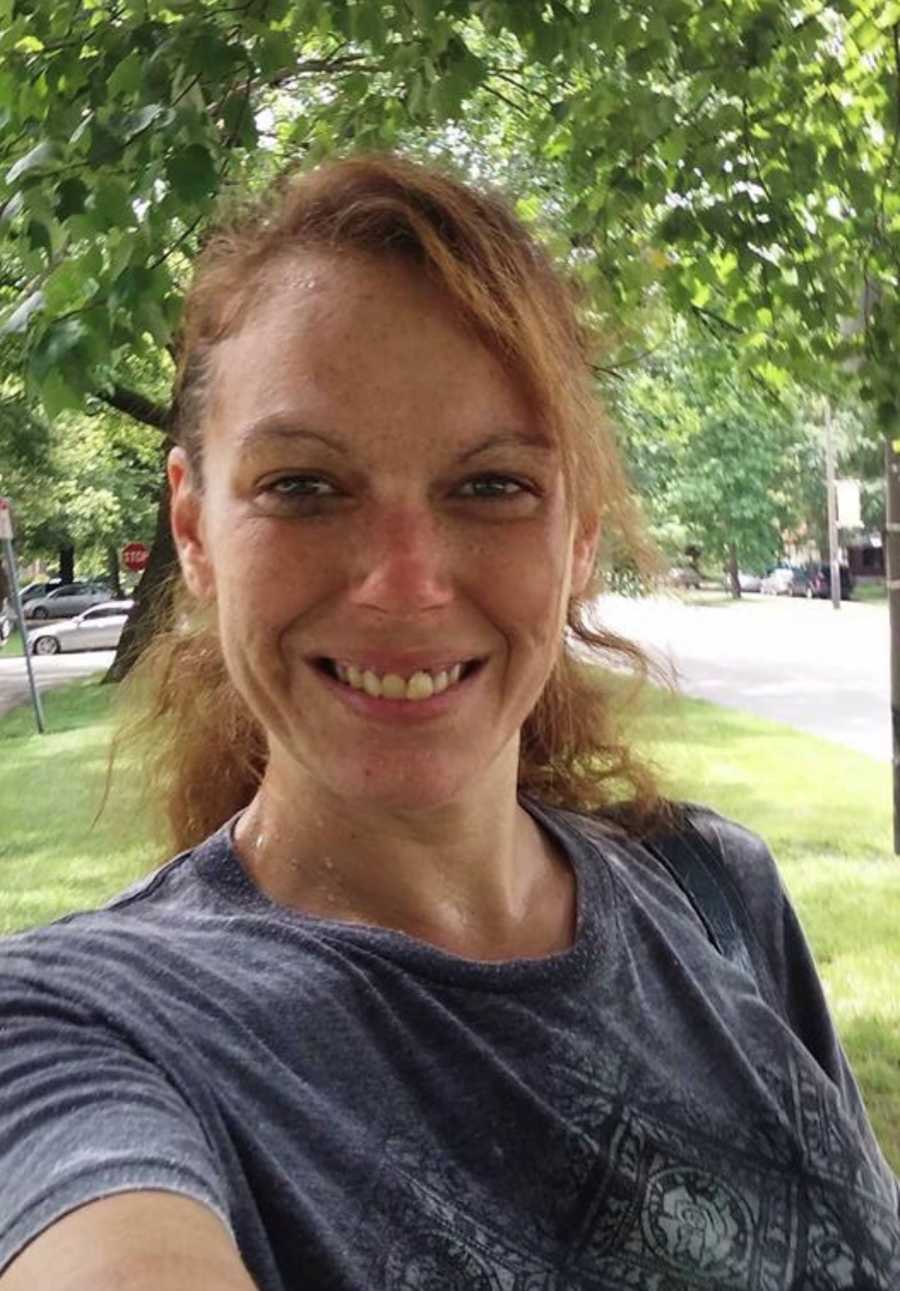 The conversation we had before that, I called my mom out on not being clean. I could tell. I'd had almost 24 years of experience with her to know when she was sober and when she wasn't. When I called her out, she went off on me. Lashed out. She didn't call me names, but she made feel so bad. She threw in my face that I'd never let her meet my son, and that I never told her about the no contact order between her and my younger brothers being lifted so she could talk to them. The no contact order had been in effect since 2009, but she never listened to it. After my brothers were placed in my care, it became my responsibility to make sure they were safe. Physically, mentally, and emotionally. She sent a voicemail going off on me that I listened to one the day she sent it, and have not been able to listen to again.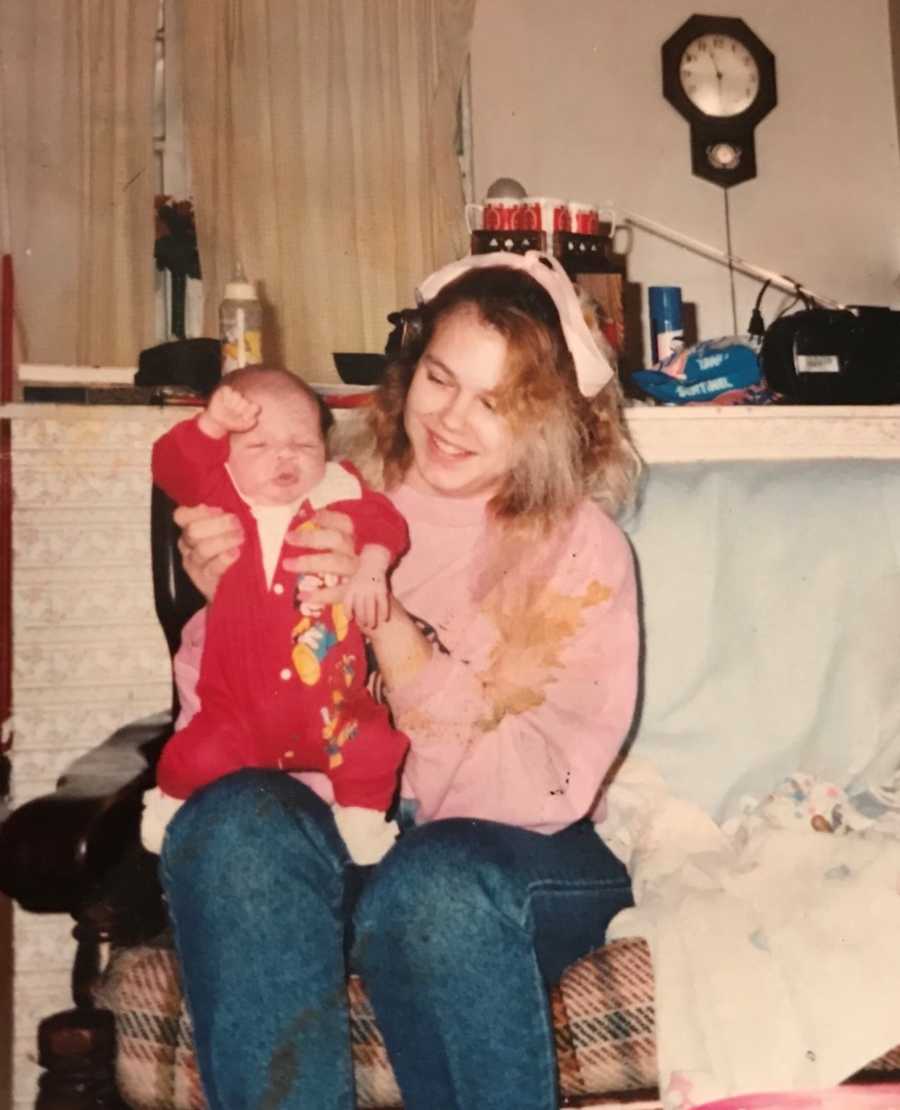 My mom wasn't around for majority of my teenage years, so I don't have many memories with her. The ones from when I was kid are so faded, I don't know what part of it is real, and what my mind has made up. But, I do remember she was a lover. She was always so happy. Her smile and laugh were so contagious. Her mouth was brutal when she needed it to be, but she'd always rather be friends with someone than enemies. She enjoyed life so much on the outside, but somewhere on the inside she was screaming. She was such a free spirit with a beautiful heart and soul. You never would have expected her to be an addict, and we didn't until it was too late.
It's been a hard few months without her. I miss her more now than I ever thought possible. I decided that instead of being stuck in my head, I wanted to talk about it. I need to spread awareness so people could understand the hurt addiction causes. Not just to the addict, but the families, as well. I didn't want to sit and do nothing, when maybe someone could benefit from this. My mom loved helping people when she could, so maybe this could be her way to help someone. Maybe more than one someone.
'I'm thankful every day for my kids.' That was from one of her Facebook posts I'd found after she passed away. Despite her addiction, and her never being able to get away from it, I know she loved all of her kids. We picked that to go on her funeral pamphlet, so that we could read it whenever we wanted or needed to. I know she never meant to intentionally hurt her family. Being disappointed over and over again, we never gave up hope. Especially her mom. My Memaw was always there to take care of her firstborn. She gave her tough love when needed, but made sure she knew she was loved. My aunt, who is a recovering addict herself, offered to take her to meetings. Offered her other opportunities to seek help, hoping she'd accept. Unfortunately, she never did, but my aunt never stopped asking.
Now the only hope we have is that anyone fighting addiction seeks help before they, too, lose their battle.
So, please, if you're sober, keep fighting for your sobriety.
If you're in active addiction, ask for help.
But, don't let it steal you away from the ones who love you the most."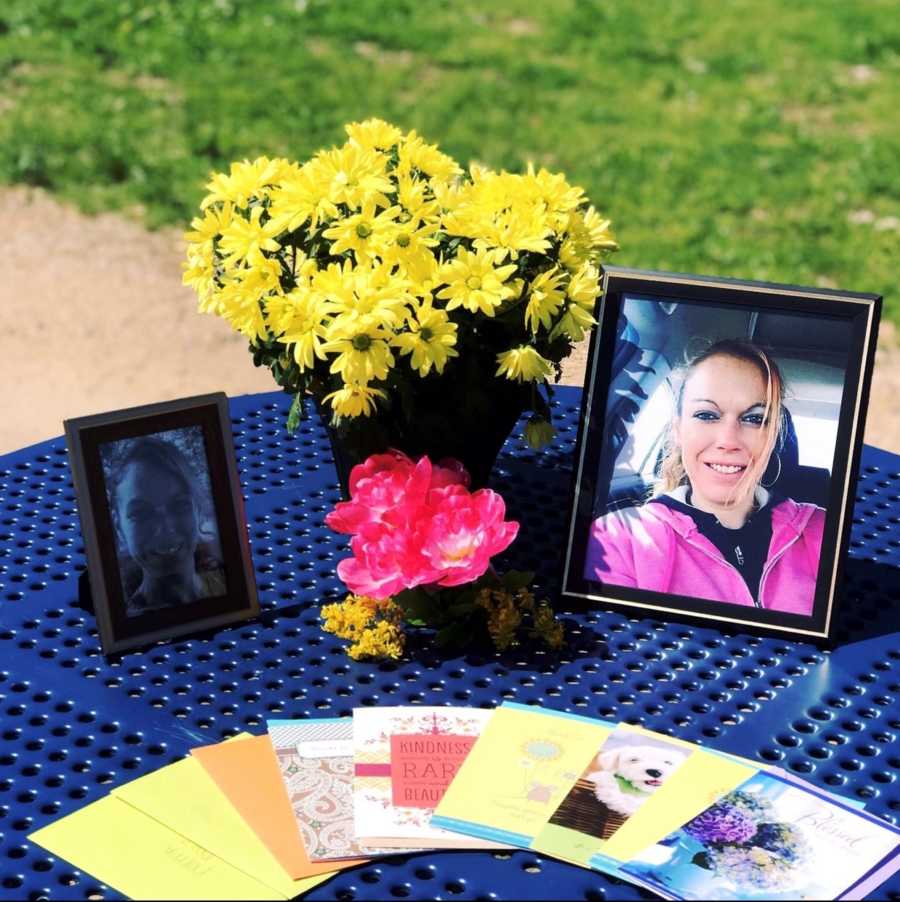 This story was submitted to Love What Matters by Arizona Cunningham. Do you have a similar experience? We'd like to hear your important journey. Submit your own story here, and be sure to subscribe to our free email newsletter for our best stories.
Read more powerful stories from loved ones of addicts:
'I was a teen at a nightclub. I lied. I got scouted, but there was a catch. He needed $3,000 for the 'lessons.': Daughter reconciles with addict mom after being signed over to the government as a child, living in 11 foster homes
'Mom, we found the note you left. It hurt. Only because I wanted nothing more than the same.': Daughter's emotional goodbye to her addict mother, says she 'never doubted your love for me'
Have you lost a loved one to addiction? Please SHARE this story to help remember their legacy.