"Kailen and I have been together for little over a year. When we met on Facebook and then officially in person through mutual friends, we knew it was something special. In May, Kailen and I had a huge surprise come upon us, and we found out that we were going to be parents. In August we decided to have a gender reveal. Not only were Kailen and I surprised about finding out the baby is a boy, Kailen also surprised me by proposing to me right before the gender was revealed!
Kailen used to be active duty Army and is now a member of the Georgia Army National Guard. Shortly after finding out our due date, we found out that Kailen would be deploying with the National Guard. Kailen and I wanted to get married before he left and with that, it left us a very short amount of time to plan a wedding. Thanks to the help of my family and friends, our wonderful day could happen just two months after being engaged!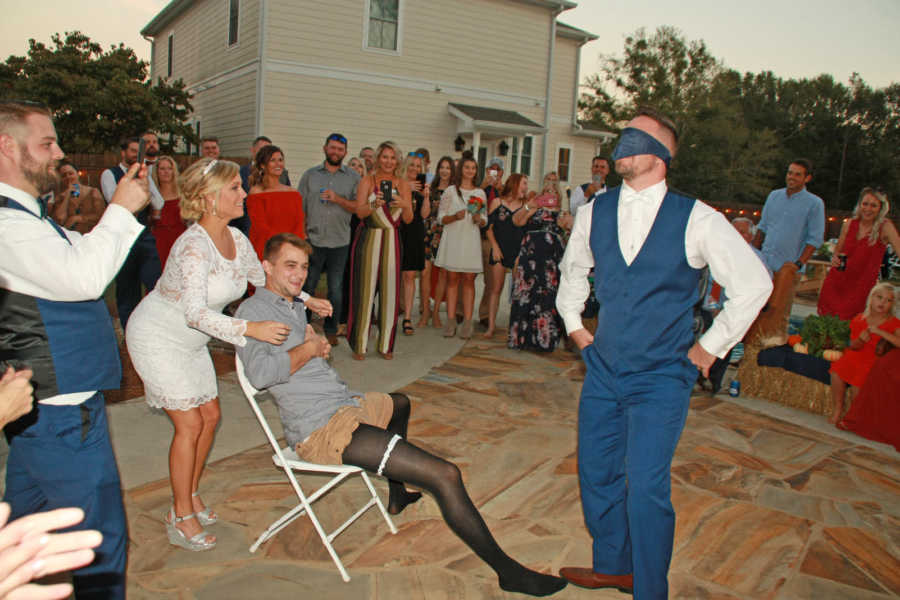 With Kailen leaving, I wanted to make sure to make this day and every day we have together a very special one for him… but little did he know that meant pranking him in front of everyone! When the DJ asked me how the garter toss was going to take place, I explained to him that I wanted to have one of his friends wear the garter and switch out with me while Kailen was blindfolded. That's where it all began.
As I was sitting in the chair pretending to get ready for Kailen to remove the garter, Kailen was being blindfolded. Once we knew he could not see, the DJ started the music and one of his guy friends came walking out with stockings and the garter on. I was standing behind his friend just in case Kailen reaches for arms or hands, I wanted to make sure he grabbed mine so that it wouldn't give the prank away! At the time I was thinking to myself that it was going to be an epic fail once he felt the stockings. I was wrong!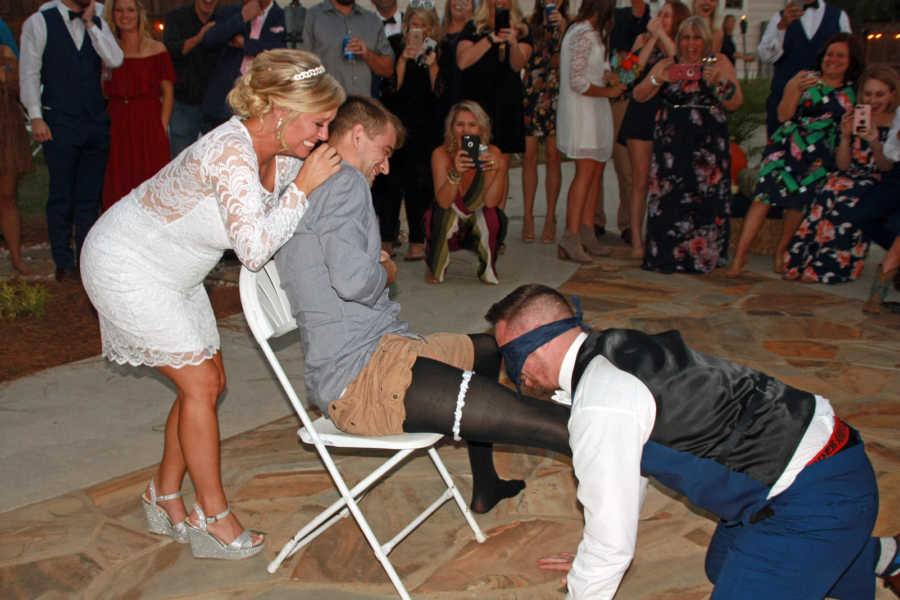 Kailen was ready to dance and thought nothing of the stockings! This is when I knew it was about to get good! Thanks to the DJ coaching Kailen to use his teeth, it helped him to not truly feel the whole leg with his hands! With the crowd cheering him on and with his adrenaline going, Kailen said that he thought that since I had changed out of my ceremony dress into a reception dress, that I might had put on stockings to make my legs shine and so he thought nothing of it.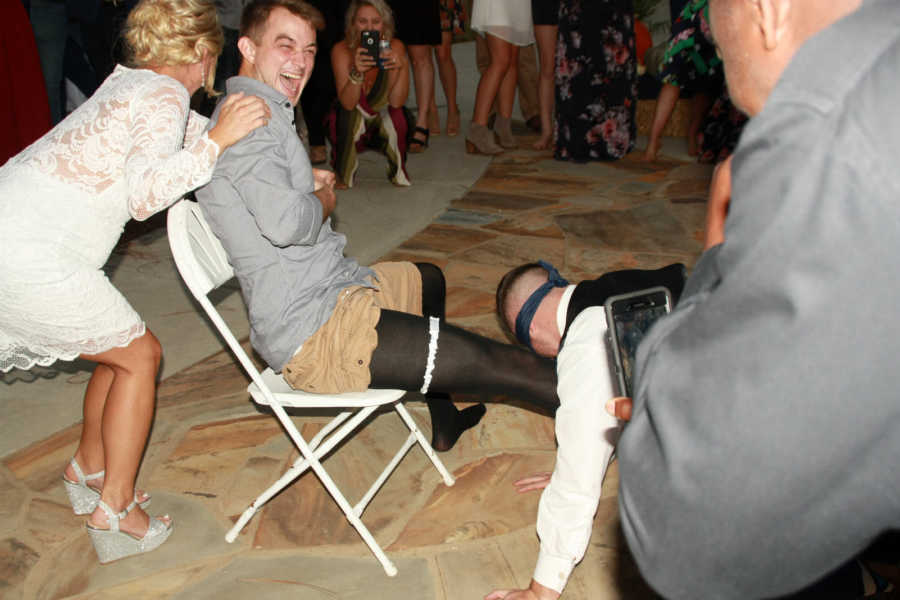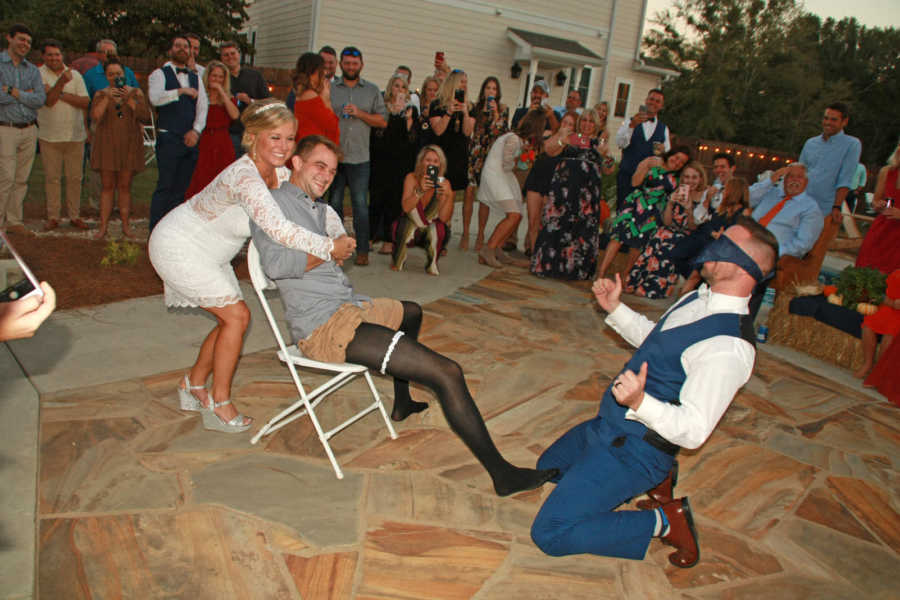 After removing the garter, Kailen was giving the audience a show of his dance moves by dancing on the lap he thought was mine. I, along with the audience thought he might lean in for a kiss so I grabbed his face to help make sure he didn't, which he said gave him clarity that he was dancing on me. It was then, that the DJ removed the blindfold from Kailen's eyes and he realized that he never once was dancing on me or removing the garter from my leg!
Watch the hysterical action unfold:
This right here was the highlight of the night.

Posted by Scott Stokes on Sunday, October 14, 2018
This moment was by far the funniest and most memorable moment of our special day. It was epic and I can't believe he actually fell for it! Finally, a prank that actually worked on him! This is a story we will be able to share for many years to come!"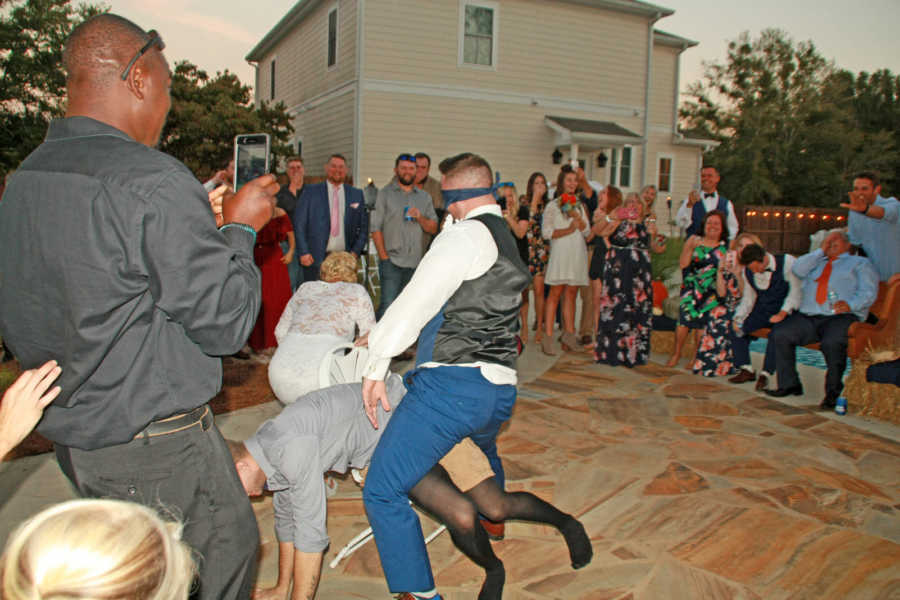 This story was submitted to Love What Matters by Christie and Kailen Dangar of Georgia. Do you have a hilarious wedding moment you'd like to share? We'd love to hear from you. Submit your own story here, and subscribe to our best stories in our free newsletter here.
Have you surprised your spouse in a big way? SHARE this story on Facebook to help spread the joy.