"It was the summer of 2009 and I had just returned from a yearlong deployment as a medic in the Army. You don't realize how much being away affects you until you come back and nothing is the same. I was angry, lonely, skittish, irritable, and overall just not who I once was. But, inside of me was the girl people had known before. There was a constant war within me that fought the demons that told me lies. Those voices were like a constant ringing in my ears whispering to me that I wasn't good enough. It was a struggle. A soldier comes back from war and we are supposed to feel safe, but the war inside our head lingers and we struggle to find a new safe place.
As I sat in my apartment one day shaking and crying, I decided I wanted more from life. I didn't want to be alone; I didn't want to feel this way and I felt God pushing me to seek out more. I was still too skittish to spend extended periods of time in public and bar scenes weren't my thing, so I decided I would swallow my pride, face my fears, and seek out a partner to share life with. I set up an online profile in hopes to find someone willing to hold me in my weakest moments and tell me the demons are wrong.
Just two months after joining, I came across the profile of a guy named Josh. His occupation was listed as 'Police Officer.' Being a prior rule bender, I was hesitant, but his smile in the photo of him leaning against his snowmobile made me send a note, 'I like your smile.' From there we talked for months before our schedules finally lined up so we could meet. Our first date was to be in early November. As my luck would have it, I got lost and he left. I convinced him to give me another chance by being very stern in an email where I mentioned an autographed book by Vince Flynn that I had specifically gotten for him. We met a week after his birthday in December 2009. He may have shown up just for the book, but he kept me after that day too!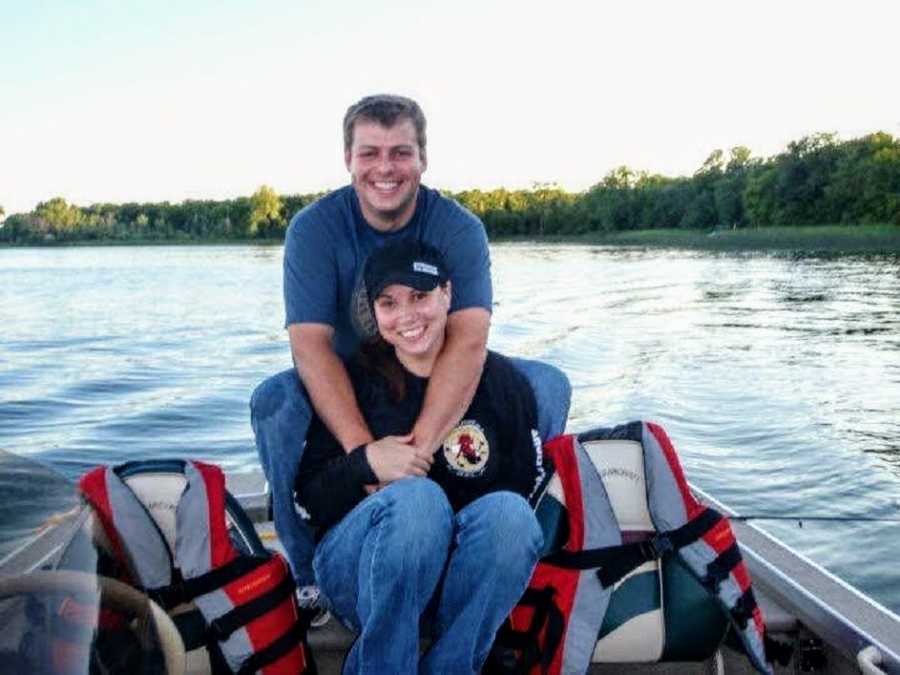 He was quiet and stoic but charming and funny too. His eyes and smile were what dreams are made of and if I'm being honest, he was wearing a Minnesota Hockey sweatshirt and I love my Minnesota hockey team!
It was about 6 months in, we were driving and I looked at him and said, 'I'm going to marry you, ya know that?!' He chuckled and grinned with an, 'Oh yea? You think so, huh?' I just remember smiling and saying, 'Yup,' as I looked back out at the country roads we were driving on.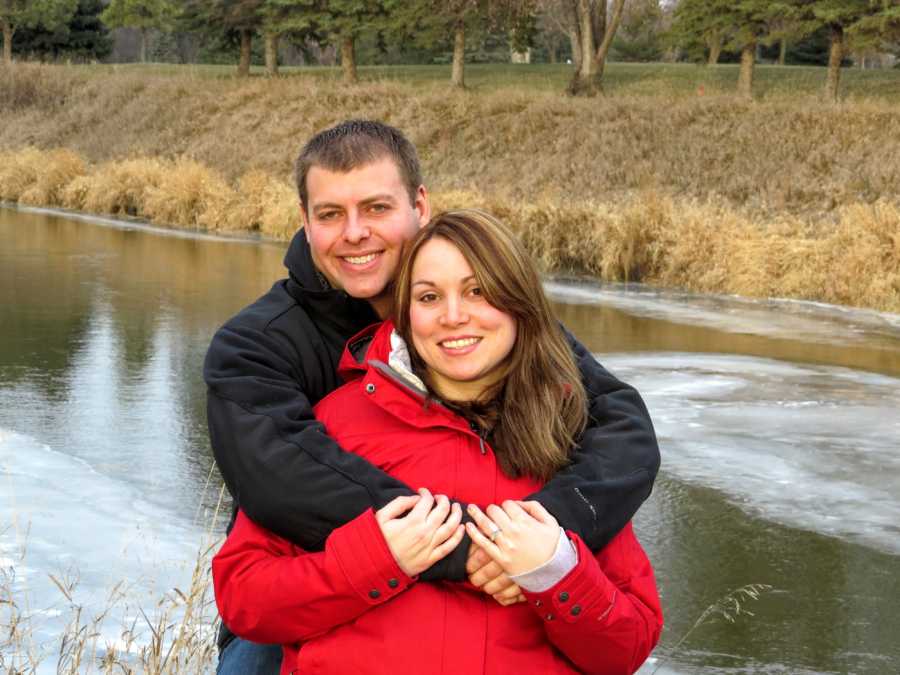 I wasn't wrong. A year later, we moved in together. We were married on July 14, 2012. It was ridiculously hot and miserable. Not only did our limo to the reception not have a working air conditioner, it 'broke down' on the way to the reception. Seems par for the course for my luck except this 'break down' was intentional. Josh's parents had lined up a horse and carriage to emerge from a barn nearby to surprise us! Now THAT is what a girl dreams of her big day to be like! Off we sent our wedding party in the smoldering limo (sorry folks!) while we enjoyed the breeze in the back of a buggy! It was perfect. The entire day was so wonderful.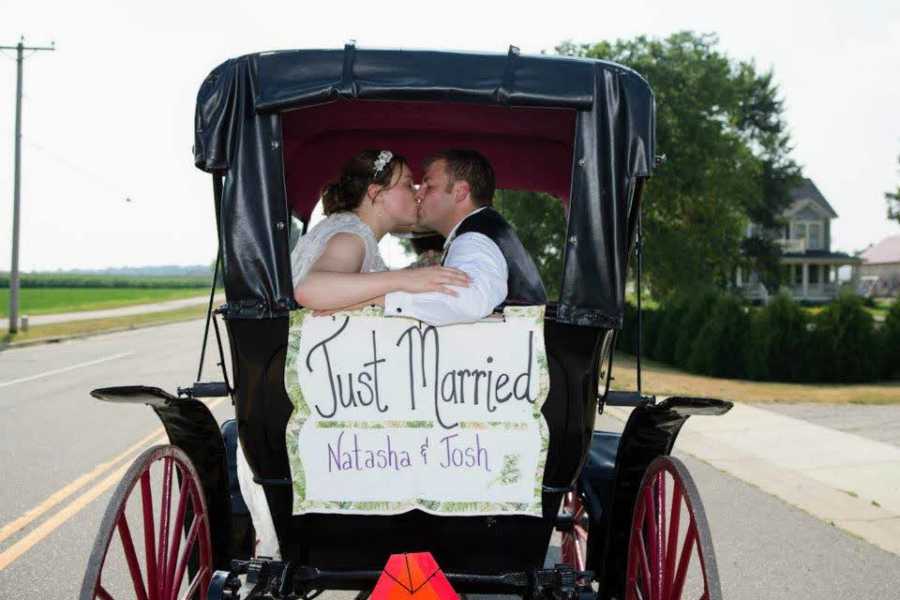 In 2014, Josh decided to leave the police department and attend the State Patrol Academy! The academy was 16 weeks of him being away Monday through Friday and only having weekends home. I was still serving in the military and away one weekend a month. Our time together was limited and his ability to call home was null. In May of 2014, he graduated from the academy and I was there to pin on his badge! We were all so proud and he was beaming with excitement to have achieved another goal in life! Unfortunately, he got stationed in Windom, MN which was 3 ½ hours away!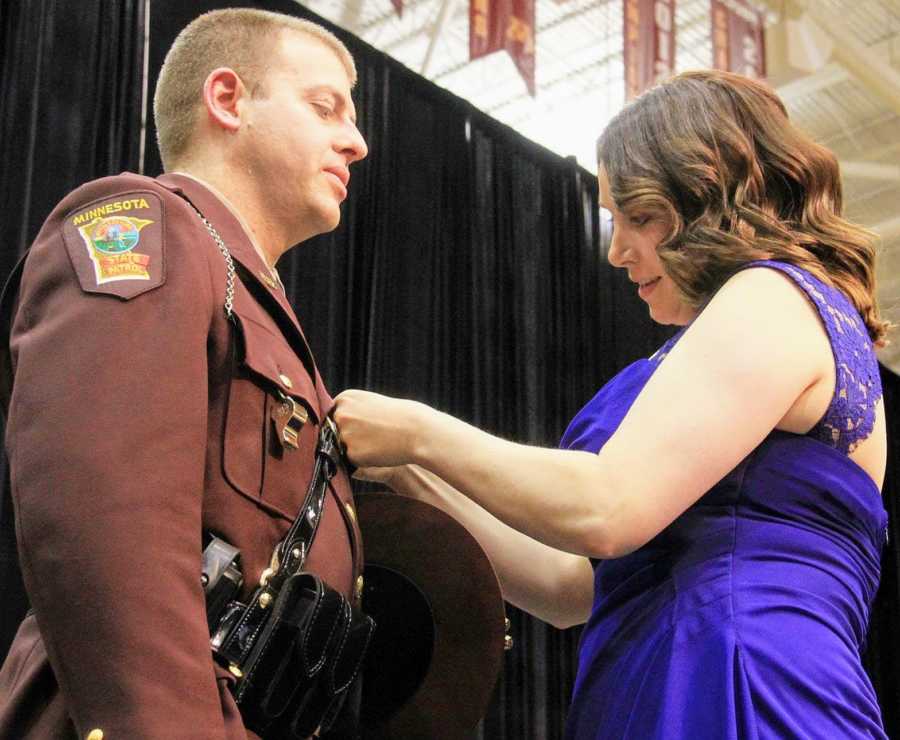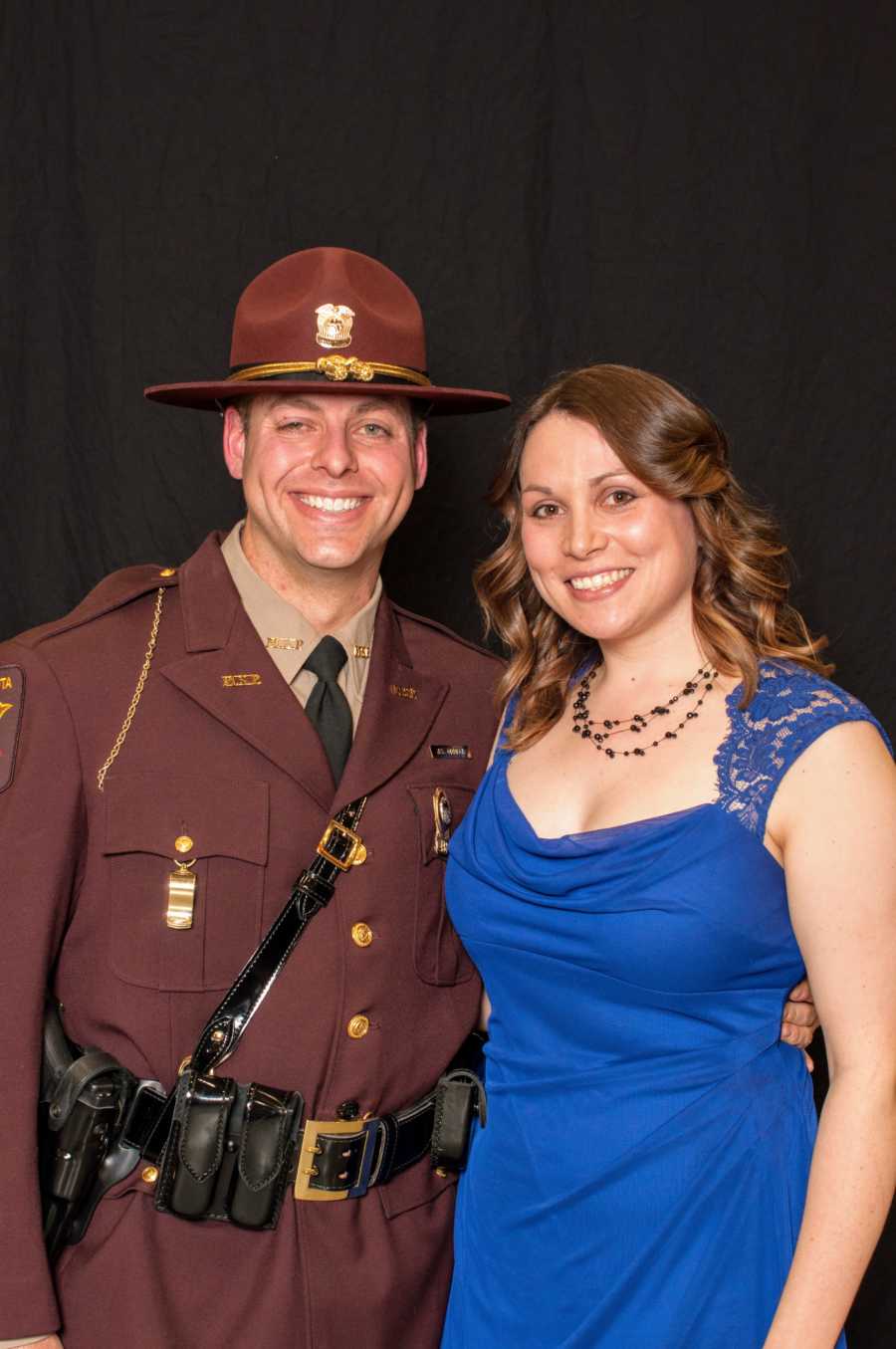 In June 2014, we found out we were 4 weeks pregnant…you can do the math…that's one heck of a graduation gift!
In December 2014, I stepped away from the military after 10 years of service. This was not an easy decision for me but one I do not regret. It gave me the opportunity to focus on my new role as a mother without the fear of deployment.
We were the dream team. Constantly supporting one another and ensuring neither sacrificed their happiness while making family a priority. He was patient, humble, kind, courageous, sweet, and did I mention patient? He had to be with me as his wife! He was truly your well-rounded, catholic man from great roots with big dreams and an even bigger heart.
In 2015, we welcomed our daughter, Amelia. It would be another 6 months before we received a transfer closer to home. We sold our home in Windom and moved to a rental in Saint Cloud. A year later, we felt prepared and ready to start building our dream home!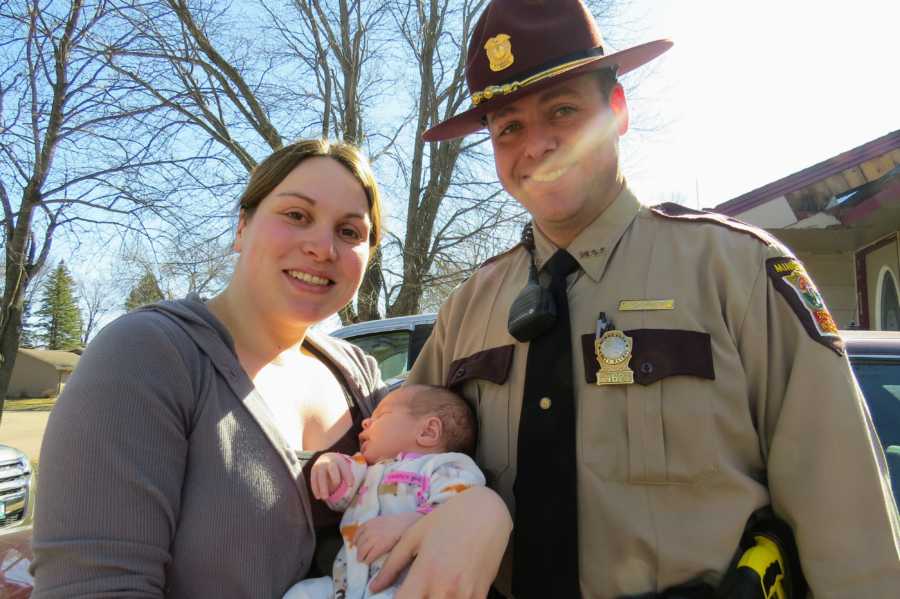 While we stayed in the rental with our personal effects scattered between his parent's house, his sister's house, and just enough items with us to survive in our rental, we began building our dream home in April 2016. Tucked away in a quaint neighborhood perfect for raising families, we began the digging.
Our daughter was on the move so I was grateful to not only be renting a one-level home, but also to be building a rambler where she could be more easily contained! Josh continued working in the Saint Cloud district and I continued my work at Saint Cloud Hospital while also going to school to get my RN.
In the months we started building our home, Josh began feeling worn down and kept going to the doctor. He would get on a regimen of antibiotics and feel better but soon feel terrible again after he finished the meds. I remember after his 4th doctor visit, he came home and was so frustrated to feel so run down. This man never called in sick, never complained, and always gave his all. I looked at him and remembered saying, 'Did they check your blood?' Never did I think they would find what they did.
I went to work while he stayed home with Amelia. I was to be done with my shift at 7 p.m. and head home in time for him to suit up and head out to work. He called and said, 'I called in sick, I'm headed to urgent care and bring Amelia. Meet me there.' I showed up and he looked terrible. Being the parents that wanted our child on a sleep routine, I only stayed long enough to pick her up, give him a kiss, and bring her home to attempt some sort of regular bedtime routine. She still was not cooperating for bedtime and he had just barely gotten into a room. I remember his nurse was a friend of mine. So, I left him in the capable hands of Cody and headed home.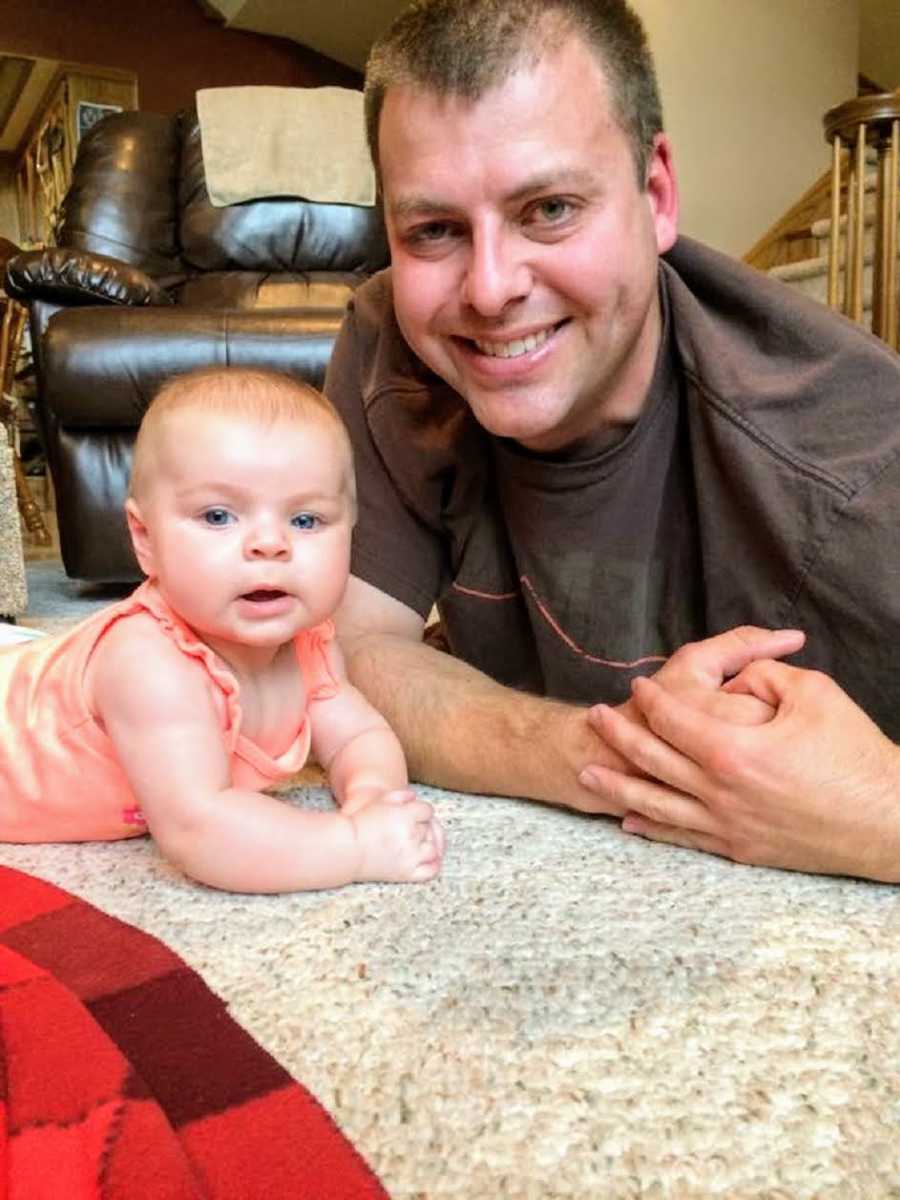 It took until 9:30 p.m. to get Amelia to sleep. At 9:35 p.m. just as I was walking out of her room, Josh called. 'They think I have cancer.' I was silent, which is not usual for me. He then asked, 'Are you there?' I honestly don't know how long I was quiet for, but I was speechless. Then a wave of worry, uncertainty, and then determination hit me. I assured him it would be okay and I would be there just as soon as his sister could take over watching Amelia. I remember hugging his sister as she arrived, and we cried together and admitted, 'I'm scared.' We all were.
I remember calling Cody and asking, 'You're sure they didn't mix up the vials?' How could my perfectly healthy husband possibly be thought to have cancer? I raced to the hospital and we spent the night. The next morning, it was confirmed. Josh has Leukemia. We were terrified together and determined to beat it together.
I knew enough about chemotherapy to know it could potentially negate any future children, so I made Josh bank his sperm. Yes, I gave him that ever so stern push. Similar to my sternness for a second date, I urged him to do this so we could try for more kids later.
Josh started his chemotherapy and within a week, he went septic, ended up in ICU and we nearly lost him then. I am grateful for my coworkers at the hospital because they were truly there for me when I needed them to be. They could see the fear in my eyes as I watched my husband's vital signs drop and nearly die.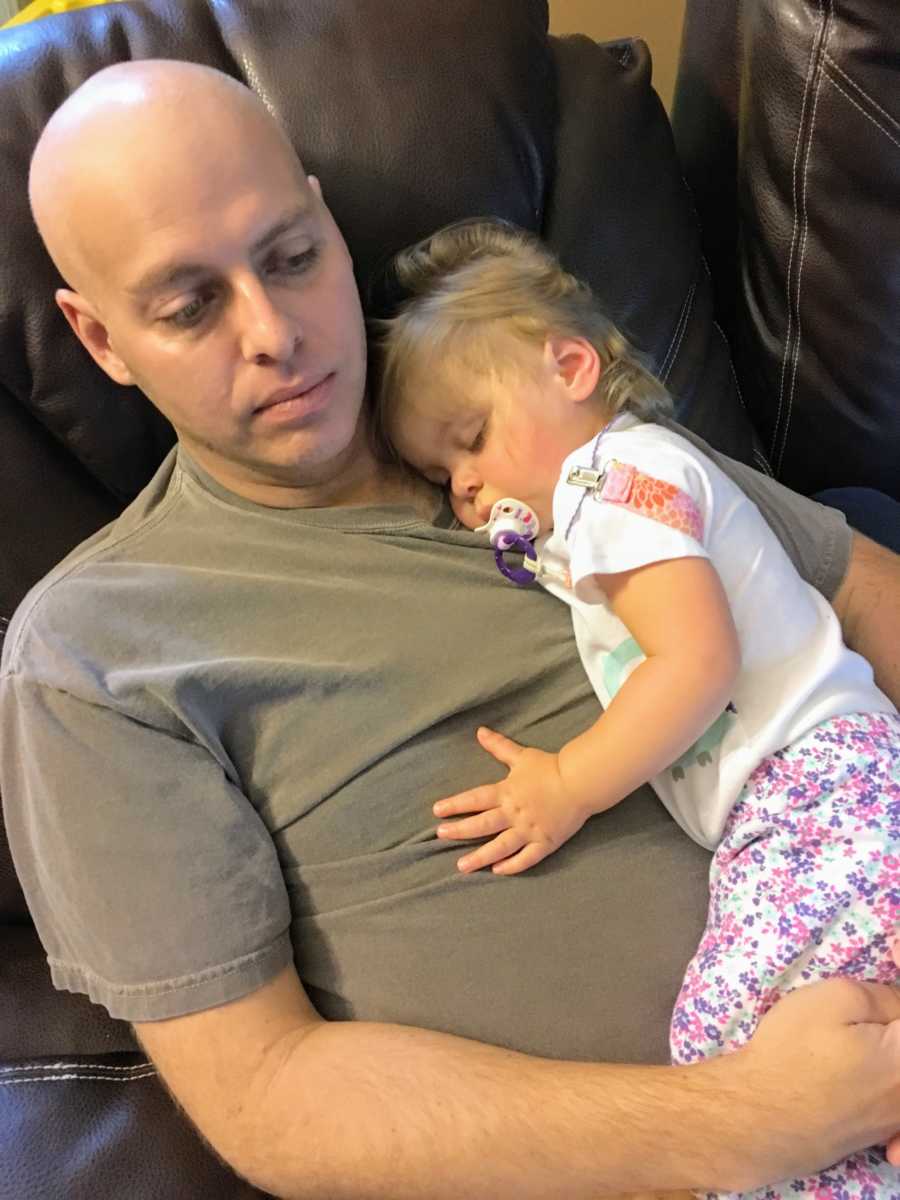 He would recover from this episode, go through one more round of chemotherapy and prepare for a bone marrow transplant. We were so grateful to have found a match! A very promising match! We packed up our lives, sent our daughter to live with his parents and moved to Rochester so he could undergo the bone marrow transplant all while still maintaining my schoolwork in nursing school In October of 2016, we would go through the transplant and walk out of the hospital with new hope for a future.
In November, Josh developed a cough that looked painful and we couldn't figure out what was happening. None of the medications were working but he could barely walk 100 feet without needing a break. This went on for months as we tried to use medication to fix the issue. Finally, in April, I again got stern, but this time with Mayo and said, 'We NEED to figure out what is going on with my husband!'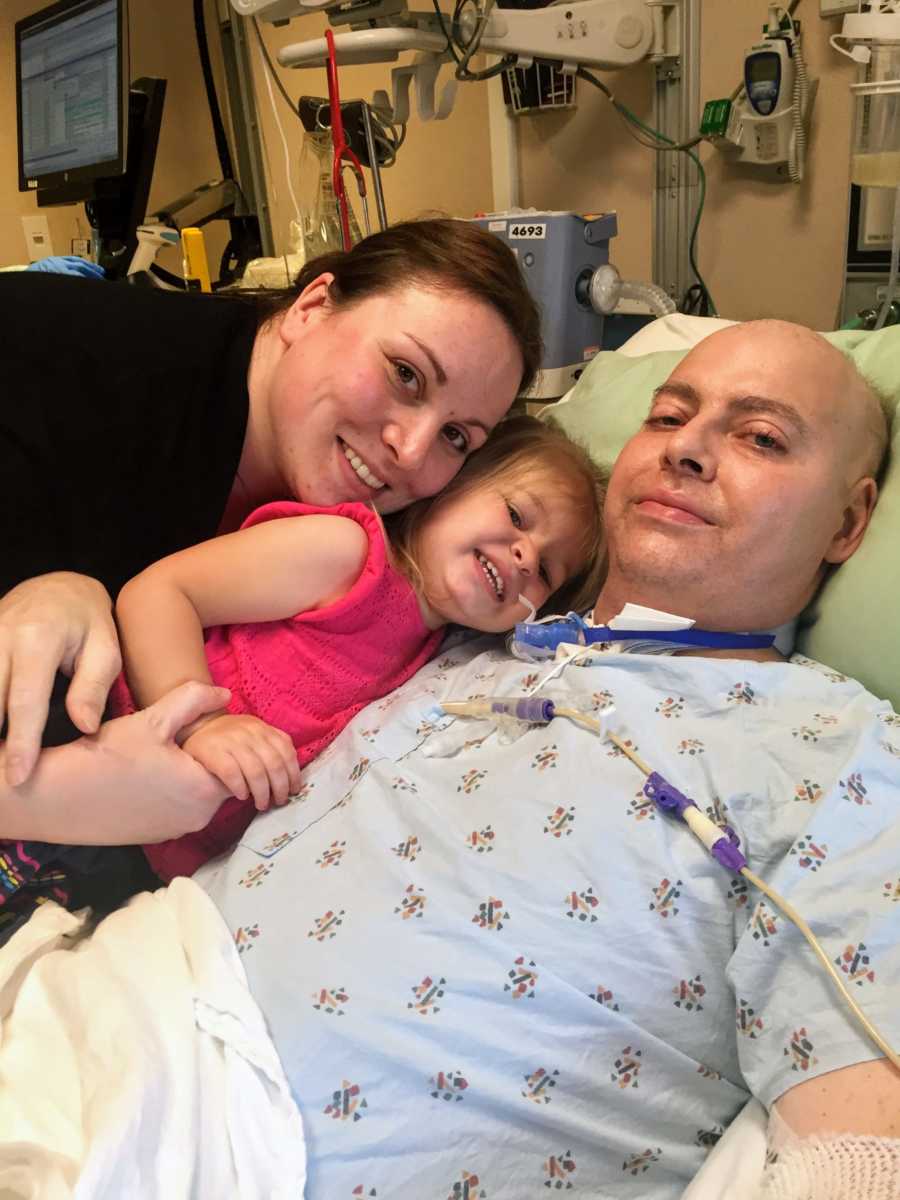 We would go in at the end of April for a bronchoscopy to get a better look. It was here Josh went into respiratory failure, was intubated, and I once again watched as I nearly lost my husband. I remember telling the crew, 'I am not leaving.' Having family in the room during intubations is not allowed, but again I promised to stay out of the way while I held his hand. I always promised him I would be there holding his hand when he went to sleep and when he arose. He again recovered and would begin making progress through rehab.
Josh was thrilled in June to find out I had passed my nursing boards and was officially 'Nurse Natasha.'
In early July, he fell ill again.
I watched my husband fade 5 separate times before God willed him home. In his final week, he was hooked up to a vent but awake. Josh made his own decision to have a 'DNR' (Do Not Resuscitate order). As a wife, I didn't want to let him do it, but I could see how tired he was and the medical side of me knew, it wouldn't be fair to make him fight or live a life he didn't have control over. He would have never been happy if he was dependent on a vent. So, with me holding his hand, and his dad at the head of the bed, we agreed to place the DNR band around his wrist.
We spoke that night together, rather I did the speaking and he was able to mouth words and nod. While we were alone, I remember asking, 'What am I supposed to do without you?' and I reassured him. 'I am proud of you and so grateful to have been your wife. You made me happy, and you were a great dad.'
After those conversations, we allowed them to give his body a break by sedating him again and we knew that would be the last time we saw him awake. We sent out a caring bridge post and gave people 48 hours to say their farewells. That Thursday we pulled cares and Amelia and I lay next to him as long as we could. Surrounded by family, he went to be with Jesus at 12:34 on July 27, 2017.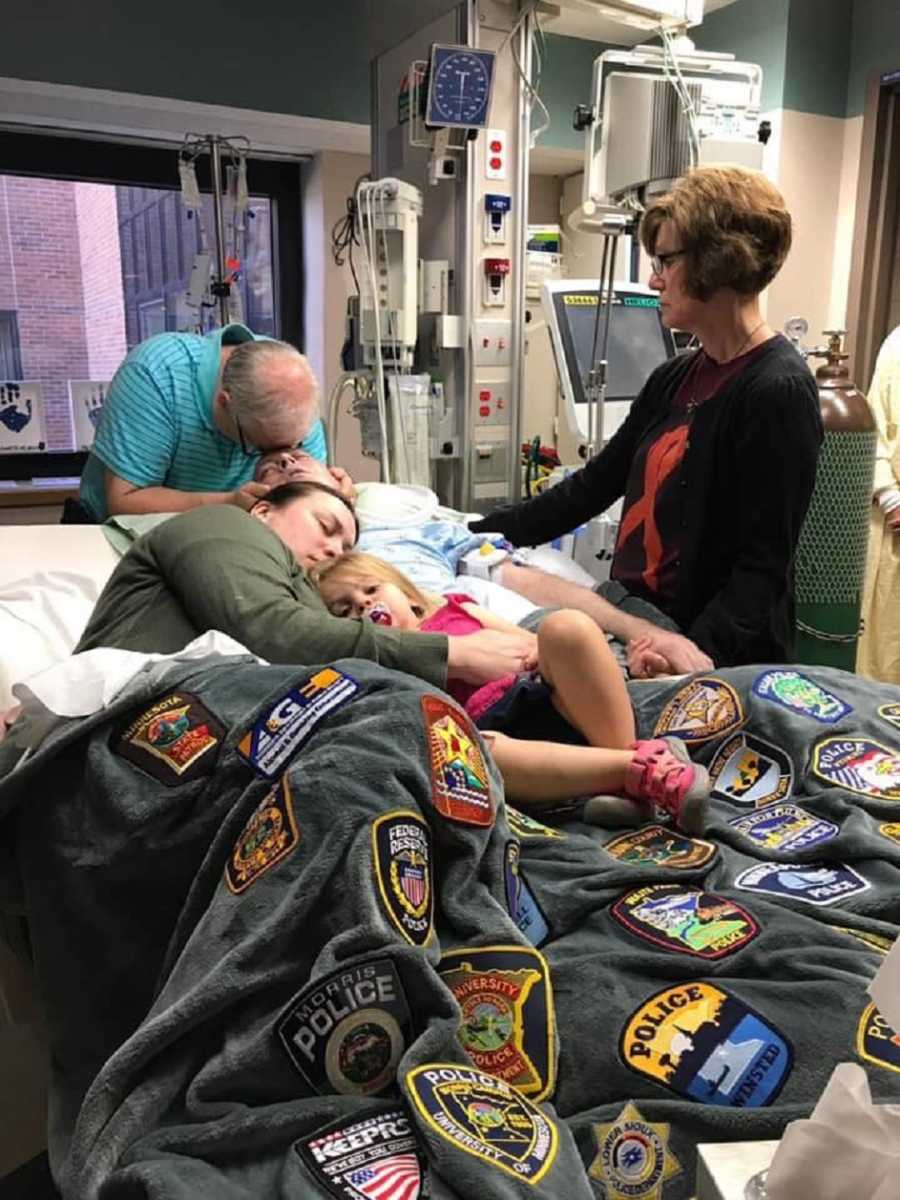 The community came together for his funeral and I sang a final song to him before we lay him to rest.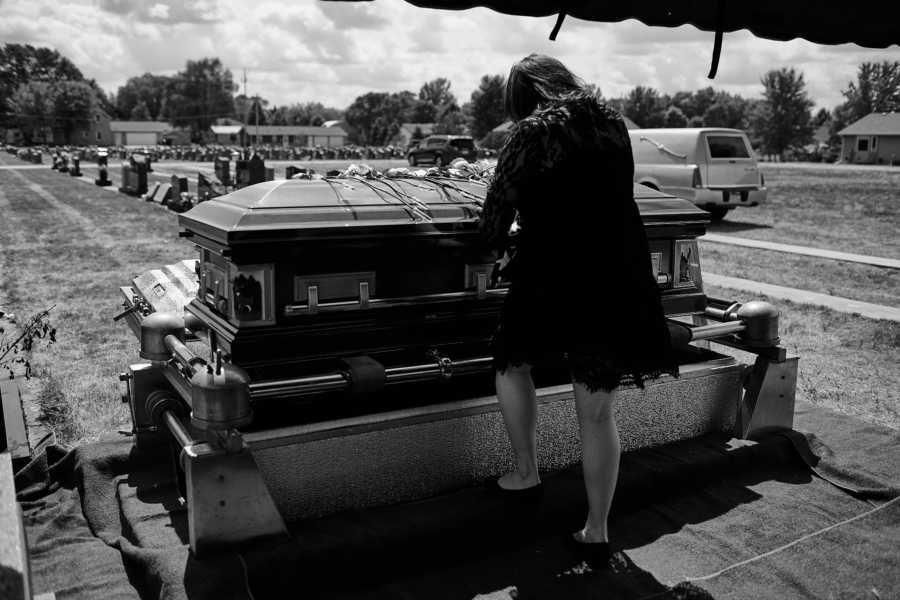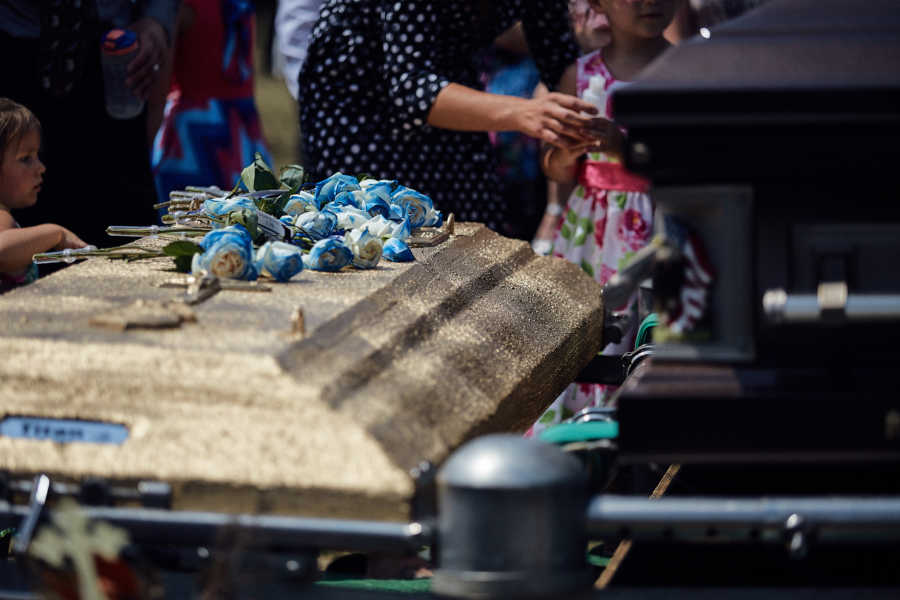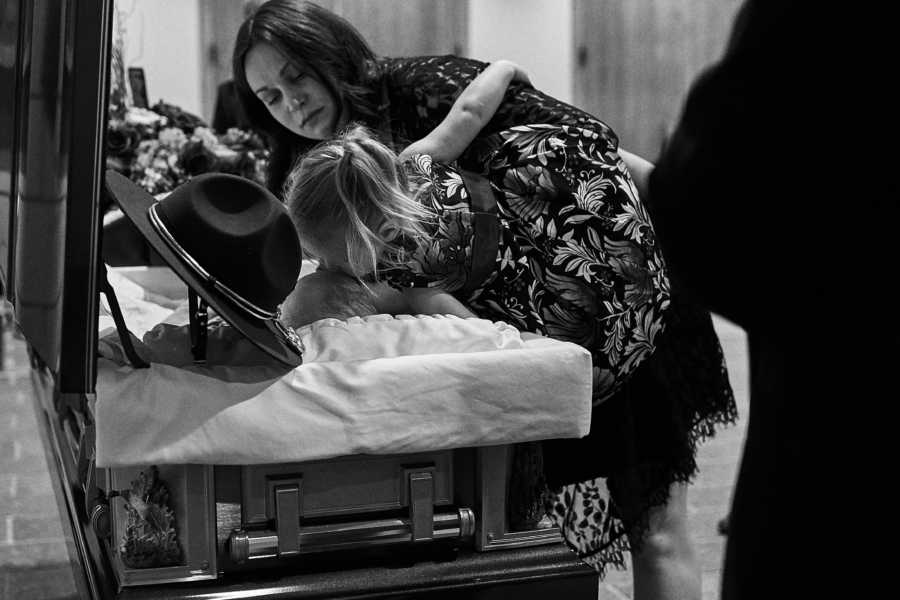 After the shock wore off, I set forth to finish a dream we had. To have more children. With the support of his family, I decided to do IVF with the sperm we saved. Thanks to God, love, and a little bit of science, Gabriel was born in January of 2019. This was not an easy decision to make given my catholic upbringing. While God may have control over your story, there are still chapters you have a say in. I chose to have Gabriel knowing it would be hard but knowing it would also be worth it.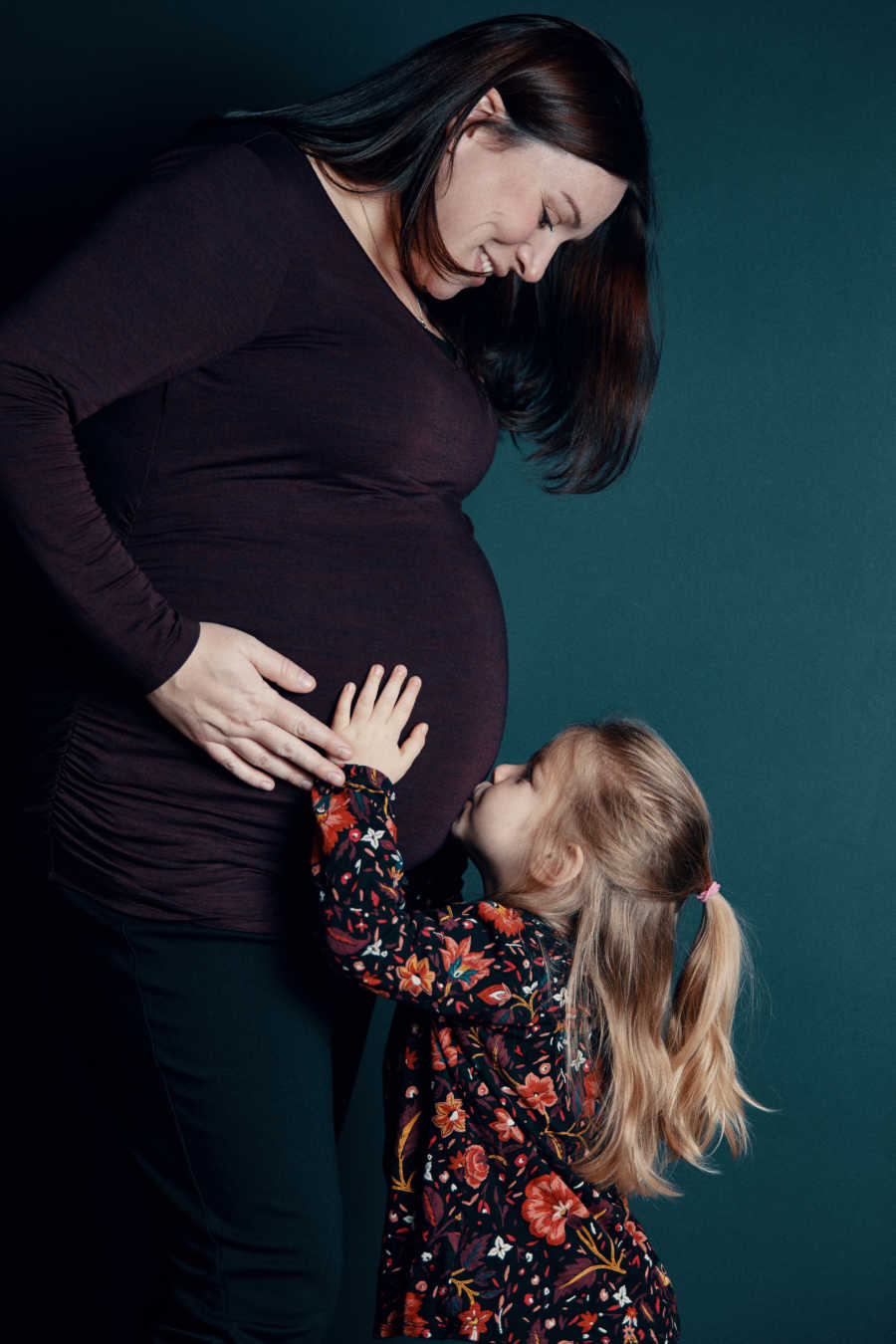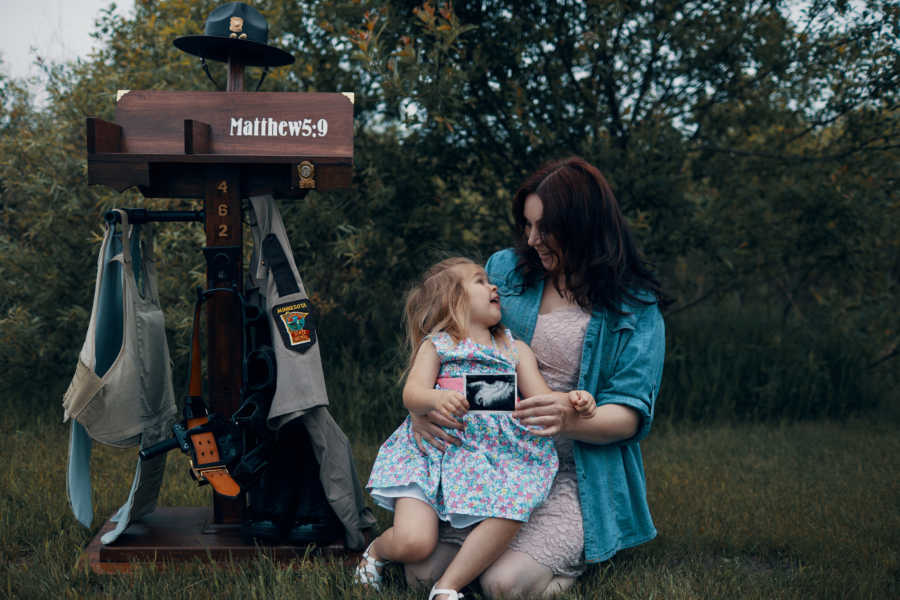 Raising two children alone was not easy. Our families are all over an hour away and juggling two kids was tough but when you really take a break from the chaos and realize how amazing this life is, it opens your heart and mind to do it again the next day. Despite tragedy, life can still bloom into something beautiful.
I returned to school a year after Gabriel was born and recently graduated with my bachelor's degree in nursing. Each step of the way, feeling Josh pushing me to keep it up because there was more than one occasion where I wanted to quit.
I like to think Josh would be proud. The greatest honor to this day was being his wife and mother to our children. One day I hope our kids know how truly amazing he was and how loved they are.
We cannot control all the things that happen to us in this world, but we can choose how to react. It won't always be clear or easy which direction to take but through faith and determination, seemingly impossible things can be miracles that come true."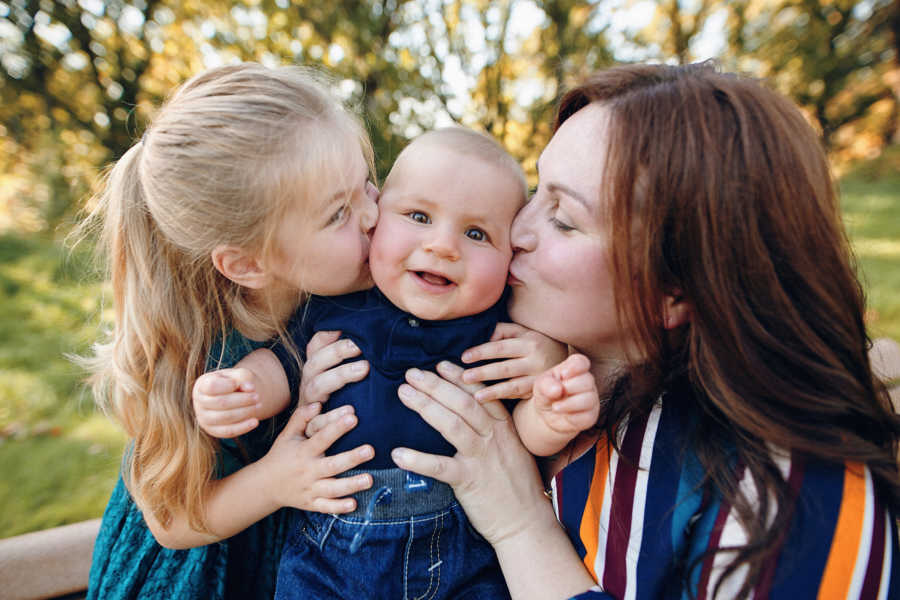 This story was submitted to Love What Matters by Natasha Orbeck from Richmond, Minnesota. The story originally appeared here. You can follow her journey on her blog, The Wilful Widow. Do you have a similar experience? We'd like to hear your important journey. Submit your own story here. Be sure to subscribe to our free email newsletter for our best stories, and YouTube for our best videos.
Read more powerful stories like this:
'I gave birth to this gorgeous, healthy baby a year after her father's death.': Widow gets pregnant with late husband's baby from saved embryos, 'now, after his death, it seemed possible'
'I took maternity photos in the dress I wore to my husband's funeral.': Mom-to-be didn't know she was pregnant when husband died, 'As I kissed his forehead goodbye, I had no idea I was carrying his son'
'Is he gone?!,' I yelled. It wasn't my husband. He was so excited to be a dad. He was born to be one. I held his hand, telling him how much his unborn son and I loved him.': Wife loses husband right before giving birth
SHARE this story if you believe miracles can and do happen!