"It was a quick vacation in June. We just needed to get away. Of course, everything was closed due to COVID, but we made do. A fire on the beach. Hot dogs. S'mores. 
I laughed when my boyfriend questioned whether or not my seventeen-year-old daughter needed to wear a bathing suit on the beach instead of staying in her sweatshirt and leggings. I giggled when he stared down the boys who happened to glance her way. My heart swelled as he walked her to the edge of the water one evening on an impromptu stroll. She had no idea how vigilant he was. She had no idea while she was dancing with the waves that chased her back onto the beach that he was checking her surroundings, making sure she was safe. Making sure nothing would ever come close enough to hurt her.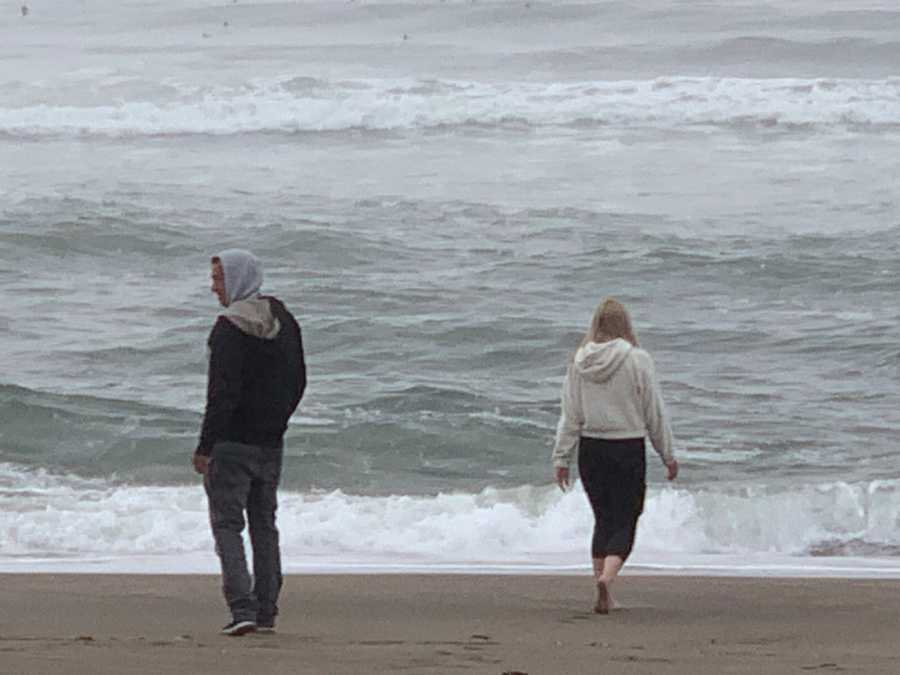 And try as he might, he can't keep her from hurting. At least, not all the time. 
Because her heart is broken. Maybe you would never guess it by the light of her smile or the warmth of her hug, but she is walking around half alive, searching for the air that will rattle her lungs just enough so she can breathe. 
She misses her dad. And some nights, I swear I can hear her crying behind the thickness of her wood door, and even I, as her mom and somebody who reluctantly understands grief – doesn't really even know what to say. Sometimes, the only thing she can do is rustle up her little dog and bury her face into his fur, almost certainly praying for her dad to come back. She must ask that. I mean, I do. All the time. Please just come back. 
And sometimes when I just can't think of the right words, all I can do is sit silently in her grief. And sometimes, she does the same for me. 
It is hard to know what to do when somebody is grieving. And it is even harder to know when to be still. 
So, while we enjoyed our vacation, it was not lost on any of us that we were all a bit haunted by the fact that it was also Father's Day. She didn't say much about it. She never does. But after nine hours in the car, on the long ride home from the coast, she asked if we could stop at the cemetery. 
There was no question. No hesitation. No reservation. 'Of course,' he said. It didn't matter that we were all tired. It didn't matter that we just wanted to get home and take a shower. It didn't matter that we all wanted to be out of the car. When the girl you love is hurting, you do whatever you need to do to fix that.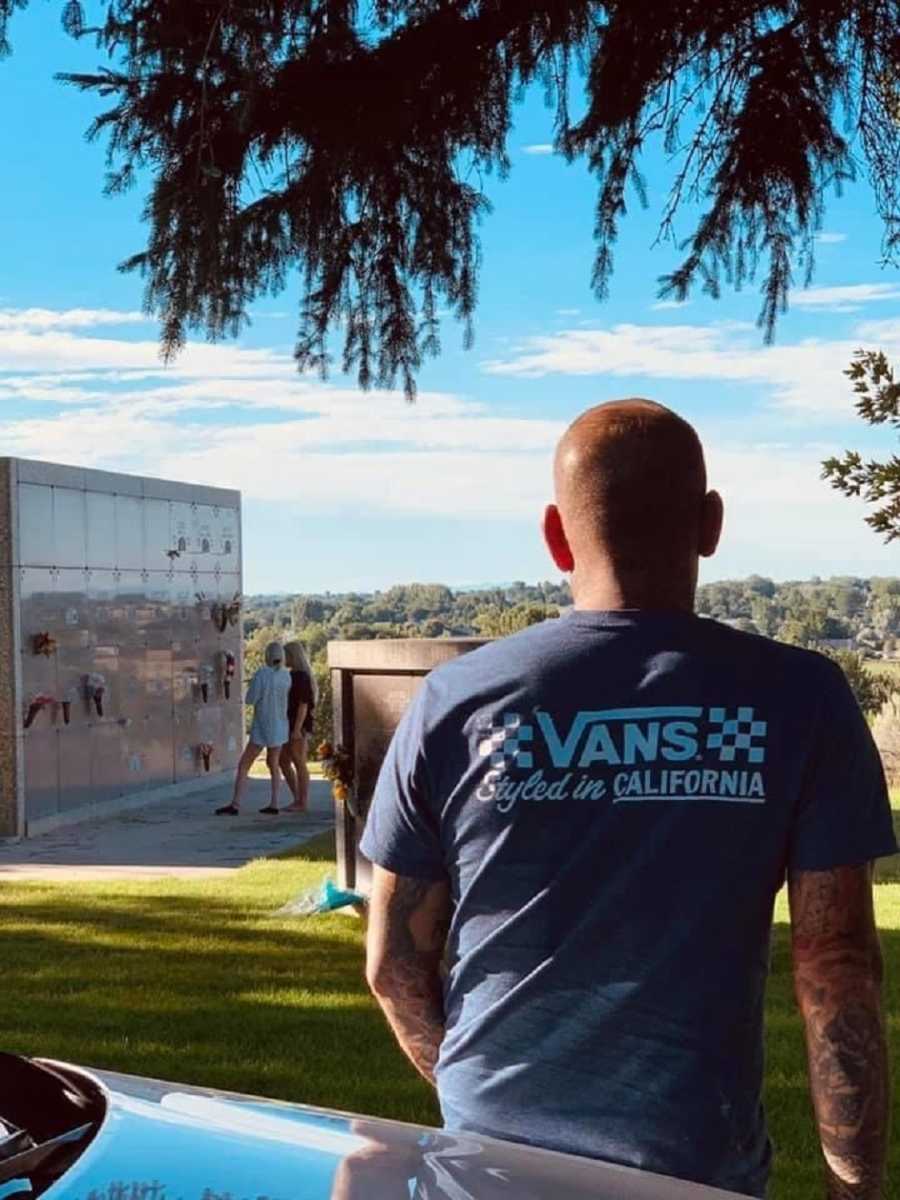 And in this case, you honor her dad. Even if you love her like she's your own. 
And you watch over her. But you give her space. 
Because that's what a good man does for the people he loves. 
That's what a good friend does for the people they care about. 
And the more I looked at this picture, the more I realized this is exactly what the grieving person needs. 
Somebody who knows how to stand by, ready. 
But also, somebody who knows when to give you your space. 
Perfect balance. 
What a beautiful gift to give somebody who will never want anything again more than love."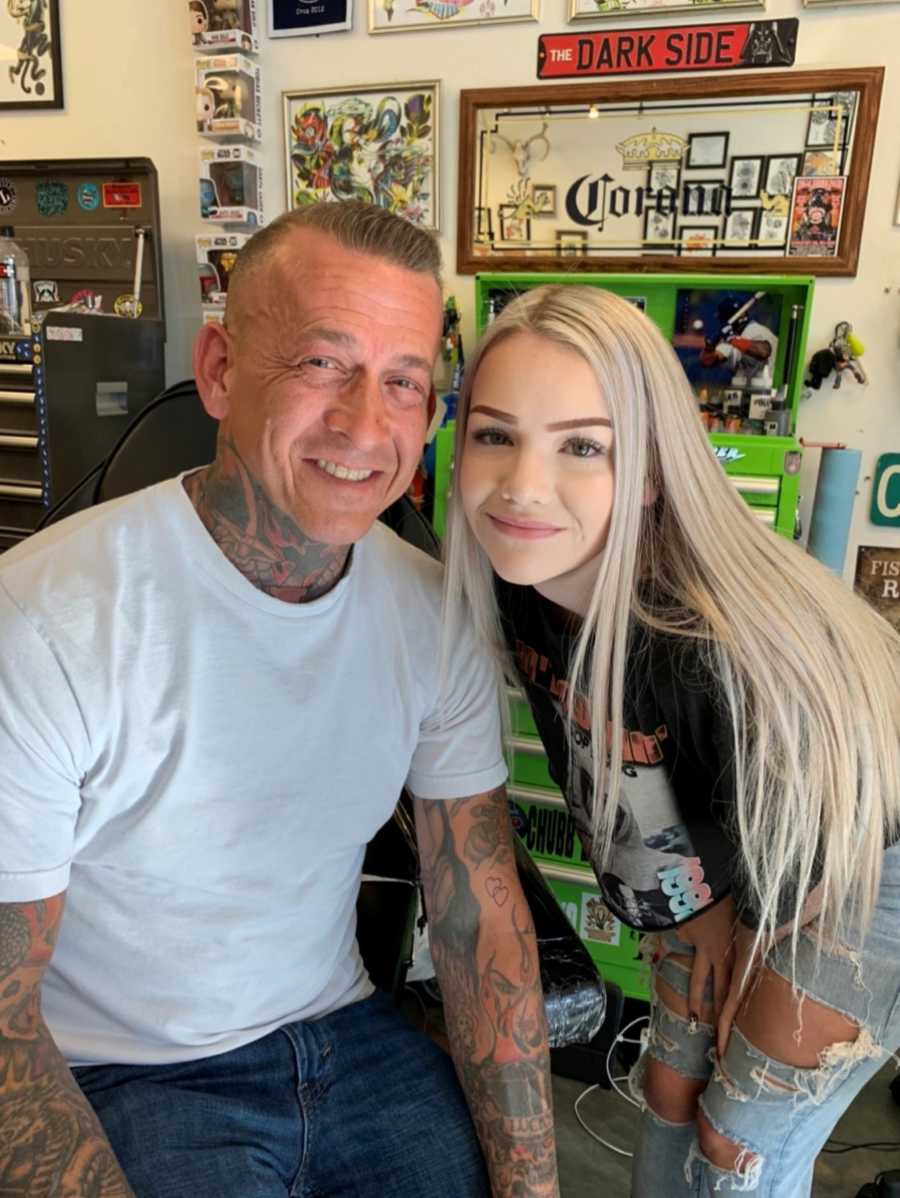 This story was submitted to Love What Matters by Diana Register of Meridian, Idaho. Her books "Grief Life" and "Grief & Glitter" are available in print and on kindle. Connect with Diana on Facebook and Instagram.
Read more from Diana:
'My 15-year-old asked, 'Mom, can I get a tattoo?' I let her and no, I don't care what anybody has to say about it.': Mom says daughter 'earned' tattoo, 'She showed me what surviving looks like'
'My husband bungee corded my kid to the backseat. Not kidding. She was 3 years old. I honestly didn't believe it. But there she was, strapped in a makeshift five-point harness.': Widow hilariously recalls memory of late husband
Please SHARE this story on Facebook to encourage others to cherish every moment and love what matters most.