"There is truly only one aspect of parenting we can all agree on. Only one.
We can argue all day about whether or not you should cloth diaper or whether you should exclusively nurse your baby. We could go head to head on which brands of car seats are better or which type of food you should feed your baby first. We could fight all night about public vs. private school and the best age to give your child a cell phone. We each have our own opinions on parenting. We each are set in our ways.
But there's one topic that unites us all: The diaper blowout. We all agree that the diaper blowout is one of the most disgusting things a baby could possibly do.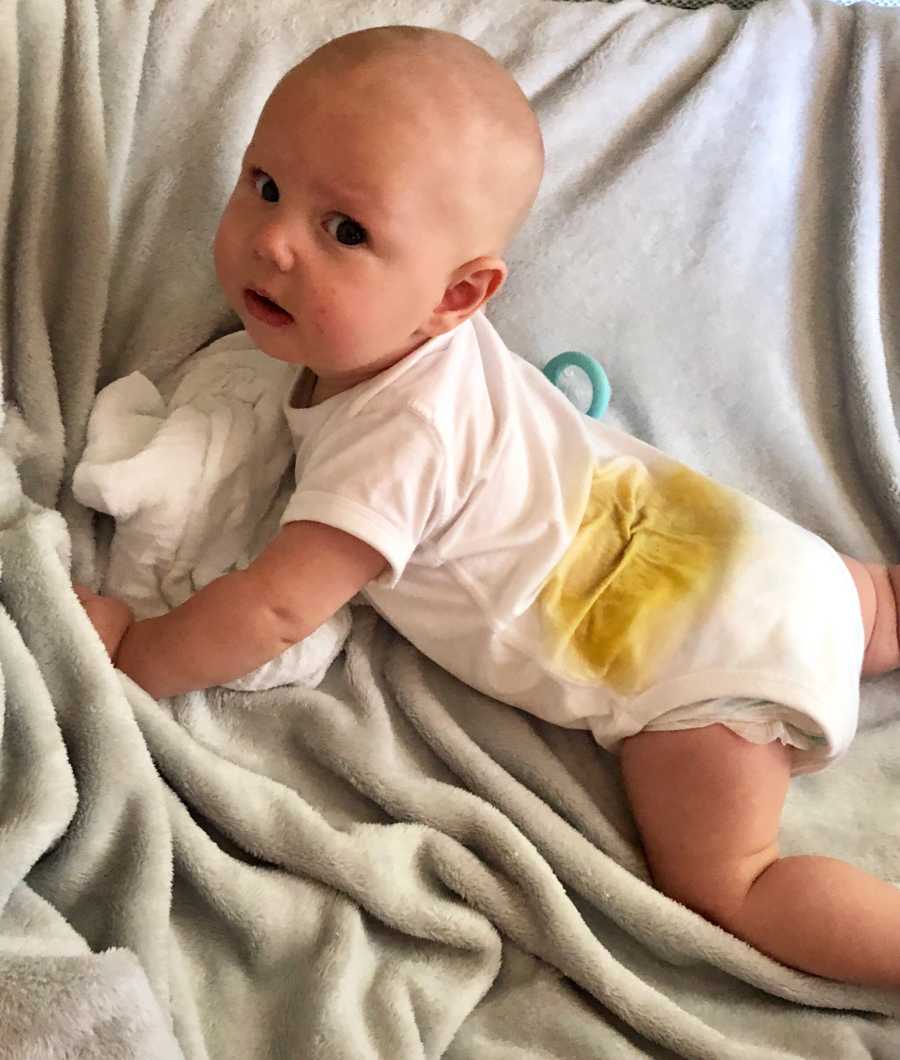 We can all relate to it. We can all smell this photo. A big ole blowout stops us in our tracks. We laugh the second we see it because it's hilariously horrifying. We quickly realize that no one else is going to clean it up. Your Fairy Godmother isn't going to appear and handle this for you, even though you desperately wished she would! You gotta suck it up and 'mom' this one. You have no other option.
Where do you even begin? A photo, that's where. You have to document this moment for baby's wedding slideshow down the road. These types of moments are priceless, especially when they give you a distraught look. 'Are you kidding me right now, mom?! Help me!' Is that bad parenting? Five extra seconds to snap a photo isn't hurting baby's well-being so I'm going to say no. Questionable, maybe. But hey, we have to balance out the great mom moments with the questionable ones.
You lay baby down on a towel and you start undoing all of the little snaps. Baby is smiling back up at you as if to say, 'remember when grandma said you'd get your karma once you have your own kids? Here it is, mama!'
You talk yourself down. 'This isn't that bad…this could be worse…this isn't… that… bad…'
It's everywhere. It's an explosion of epic proportions. How in the world did this much substance come out of such a little person? Do we even try to salvage this outfit? Heck. NO!
Shout out to the onesie makers for designing these things to slide DOWN and not up. I've made that mistake before. I've absolutely pulled a poop-soaked onesie up over the head, subjecting my baby's neck and hair to the contents from below. It took me two kids to figure that whole thing out. Onesies were specifically designed to unroll at the shoulders so you could pull them down. Genius. Well, genius once you understand how genius it really is!
The only way to fix this situation is to throw the whole baby away. I'm kidding…
So the next best option is to throw baby in the tub. But do you rinse them off in the sink first? Or do you use 734 wipes? You weigh your options. Okay, 367 wipes and a little bit of a rinse off before you put them in the tub. You're desperate for a clean baby at this point!
Dear God, it's so slimy. It's so goopy. It's E V E R Y W H E R E! It's in crevasses you didn't even know existed. It's up the back and down some legs. It's all over the towel the second you unhook the diaper latches. More and more creeps onto your hand with every wipe. You're probably gagging unless you're a super-robot that doesn't get grossed out by a massive amount of another human's bodily functions. You give up wiping after a few seconds. This isn't even worth it!
You pick baby up and hold him Lion King style, praying to God that none splatters onto the floor as you shuffle towards the sink. You make awkward noises the entire time baby is in the air; 'woooooop, gaaaahhhhhh, snlaaaaarpgh, neeeeerrrhhhhggg, shshshshlalalalajeeee!!!' You maneuver dishes out of the way at the same time you're holding this massive hot mess. You're trying not to be dramatic. But you're totally being dramatic.
Once you get a good ole rinse, it feels safer to transfer baby to a tub and let them soak for a while. Lots of bubbles. Tons of bubbles. Let that soap do its thing! You take a deep breath and laugh at the chaos that just ensued. Good grief let's hope that never happens again.
It'll totally happen again.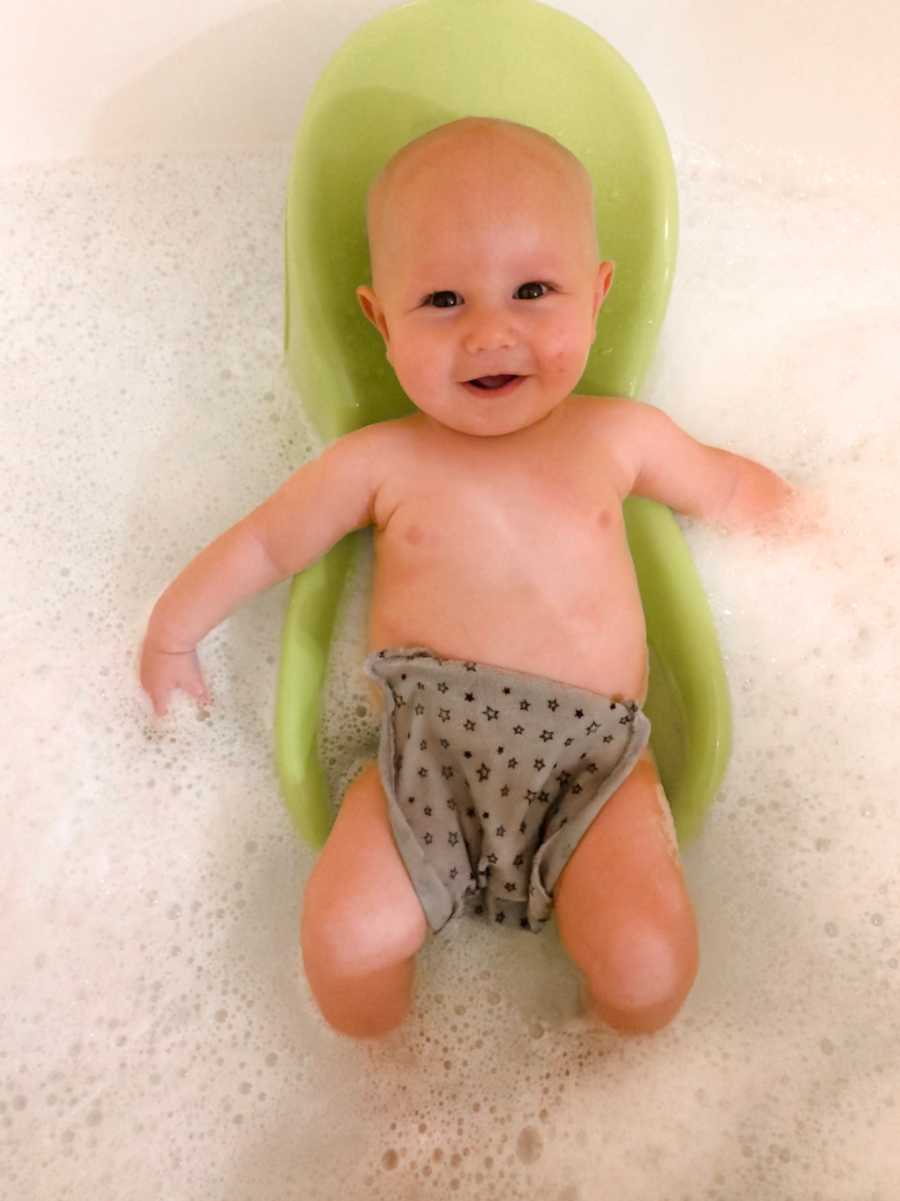 Every .3 seconds a baby somewhere in the world has a blowout. I totally made that statistic up. But I bet I'm pretty close.
RIP to all of the white onesies that fall victim to the blowout. They're not even worth soaking to get the stain out. Do yourself a favor and take a stroll down the baby aisle at Walmart and stock up on some brand new ones. A $2 onesie is not worth the pain of trying to make it look brand new. At least after six kids it's not! Pick your battles, I say!"
This story was submitted to Love What Matters by Molly Schultz of Tried and True Mama. You can follow her on Instagram. Submit your own story here, and subscribe to our best stories in our free newsletter here.
Read more from Molly here:
'I stood up. 'Screw this, I'm done! Get upstairs! You're taking a bath!': Mom credits 'random post' for reminding her water is the cure-all for her kids' epic tantrums
'This is crazy! We don't have any pink hats left. This has NEVER happened before.': Mom realizes signs from her dad in heaven were 'loud' throughout pregnancy with son
Provide beauty and strength for others. SHARE this story on Facebook with your friends and family.