"The other night I asked my husband Martin, 'When you think of Sage, or when you miss Sage, what exactly is going through your mind?' I asked because I wanted to know if he, like me, 'feels the need' to hold him. More than anything, I wanted to know where his heart and mind were at that moment.
Everyone grieves differently. Everyone processes loss differently — so it's important to me that I check on my husband. His way of coping is a bit different than mine, and I like to know how he's doing…if he's doing okay or if he is struggling. 'How are YOU feeling?' 'Do you need a break?' 'There's a yoga class tomorrow at 9 a.m., are you willing to go?'
I look after him, I observe his moods, and I ask him questions because I noticed it's the only time he opens up. Otherwise, he keeps to himself. He cries to himself. And I want him to know that I'm also here for him, the same way he's always there for me.
I think people tend to worry more about the grieving mother and forget about the grieving father. They dismiss or ignore his grief. His pain. His loss. And I don't want that for my husband. I don't want that because Martin has been the one who has supported me in every way possible pre-pre-pregnancy, during my pregnancy, and post.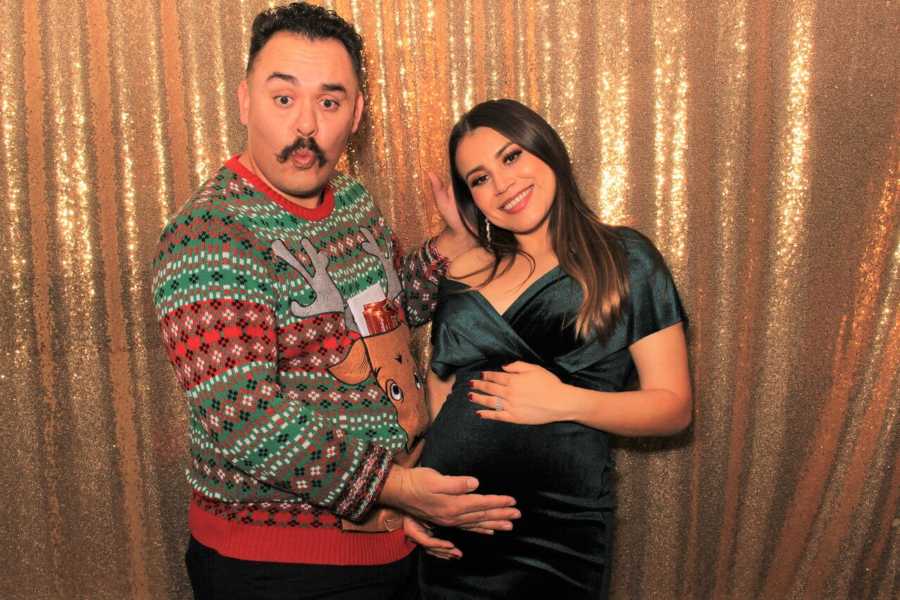 Martin was the one who would wake up extra early every morning during my pregnancy to make Sage and I breakfast. Sometimes it was banana pancakes made from scratch with fruit on the side, other times it was an egg omelet with carrots. And when he noticed an increase in my appetite, he made me even bigger pancakes or served me four waffles instead of two. He paid a lot of attention to us.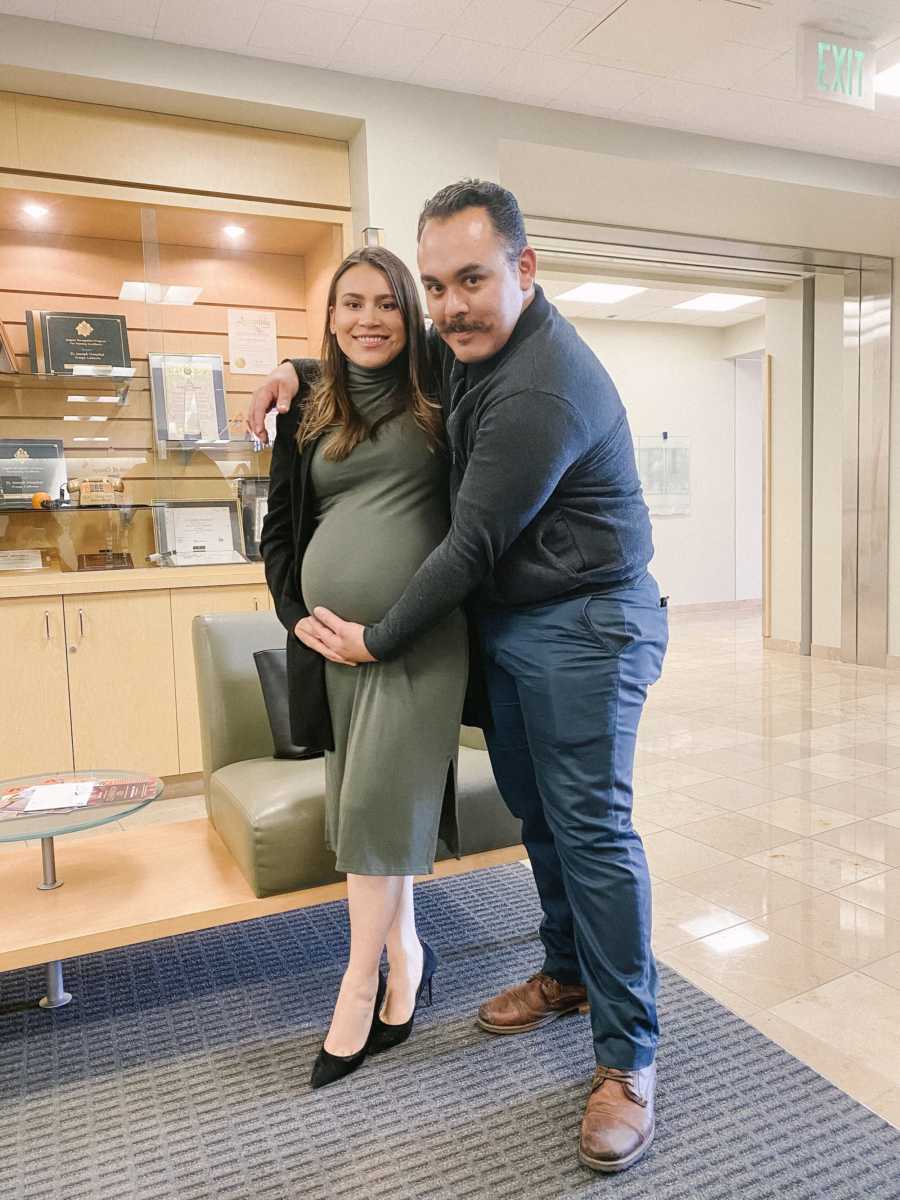 He never missed a doctor's appointment and he always asked questions…to the nurses, the doctors, everyone.
When we found out Sage had skeletal dysplasia and we were asked if we wanted to terminate the pregnancy, I turned to Martin. I turned to him because I knew what I wanted, but as Sage's father I needed his input. Without hesitation, he said, 'It's up to you, Hun. You are the one carrying him. It's your body.' Those words meant more than reassurance that he honors and respects my body, feelings, and decisions. To me, those words also meant 'I'm here for you regardless of what you decide.'
Martin knows me so well, probably knows me better than I know myself, and he knows what I can and cannot handle. Sometimes just by looking at me he's rooting me on, his eyes say, 'You can do it!' He also knows when to step in because something may be too much for me.
When I was speechless at the doctor's office… Martin was the one who asked, 'What will this do to her? What will this do to the baby? If she carries, what kind of complications should we expect? What are the baby's current measurements? Is this going to hurt her?' He'd be the one to question them, 'What if you're incorrect about your diagnosis? What happens then?' He always looked out for me and found ways to protect me. Still does.
My husband comforted me every night when I would lay in bed crying and asking God for a miracle. When I would scream, 'Why are you doing this to us?' Martin was there. When I would simply cry wondering WTF is this, WTF did we do to deserve this. He stood by me. Sometimes he'd get up in the middle of the night and realize I was still awake sobbing, and he'd wrap his arms around me.
When I was dealing with contractions, he'd just give me his arm or hand…and he'd let me squeeze either one of them as tight as I needed to. When I was crumbling, he looked as steady as a rock.  When I was pushing our baby out, guess who was in front of me cheering me on? My husband. 'You're almost there, babe!' 'Baby's almost out' 'I swear, you're almost there!'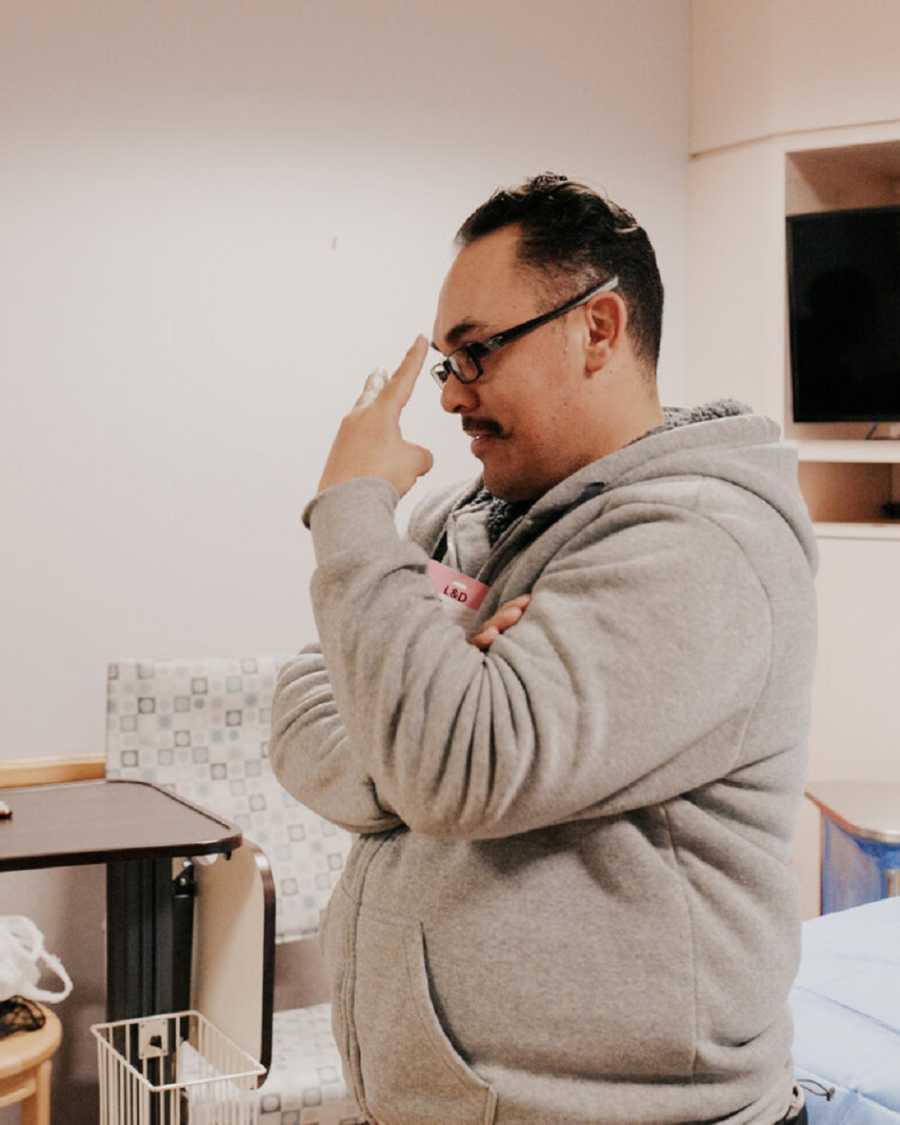 He could've stood to the side, he could've held my hand as I pushed, but no. Martin stood in front of me (behind the OB) to not only have a front-row view of the birth of his child, but to also look at me straight to the face and say 'You got this!' When I was too tired to push, Martin gave me a look that simply said, 'Trust me, you're almost there.' And he was right. Sage came out soon after.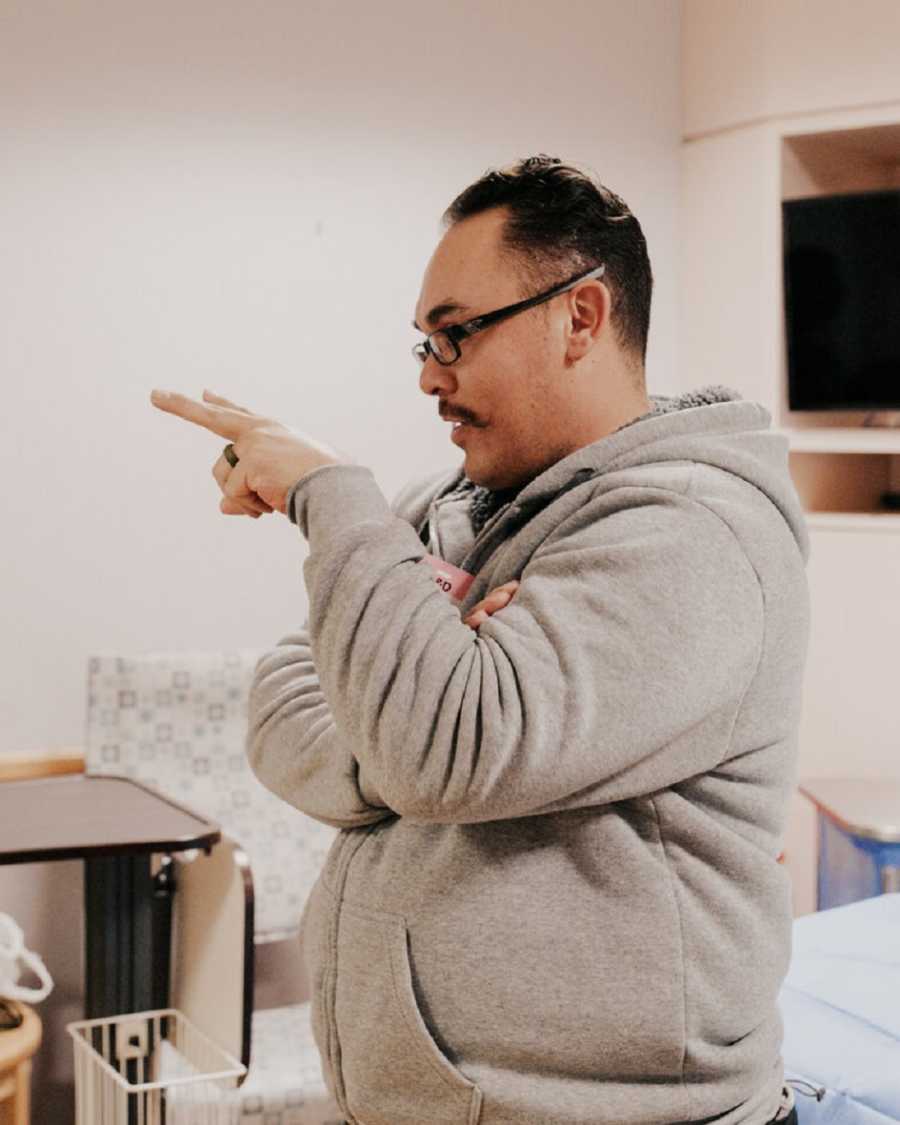 Martin didn't forget the holy water that he had in his truck —a small bottle he had recently picked up at church. There was a possibility that the hospital chaplain wouldn't be able to make it on time to baptize Sage, and he remembered to take the holy water so that at least one of us could bless him with it.
When it didn't even cross my mind to thank our family for being so supportive and helpful in the delivery room, and for praying for us during Sage's birth, he thanked them.
My husband was also the one to think about taking photos with Sage 'outside the hospital.' The nurses kindly helped find a spot to get us some fresh air and photos with our child because he made that request. We wouldn't have pictures with Sage in the Healing Garden, if it wasn't for his idea (and of course, the help of the nurses who went out of their way to make it happen.)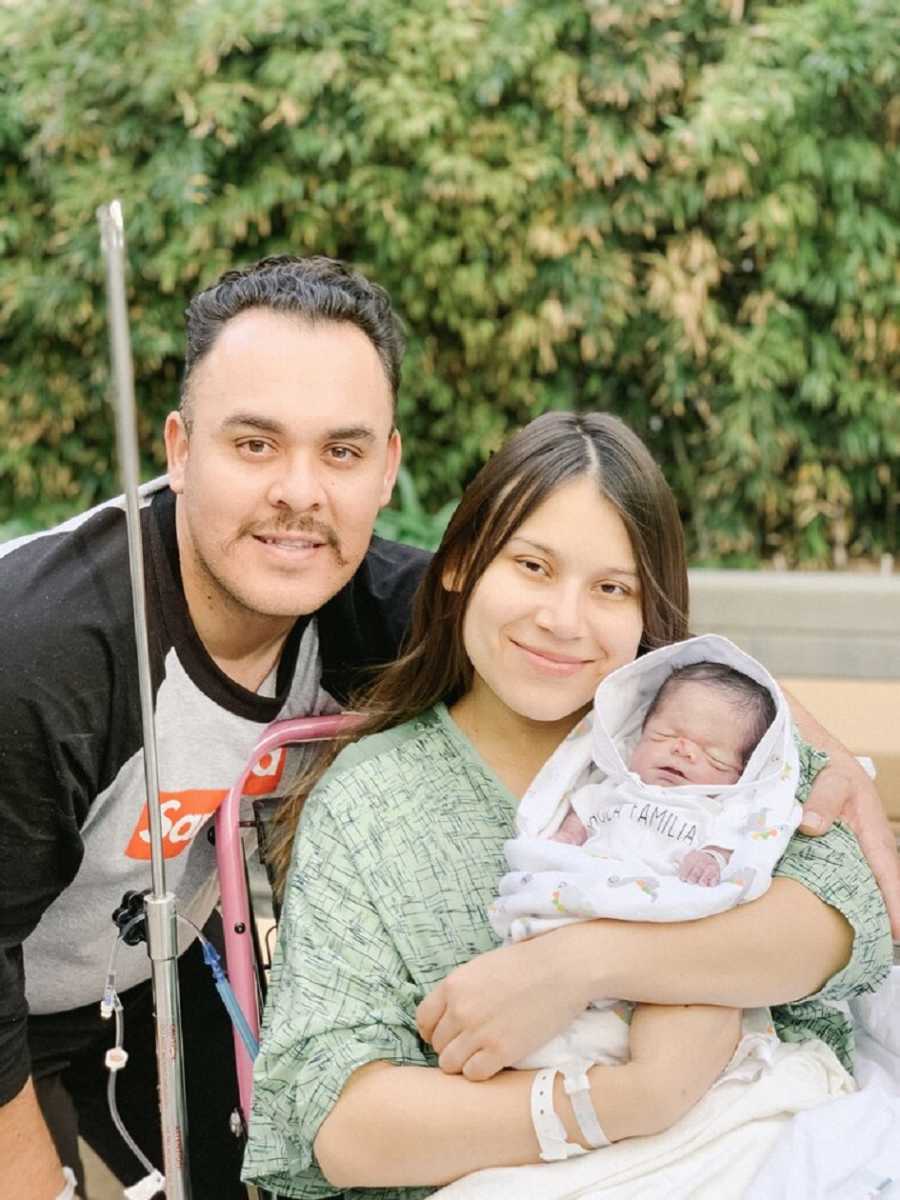 When we came home without Sage, Martin was the one to snap me out of my dark hole. He was the one to hand me Sage's dinosaur blanket and say, 'This will help.' He was the one to give me tea so I could calm my nerves.
He's done so much for Sage and me. To this day, he continues to spoil me with SO much love, and holds me when I cry myself to sleep. Through all of this, Martin has been the one to stay the calmest. He still jokes. He still finds silly ways to make me laugh.
He's been back at work for three weeks now and he's barely taken a good break. He works really hard and works long hours. It probably helps him cope. I just can't help but wonder 'Where does he find so much fortitude to help himself and me sail through?' 'Does anyone else other than me wonder how he's doing?' Sure — I'm the one who carried Sage inside me. I'm the one who gave birth.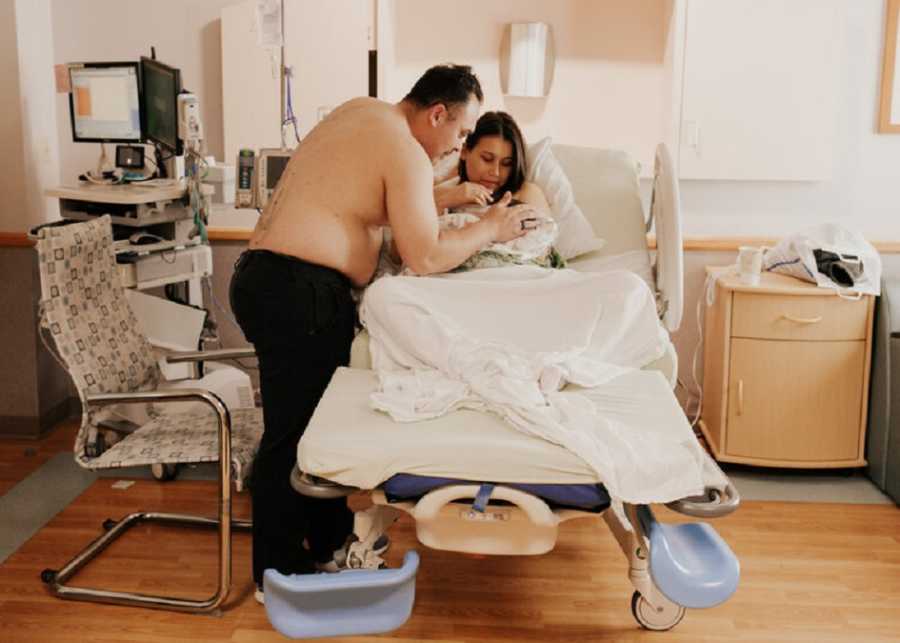 But, Martin needs to know that this isn't just about me. I wasn't the only one to lose our son. He, too, needs someone to lean on. He, too, needs love. And prayers. And encouragement messages. And hugs. He, too, needs to release his feelings. He, too, needs pampering and comfort. Ad he, too, needs to heal.
I am doing what I can on my end. I try to check on him, the same way he checks on me. I find any little strength I have deep inside me, so that he doesn't have to be the only strong parent out of the two. I look for small ways to show my love, appreciation, and support. I water his plants (his babies, like he calls them). I brush his hair or massage his shoulders. I get up before him to get our mats and water ready for yoga. I brew his coffee or tea. I put my toothbrush where it belongs.
I listen to his snores. I help wash dishes (his only duty in the kitchen…leave the cooking to me), I let him borrow my pregnancy pillow to sleep (he always wanted his own, and I was too selfish or too pregnant to lend it to him for even one night). I watch baseball clips next to him and play his made-up bottle cap baseball game with him in our living room. Most importantly, I do not eat his favorite Girl Scouts cookies. The little things that he has always done for me that I perhaps overlooked, I try to do them now.
Because this is not just about me. HIS BABY DIED, TOO.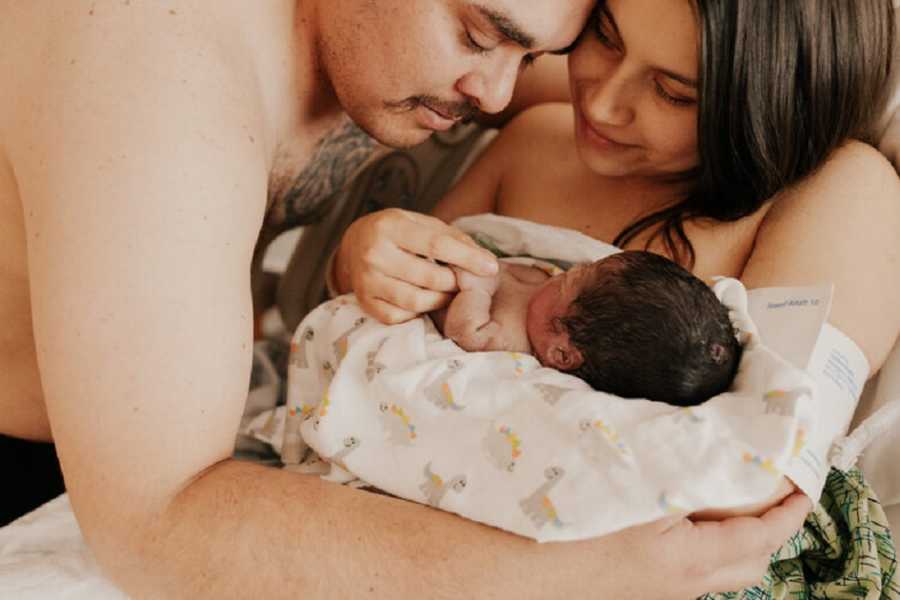 Martin lost the opportunity to teach Sage about baseball — the opportunity to teach him how to lace a glove, how to properly stand at home plate, lost the opportunity to tell him that when playing baseball is not always a competition, sometimes you just have to have fun…he lost the many chances he could have had to play ball with his child.
Martin lost the opportunity to teach Sage math and science (his favorite subjects), the opportunity to tell him about all the cars he gets to work with daily, the opportunity to teach him how to garden, how to make banana pancakes or use the microwave. Everything he could have done with Sage, or for Sage. He lost all of that.
If Sage would have been a girl, the same lost opportunities would apply. He never cared for either gender. Even when I pitched the idea of a gender reveal with an exploding baseball, he said no. He really was excited to find out at birth. And he was excited to stay up at night to help rock his child, or feed his child, or whatever needed to be done. He'd say, 'I can't wait to get up at 2 a.m., I look forward to it!' He doesn't get any of that now.
'I want to kiss him…I want to run my fingers through his hair…I want to ask him 'how are you doing Sage?'…I wish I could see him grow and watch him walk through the door and say, 'What's new son?'…see where his mind would carry him, what he would become, knowing he's got your brain and mine…what would life feel like WITH him, it's hard to even think about life with someone else…I would've taught him the times table past 12, and I would've made him tell me what 26 x 14 is within seconds…but I really just want to kiss him again.'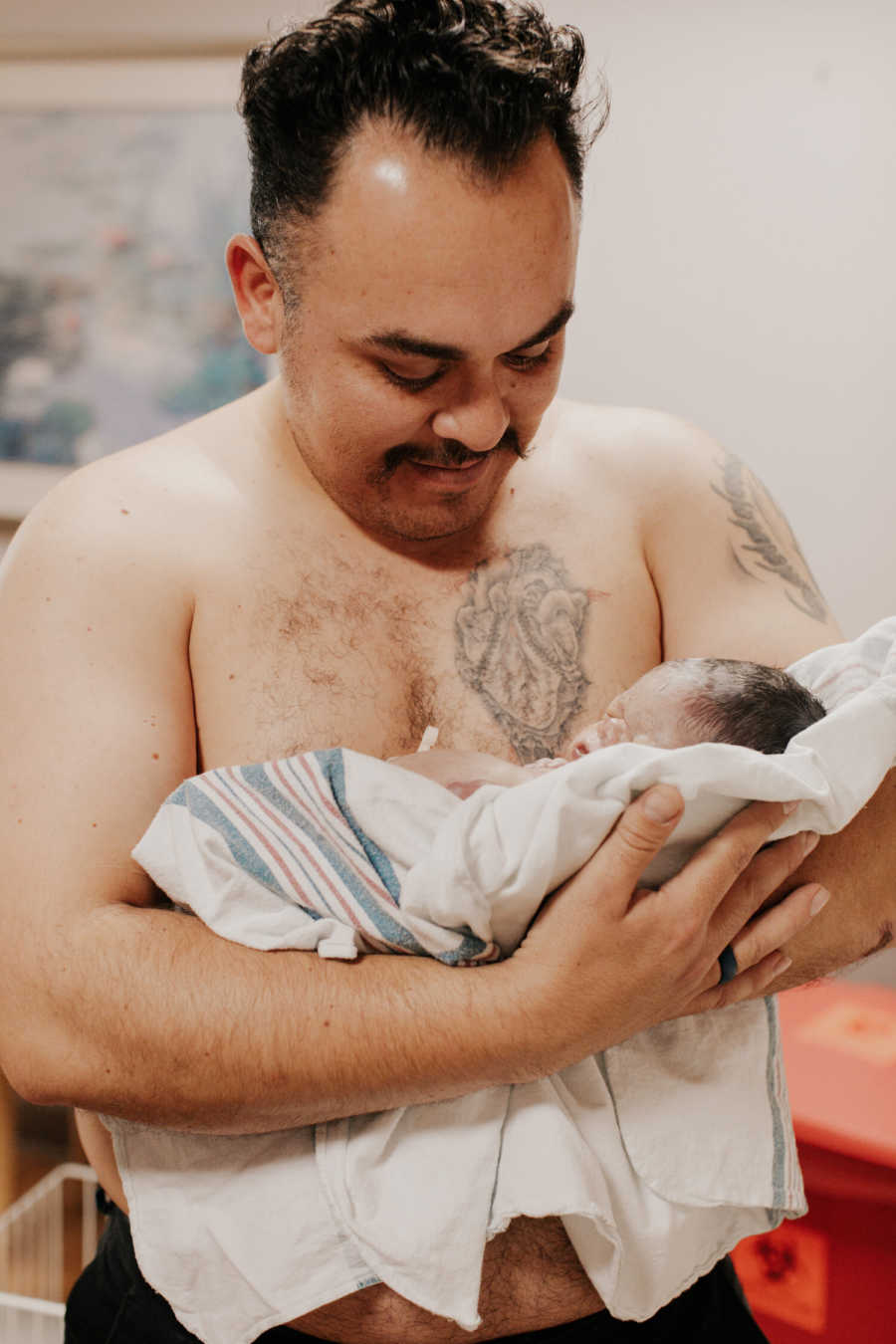 I'm not making this up. Those were the words spoken by my husband. I remember them clearly because I made sure to listen, the way he listens to me. THE ONE THING MY GRIEVING HUSBAND REALLY WANTS TO DO IS KISS HIS SON AGAIN. One more time, over and over again.
Can you put yourself in his shoes? Can you imagine meeting a little boy, your son, who looks almost identical to you, your 'Mini Me,' — and can you imagine not being able to do the ONE thing you're really yearning to do: to simply give him a kiss? How much pain would that cause you? And how much of that pain, do you think you have to hold inside because 'You can't be the one who is weak?'
This wonderful man — the kindest and most generous human being I've ever met, the most loving husband, the most caring friend, the most attentive host, the most hardworking employee; the silliest, most chill, coolest uncle, sibling, cousin, brother-in-law, son-in-law; the most thoughtful son and grandson, the one person I've seen grow the most mentally and professionally for the past eight years, the strongest man in my life — he needs support, too. He DESERVES support."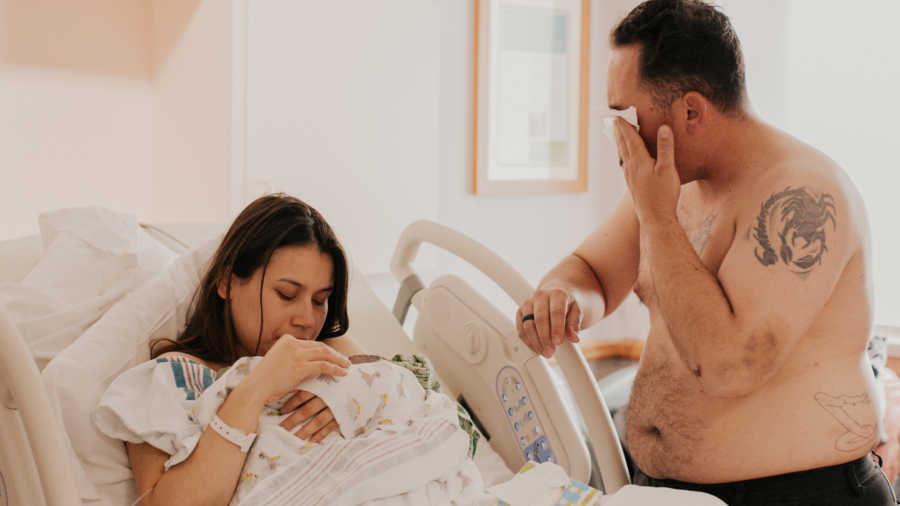 This story was submitted to Love What Matters by Adeyling Fiallos. You can follow her journey on her blog, Remembering Baby Sage. Submit your own story here, and subscribe to our best stories in our free newsletter here.
Read more stories like this:
'Her 17-minute life was filled with nothing but love. Dads, you are allowed to cry, too.': Couple shares 'life-shattering' moments their preemie daughter is born, dies in their arms
'Instead of decorating a nursery or washing tiny clothes, I had to explain to your toddler sisters why you're an angel.': Family shares 1 'quick, beautiful' hour with newborn son before his last breaths
'I'm sorry, she is non-viable.' Daddy held her so very close, tears in his eyes. He knew it was time. She gave us 60 minutes in pure heaven.': Mom loses newborn to Bilateral MCDK, 'She taught us nothing but pure love'
Do you know someone who could benefit from this story? Please SHARE to let them know a community of support is available.