This story is a follow-up story to Allison's journey. Read the full backstory here. 
"I didn't marry a man of words.
In fact, if you know my husband, you know he never really has much to say. Unless you want to get him going on the Cleveland Browns or some type of off-the-wall conspiracy, there isn't much he talks about. He listens.
I didn't marry a man who sends roses, or picks elaborate gifts. I didn't marry the man who writes poetry or love songs, although he does play a mean acoustic. I didn't marry the man who knows the perfect thing to say and when to say it.
I married a man who saves his cereal milk in a cup for our three year old daughter, simply because she loves cereal milk.
I married a man who will walk 20 feet in a monsoon to get the car and bring it to me so I don't have to be drenched.
I married a man who will get up with the kids early on Saturday and Sunday to let me sleep in. Even though I am a SAHM, and he is gone before the sun comes up each morning for work.
A man who stood in the bathroom with me every single time I threw up while pregnant with each of our children, and with having hyperemesis, this happened quite a bit.
A man who heard our oldest was diagnosed with autism and tried to get his hand on any and every piece of information out there on it.
A man who tried to be strong for me when we miscarried our 3rd baby, and later learned that pregnancy caused cancer.
A man who encourages all of my crazy ideas, and is always down for a crazy road trip.
A man who leaves little notes in my coffee cup for me, or sends me songs he hears that remind him of me.
You see, I thought I needed a man of words growing up, but it turns out, actions mean much more to me. He could spend hours pouring his soul into a love song, and it wouldn't be as genuine as pouring his leftover cereal milk into a cup for our daughter.
Find you a Jacob."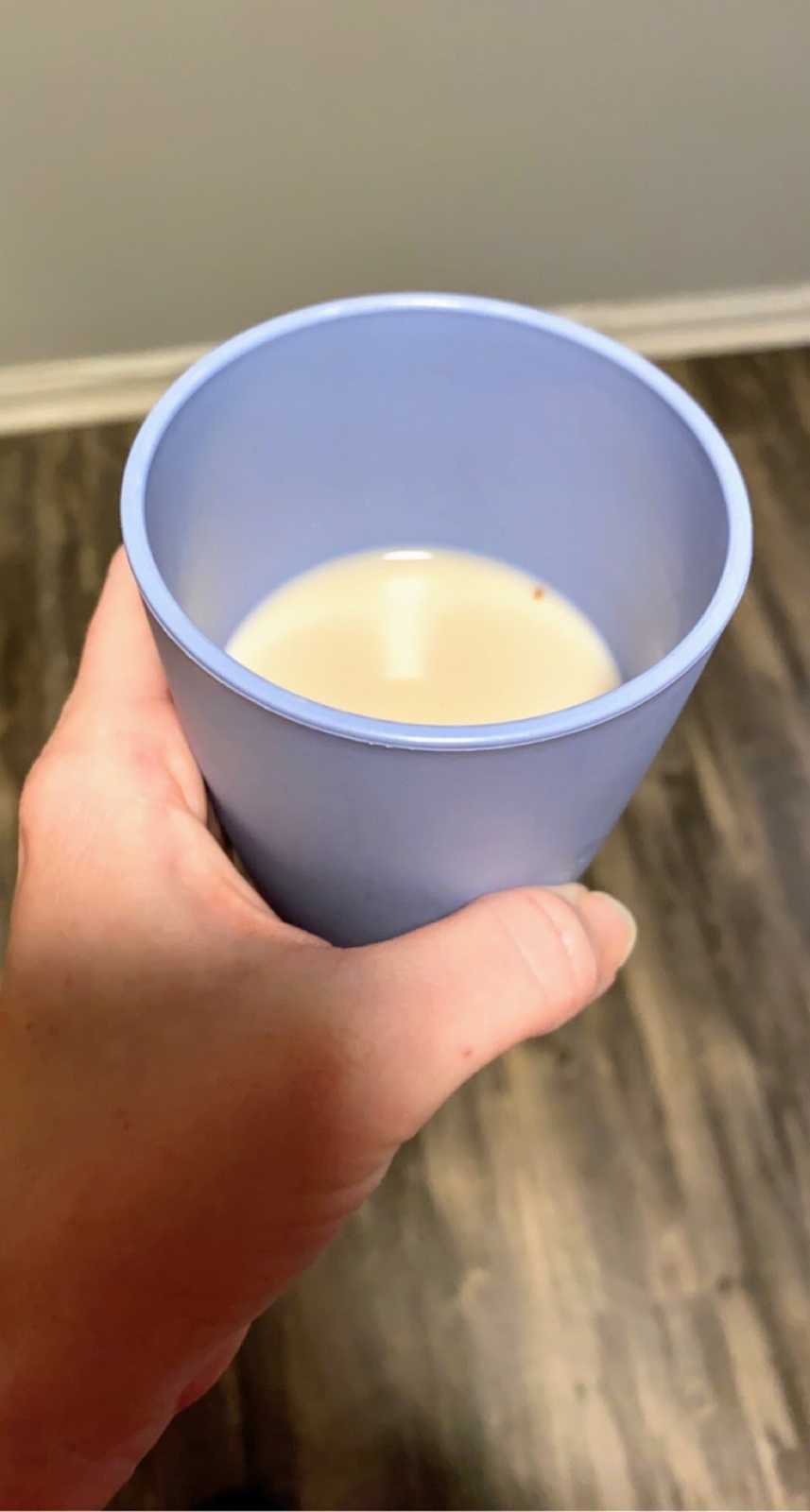 This story was submitted to Love What Matters by Allison Lemons of Erlanger, Kentucky.  Submit your own story here, and be sure to subscribe to our free email newsletter for our best stories, and YouTube for our best videos.
Read more stories from Allison:
'You know what? Let's ruin Allison's life today.' I couldn't breathe. I screamed so deep my toes would curl.': Mom turns to drinking to cope with grief after losing child to molar pregnancy
'This one is a 'something tequila.' Tequila? Say no more. I grabbed toothpicks and down the hatch it went.': Woman recalls hilarious story traveling to family wedding
'Toddlers, huh?' 'You'll miss these days.' I smile back. They mean well.': Mom of autistic son explains 'this isn't a tantrum, this is stimming'
'We'll refund your money, but you have to leave.' 'What?' Husband: 'YOU NEVER GET TO CHOOSE WHERE WE GO AGAIN.': Woman recounts hilarious attempt at saving money on vacation
Help show it's the depth of the love that matters. SHARE this beautiful story on Facebook with your friends and family.