"I remember the day we found out we were pregnant like it was yesterday. I had been having some ongoing medical issues from a fall and car accident a few years prior. They didn't think I would be able to have any more children because the disease (called Reflex Sympathetic Dystrophy) was so advanced and I was enduring many ketamine infusions, spinal blocks and even considering a ketamine induced coma. Lo and behold, in April 2016 we found out we were expecting. We were beyond happy. My pregnancy was not too bad, and it even put me in partial remission. We found out we were having another boy and started decorating the nursery and preparing for his arrival.
I was the happiest I had been in years. I felt like my life was finally going to be complete. I had a scheduled C-section for January 11, 2017. My older son stayed home from school and my whole family anxiously awaited his arrival. Finally at 9:52 a.m. he was here, and he was beautiful. He got fluid in his lungs from the delivery and he had to be taken to the NICU. He was a beautiful 7lb 3oz bundle of joy. We named him Cayson James Minnich.
We went to the NICU around the clock. It was so hard being discharged from the hospital without my baby. I felt like it was the end of the world not having him home. But we had no idea what was down the road. Two weeks later we were finally going home with our baby to be a family. Life was perfect.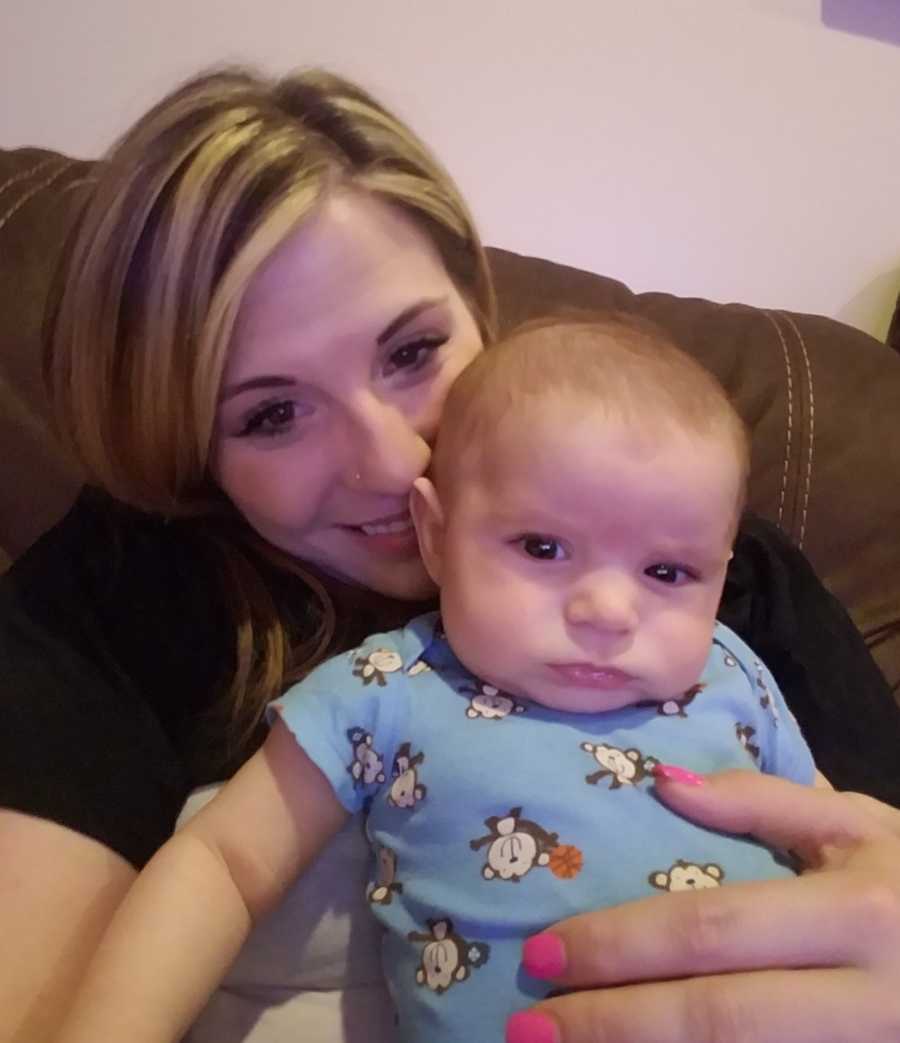 I was in awe of his beauty. He was so perfect. His smile melted my soul. He was so strong and advanced from day one and healthy as could be. I remember staying awake at night and I would just watch him sleep. I was so, so in love with this little man made out of such love.
He was hitting every milestone early and was the happiest little baby. My older son, who was 8 years old at the time, was loving being a big brother and he was so good at it.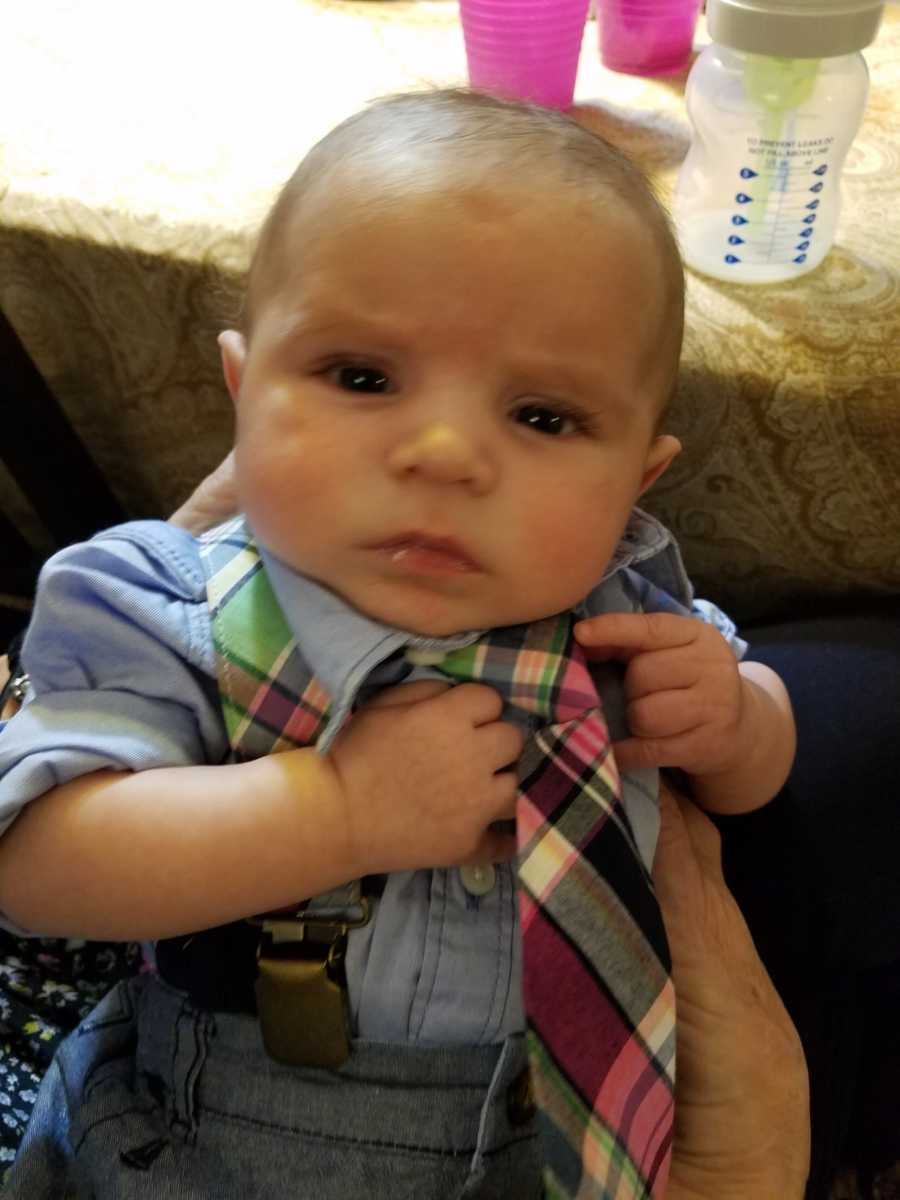 I have always been a hypervigilant mother and practiced all recommendations including safe sleeping. My kids always slept on firm surfaces alone, no goalkeeping, no blankets or animals around and always on their backs. Never in a thousand years did I think anything could go wrong, because I was on top of it all. Little did I know the nightmare that would soon become my new living reality was just around the corner. I would do anything to go back in time.
May 3, 2017, our lives came crashing down. It was like every other day.
We played, we smiled, we sang. At night he ate his bottle and went down to sleep. He woke up around 3 a.m. and wanted to eat again. He ate, and I was pumping while his daddy took him downstairs. He wasn't tired and he wanted to play so that is exactly what they did. He finally became sleepy around 4:30 a.m. and his father laid him on his back safely in his Pack 'n Play to sleep. I will never forget the sound from my other half at 5:15 a.m. when we found our beautiful little boy unresponsive. I immediately reacted and began CPR while he called 911. He still had a pulse and I was determined to do what I had to. I remember begging God to take me and not my baby. The rest is a blur.
The entire ambulance ride and time in the hospital I just sat there praying, watching them work on my 4-month-old beautiful, tiny son. My family got to the hospital shortly after we did. I will never forget those words that he was gone as I fell to the floor. My legs just gave out and I screamed and cried. 'Not my baby! Not my beautiful baby!' We were such good parents, how could this happen to us?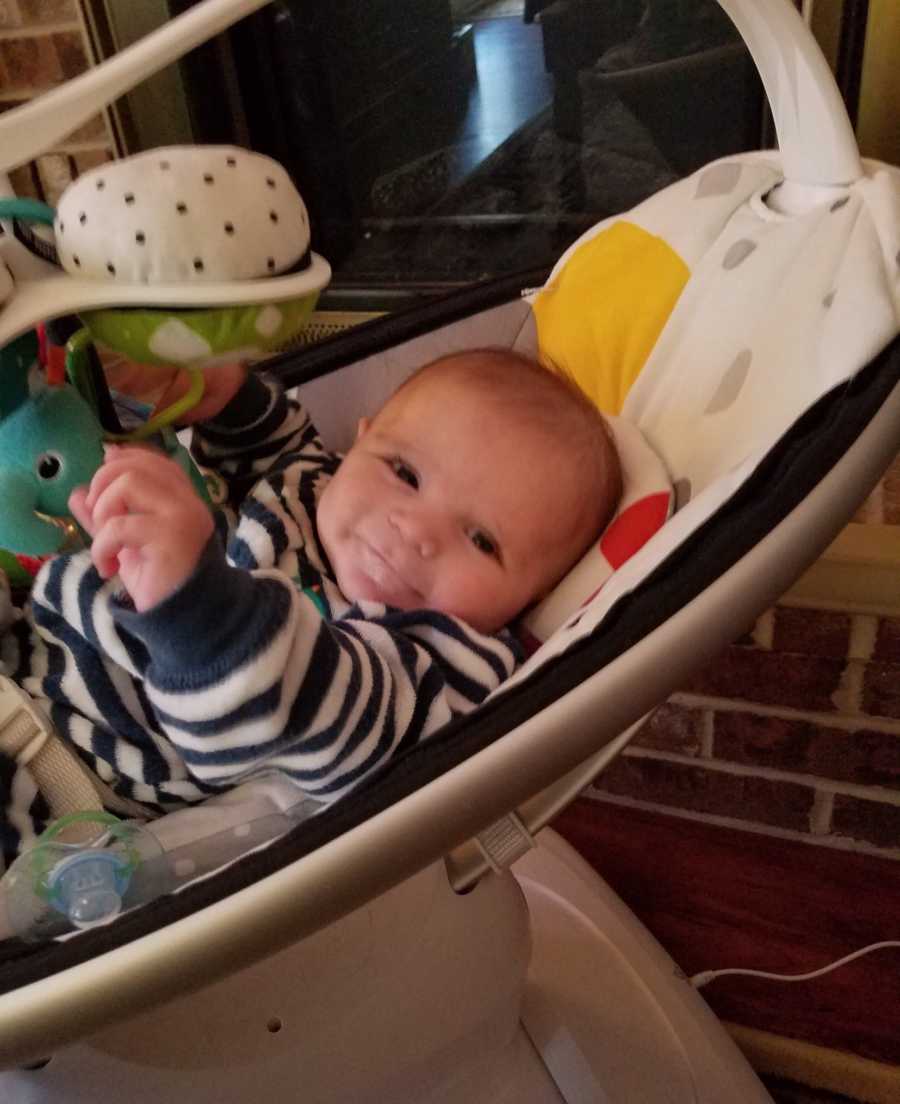 We finally left the hospital and I dreaded coming home. Having to tell my other son was the hardest conversation I have ever had. We had a ton of support from friends and family through his services and days to come. Many days it was a success to get out of bed and shower. I literally felt like I couldn't breathe, and life was suffocating me by losing a part of my heart so unexpectedly. I still feel this way most days. We found out we lost him to SIDS (Sudden infant death syndrome).
It still doesn't register that a perfectly healthy, loved and happy baby would just pass away. There was nothing they could find wrong. We did everything right and then some. This had to be the worst nightmare ever.
I am still so fresh in my journey that every day is truly a struggle. Many times out of nowhere I will just begin to bawl. Some days are worse than others, but I know that I will never be the same person. The person I was died the day my son did. I need to learn to live life all over again without such a crucial piece.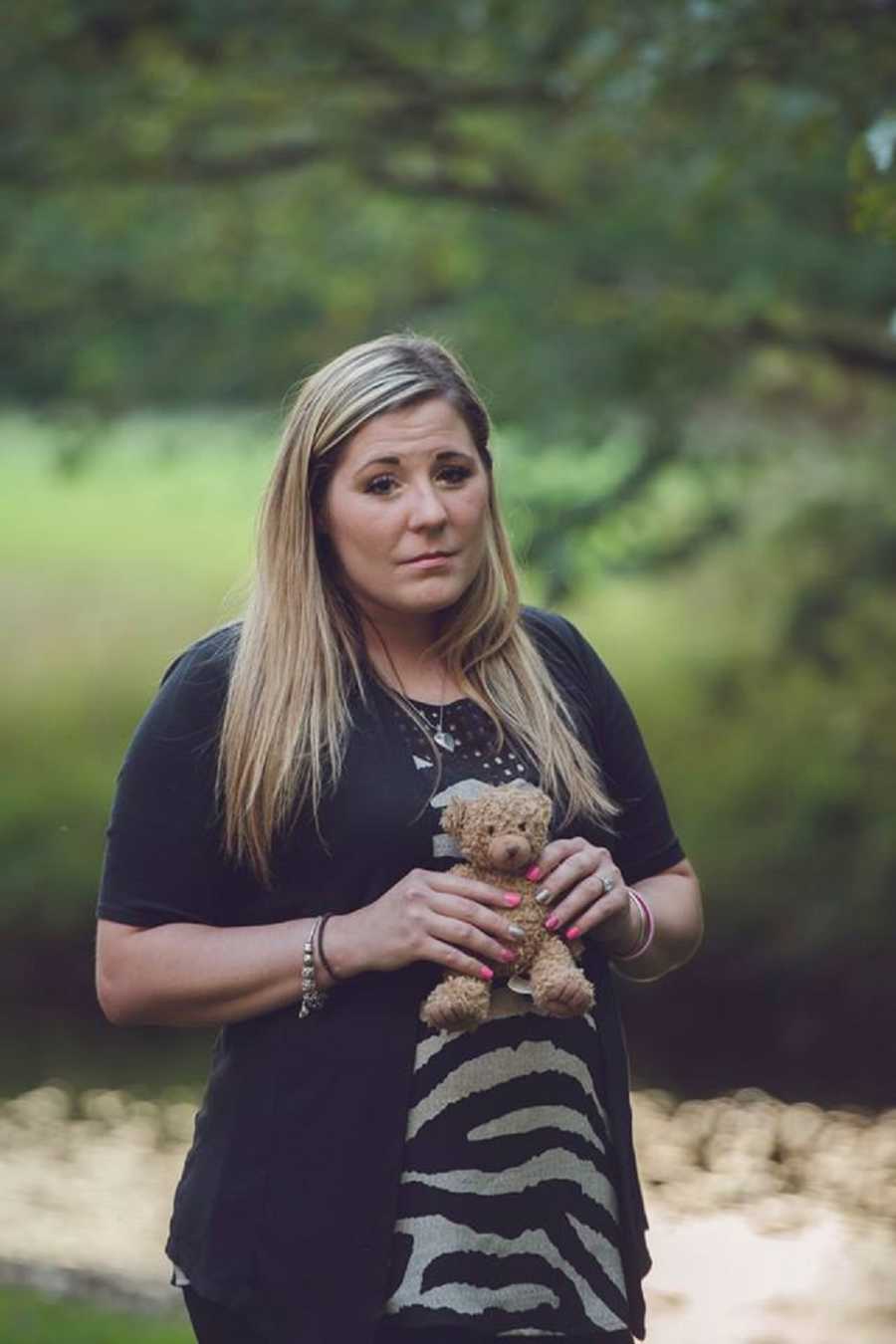 Before losing him, I had no idea things like this happened as often as they do because it is such a taboo subject to speak about. The truth is, I want my son remembered. I want to bring exposure to SIDS and how real it is. I never thought this would happen to me but it can happen to anyone, and it is incredibly life altering in many ways. When you go through a tragedy like this your life becomes split into two. Before Cayson, and after Cayson. I reference everything to before and after his death.
There is not a day that goes by that I don't cry. Sometimes more than others. I will never get over this, but I pray with time I learn to cope with it. We miss his smile and wonder what he would look like or what milestone he would be hitting. Milestones are hard. We have tried to hold onto each other and our memories to keep us going with lots of prayer. We have had people avoid us, we have lost friends because we are like the elephant in the room. If you know someone that has lost their child, just be there. Let them know you care and don't worry you will say the wrong thing. They need love and support to get through the hardest thing they will ever go through in life. Also look for signs from your lost loved ones. Cayson leaves us coins, all on the heads-up side, in the craziest places and they really help. We also focus on white feathers, rainbows and butterflies with our older child so he still feels connected to his brother. He feels so comforted when his brother sends a sign. It comforts all of us and helps give us hope. The funeral director gave Cayson a teddy bear he had from the moment he picked him up. I take the bear everywhere and we use the bear to signify Cayson's presence in all our pictures.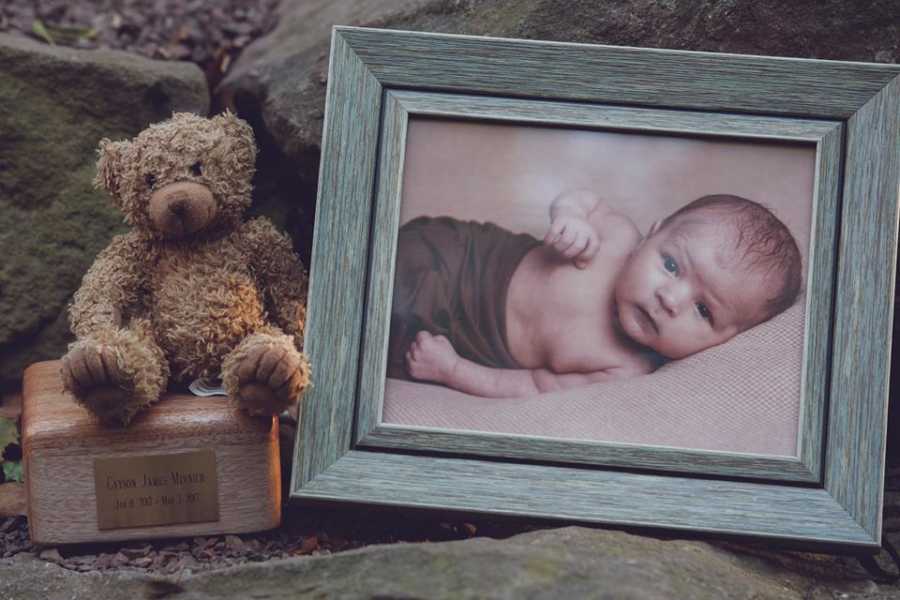 We miss him beyond words. We love him so much. He is in every thought, every moment of the day and he will never be forgotten.
Our angel baby boy sent us a Christmas surprise this year and we could not be more grateful for the gift.
The announcement of a pregnancy after a loss comes with a mix of emotions. We are trying to find a balance of the absolute excitement we have welcoming another precious baby, the grief we will forever carry in our hearts over the loss of our dear son, and the guarded anticipation – but yet – pure happiness we feel that God has answered our prayers again and is helping to grow our hearts even bigger. We will always feel that void in our hearts from our dear son Cayson. He could not and would not ever be replaced or forgotten, but we are truly grateful for this baby and are over the moon over her sweet arrival.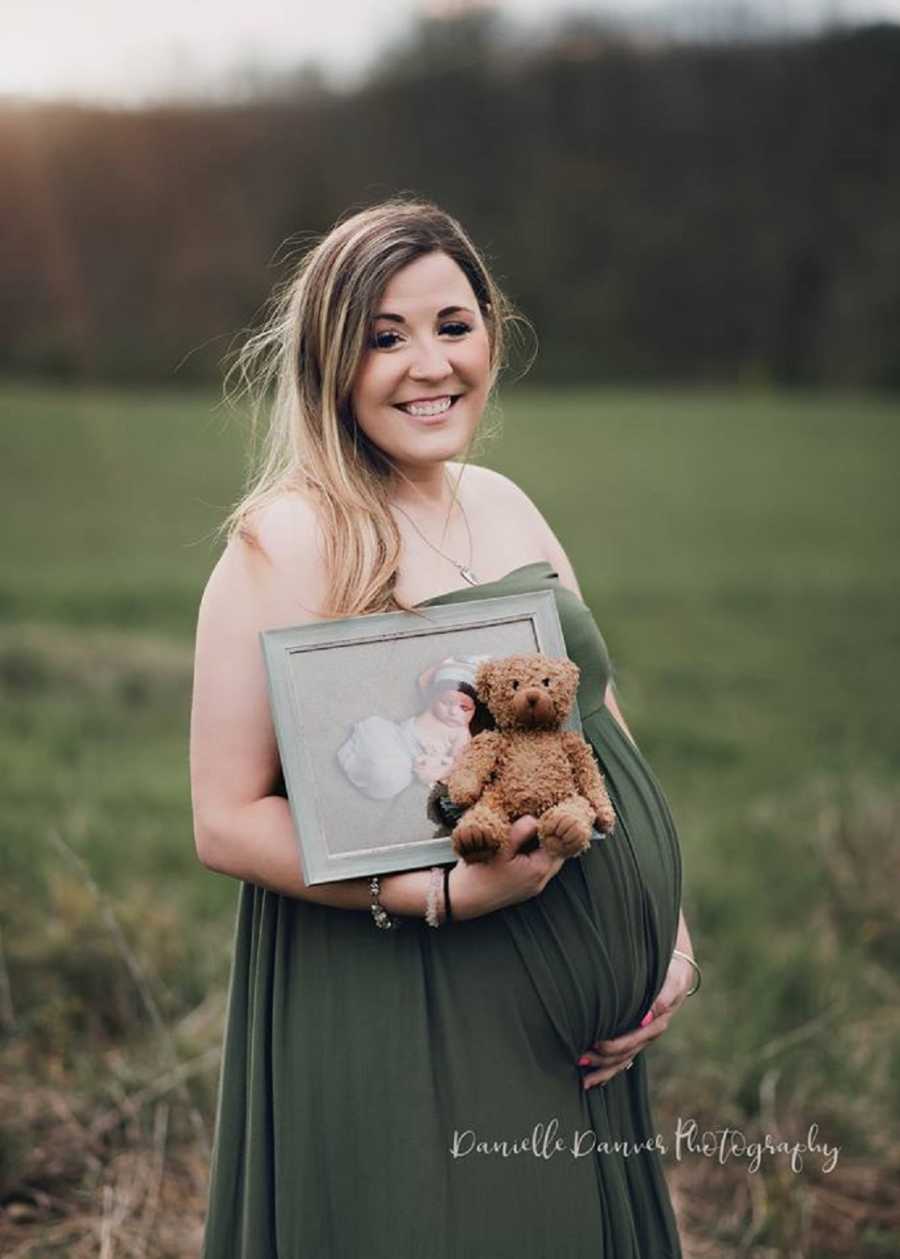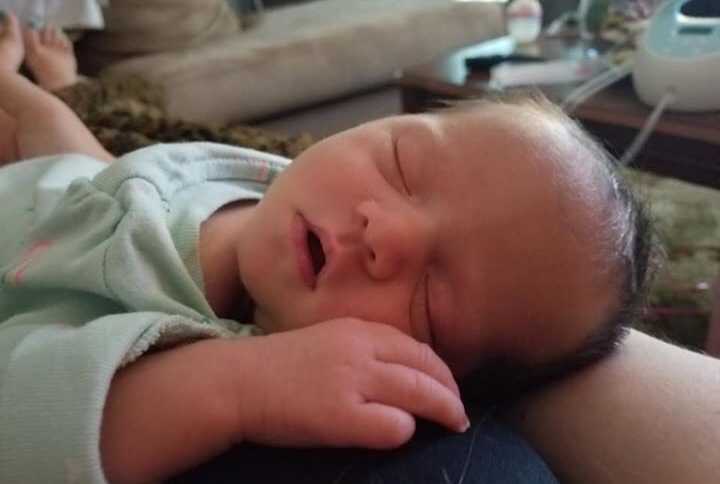 Losing a baby is the worst pain a mother, and ANY person for that matter, can feel. The pain doesn't go away. It doesn't get easier. It always eats away at you every second of every day. It just gets a little less raw to deal with day to day."
This story was submitted to Love What Matters by Lakin Harmon of Sinking Spring, Pennsylvania. Have you had a similar experience? If you'd like to share your journey, submit your story here, and subscribe to our best stories in our free newsletter here.
Read more stories like this:
'I went into my son's room to wake him. I could sense something wasn't right. I remember the pallor of his face as I turned him over. Grey. Porcelain.'
'The day my baby died, I won tickets to build her a bear. 'Can I still use them even though she passed?' Their response? 'No. The guest must be present.' My heart shattered in a million pieces.'
Do you know someone who could benefit from this story? Please SHARE on Facebook to make them aware a community of support is available.