"I was 9 months old in 1991 when my biological mother, Rachel, settled on the decision to place me for adoption. The road that lead her to this place, to this decision, was one paved in more heartbreak and despair than I could ever put into words, but I will try my best to paint the picture so you have an idea of where her heart was and what adoption looked like for me. A traumatic childhood for her, lead to an unhealthy relationship at only 17. This turned into a marriage and the birth of my oldest sister by the time she was 20. Physical and mental abuse, alcohol and unfaithfulness eventually lead to a temporary separation from her husband, when my sister was around 2 years old. It was during this time that Rachel met my biological father Joey through mutual friends. Not long after that night, he left town without so much as a goodbye. She wasn't surprised when the pregnancy test showed positive and although she saw him a time or two before he left, she never told him she was pregnant with me. While I inherited his big blue eyes and wavy hair, to this day, he has absolutely no idea that I exist.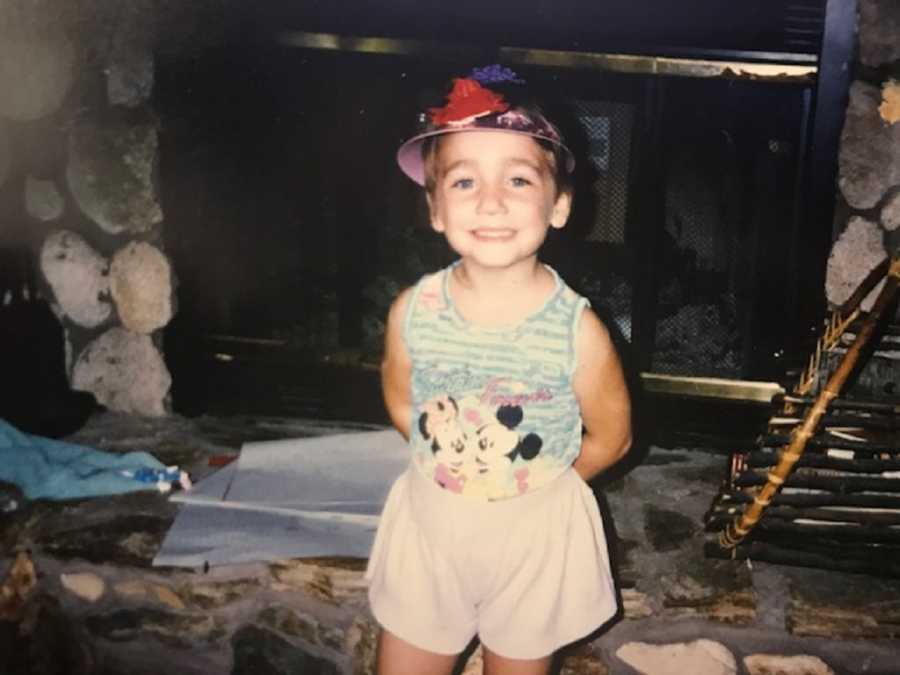 My biological mom reconciled with my sisters' father soon after and both agreed he would raise me as his own. They decided together to let everyone form their own conclusions as to who my biological father actually was. When I was born on November 12th, 1990, I was given the name Mira Miller to match my family. Everything was fine for the first month or so, until life went to hell in a hand basket again for Rachel. The abuse picked up where it left off and it wasn't long after, he left my mother for another woman. With only her two children and nothing else to her name, Rachel went to the only place that ever accepted her with open arms, her Aunt's. Together they worked to take care of us, even though adding three more people made the house extra cozy – my aunt always made room for anyone who needed it. Rachel worked at a restaurant during the day and went to school at night to become a nursing assistant. She was convinced that if she could make it through school, she could get a better job at the local hospital and provide for the three of us – only it wasn't that simple. Over time, caring for two babies, working sometimes 2 or 3 jobs at a time and going to school at night was leaving her with just enough time in the day to give my sister and I a bath before bed and then she would have to leave again. Depressed, exhausted and still financially struggling with the guilt and weight of all her expectations for herself began to weigh on her shoulders.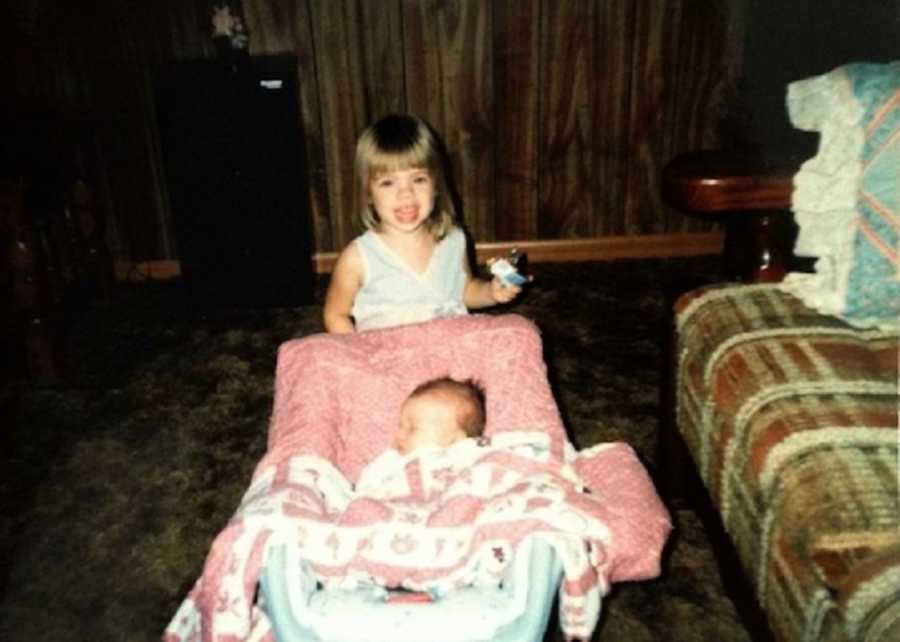 When the initial thought of adoption first came up, Rachel was not interested. 'You were a part of me. I couldn't imagine giving you away, not being in your life, getting to watch you grow up and see you accomplish all the things you wanted to… but I knew deep down, I would also never be able to give you those opportunities – not with the way things were,' she told me this week. After a few months of consideration and an amount of courage I will never be able to wrap my mind around, Rachel reached out to another one of her aunts who lived in Florida, Verda. She knew her aunt wanted nothing more than to be a mother but was unable to have any children of her own. 'It has to be before she can talk if we're going to do this – If she says mama, I just won't be able to go through with it,' she told my (now) adoptive mom, who at the time was my great aunt. It took several months of trust building, finalizing agreements and lots of prayers, but in August of 1991, my mom drove the 11 hours to Port Arthur, Texas, from Florida, and brought me home. I'll never be able to thank her enough for saying 'yes.' I'll never be able to thank her and my dad enough for opening their hearts and home to a child they had never met and for giving me a life I never would have had otherwise.
When I was 18 months old, my intrafamily adoption was finalized, and my last name was legally changed. My biological mother eventually remarried after my adoption – a close friend actually, who supported her decision in placing me. Together they had my little sister when I was almost 4.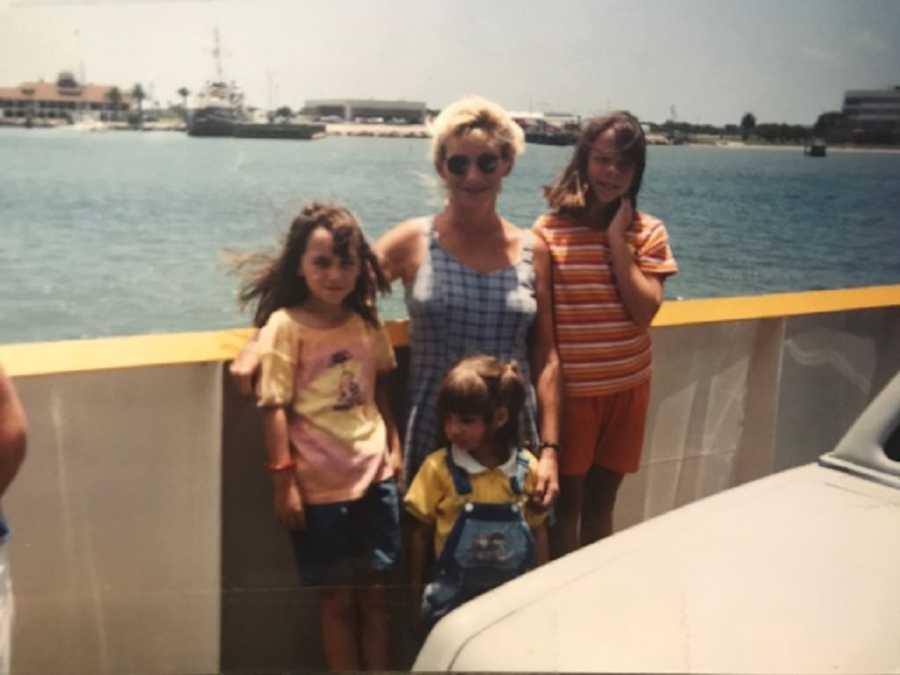 I on the other hand, grew up on the outskirts of Jacksonville, Florida. I was raised by two fantastic people, on a tiny farm who put everything they had into raising me. They are all I know as far as parents go, and I was the only child they had together. My mom stayed home with me until I was old enough to go to school and my dad was a merchant seaman, until he retired and later opened a construction company. While my life definitely wasn't picture perfect by any means, it was pretty normal. We took trips, we had special traditions and my dad's family accepted me with open arms. I grew up with cousins who were also adopted, so I was never the odd duck. My parents never hid the fact I was adopted. There were no lies or glorified stories. They were honest about my story from the very beginning and gave me age appropriate answers to questions when I had them.
Every summer, my mom would take me to Texas so I would have the opportunity to spend time and make memories with my sisters. It was never awkward or strange because we were family, regardless of the adoption. It wasn't until I was around 8 that I remember being able to really understand why I had sisters who lived so far away. It was around this time on one of our trips, my biological mother Rachel sat me down herself and answered a lot of the questions I had. It is a conversation I have never forgotten. I think my only big question really, was how she decided to place me for adoption and not my sister Desi, or us both for that matter. It's also a question I get asked the most when people find out I have siblings. Her answer was honest and straight from her heart – 'You were still so little. You were still so new and so untouched by any wrong in this world. Your sister had a father (while maybe not much of one) but I felt you deserved as much. You deserved a chance.' I can honestly say, I have never once felt any resentment, anger or bitterness towards Rachel for her decision to place me with my parents. I've never felt broken, given up or jaded in anyway. I am so thankful every day for the parents she chose for me and I am so thankful for the unique relationship I still have with her and her husband today. I truly experienced the best of both worlds.
It wasn't until I married my husband, Josh and we were expecting our first baby that I really remember feeling the urge to know more about my biological father. It was a strange feeling because I never felt any kind of void by not knowing him. My adoptive dad was pretty amazing, and I was genuinely ok not knowing things for myself, but I didn't want to pass that mystery on to my little girl. I wanted her to know exactly who she was and where she came from. I read somewhere that it's pretty common for big events in an adoptee's life (like the birth of a child) to trigger the need for clarity. I needed clarity for her. I'm thankful that because it was an open, honest, intrafamily adoption with no secrets that all I had to do was pick up the phone and call Rachel. Of course there are things she still couldn't answer, but it was so much better than what so many adoptees out there have to go on.
My relationship with Rachel today isn't really one I can compare anything to. We talk frequently, and we see each other at least once a year. Our little girls call her 'Yaya.' Over the past year or so though, my relationship with Rachel grew tremendously. Josh and I planned on growing our family through adoption and I wanted her to be the first to know. I wanted her to know how much I admired her and how much her decision meant to me. I wanted her to know that it gave me the courage to pursue adoption for our own family, in hopes we could also give another child what she gave to me – a chance.
It August 2017 my biological cousin, who had just given birth to a little girl, approached Rachel and asked how she knew adoption was the right choice for her so many years ago. 'How did you know? How did you know giving Mira to Aunt Verda was the right thing to do?' Rachel could relate to her more than anyone in that moment and it was because of her past that she was able to extend such grace to her niece who found herself in a similar situation. It wasn't too long after that conversation that I received the phone call. It was a Sunday afternoon. The voice on the other end was my cousin in Texas asking if we would consider adopting her 2-month-old little girl. Our sweet Lillie.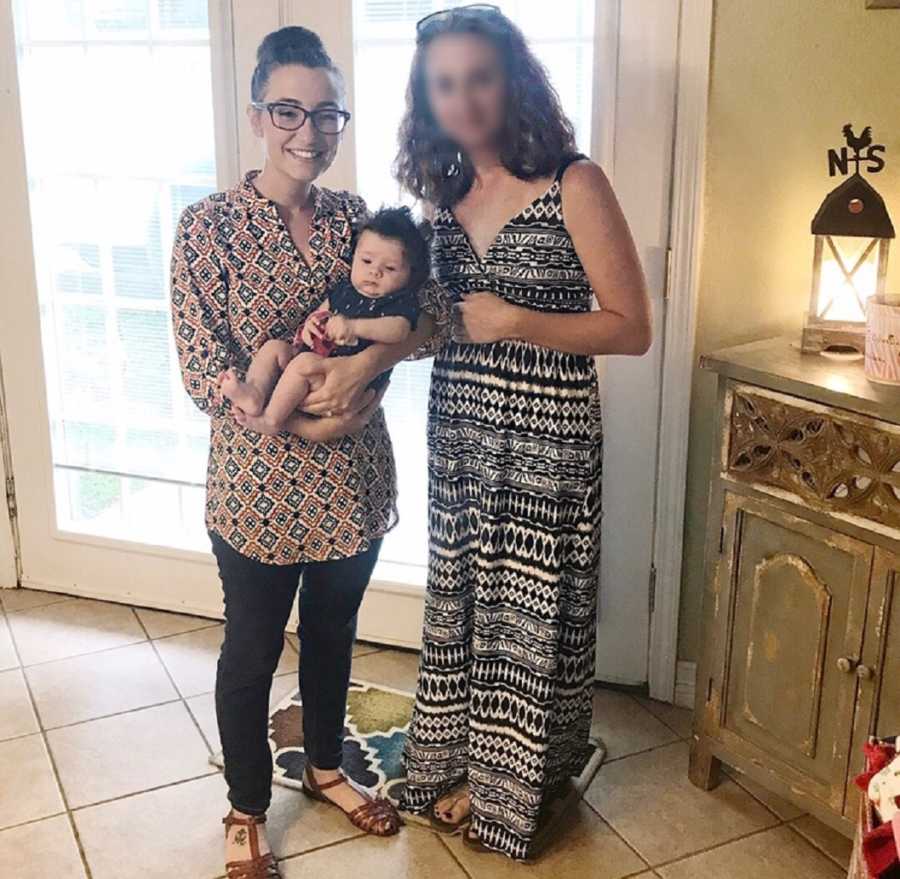 I left for Texas that very same night with my mom and oldest daughter, who was 2 at the time. I was a ball of nerves the entire trip, trying to wrap my mind around everything that had just unfolded in front of me, texting Rachel every 30 minutes. For my mom the trip was very emotional and brought back many memories of her trip to meet me 27 years ago.  For the second time in her life, my mom would be making that 11-hour drive to Port Arthur, Texas, to pick up another brown haired, blue eyed baby girl – only this time, a granddaughter.
I never would have imagined the child we were meant to adopt would have a story so shockingly similar to my own. I never imagined it would be my very own cousin. I never imagined it would be my biological mother who would play such a pivotal role in all of it. When I spoke with Rachel this week and told her I was writing my story she told me that helping me with our adoption provided a great healing for her. A healing she never realized she needed in these 28 years.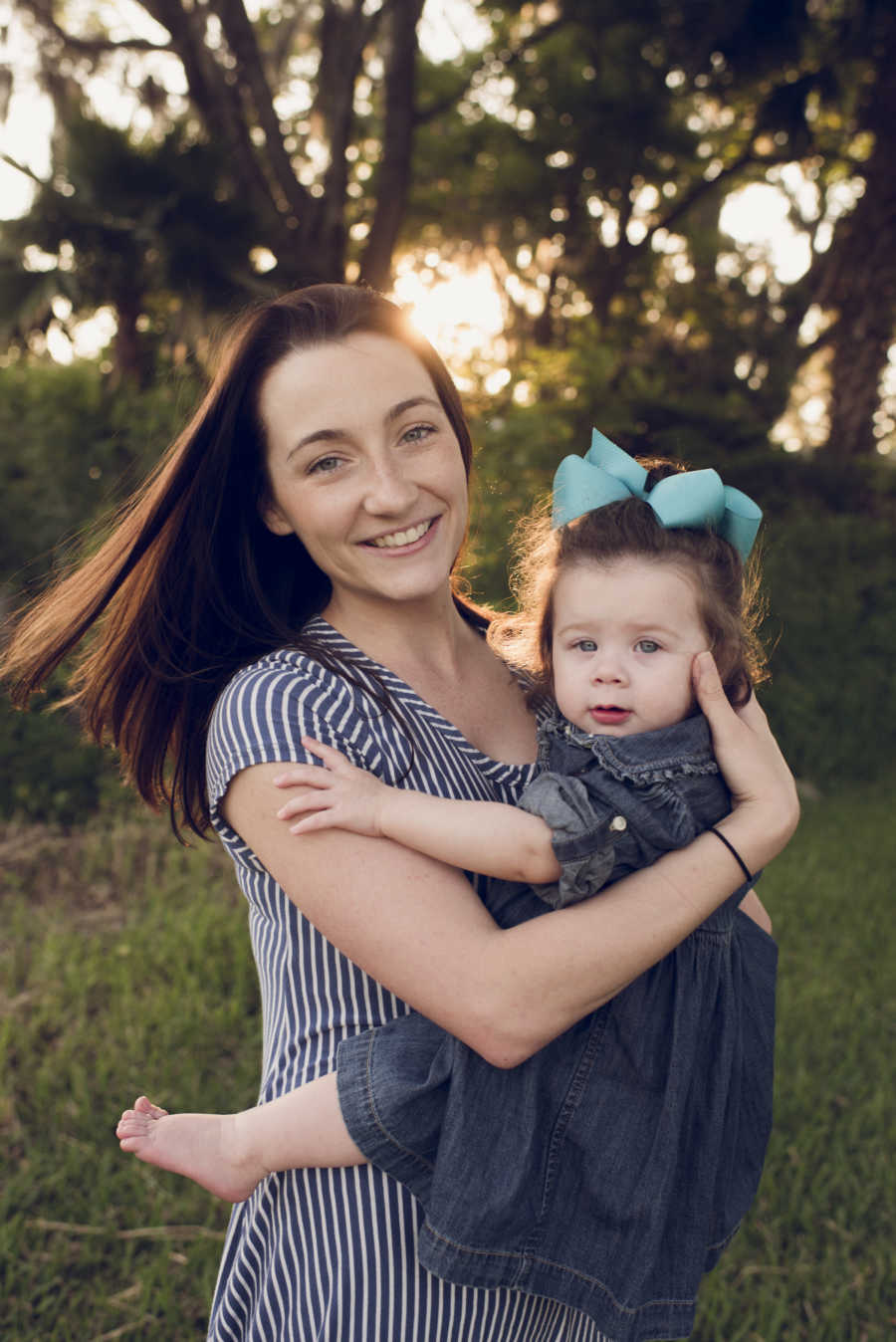 Decisions like this effect so many within a family; parents, siblings, grandparents, great grandparents, aunts and uncles. This was no exception. Emotions were high. Emotions are still high on occasion. While we were saying YES and ecstatic to becoming parents for the 2nd time, another part of our family was grieving the loss of a little girl. That's the hard part of adoption, even when the adoption is intrafamily. The hurt is the same. The messy is the same. We chose to have an open adoption for Lillie as well, because we want our girl to have as much family as we can possibly give her. After 28 years of hearing just about every question imaginable, I've realized this type of adoption isn't talked about very much and many find our family dynamic to be a bit strange. I can understand that, but I can also understand that prior to this coined term 'intrafamily adoption,' this was just called family. It's what families should do – they should take care of one another. I often joke that our family tree is more of a family bush, that probably looks badly in need of pruning – but I am grateful for every single person in it. This is what adoption looks like for me. Adoption, when done honestly and without secrets or glorification, has the ability to give the adoptee roots and wings. I want my daughter to know her roots and use her wings.
I am a firm believer that God can use your broken past and mold it in a way that brings glory back to his name in the end. I'm a firm believer that adoptions of every kind bring glory to his name."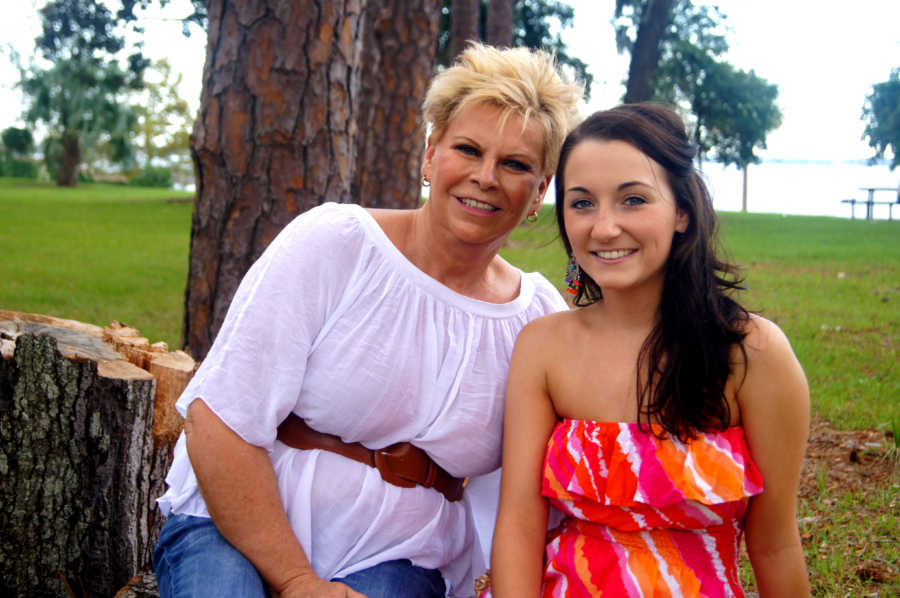 This is an exclusive story to Love What Matters. For permission to use, email Exclusive@LoveWhatMatters.com.
This story was submitted to Love What Matters by Mira Capps-Hansen of Jacksonville, Florida. You can follow their adoption journey on Instagram. Do you have a similar experience? We'd like to hear your important journey. Submit your own story here. Be sure to subscribe to our free email newsletter for our best stories, and YouTube for our best videos.
Read more about Mira's adoption journey here:
'I have a 2-month-old little girl. I feel like you're supposed to be her mom.' Speechless. I could feel my eyes stinging and hot tears streaming down my face. 'Are you sure?'
Help us show compassion is contagious. SHARE this beautiful story on Facebook with your friends and family.