"At 14, most girls spend their days hanging with friends, stressing about tests, stalking boys and babysitting on the weekends. But for me, eighth grade brought on a much different set of challenges and the beginning of something much larger than middle school.
Mataya was born defying all odds. While her mother, my first cousin, was pregnant with her, it was feared that the baby had died in the womb. Months went by and her mom had yet to feel her move. Close to full term, her mother went to the doctor to schedule a procedure, which would force her to deliver early. After doctors tried and failed to find a heartbeat on multiple visits, doctors believed that M was carrying a still born, but she did not want to believe Mataya had died. On Sunday before the procedure was to take place, she went to church to make a final plea with God. When prayer requests were brought to the alter, M went to the front of the church for prayer and support. As the pastor made his passes, she prayed and cried begging God, 'Please don't take my baby.' Once she felt the hands of the pastor upon her, she heard him ask for her prayer request. She then told him that doctors claimed her baby was deceased and would be inducing her the following week. But M couldn't bear the thought of losing her child. It was then that the pastor laid his hands on her stomach and with unwavering confidence said, 'CHILD OF GOD, KICK!' In that moment, her mother felt Mataya move for the first time.
Shortly after that Sunday, Mataya was born, healthy and beautiful. However for her mother, the birth of her second child brought on more than just joy – she found herself falling into a deep depression. When Mataya entered the world, her father began to drift out of the picture, turning her mother into a single parent. Despite the love that she had for her daughter, the abandonment along with the new birth, in addition to already having a 1-year-old would be stressful for anyone, but even more so when you're only 16.
When Mataya was two weeks old, my mom asked if I wanted to go and meet my new cousin. Being a 14-year-old who loved playing with dolls, I wanted nothing more than to go hold a real baby. I remember walking into the house and being told she was in living room. The doors were kept closed to keep the noise and light out, and upon opening them, I saw a little bundle on the couch with a bottle propped up on a pillow. She was so small in my hands when I lifted her up and into my chest. I looked down at her as her eyes widened and her hand tugged at my shirt. She seemed to yearn for touch and comfort, and being that I loved babies, I had no problem giving her all the hugs she wanted. It was during our first visit that my mother learned M was suffering from postpartum depression. She couldn't handle looking into Mataya's eyes or holding her close. We also learned that the father left because Mataya was not born a boy. My mom granted M comfort and support and offered for us to take Mataya for the weekend to give her a break…she had just had a baby and she could use the rest.
The weekend flew by quickly and before I knew it, it was Sunday. My mom began trying to get ahold of M to check in on her and set a time to bring Mataya home. After a few tries, we reached out to Mataya's grandmother who told us that M was not home and she didn't know where she was or how to get in touch with her. We decided we would keep her until we could get in touch with her. She was young, and we were sure she would be in touch soon. We were lucky enough to be able to hire the older sister of a friend of mine to babysit Mataya for the next few days since my mom needed to return to work, and I had 8th grade to worry about.
A few weeks went by when M reached out to us to bring Mataya to her. M seemed in much better spirits and we were both happy for her and relieved that Taya would be able to be reunited with her mom and sister. The following day however, M called and told us to come get 'our' child. We knew when we dropped her off that her older sister was dealing with a severe sinus infection, and so we figured that having an infant on top of dealing with a sick child was a little overwhelming and we were more than willing to go pick up Mataya for a few more days while her mom helped her older sister recover. I remember when we picked up Mataya, and she was placed in my mom's arms, the stern/angry look she gave her. It was almost like she was scolding us for dropping her off back at her mother's, but she returned to her normal happy self once she was in her car seat. I could almost swear that car seat was magic, it always found a way to calm her and bring her back to her happy center.
Having Mataya back home just felt right. I remember going to Walmart to pick up an outfit for her with my allowance, and how happy it made me see her in it. She brought so much joy into our home. I always thought that coming home to my dog was the greatest feeling in the world, seeing them wag their tail and see how happy they were at the mere sight of me…but that was nothing compared to the sight of a child's smile. Seeing her explore the world became my favorite hobby, she was my living doll. My small body, big peanut head…beautiful living doll.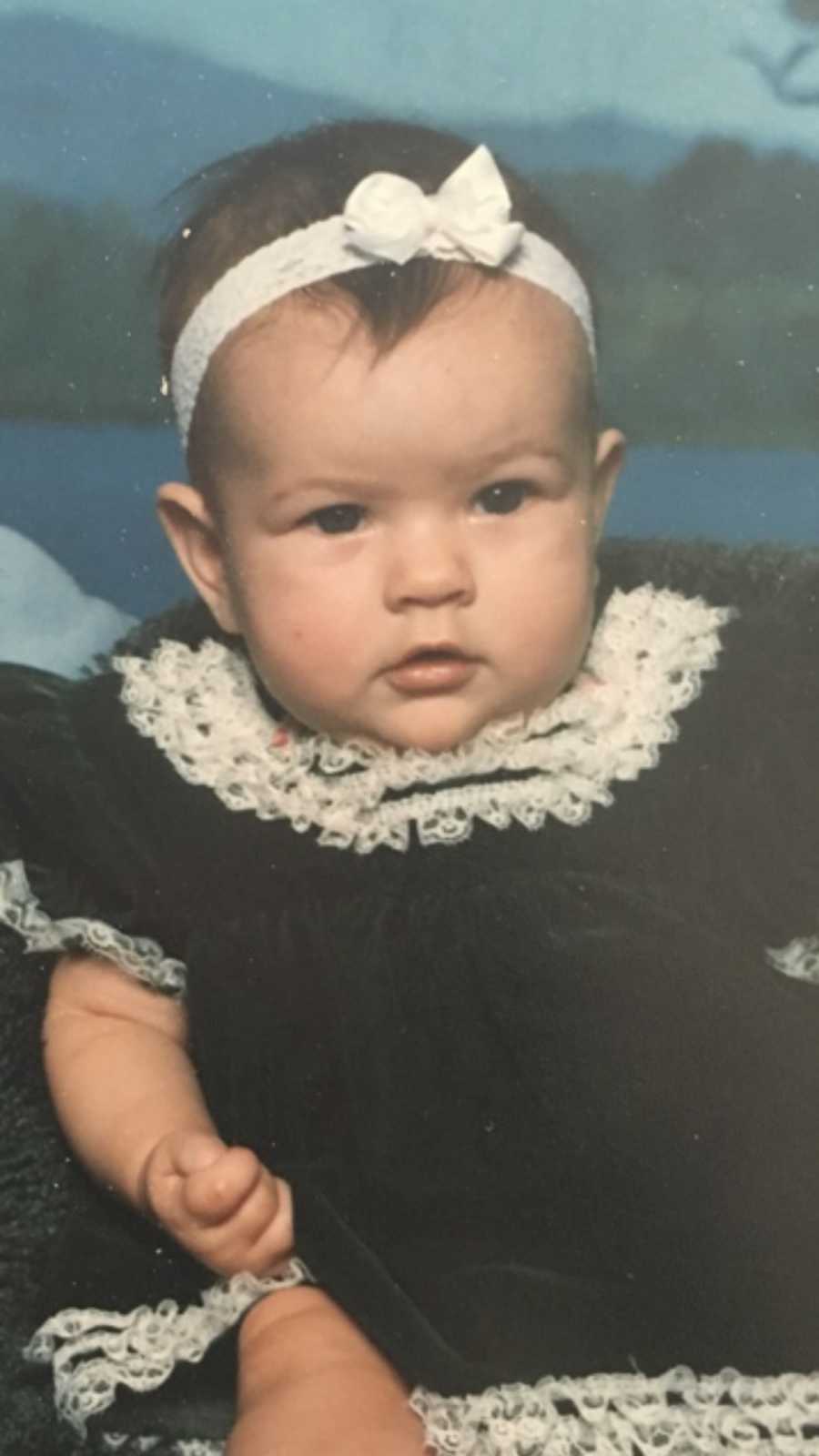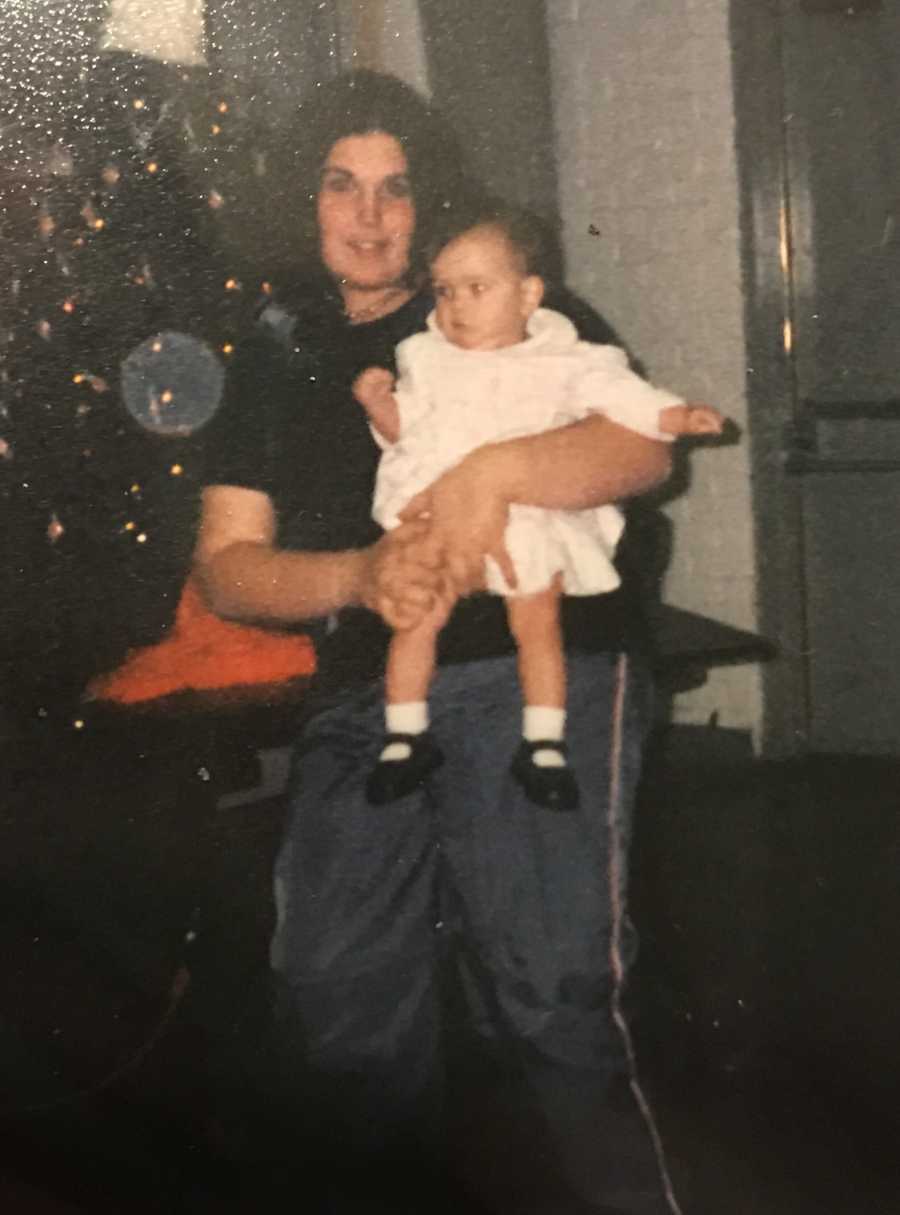 Weeks into having her home, our phone rang. M called and told us that Mataya's father would be stopping by to pick her up. At first my mom was hesitant, we hadn't heard anything about her father since Mataya was born. Why did he want to see her now? But M said she trusted him and to let her go. When he came to get her, we allowed him to take her. The following day M called and said that Mataya's father had dropped her off and that she was inconsolable. She kept flipping and flopping around, as if she was in excruciating pain and nothing M did calmed her. My mom said she should take her to the hospital to see what was wrong, and she left to pick them both up. Once my mom arrived she saw Mataya in so much pain, she scooped her up and set her down in the car seat. Once given a bottle of apple juice, Mataya began to calm down and eventually fell asleep. Once they got to the hospital however they learned that during Mataya's visit with her father, he had neglected to tell her mom she fell. He had accidently dropped her and when he was unable to calm her, he returned her home. M and my mom were told that Mataya suffered a broken collarbone from the fall, and would need to wear a sling vest to ensure that her collar bone healed correctly. My mom offered for Mataya to come home with her, but M wanted to take her home. My mom was happy that M was ready to take Mataya on full time and care for her. My mother always wanted to see M do well, and we knew Mataya needed her mom.
Prior to this, M had taken Mataya off and on, but this time was rough because I knew she would be going home for good. The thought scared me because I was so afraid I wouldn't be able to continue the bond I had with her. I knew I had to ask her mom for a permanent place in her life, I just didn't know what that meant. I had two godmothers growing up, but I wasn't really close to either of them. I wanted to take on that role with Mataya, but I wanted it to be different for her. I wanted her and I to be the closest, like sisters even. I didn't want to disappoint her, like I was made to feel. I vowed that if I was given this position, I wanted to be the best at it! So on the day we dropped off her belongings, I pulled M aside and I asked her if I could be Mataya's Godmother. She asked me if I was ready for that level of responsibility, and I knew I was. I loved her so much already and I was up for anything. She became my goddaughter.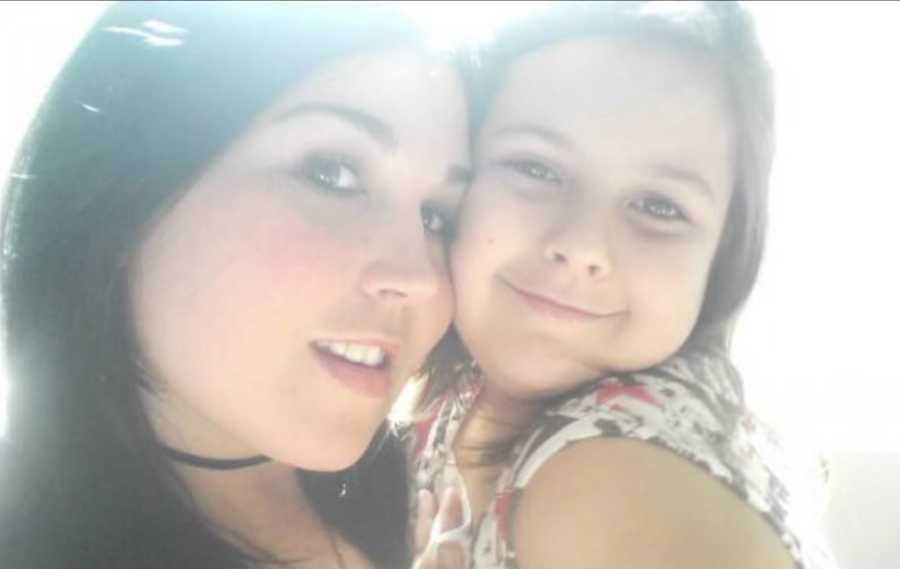 The following few years I played the role of Godmother and Co-parent. Mataya's father popped in and out of the picture during her early years, sometimes going months without hearing from him, so I filled in the gaps. Mataya was very specific anytime she was sick or not feeling well, she wanted her nanny and my mom, Daina. Especially the time that she hurt herself doing back flips off her mother's porch after seeing the neighborhood boys do it. Her mom called me while I was at work to let me know that she had attempted to take her to the hospital, but Mataya only wanted me to take her. I was lucky enough to get off work early and brought her into the local ER. This wasn't the first time that Mataya had broken her collar bone, so the hospital became concerned. We learned during the recent break, the initial one hadn't healed correctly which is probably why the current fracture happened. They escorted me out of the room to question Mataya along with a CPS representative. Outside I waited nervously. I had been questioned as if I had done something wrong. Relief rushed over me once they allowed me back into the room and I was reunited with Mataya before she was sent off for X-rays.
'Why was I escorted out?,' I asked the doctor.
He had told me it was protocol but at 18 nothing about the separation felt secure or safe for her and I was just relieved it was over. The rest of the visit I kept my eyes on her and everyone else around. The whole mood of the experience had changed, I just wanted her home. She was placed into a new sling/brace and we were told that she would need to take the next week off school because she was so young and they couldn't risk her becoming too active and shift the bone. After talking to M about the hospital visit, she said that we could take her for the week, which I didn't mind at all. When she was home, everything just seemed right.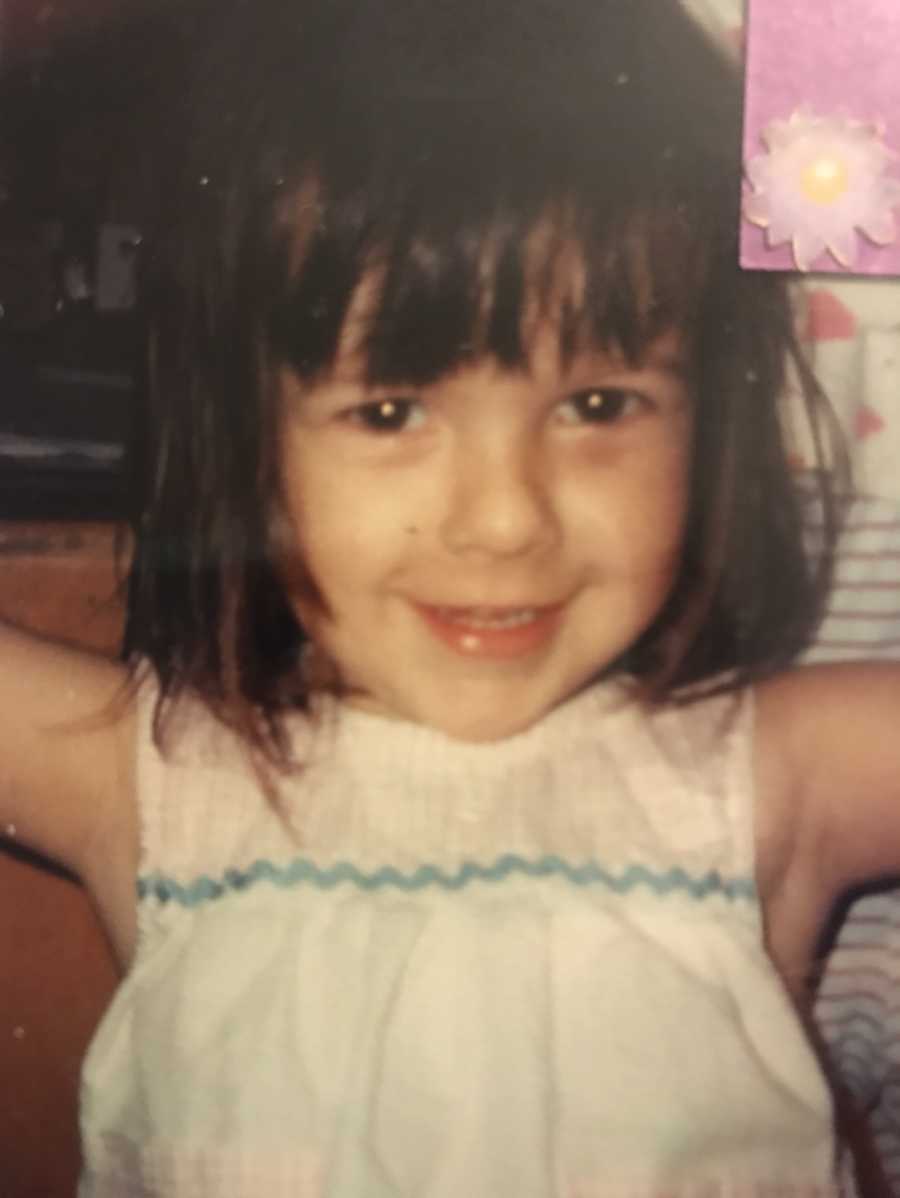 Later that year I turned 19 and graduated high school, things began to get difficult to juggle and I began to see Mataya more on the weekends and less than I would've liked. Taking college on my plate, a full-time job and the little social life I could squeeze in kept me up late, rising early and as much as I wanted to take a moment for Taya, I barely could take a moment for myself. Growing up my ADHD was strong and as much as I studied and was able to keep it under control in high school, my test-taking anxiety and my ADHD quickly took control of my mind in college. Larger classrooms and being forced to basically teach myself was far too difficult and I ended up failing out of my first year of college, ultimately losing my financial aid. I failed in every subject except English and my dream of becoming a special education teacher seemed to be slipping away, just as quickly as my godmother responsibilities. I felt so guilty and I felt like an utter failure. I knew if I was going to be not only a great godmother but a successful person, I needed to have more to offer her than a job at the mall and little time. I reminisced on my time growing up in Texas, and what they had to offer for people like me that I never was able to find in Louisiana. I knew leaving meant leaving so many people I care about, including Mataya. And I vowed that if I had made the decision to go, that I would fight to keep a healthy balance between Texas and Louisiana, because the thought of not having Mataya and my future godson in my life was too hard to think about.
Once my mind was made up, I went to talk it over with my mom and I let her know that I was preparing to relocate to Austin and make my future a priority. Mataya's mom had recently moved to a new home in town that was much more stable. Plus, by this time, Mataya had two new siblings to love up on and help her mom with. Overall, everyone seemed to be content and there just didn't seem like there could've been a better time to work on my future.
Or at least I thought…
A month after we moved to Austin, I was laying in the bathtub after work when my phone rang. It was the police department back in Louisiana, calling about Mataya and needing me to go and pick her up. I explained to the officer that I was now living in Texas and asked about my options. He informed me that CPS was on their way to stay with the children while they awaited pickup by the closest of kin, but he was given my number by Mataya's mother. I thanked him for his time and let him know I would be in touch, and immediately called my mom who got in touch with family members in Louisiana who had also received the call. Due to the fact that I lived in Texas, Mataya was unable to come with me due to the restraint it would cause on duel process. With the three oldest siblings being taken into custody, they needed a relative in town who could attend any and all meetings or meet ups necessary. It broke my heart knowing that she couldn't come with me, but I was glad that she was taken in by a family member I trusted, and she was able to stay with her other siblings while her youngest sister went to stay with her godmother.
Two weeks after the kids were taken, I went down to Louisiana to see them. I picked up Mataya and I took her to the park to help get her mind away from everything going on. It was then that she told me.
'My mommy didn't show up to the meet-up. I miss her,' Mataya said.
It broke my heart seeing her sad and I hated having to tell her multiple times that she couldn't come home with me. As much as I wanted to, I knew the best place for her right now was with her Aunt. That evening she came to stay with me at my dad's house. She asked me to hold her and sing her a song. As I held her close, sang a favorite of hers and watched her drift off, all I wanted to do was take her away from all this pain and separation. I questioned everything I did, and I wanted to take it all back and come home. I knew I couldn't put my life on hold, but she was my world…there had to be another way.
By the end of the summer, Hurricane Katrina hit Louisiana bringing my older brother to Austin after losing his apartment in the flood. My mom also ended up taking guardianship of my younger teenage cousin J after he was removed from his family temporarily. To say things in our two-bedroom apartment started to become crowded was an understatement. As we searched for other living arrangements, we asked the CPS department in Louisiana if we could take Mataya for two weeks before school started. They had no issues with allowing us some time with the girls. It was great having Mataya's sister and her home with us. Being able to let them experience Austin, was enlightening. We did everything two little girls in the big city could ever dream of, and the vacation flew by way too soon.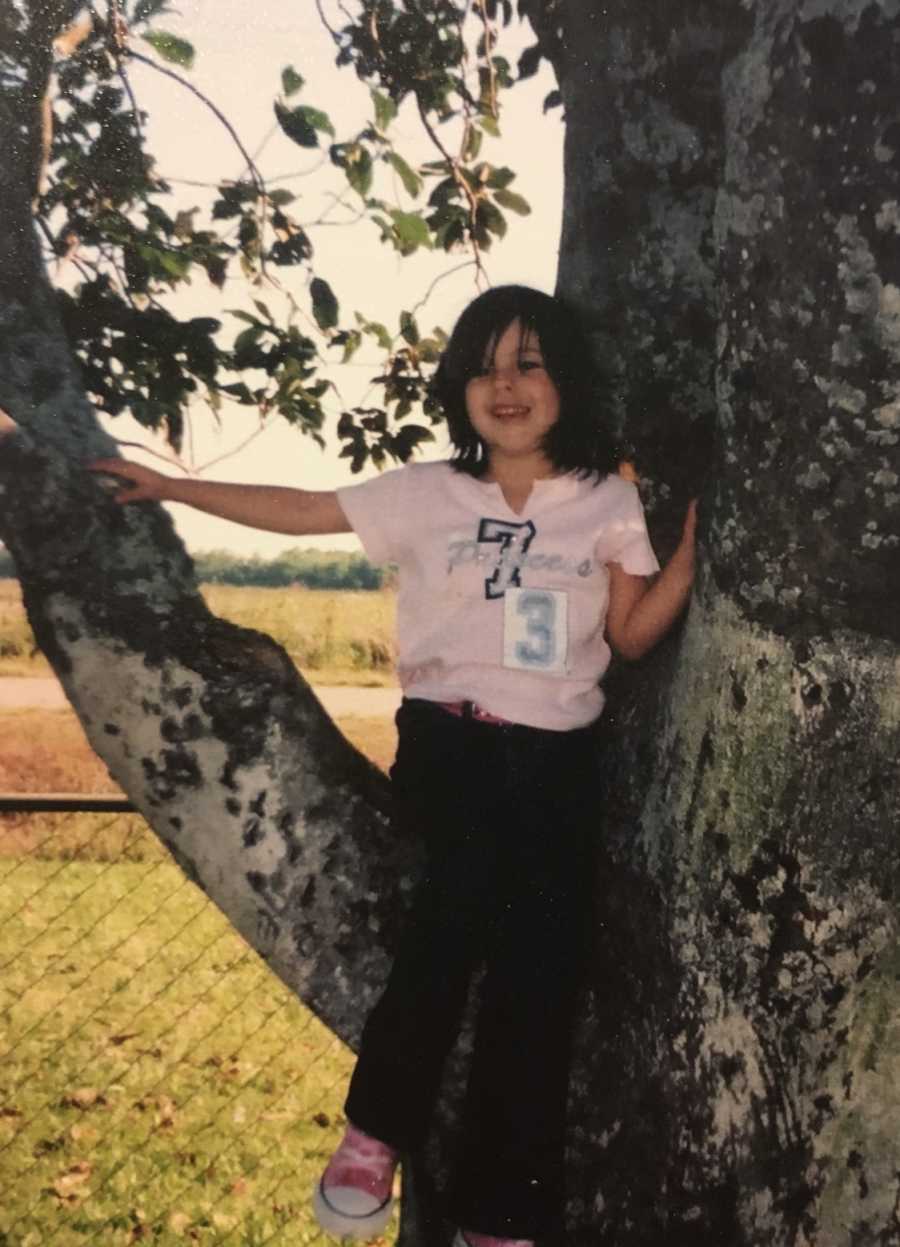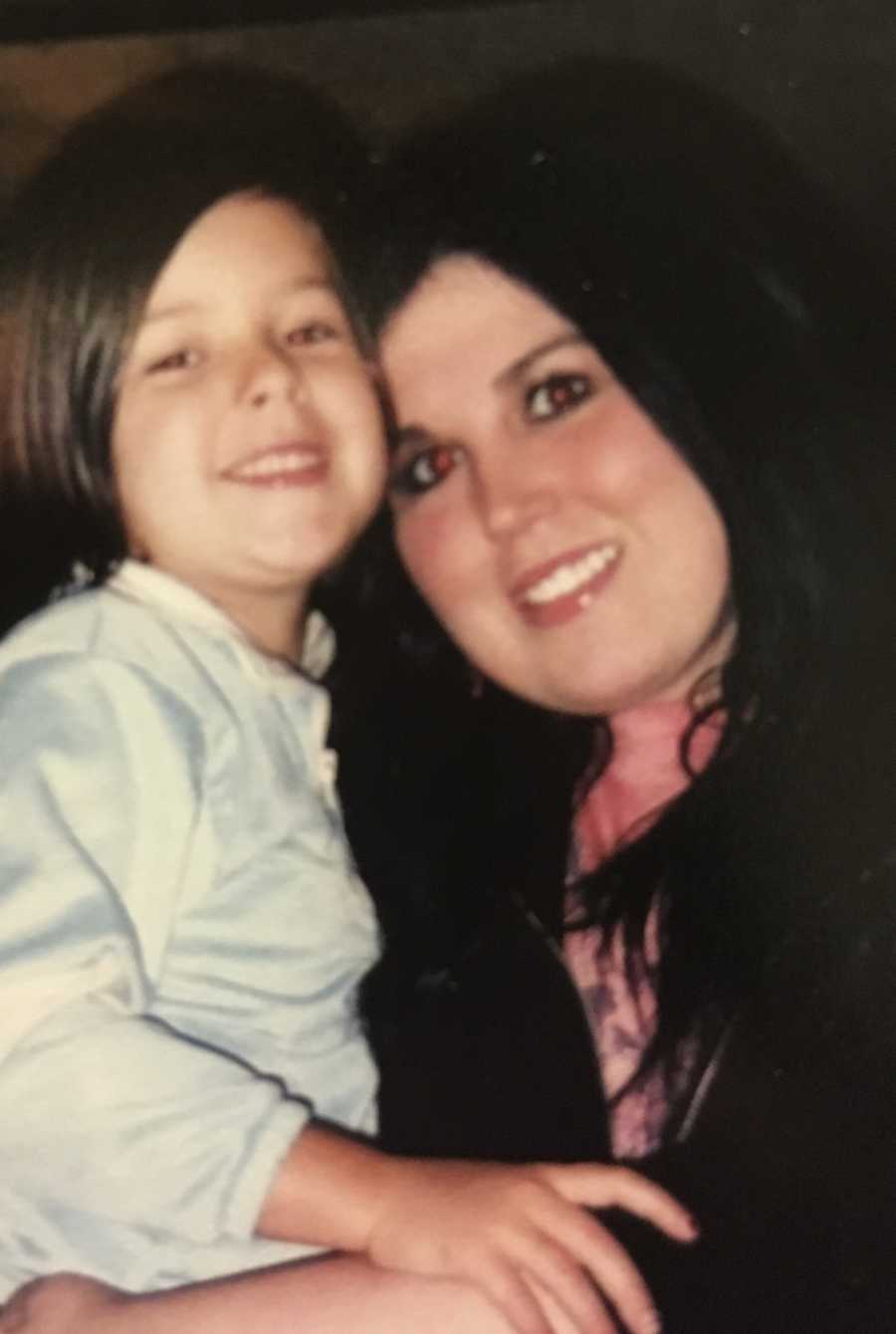 At the time, CPS was still exhausting every opportunity to return the kids to their mother, which was the goal. They had attempted to get in touch with the three oldest kids' father, to no avail and all calls went unanswered. We knew that things wouldn't be easy with this kind of situation, but we became more involved with what was going on in the case. Our ultimate goal was never to take Taya from her mother, but if her mom was unable to have her…there was no other home for her than with us. Weeks turned to months and it seemed as though the courts were looking for other options, after two failed attempts at returning the kids home. It was then that they reached out to my mom and I to set up a home study. We had recently purchased a new four-bedroom home on the outskirts of Austin.
I remember the day of the home visit, we were all nervous. We probably cleaned the house from top to bottom twice. My younger cousin was excited to be a big brother and I was just so happy at the thought of finally having Taya full time. It broke my heart however when I learned that I didn't make enough financially to care for Taya, under the child protective services guidelines. Being in college full time and working full time wasn't ideal and if we wanted Mataya, that meant my mom would have to take on Guardianship of her and I would have to find comfort in knowing that was enough. My mom made it clear to the agent that she was fine with these terms and she would take on soul responsibility until graduation, where then I would be able to have them re-evaluate their decision.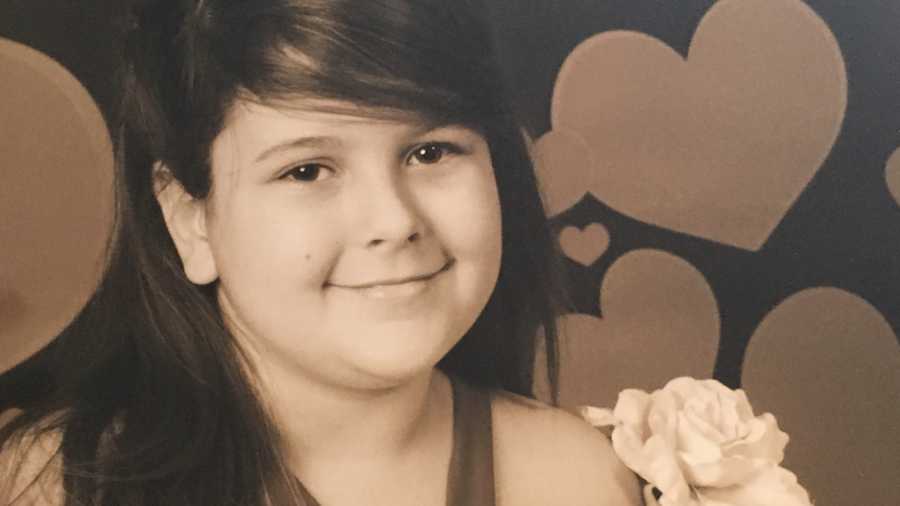 On November 22, Mataya finally came home. Due to recent events and for the safety of my cousin, we were forced to return him home to Louisiana. That did leave Mataya with a room to call her own, instead of having to temporarily share a room with me. But more importantly, this meant I was able to make her room special. I went to the store the days leading up to her move and I purchased a bed, a dresser and as much princess decor as I could fit into the basket. Her room screamed girl, and was covered in pink and purple! The day she walked in the door to her new room…she gasped! She was so excited to have her own room and absolutely loved the colors. It felt like a dream.
Shockingly, less than a month after Mataya was permanently placed with us and her mother's rights were taken away, her father decided to show up and claim his right to her. It made no sense to me, why he wanted Mataya and not any of his other children? Mataya was the child he spent the least amount of time with, yet she is the only one he was looking to reclaim. The agents at OCS assured us that he didn't have a strong case, but warned us that due to the fact that he was technically her father, he did have pull and it would solely be up to the judge. I cried harder than I ever remember crying before. I knew if she was taken by her dad, I would lose everything we worked so hard for. Mataya and our bond was so strong, and I was so afraid her father would take that from me. And even worse, it meant her being forced to move with someone she didn't even know anymore. My evenings were filled with nightmares of losing her and my days were a living reality that these dreams could come true. I couldn't find a silver lining for the first time in my life. I was at a loss…
The day of the court date came and my mom traveled to Louisiana so she could stand up for Mataya in court. All day, I shifted around unable to really think. I ended up leaving class early and going home, because I simply couldn't concentrate on anything other than the fears running around in my mind. I didn't want to break down and cry in a classroom full of strangers. I had drifted off on the sofa, when the phone rang. I answered the phone and my mom said, 'She's coming home!' I broke down crying and literally found myself jumping for joy. I asked how the court date went and she told me that the judge chose to keep Mataya in our home where she was thriving and finally stable, as her father was not in the position to give her either. She also told me that she spoke with Mataya's father outside of the court room and told him that if he really wanted to build a relationship with Taya that we would allow it, however it would be on our terms and with Mataya leading the way. We would allow him the opportunity, but we would not force her to speak with him. I remember literally dancing with happiness when we hung up, and that night I even slept in her room. I couldn't wait for them to come home the next day. The madness was over, finally over.
Quickly I learned that having a child full time was tougher than it looked. Not only did my life now fully revolve around her, but dating was nearly nonexistent. At 21, not many guys want a 6-year-old child, or really any child at all. It was a breath of fresh air when I met L. Things with him moved quickly and I introduced him to Mataya. She ended up falling head over hills for him and began to look to him as a child would a father. While we were together it was great to see her find comfort in someone that clearly showed care for her, however, a few months later when things ended…I learned a much more important lesson. When I broke down and told Taya about L and I breaking up, she was clearly emotionally bothered. She blamed me and showed it openly. Days went by and I hardly saw her or heard her voice, it was extremely rough. I hadn't realized how close she really was to him or thought that she would grieve the end of our relationship like she was. This changed the future for us, and how I dealt with having guys in my life. The rules for dating had to change. I wanted to protect her from ever feeling that way again. I vowed to do all I could to not let her get too close to anyone that I didn't see a future with. Because I knew after L, that breakups would no longer only affect me, and I would do anything to keep her from the pain of losing anyone else in her life.
M reached out to me one night, after she had been absent for some time. She said she wasn't calling to speak with Mataya, but with me. She wanted me to know that she was lost, and missed her children. She wanted me to know that she tried her hardest, and to please never tell Mataya otherwise, because her biggest regret was losing her and her siblings. She was young and dumb and life just caught up with her quicker than she was prepared for. And she hoped that no matter what her children thought of her, she prayed they never would think she just let them go or didn't care for them. I remember feeling bad for her and promising that I wouldn't speak badly of her. My intentions in wanting to adopt her were never to make M suffer or make her feel like a bad parent. I just wanted her to have more, and if her mother couldn't be the one to raise her…I wanted it to be me. That night I felt on a different playing field. It was never me against M, we both wanted the same thing. We both wanted the best thing for Mataya.
A year after Tay moved in with us, she gave me an ultimatum.
'I can call you mom or nanny. It's your choice,' she told me.
Although I very well thought of Mataya as my daughter, I wanted that decision to be one she made. She already had a mom and I was fine being nanny, but if she wanted to call me mom, I told her I would answer to it. The year had brought many challenges for us. Mataya had rapidly gained weight and when we spoke to a doctor about it, we were told it was due to her stress levels changing and her finding 'peace.' It was a sign of comfort and we were assured her next growth spirt would more than likely take the weight away, but if we wanted her to see a consoler, he could always set one up for her. Taya made it very clear that she wasn't ready to talk to anyone, and didn't feel comfortable talking to a stranger. There was so much she had been put through growing up that she wasn't ready to tell us, yet we could tell that she was dealing with things we didn't understand. So, we left the conversation open. We told her to let us know when she was ready and we would make the appointment. This is when I heard the first, 'Love you mom.' I was Mom…and I couldn't have been happier.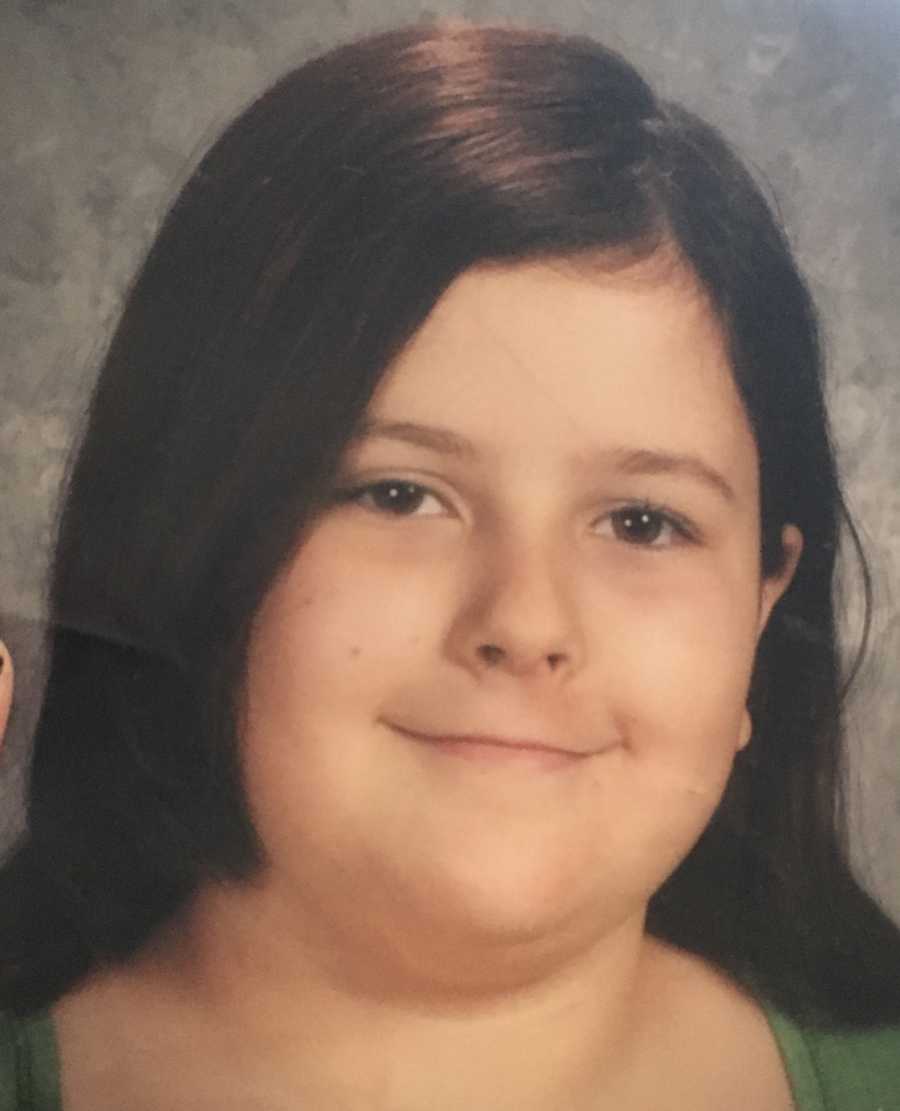 During Mataya's preteen years she began to have feelings that she couldn't really understand. One night when I was sitting in the living room, she came out and asked me a question that caught me by surprise.
'What would you do if I dated a girl?,' she asked.
Being a Christian and knowing what I've always learned in church, I immediately told her, 'If you date a girl, you're going to hell.' The instant the words escaped my lips though, something else hit me harder than the fear of my child in hell. I felt the wind leave my chest and complete despair hit me. The aura of the room began to change. I broke her heart in the amount of time it took me to say a nine-word sentence. I didn't know what to do. I didn't know how to respond, so I quickly went to sleep.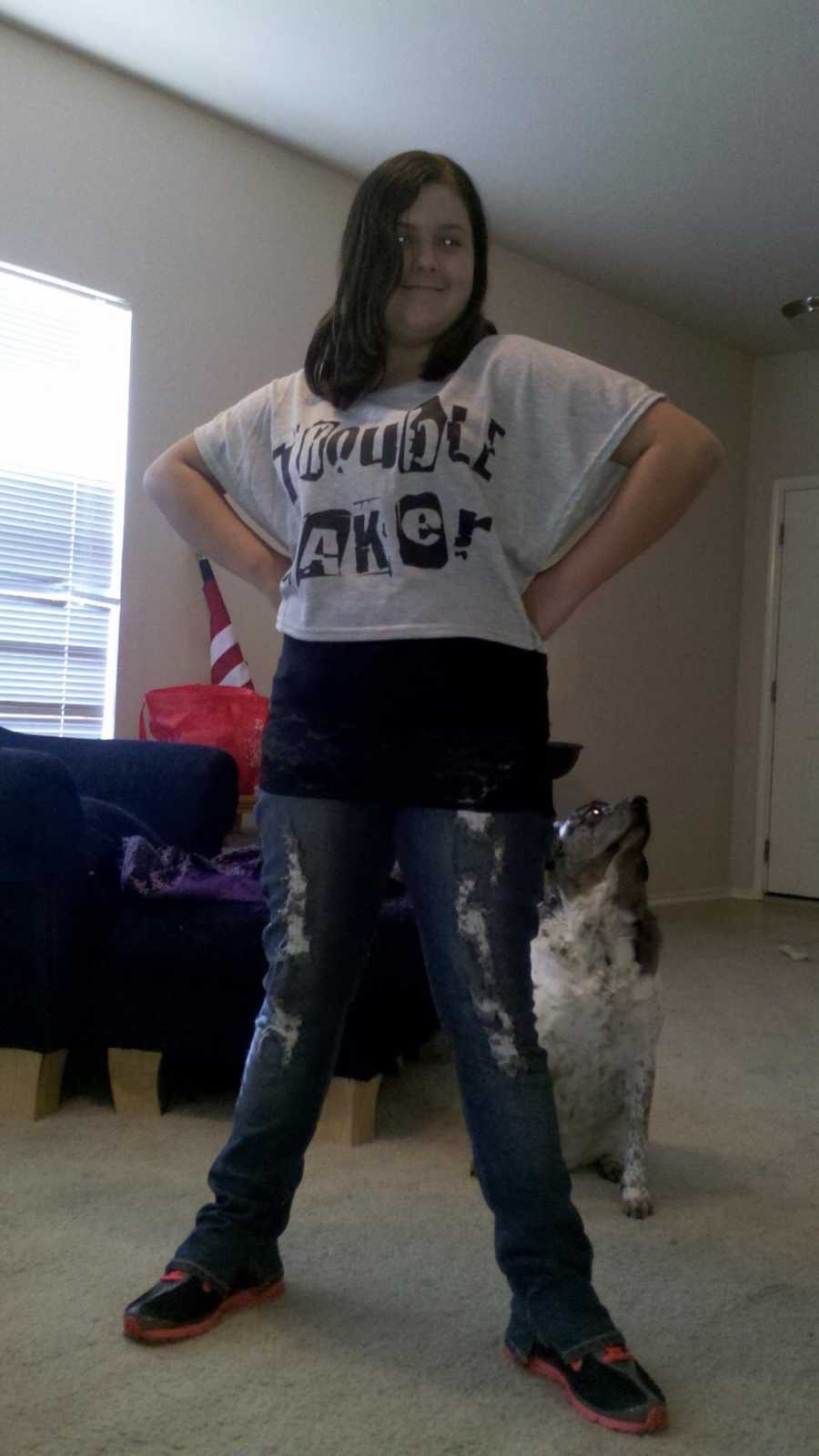 The following day at work, I spoke with a friend/employee whom I knew was gay. I asked her what she would've wanted her parents to tell her when she came out and I begged her for guidance. I had friends and family who were gay, but I never thought my child would be gay. I knew though I didn't agree with the feeling I felt and I knew I loved my daughter more than anything. Being a Christian for me has always meant leading with love and following my heart. I knew the way I responded was not the way I should have. When I got home, I sat her down and we talked. She told me she wasn't fully gay, as she did have feelings for boys too, but she was attracted to girls as well. I told her that I would try to understand her and that no matter what, I wanted her to know I would always support her and be there for her and that I was deeply sorry for coming off so strong. I may have been in my late 20s at the time, but even I was still learning how to love. And I knew I didn't want our first big hurdle as mother and daughter to make her hide herself or how she feels from me. I wanted to build a bond much like the one I shared with my mom, with no secrets. But that had to be both ways, and I needed to always consider her feelings moving forward, no matter how her actions or words made me feel.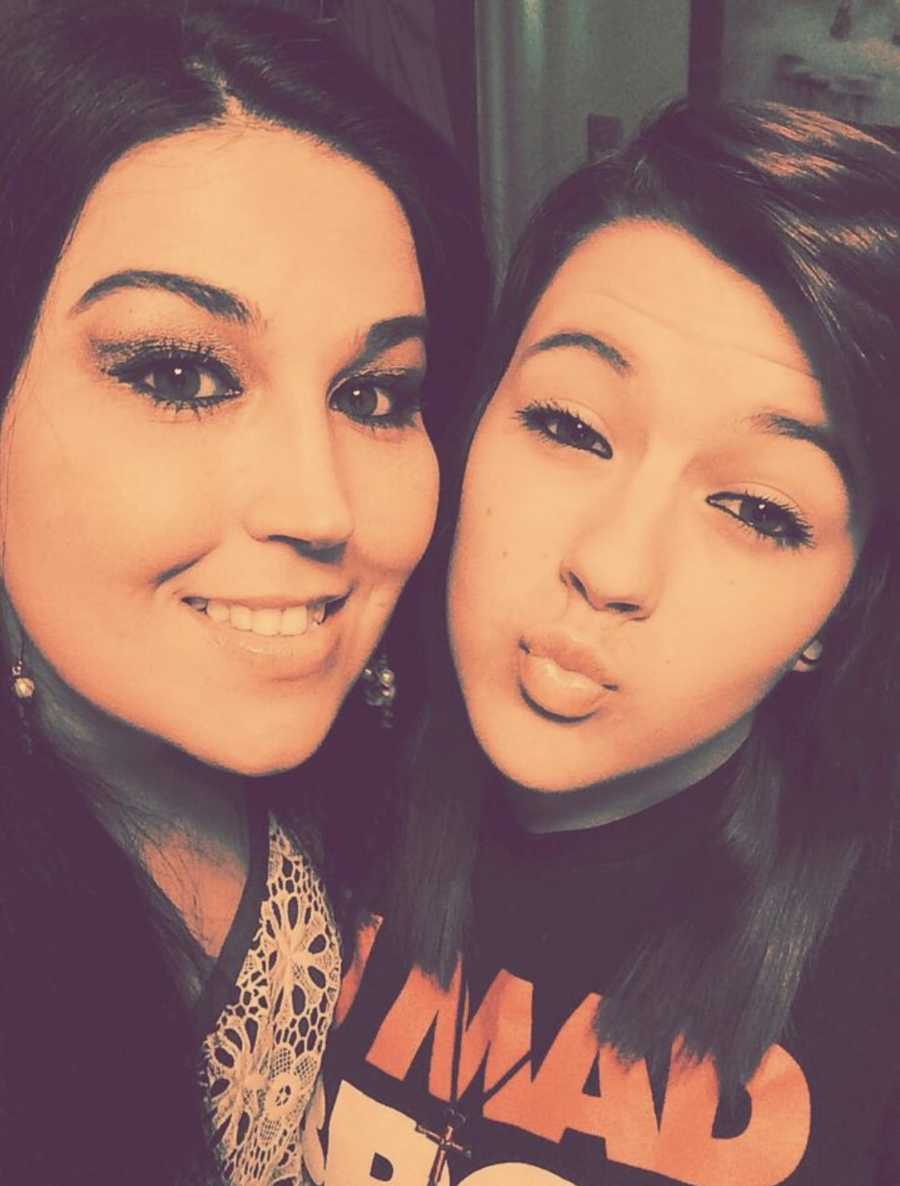 At 14, Mataya started skipping school, sleeping a lot and hiding in her room. She had already been held back for missing too much school the year she was taken from her mother and I was afraid that she would fail again. I was watching my chunky and funny daughter fade away before me, becoming someone I hardly recognized. This was the year that I caught her smoking both cigarettes and marijuana. I also began to notice small cuts on her arms, even though she tried to hide them. Her room, school and life turned into a mess. If I didn't hear from the school, I worried if she made It to school…and then when she did make it, I had to worry about a teacher calling after being humiliated by Mataya in front of the class. I was working over 100 hours a week and I felt like I was failing her in more ways than one. Our time became moments after payday where I took her shopping or when I took her somewhere for the day, but good quality time like we had in her earlier years seemed almost forced.
'What's wrong, Mataya? What can I do to help you?,' I asked.
She expressed the need to get to know her family more and to be closer to them. Over the years hearing from her family became fewer and farther between and she felt like a part of her was missing. It was then that my mother and I decided she was old enough to spend a few weeks over the summer with her mom and her sister. It was a huge risk, as we were warned by the court that if we allowed her to go with her mother, and she disappeared, we would never get her back. But, at that point I was already losing her…I would have risked anything for her to find herself and be happy.
As summer grew nearer, I was becoming more leary of the idea. Her father decided to pop up again out of nowhere and began to sweet talk Mataya into moving in with him. She had reached an age where she could sway a judge's decision, and he was promising her things that I knew he couldn't/wouldn't be able to offer her, but I didn't want to drag his name through the dirt. I tried to make her understand that he was promising things that would never come to pass and once she went with him, she would be stuck. The night she told me she wanted to go live with her dad, I spent the evening crying in the bathtub. I didn't understand how a child I gave up my whole childhood and life for would just want to leave me for someone that she didn't even know. But no matter how much it hurt me, my mom talked me into letting her go with him for a week during the summer. She told me that if Mataya was going to learn who her dad really was, she needed to learn it on her own and not with our influence.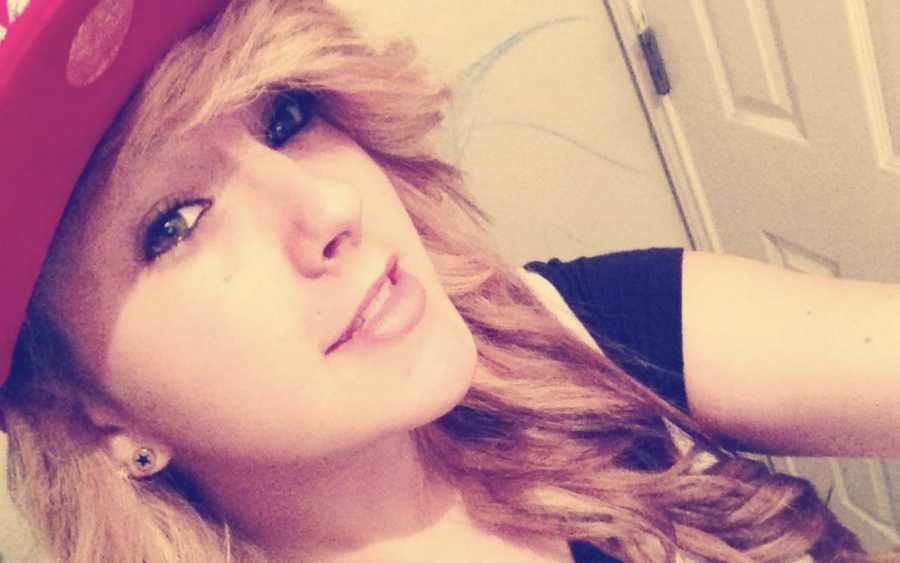 When school let out, we sent her to Louisiana with some money in her pocket, enough clothes to relocate and my straightener she hid in her bag. After spending time with her mom, she ended up staying with my uncle and his wife for a few days where she was able to reconnect with our cousin J who she always thought of as an older brother. But when the time came for her to go spend time with her dad, she barely stayed there two days before she was kicked out and forced to decide between calling her mom to go and get her, or getting arrested by the police. Overall her visit to Louisiana did allow her to grow closer with her sister and her mom, but it also made her not want to come home. The fear she had of that newfound relationship becoming strained by the distance, never settled well with her. She may have come home to Texas, but from that summer on…I would never be allowed to forget about what was back home, and how much she wanted to go back to Louisiana.
By the end of Matayas 15th year, things really got bad for her. Depression ran deep and her lack of self-esteem and respect just seemed to get worse. She was ready to drop out of school and spoke of suicide often. One day she even took a whole bottle of aspirin and slept for two days. We went in to see her and bring her food, but she had become so closed off…it was normal for her to not really speak when we entered the room, so when she woke up and finally told us what happened, I almost lost it. Again, I asked her what was it that I could do to help her. She didn't want to go see a counselor and she didn't want to speak to the adults she grew close to in church. She felt abandoned by her church family after a recent break up with a boy she fell in love with, and she just didn't want to continue living. It was then that I decided I needed to make a big gesture, I needed to do something huge to show her that all the support she needed was at home and that she didn't need to feel alone. She was never alone.
The following day I went to my store manager and told her that I planned on moving home to Louisiana the next year. I told her that I had to move to save my daughter and help her find the path that would bring her true happiness in life. I had recently split with my long-term boyfriend, and as much as I hated leaving my new friends and new family in Texas, I would have done anything for Mataya. So, March 3rd I traveled seven hours and moved in with my Dad, stepmom and baby brother. It was the middle of the school year, and I didn't want to uproot Mataya and force her to couch surf with me, so she stayed with my mom. I spent the next two months sharing a room with my dad and stepmom's 10-year-old god daughter, until I could find a job and afford my own place. I was lucky to have been able to save up enough cacation time to cover the move, first and last month's rent and a month worth of funds to survive. And the blessing of a final bonus helped cover any other expense that came up. As soon as I did find a job, I waited a month before moving into the two-bedroom apartment next door to my dad's. I had never lived by myself, so having a home all for myself was so new to me. I used the time alone to make our new home everything I wanted it to be and it kept me busy while I waited for Mataya to come home.
The day came to go and pick her up and my new partner Ivan and Mataya's older sister took the drive with me. I feared Ivan and her meeting, but there was no better time like the present and I knew having Mataya's sister with us would help cushion the blow of meeting someone new, as well as help with the big move. Within a few minutes of our arrival, Ivan had her wrapped up over his shoulder, carrying her outside to the street. I was overwhelmed by how well they were interacting; the jokes and laughs didn't seem to stop all weekend. And that night in Austin after meeting Mataya, when Ivan told me he loved me for the first time, I knew I had made the right decision – we were headed in the right direction. Hope had returned to me and I was eager to see where it all would take us.
As summer came to a close, things with Mataya started to get harder. She didn't want to go to school here in Louisiana. She wanted to drop out like her sister did and with her mom's blessing, she was ready to make the decision without my permission as soon as she turned 17. I told her that would never happen. She needed to look at her future and realize that without a high school G.E.D or diploma life for her would not be easy and as her mom, I refused to let her make such a destructive decision. We needed to find another way. I reached out to different sectors of the school board to try to get Mataya enrolled in either public school or home school. The process to get her into homeschool I learned was quite a lengthy one and getting her into public school was no easier. Since my mom, her legal guardian, was in Texas, she was considered a 'homeless' child. The process seemed to take much longer than I expected, and every department needed more information and had a new set of paperwork…but then my whole focus changed.
One night when I went to tell Mataya goodnight after an argument, she was upset with me for telling her that she had to go to school until we figured something else out. She refused and told me that she would rather kill herself than go to school. I went to try and embrace her and tell her I understood how she felt and I was trying to do my best, and that's when she looked deep into my eyes and said, 'Sarah don't touch me, I will punch you.' I told her if she did, it would be the last time she punched me and that she needed to calm down and stop overreacting. She was so upset and angry, saying such horrible things to me. I was at a loss…I didn't know what to do. I called Ivan and he expressed the need to get her help, and I knew he was right. I learned that Mataya had started cutting again after a talk with her sister. I took her straight to the children's hospital to get her checked out. This is where they decided that she needed to go to a mental hospital for a little while. They assured me that she would be safe and that they would help her to deal with the thoughts she was having and help her, in ways I couldn't. I was her mom, no one is supposed to know how to care for your children more than you… I was so afraid.
She spent a few days at the mental hospital. They prescribed her some medications for her depression and helped her with counseling sessions. Every call meant so much to me and I spent the days she was gone planning our next step. It was then that I learned from a friend about YCP. Youth Challenge Program, a military school/program that helps troubled youth at no expense to the family. It was created and run by the National Guard and being that she had mentioned wanting to be in the Navy previously the idea stood out among the others. As soon as she was released from the mental hospital and on her meds, we sat down and talked about the program they offered. If she was to go to YCP, she could graduate school at 16 with her high school equivalency degree, in 6 months. The kicker though was that she would be gone the entire time. She would be stationed in Carville, Louisiana, and I would be able to converse with her…but on their terms. I understood this would be a challenge for me but she needed this. All we had to do was pass an interview.
The day I dropped Mataya off at YCP was hard. Going out and buying everything she needed, knowing she wouldn't be home for half the year, was tough. I knew though that she needed the structure they had to offer, the tutoring that they offered and definitely needed the mentorship. Six months flew by and like I was warned about, the letters came in begging for me to go and pick her up. She used every story in the book to touch my heart and make me want to run and save her, but I loved her too much to go and get her before it was time. I knew by this point that I couldn't give her what she needed right now and as hard as that was for me to realize, I knew they could. I had to put my faith into the program. So, while she was getting the help that she needed, I was at home putting a life together for us both. It was during her time away that I moved in with Ivan and his daughters. I didn't have the courage to tell her as the program had warned us to not distract our children with big life changes while in the program, and I knew graduation would be coming soon and I still had time to get everything situated.
Two weeks before graduation, we needed to take Mataya to get a government issued ID so she would be able to take the high school equivalency test. Not being Mataya's legal guardian, this made things difficult. Even though I had a notarized letter from my mom that allowed me to get her medical attention, I couldn't legally help her get an ID. It was either get her biological mother to help, or my mom would have to travel in from Texas. We decided to reach out to her mom and asked her to travel with us to Carville and help get Mataya an ID. A few days before we left, I totaled my car leaving Ivan to drive us to pick her up. The trip up was nice, catching up with M and Mataya's older sister. Talking about the good times, memories and the future. When we finally picked up Mataya, she was overjoyed to see us all and her sister was just the surprise she needed. We had her for the whole afternoon, so we went eat lunch after she obtained her first ID. Seeing Mataya was so different this visit, she was so different this visit. So much respect and self-control was displayed that I hadn't seen from Mataya in so long. It was such an amazing feeling, seeing her happy…honestly happy.
Graduation day came quickly, and seeing my daughter walk across the stage brought a tear to my eye. Having Taya's family, Ivan's family and my family there to support her felt amazing. To be surrounded by all these amazing people, and seeing my daughter graduate high school in the same day was just the sincerest feeling of joy. The following day we also threw her a graduation party in the park, with a crawfish boil and even more family members. She looked like my daughter and she sounded like my daughter, but this new Taya was so confident in herself and she spoke so highly of her future. Her pride in herself for raising her scores from elementary level to graduation level in six months was unequaled. To see her talk about what she saw in her future, it just solidified my mind in knowing we had made the right decision in sending her to YCP. I am forever thankful that this program exists, it helped round off my daughter's life and gave her a much stronger foundation than she thought she was deserving of.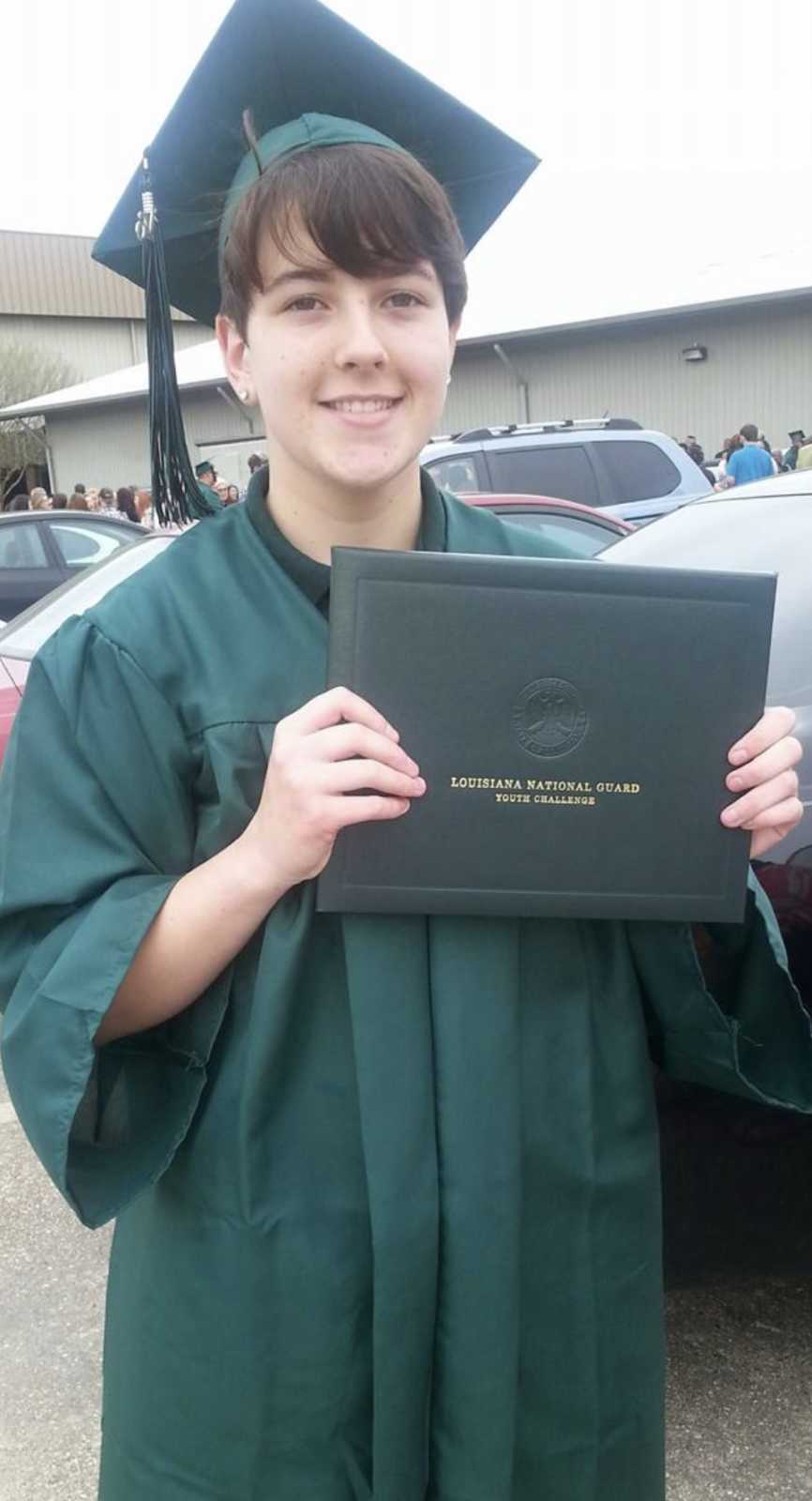 With graduation came other changes. That year we also saw Ivan's second oldest daughter graduate high school and a few days later, Ivan proposed. We had gone through so much the past year, and I had seen my daughters get closer, quarrel and then come together again. I had seen Ivan be an amazing dad and accepted my daughter in a way that no man, including her birth father, ever had. I had witnessed the love of my future daughters and a level of acceptance from them that made me question my own relationship with my stepmom. Over the past year Mataya and I had grown so much as people, and as I look back on everything it felt like my family had reached a level of complete, I didn't think was possible. I was in awe of all the amazing things 2016 had brought and when we planned to get married five months later, I knew this was all just the beginning.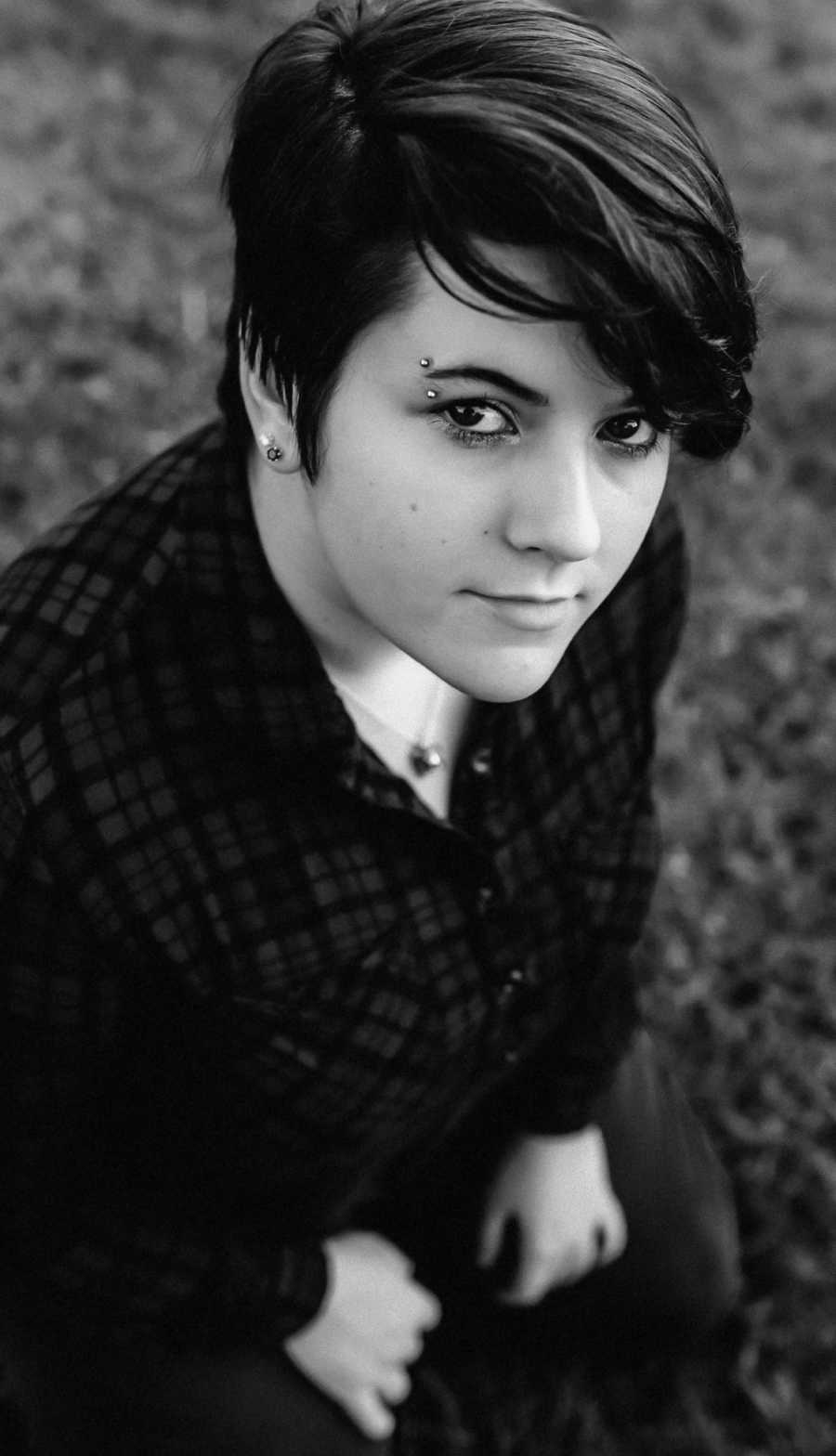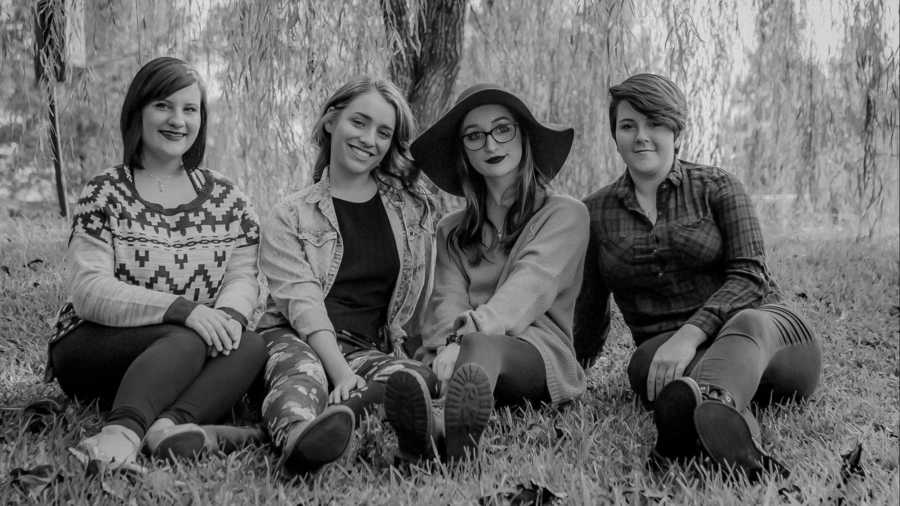 October 22, 2016, we officially became a blended family. As I made my commitments to my husband, I committed myself, my heart and my allegiance to all 5 of our daughters. When I married Ivan, I knew he was a package deal and I knew that in order to ever fully commit myself to this man, I needed to commit myself to his kids and promise to love them for better, for worse and through all the girly drama and bad decisions. And in the same fashion, Ivan promised and devoted himself to Mataya. I fell in love with Ivan for many reasons, but never before him had I ever met such a great dad. He was what Mataya deserved and what she needed, and on October 22, 2016, we both found our missing puzzle pieces. We were always meant to be a family, it just took love, personal growth and a lot of time to bring us all together."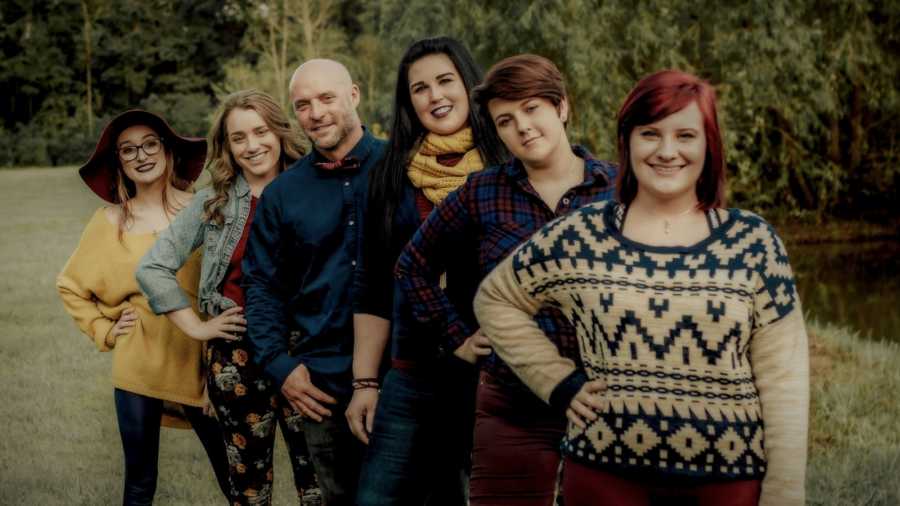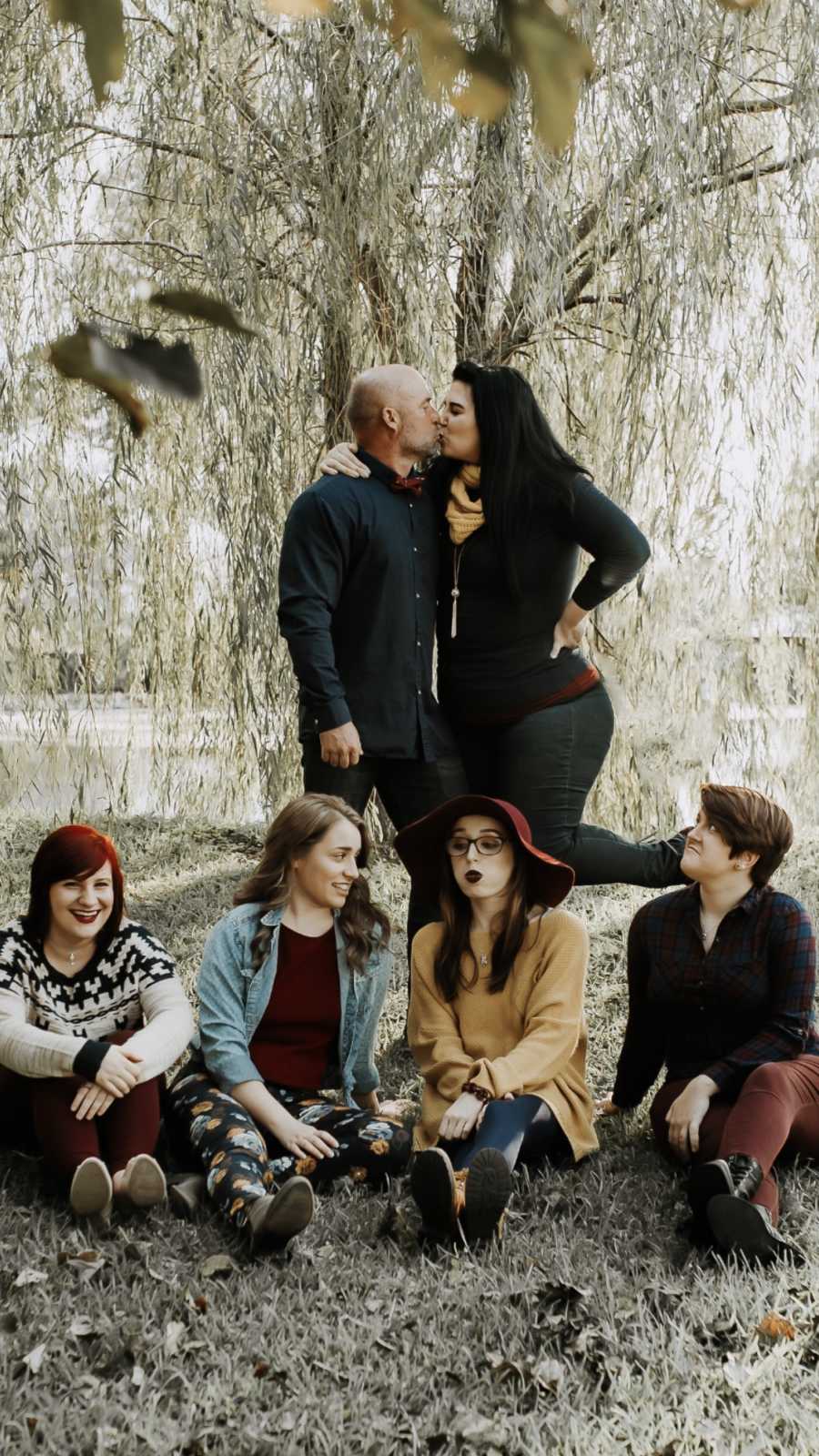 This story was submitted to Love What Matters by Sarah Morgan. You can follow her journey on Instagram. Do you have a similar experience? We'd like to hear your important journey. Submit your own story here. Be sure to subscribe to our free email newsletter for our best stories, and YouTube for our best videos.
Read Sarah's powerful backstory of struggling with infertility: 
'We found live sperm!' I gasped, looked at my husband. He had tears in his eyes. 'LIVE SPERM,' beautiful.': Couple hasn't gotten 'happy ending' after vasectomy reversal, but know their 'angels in heaven' will choose the 'perfect child' for them
Provide beauty and strength for others. SHARE this story on Facebook and Instagram with your friends and family.