"Carrie was born at the end of the summer, the turn of the seasons. It was September 9th, 2017, and it was a warm end-of-summer kind of day. When we came home with our brand-new bundle in our arms two days later there was a distinct chill in the air and the leaves had started falling. I've always loved that time of year and it felt perfect to me that our first baby was born then.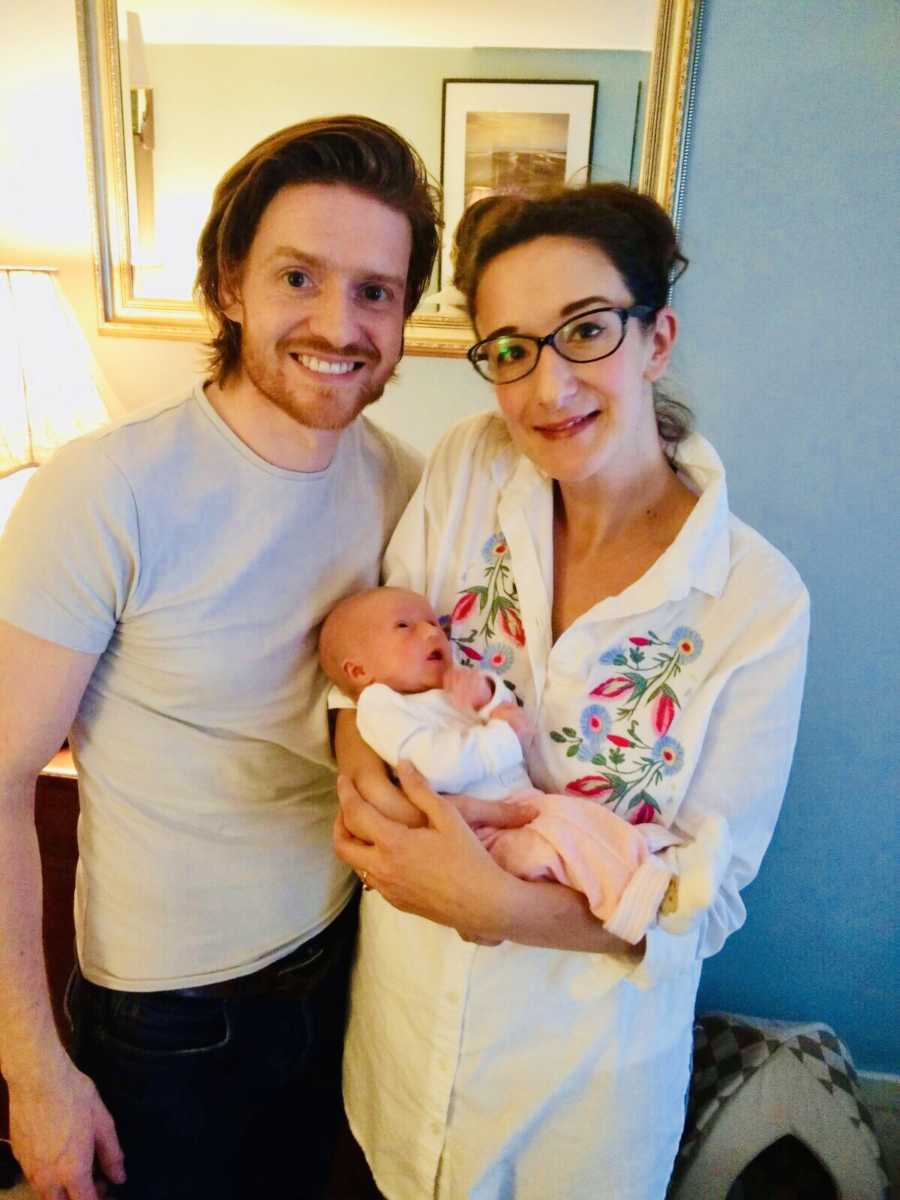 Over the months that followed Carrie grew and changed and we felt like we had always known her. Of course she couldn't have been anyone else. It was her, she was meant to be. We couldn't imagine not having her.
We had lots of fun seasonal holidays soon after she was born: Halloween (she was dressed appropriately as a pumpkin); and bonfire night (obviously she was kept wrapped up and snug indoors with her uncle while I went out to the local firework display for an hour and proceeded to text him the whole time asking how she was!) We did so many lovely things with our families, and all the while she was the most celebrated little baby girl, being the first grandchild on my husband's side and the first granddaughter on mine. Christmas was full of festive outfits, and socializing with my mom friends and Carrie's little baby pals. Her first trip up north to her daddy's family. Numerous gifts of clothes for the little girl who no one ever bought the right size for; she was very petite and had so many clothes to grow into!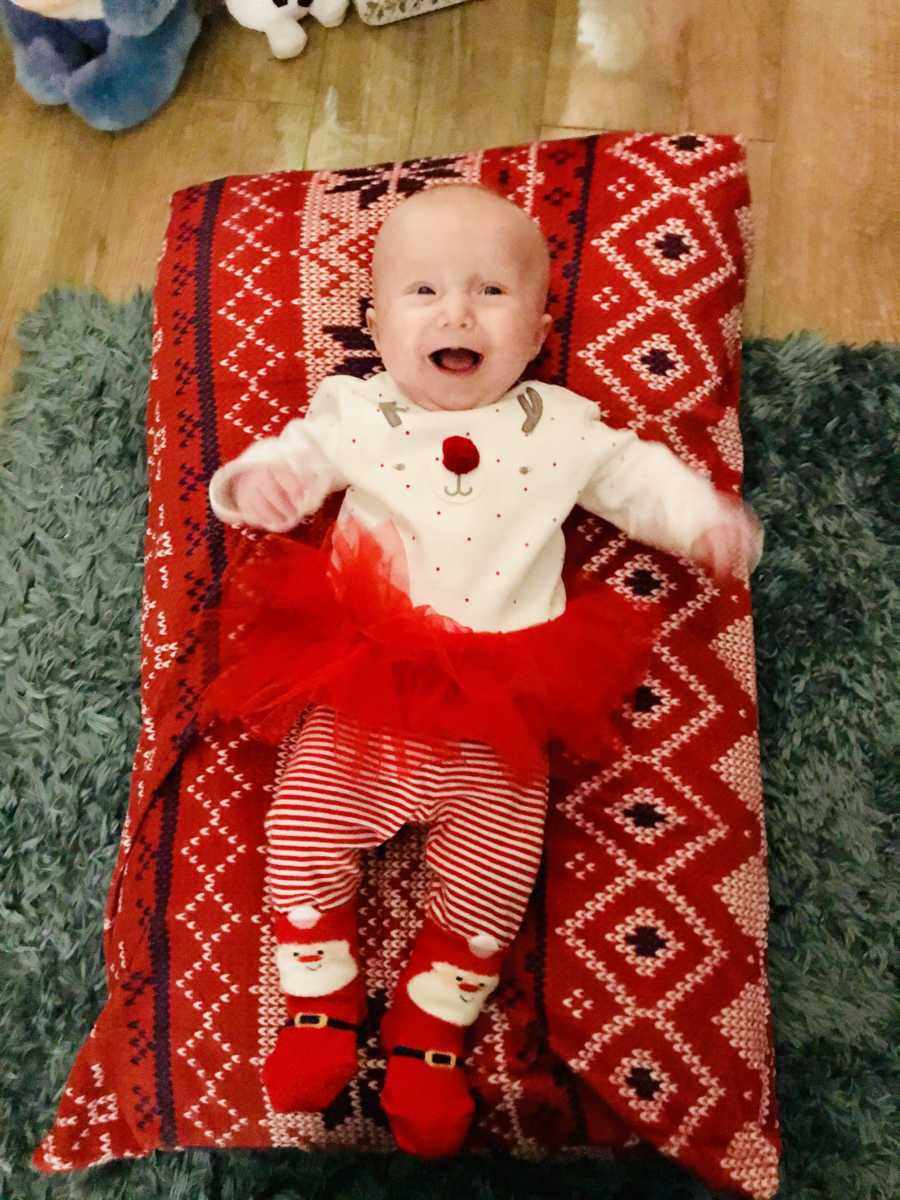 January brought about a huge change in Carrie; she began to find her voice and enjoyed waking up almost hourly for a few weeks. Four-month sleep regression and a massive growth spurt everyone told me, for sure! By the end of January it had felt like the winter was never-ending. Carrie was always wrapped up in snow suits and hats wherever we went. She had barely been outside for more than 10 minutes, apart from being wrapped up in her stroller, since she'd been born. So we were really looking forward to a week's holiday to Portugal in February.
Our first family holiday was a delight. Both of Carrie's grandmothers came with us ('Nanny' and 'Grandma Netty') so it was lovely to have some helpers on hand if I wanted a nap or bath, and so her daddy could enjoy some undisturbed football viewing! It was warm and sunny and we took Carrie out in her stroller in just a cardigan and not wrapped up like the Michelin baby she'd been used to being paraded around as at home.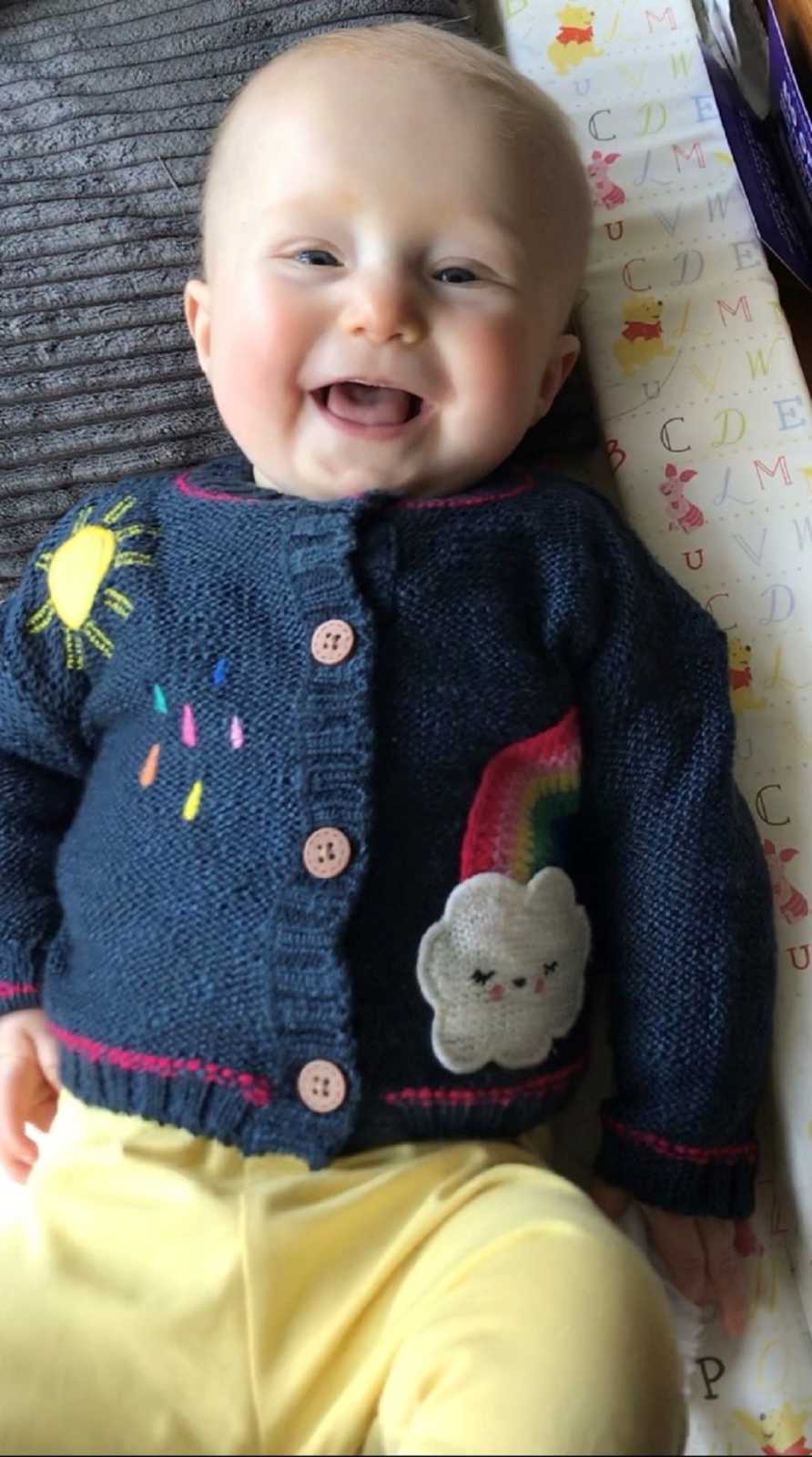 On return from that holiday the weather in London had just gotten colder and we were back to the layers, watching the snow fall and skiddy stroller walks to the shops. As March arrived and Carrie turned 6 months the weather brightened up and we had some trips out, including to the aquarium with a little friend. I was starting to plan what we would be doing over the Easter break with the nicer weather and another trip up north to see friends and family who hadn't met Carrie yet.
And then there was another cold snap, and everyone got a bit ill. Carrie too got her first proper cold of the winter. A snotty nose and a raspy throat for which I took her to the doctors just to check her chest. We were sent home. 'It was just a cold,' I was told, but that it was good to check. By the end of the week, although she had been fairly bright in herself, I just wanted her to be checked again before the weekend as she was still a bit groggy and her chest still sounded raspy to me. This time the doctor told me to take her to pediatric ER, just to have her checked over as he suspected bronchiolitis. We went along and Carrie was seen very quickly and was given various tests and checks. It was agreed it was almost certainly bronchiolitis and that she would need to be kept in for a couple of days for treatment and observation, but nothing to worry about. This was completely routine and very common at this time of year.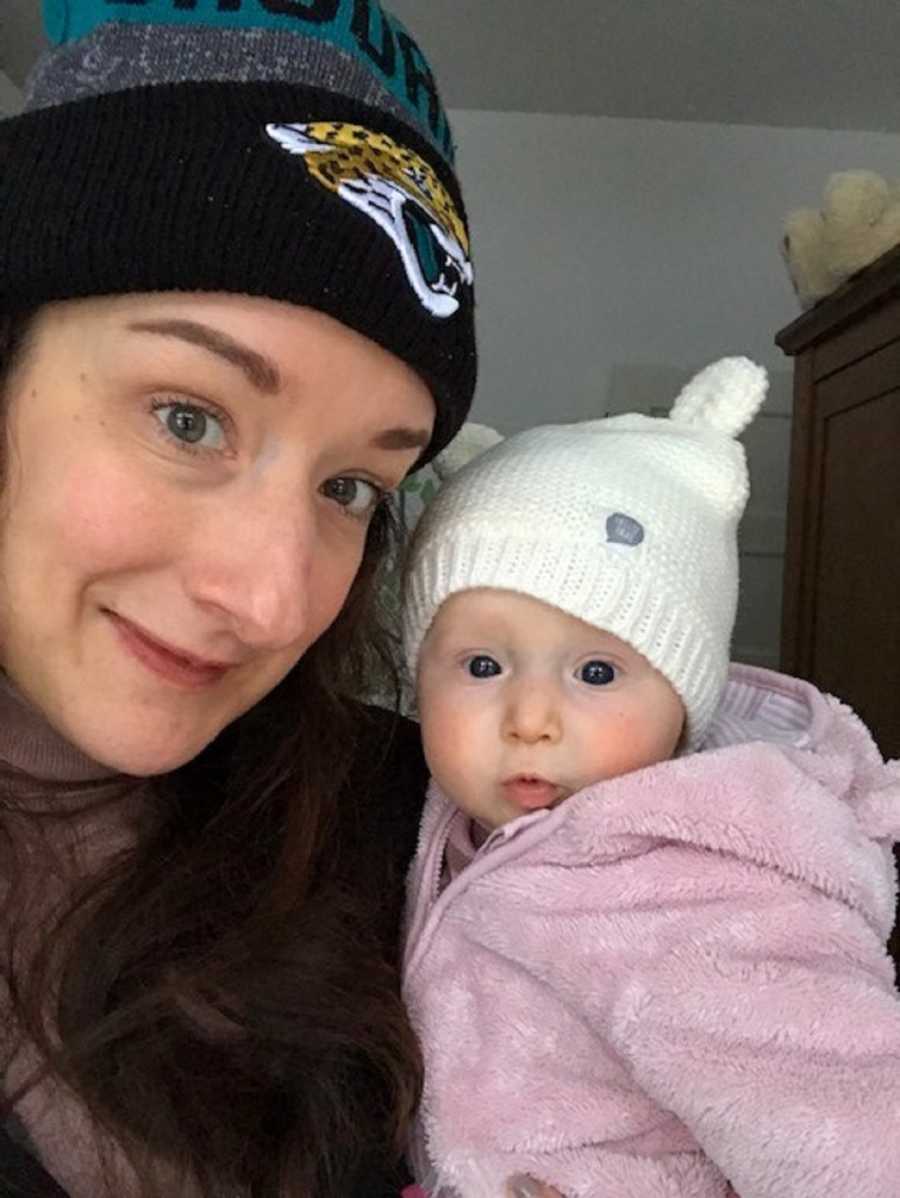 I stayed in with her overnight and she slept a little, and was monitored. Although she was very tired and grumpy no one seemed to say they were overly concerned. My husband arrived back at the hospital early the next morning (only one parent was allowed to stay on the children's ward) and I was having some breakfast when the consultant came around to do his first round of the day. But before he'd even had chance to do much checking at all, Carrie became distressed. And then she arrested. And then she died.
Just like that. And our lives broke.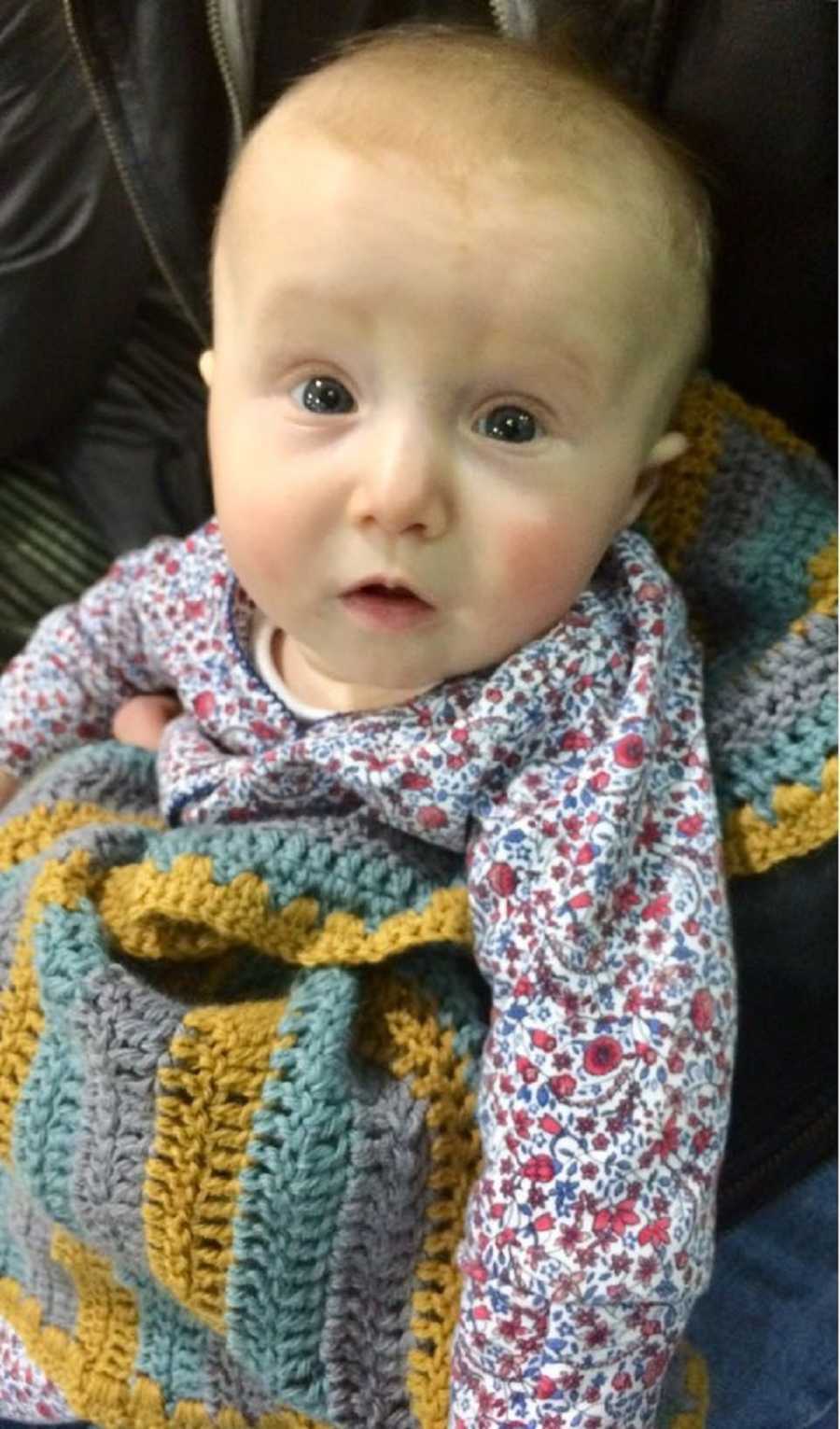 The shock of a loss like this is just so… well there is no other word actually. It's beyond shocking. We came home that night, having spent the rest of the day at the hospital holding our darling girl for the last time, with empty arms. I walked back into the house that I had left with her just over 24 hours before, but now without her. How could that be? She'd been here with me, literally by my side since September…it was now the end of March and she was gone? That's not right, that's not ok. Who is going to sort this out? Make this right? We quickly found out that it would be no one.
The days and weeks that followed were of course completely surreal, devastating, living in a nightmare world. The biggest thing that I struggled with (in this grief and deep dark sadness) was a strange and unhealthy thought process that 'of course this is what would happen to us.' I'll explain why as I know it upset my husband, family and friends whenever I said it.
We tried for over a year to have Carrie and just when we were starting to wonder if everything was ok, I fell pregnant. We couldn't believe it. I never took it for granted that I would just fall pregnant easily; you hear so much these days about difficulties with conception and I've known of people who struggled. So I was always very sensitive about pregnancy and having children and I didn't feel comfortable talking about it freely. I saw it as private and special and I'd never ask anyone about their situation. I'd happily listen and engage if someone shared it themselves and I would talk about it to my very closest people. But I used to cringe when I'd hear people say things like, 'Are you going to have kids?' and 'When are you two going to get around to it?' It's such an assumption. Just because you have them, not everyone can! How do you know the person you're asking hasn't been trying for a long time or actually knows they can't for some reason?! I've always been a bit of an over-thinker so maybe it's not fair of me to think so harshly of people who ask these questions, but I do. I wouldn't do it unprompted and I really think everyone should have that consideration.
Then there's the people who go around saying how having a baby shouldn't change your life, they should just fit right into all those things you did before. I feel the opposite, like the definition of having a baby is changing your life! And you do that because you want that, not because you want things to stay the same.
So when I fell pregnant with Carrie I was just so unbelievably grateful. I couldn't believe it had happened really, which is probably silly. And I loved every minute of being pregnant. I had such a smooth and healthy pregnancy, no sickness and even towards the end I wasn't even really uncomfortable. And then she was here safe and sound, and I was again so grateful. I worried all the time about everything. Would I drop her, what if I bumped her tiny head, what if she reacts badly to her shots and so on, as all moms do.
My husband and I had also been close to such a loss in recent years when very dear friends of ours tragically lost their baby girl. So I had such a heightened awareness of the reality of things that can happen, not just hearing things on the news or second-hand, but right there in front of us, and we'd have done anything to stop that hurt and pain for them.
The next thing is that I have been surrounded by other people having their babies; sharing how desperate they are to have them; saying how they were going to start trying and then falling pregnant instantly; organizing and taking part in their baby showers; and being full of happiness and excitement for them when celebrating their news. And not just baby related but all kinds of stuff for family and friends, we have always been there putting in 100% for them, bending over backwards and supporting. And don't get me wrong, I've loved doing that! Family and friends mean everything to us. And now this was our time, we deserved this, our baby deserved this. And I didn't shove it in people's faces, I didn't document my weekly growing bump, or Carrie's daily outfits once she was here safely. I was modest and shared things here and there but mostly I wanted to look at her with my own eyes, not through my phone screen, and I wanted to take in every moment for myself. And I was aware that for someone out there, seeing my baby might cause them some hurt. I knew how precious this was.
And then it was my baby who died.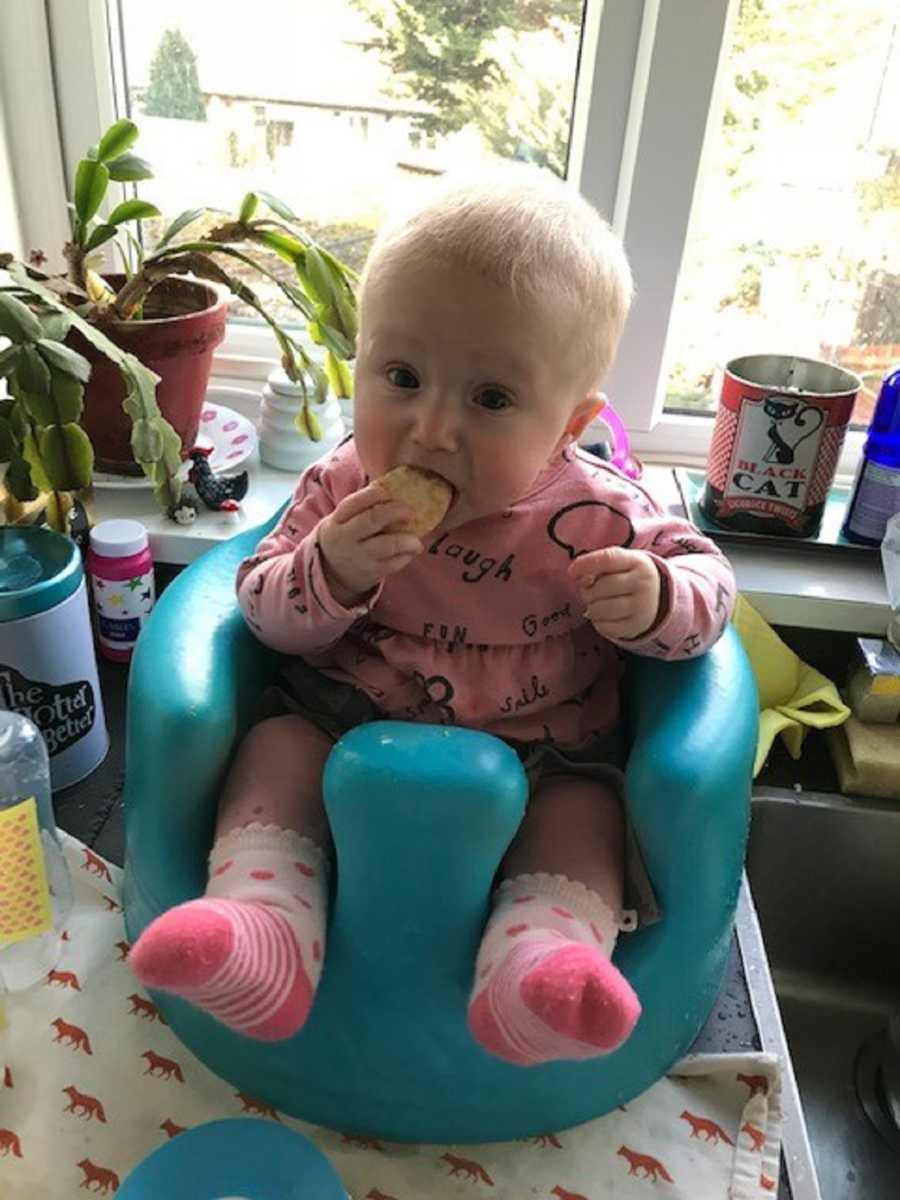 So in my most dark and negative moments in those first couple of months, I would say sarcastically, 'Of course this would be what happened to us! Our first baby. Really? Our first baby that we tried so hard for? And you're just going to swipe her away from us are you? Yep, cheers for that.' (I don't know who you is by the way, I'm assuming God, the universe etc). 'It's back to our old lives I'm afraid, that one was only a temporary thing!' And this upset people. 'Why would this be what happened to you, specifically,' they'd say? Payback for being nice? None of it makes sense. But the grieving mind doesn't make sense, and it wants to find a reason that this awful thing has happened to you.
I'm sharing this because if anyone is going through this horrendous tragedy in their lives right now and are in the early stages which are often full of confusion, anger and despair, I want you to know that it's ok to have the negative thoughts, and if anything, embrace them, work through them, say the stuff if it's in your head, say it to someone you can trust, or write it down. It's ok to feel like that because the worst thing has happened to you and it's not fair. You have every right to feel hard done to because you have been hard done to.
The thing is, the early stages are also full of love, and it's that love that is hurting so much and it manifests itself in many different ways, because the normal way for it to be channeled has been taken from you and it doesn't know what the hell it's doing now. But it will. After a time, it will. And the only thing you can do in the meantime is reach out to others in this community. Read their stories, absorb them, feel them, identify with them and talk to them. They will help you. They helped me and continue to. I'm only 5 months into this but already there is a very slightly lighter load. And already I can say that I feel some gratitude returning to me. I never thought I'd be grateful again, I was done with being grateful and appreciating things, look where it got me! On Mother's Day, which was a week or so before Carrie passed away, I posted a picture on Instagram. It was me with Carrie and my mum, and then my two grandmother's holding me as a baby, with the words, 'Generations of Mothers, so lucky to be one.' I mean, it's like the biggest kick in the teeth isn't it. Well I thought I was lucky, but little did I know life was about to shoot me down and all that I was grateful for. But here I am saying how lucky I am to be Carrie's mom, how lucky I am to have had her and our relationship. To have had had her know me so well and look at me with such love. I am forever changed by my baby girl and for the better even in this new and jagged world.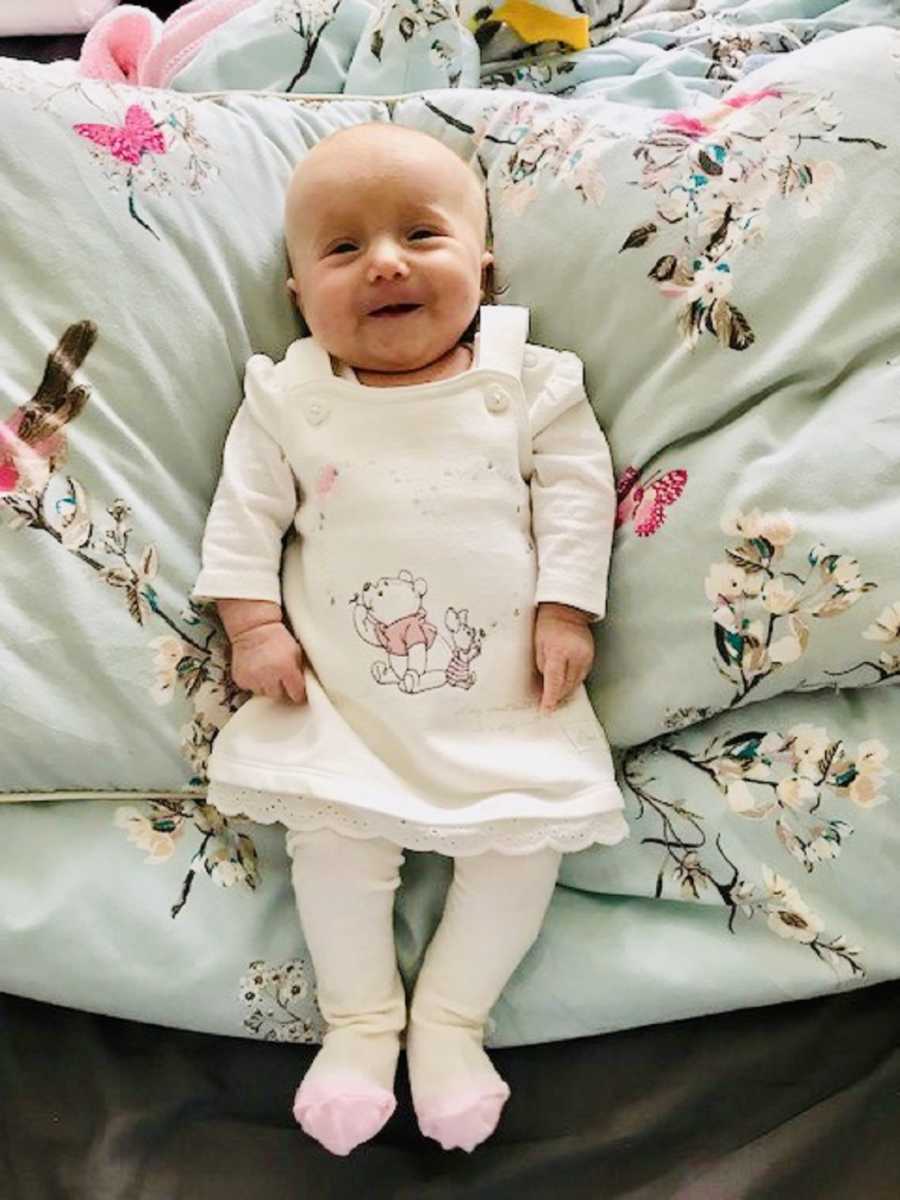 The most common thing I hear is that things like this always happen to the loveliest of people. So we're being penalized for being nice? I mean I'm not a saint, but I do try for people. I try hard in life, with work, with friends, and with family. And suddenly the worst thing happened to me and my lovely husband. But as my husband has repeatedly said to me, it didn't matter how good I was as a person, it didn't mean I was immune to bad things happening. And it doesn't matter how bad you are as a person, it doesn't make you immune to good things happening. The world can be cruel to you or kind to you, no matter who you are. At the end of the day no one deserves this, no baby deserves this and no matter how angry I feel about this at times, I know ultimately that I can't change who I am deep down and my daughter wouldn't want me to. I'll continue to strive for the best for my family and friends, it just might take me awhile to get back to where I was.
What I've realized is, the world isn't out to get us. It is just completely neutral. And bad things happen which we can't control. And it's not ok, but there can be goodness and there can be hope and light – and Carrie is that hope and light. I read recently that every child a woman carries changes her DNA. It's scientifically proven that cells of every child she has remain in her body. So your baby is literally made of you, and while I miss my daughter every day with every fiber of my being, that makes me feel more positive about living. While I live, so does she.
Carrie Jean Fisher-Parr 9th September 2017 – 24th March 2018."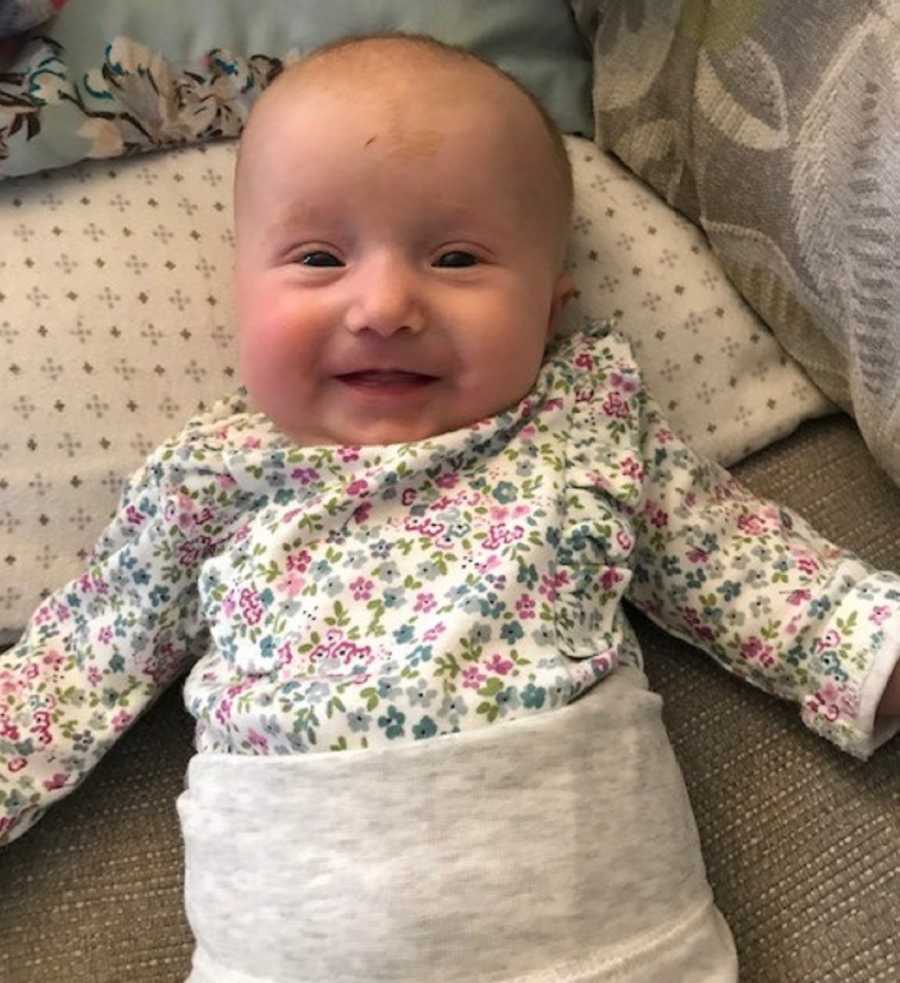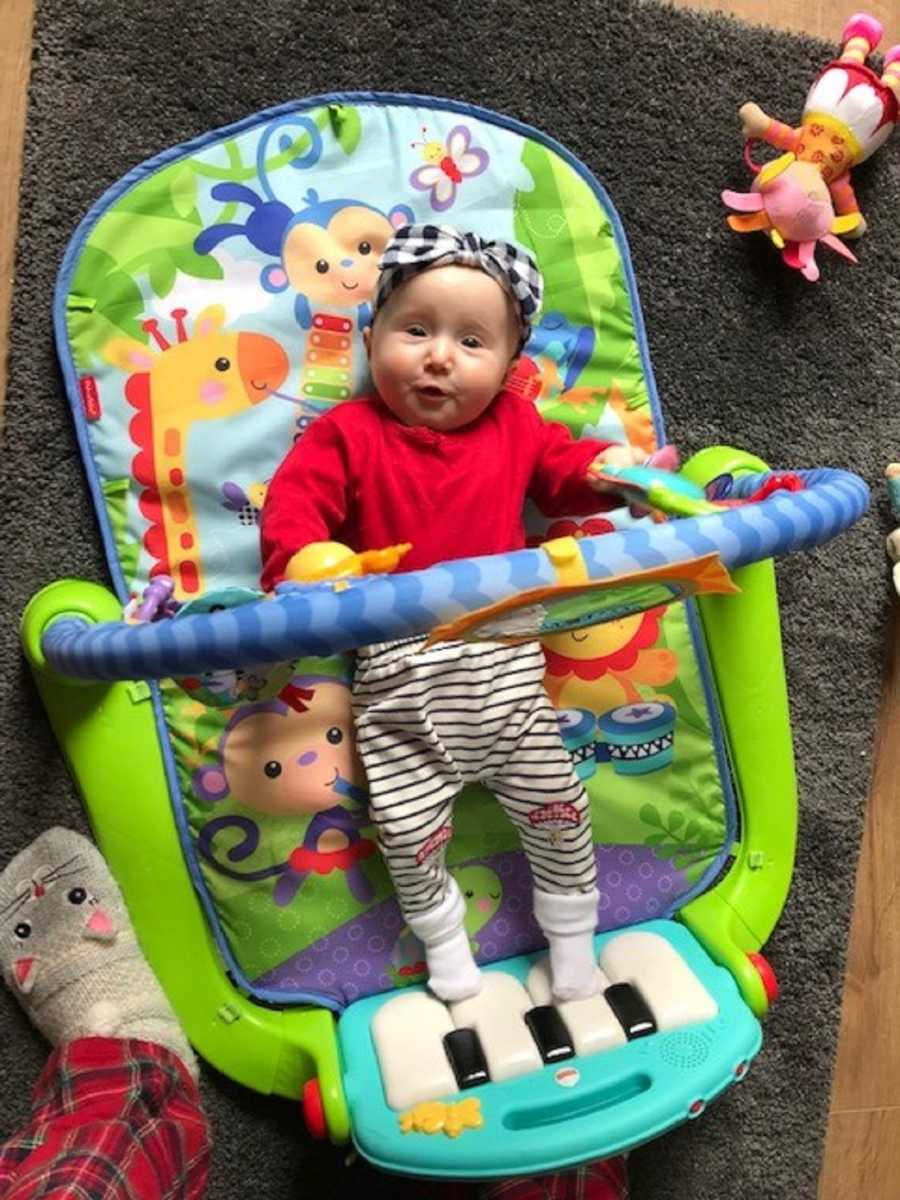 This story was submitted to Love What Matters by Charlotte Fisher. A version originally appeared on this blog. Do you have a similar experience? We'd like to hear your important journey. Submit your own story here, and be sure to subscribe to our free email newsletter for our best stories.
Read more powerful stories of overcoming child loss:
'Babe, are you serious?' My wife's body was shaking. She nodded, in tears. 'You're pregnant? Oh my Gosh!': Father brought to tears after learning wife is pregnant 3 years after loss of twins
'Her 17-minute life was filled with nothing but love. Dads, you are allowed to cry, too.': Couple shares 'life-shattering' moments their preemie daughter is born, dies in their arms
'Today is the day I get to meet Abigail!' I'm excited! Her tone is bleak, she begins to cry. 'Abigail didn't make it.': Father's anguish over losing child, 'drifting apart' from daughter's mother after 'trauma'
Provide support and encouragement for other couples. SHARE this story on Facebook with friend and family.