"I had just gotten back home to Minnesota after spending the weekend in Wisconsin celebrating a great friend of mine's wedding. I remembered looking around my townhouse and finally feeling happy. After years of constant chaos between moving and his multiple job losses, I finally felt safe and happy.
Both of my girls were upstairs napping when I sat down to surf the internet. As I was sitting there, some messages started coming in from iMessage. The name didn't look familiar and it just seemed odd. I opened up the messages and started reading the active conversation between my husband and a name I didn't recognize… It took me a good five or so minutes for me to realize what I was reading was real. In that one conversation, I discovered that my husband had met up with someone while I was away with our girls for the weekend. He spoke with such casual comfort and ease. He had a stranger over at my house where my kids sleep. I don't know what hit me harder – the fact I had been cheated, on or the fact that just two days before, we had been talking about how happy we were that our marriage had stood the test of time. 
I called my mom screaming and crying on the phone. I told her he had been cheating on me. I was weeping in agony as the words came out. I didn't know what to do. I told my mom I was coming home. I grabbed some laundry baskets and threw a bunch of clothes in them. I went upstairs and grabbed my two sleeping babies. I strapped them into their car seats and got into the car. I started driving 6 straight hours to my parent's apartment in Wisconsin. I left him in Minnesota without a car and without a plan.
I spent a week at home with my parents trying to come up with a plan. I didn't know what to do or what I could do. I had given up my career 2 years ago to be a stay at home mom. I weighed over 300 pounds at this time. He begged me to try and make it work with him. I felt helpless and weak. I felt like I would be nothing without him. So I went back to him. He promised me it was a one-time event. I believed him because I didn't want to believe or accept any other alternative. Within a month we moved back to Wisconsin to work on our family.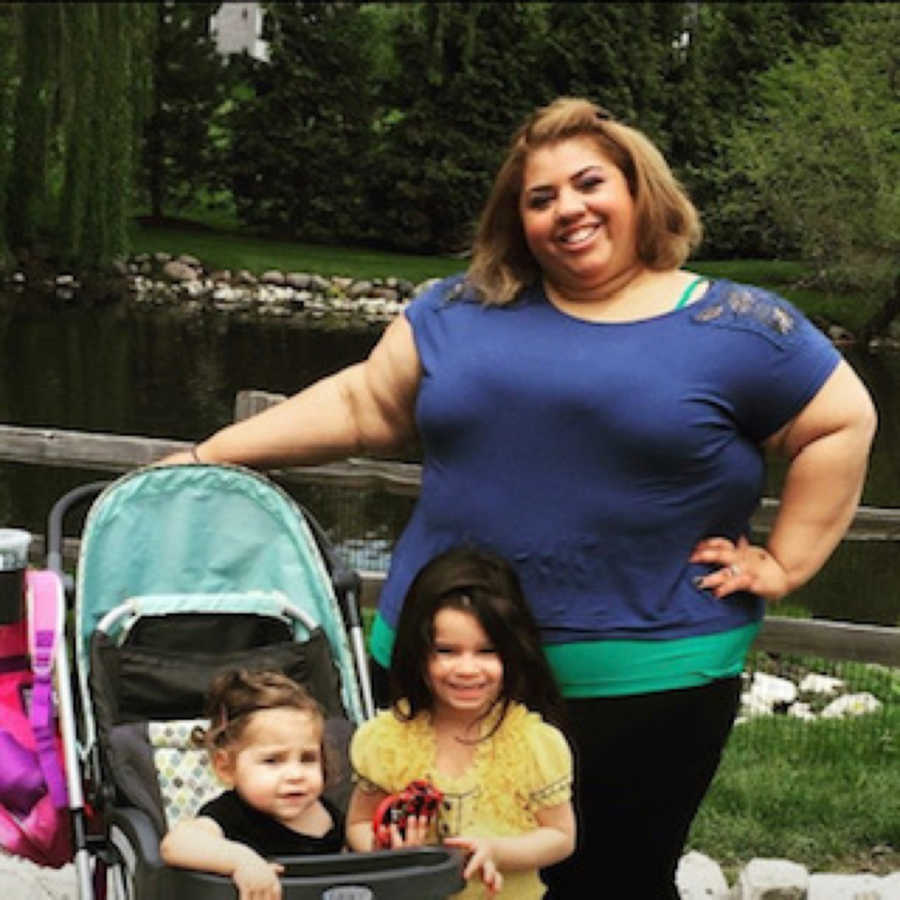 We moved in with my parents who had downsized from their spacious 3 bedroom home to a very small and modest 2 bedroom apartment when my mom went through cancer. Me, my cheating husband, and 2 kids (6-month-old and 3-year-old) slept in the same room together while we figured out what our lives would look like after infidelity. 
It took 9 months for us to get back onto our feet and scrape together a down payment for a home. We bought a beautiful little 3 bedroom home and pretended as if the whole thing never happened. I never told any of my friends and painted the fakest suburban wife smile you've ever seen. During this time, I put on a lot of weight. I had topped over 400 pounds in the summer of 2015. I only found that out when I was in the ER one night due to chest pain caused by an ectopic pregnancy that my body was in the process of miscarriage.
In one night, I found out I weighed over 400 pounds. I also found out I was pregnant and losing a baby in one breath. I can't really describe that moment internally because I am still working through those emotions at times. That moment was a severe wake-up call that I needed to change my life. I didn't realize how much my husband's infidelity had affected me until I stepped on that scale. In a little over a year, I had put on close to 80 pounds. I ate 80 pounds of pain, sadness, depression, self-hate, and anger. The only thing that was more devastating than realizing I weighed over 400 pounds was realizing that weight was a reflection of how much I hated myself. It reflected how much I was dying inside and I was coasting myself to the grave with food. I realized at that moment I had to change my life. I had to find a way to change, forever. I didn't want to leave my two children without a mom because she couldn't learn to put the fork down once in a while and accept her feelings rather than eat them.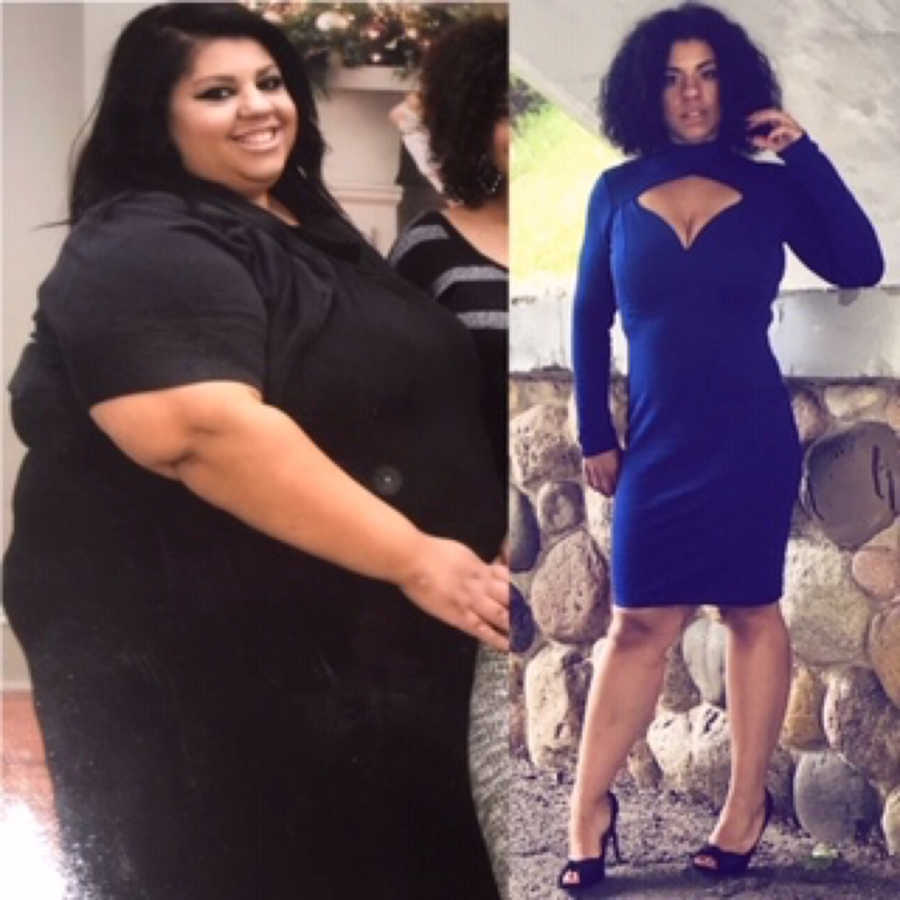 So what do you do when you weigh over 400 pounds, are still married to the man that betrayed you emotionally and destroyed your self-confidence, and you're losing a baby you didn't even know you were pregnant with? You pause and you make the most courageous decision you can ever make as a human. You make the decision to ACCEPT and LOVE yourself. You decide that you have value in that 400-pound body. You decide you have value even when your husband didn't. You decide you are beautiful even when the world looks at you like the literal elephant in the room.
After you make that decision, you do the other courageous thing, CHANGE. The change was gradual and far from immediate. It started with exploring what real self-love is. It started with working on feeling beautiful in my current body and not just wait to feel that in my future body. After I started to realize that personal beauty and value, I then started to work on my weight. I looked into different options and enrolled in the program with my insurance to get weight loss surgery. I made a decision that I was going to start changing my behaviors and create sustainable lifestyle changes. The program I joined took 6 months of observation and education before they would submit to insurance companies. I lost 90 pounds in that 6 months prior to surgery just from changing my behaviors and habits.
Two months into that program I was checking something in my email when I typed in a name and something weird came up. Something in my gut told me I needed to dig deeper. I asked my husband for his email password and searched the name that came up in my email. When I hit search, years' worth of infidelity and Craigslist sex ads he had made came up. The shock was different this time. This time it hit me with inexplicable soberness. At that moment, I knew my marriage was going to end. The 'one-time incident' was actually one of many instances that had been happening for almost the entirety of my marriage.
He had been interacting with people sexually online for years. I remember seeing the photos from real people that had been sent to his email. I remember feeling so violated. I remember feeling like a complete joke. I was the Christian stay at home mom who used to judge other people when their lives fell apart, and my entire life just went up in flames. My entire 10-year marriage was a lie. I never really knew the man who I was sleeping next to. I had married a stranger. The same man that said he would never cheat on me and loved me more than anyone else had lied and betrayed me.
'So now what?,' I thought. 'What do I do? I just started working on losing weight. I just started this program that could forever change my life. I do not have time for my personal life to explode. I don't know if I have the courage or capability to divorce this man and become a single mother.' I didn't know… but I decided to try anyway. I decided to weigh the cost of that decision and trial. I was still in my weight loss program. I was still trying to get weight loss surgery. I was still fighting for my physical health while I took on the fight for my emotional and spiritual health.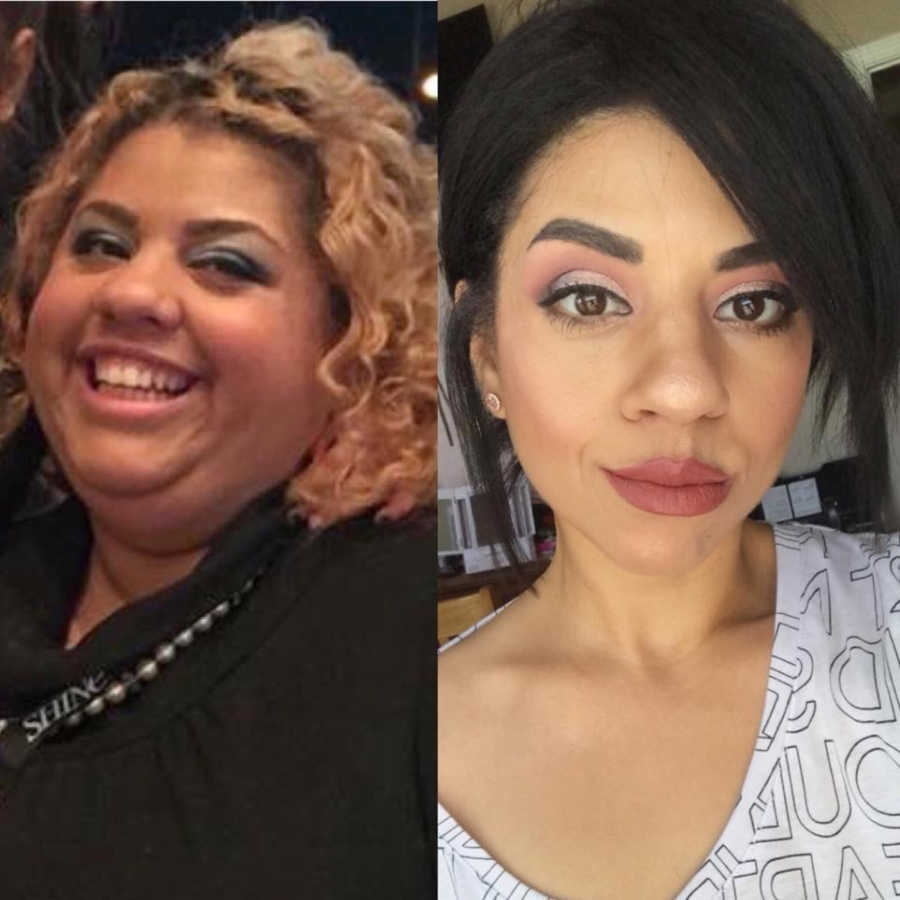 It took me almost 18 months to get out of that marriage. Those 18 months was one of the most difficult trials of my life. I had to leave my home and move in with my parents. I had to go back to work and leave the life of spending endless time with my kids. I was awarded a vehicle to drive in my divorce, but after he stopped paying, I lost that too. I was awarded a measly $12.09 in child support. Ten years of marriage amounted to $12.09 a month.
I lost a lot, including 250 pounds. I lost around 200 of those pounds during that time. I lost friends and had lost some family members for a time too. I went through this massive personal transformation that was all-encompassing. I discovered myself. While going through one of the most traumatic emotional experiences and stages of loss a person can go through, I found myself. I also found my voice.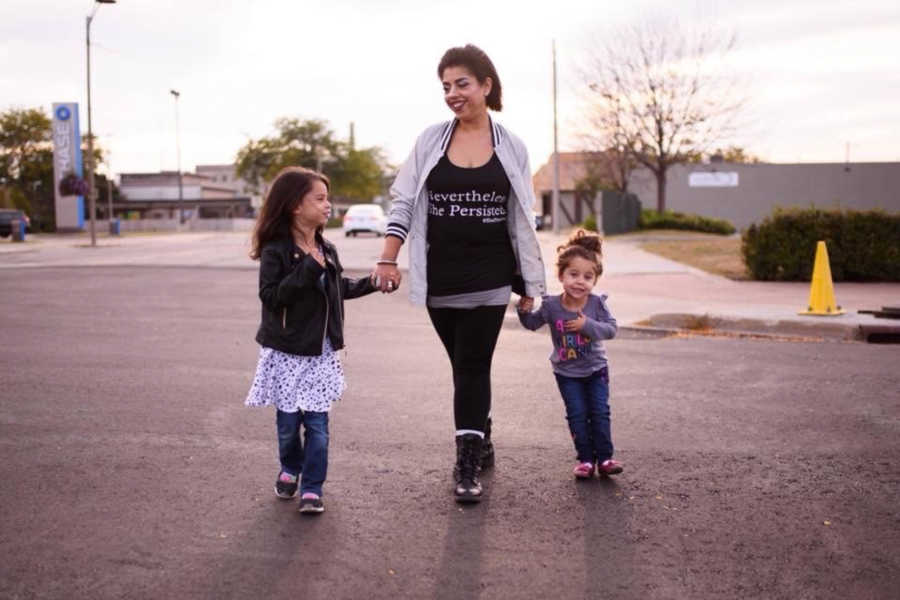 Beauty rose from the ashes that were left after that marriage died. It still hurts at times. It still hurts to think that someone could do something like this to another person. It hurts to remember having to get tested twice and answer the questions about why I am getting tested when I am married. It hurts to think that my kids will forever live in two homes. It hurts to think about how there is always a part of me that will always be on high alert and be on my guard. It hurts having to face that your entire life with someone was a lie, but it's okay. I have made peace with it. I am not even that mad anymore. This experience forced me to change. It forced me to take charge of my life. It forced me out of my comfort zone and into a state of recreation of myself. I am better off today than I ever was with him in that life.
I got out. I got free of him. I escaped. I feel like I have lived two lives and like my life has finally begun. I got remarried to a man who became my best friend first and fell in love with me after. It's funny how God works like that. God knew I would never be able to truly trust a man in a relationship again after being lied to and deceived for years. So he gave me a friend. He gave me someone who I could know, understand, and trust as a friend before becoming a romantic partner. He gave me a new life and rewrote my story. He gave me strength and courage to face my life, change, and come out better."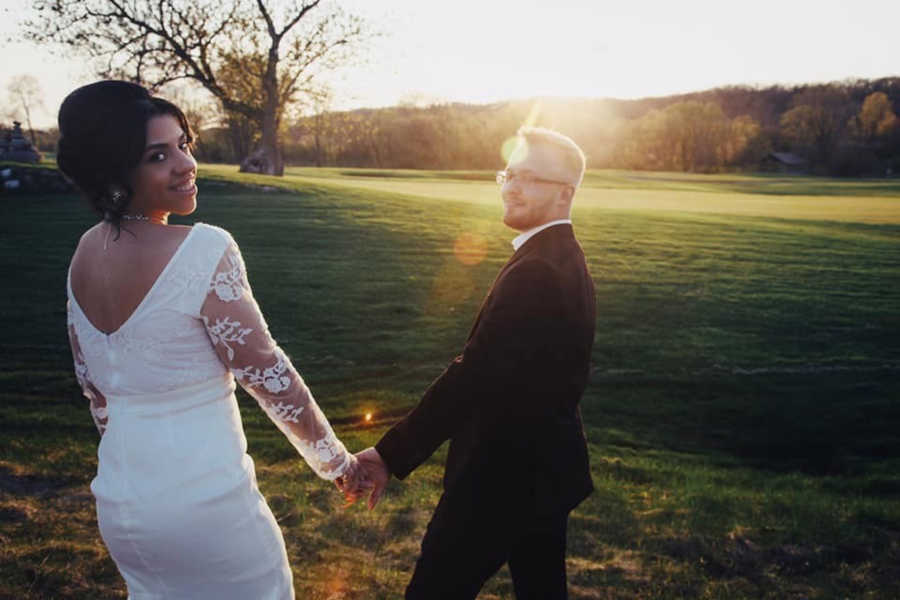 This story was written by Drew Rad of Kenosha, Wisconsin. You can follow her on Instagram here. Submit your own story here, and subscribe to our free newsletter for our best stories.
Read more inspiring stories from single moms:
'We connected on a dating app. I swiped right. The man was gorgeous, but 20 years younger. I tried to weasel out of it. He was persistent. I agreed to meet him for a drink, but grew suspicious.'
'Hours shy of our wedding, at 5 months pregnant, I was assaulted. My fiancé sat in the fetal position, berating himself. 'I don't know what is wrong with me,' he said, begging me to forgive him.'
Do you know someone who could benefit from this story? SHARE this story on Facebook with friends and family.