"When Shalini and I met on December 2, 2016, I was on the journey of my second life, making the best of what had been given to me. Shalini and I were both at a small Christmas fair selling our craft products. She came to introduce herself, while I was trying to avoid any contact. The moment the corner of my eye caught a glimpse of her though, I knew she would be trouble for me. She was so elegant and feminine, fully in her own power, but I wanted nothing to do with women for a while. I was rebuilding myself and my confidence after a life changing accident.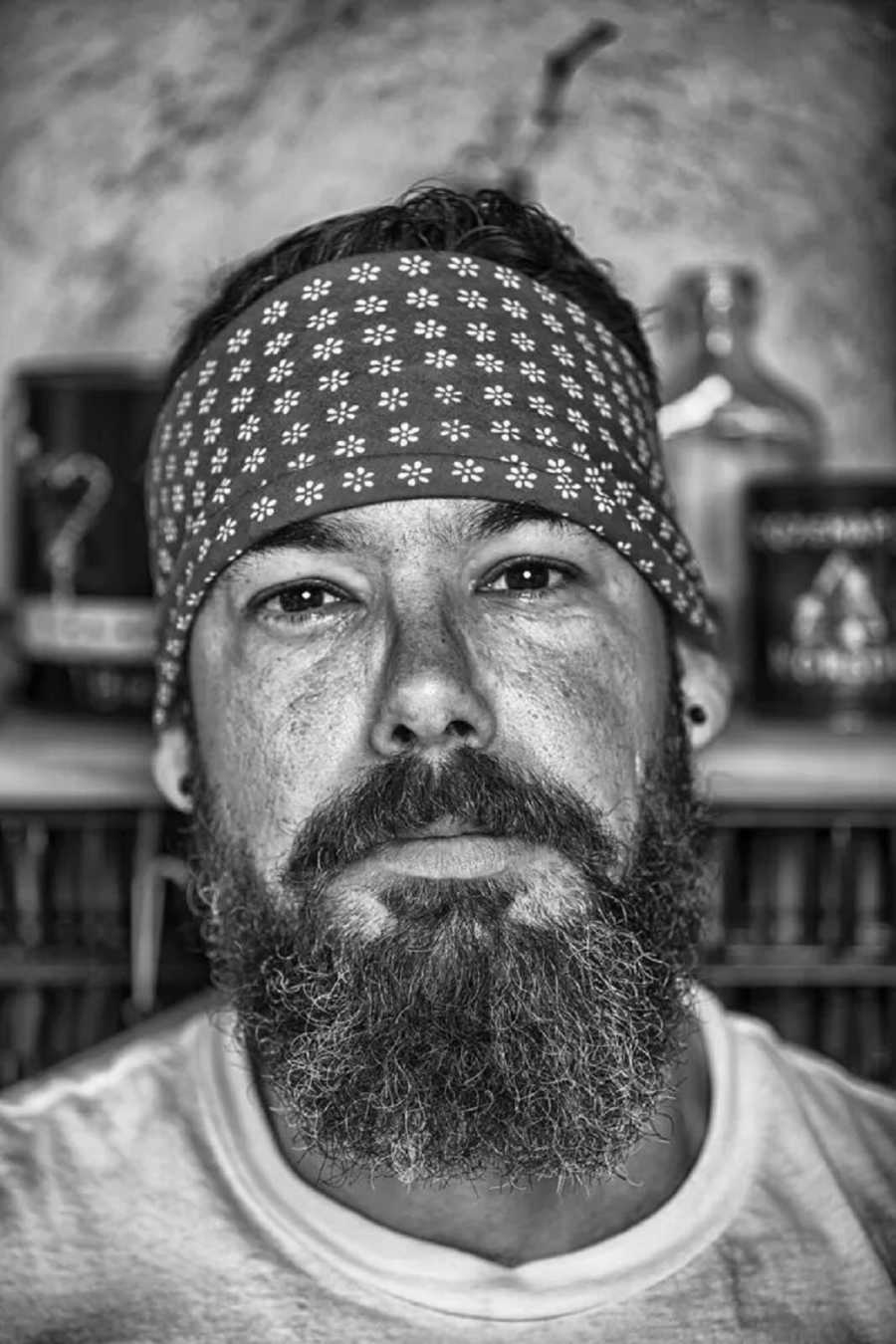 In May 2012 I had a Scuba diving accident. I made a very irresponsible judgement call when I went too deep for too long. While my girlfriend Debbie and I were slowly getting back to the surface, we ran out of air. I will spare you the details but she held her breath, got a lung embolism and stopped breathing shortly after. I managed to get us back to shore but a couple of hours later she was declared clinically dead. Just 24 hours later, I lost all sensations from my chest, and was paralyzed from my waist down. My life had drastically changed, leaving me shell shocked and traumatized by the experience of seeing someone I loved fight for her last breath of air.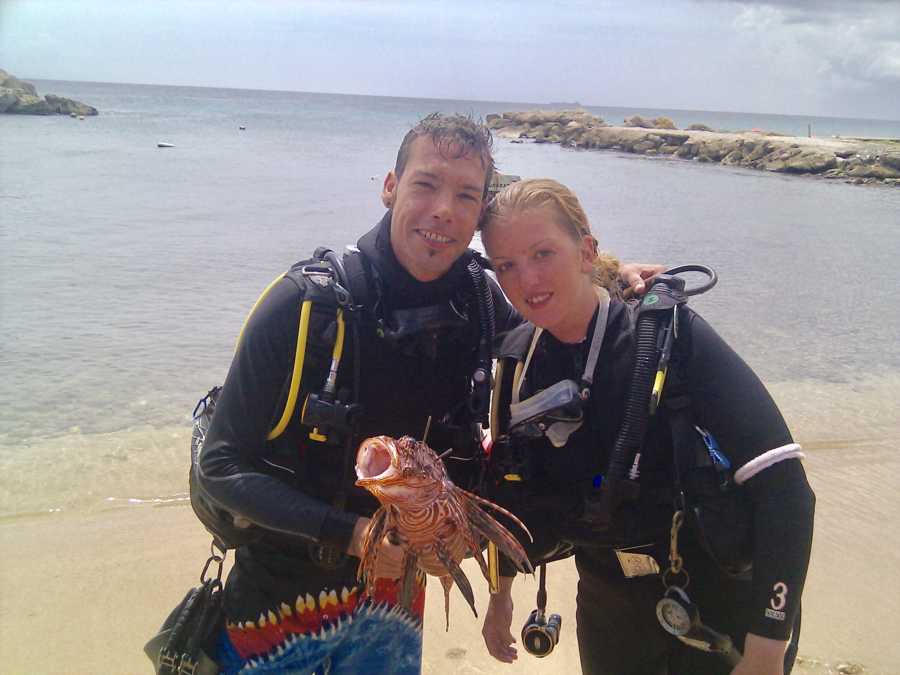 The following two years I had to learn to deal with the mental and physical pain. The loss, the guilt and the shame that were eating me alive. Learning to walk was agony with spasms waking me in the middle of the night, but regaining my strength was the most rewarding thing I had ever done. My mind was set to not only survive, but thrive, because Debbie's death couldn't be in vain.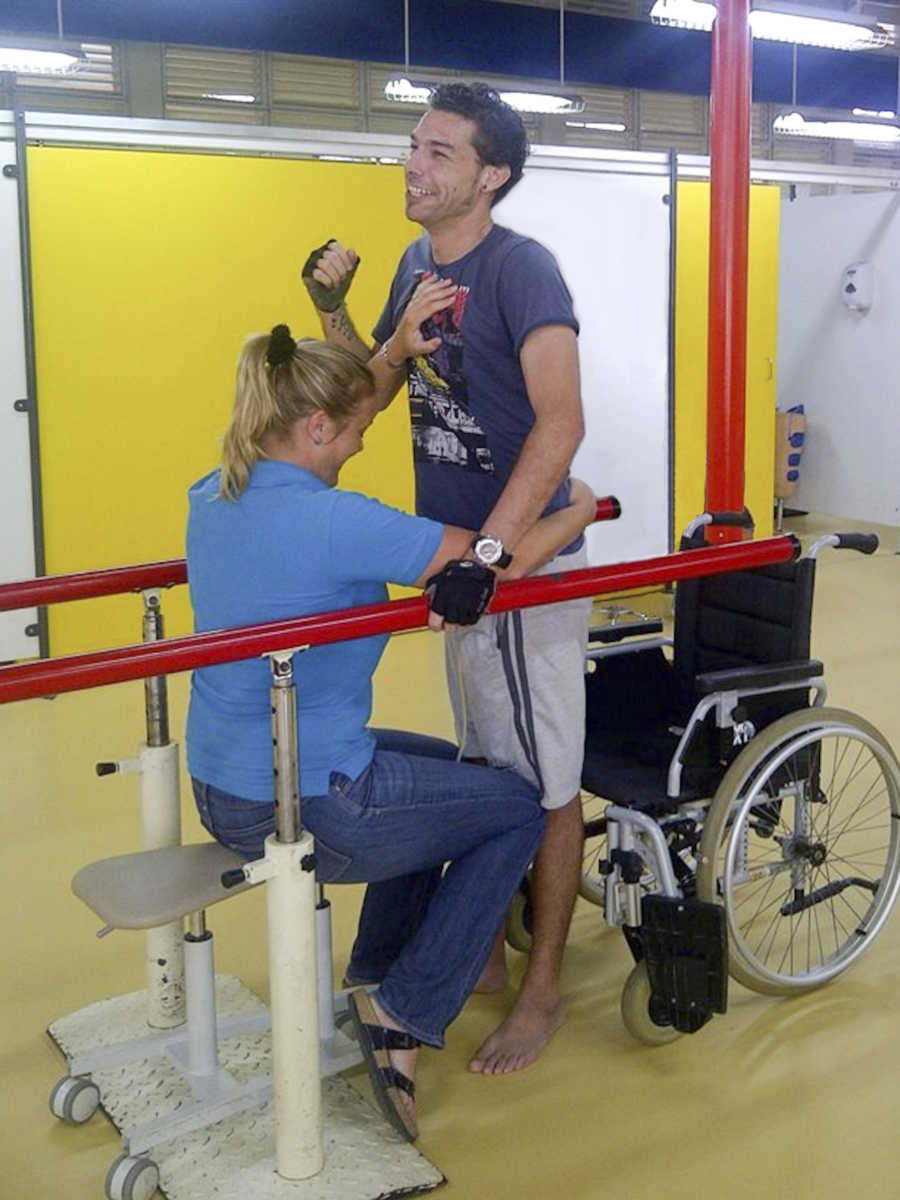 I hit two major depressions with one ending on the bathroom floor wishing I was dead. I wish I could've traded places with Debbie so she could be still alive. In the realization this was not possible, there was only one option left. I had to honor her. I had to become the best man I could be, as strong as I could be. As wise as I could be. I studied day and night how to better myself. How could I become mentally stronger? How could I find a better balance so I could walk without crutches or even without a cane? How could I lose all these pounds I gained? And how could I get out of this financial depression I was in? My disability welfare was only $80 every two weeks and there was no hope on the horizon.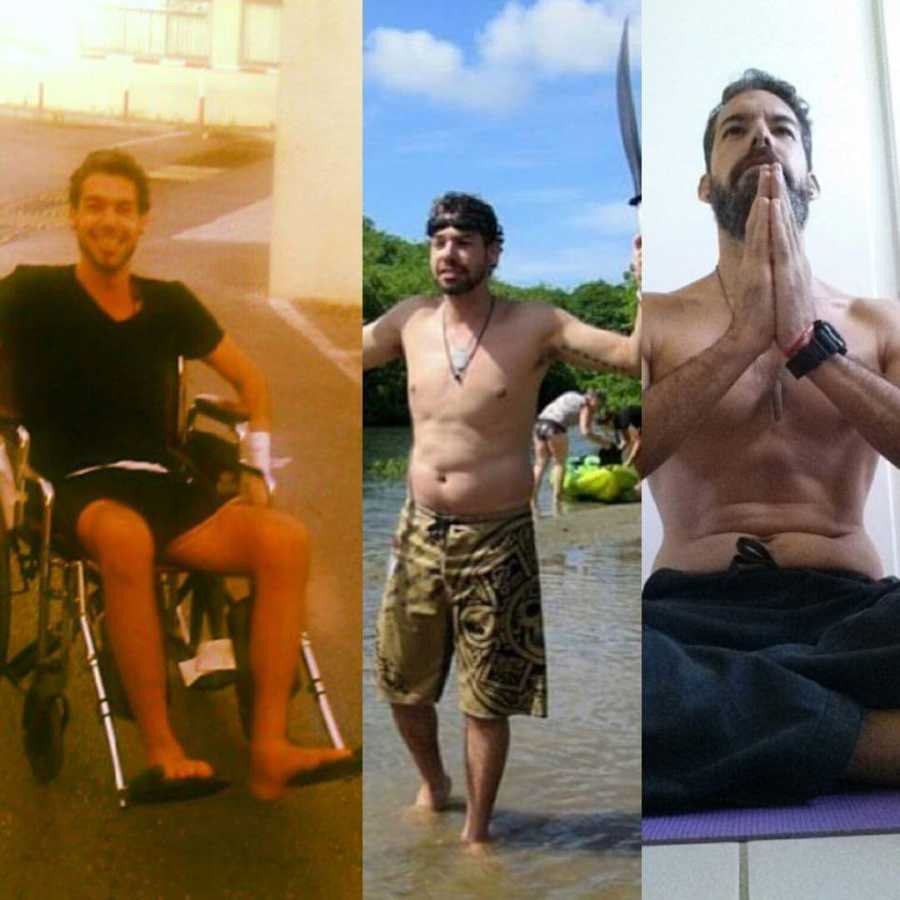 Harmony was the answer I found. As I learned to better my eating and sleeping, I learned to deal with the pain. And as physical and mental training developed, I grew more patient and believe I could do this. Mindfully, I started a small business upcycling other people's crap into craft and gained notoriety with craft pieces I shared on social media. Unexpectedly, that started my travel around the world from this little island Curaçao I call home. It showed me it doesn't matter how little you are or how much money you have. If you want something and you create it, it will grow. And as it grows, it will take you on its path.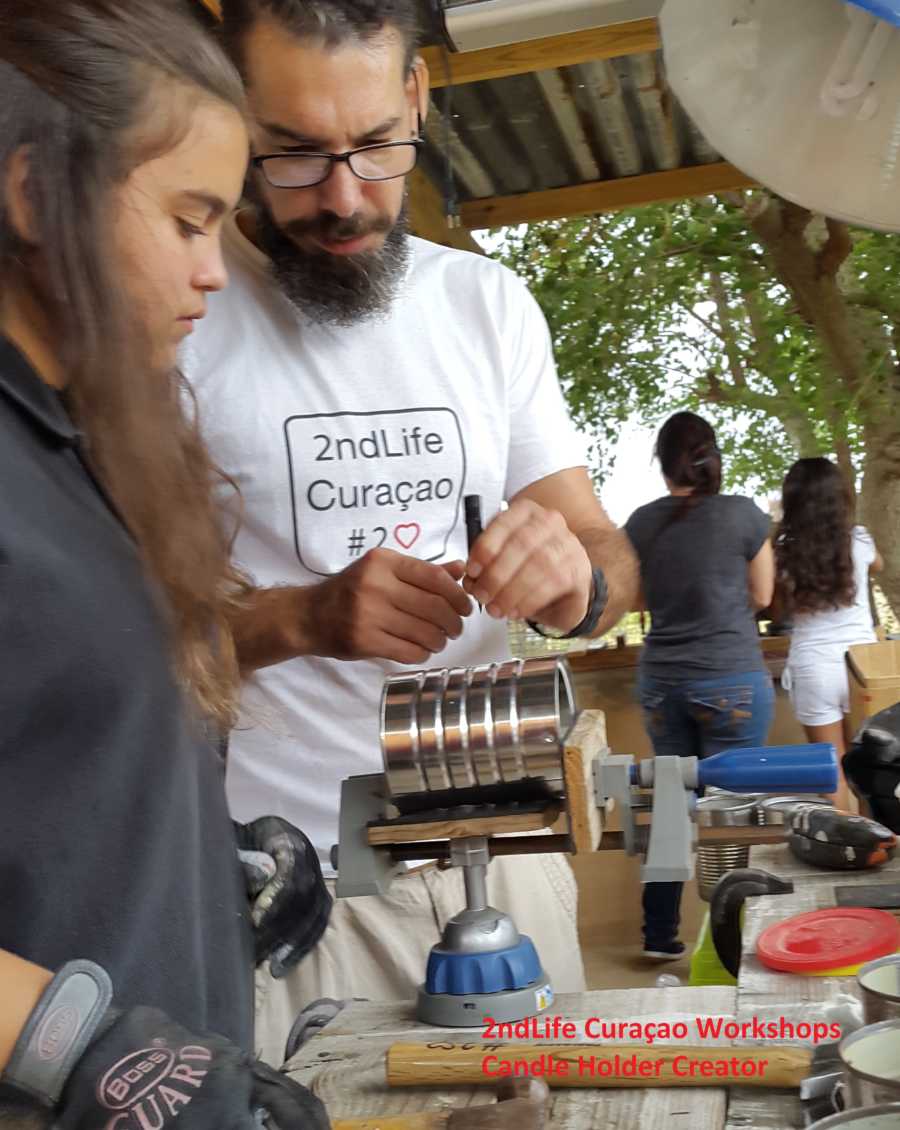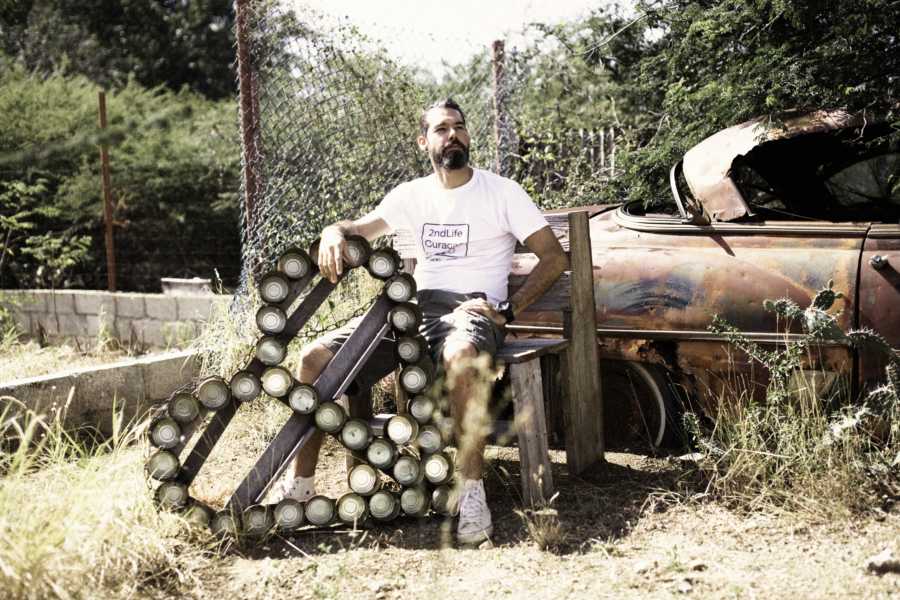 When I met Shalini in 2016, I had established a name with my products and I was developing myself as a mindfulness coach, a public speaker and social entrepreneur. I did a TEDx Talk in Aruba and managed to buy and drive my own car. Her presence in my life and her (at that time) 3-year-old daughter, opened my eyes in ways I could never imagined. Being raised by a single mother, I had never had good, solid male role model, but now I am to others. Shalini is very close with her younger sister Mrinalini (Mini), whom I have to be a man, brother and father for, and I did not feel ready! But boy does it feel good. It came like second nature as I discovered whole new sides to me and being a man.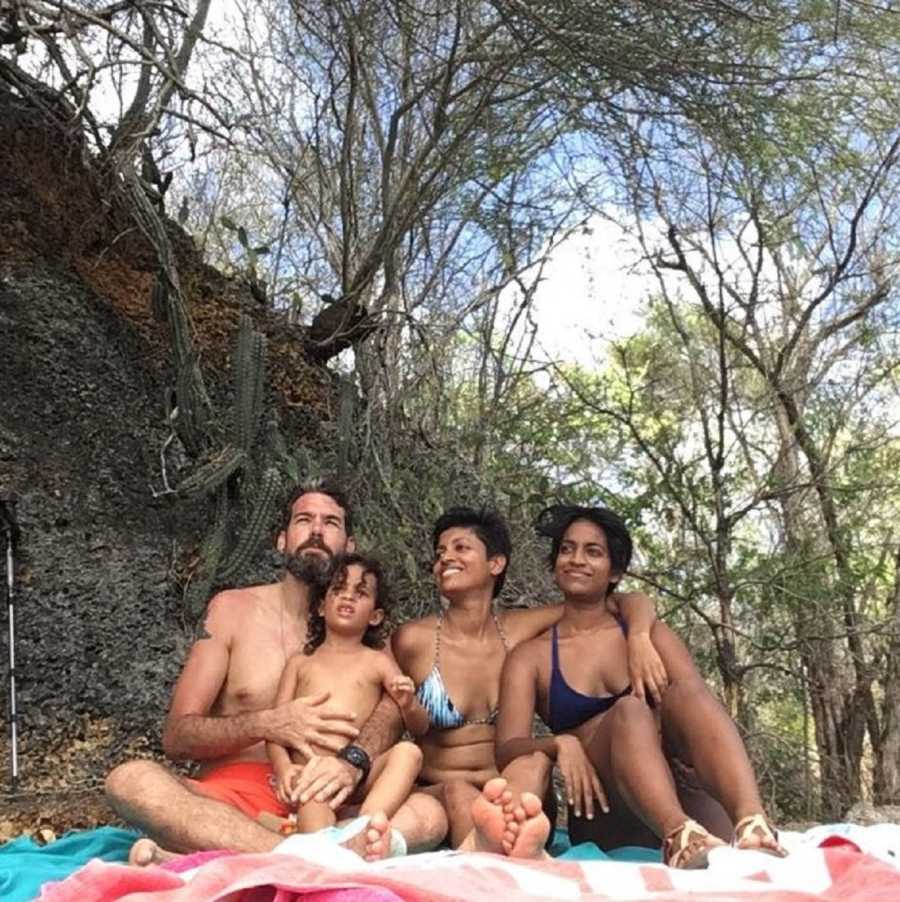 Shalini had her own baggage. An unexpected pregnancy had put her life on hold just as she had ventured out to discover herself and life in a free world. Shalini was born in India, moved to Curaçao at age 6 and studied physical therapy and eastern medicine in Ithaca and San Diego. She had no place for a man in her life, and definitely not one with physical limitations that would mess her life up once again. It resulted in deep conversations that would send many people running for the hills. All her traumas, all my inhibitions, our difference in cultures, and of course, the topic of the century, our masculine and feminine disbalance. How are you going to start a relationship as beginning business owners, a first time (single) mother, a man with physical limitations and lack of resources? We sat down and talked. We talked so much, and nothing was off limits. All her past male experiences, all my past heartbreaks. We chose to work on it, and it got nasty at times. Walks in forests. Swims in the ocean. Late night campfires and emotional meditations helped us break down walls, reset boundaries and slowly choose more and more for each other. Both knowing very well that whatever we chose would be of great importance to her daughter, and the family influence was always present.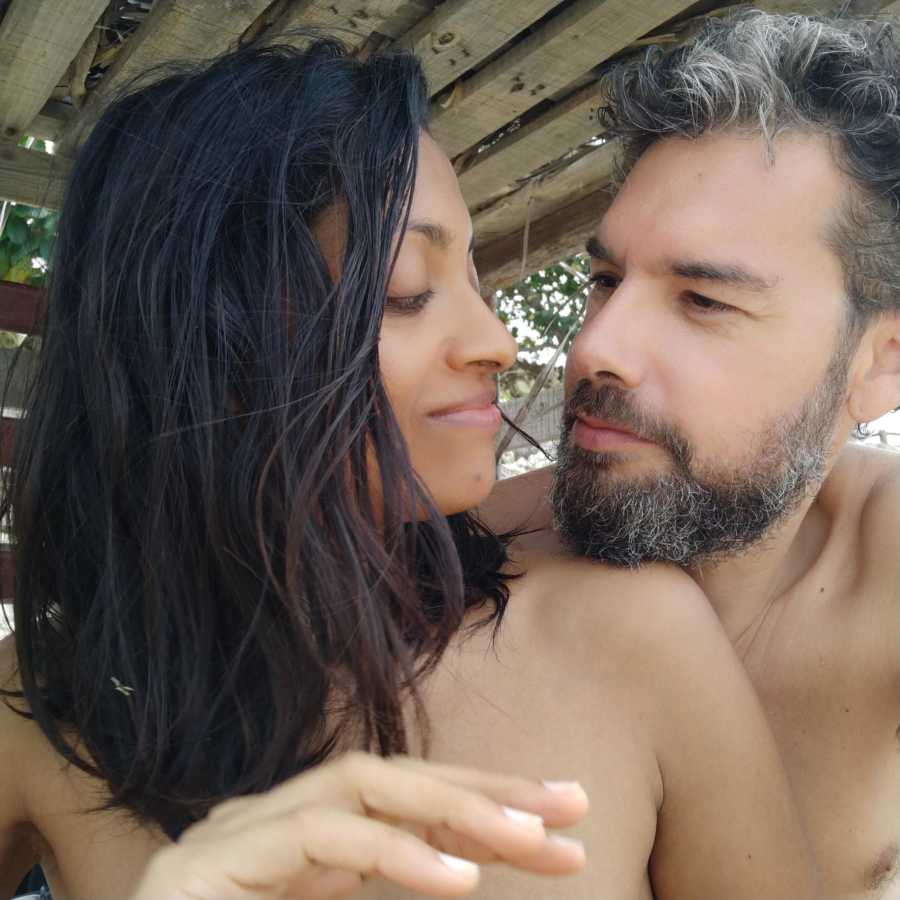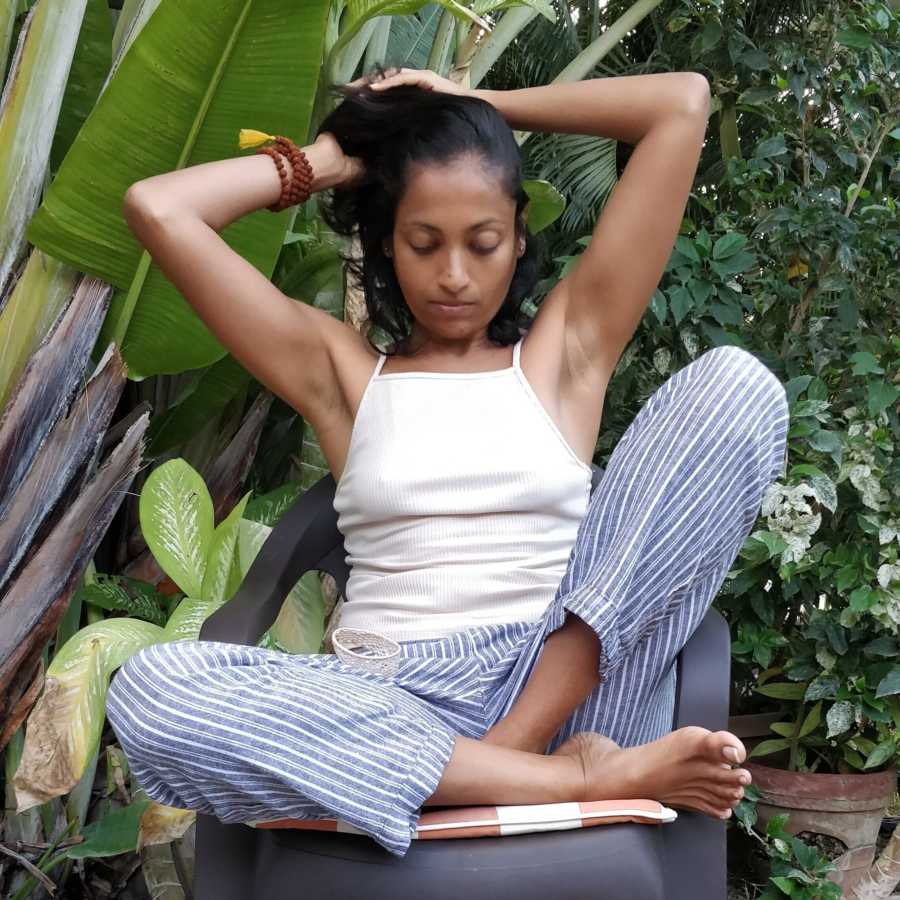 I have never thought I could be this man I am now. For her, for her (our) daughter, and most of all, for myself. I can listen, I can talk, I can embrace the discomfort to create comfort, and we are not afraid to hold each other accountable. I thank Shalini for that. She takes more space than I would like to connect with herself, but I respect that. She acknowledges me more than I could ever have dreamed of. She allows me to feel like a man and she encourages me when I show my vulnerability. This we both had to learn and deal with. The way she listens to me, talks to me, I feel trusted, I feel like her man. Her best friend. She's not afraid to kick my butt and tell me to pick myself up. But what I love most about her, is her choice to work on herself and through her (past) pains.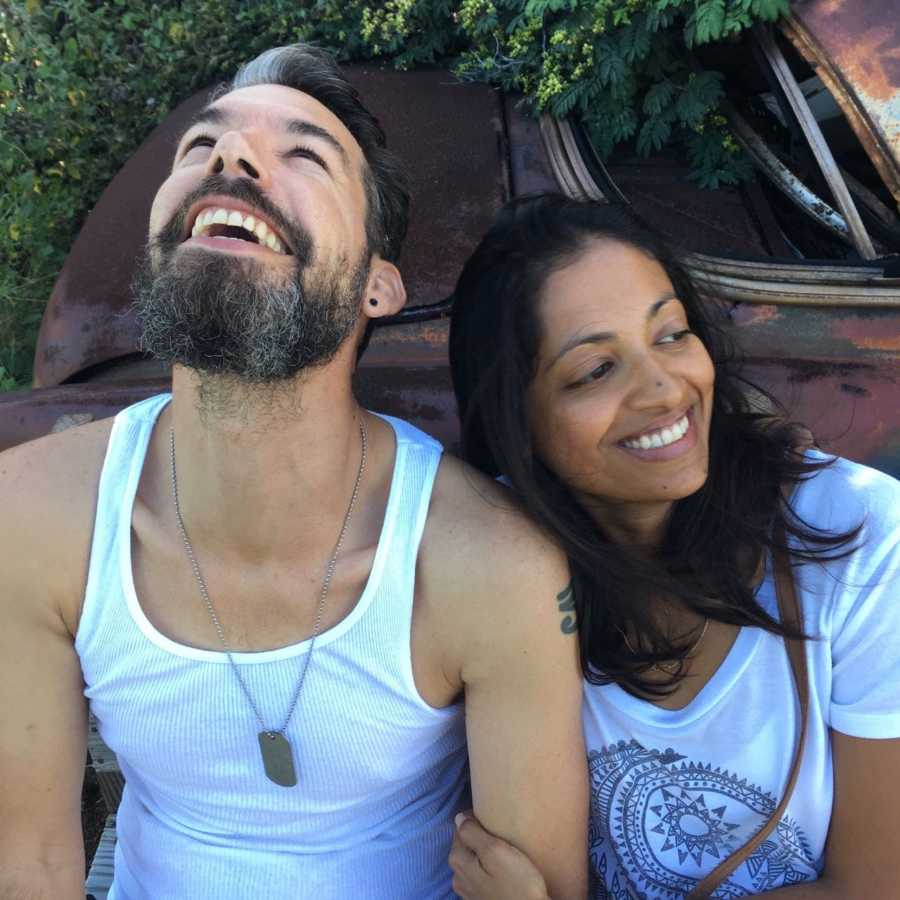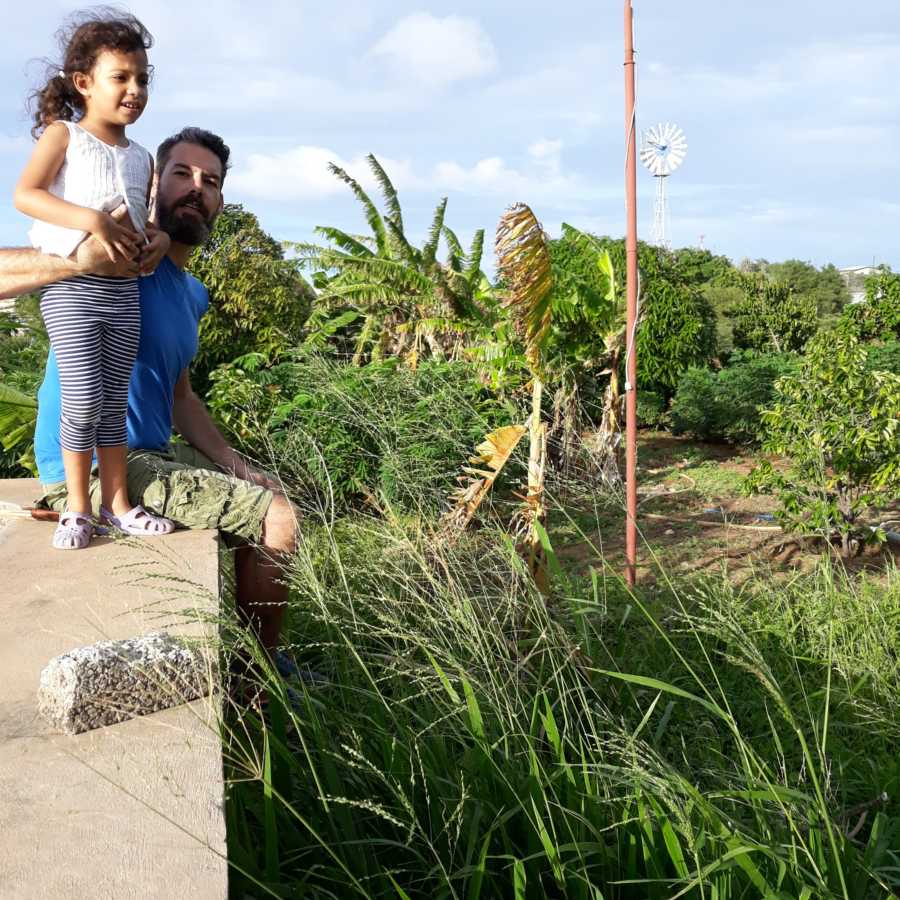 She asks me to stay put and tells me she understands it might be difficult for me, and she appreciates me sticking by her side – no matter what. I on the other hand love to be able to be there for her. To stand by her and be her anchor, her rooted tree she can hold when she gets insecure or confused. That I can understand her struggle as a single mother to find her place in this world where she is supposed to have a career, but all she wants to do is care for her little cub. I love seeing her grow and see her own herself even more. Yes, even when it gets scary and she doesn't need me. I take a step back and be there when she comes back to me.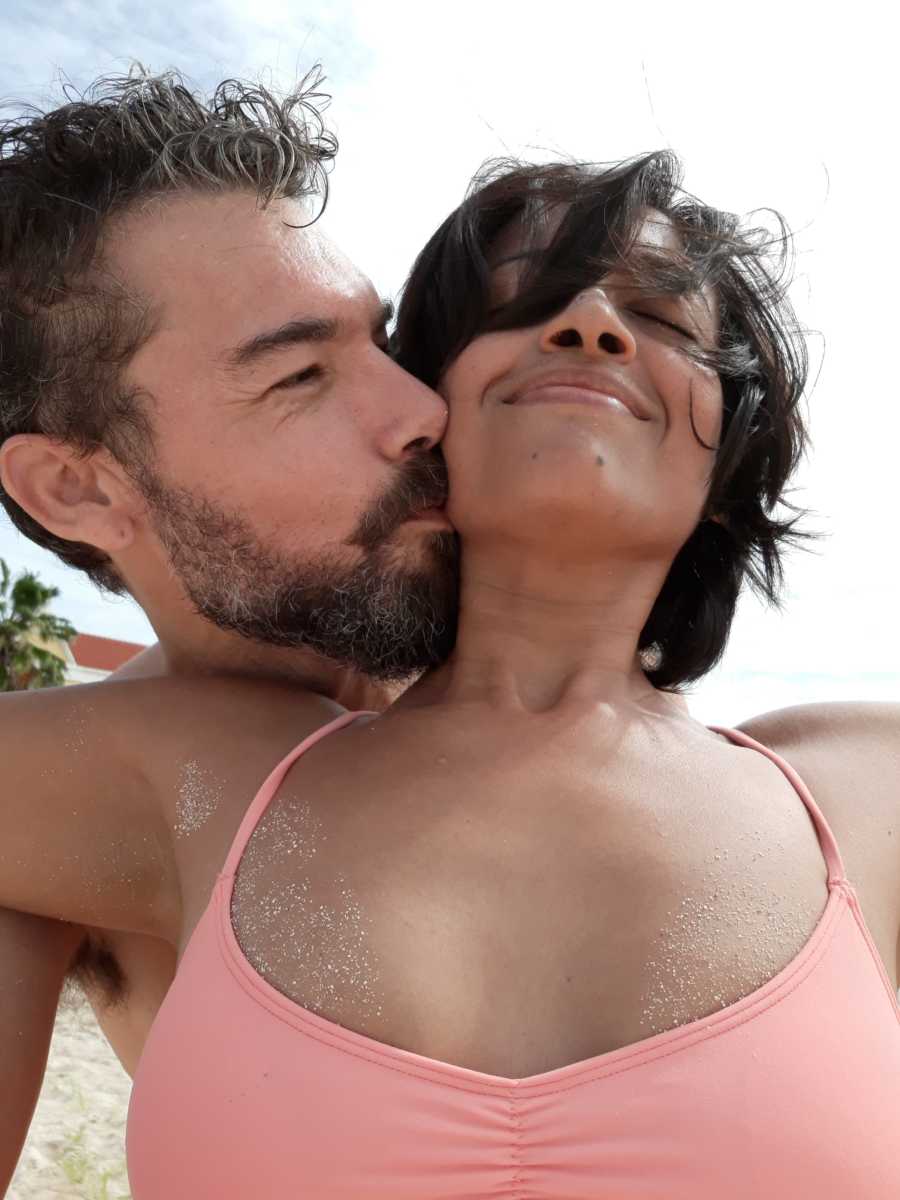 I never knew I was able to love this way. I never knew this was how you bring Mars and Venus to harmony, but we are at this place now where we counsel other couples. We use all our experience, me as a social worker and holistic coach, and she as an acupuncturist and wellness consultant, to heal the people around us. To bring harmony in a world where everyone is screaming and getting drowned in overwhelming amount of 'non'-information. We chose us, we work on us and where we can, we share our knowledge to better the collective. Even from this small island we have a far reach because we are not afraid to dig deep and be bluntly honest."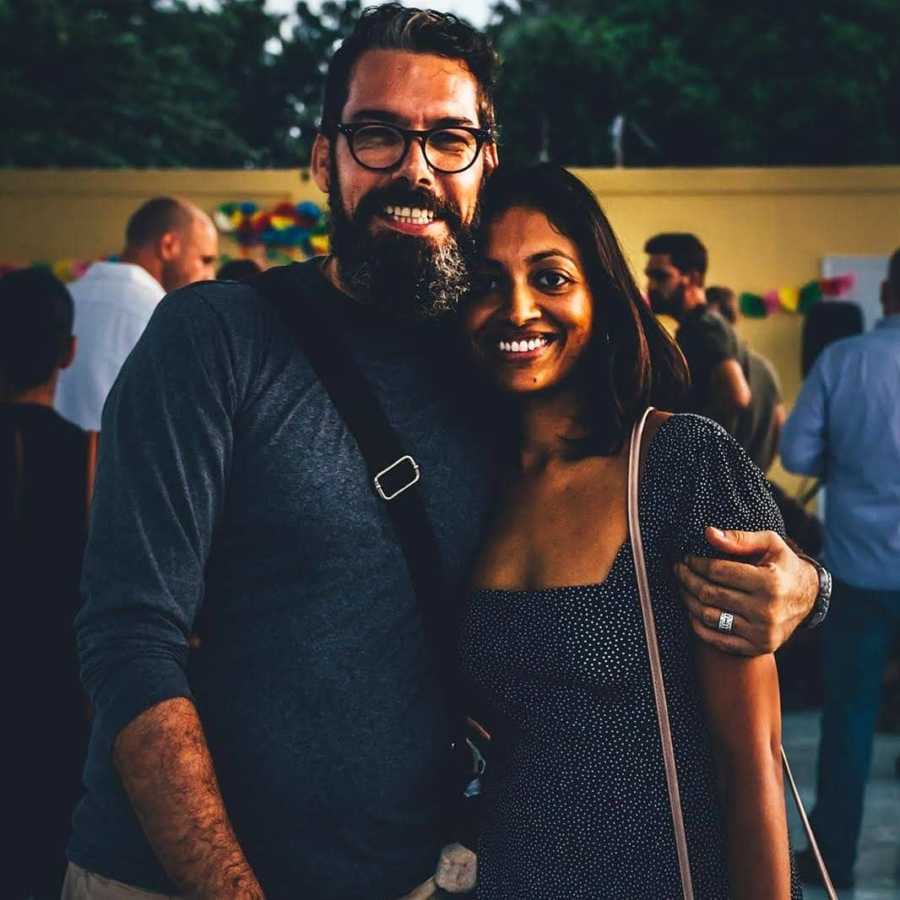 This story was submitted to Love What Matters by Andy Kirchner of Curaçao. You can follow Andy on Instagram here, and Shalini on Instagram here. Do you have a similar experience? We'd like to hear your important journey. Submit your own story here, and subscribe to our best stories in our free newsletter here.
Read more powerful stories like this:
'Hours began to pass, and still no Andy. I decided to call him. No answer. The calls started going directly to voicemail. Anxiety started to go in overdrive. Then, I saw it.'
SHARE this story on Facebook to encourage others to cherish every moment and love what matters most.