"I've had a hard time finding the voice to share lately. The story I feel it's imperative to share is a hard one to put out there. You see, now that the paperwork's been submitted, soon, we'll find ourselves in that small white room again…the sterile environment with intentionally placed toys…and a team of humans in white coats with clipboards.
When I think back to the first two times…how unprepared we were, how truly naive we were, how scared we were, I keep trying to think of what I wish someone had told us about autism. What I wish those white coats had said to prepare us for the last three years, instead of asking us how strong our marriage was, what child care we had lined up, since we both believed we should still be able to work for a living, what expectations we had for our children, and what our support system of friends and family looked like.
I remember looking at them blankly as I squeezed my wife's hand, thinking, 'Is this really what you want to talk about?' Furiously feeling unprepared for whatever we were about to face. And now, as we prepare for the third time around, I realize all I wish they had told us was, 'It will be okay.'
'There will be days when you'll worry he'll never speak. And when he cries in frustration it will break your heart in ways you never knew it could be broken.'
'There will be days you'll wonder if you'll continue to spend what feels like half a mortgage payment on diapers for the rest of your life, and as he starts to out grow the only sizes left, you'll start to research prescriptions for the larger sizes.'
'When they ask you how strong your marriage is, it's because there may be days that feel so long and so impossible, you and your spouse start to turn on each other because how could you get mad at an innocent child.'
'There will be days you will not be able to show up for the friendships you had, and you may miss out on important occasions, like standing beside them as they marry their true love, because you can't leave your children alone for a few hours, let alone a few days for wedding festivities out of state.'
'There will be days when you hit rock bottom, and while you're at the doctor's office for your annual physical, you will cry if they ask if you feel safe at home, not because of an unruly marriage, but because as your child gets older and more aggressive, you actually fear how long you'll be able to keep both him and yourself safe.'
'There will be days when you are simply lost at who to name as a caretaker to your children in your will, because the reality of the situation may simply be unfair to leave behind, and you will decide you simply cannot die.'
I wish they said some of the hard scenarios we would inevitably face with not just one, but two, sons on the spectrum. I wish they had given us the perspective of, 'Buckle up folks, this isn't the parenting road trip you thought was in your windshield ahead.' Because had they said this, I feel like they would have finished with, 'BUT, it WILL be okay.'
I know they'd emphasise the WILL when they'd say…
'There will be a time when your child finds his voice, and teaches you the definition of what it means to sing as if no one is listening, bringing you to tears of pride and joy.'
'There will be a day when you don't think you can try any harder, and it suddenly clicks for him. It won't take him weeks to potty train, but hours, and the surplus of diapers you have stashed in the basement will no longer be needed.'
'There will be days with what may seem like such small victories to others, but to you both feel like both heaven and earth have been moved for your child, that only your partner in this race of life is who you would ever want to share it with, bringing you closer than you could ever have been without the struggles.'
'There will be a time when you show up for a friend in a way only you can…like when another mom hits their rock bottom, but you are there to pick up when she calls, and show up in the most authentic way, so she knows not only is she not alone, but for her family, too, it will be okay.'
'There will be a healthy way to teach your child emotional intelligence, and the importance of using the words once he's found them, instead of the physical aggression to work through how he's feeling, teaching him at such an integral age that allows him to show up for society as a better human being decades later.'
'There will be days when you count down the minutes until you can tell his therapist/teacher/para about the small victories you and your spouse basked in earlier that week, and you will cry tears of joy together, because the administrator knows just how amazing each small victory is.'
'And there will be someone in your life who knows your children and will love them enough to show up in every which way they need. You will know who they are because they will be actively present in your life, and when you ask your child who they want to be their Valentine, he will name her before he ever thinks to name you, because she has shown him her love every day since the moment he was born. And if someone, heaven forbid, had to fill your shoes when you were gone, he'd trust her to do it.'
It will be okay, because parenting autism, or even having autism, is not the be-all-end-all of what it means to be okay. It is challenging, but it is beautiful. It is lonely, but it presents the most authentic relationships of your life.
It is sacrifice after sacrifice, but it is also reward after reward, in every sense of the phrase. It is something not everyone will understand, because not everyone was built to understand something of such magnitude. But you, my friend, were built for this. And it will be okay.
I found the voice to share this because whether or not our third child receives a diagnosis when we leave that white, sterile room, this third time around simply does not matter. What matters is IT WILL BE OKAY.
If you have someone who needs to read this, please tell them IT WILL BE OKAY.
If you, yourself, need to read this, IT WILL BE OKAY.
Every day, for the next chapter of days to follow, IT WILL BE OKAY.
We see you. You are not alone. And it will be okay."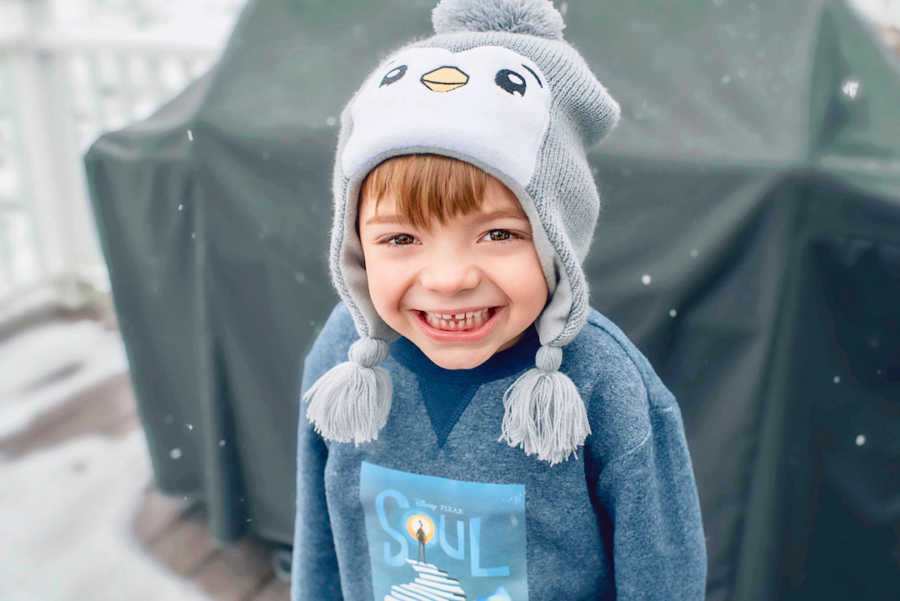 This story was submitted to Love What Matters by Christina Young. You can follow their journey on Instagram and their website. Be sure to subscribe to our free email newsletter for our best stories.
Read more from Christina here:
'Jack asked to wear his sister's pants. He had his eye on them since they appeared. We both paused.': Mom worries about son's self expression, 'Will they chalk it up to us, his two mom's?'
'Snap out of it, Christina! This will end, they will go back to school.': Special needs mom gives advice for stages of grief, 'Just make it to acceptance'
Give other parents strength and courage who are continuing to learn about their children with autism. SHARE this story on Facebook.