"It was my third IVF and finally we saw two lines on the home pregnancy test. Joy and relief flooded my body WE WERE PREGNANT! This was my time, no more longing, no more fear I'd never have a child. No more spending every penny I had on IVF. I could finally enjoy life now, I felt my life had been on hold for so long.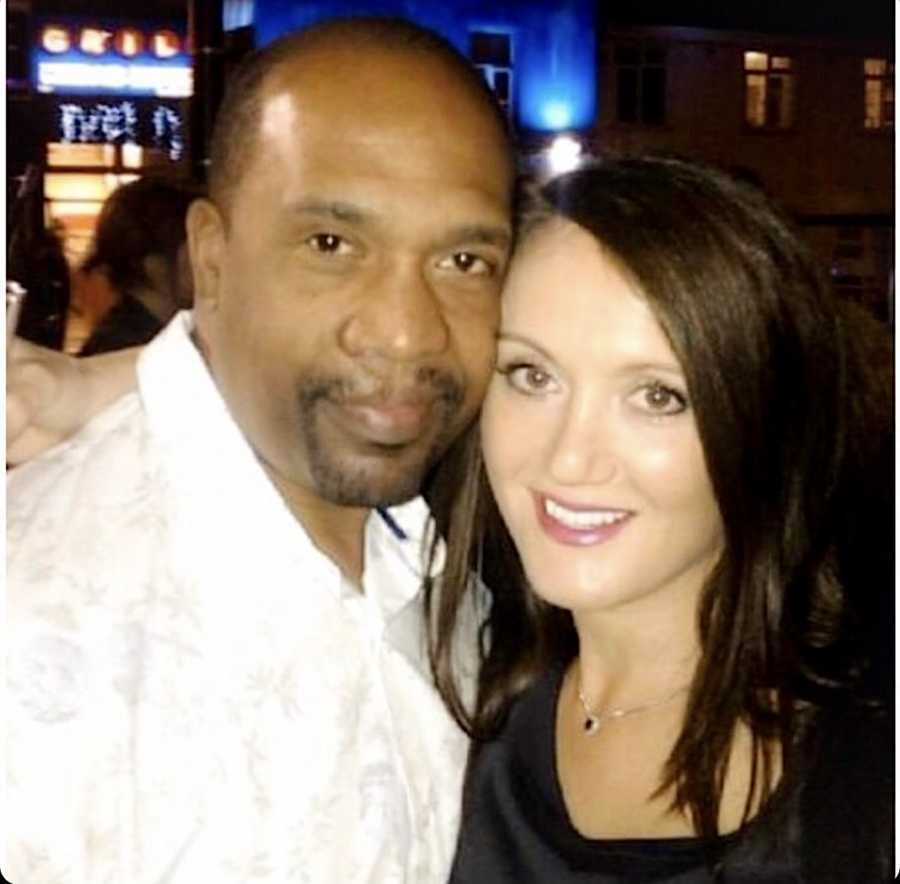 Two weeks later, I went for a scan alone. I was a little nervous as we already had one ectopic pregnancy, a miraculous unassisted conception but was just bad luck, we were told the chances of it happening again were so low and we had removed the fallopian tube.
As the doctor started the scan i held my breath and prayed… please God let there be a heartbeat… and there it was! A tiny flickering heartbeat in just the right place. I sent a video of this to my partner and we watched it a hundred times over the next two weeks, patiently waiting for our next scan.
This time my partner was coming too, so he could see the heartbeat for himself. The doctor started the second scan and I was watching his face, waiting for his reaction when he saw that precious heartbeat. Waiting, waiting, then the doctor was very quiet and had a serious look on his face. Finally, he spoke.'I'm sorry, but I can't find the heartbeat.' Our baby's heart had stopped beating, and all our hope and happiness was snuffed out.
I had a surgical procedure to remove the pregnancy and genetic testing to determine what went wrong. The tests showed I was carrying a little girl and she had Trisomy 22. 'Not compatible with life.' Apparently it's a common cause of miscarriage in the first trimester. It didn't make it any easier, I was devastated, and dealt with it by focusing on getting pregnant again by the time she would have been born, which was late October.
We started trying again just as soon as we were medically able to. Two more perfect embryos on board, a long two-week wait to find out if they had implanted or not and then the test. We were pregnant again!
We weren't quite as joyful this time as things had gone wrong twice before, but happy. We were just praying all would be well.
I nervously walked into that scan room alone, and the doctor started the scan, Straight away, I just KNEW it was bad news and then the words came. 'I'm sorry, this pregnancy isn't viable, it's ectopic.' Again. Against all odds, this little embryo had found its way into the remainder of the tube that was removed! Surgery followed that same day. I was CRUSHED and felt lost in a never ending cycle of trying and failing but unable to give up on my dream.
After this came more embryo transfers but each one was a negative. October came and went and with each day I felt sadder than ever before. It was like the grief suddenly rose up to an unbearable point.
The clinic suggested we switch to genetically testing our embryos and using a surrogate, but I wasn't ready for surrogacy quite yet so we switched clinics. I heard amazing things about a clinic in Athens, Greece, so we headed there for our 8th cycle. We produced some perfect embryos and the embryologist even let us look at them through the microscope, life in its earliest form. It was such an amazing opportunity and we were so grateful! My partner said they looked just like diamonds. That cycle was our lucky cycle and our baby girl Violet was born, Daddy calls her his little diamond. The moment she was placed safely in my arms was one I will never forget, happiness and relief in equal measures. We had FINALLY made it.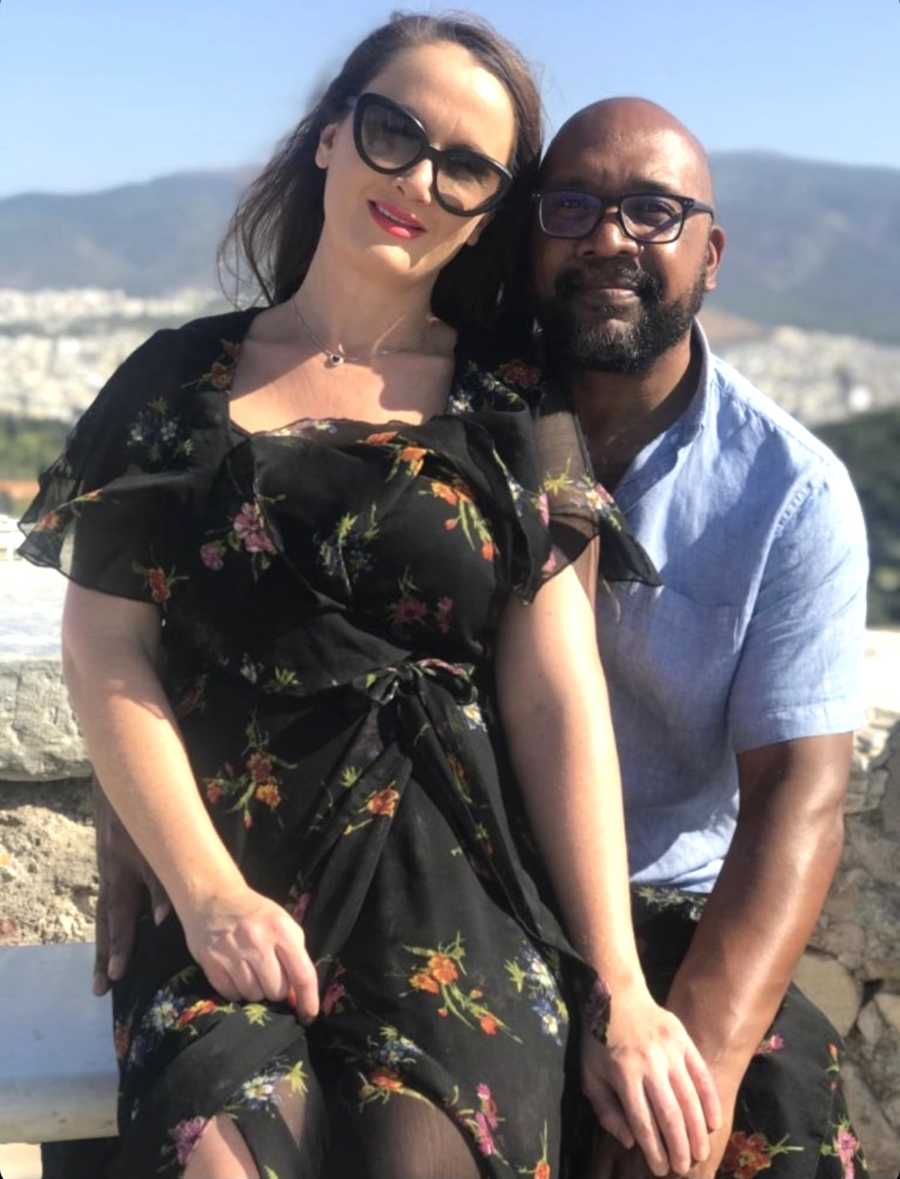 I always wanted a big family, but after the hell we had been through to get our baby, I didn't expect it to ever happen. We still had some embryos frozen and we promised we would leave no man behind, so we went back to Greece to try for a sibling. We had a few cycles, they were either negative or cancelled due to issues. We had one last try left, three embryos remained frozen and I kept delaying going back for them. The thought of this being our last go was so nerve wracking, if it didn't work then I knew there would be no more children. I was 41 and Violet was almost 6 years old, it was now or never. The thought of it failing and knowing it was so final frightened me, there were no more tries after this, my embryo quality wasn't at its best now that I was older and it marked the end of a very long journey.
For the first time ever, I cried on the day of transfer, I was adamant it wasn't going to work. I even sent a text to my sister in law saying, 'I wish I hadn't bothered coming. It's all such a waste of time and money!' I was emotional and stressed and my partner and I argued about everything, but mostly money. The savings were drying up fast and it all just seemed pointless. 'It's not going to work, why are we even here?'
Fast forward 5 days and I'm doing a home pregnancy test at 3 a.m. It was way too early to be testing, but I couldn't help myself, I was too impatient! Two faint lines came up… it seemed we were pregnant but I wasn't going to get too excited!
Two weeks later we went for a scan, my partner and I walked in nervously, praying this little baby had a heartbeat and that it was growing in the right place. 'We have a heartbeat!' the sonographer said. 'Is the baby in the right place?' I asked. 'It is, but there is something else. We have two more yolk sacs, all in one gestational sac. Now don't worry, they probably wont grow any more, but we should rescan you in two weeks.'
We were happy but confused. A thousand emotions came all at once. What was happening here? We went away and celebrated the heart that was beating whilst praying the other two grew as well. I also researched for hours and hours about what it means to have multiple sacs in one gestational sac and what the odds were of a heartbeat appearing now. I also posted my scan picture online and asked for advice. It was met with answers like 'identical triplets,' 'rare,' 'very high risk.' I even had someone call me a liar, suggesting I must have taken the photo off the internet.
Confused and in shock, I just couldn't wait two weeks, so a few days later we went for another scan at a clinic that had very high quality machines. The sonographer found one beating heart and two further sacs, this time they were really clear on the scan. The doctor advised that this was very unusual but would likely not amount to anything.
A nervous two weeks followed. It was all my partner and I could think and talk about. I had butterflies every single day and night and couldn't sleep for very long before I woke up thinking about it and going back to research online in the early hours.
Fast-forward two weeks, we went to our next scan. I was still so aware the beating heart may have stopped and I had no idea what was happening with the other two sacs. My partner and I walked into that scan nervously. The sonographer started the scan and was being very thorough, and finally she spoke. 'So, there is one sac and there are two heartbeats! Oh, hang on, there's a THIRD heartbeat!'
Even though we knew there was a chance of this, to actually be told we were pregnant with three babies was mind blowing. My voice didn't sound my own when I said, 'Because they share one sac, does this mean they are identical?' The nurse seemed shocked also and said, 'It seems that way, yes, it's very rare and I've never seen it before in all the years I've been doing this!'
My partner and I were just looking at each other with happy but shocked faces! We were over the moon with the news, the thought of triplets didn't scare us, we felt SO blessed.
The doctors were all very clear that we shouldn't get our hopes up, this was 'High risk,' 'dangerous,' and we should consider reducing down to one or two. The doctor stated we should definitely consider this if the pregnancy got to 12 weeks, but we made it clear without hesitation that we would NOT be reducing. My partner and I didn't even need to discuss this, we both knew it was not an option. We saw several doctors and each one discussed reduction, we were the only ones who seemed to be happy about this miracle, no one was smiling or saying congratulations, and it made us worried.
We got to 12 weeks and all three babies were growing well. The doctor discussed there was a good chance we would deliver prematurely, we could also get TTTS (Twin-twin transfusion syndrome) due to the babies sharing one placenta and it could be fatal, so we would be monitored every two weeks.
Each scan went well until 18 weeks when the doctor told me some devastating news. We had TTTS, one baby wasn't getting enough blood and nutrients from the placenta and the other two were getting too much. The donor had very little amniotic fluid and the two recipients had too much, it was putting a strain on their hearts. Left untreated they could have strokes or die. The doctor shook his head and said it was very serious and gave me three options: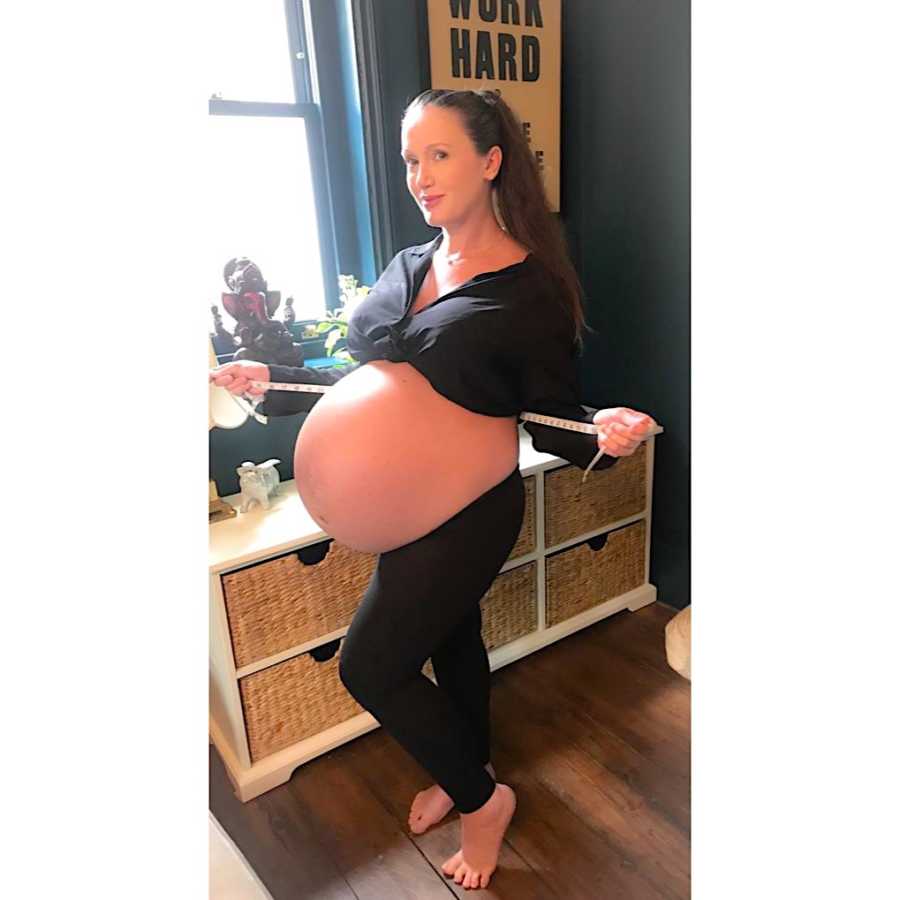 1)Expectant Management, or closely watching a patient's condition, but due to how quickly the TTTS had come on he was worried about this option.
2) Reduce Triplet B, the donor. This baby was already growing at a slower rate and smaller than the other two. They had been monitoring B's growth carefully. Terminating Triplet B would also have risks for the other two as they could be affected and have a stroke and/or die.
3) Laser surgery on the placenta, which would hopefully correct the imbalance of blood flow, but there were significant risks. The triplets could die.
It was a hard to make a decision, but time wasn't on our side and we knew ultimately that laser surgery was our only way forward.
The surgery went well, it was a quick procedure, performed while awake. Then we waited. praying their hearts would keep beating. We went for weekly scans and each week their hearts were strong and they had grown!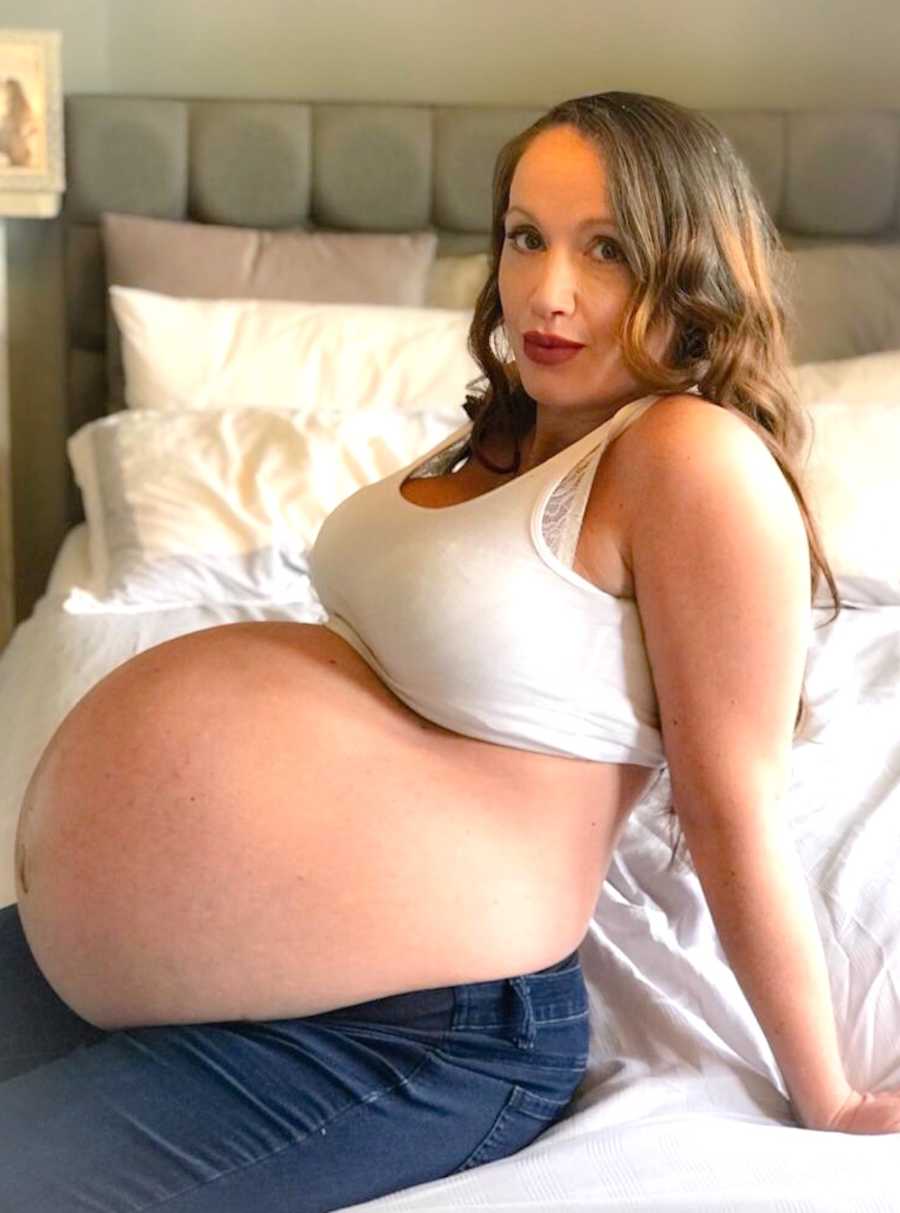 At 32 weeks exactly, I started to bleed heavily, and an ambulance rushed me to hospital. I was petrified, but felt detached from it all as i was stretchered into the hospital. It was like I knew everything was out of my hands now, resigned to whatever was about to happen, Within two hours of calling for the ambulance, our miracle baby boys were born!
Triplet A: Otis 4lb 3oz
Triplet B: Rocco 2lb 10oz
Triplet C: Prince 3lb 8oz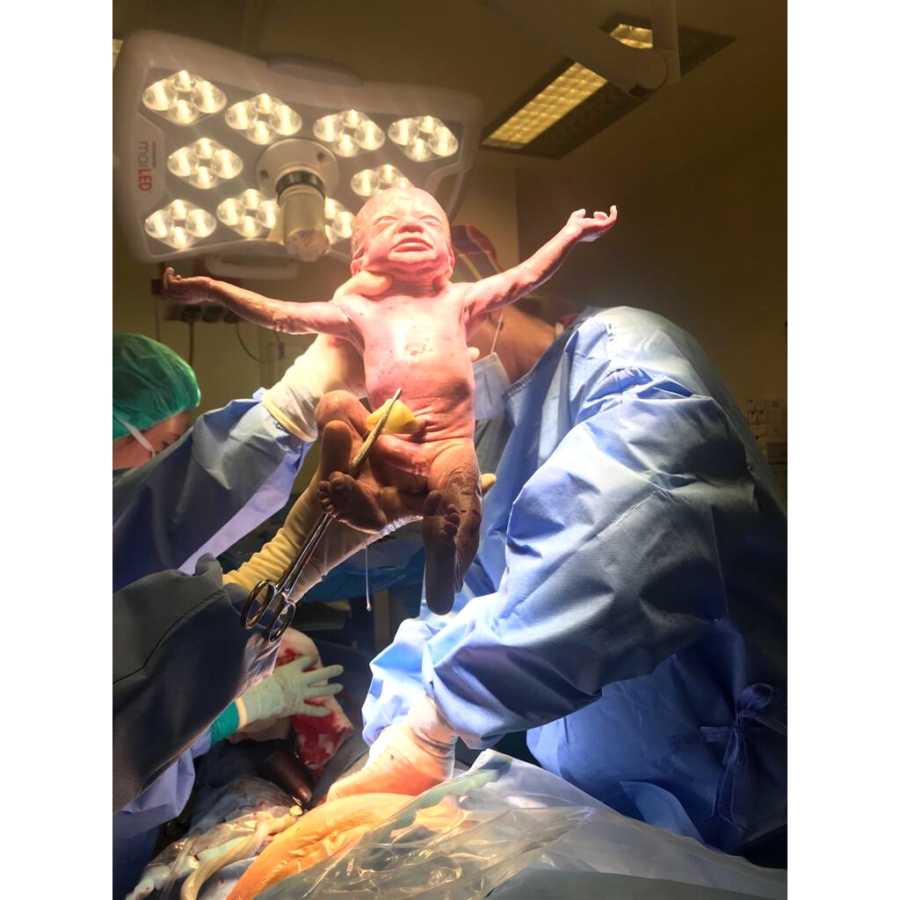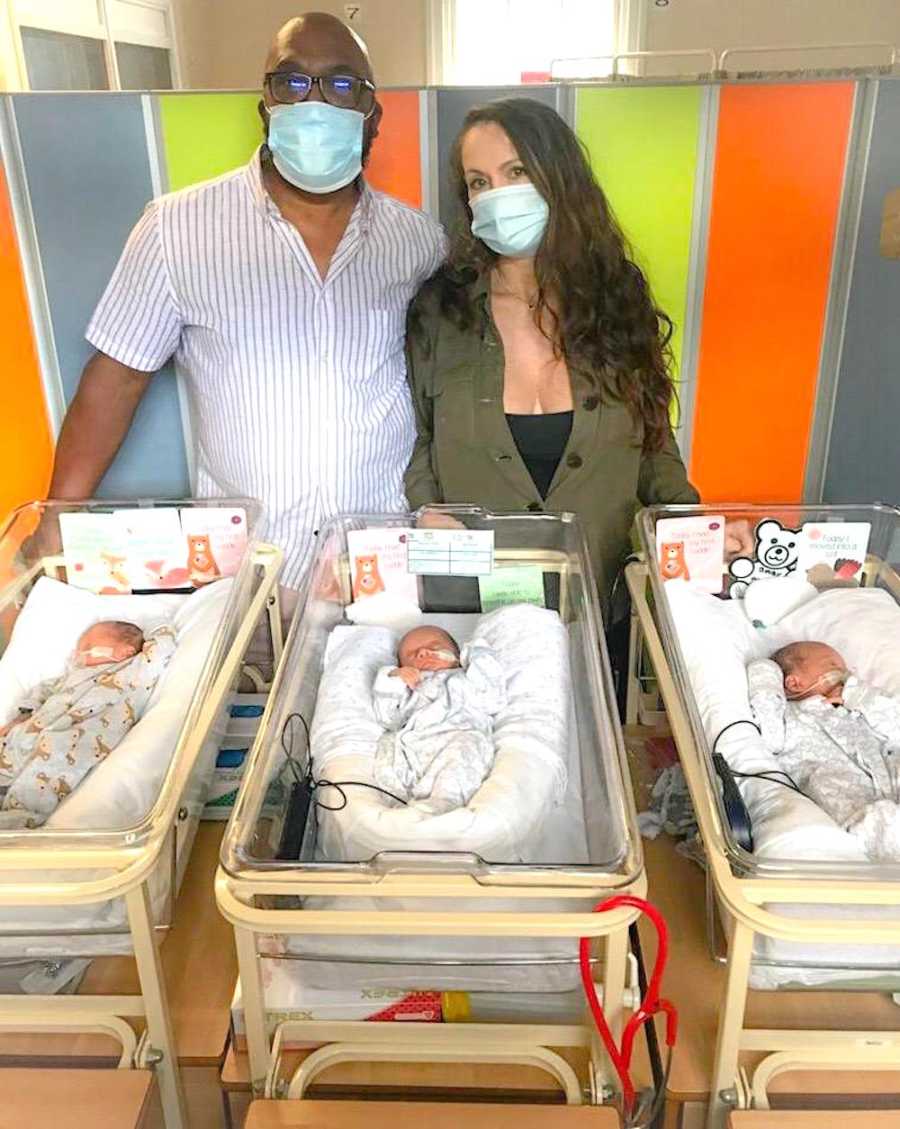 These precious, tiny babies were lifted and shown to me before being whisked away into incubators. I was especially worried about Triplet B, he didn't cry when he came out, just a weak little meow. His tiny size frightened me, I wasn't expecting him to look so small.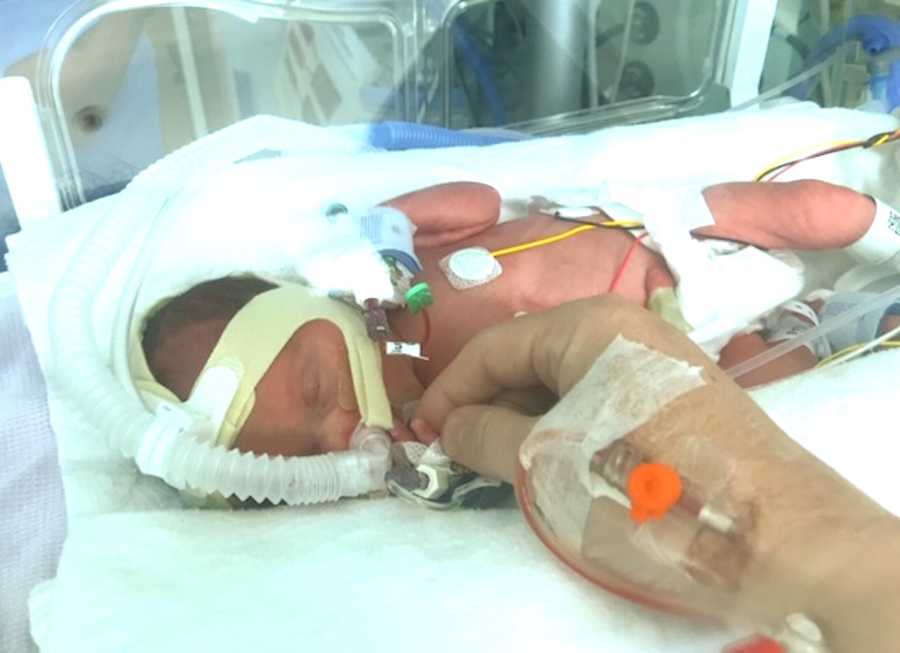 My partner was busy sending texts to worried family members, and I remember laying there feeling such relief that they were all born alive. They would need some help as they were premature, but they were in trained, medical hands now, my body couldn't fail them. They had made it.
The doctor told me the large and sudden bleed was due to a uterine scar rupture, it was dangerous and we were SO lucky once again.
They spent one month in the hospital, Covid 19 cases were high and London was in lockdown, so there were no visitors allowed. Our daughter couldn't meet the babies until they came home, but it was a very special day when they were all discharged and we were finally home together as a family of 6. Introducing Violet to her brothers was so special, she had always wanted a sibling and now she had three! I finally felt complete.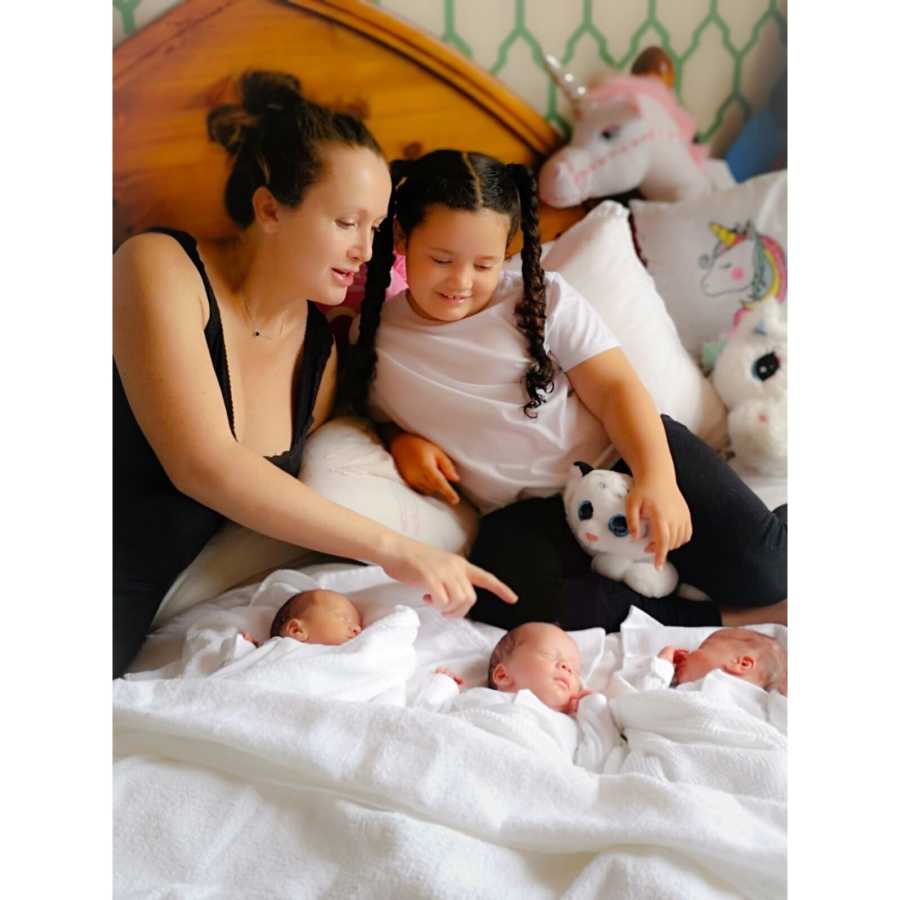 They're 6 months old now, and I genuinely still cant believe that we have been so blessed. Life is hectic and an endless cycle of changing nappies and feeding babies, and I wouldn't want it any other way. We have some big decisions to make, we need to move from our two bedroom flat and we need a bigger car! We delayed making any big changes as we just weren't sure the triplets would ever make it home, but they're here now and as the shock subsides we are planning life as the large family I always dreamed of!"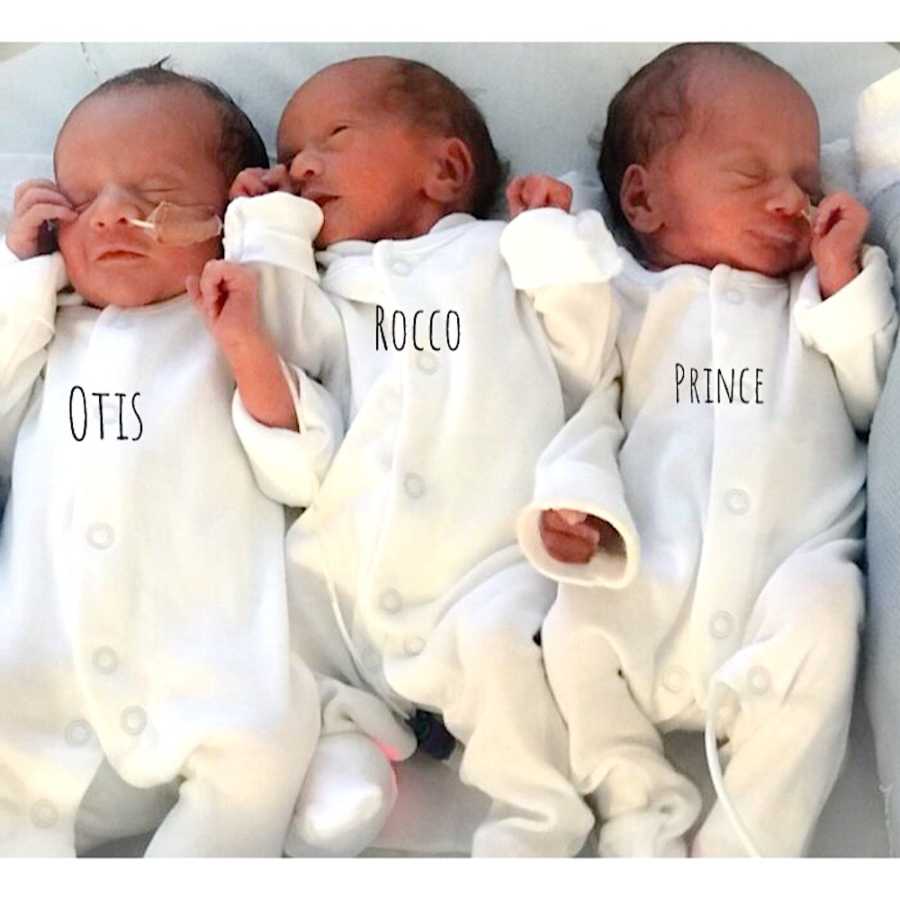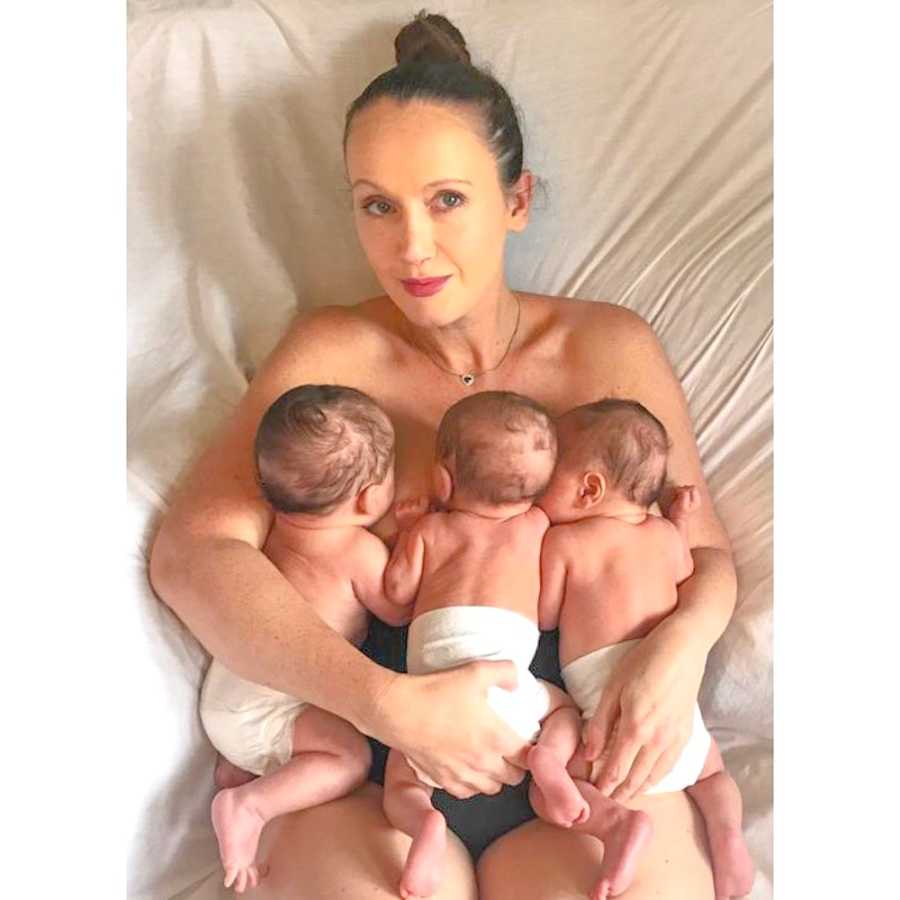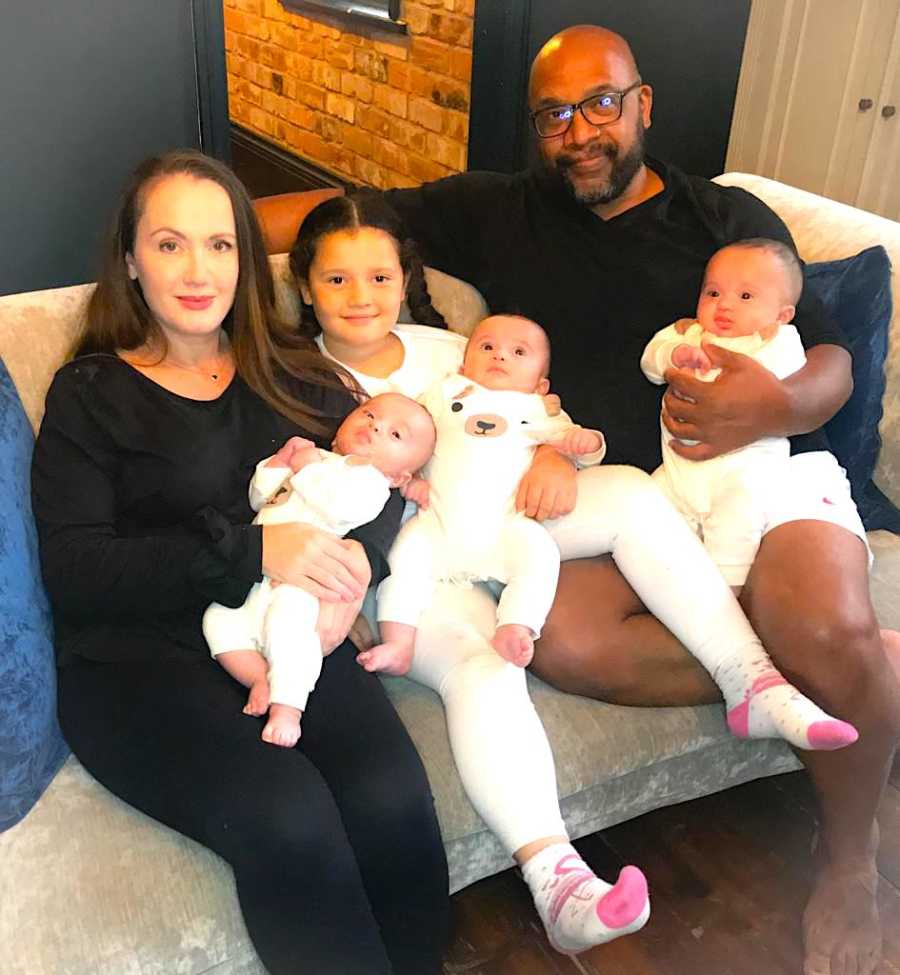 This story was submitted to Love What Matters by Summer Preston of London. You can follow her journey on Instagram. Do you have a similar experience? We'd like to hear your important journey. Submit your own story here. Be sure to subscribe to our free email newsletter for our best stories, and YouTube for our best videos.
Read more amazing stories about multiples here:
'She scanned my stomach. 'Congratulations, Mom and Dad! Oh, wait…' My heart sank. 'I see three here!': Couple has triplets, twins through embryo adoption, 'We're the lucky ones'
'There's a second sac…and a third.' My heart stopped. 'Oh my God, triplets!' All my plans were quickly whisked away.': Mom births triplet rainbow babies after miscarriage, infertility, 'It takes a village!'
Please SHARE this story on Facebook and Instagram to encourage others to cherish every moment and love what matters most.