"I am 1 in 4. With a quick glance, you see a special bond between a mother and her daughter. Happiness shines as a precious little girl kisses her 'mommy.' But this picture-perfect moment is far from perfect.
Only 1 child appears in this photo, but I am a mother to 3 children… 1 triplet on earth, and 2 in heaven.
What you don't see in this photo is the pain. The physical pain and heartache as doctors told me my daughter was born too weak to survive. The pain of holding my firstborn child, knowing that her time on earth is limited. The pain as she takes her final breath, knowing a little piece of me also died that day. The pain of planning a funeral, instead of decorating a nursery. The pain of doing it all over again, two months later after our second child passed away. The pain that lingers, years after that final goodbye.
Grief never goes away. At first, it feels as if your world is crumbling. There are days your body refuses to get out of bed, the grief weighing you down in ways you never imagined. There will always be a piece of my heart shattered without two of my triplets. But over time, I have learned how to manage the grief, even tuck that pain away, so it's not visible on the surface.
Because that's what society expects us to do.
People don't want to see me cry. Many people don't even want to acknowledge a loss. For decades, pregnancy and child loss has been a taboo topic, something that makes people cringe and uncomfortable. It brings out a familiar face when you mention child and death, a look of sympathy, but also pity, because people can't fathom losing a child.
But, here's the thing–chances are someone you know has experienced a loss. Maybe it's a friend or neighbor. Maybe it's your child's teacher. Maybe it's the woman you watch on the news.
1 in 4 women experience a loss–whether it be through miscarriage, stillbirth or infant loss.
As you look at this picture, you see a loving moment between a mother and daughter, but what you don't see is the special bond that child shares with her siblings. That necklace my daughter is admiring holds the initials of her siblings, Parker and Abby. She may not get to play with them at home, or walk side-by-side with them at school, but she knows all about her brother and sister. My daughter talks about her siblings in Heaven and she's not shy to share when someone asks her if she's an only child. My daughter is a triplet and always will be. And we see a little piece of all 3 of them within her. They will always be part of our lives.
You may only see 1 child with me, but I am the mother of 3 beautiful triplets. You may see tears and sometimes pain, but the grief has made me stronger. My children made me who I am today. I am more patient, compassionate and I wear my heart on my sleeve. My children have taught me to live each day to the fullest, for you never know what tomorrow may bring.
I am a mother to children both on earth and in Heaven. I am 1 in 4. And I am not alone."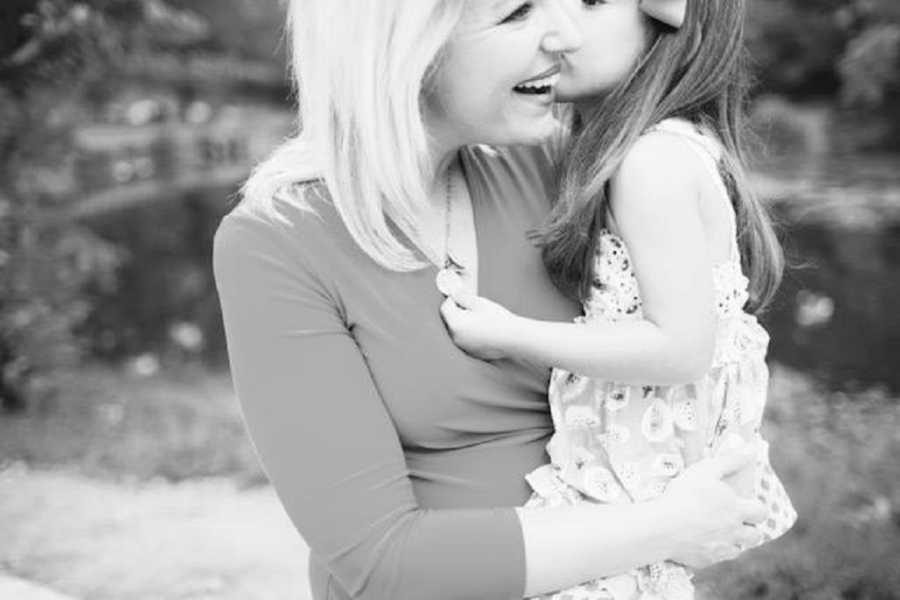 This story was written by Stacey Skrysak, an award winning television journalist based in Illinois, in honor of October being Pregnancy and Infant Loss Awareness Month. Do you have a similar grief journey you'd like to share? We'd like to hear from you, for others to know they are not alone. Submit your story here, and subscribe to our best stories in our free newsletter here.
Provide comfort for someone struggling. SHARE this story on Facebook with your friends and family.