"This photo was taken 5 minutes before the doctor walked in to tell me he did not pull out a benign tumor last week, but a cancerous one.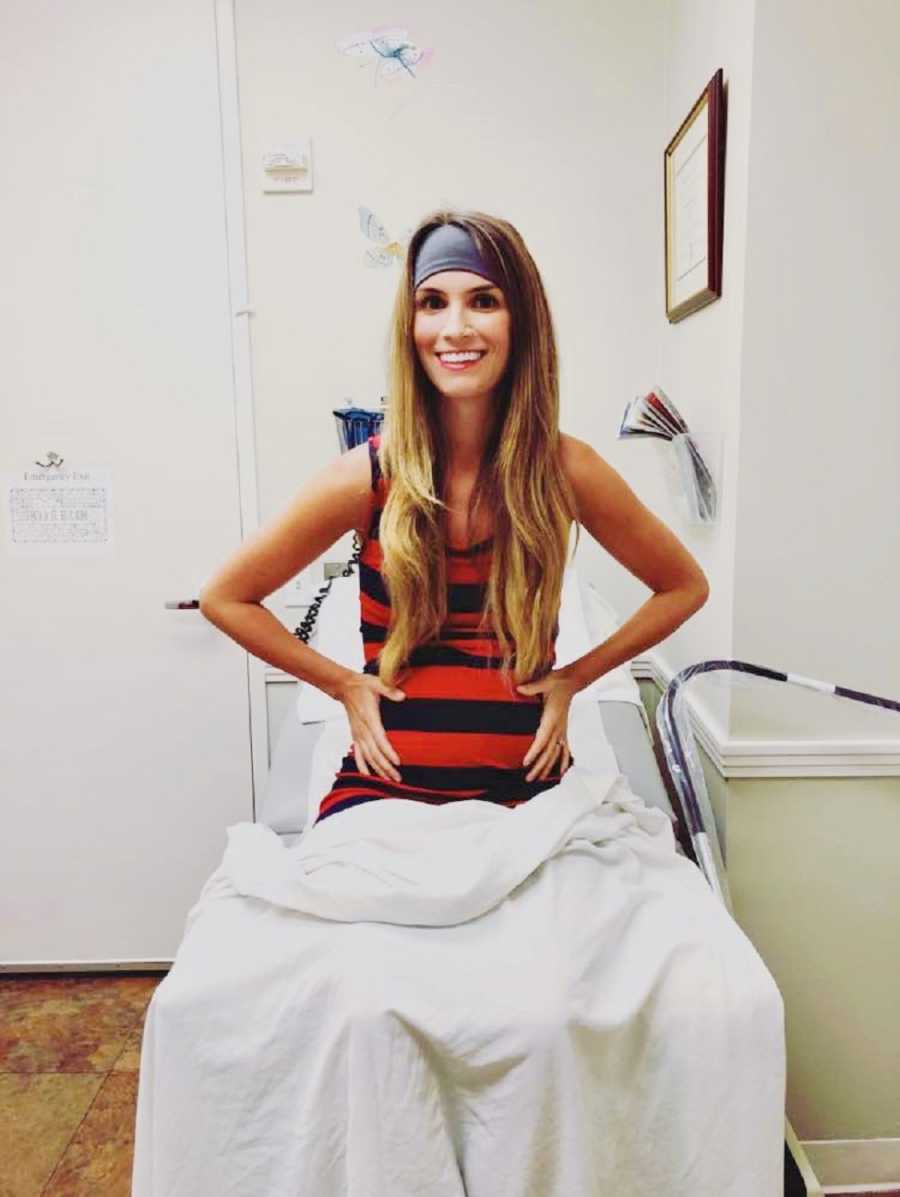 Let me back up. When I found out I was pregnant back in April, I was certainly surprised, but obviously very happy to add another one to our little family. At our first ultrasound, my doctor found what she called 'a baseball size tumor' on my ovary. CANCER ran through my brain. She said she thought it was a fibroma, a benign tumor, but couldn't tell me without biopsy, and they don't do that to pregnant women.
'So I have to wait 9 months to find out if this thing is benign or cancerous?!' My mind was racing, and I had a million questions. Her bedside manner wasn't what I wanted from my OB, so after talking to a few friends and family members, they suggested a second opinion. I noticed one doctor's name kept coming up. I did not find this to be by chance, (it's a God thing) so I called and made an appointment. I wanted a second opinion and I wanted it to be from a well-respected physician who knew what he was talking about.
Here's where it starts getting good. The moment I met him, I felt a bond. His demeanor was calming and friendly. He assured me he also thought it was benign, calmed my anxiety, and gave me a big hug. He spent 45 minutes examining me, answering questions, and validated my concerns. I felt listened to. I knew this man HAD to deliver my baby. We came up with a plan to move forward. (Thank you again God.)
Every few weeks I would go in, he would measure the tumor, and monitor its growth. We didn't like that it was growing along with the baby, but we were still hopeful it may stop soon. Fortunately for me, it kept growing. (Thank you God.) Now I say this in hindsight because I was actually very upset at the time. I did not want to undergo surgery pregnant, I knew the risks. Here I was, 15 weeks pregnant, a tumor that was nearly 12 cm and growing, and my mind going insane with worry.
He scheduled my surgery for last Friday. I had the worst anxiety of my life the week leading up to surgery. I was a big ball of nerves with 'what ifs' and 'is my baby going to be okay?' A million things go through your mind as a Mom. However, I trusted my doctor and believed in him.
Side note: I've never been one to believe in symbolism of numbers until I started seeing 1's everywhere. I MEAN ALL THE TIME. This started happening when I got pregnant. Originally, I think my husband Micah thought I was just looking for something, but eventually he saw what I was seeing. The number 1 represents unity between God and His son Jesus. It symbolizes unity and primacy, and the oneness of God. I started seeing it on the clock all the time 1:11. 11:11. It was typically at a time of worry and I'd remind myself God is telling me this is going to be okay. It was comforting for me, and even if it was coincidence, I told myself it was not, and it made me feel better.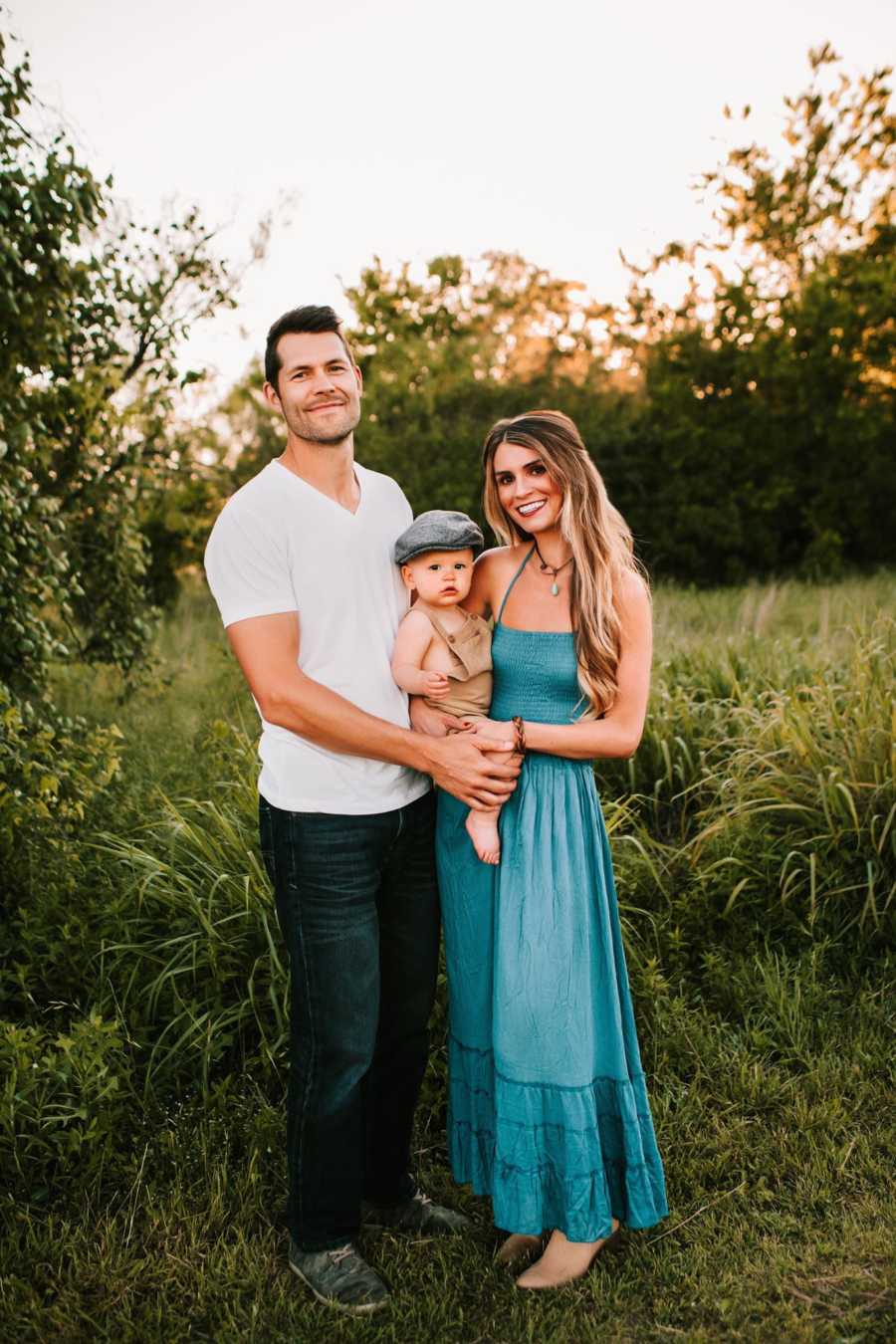 The morning of my surgery I woke up calm, very calm, strangely calm. (A week ago I had a panic attack because of this surgery but NOW I'm calm?) … (God). I shower, Micah drives me to the surgery center, I get out of the car and in giant block numbers I see the address '1111.' I say, 'OMG Boo! Look one, one, one, one!' He's finally seeing what I'm seeing. They walk me to my pre-op room. What room am I in? 11. I smile. He is with me. He is telling me this surgery will turn out okay. I'm feeling good. I wake up. All is well. They removed the giant mass and send it off for biopsy because that's routine.
Yesterday: I'm so excited to see the doctor and tell him how I'm recovering, thank him for everything, and find out is this baby a boy or a girl?! When he walks in, I can see his demeanor isn't quite what it usually is. He tells us we need to talk. What we removed wasn't a fibroma. It's cancer… I don't even cry. I listen. I don't get anxiety. I listen. My stomach doesn't hurt. I'm in shock. I'M healthy?! I eat great, I'm super active, my husband schools me on nutrition! How do I have cancer?! (Great reminder that WE are not in control. HE is in control). Finally, I look at Micah and say, 'How blessed are we that I got pregnant?! I would've never even known I had a tumor if it weren't for the baby. I had no symptoms. I felt fine. I couldn't see or feel it.'
My doctor tears up and says, 'Wow. I didn't even think of that.' Then he tells me that divine intervention brought me to him. He grabs a tissue and points at a photograph on the wall. He can't get the words out. I just knew, through tears I ask him, 'Is that your daughter?' …after a few moments he speaks. 'Yes. In all my years practicing, she is the only case of this cancer that I've seen.' We all break into tears. These weren't tears of sadness, but it simply confirmed what I had been feeling the entire time. God brought us together. We had a bond. This IS the doctor for me. He had strong faith, combined with such talent for what he does, on top of the best bedside manner I've ever been in contact with.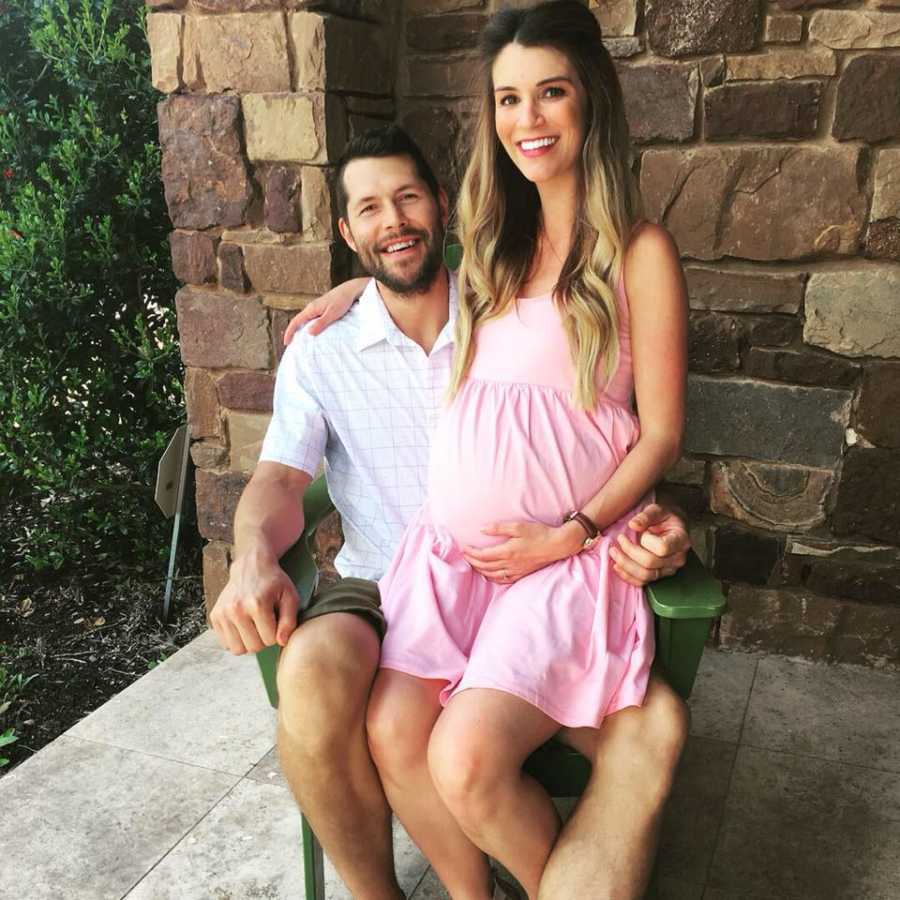 He sent me for an MRI that afternoon. I got a call today that the MRI was all clear and he's calling me Tuesday after meeting with a board of doctors with a plan for moving forward. We aren't sure if we will do chemo during pregnancy or after, but we do know that I'll be closely monitored by an OB oncologist throughout the pregnancy.
Now I haven't mentioned that I've been praying for about two years for the same thing on a weekly basis. I've always been a believer, but I saw how some of my friends have such a close relationship with God, and I admit I've had doubts, questioned Him, and wondered if I was right or wrong in doing so. In my church group, I saw a lot of women who went through something insanely tough, more difficult than what I've been through the past few months, and they have the STRONGEST faith. I wanted that. I envied them. I finally have that. I KNOW He has been with me and I feel like it's my job to share my message with others so they can hopefully see that He is with them too.
This little miracle inside me saved me from letting cancer go further. I would've never known I had it if I didn't go in for my first ultrasound. Who knows how long this would've gone on for? I thank you God for listening to me and making me listen to You. I feel beyond blessed for every single thing in my life and I felt compelled to share this message. Thank you to all my friends and family who have been along for this journey. Thank you for all the prayers. They mean more to me than you'll ever know. Please keep us in your prayers a little longer… It's all going to be alright with the help of prayer and the big man upstairs.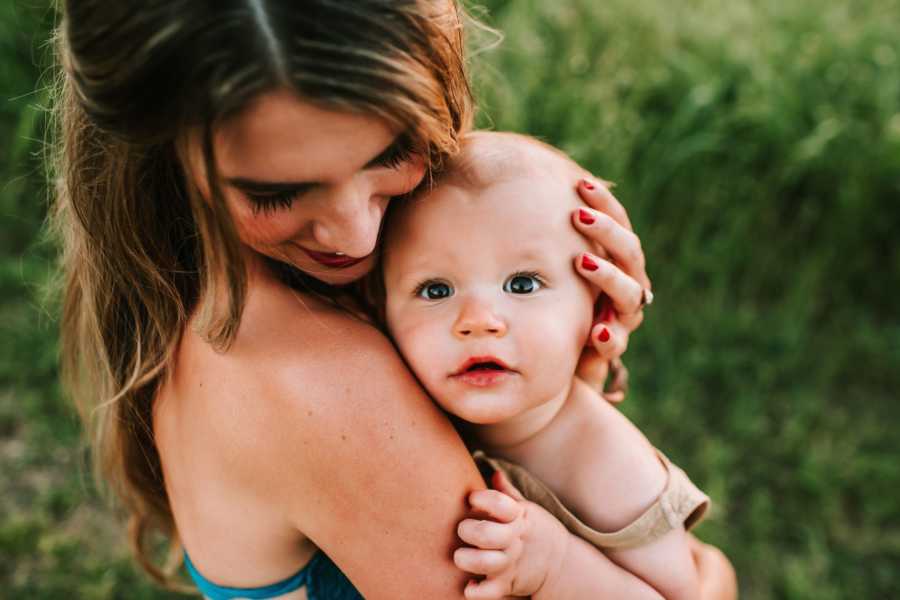 UPDATE: I had my first visit with my OB Oncologist late yesterday afternoon. She and my doctor met with a tumor board that consisted of about 8 different specialists to discuss my case. She said as of right now, it looks like they got all of it, and there is only a 25% chance of this cancer coming back. Since we don't want to do chemo during pregnancy, they will closely monitor me with frequent MRI's and ultrasounds. If all goes well and no cancer returns, she is confident we will not need to do chemo at ALL.
She gave us many scenarios on what could happen, but we are concentrating on the best outcome right now. I am getting a second opinion at MD Anderson to cover all my bases, as I want to make sure this never returns. In the meantime, we are staying positive! I've been OVERWHELMED the past few weeks with support from our friends and family. I'm greatly moved by your words and kind gestures, and I can't stop crying the happiest of tears. We are so touched by the donations, meals, groceries, and most of all, your prayers. They mean more to us than you'll ever know. We love you guys, and feel so blessed for each and every one of you. I thank you from the bottom of my heart."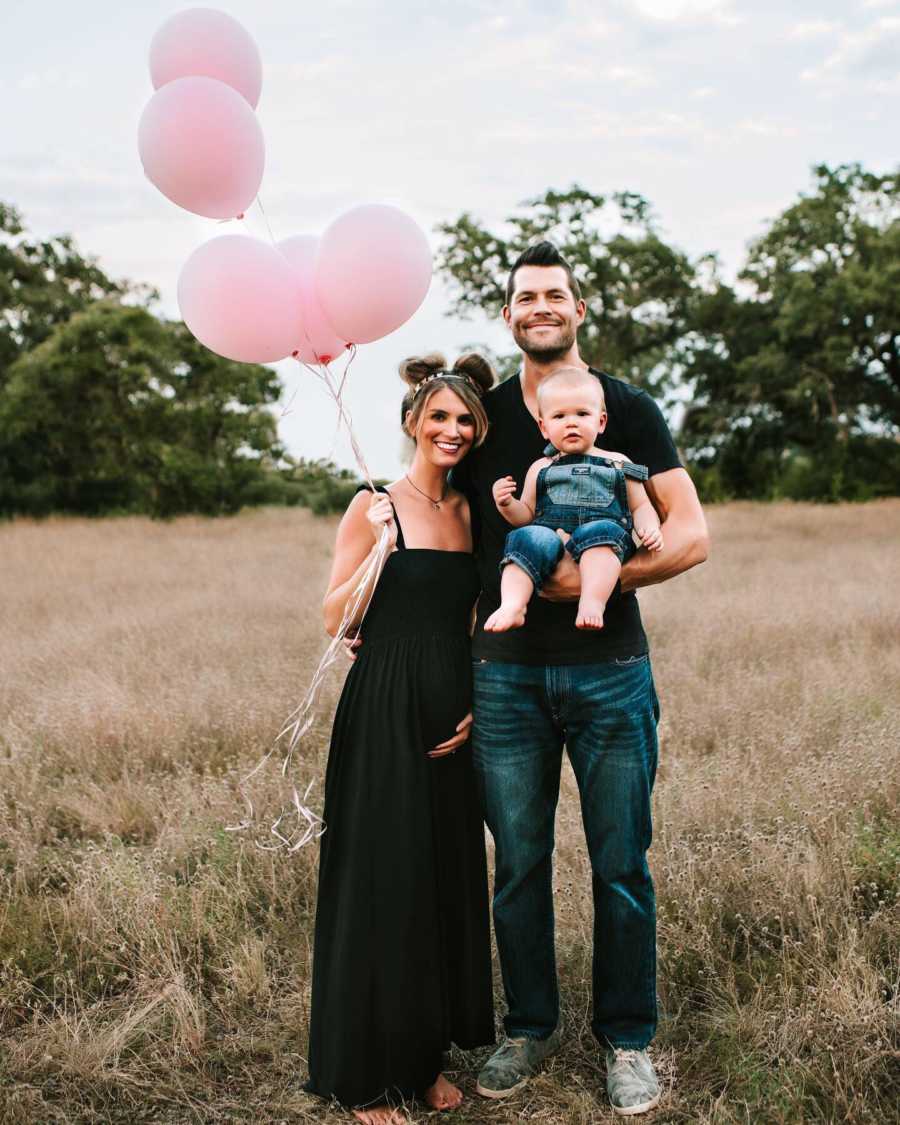 This story was submitted to Love What Matters by Courtney Greer of Austin, Texas. Be sure to subscribe to our free email newsletter for our best stories.
Read more inspiring stories like this:
'I was 25, pregnant with twins, and had a 21-month-old son. After the babies were born, I noticed what I thought was a Clogged Milk Duct from breastfeeding. Then my life turned upside down.'
'I never thought I'd be calling my husband to inform him 'it's cancer.' I sat on the phone in utter shock.': 28-year-old woman diagnosed with breast cancer after noticing 'blood stains in bra'
Provide beauty and strength for others. SHARE this story on Facebook with your friends and family.